Ginger Spiced Molasses Cookies
Updated Nov 7th 2023
These ginger spiced molasses cookies are delightfully chewy with a crisp sugar coated exterior and plenty of spice ( I mean plenty!) and warmth, they are impossible to resist. They have the perfect balance of sweet molasses, spicy ginger, and warm cinnamon. They have become one of my favourite cookies - and this simple recipe for them will get you on team ginger molasses cookie as well. I have always been team chocolate chunk but I thought I should widen out when it comes to cookies so I started experimenting with ginger cookies. This recipe is the result of doing so. Homemade ginger molasses cookies are so much better than any store bought molasses cookie out there and worth investing in a box or tin of molasses - you will be making batches and batches of these.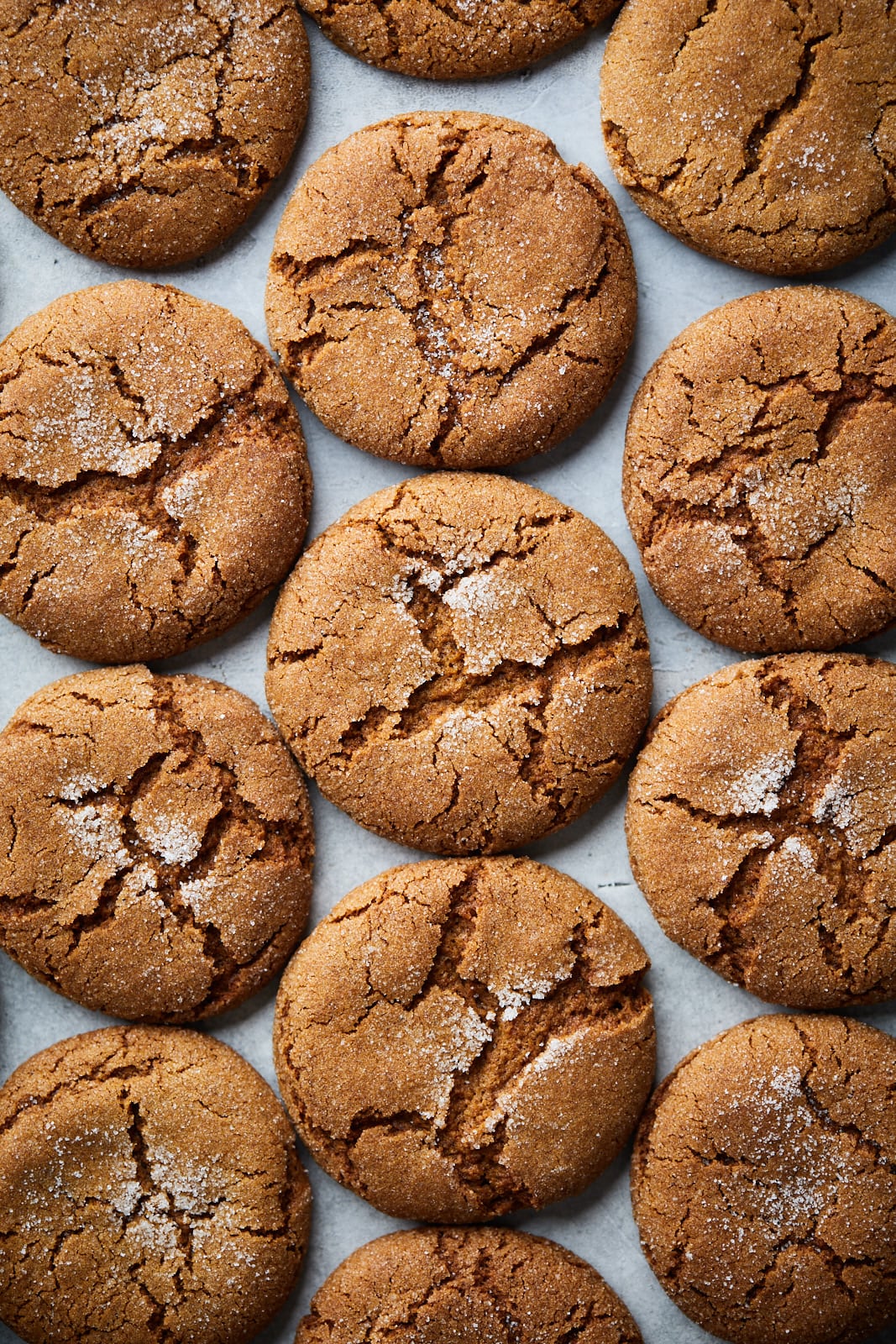 Homemade soft molasses cookies with crackly tops are super chewy and so perfectly spiced. They stay seriously soft and chewy for days – if they last that long. These are the best! They bake up perfectly every time and the chill time is worth it for the extra chewy texture! I loved using some of mine to make ice cream sandwiches with my chestnut ice cream. Sounds like a weird combo - well I was inspired by an Italian chestnut cookie called tortelli that I love. They have a chestnut spiced filling with ginger, clove and cinnamon - similar spices found in these cookies. These cookies are so soft and chewy and dense enough to hold up in a cookie sandwich.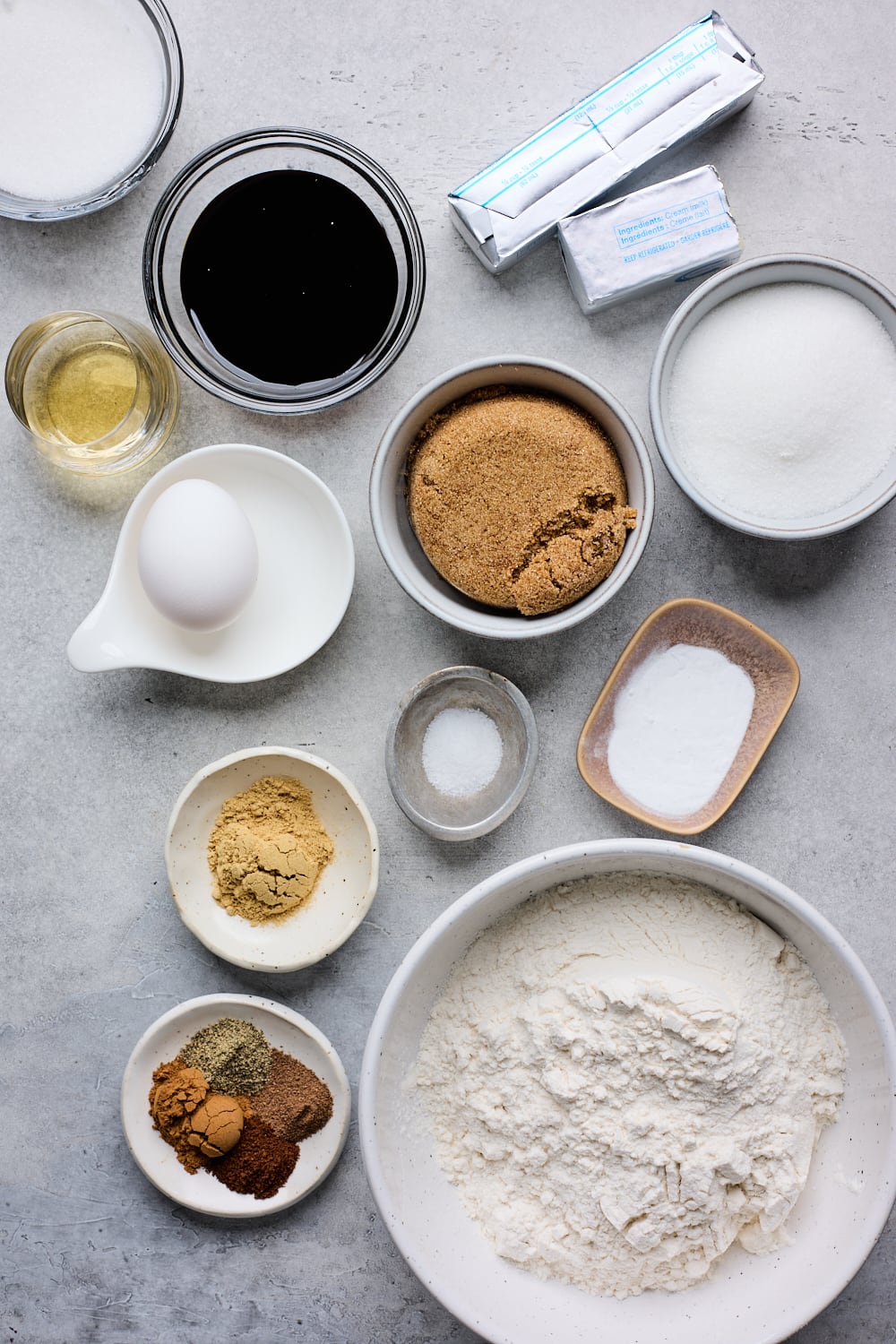 Chewy Ginger Molasses Cookies Recipe Ingredients
BUTTER: Make sure it's room temperature and softened so it mixes well. I used unsalted. You can easily replace it with a vegan butter to make these cookies vegan. ROOM temperature means that the butter is soft and pliable, but not runny. If you are pushing your finger into it you shoudlne be able to sink right down the bottom of the stick - just make a nice indent. If it's runny or too soft your cookies will spread.
SUGAR: I used granulated sugar and brown sugar (light brown sugar or dark brown sugar) for the best flavors and texture for the batter. For rolling the dough in I would stick to granulated sugar. ½ cup of each brown sugar and granulated sugar for the cookie batter and and extra ⅓ cup granulated sugar for rolling cookies in
MOLASSES: Molasses creates a moist consistency in baked goods. I like to use dark molasses also sold as "robust" molasses, or blackstrap molasses or fancy molasses but any molasses will work
RUM: This always adds just the right kind background flavour to these cookies - I used a spiced rum but bourbon would work too. You don't taste the alcohol at all and if you are not into adding the rum feel free to use vanilla extract instead although the vanilla will add more flavour to these cookies that the rum.
SPICES: These are well spiced cookies - no subtle flavours here. I used a blend of ground ginger, ground cinnamon, ground clove, ground allspice, and ground pepper. Feel free to adjust amounts to taste.
FLOUR: Plain all purpose flour is what this recipe calls for.
BAKING SODA & SALT: For leavening and to balance out flavours. Please ensure your baking soda is still active and not expired otherwise you will get flat cookies.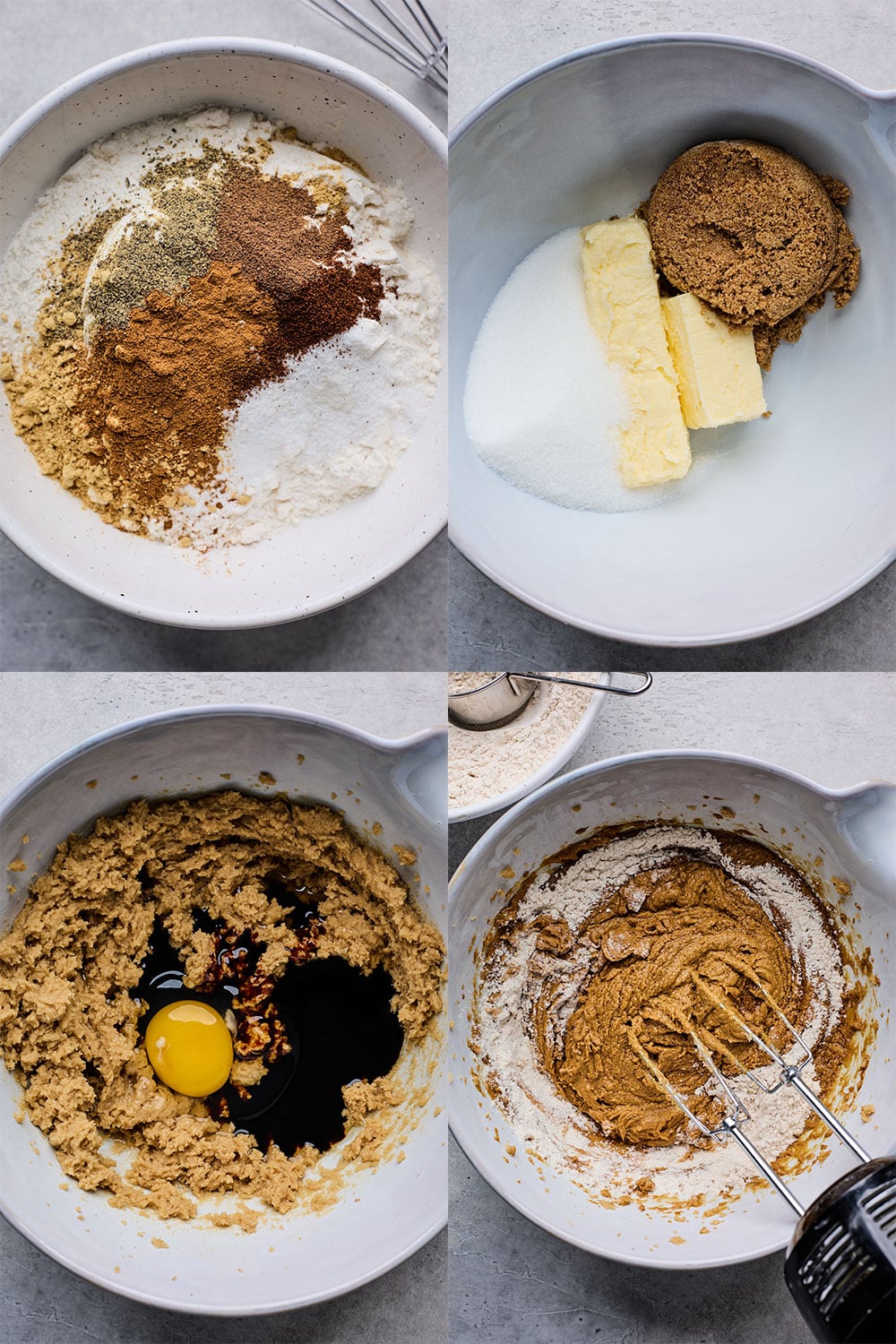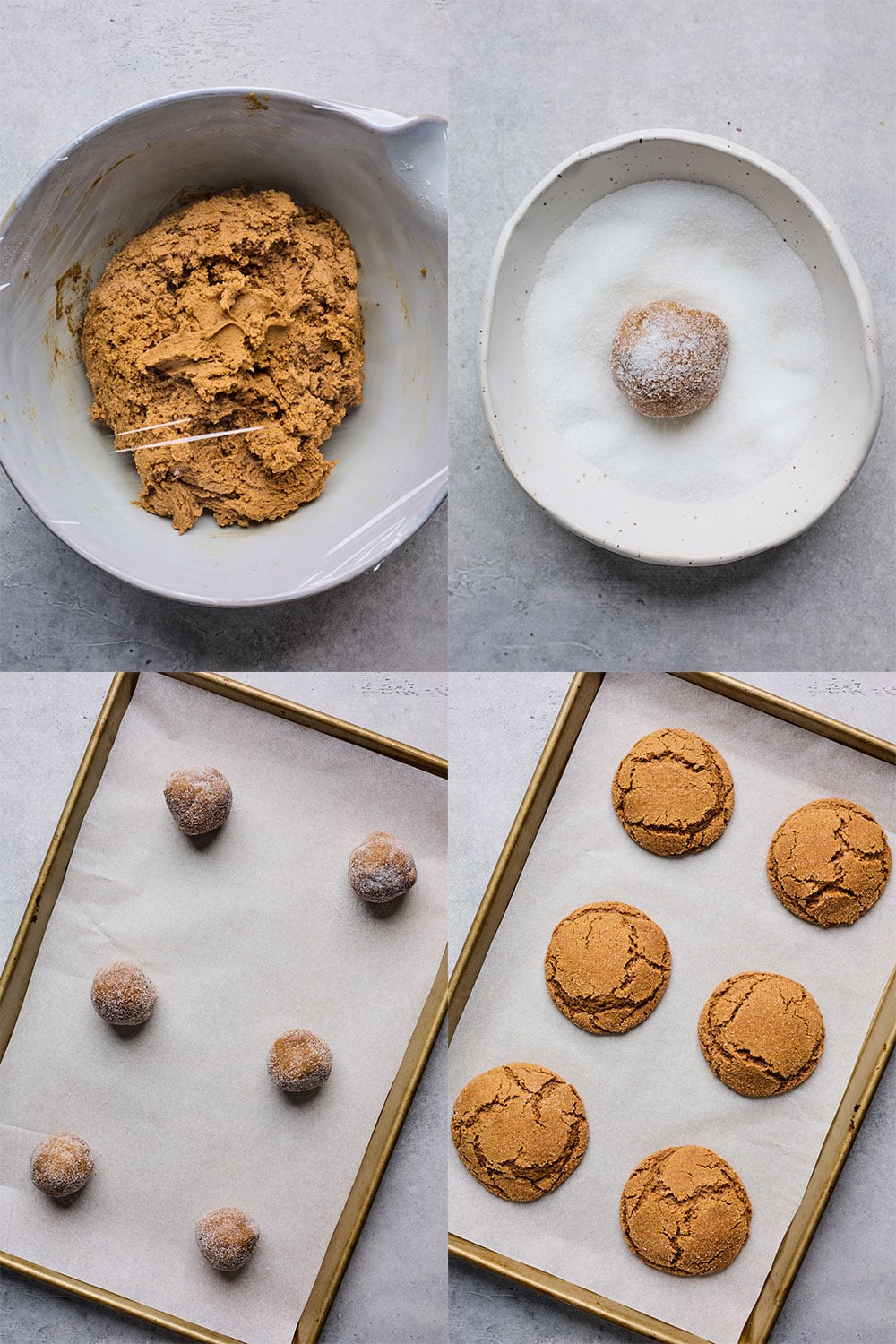 How to Make Chewy Ginger Molasses Cookies (full instructions in recipe below)
Whisk the dry ingredients together.
Combine the wet ingredients together.
Mix the wet and dry ingredients together in a large bowl. Do not over mix and add the dry ingredients gradually. Once you have a few streaks of flour left in the batter you are done mixing - switch to a spatula and scrape the edges of the bowl and fold bater 1-2 times.
Wrap bowl in plastic wrap and place in the fridge to allow cookie dough to chill for 1-2 hours in the fridge or 20 min in the freezer.
Use a cookie scoop to scoop out dough. Roll cookie dough into balls.
Generously roll each cookie dough ball in granulated sugar.
Bake. The cookies will puff up as they bake then gently sink back down. This is what creates those familiar crinkles and crackles we love. If your cookies aren't cracking, gently bang the cookie sheet on the counter 2-3x which will help those warm cookies spread and crack on top.
Allow cookies to cool in pan for a few minutes then transfer them onto cooling wrack with a spatula. Cool and enjoy!
Freezing Ginger Molasses Cookie Dough
Can I freeze the cookie dough and bake it later? Yes. This dough can indeed be frozen. Scoop it into equally-sized balls on a parchment-lined cookie sheet and place in the freezer. Once they're frozen, store the cookie dough balls in an airtight container or ziplock bag for up to 3 months.
How do I bake the cookies from frozen? Toss the dough balls in sugar. Place the frozen dough balls on a parchment-lined cookie sheet and bake at the same temperature. They'll need 1-2 minutes extra to bake fully.
What if the cookie dough is too hard to scoop after refrigerating overnight? If your cookie dough is too firm to scoop after chilling, leave it at room temperature to warm up for 10-15 minutes. I usually find this happens after an overnight chill or longer than 3-4 hours - and I usually take it out of the fridge while I'm preheating the oven and find that that is enough time to make it scoop-able
Storing and Freezing Molasses Cookies
STORAGE: Baked cookies can be stored at room temperature well sealed in an airtight container and stay nice and chewy for up to a week, making them great for gifting and shipping.
FREEZING: Baked cookies that have been cooled can be sealed in a freezer bag, then stored in an airtight container before placing them in the freezer. Molasses Cookies will keep good frozen for up to 2 months. To thaw, leave out at room temperature for about an hour.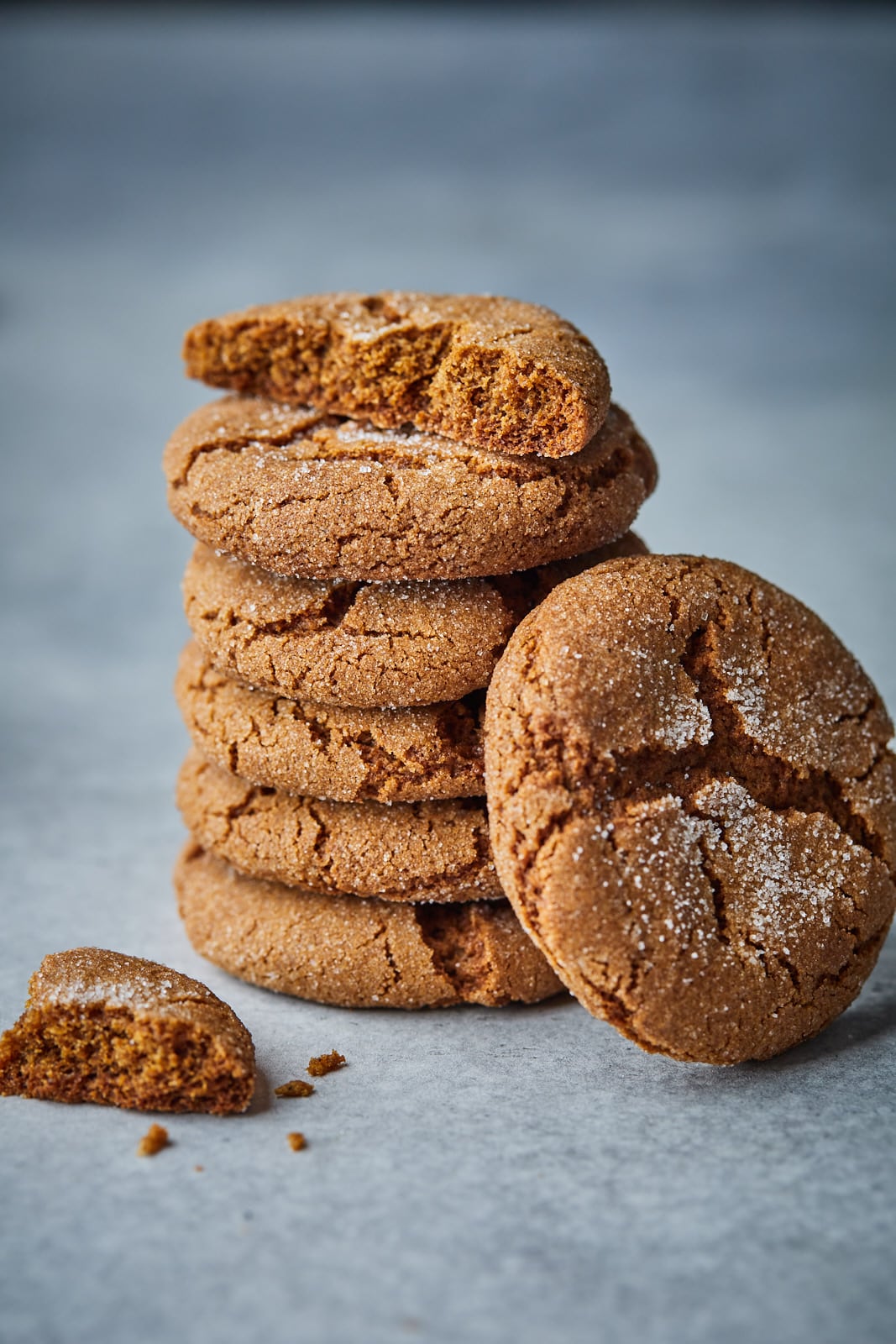 Tips to Make Great Cookies Every Time:
Ensure your butter is room temperature and not too warm - ROOM temperature means that the butter is soft and pliable, but not runny. If you are pushing your finger into it you should not be able to sink right down to the bottom of the stick - just make a nice indent. If it's runny or too soft your cookies will spread.
Make sure all your ingredients are fresh and not expired
Use good quality ingredients
Make sure your oven is preheated - use an oven thermometer to ensure oven is calibrated - boy does that make all the difference! Overly hot ovens can melt the butter in your cookies before the other ingredients have firmed up and cause them to spread.
Don't over mix the batter Once you have a few streaks of flour left in the batter you are done mixing - switch to a spatula and scrape the edges of the bowl and fold batter 1-2 times.
Take your time and measure your ingredients correctly - I always use standard Anchor Hocking Glass Measuring Cups - the ones most people have. I don't like the scoop kinds because I have found they allow for too much variance. Too much sugar gives you flat cookies. Too much Flour creates dry cookies etc… Also when removing butter from packages make sure to scrape off any remaining butter from package - sounds irrelevant but sometimes I have scraped off up to 1 tablespoon of extra butter from the paper covering. 1 tablespoon of butter means a lot in a cookie recipe
When it comes to your cookie sheet or sheet pan - make sure you are not using hot pans especially between batches. Allow them to cool completely before putting cookie dough on them. Also do NOT grease pans this will not only add more fat to the dough but allow the cookies to slide flat in essence. The same thing happens with non stick coated baking sheets. Use silicone baking mats or parchment paper only. They have enough surface texture for your cookies to grab on to so to speak (less spreading) but also prevent them from sticking
Don't try to bake the whole batch of cookies - at one time. Unless you have an industrial sized oven baking more than 1 tray of cookies at a time usually or almost always bakes cookies unevenly.
If you have a hot kitchen or live in a hot climate it is essential to chill dough before scoping out and store dough in the fridge in between batches, otherwise the butter will soften in dough too much and will cause cookies to spread.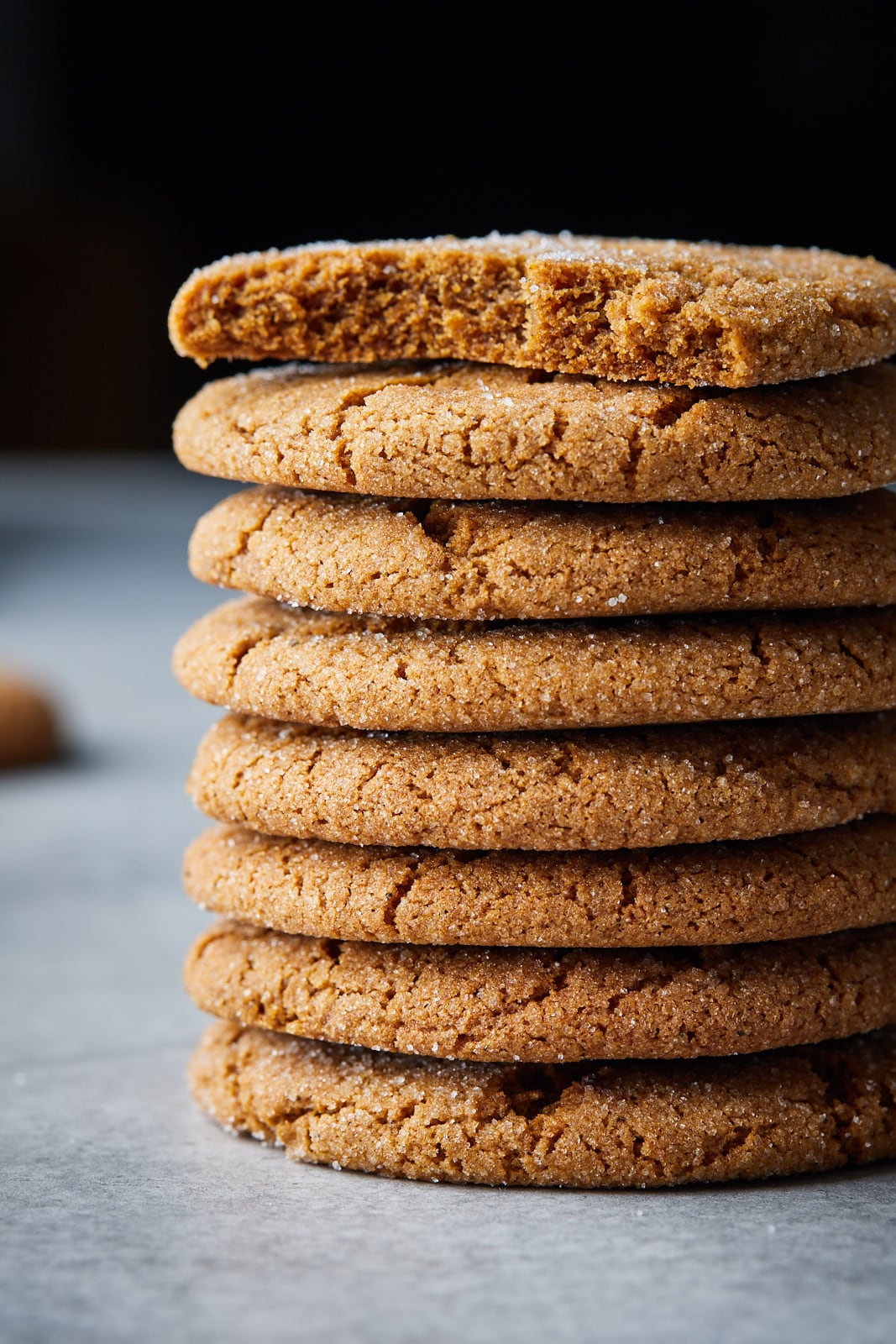 These cookies are seriously addictive. I found myself going back for more every time I passed the kitchen. They had no chance of survival! They have the flavor of gingerbread cookies or gingersnaps/gingersnap cookies but a much different texture in these chewy molasses cookies. Super easy to whip up, soft, chewy, spiced, rich flavour and dark in colour from the molasses, with a very slight hint of rum. I added the rum more to intensify the rest of the flavours not so much the boozy factor. That's what I love about adding rum to baked goods. Unless you drench them, you get not so much boozy but an extra punch of flavour and a subtle hint of rum. The perfect combination for a ginger spiced cookie, at least in my books. You won't be disappointed and baking them - makes the kitchen smell irresistibly fragrant. So I hope that you enjoy them as much as we do, and if you decide to bake up a batch, I'd love to hear how they go!
Recipe
Prep Time: 20 mins
Dough rest time: 20 min to 1 hour
Bake Time: 12 mins
Ingredients
2½ cups all-purpose flour

2¼ teaspoons baking soda

½ teaspoon salt

1 tablespoon ground ginger

1½ teaspoons ground cinnamon

½ teaspoon ground cloves

¼ teaspoon ground allspice

½ teaspoon ground pepper

¾ cup (1½ sticks) unsalted butter, room temperature

½ cup packed light-brown sugar

½ cup granulated sugar, plus ⅓ cup divided for coating

6 tablespoons molasses

2 tbsp dark rum

1 large egg
Directions
In a medium bowl, whisk together flour, baking soda, salt, ginger, allspice, cinnamon and pepper.
Cream the butter, brown sugar, and ½ cup granulated sugar until light and fluffy using a hand mixer or stand mixer with paddle attachment.
Beat in molasses, egg and rum.
With mixer on low, gradually mix in flour mixture until just combined, scraping the sides of the bowl as needed. Do not over mix.
Wrap bowl in plastic, and freeze for 20 minutes or refrigerate 1-2 hours or up to 2-3 days.
Remove cookie dough from the refrigerator. If the cookie dough chilled longer than 2 hours, let it sit at room temperature for at least 15-30 minutes.
One ready to bake preheat oven to 350°F and line two baking sheets with parchment paper; set aside.
Place remaining ⅓ cup granulated sugar in a bowl.
Scoop out cookie dough using a small 2' (5 cm) 1 tablespoon cookie scoop, scooping out 1 heaping tablespoon of dough and roll each into a ball.
Roll each in the granulated sugar and arrange 3 inches apart on the baking sheets.
Bake for 11-12 minutes or until edges appear set. If the tops aren't appearing cracked as pictured, remove the baking sheet from the oven and gently bang it on the counter 2-3x. This will help those warm cookies spread out and crack on top. Return to the oven for 1 additional minute. (Generally I don't have to do that - they crack on their own as they cool)
Remove from the oven and allow cookies to cool on the baking sheet for 5 minutes before transferring to a wire rack to cool completely.
Cookies will stay fresh covered at room temperature for 1 week.
Recipe Note
Chilling the cookie dough is always a good idea to allow the flavours and textures to develop. If you skip the chill time they will still be delicious but the dough will spread out more when baked and the cookies will be thinner.
Adapted from Martha Stewart