Greek Asparagus Salad
This delicious asparagus salad has become our new favourite spring salad. It's not only simple to whip up but it makes for a delicious side dish all spring and summer long. I like to grill my aspargus for this recipe but that is not necessary. You can blanch, steam or roast your aspargus too for this simple asparagus salad. I love the charred edges and the flavour from grilling either on an outdoor grill or stovetop grill pan. I turned this aspargus salad into a Greek asparagus salad by adding all the delicious flavours, seasoning and herbs that go into Greek style maroulosalata/classic Greek lettuce salad The vinaigrette is zesty and lemony, herby and delicious. The crumbled feta adds some tangy salty flavor that every Greek salad needs including this Greek asparagus salad.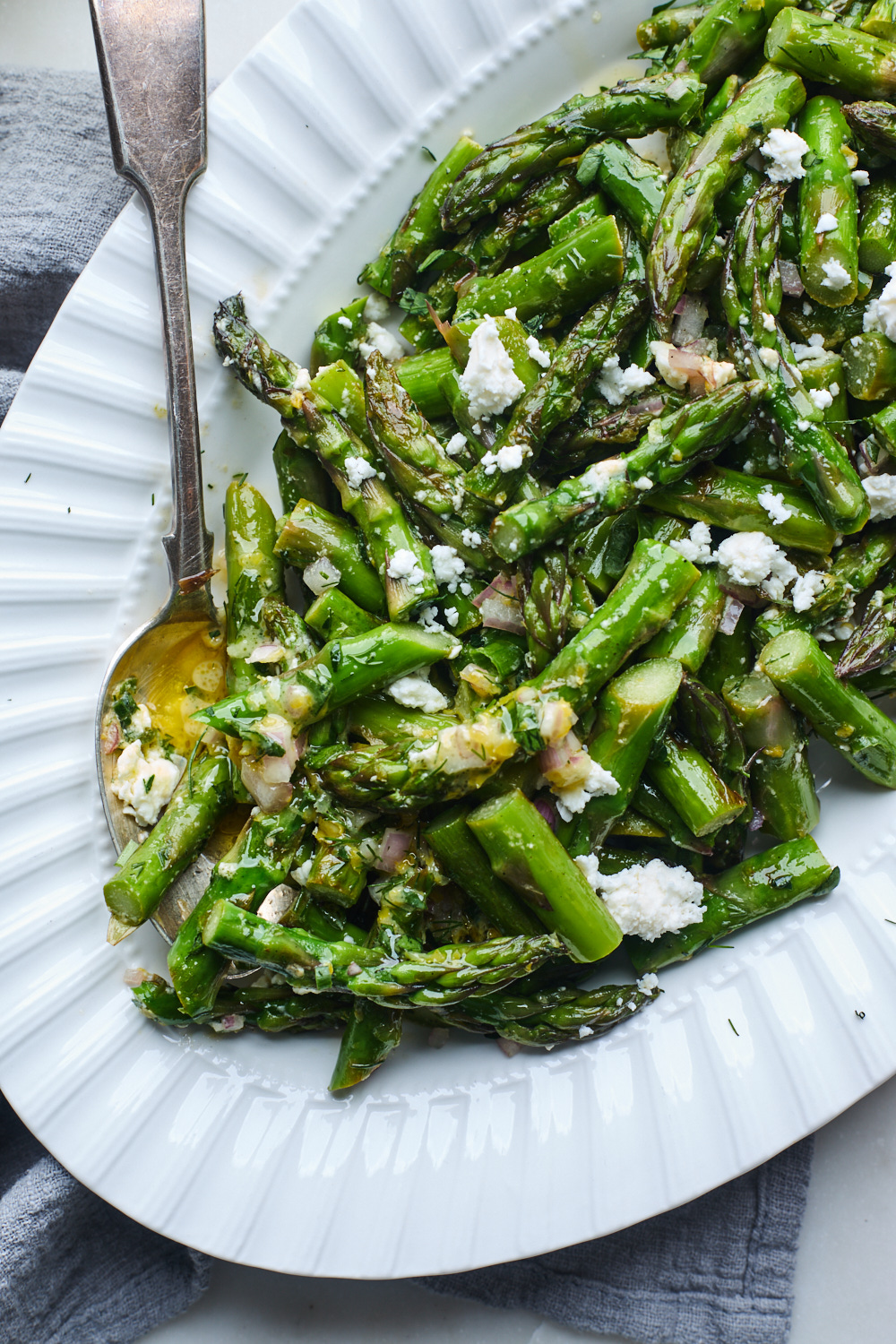 How to cook asparagus
There are plenty of tasty ways to cook asparagus. In this asparagus salad recipe I chose to grill mine but This asparagus salad can be made using any of the simple cooking methods listed below for cooking asparagus:
For boiling or blanching asparagus:

Bring a large pot of salted water to a boil over medium heat.
Add the asparagus to boiling water and cook 2-3 minutes until it turns bright green.
Use a slotted spoon to transfer the blanched asparagus to cold water or bowl of ice water to stop the cooking process. Drain immediately and dry off.

For roasting asparagus:

Preheat oven to 400°F.Place the asparagus on a largebaking sheet, drizzle with a splash of olive oil, then toss until well coated.
Spread the asparagus in a single layer and season with salt and pepper. Place the baking sheet in the oven and roast for 12 to 15 minutes or until tender, but still crisp. Don't overcook.

For steaming:

Steam asparagus in steaming basket until just crisp tender 4-8 min depending on thickness.
To chill, immediately plunge in an ice bath or cold water in a bowl with ice cubes then pat dry.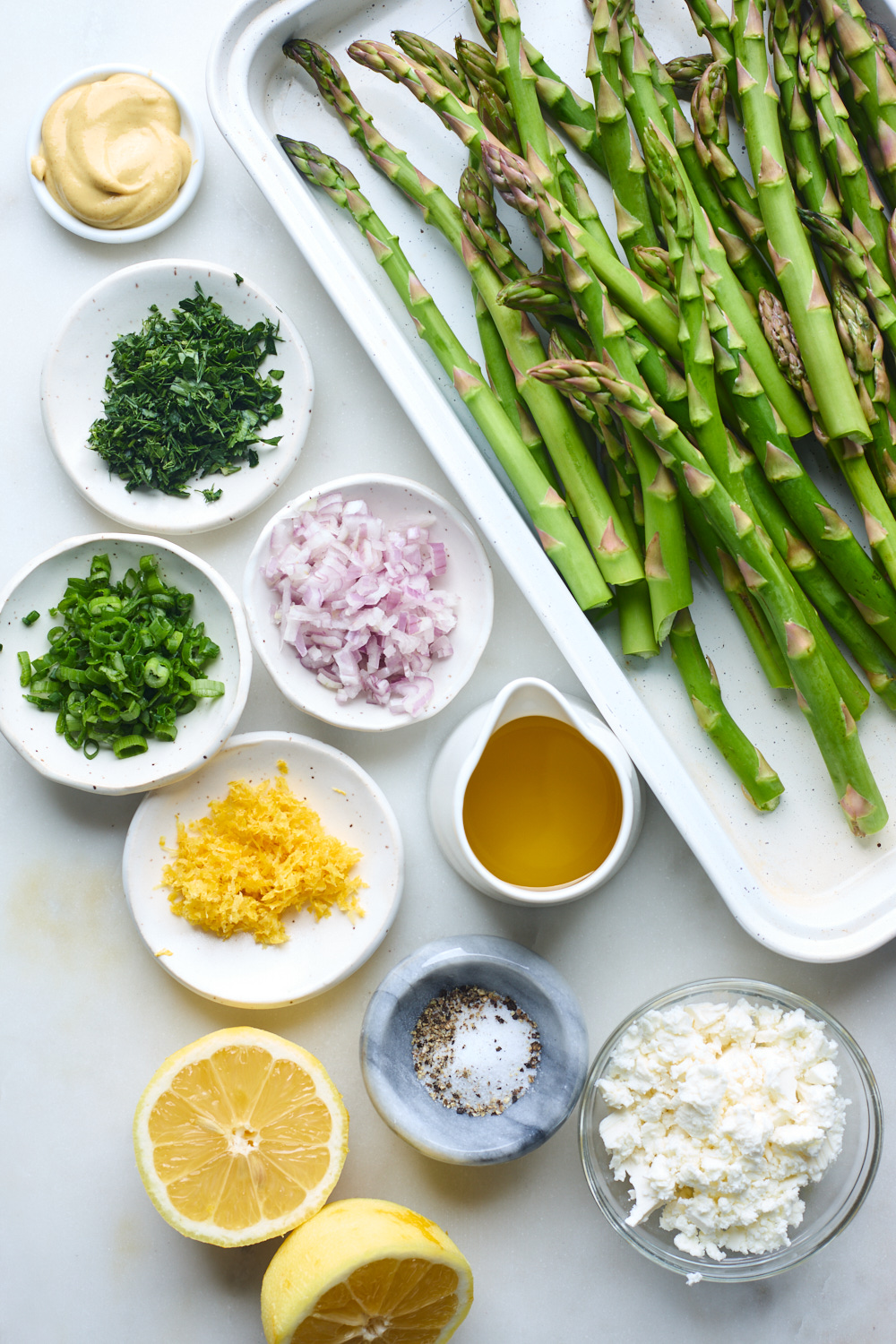 What makes this salad Greek?
This aspargus salad can easily be made greek using a delicious lemony herby dressing. Lemony salads are so beloved in Greek cuisine - a simple drizzle of olive oil and squeeze of lemon juice transforms veggies even if they are simply steamed or blanched. My go to way to have Horta (steamed or boiled bitter greens like dandelion), steamed broccoli or green beans is just that - olive oil, lemon juice, salt and pepper for seasoning. This time the asparagus is dressed with a vinaigrette that includes fresh herbs and shallots and some Dijon too along with the lemon juice and olive oil. I used plenty of fresh herbs - my favourite combo of them is parsley dill and mint in the salad and the dressing - a classic combo in Greek cooking and in my maroulosalata as well. Green onions add some delicious freshness. The feta is a must for just about any Greek salad and adds some salty tanginess to this and every salad. So there you have it - it's the LEMONY OLIVE OIL dressing with the FRESH HERBS and FETA that make this a Greek aspargus salad.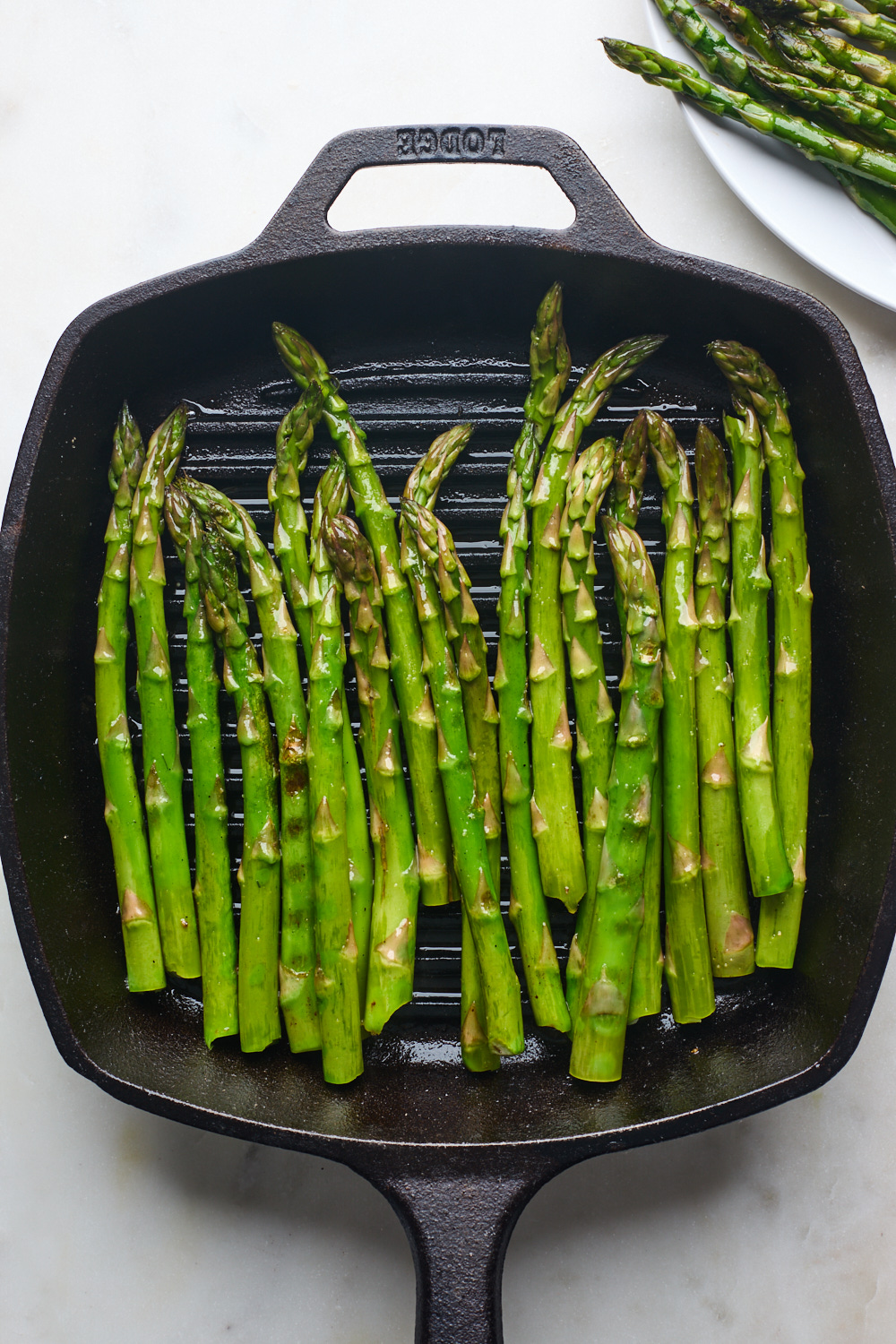 Asparagus salad variations
We already went though variations or different ways you can prepare and cook the asparagus but here's are a few variations of other ingredients in this recipe. If you prefer to dress your salad with balsamic vinegar or red wine vinegar instead of lemons juice feel free too. I like using Dijon mustard in my dressing but regular prepared mustard or honey mustard will work well too. If you prefer to make this more garlicky then feel free to add some grated garlic to the dressing or replace the shallots with it. You can also switch up the herbs too - feel free to use any combination of herbs you like. Basil is a great heb to use in this salad. If you prefer it without cheese just omit the feta cheese or add some grate Parmesan instead for an alternative.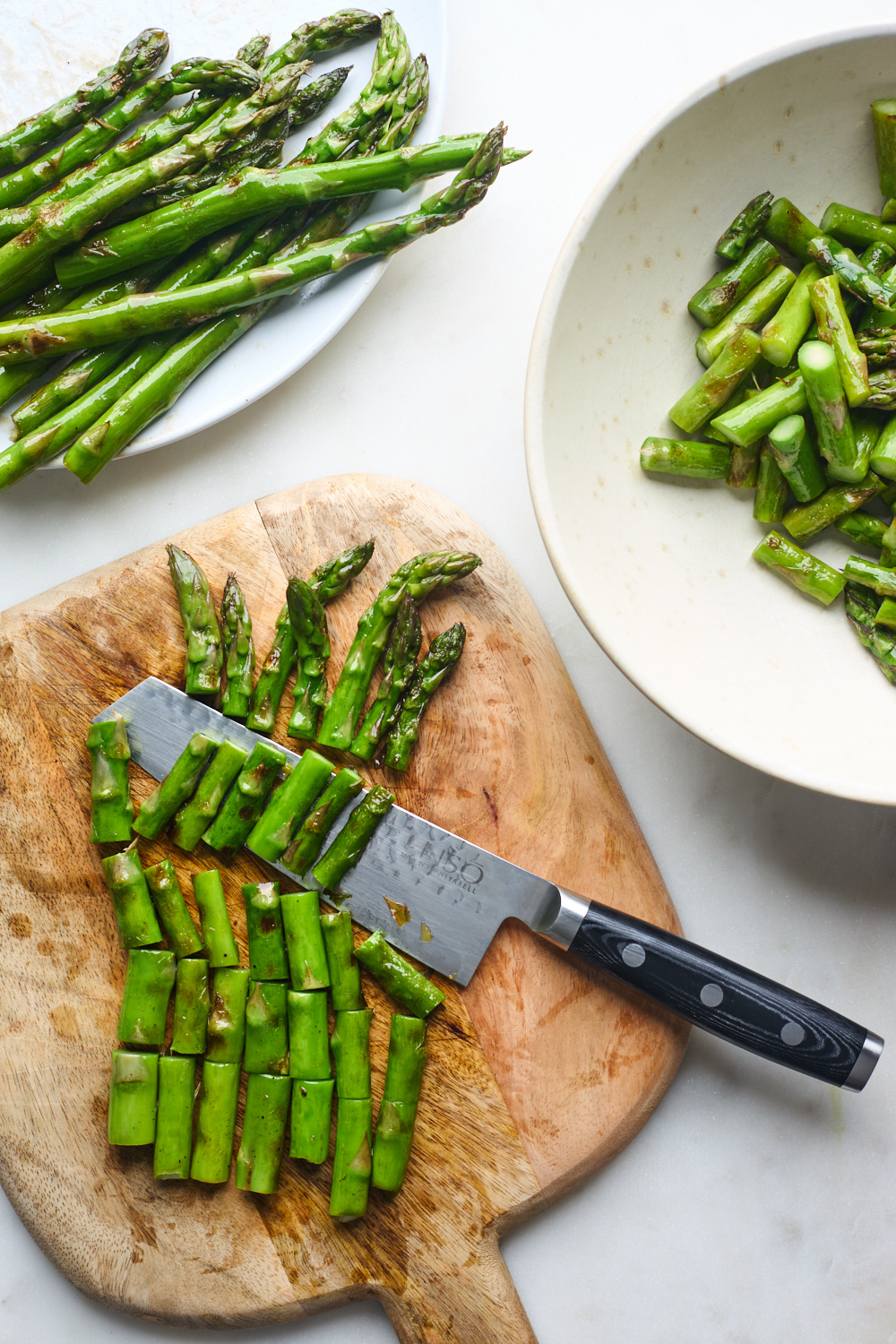 Can I add more ingredients to this asparagus salad?
This is such a flavourful salad and makes for a delicious side dish. You can absolutely beef it up and add more veggies or protein I tot it if you would like Here are some delicious add in options that could easily transform this salad into a complete meal.
Cherry Tomatoes
Grilled or roasted chicken (chopped)
Chopped Avocado
Cucumber
Green peas
Tuna
Arugula or baby spinach
Sliced Almonds chopped pecans, walnuts or toasted pine nuts
Sliced or chopped olives
Capers
Greek asparagus salad tips, storage & make ahead instructions
Can I use green beans instead of asparagus? Absolutely but I would recommend steaming or blanching the green beans instead of grilling them.
Can I make this vegan? Yes! Just use a store-bought vegan feta cheese or omit the cheese altogether
How long does this keep in the refrigerator? Honestly, after about three days it starts to look pretty rough. I would recommend eating immediately or within 2 days.
Can I make this ahead of time? Yes, but I wouldn't recommend making it anymore than 2 days in advance. Really, it's best the day of.
How do I store this roasted asparagus salad? I would recommend storing in an airtight container in the refrigerator.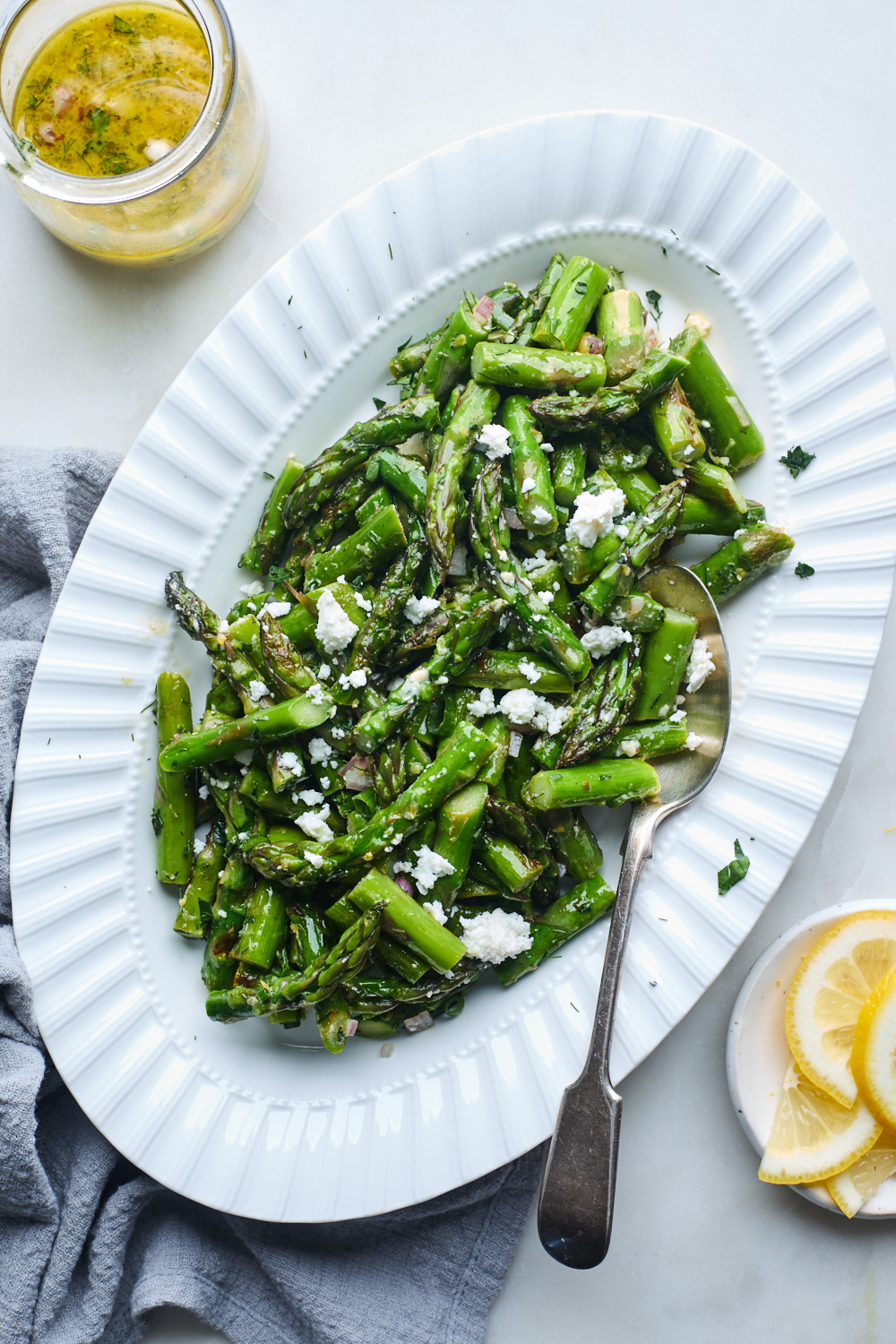 More salad recipes you will love
Recipe
Prep Time: 10-15 mins
Cook Time: 10 mins
Ingredients
2 pounds very thick asparagus, about 24 spears, woody ends trimmed (approx 2 bunches)

¼ cup or 6 tablespoons extra virgin olive oil, divided (some for the dressing)
For the lemon vinaigrette/dressing
Zest of 1 lemon

1 tablespoon fresh lemon juice, from one lemon

2 tsp dijon mustard

¼ teaspoon salt

¼ teaspoon freshly ground pepper

1 small shallot peeled and minced, or one small red onion

1 tablespoon chopped fresh herbs (I used a combo of dill parsley and mint)
For the topping
3 oz feta cheese, crumbled (about ¾ cup)

¼ cup chopped chives or green onion

¼ cup chopped Fresh herbs (I used a combo of dill parsley and mint)
Directions
Toss the asparagus spears with 2 tablespoons of olive oil and sprinkle with a pinch of salt and pepper.
Turn the barbecue to high heat or alternatively heat a large cast iron skillet or grill pan on high heat and once hot, place 6-8 spears of asparagus in the pan (you will have to work in batches to cook the asparagus so that they char evenly). Cook them for approximately 3-4 minutes until fork tender, turning them every minute or so to ensure they brown on all sides. Set the charred asparagus aside and continue cooking the remaining batches of asparagus until it is all cooked. Let the asparagus cool. (See post or notes below for roasting or blanching instructions)
Transfer the spears to cutting board and cut on the bias into bite-sized pieces. Place the cut asparagus in a large bowl.
In a small bowl add the mustard and lemon juice and whisk until smooth. Whisk in the remaining olive oil. Add the diced shallots, lemon zest, fresh herbs salt and pepper to the dressing and mix. Pour over the asparagus.
Toss with the feta and sliced green onions and serve warm or at room temperature or as a cold asparagus salad.
Store leftovers in an airtight container in the refrigerator for up to 2 days