Greek Eggplant Dip (Melitzanosalata)
Updated 19th October 2023
Melitzanosalata pronounced meh-lee-tza-no-sa-lata is a Greek Roasted Eggplant dip or mediterranean dip that is a tasty pant based dish of grilled or roasted eggplants, garlic, oil, and lemon juice. It's a great spread or dip to snack on, as an appetizer and also great on a mezze platter too. It is derived from two Greek words - melitzana (eggplant) and salata (salad), which translates as eggplant salad. Summer is the season for eggplant, and this is one of my favourite dips to make with eggplant. It's simple to make and requires pretty basic pantry ingredients. It's as easy as roasting, peeling and blending. It's quite similar to a middle eastern style baba ghanoush. Melitzanosalata though is all about the eggplant. It's the focal point of the dish and is left in its basic form. On the other hand, Baba Ganoush/ghanoush has a totally smoother texture as it is typically processed with tahini. I love both dips equally I got to say - it all comes down to your taste - texturally and flavour - wise.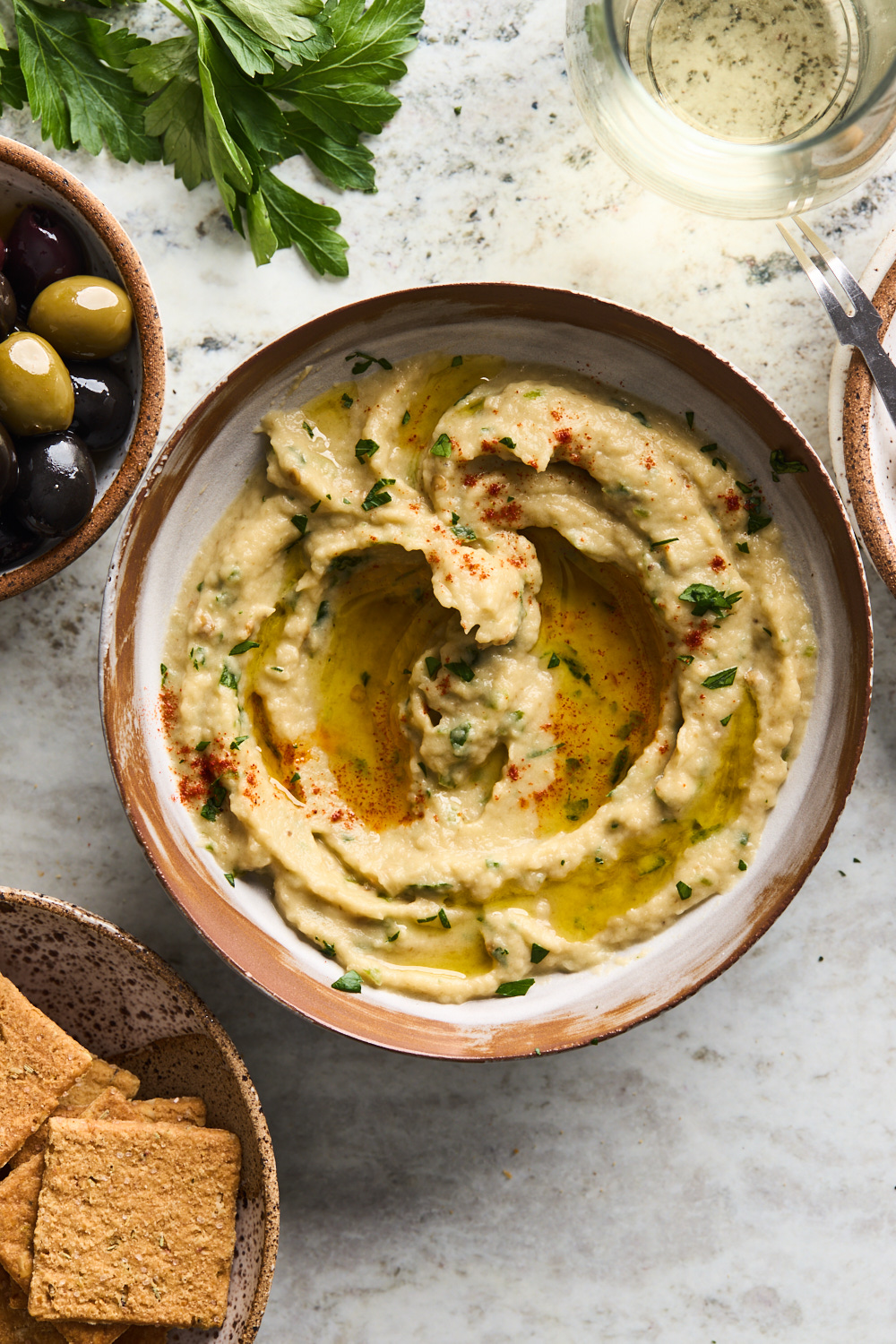 Melitzanosalata (Greek Eggplant Dip) Ingredients:
EGGPLANT: The star of this dish - totally necessary to make the smooth, smoky base - large globe variety is what I usually use
GARLIC: Fresh garlic is always best- for loads of flavour
ONIONS: I like to use either green onions or a small red onion or a shallot
EXTRA VIRGIN OLIVE OIL: Olive oil makes it rich and smooth
LEMON JUICE or RED WINE VINEGAR: Either one works to brighten up dip
FRESH PARSLEY: It adds a nice fresh flavour to the dip
SALT & PEPPER: To taste, always check for seasoning and add more accordingly
(Optional) Smoked Paprika or cumin & Olives for garnish.
ADD INS: For a different twist to this traditional Greek melitzanosalata recipe, try adding some crumbled feta or even some roasted red peppers or a chargrilled Chile for some heat. I have also roasted the garlic in the oven with the eggplant and it gives the garlic and the dip a whole new level of flavour.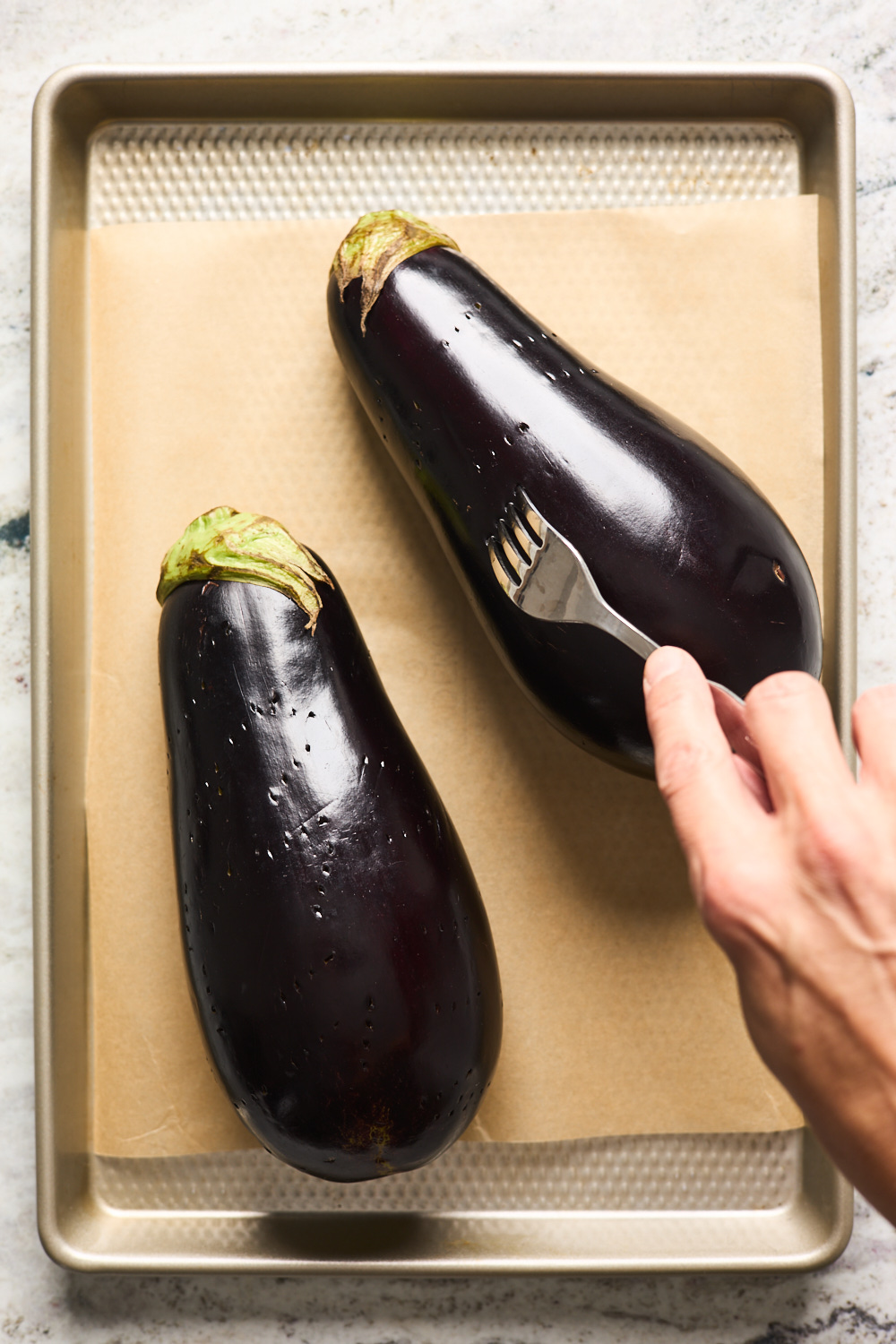 Steps to making Melitzanosalata (Greek Eggplant Dip)
PIERCE eggplants with a fork all over then ROAST until tender.
Allow them to COOL then PEEL and then allow to rest for 15 min or so to release all their natural juices
Place Eggplant, garlic, olive oil, lemon juice, onion, salt & pepper, in a food processor and PROCESS until smooth. Add the parsley and pulse a few times to combine.
CHILL for 15 min to 1 hour top with a drizzle of olive oil on top, a sprinkling of paprika, some olives, and serve with veggies or crackers.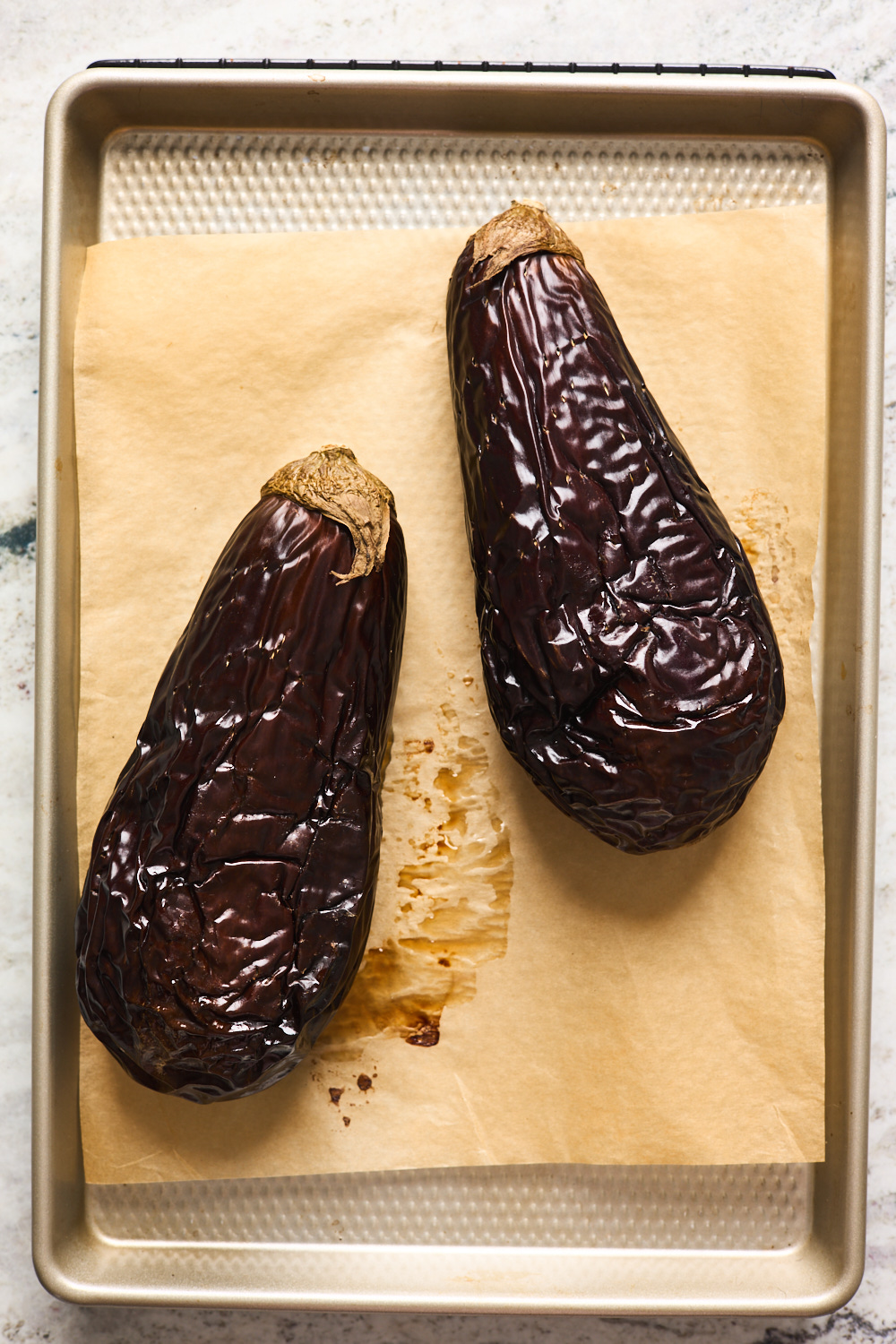 Do I Roast/ Bake or Grill the Eggplant?
That is up to you. Traditionally you would grill the eggplant over open fire. If you want that authentic, smoky taste of melitzanosalata, place the eggplant over a gas flame, grill or under a broiler, and cook, turning around using a pair of tongs, until the skin is fully charred, and the eggplant is quite tender. This usually takes 10-20 minutes. But, you can roast the eggplant if that's what you prefer - it takes a bit longer but it's a bit less hands on and easier. Some people like to roast a package of wood chips alongside it to infuse the eggplant with some smokiness - I have never tried this but it might be worth experimenting. And others add liquid smoke to their dip to add some smokiness. Again something I haven't tried but heard it works. I think roasting it alone still gives it a really nice flavour. Feel free to use any of the options listed to get your eggplant tender enough to blend or stir into a creamy dip. Both roasting or grilling vegetables gives them the most delicious flavor.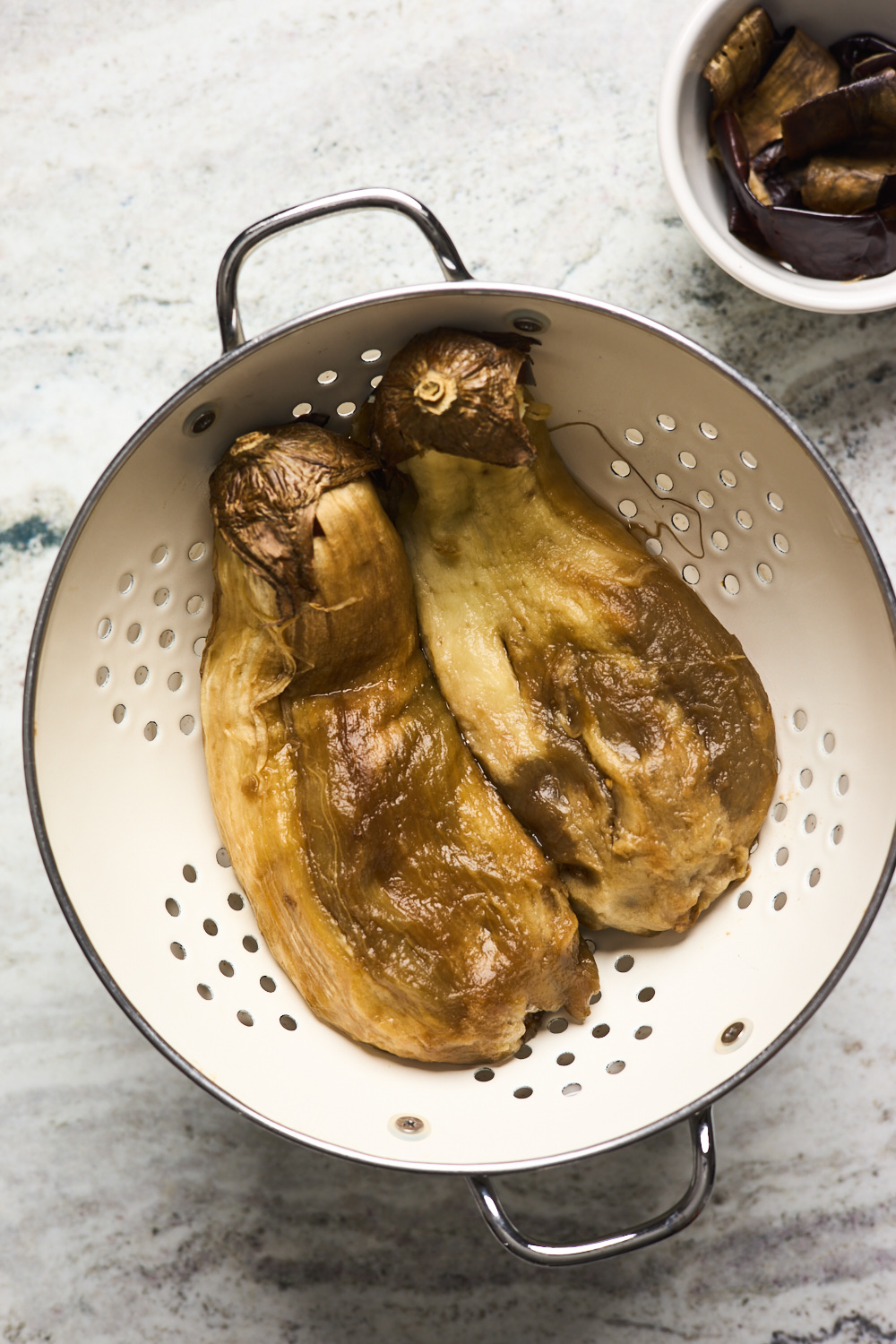 Stir or Blend the Eggplant Dip?
This is really up to you too. It all depends on what sort of texture you want in your eggplant dip. If you like a chunkier Melitzanosalata use a fork to mash the eggplant dip. You want the mixture to be somewhat smooth but still retaining some of the eggplant's texture. Then stir in the other ingredients. For a smoother dip you can also use a food processor, but take care not to make it too smooth; this is supposed to be a rustic, slightly chunky dip.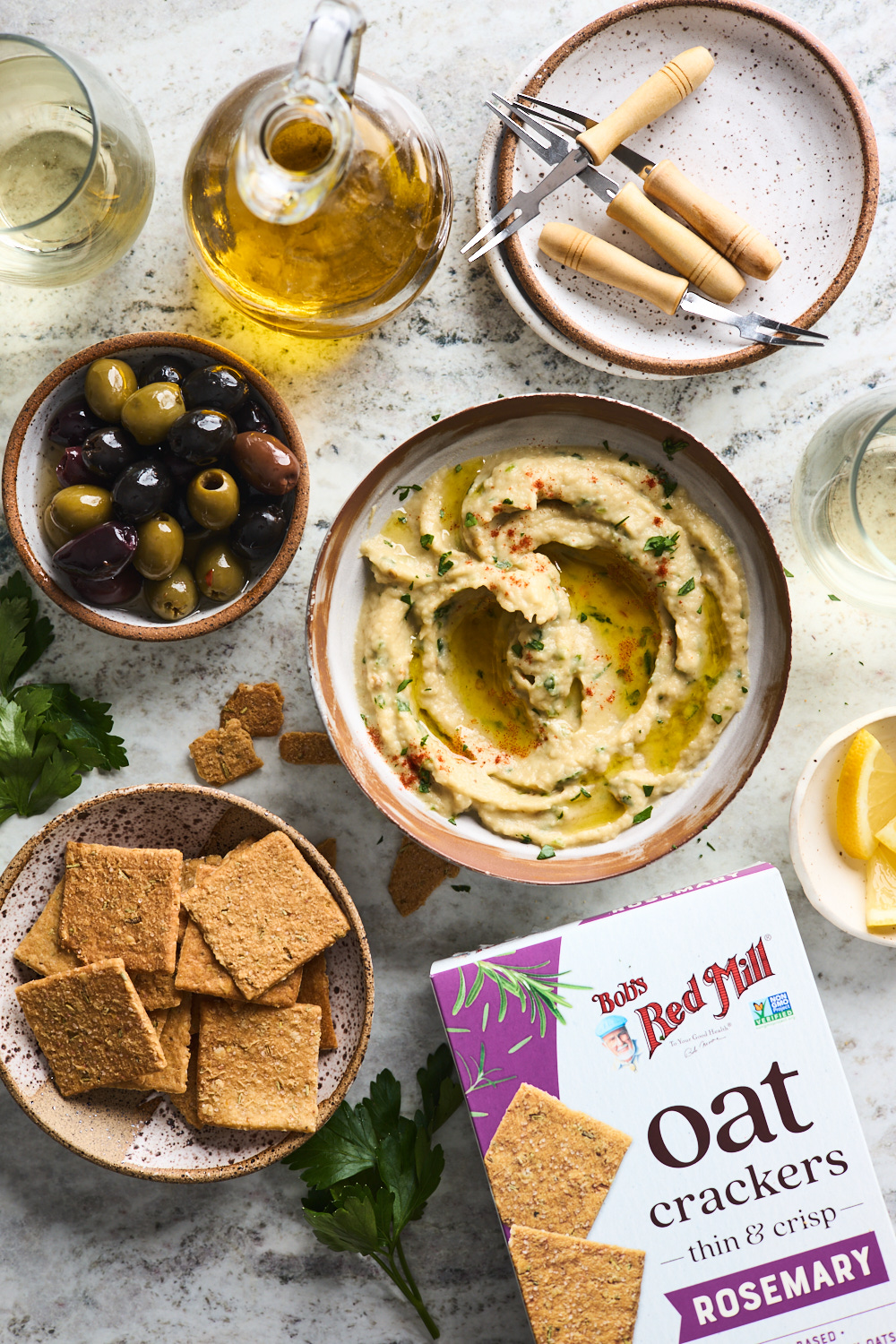 What to Serve Melitzanosalata With?
I love to serve it with freshly baked or warm pita bread or something crunchy like some veggies or some crisps or pita chips. In particular, I love serving it with my new favourite gluten free Oat Crackers from Bob's Red Mill. They make the perfect crunchy vessel to carry this dip on. They make the perfect addition to any platter. They come in 4 delicious flavours and unlike other GF crackers they deliver on crunch with no waxiness. It is great as a spread for roasted vegetable sandwiches or even a smear of it in your souvlaki sandwich or pita would be great too. It's creamy and delicious and you will keep going back for more! Enjoy!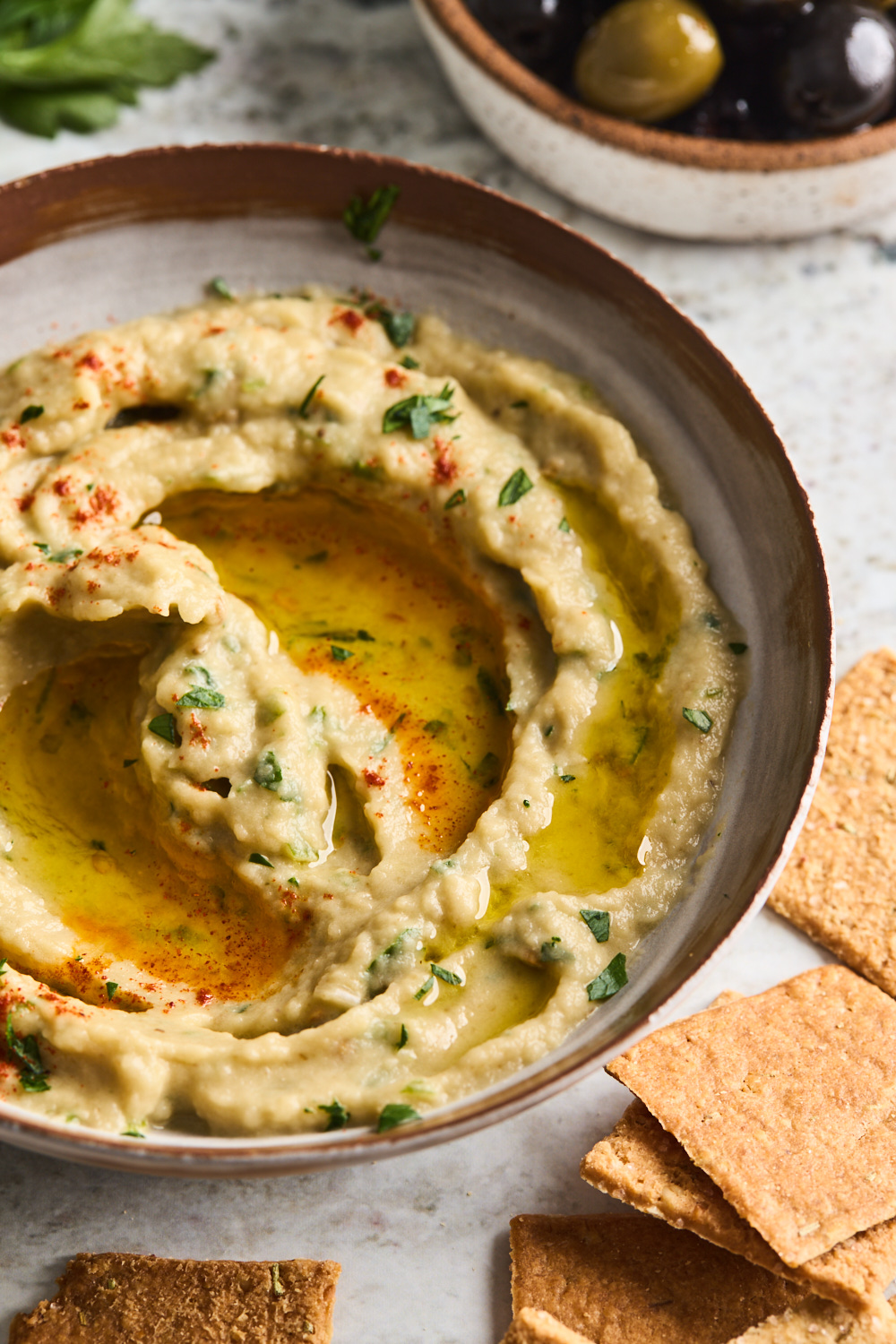 If you liked this recipe you will love these:
I have partnered up with Bob's Red Mill to bring you this fabulous recipe, but all opinions are my own. Thank you for supporting Olive & Mango.
Recipe
Prep Time: 10-15 mins
Cook Time: 50-60 mins
Non-Active Time: 30 min for cooling
Total Time: 1 hour 45 mins
Ingredients
2 large eggplants

3 cloves garlic, peeled and minced

2 spring onions end trimmed and sliced

⅓ cup extra virgin olive oil, plus more for serving

¼ teaspoon red chili flakes (optional)

3 tablespoons freshly squeezed lemon juice or red wine vinegar

salt and pepper to taste

¼ cup Chopped fresh parsley plus more for garnish

1-2 boxes of Bob's Red Mill Oat Crackers for serving, or pita chips
Directions
Preheat the oven to 400°F. Place the eggplants on a foil-lined baking sheet and pierce a few times with a fork. Roast in the pre-heated oven for 50 to 60 minutes, or until tender and knife slices through them easily, turning them half way through their cooking time.
Allow the eggplant to rest until cool enough to handle. Once cool enough, peel the skin away from the flesh, slice it in half and remove the very seedy parts of it. Place into a colander to drain for 15-20 minutes while you prep the other ingredients. You can pat it dry with paper towels before removing from colander too.
Transfer the eggplant and all the rest of the ingredients to a bowl of a food processor and process until smooth or the consistency you prefer. Alternately place them all in a bowl and use a fork to mash and stir the eggplant into the consistency you like. Stir well, test for salt and pepper and adjust as needed.
Enjoy right away or chill for one hour for the flavours to marry; serve drizzled with olive oil and topped with whole olives and a sprinkling of parsley and paprika.
Recipe Notes
For a more traditional, smokier version, cook the eggplant on the grill (no foil), until the eggplant is very soft and charred all over. Remove the charred skin and continue with the recipe instructions.
Make-Ahead Melitzanosalata: Melitzanosalata keeps well in the fridge, so it's fine to make it a day or two ahead of serving. For best flavor, let it come to room temperature before serving.