Greek Grilled Potatoes
These Lemony Greek Grilled Potatoes are seasoned with garlic and oregano and then served with fresh Parsley and ready in 30 minutes. This is the perfect side dish for all your entrees this summer and BBQ season. They are easy to make and require no foil packs or anything like that - they get grilled right on the grates for that perfect smoky flavour from the grill. They always come out golden on the outside with a creamy inside. This recipe is as delicious as my Greek Roasted Lemon Potatoes, but with an added smoky flavor. These grilled potatoes are done Greek-Style but you can pretty much use any kind of seasoning blend you like to make them your own. I can easily make a meal out of these - these and some grilled vegetables and I'm good - they are so yummy!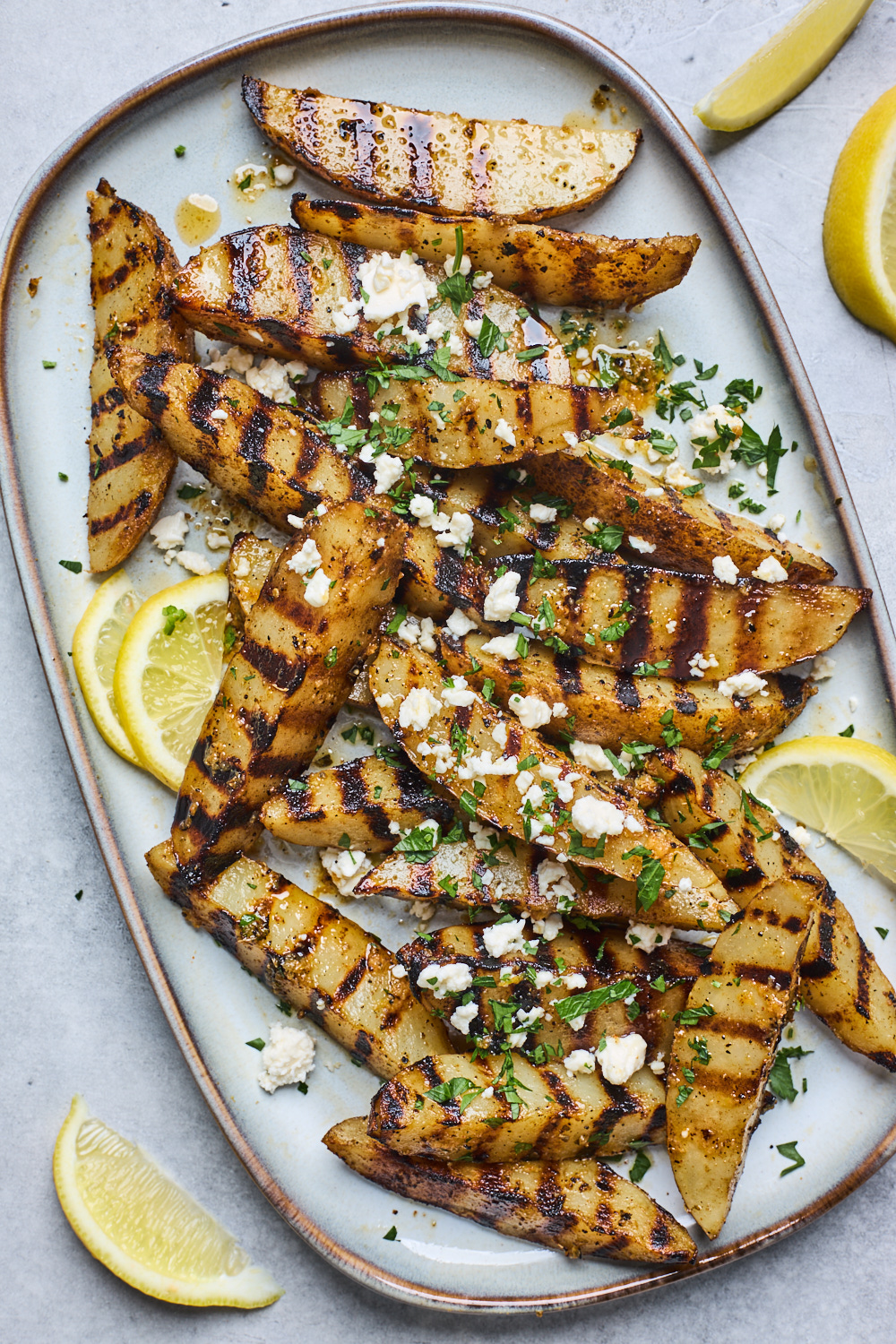 Greek Grilled Potato Ingredients
Yukon or Russet potatoes - more on that below - I usually use 4 large russet potatoes to make enough wedges to serve 4-6 people.
Salt and pepper - I typically use 1 teaspoon of kosher salt or sea salt and 1 teaspoon of pepper but use as much or as little as you like - don't forget to generously salt your water for the potatoes for extra flavour
Dried Herbs and Spices - for this greek version I use dried oregano and dried garlic - feel free to use fresh garlic too. Switch up the herb blend to taste - for example use, Italian seasoning, thyme, rosemary, chili powder, etc.
Zest of one Lemon - adds so much favour to the potatoes
Juice of one Lemon - freshly squeezed is always best
Extra-virgin Olive Oil - adds flavour and used for ensuring the potatoes get nice and golden brown on the grill
Fresh Herbs - use any you like but typically I like to use fresh parsley and fresh dill and sometimes some fresh mint. Feel free to use whatever you like
Variation - Sweet potatoes: Want a different variation? Swap the russet potatoes with sweet potatoes instead.
Toppings: I like serving them with extra chopped fresh herbs, lemon slices or wedges and crumbled feta. But feel free to switch things up according to your flavour combination. A herbs and garlic version would be so good loaded with sour cream, bacon bits, chopped green onions, and shredded parmesan cheese.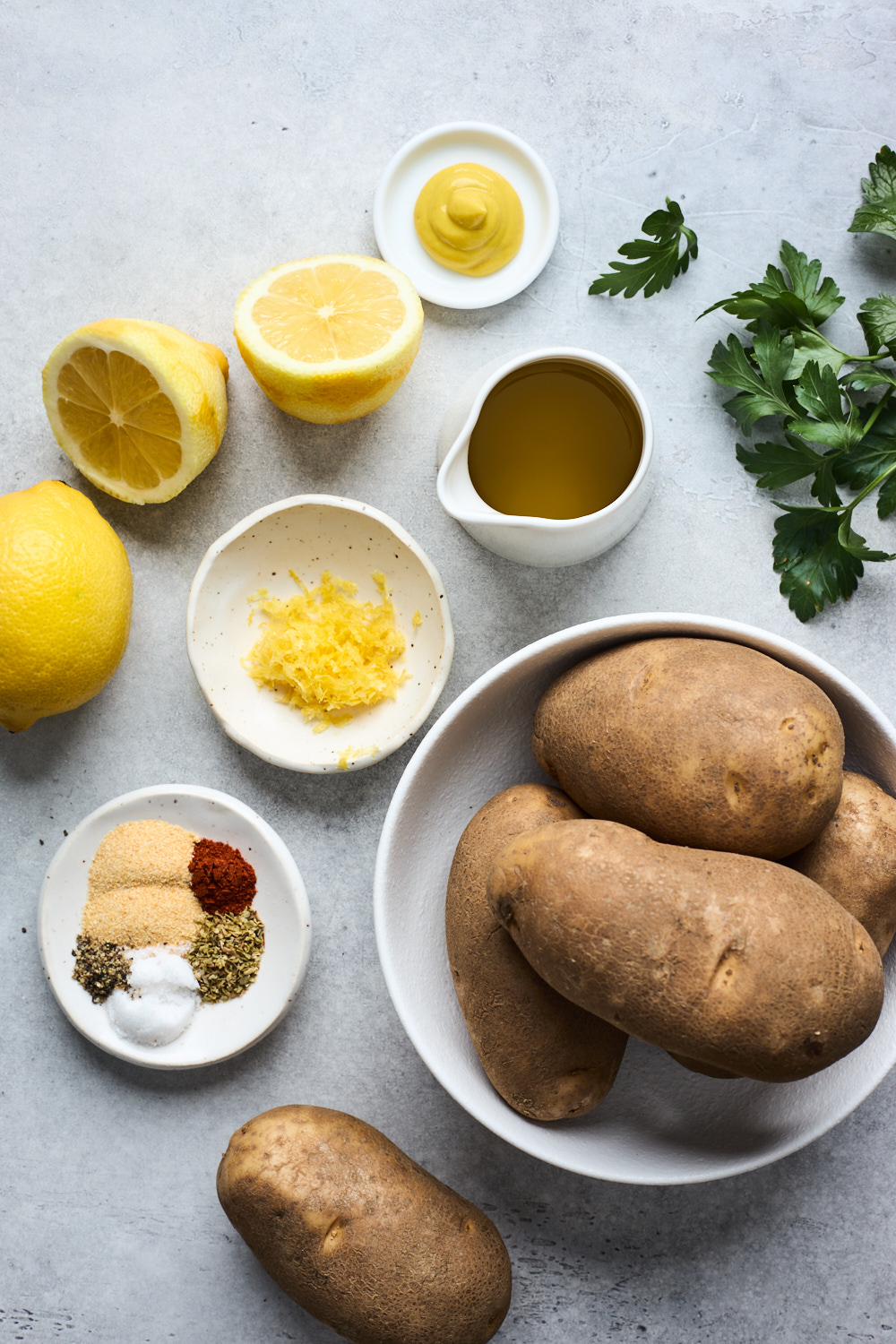 What Are the Best Type of Potatoes for Grilling?
Technically you can grill just about any kind of potato but I think the best type for grilling are potatoes with thin skins and waxy flesh like Yukon Gold potatoes, red potatoes, new potatoes and I also like using russet potatoes too. Russet potatoes tend to be larger so your wedges are larger and easier to grill as well - they do have thicker skin but in a way I like that because the skin gets crispy and the inside is buttery and fluffy, and they hold up on the grill well. To Make sure that your potato wedges cook evenly on the grill and at the same rate of time, be sure to cut the potatoes into similarly-sized wedges or potato slices. Medium size potatoes, can be cut lengthwise into four wedges; and large ones into six wedges.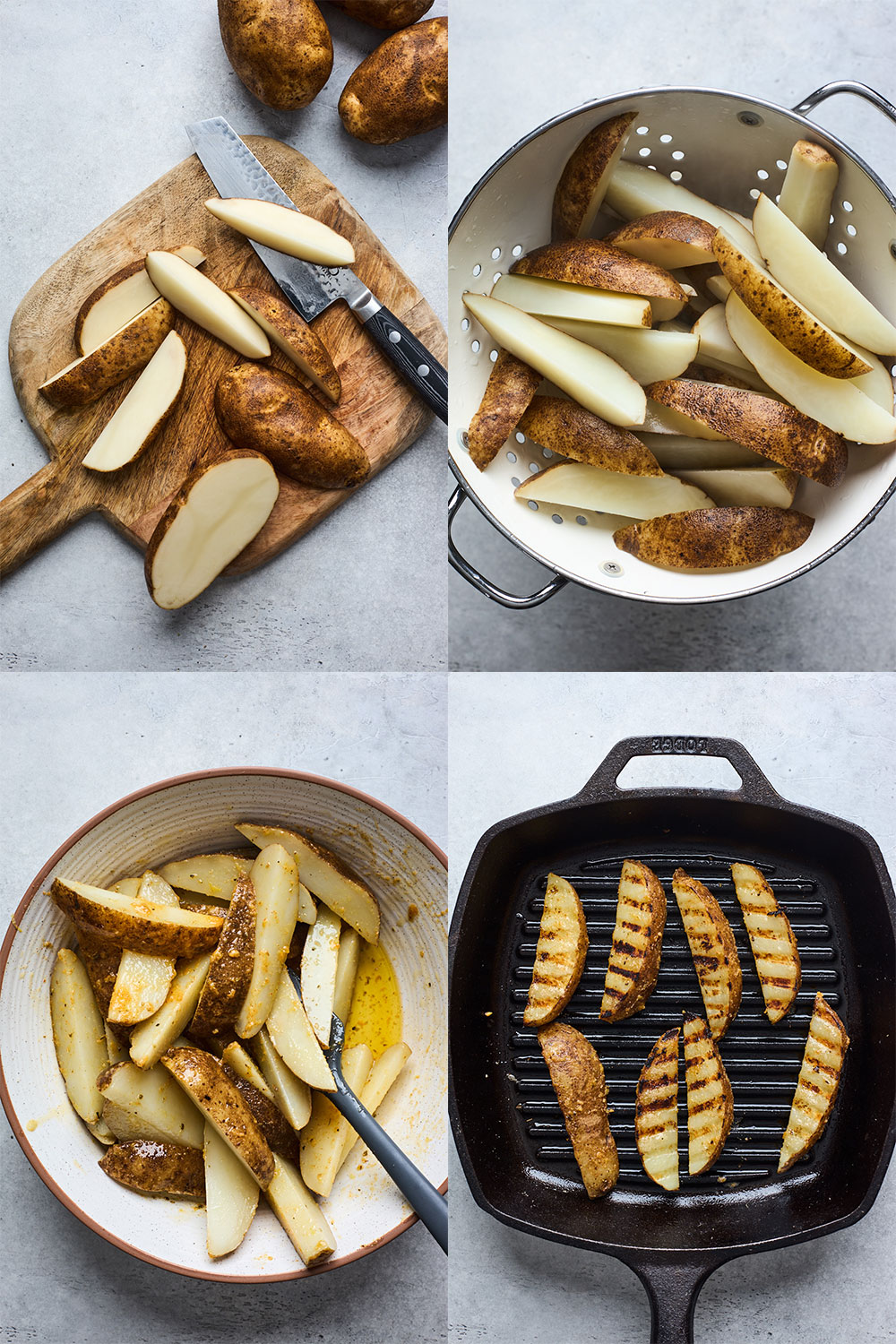 How do You Make Grilled Potatoes?
Boil – First, bring water to a boil. Add some salt, and boil potatoes until they are tender but not mushy. Then, drain and let them cool.
Season In Marinade/Dressing – Whisk the marinade/dressing ingredients together then gently toss potato wedges in it until well coated.
Grill – Remove potatoes from marinade (reserving marinade) and grill on preheated grill on medium-high heat with well greased grill grates in a single layer. Close lid and grill flipping once - 8-10 min depending on the size of the wedges.
Garnish – Take potatoes off grill and toss gently in reserved marinade/dressing and serve with fresh herbs extra lemon juice and crumbled feta cheeses if you wish.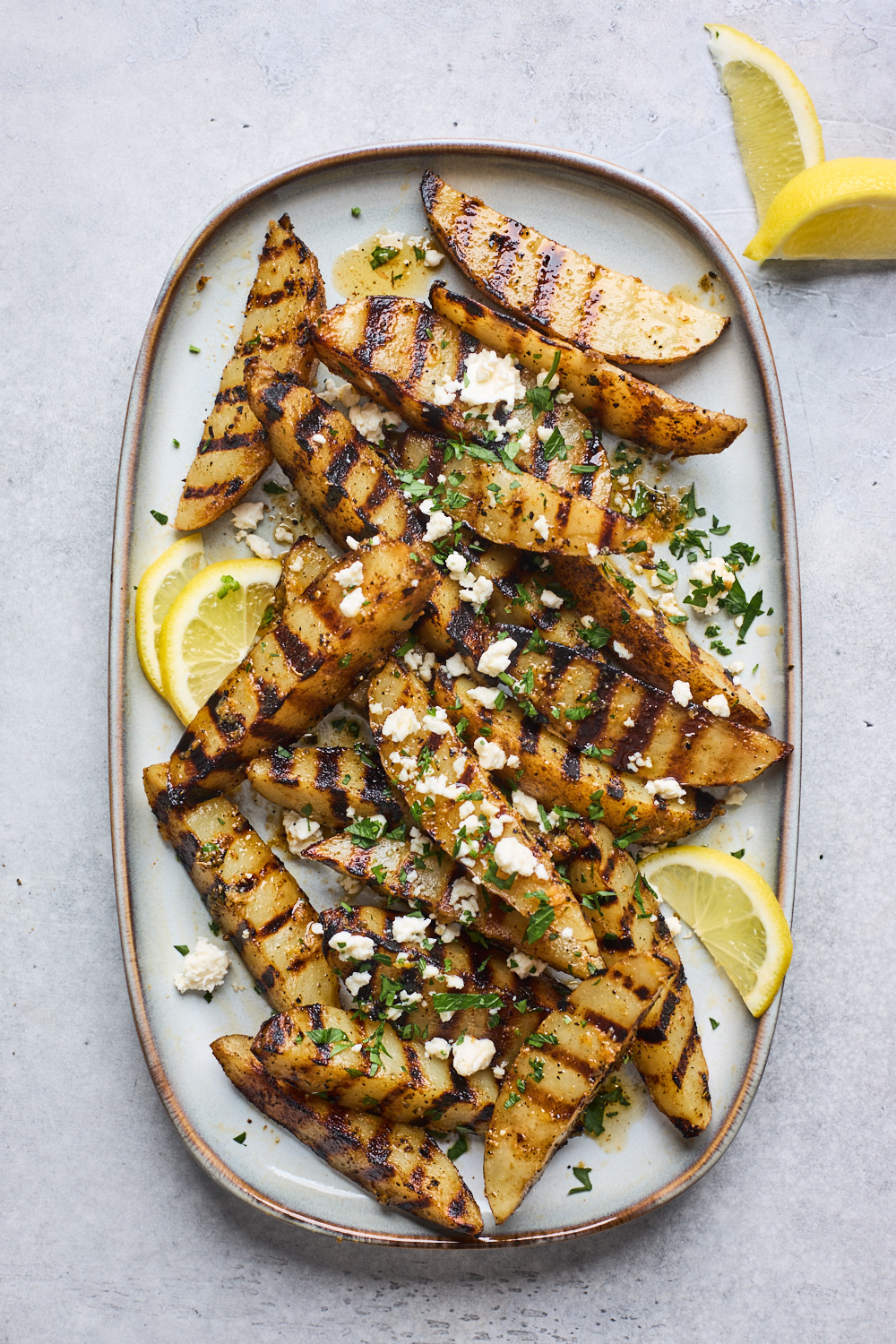 Why do I Need to Par Boil the Potatoes Before Grilling?
Can you grill potatoes without boiling them first? They answer is yes - technically you can but they need to be bite size and you need to cook them in a foil packet or wrapped in large sheet of foil or a grill friendly skillet or pan with lid so that they cook with the heat and the steam created in the foil pack or pan. This recipe uses no foil pack so the potatoes need to be par cooked or par boiled before hitting the grill where they finish off cooking and get that smokey flavour and crisp edge.
Boiling or par cooking the potatoes before grilling:
It adds flavor. Cooking the potatoes in a pot of heavily salted water seasons them from the inside out.
It speeds up the grilling process. Because they are mostly or par cooked, the potatoes don't need to cook very long on the grill. As soon as they have some grill marks all over , some char and crisp on the edges, they are done.
Do I Need to Grill the Potatoes in Foil?
Nope! Can you put potatoes directly on the grill? Yup! For the easiest, golden charred edged potatoes, grill the wedges directly on the grates. Arrange them across the grates so they don't get stuck and for great grill marks. Then close the lid to trap the heat and help the potatoes finish cooking all the way through so the centers are nice and creamy. You can grill the potatoes on gas or charcoal grill and even on a GRILL PAN STOVE TOP making it easy to enjoy these grilled potatoes all year round. If using a grill pan make sure to use a lid to help trap the heat into pan to help the potatoes cook right through.
Make Ahead & Storage Tips
To Store: Refrigerate leftover grilled potatoes in an airtight container for up to 4-5 days.
To Reheat: Reheat in the oven on a sheet pan lined with parchment paper at 350 degrees F, until heated through.
To Freeze: I do not recommend freezing potatoes, as their texture can become mealy once thawed.
Make ahead: The potatoes can be par-boiled up to 1 day in advance of grilling. Cool completely and store in an airtight container in the refrigerator overnight. Let the potatoes sit at room temperature while you heat the grill.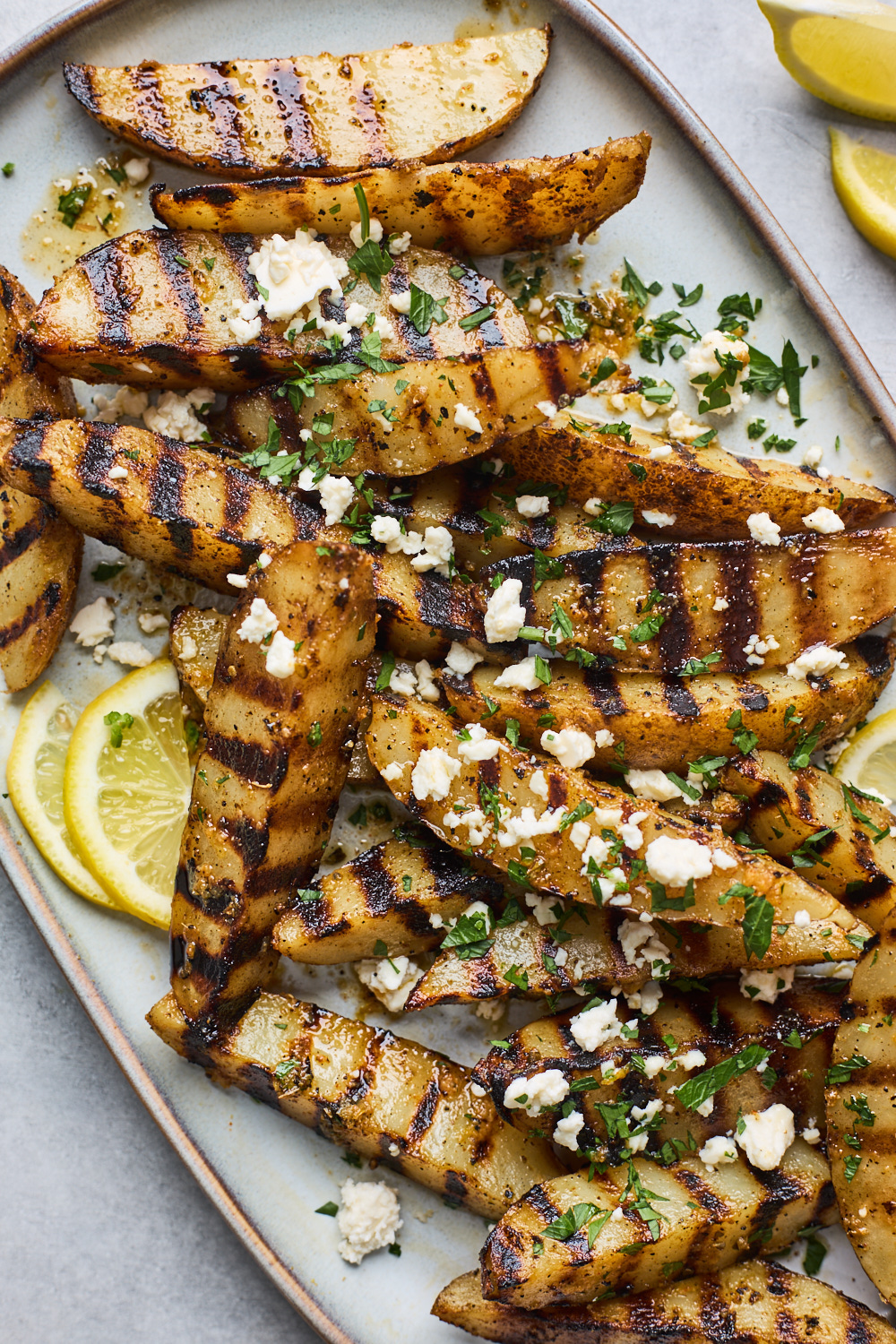 What to Serve With this Side Dish:
More Potato Recipes You Will Love:
Recipe
Prep Time: 5-10 mins
Cook Time: 20-30 mins
Ingredients
2 lbs potatoes russet potatoes or Yukon Gold potatoes, scrubbed and sliced into wedges (approx 4 large potatoes)

Zest and juice if 1 lemon plus more for serving

2 teaspoons garlic powder

½ teaspoon dried oregano or thyme

¼ teaspoon Paprika

1 teaspoon prepared mustard

¼ cup olive oil

Salt and Black pepper (I usually use approx 1 teaspoon each)

2 tablespoons fresh herbs (I like to use a mixture of fresh parleys and dill)

Crumbled feta for serving (optional)
Directions
Bring a large well-salted pot of water to a boil, then add potatoes and reduce to a simmer and cook par cook, until al dente, 7-10 minutes. Drain and let cool slightly.
Heat grill to medium-high heat and oil or grease grates well.
In a large bowl or platter, mix or whisk together the olive oil, lemon juice, paprika, lemon zest, garlic powder, mustard, oregano, salt and pepper
Add the potatoes and toss gently to coat. Remove potatoes from oil and reserve excess in oil in bowl.
Grill potatoes, flipping once, until golden brown, tender and cooked through about 4 minutes per side. Cooking time depends on the thickness of the wedges
Add fresh herbs to reserved oil mixture, then return potatoes to mixture and toss again. (You could also plate the potatoes and drizzle with reserved oil too). Serve with an extra squeeze of lemon juice and some crumbled feta too if you would like.
Refrigerate leftovers in an airtight container for up to 4 days.