Greek Honey Walnut Cookies
These Melomakarona (meh-loh-mah-KAH-roh-nah) are the tastiest cookie morsels. They are spiced with cinnamon and clove, flavoured with orange zest and juice and made with a mixture of flour and semolina giving them their distinct flabour and texture. They are baked until golden and set and then they are dipped into an aromatic spiced and orange infused honey syrup. They are irresistible and I bet you won't be able to stop at one.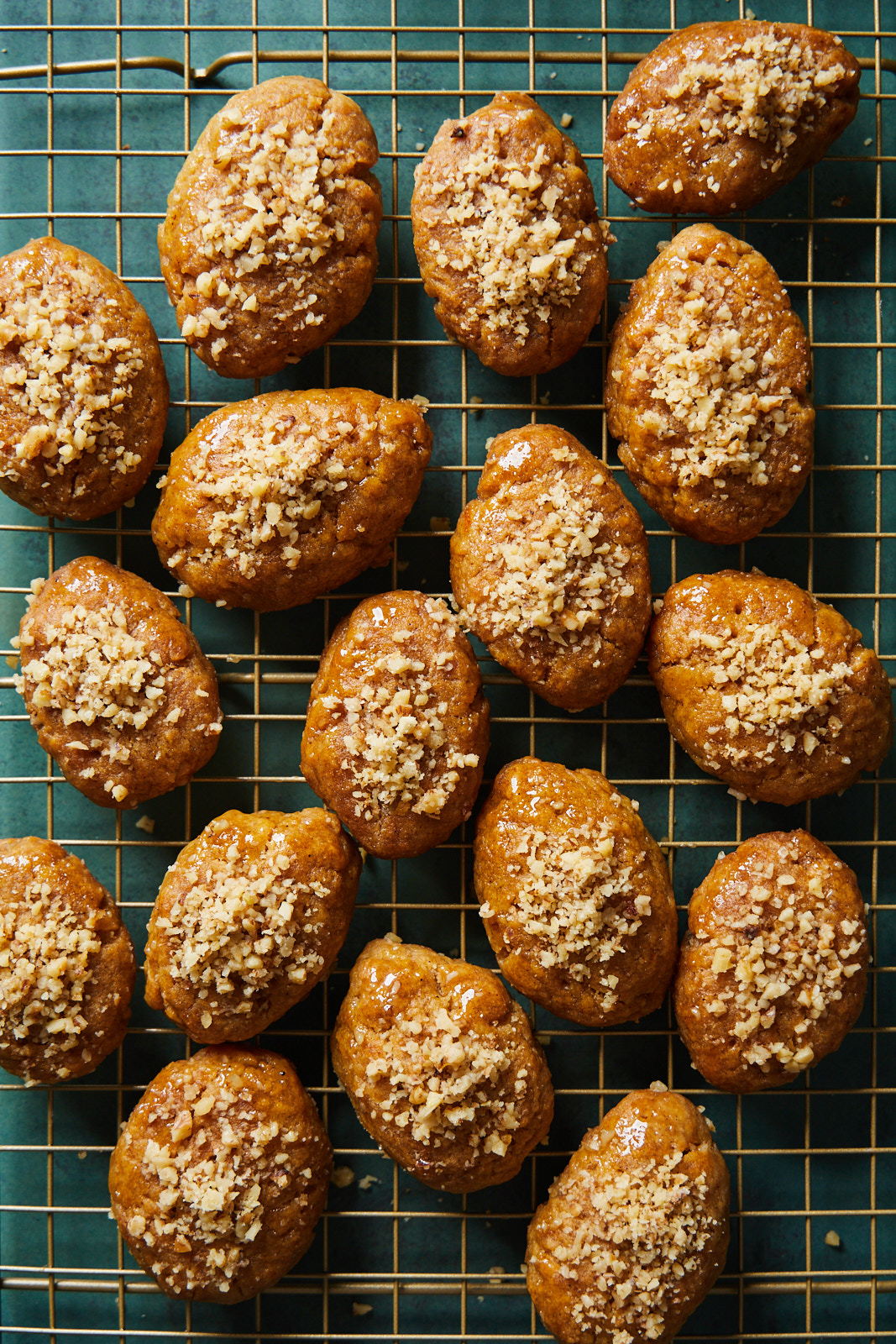 These are hands down my favourite Greek cookies. They fall under the category of desserts called Siropiasta or desserts with syrup. My Karithopita (Greek walnut cake), Galaktoboureko(Greek custard pie), Greek Orange Phyllo Cake (Portokalopita), Greek Semolina Cake (Revani) examples of some of the desserts that fall under that category. A more popular dessert that also falls into the same delicious category is baklava. Many who try melomakarona for the very first time actually think the flavours are quite similar to baklava but in cookie form. Instead of the crispy flakiness of baklava, the same spice and honey flavors are contained in a soft, tender cookie.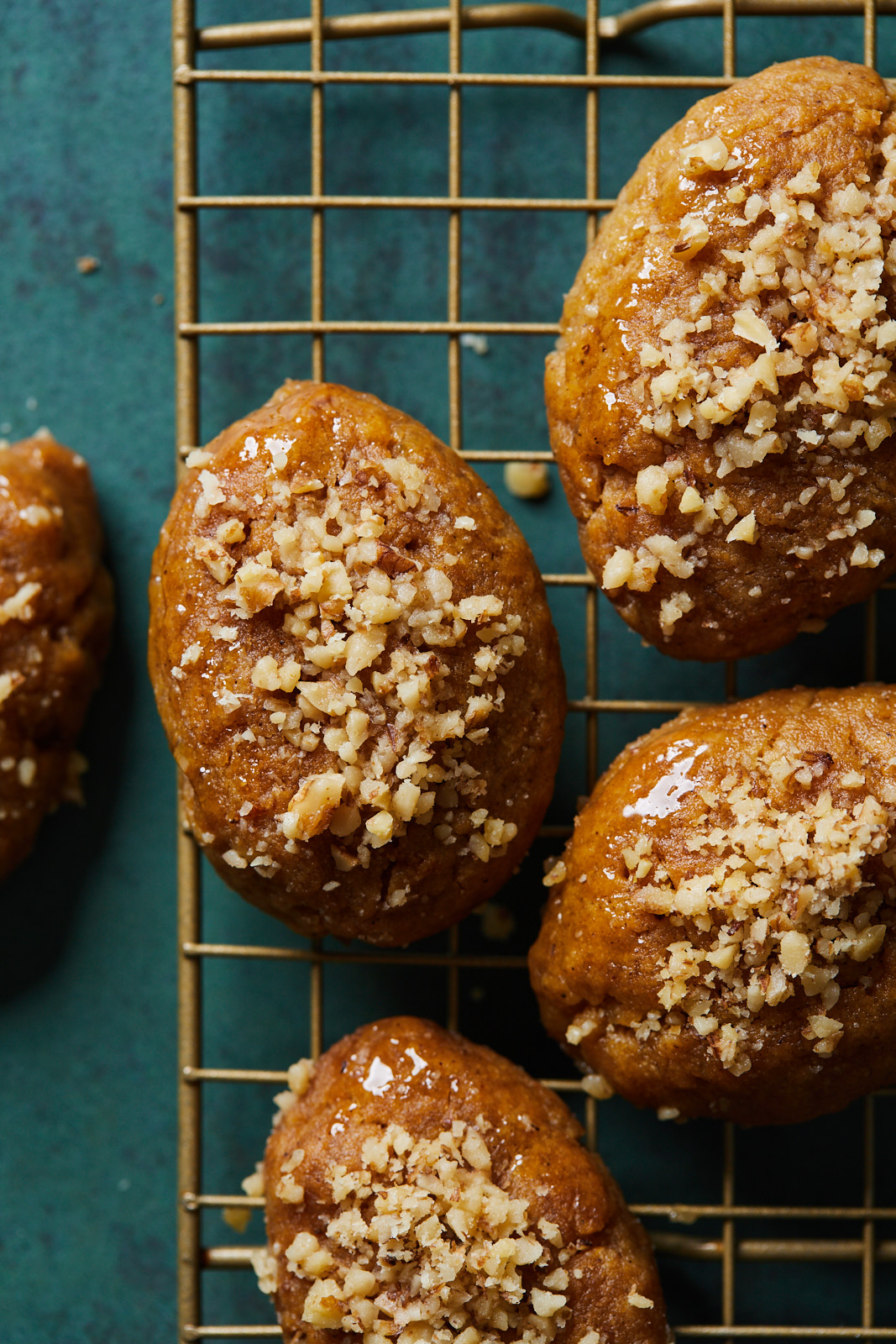 The cookie itself is quite simple to make using just a bowl and whisk. I love the combination of flour and semolina in mine because it adds a nice texture to these cookies. If you don't have semolina you could just use regular all purpose flour in its place. Many like to add in a couple tablespoons of ground walnuts to the batter too to give it extra nutty flavours and a crumblier texture. The key to making the BEST Melomakarona is remembering one thing when it comes to the dough. Do NOT over mix or over work the dough. What will happen is the oil will start to separate from the dough and you do not want that. It's the equivalent of squeezing water out of a sponge. Over working it essentially squeezes out the oil. So to make them perfect every time you must make sure to be gentle with the dough. Folding the flour into the oil gently a little at a time and then letting the dough rest for just a few minutes before shaping into cookies will help the dough hydrate and make it easier to scoop and shape.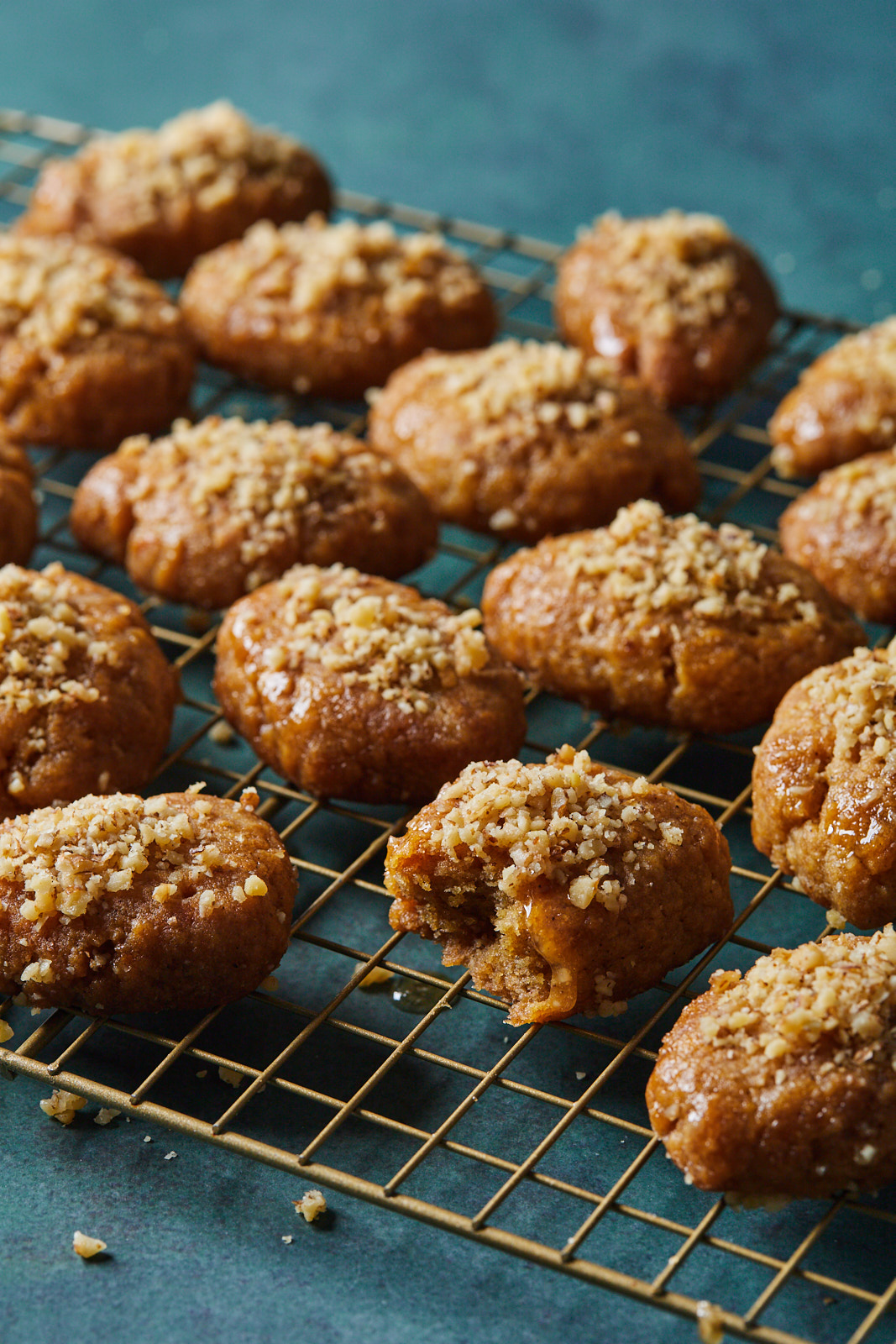 The syrup is easy to make and just takes a few minutes of simmering to infuse it with the flavours of the aromatics. Some people prefer to flavour these with lemon zest and juice instead of orange juice and that is totally fine. The recipe works well with both. When it comes to the spice levels in these you can also free to adjust the amounts of either the cinnamon or clove to your liking and you can swap out the ground clove with all spice if you like that better than clove in your baked goods. The brandy is also optional but I love the flavour it adds to these cookies.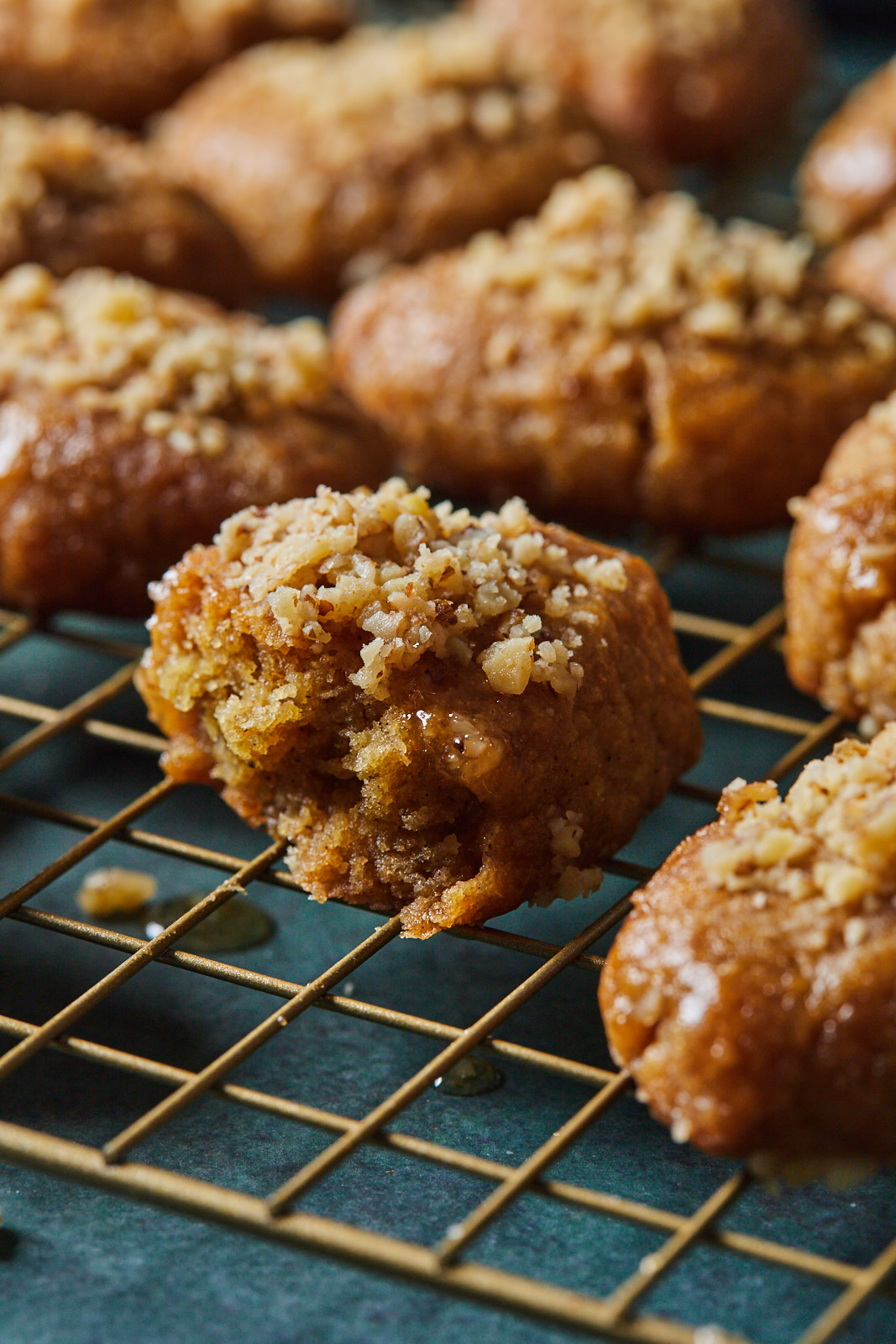 When it comes to soaking them everyone has their own way and opinion on it. Generally both the cookies and the syrup should not be the same temperature. You can either do it as written in the recipe below or you can also make the syrup in advance and then allow it to cool completely before you start baking the cookies and once the cookies are baked you can soak them in the cool syrup while they are warm. Either way will work. (Cool cookies - warm syrup or warm cookies - cool syrup). Many prefer their melomakarona very soaked and syrupy and others not so much. My recipe makes cookies that fall somewhere down the middle. If you want them super syrupy then soak them for longer and even drizzle some of the syrup over them after they are placed on tray. If you don't want them too syrupy then just soak them for less time.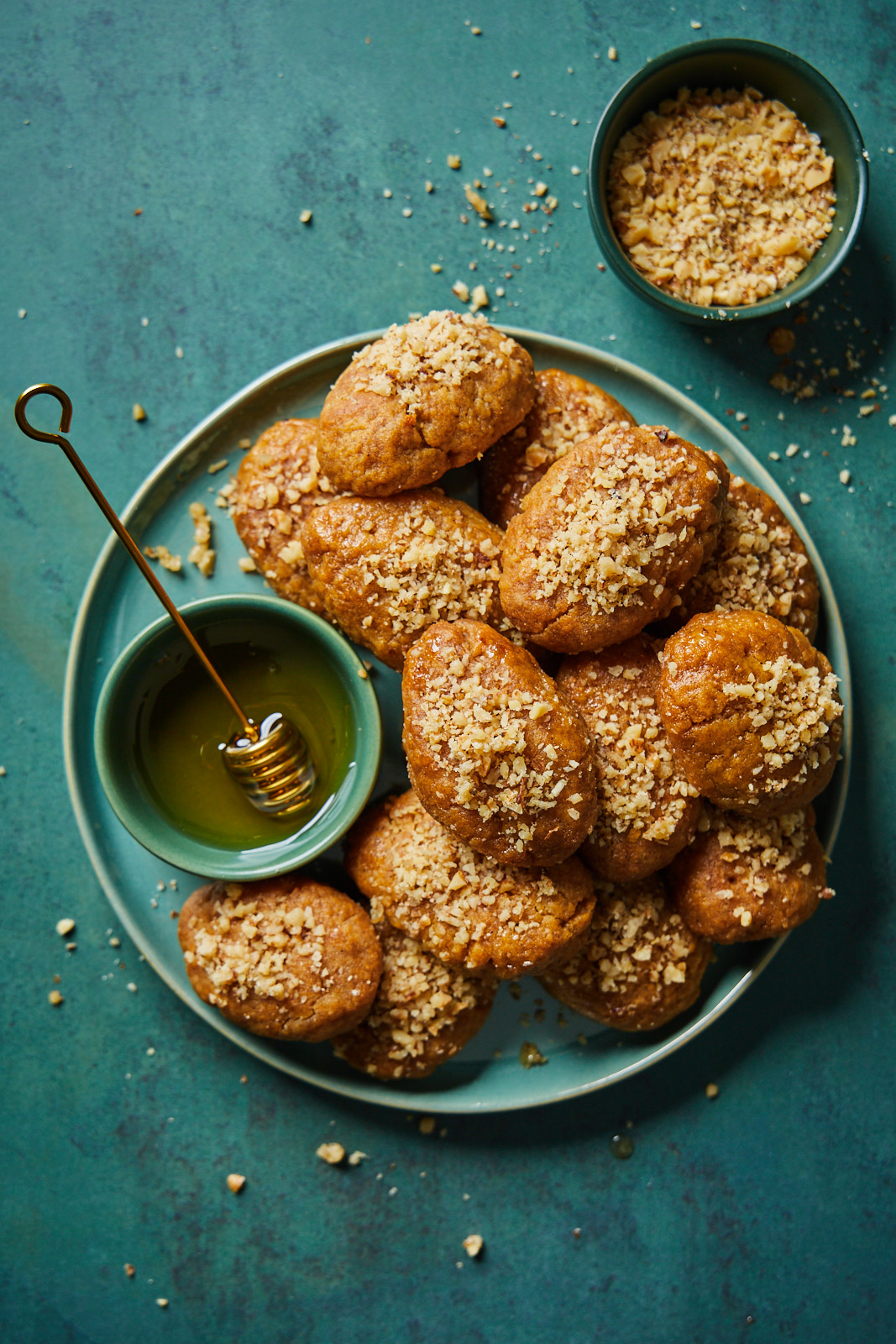 These slightly crumbly and moist syrupy cookies are usually made in huge batches but this recipe makes a smaller batch that is easy to double or triple as needed. These little guys fill the house with the aromas of citrus and spice when they are baking. They are conveniently vegan as they are made without eggs or butter and they are so addictive. Give them a try and you will see what all the fuss is about.
Recipe
Prep Time: 30 mins
Cook Time: 20 mins
Ingredients
For the cookies
3 cups all purpose flour

½ cup semolina

1 tsp baking powder

1 tsp baking soda

½ tsp salt

1 tsp cinnamon

¼ tsp ground clove

⅓ cup sugar

½ of a medium sized orange zested

½ cup freshly squeezed orange juice (save the squeezed orange for syrup below)

1 cup extra virgin olive oil

2 tbsp brandy
For the syrup
½ cup honey

¼ cup sugar

1 cup water

1 cinnamon stick

3 whole cloves

Reserved orange that was squeezed for its juice
For the topping
1-2 tbsps of honey (optional)
¼ cup walnuts ground or finely chopped
¼ tsp of ground cinnamon (optional)
Directions
For the cookies
In a medium bowl, whisk together the flour, semolina, baking powder, spices and salt to combine.
In a large bowl whisk together the sugar, orange zest and the olive oil for a couple of minutes until the sugar starts to break down and dissolve and mixture is well combined. Stir the baking soda into the orange juice and then whisk that mixture into the olive oil one along with the brandy to combine.
Whisk in the dry ingredients a little at a time while the mixture is RUNNY. As soon as it starts getting a little THICKER switch to a spatula and gently and patiently FOLD the remaining flour mixture just until combined and the mixing bowl has no traces of flour left. DO NOT OVERMIX - as the dough will start to almost separate itself or release all the oil. Let dough rest at room temperature as is for 10-15 minutes.*
In the meantime preheat oven to 350 degrees F and line 2 baking sheets with parchment
Take spoonfuls of the mixture roll into a ball and then form into egg-like ovals and place on a lined baking sheet. I like to flatten the tops of mine a little ever so gently. Then use a fork to gently poke a couple of holes on the tops of the cookies.
Bake the cookies until firm and golden, approx 20 minutes. Once done allow them too cool completely in the pan on a cooling rack.
For the syrup
While the cookies are cooling, make the syrup by adding sugar, water, cinnamon stick, cloves and reserved orange into a small pot and bring to a boil. Reduce temperature and simmer stirring to dissolve the sugar, approx 5-10 minutes.
Remove from heat, remove aromatics with a slotted spooned and stir in the honey.
For the topping
In a small bowl mix together the cinnamon with the ground walnuts. Cinnamon is optional but adds extra flavour to the cookies.
Soaking & topping
Once cookies are cool and the syrup is still very warm, dip the cookies in the syrup a few at a time. Let them soak on both sides for approx 30 seconds on each side (or more of you like very moist cookies) before taking them out with a slotted spoon or fork and placing them on a lined baking sheet. Drizzle or dot each cookie with an extra bit of honey and then immediately sprinkle on the cinnamon walnut mixture and leave to dry. ( the honey is optional but it allows more of the topping to stick to the cookies)
Recipe Notes
It's VERY important not to over mix the dough. The dough should be soft but very easy to handle (pliable) and shouldn't stick to your fingers. You shouldn't have to refrigerate it in order to form the cookies. The few minutes of resting at room temperature allows the dough to fully hydrate.
You will see many variations and so called rules for soaking the cookies. Generally both the cookies and the syrup should not be the same temperature. You can either do it as written above or you can also make the syrup in advance and then allow it to cool completely before you start baking the cookies and once the cookies are baked you can soak them in the cool syrup while they are warm. Either way will work. (Cool cookies - warm syrup or warm cookies - cool syrup)
Storing Melomakarona: Once cool store then in an airtight container. I also like to place sheets of parchment paper or wax paper between layers to prevent them from sticking together, or you can place each one of them in a paper liner. They keep well at room temperature for up to 2 weeks. They taste best after a couple of days when the flavours have had a chance to marry and meld together.