Greek Style Skillet Roast Chicken With Crispy Potatoes
This Greek-style skillet roast chicken with crispy potatoes is pure & simple comfort food. With a simple dry salt brine and done in a hot skillet and with a lemon herb marinade - you have yourself a full meal that takes no time to roast with very little prep time.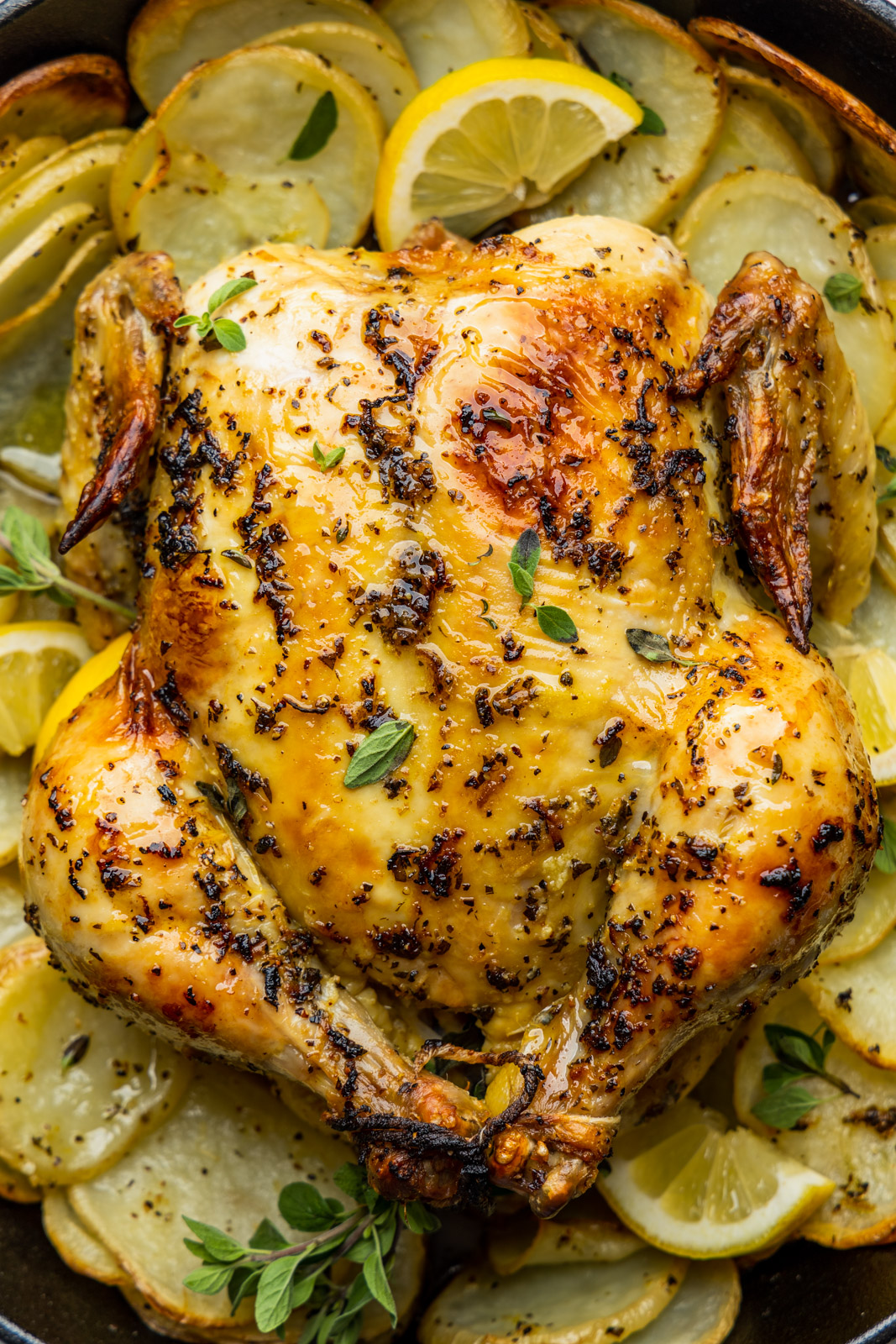 Easy to make Greek roasted chicken and potatoes
I absolutely love a meal like this for family dinner, meal prep or even a midweek meal. I love that both the chicken and the potatoes are cooked together. The drippings from the chicken melt into the potatoes and caramelize in all the good flavor from that lemon herb marinade. Don't let the word marinade fool you it's more of a dressing than a marinade - the chicken needs no marinating time just brush this on your chicken before roasting. No basting required either so it's really a set it and forget kind of meal.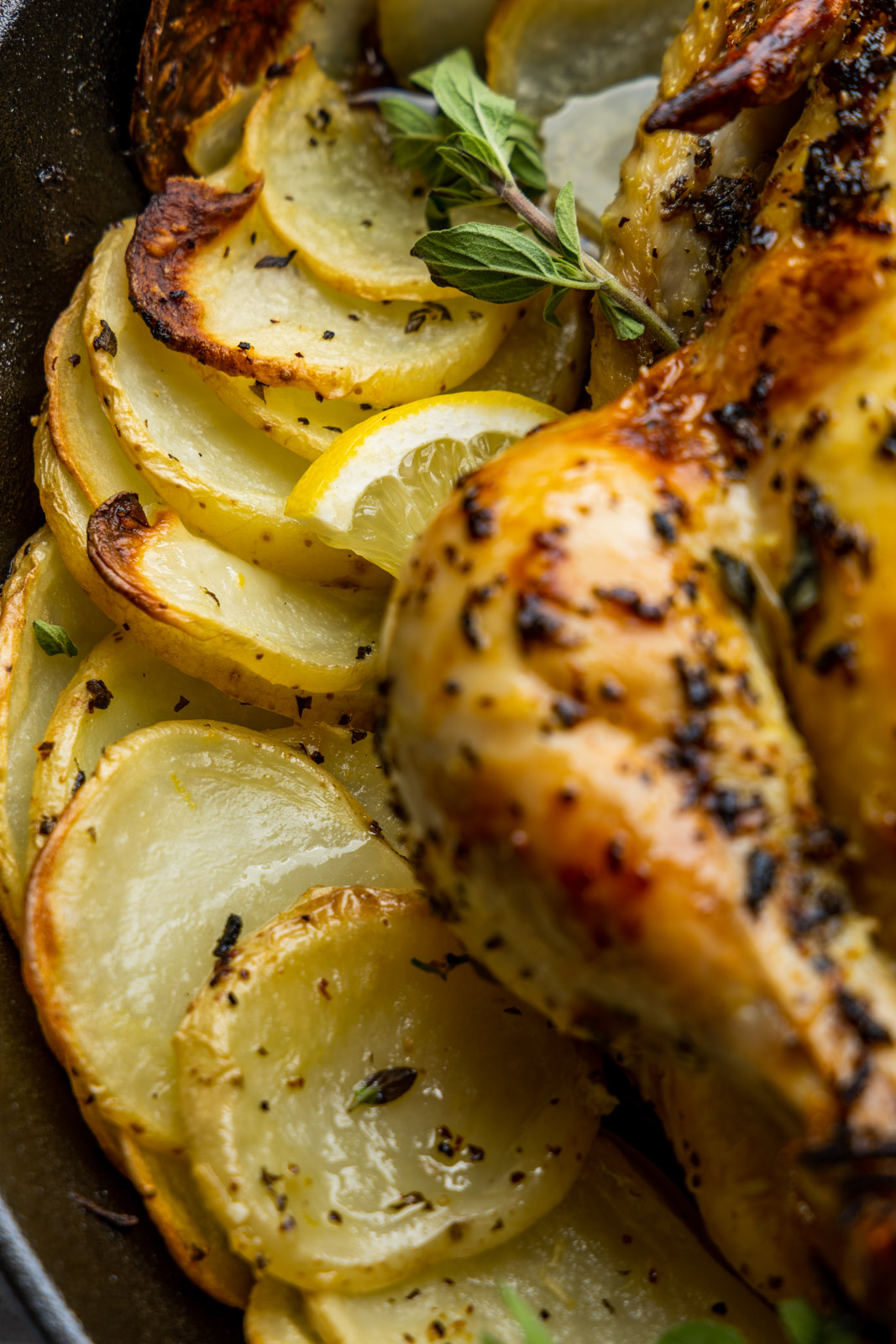 How to make moist and tender roasted chicken
The one important thing that you must do is dry brine the chicken with salt - basically salt it and then let it rest. Salting the inside and the outside of the uncooked chicken flavors and tenderizes it, and also contributes to a deliciously crispy skin. Just pat the skin dry and salt then allow the salted chicken to rest uncovered in the fridge for at least an hour or 24 is even better. I usually do overnight if I remember cause it's so easy to do. If I forget I just salt it out of the fridge while I'm prepping the marinade and slicing the potatoes. This lets the skin really dry out, so that it cooks up extra crispy in the oven.
It's really that easy. What gives this whole meal a kick start is roasting it in a preheated pan - this helps speed up the cooking process and gets the potatoes extra crispy. Just make sure to be very careful when removing the hot pan from the oven and when placing the oil bird and potatoes in the preheated pan. It can sizzle quit a bit so keep that in mind and keep a safe distance.
Once it's roasted either transfer the chicken and the potatoes onto a serving platter or do as we do serve right from the skillet so you can dip into all the fabulous tasting drippings. Enjoy!
If you liked this easy and delicious Greek Style roast chicken you will love these recipes:
Recipe
Prep Time: 10 mins (dry brining not included)
Cook Time: 50-60 mins
Ingredients
One 3½–4-pound whole chicken

Salt (approx 1 tsp. salt per lb.)

1½ pounds russet potatoes, scrubbed, thinly sliced crosswise
For the herby marinade
2 tablespoons unsalted butter, melted

Juice from 1½ lemons

Zest of one lemon

3 tablespoons chopped fresh oregano (or approx 3 tsp dried oregano)

3 cloves garlic, finely chopped or grated

¼ cup good extra virgin olive oil plus 2 tbsp

Salt and pepper (¼-½ tsp each)
Directions
In medium size bowl whisk together the marinade ingredients and set aside

Pat chicken dry with paper towels and season generously with salt, inside and out. (We use 1 tsp. salt per lb.)

Tie legs together with kitchen twine. Let sit 1 hour to allow salt to penetrate, or chill, uncovered, up to 1 day ahead.

Preheat oven to 425°F. Place the oven rack rack in upper third of oven and set a 12" cast-iron skillet or a

3-qt. enameled cast-iron baking dish on rack.

Meanwhile, toss potatoes, with 3 tbsp of the marinade.

Once oven reaches temperature, pat chicken dry with paper towel and brush with remaining marinade.

Carefully remove hot pan from oven and drizzle remaining 2 tbsp of oil into hot skillet (this helps keep the

chicken from sticking and tearing the skin). Very carefully place the chicken in the hot pan and carefully arrange potatoes around.

Roast until potatoes are golden brown and crisp and an instant-read thermometer inserted into the thickest part

of breasts registers 155°F, 50–60 minutes (temperature will climb to 165° as chicken rests). Let chicken rest in skillet at least 10-20 minutes.

Transfer chicken to a cutting board and carve. Serve with potatoes.