Grilled Chicken Pesto Pasta Salad
This Pesto Pasta with Grilled Chicken is an easy and delicious weeknight meal. Serve it cold as a summer pasta salad or hot as a delicious winter entree! I love to use my Greek Grilled chicken recipe in this pasta dish because I always have some leftovers for meal prep. It makes a great protein add in for this pasta or pasta salad. Chicken Pesto Pasta Salad is the perfect main or side dish! Made with any short pasta of choice, cherry tomatoes, fresh mozzarella pearls, and grilled chicken, tossed with homemade or store-bought pesto. You can also use leftover rotisserie chicken or store-bought grilled/or roasted chicken breast in this recipe to make it even easier and quicker to make.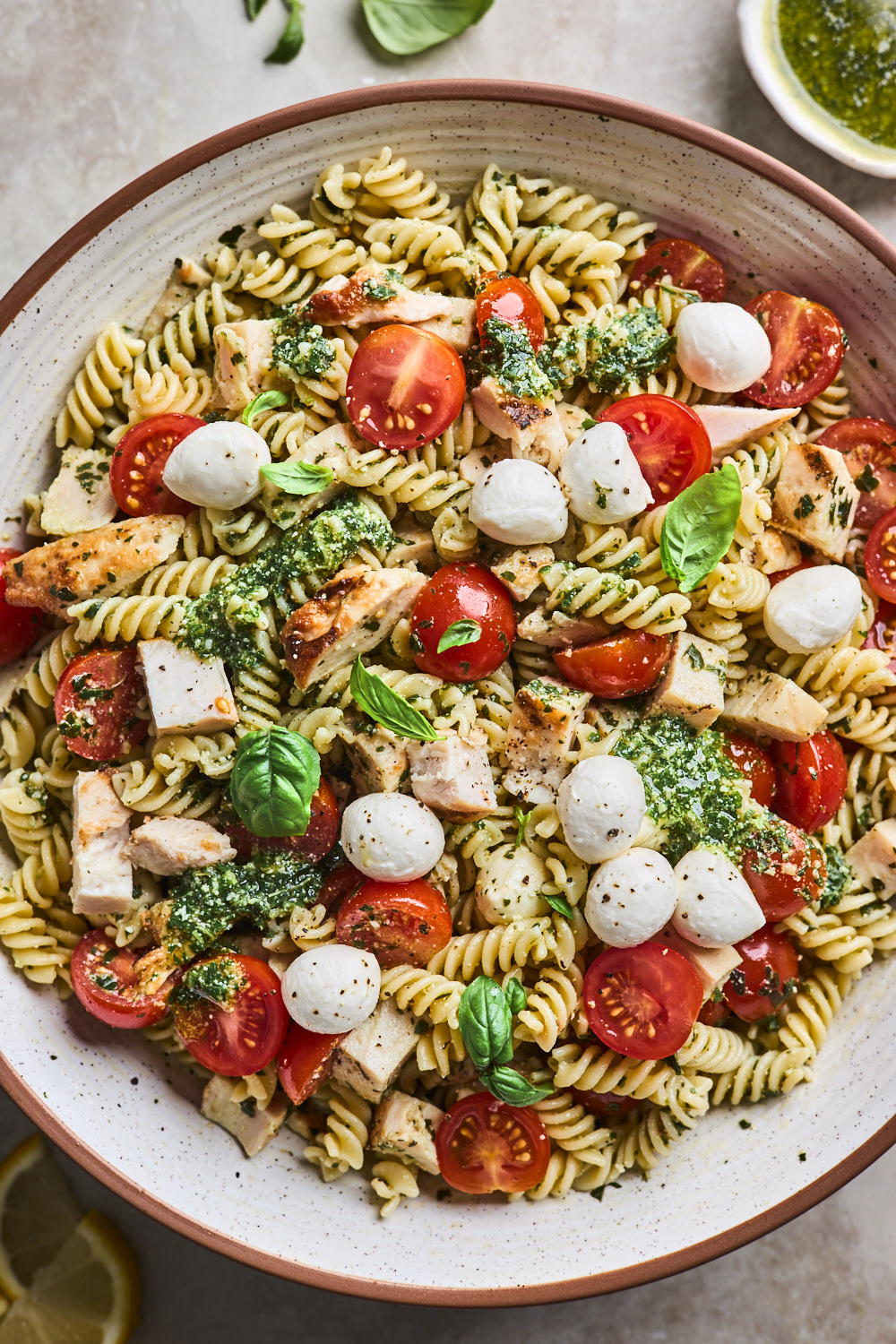 Pesto makes everything better! Not only does it taste AMAZING  but it's also a great way to use up all the Basil you might be growing in your garden or planters. My recipe for Grilled Chicken Pesto Pasta Salad couldn't be easier to make and is full of flavor. You can either make homemade pesto or buy your favorite pesto. It tastes great for days too, I like to have it for lunches and its also a fabulous side dish, especially for potlucks or at BBQs.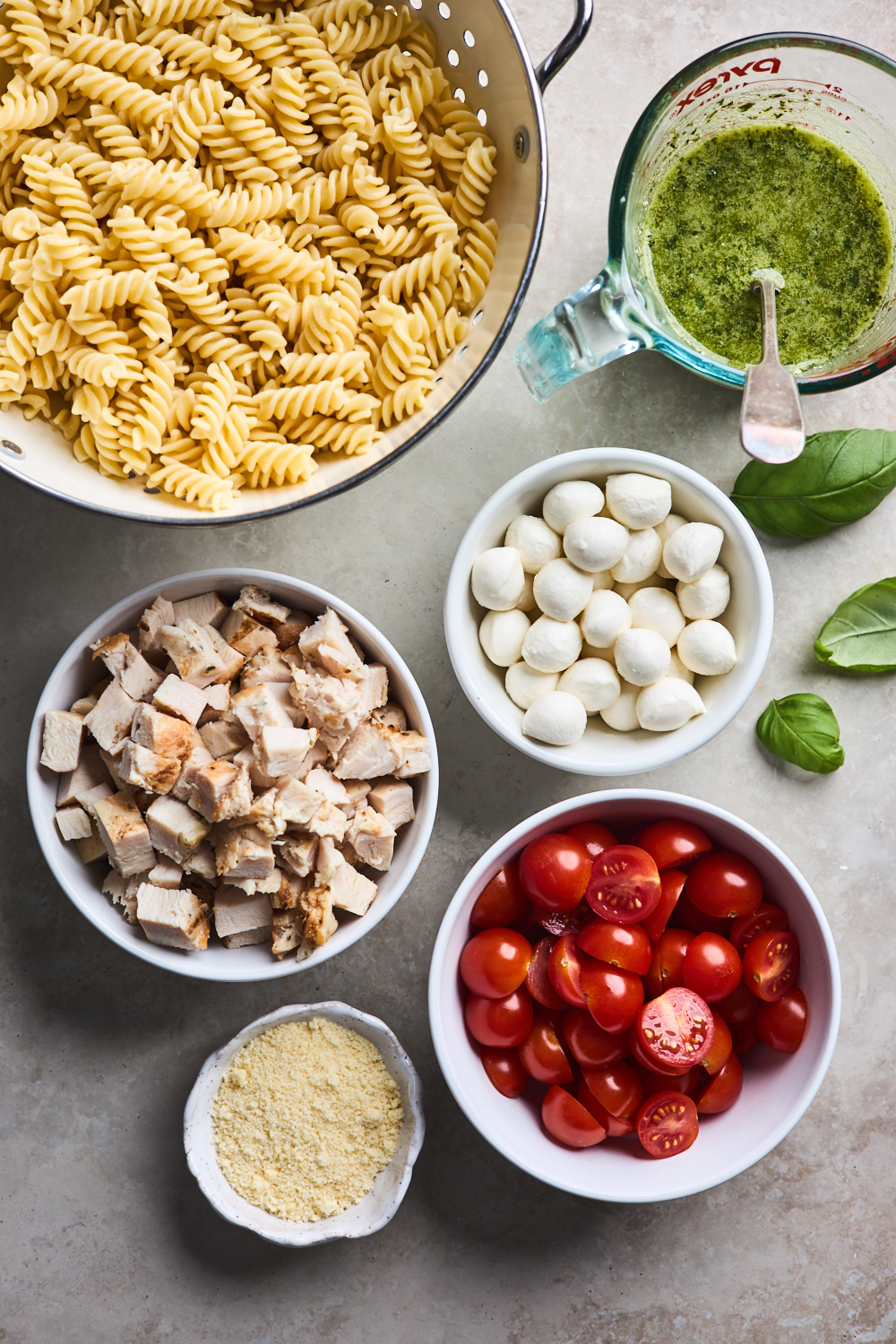 Every summer, I plant several basil plants in my herb planter. I don't have a green thumb at all but Basil seems to be easy enough to grow and flourish in my planters. I will occasionally pick off leaves for various recipes and meals, and then at the end of the summer, I'll pull off all of the remaining leaves and make a big batch of pesto.  We tend to use it all up because we love pesto so much and I use it to make pesto potatoes, spoon it over sliced tomatoes, make loads of pesto pasta of course, and i love it in this grilled chicken pasta salad. Any leftovers I freeze in little cubes and store them in a big bag in the freezer for later use. Its the perfect way to preserve all those summer flavours and herbs.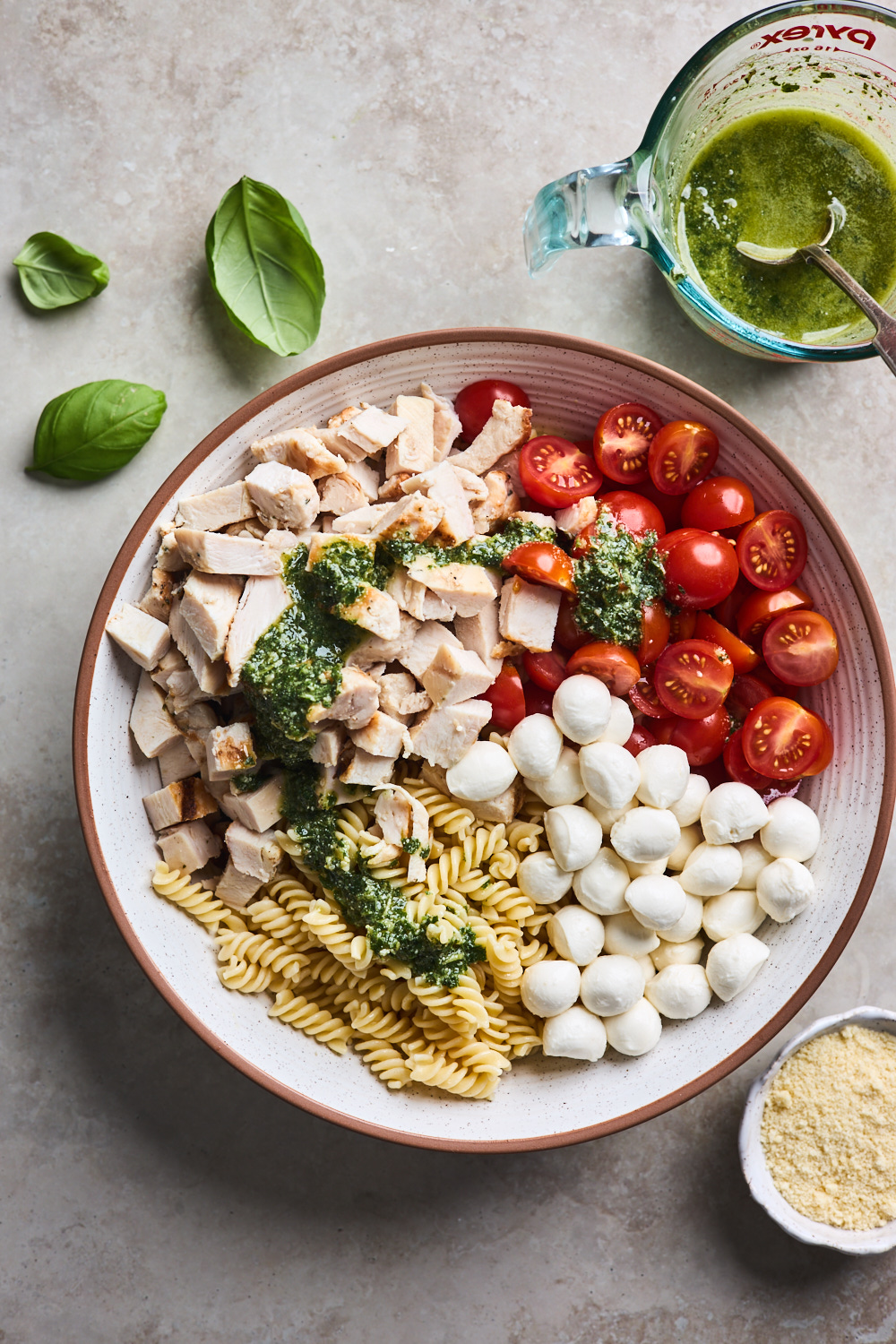 Grilled Chicken Pesto Pasta salad ingredients:
Chicken – I usually use boneless skinless chicken breast. Cooked anyway but grilled is my favorite for this pasta salad. My Greek grilled chicken recipe  is my fav
Rotini Pasta– or any other pasta would be fine
Pesto– I like to use my Homemade recipe but in a pinch store-bought is also great
Tomatoes– I like to use cherry tomatoes but any variety will work here as long as they are sliced into bite size pieces
Fresh Mozzarella Pearls- any fresh mozzarella will work if you can't find the pearls just choose or tear it up inot bite size pieces.  Other cheese options are feta or grated Parmesan cheese.
Parmesan Cheese– Two kinds of cheese are always better than one! I love to toss in or fishing this pasta salad with some but that is optional.
Salt and Pepper– Adjust to taste and according to how salty your pesto is.
Optional add ins: roasted or grilled vegetables, Pine Nuts, baby spinach or banks kale can easily be tossed in for extra greens in the pasta dish.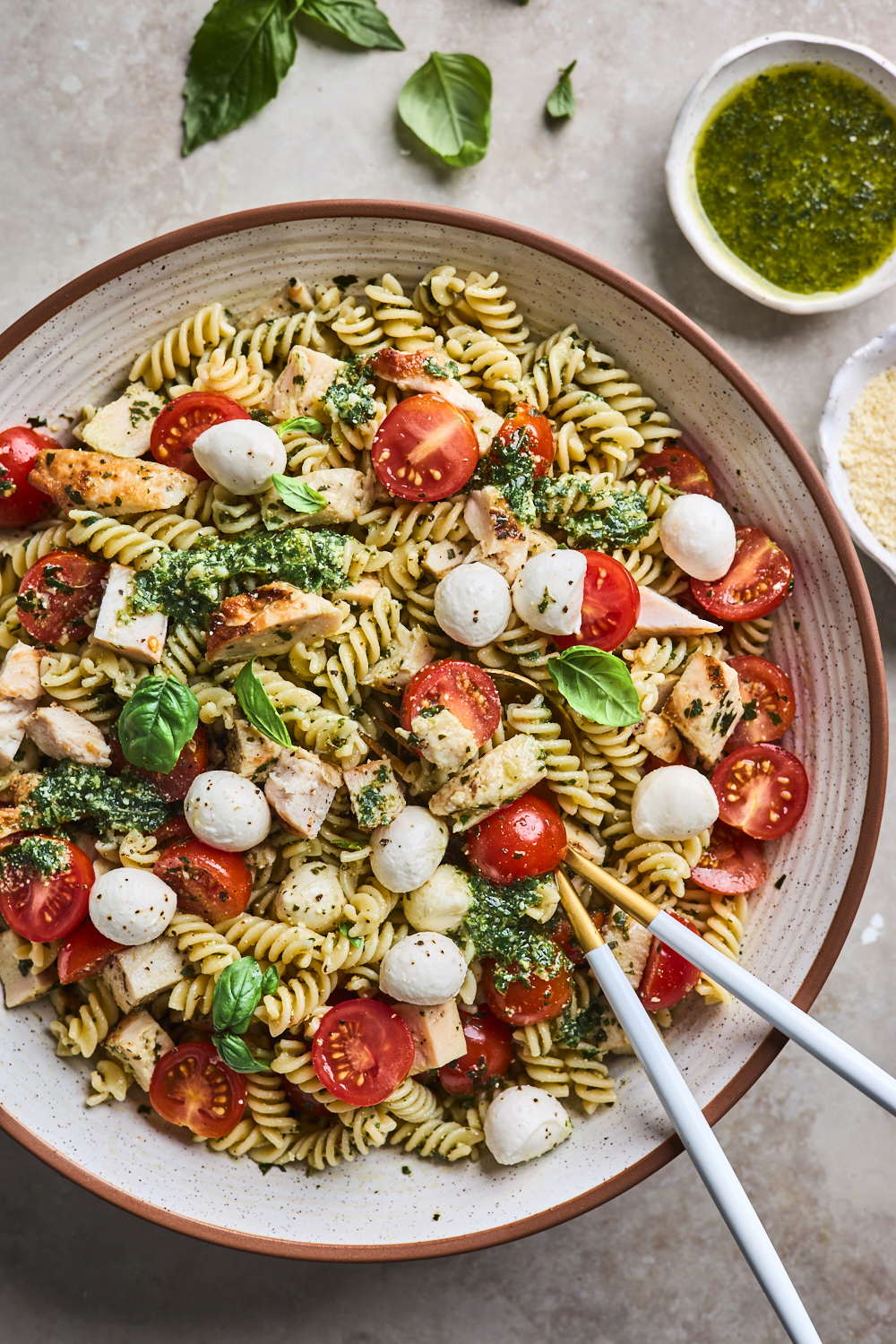 How to make grilled chicken pesto pasta salad:
Grill chicken or slice it into bite size pieces if you are using leftover grilled chicken and prepare the pesto if making from scratch.
Cook the pasta in salted water until al dente. Drain well.
In a large bowl mix together the pasta, pesto, lemon juice, chicken, tomatoes and mozzarella. Toss well to combine.
Check and adjust seasoning with salt and pepper.
Chill and serve!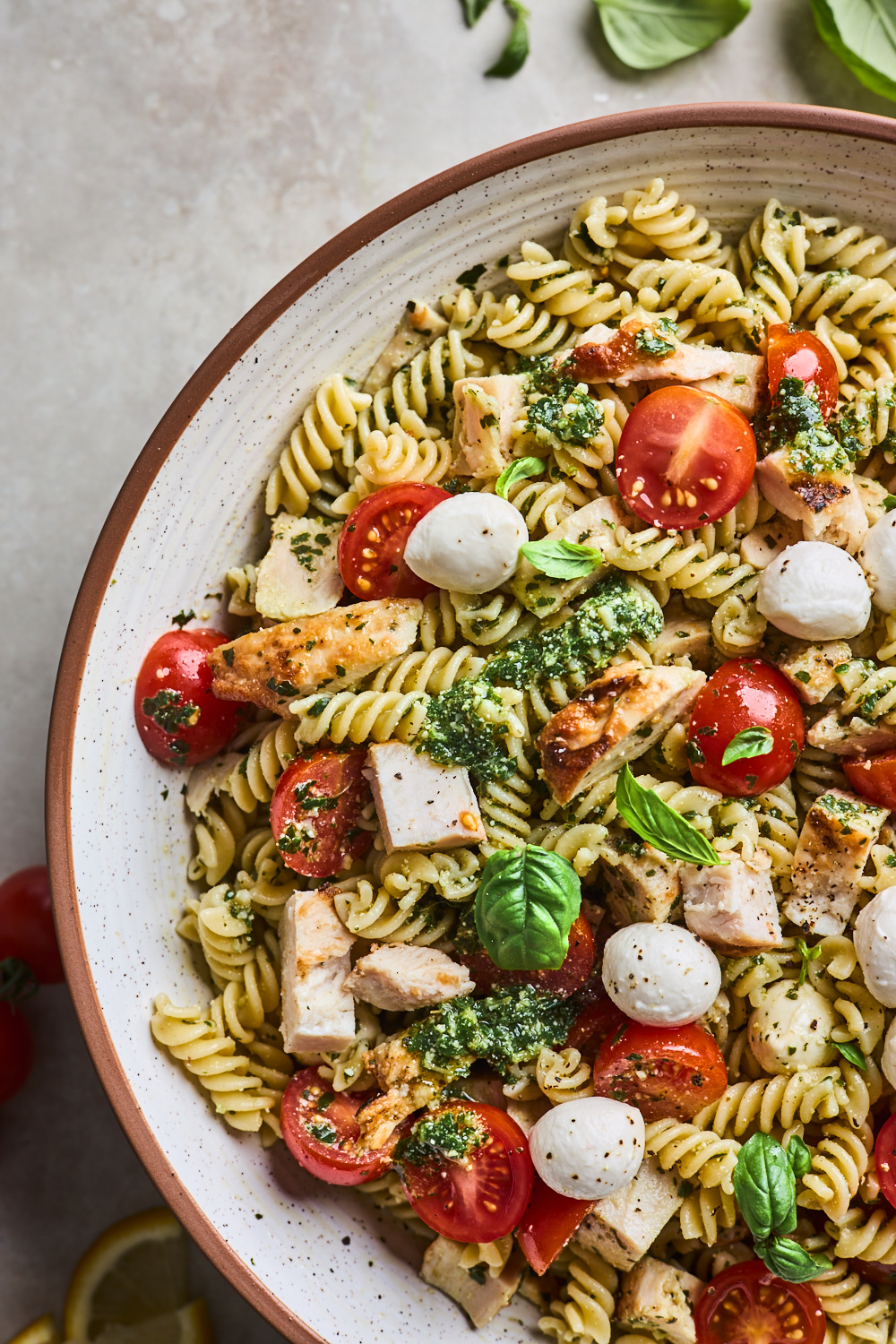 More delicious pasta salad recipes:
Recipe
Prep Time: 10 mins
Cook Time: 15-20 mins
Ingredients
1 lb chicken breast grilled and sliced (see grilling directions below or use my Greek grilled chicken recipe)

12 oz (340g) short pasta, I used rotini

1 cup basil pesto homemade or store bought (my homemade recipe is simple to make)

1½ cups cherry tomatoes halved

Salt and pepper to taste

6-8 oz (200 grams) fresh mozzarella pearls or baby bocconcini

1 teaspoon of freshly squeezed lemon juice plus more for serving (optional)

Fresh Basil for serving (optional)

Parmesan cheese for serving (optional)
Directions
Boil the pasta until al dente according to the package instructions.
Drain pasta and set aside. Toss with 1 teaspoon of olive oil to prevent it from sticking.  
Using a large bowl, mix together the pesto, lemon juice if using, pasta, mozzarella pearls, tomatoes, and chicken. Test for seasoning. Stir until well combined and serve immediately or place in the refrigerator until chilled.
Finish with chopped fresh Basil, extra squeezes of lemon juice and freshly grated Parmesan cheese if desired  (optional).
Recipe Notes
Grilling chicken breast: Seasoning your chicken breast with salt and pepper is fine but feel free to use any seasoning blend you like. I use my Greek grilled chicken breast recipe in this pasta always because I always make loads of it to freeze and have for pastas like this. Or simply season the chicken breasts with salt and pepper. Grill the chicken over medium-high heat for 5-7 minutes per side, or until completely cooked. Transfer chicken to a cutting board and slice into strips
Serving: This summer pesto pasta is excellent served warm, at room temperature, or cold.
Storage: Store leftover pesto pasta salad in an airtight container in the refrigerator for up to 5 days. Leftovers keep very well & make for the perfect easy lunch or lazy dinner!