Ham and Cheese Sliders
This Ham and cheese sliders recipe is so easy and a great recipe for a fun easy weeknight dinner, lunch, game day, appetizer or the perfect party food. They also make a great companion to side dishes like salads and soup. They come together quickly and everyone will love them. Use leftover cooked ham or deli ham in these tasty sliders and use any melty cheese you prefer. The buttery mixture is what takes these little sliders over the top with sweet and savoury flavors combined. They bake up to golden perfection then slice and enjoy!!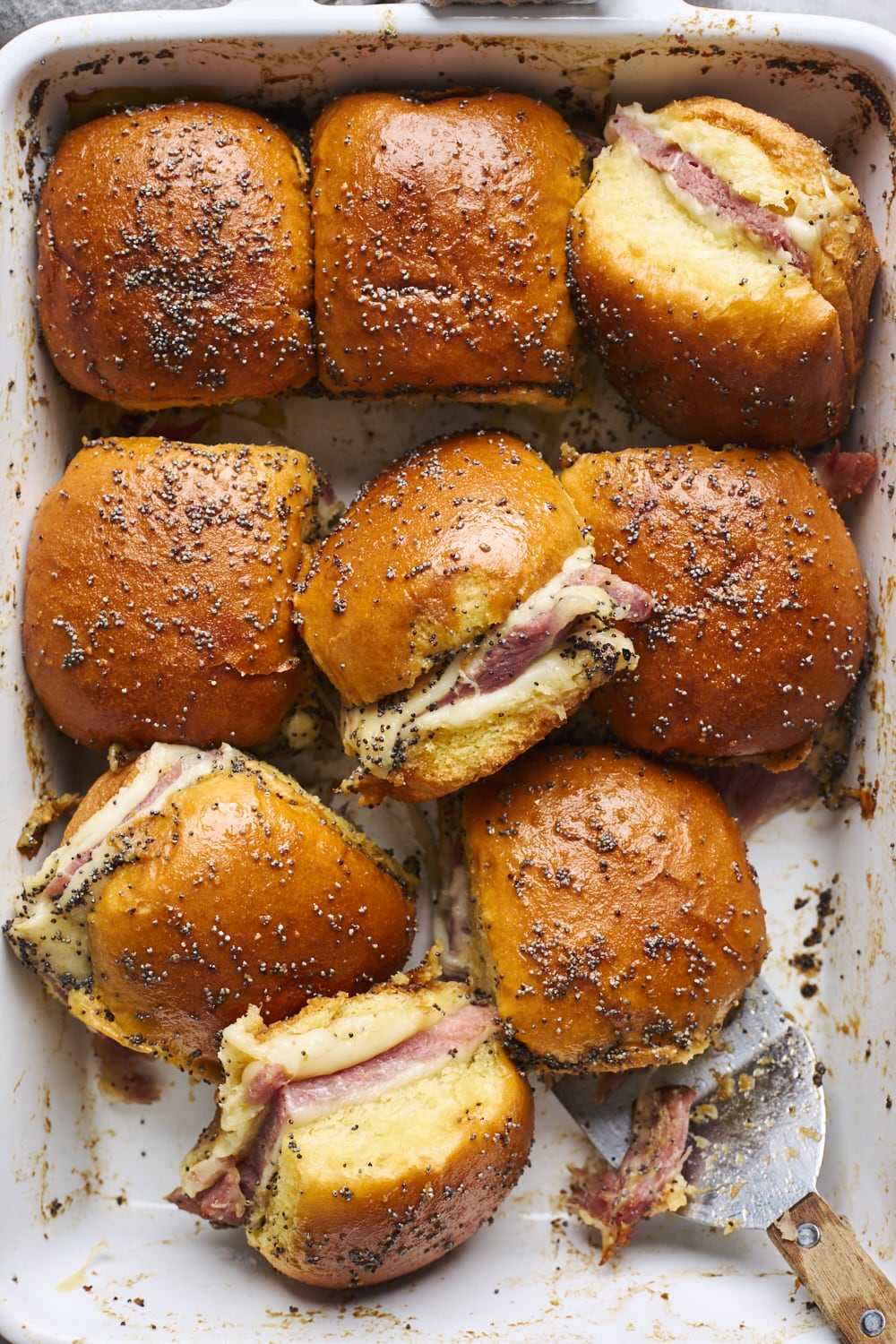 Ham & Cheese Slider Ingredients:
Deli ham - cooked ham slices (leftover ham),honey ham or if you prefer turkey you can use that instead or even roast beef 
Cheese - Swiss cheese, cheddar cheese, american cheese, provolone cheese or any cheese you prefer 
Dinner Rolls - or slider buns of choice like Hawaiian rolls
Unsalted butter
Dijon mustard - or honey mustard for a little more sweetness 
Poppy seeds - or sesame seeds 
Onion Powder & Garlic powder
Worcestershire sauce - is optional but recommended as it adds a really delicious savoriness 
Salt and pepper - a pinch of each or more to taste 
Optional ad ins - I love to add some parmesan cheese for a salty add in to the buttery mixture. Or you can add a thin layer of honey mustard or dijon or even Mayo on the bottom layer before the cheese layer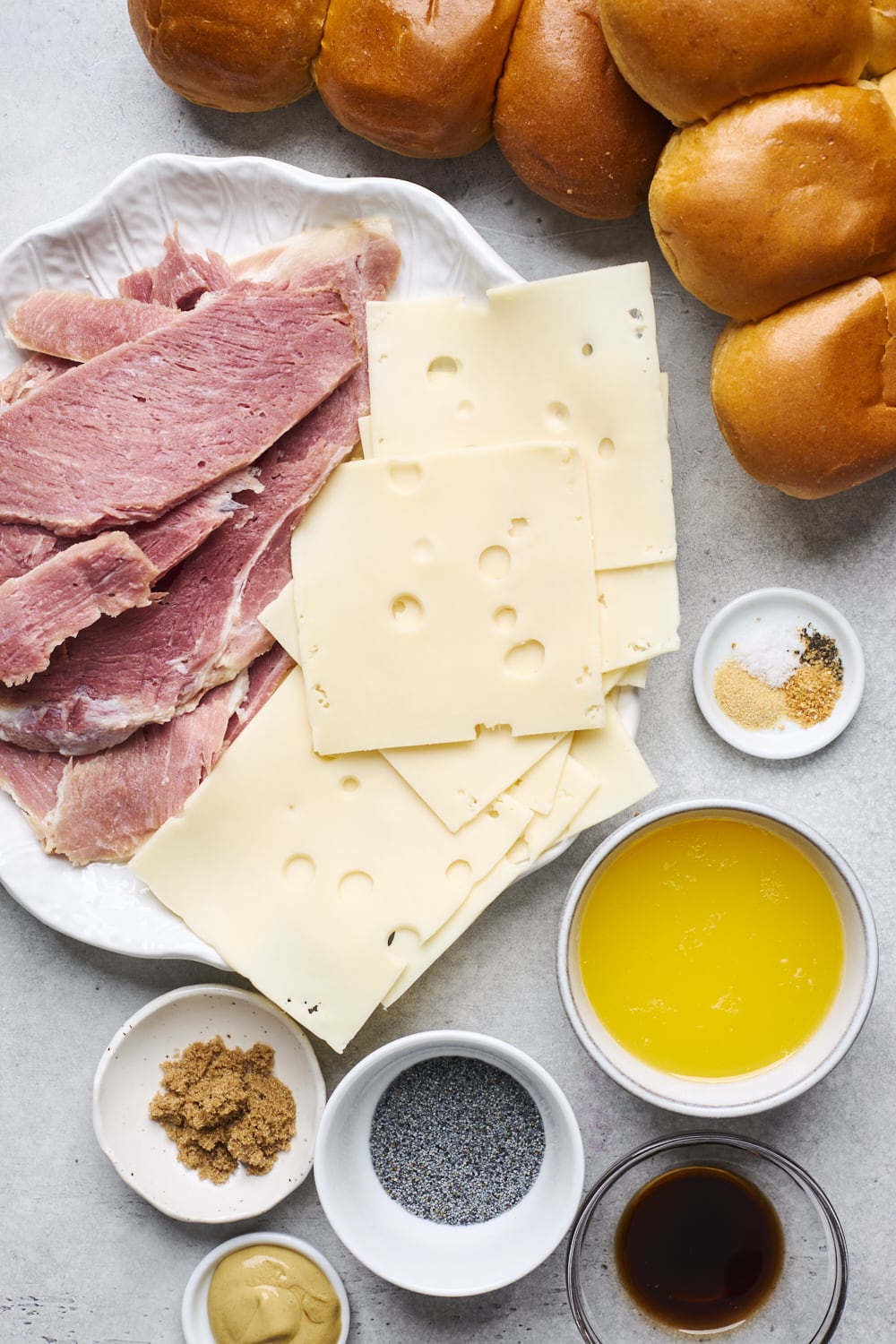 How To Make Ham and Cheese Sliders
Ham and cheese sliders are so easy to make, here are the simple instructions for preparing these ham and cheese sliders: 
Slice the dinner rolls or Hawaiian rolls in half with a large serrated knife so you have your tops and bottoms separated. If they are attached, don't worry about separating them. The goal is to keep the rolls connected but it is ok if some are not. 
Combine your topping ingredients and set aside.
Spoon some of the topping into the bottom of the baking dish or lightly grease pan with cooking spray 
Place the bottom half of the rolls in a baking pan,
Top and layer with ham and cheese.
Brush the tops with the remaining butter mixture and bake until cheese is melted and they are golden and serve warm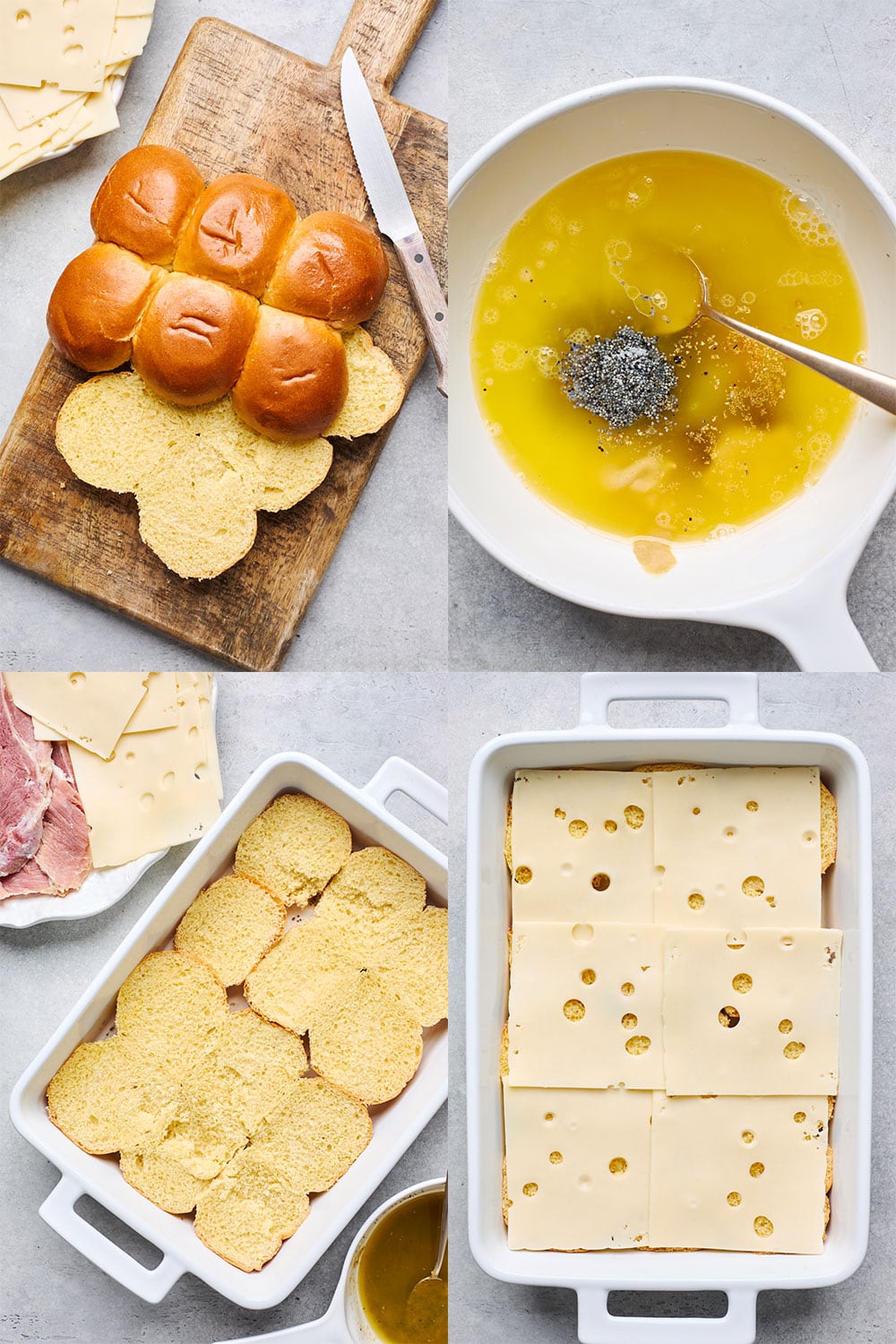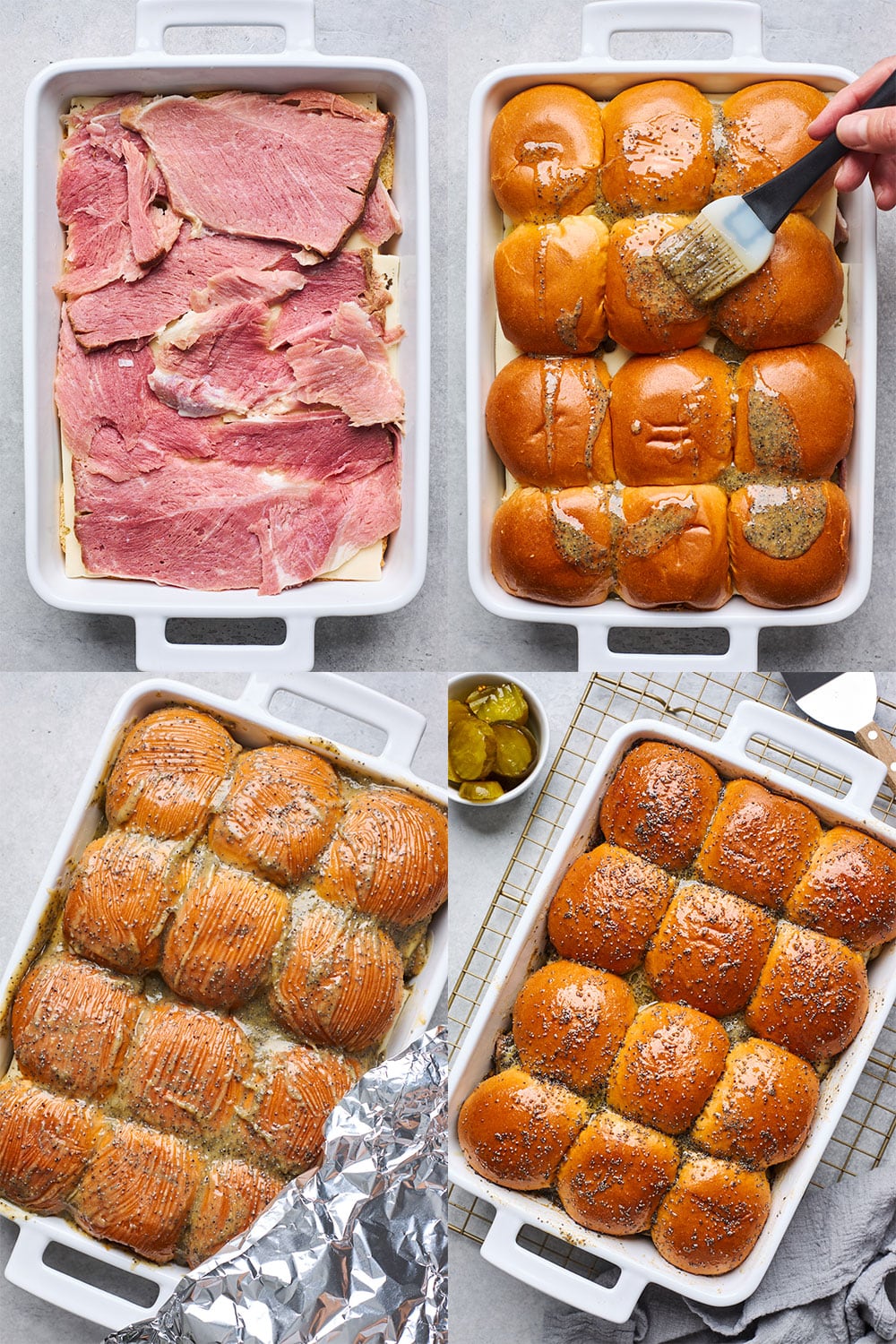 Tips For Making Tasty Ham and Cheese Sliders Every Time:
Make Sure to Slice before serving. If you are using large slices of leftover ham like I did in this recipe, I recommend slicing these little sandwiches before serving them rather than just pulling them apart. 
If using Deli ham try folding each to fit each roll then its easier to serve uncut for pulling apart 
If you don't want to use up the butter mixture on the bottom of the pan and buns, feel free to use some cooking spray to grease the bottom of the pan before adding the buns. 
Feel free to drizzle on a little of the butter mixture on top of the bottom layer of the buns before adding the cheese 
Allow the rolls to sit assembled with the butter mixture over top for a 5-10 minutes to allow the buttery mixture to soak in and the ham and cheese come to room temperature - this will ensure everything gets warmed through evenly too. (this step is optional but recommended)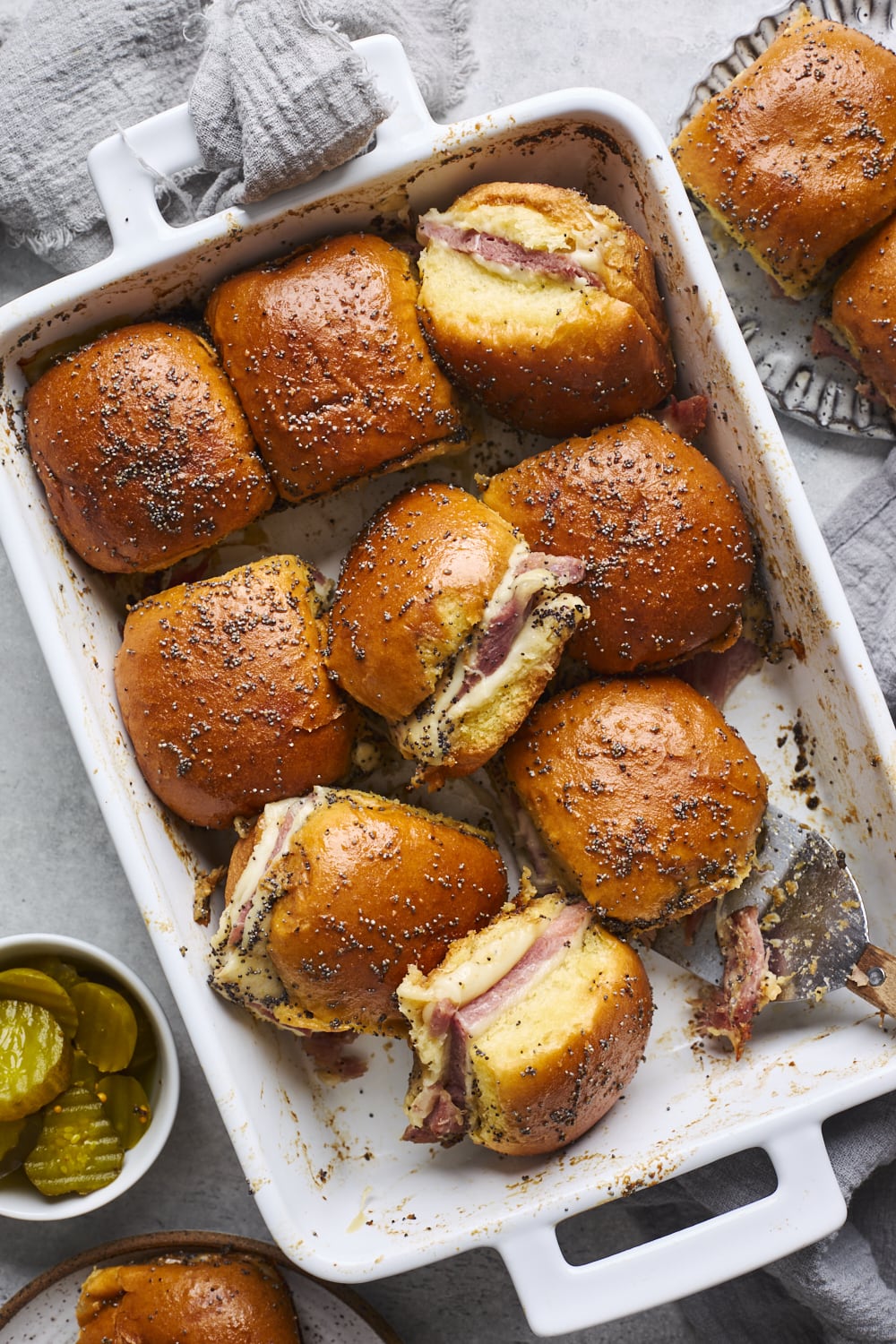 Storage & Make Ahead
STORAGE - Properly stored slider leftovers can last up to two days in the refrigerator. When it's time to reheat, simply cover the ham and cheese sandwiches and bake at 350°F until warmed thoroughly.
MAKE AHEAD - You can make these ham and cheese sliders ahead but up to a point. You can cut the rolls in half and prep then layer on the ham and Swiss cheese. Cover the pan tightly with plastic wrap or place in an airtight container and refrigerate until you are ready to add the butter mixture and bake. Make sure and wait to brush on the butter mixture until you're ready to bake them off. Otherwise the rolls will become soggy.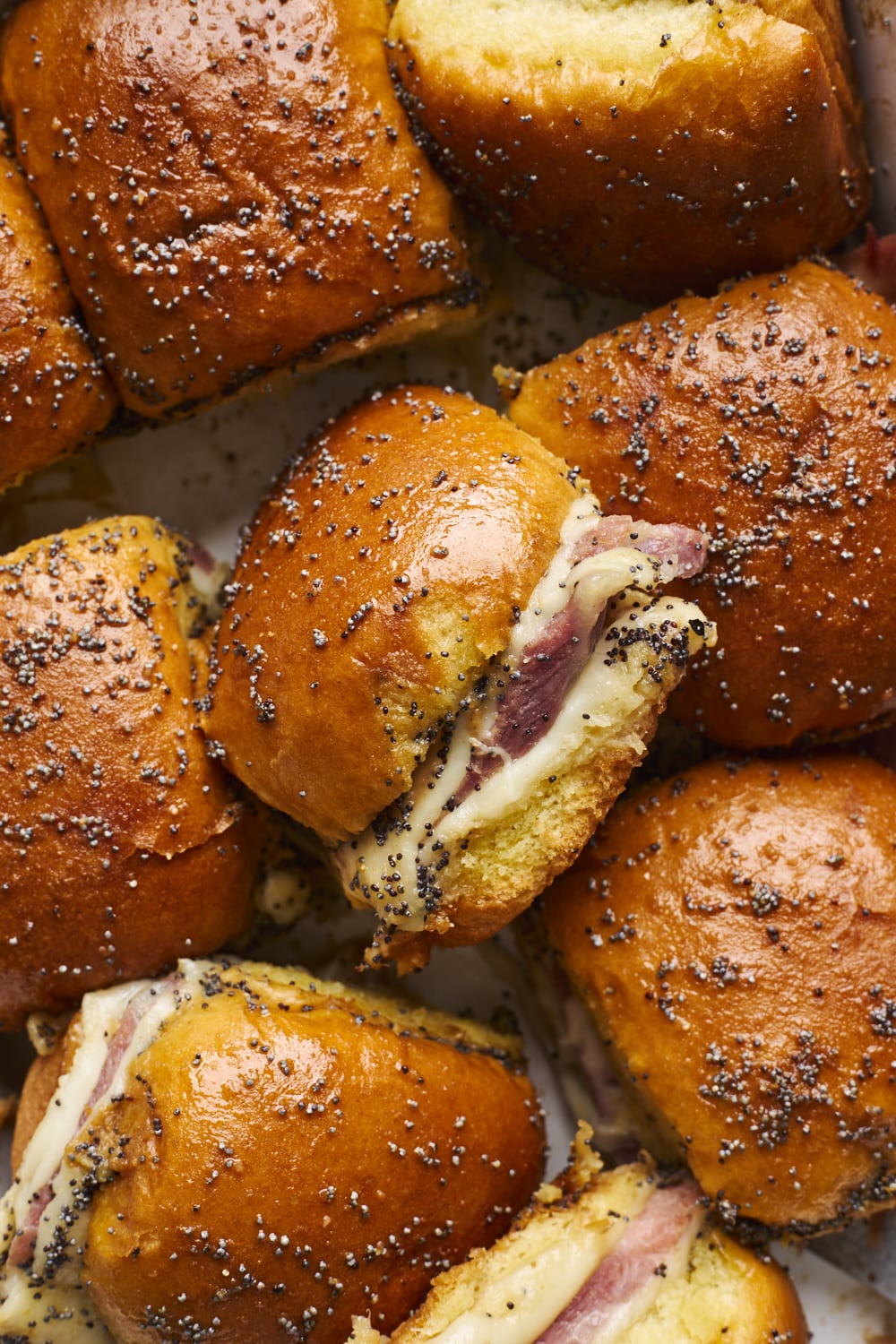 More Game Day Recipes You Will Love:
Recipe
Prep Time: 5-10 mins
Cook Time: 20-25 mins
Ingredients
12 dinner rolls or Hawaiian sweet rolls 

10-12 slices ham (¾ lb of leftover ham)

10-12 slices cheese Swiss, provolone or cheddar cheese (approx ¾ lb)
For the glaze
1 stick unsalted butter

2 tablespoon brown sugar

1 tablespoon dijon mustard

1 tablespoon poppy seeds

1 teaspoon onion powder

½ teaspoon garlic powder

2 teaspoons worcestershire sauce

¼ teaspoon salt

pinch black pepper
Directions
Preheat oven to 350°F.
Melt butter in a microwave-safe bowl
In a small bowl, combine the melted butter along with the remaining glaze ingredients
Slice the rolls in half.
Add about 1 tbsp of the butter mixture to a 9 x 13-inch baking sheet/baking dish 
Place the bottom side of the rolls on the buttered baking sheet.
Layer the bottom rolls with ham and cheese. I usually do one layer of cheese, then ham and an extra layer of cheese. 
Place the slider tops over the ham and cheese 
Reserve a tablespoon of butter mixture then pour the remaining butter mixture over the tops of the rolls feel free to brush it on evenly and cover with aluminum foil. Allow the rolls to sit assembled for a 5-10 minutes to allow the buttery mixture to soak in and the ham and cheese come to room temperature - this will ensure everything gets warmed through evenly too. (this step is optional but recommended) 
Bake for 20 minutes. Uncover and bake for an additional 2 minutes or until golden brown.
Brush with reserved extra butter on top if desired. Slice and serve warm