Italian Sausage and Pepper White Bean Stew
When the temperatures drops Im all about cozy hearty stews like this one. Simple but really flavourful and easy to make that is what this Italian sausage pepper and white bean stew is all about. This one pot dish is perfect for a comforting and no fuss weeknight dinner Or lunch, or or even breakfast - sort of like my white bean shakshuka. Creamy white beans with Italian sausage and sweet peppers simmering in a delicious tomato sauce what could be better than that?!?  I love to serve this delicious dish with crusty bread or even mashed potatoes or rice (to soak up all the delicious sauce) and drizzled with a lemon parsley Gremolata - it's optional but a really nice touch.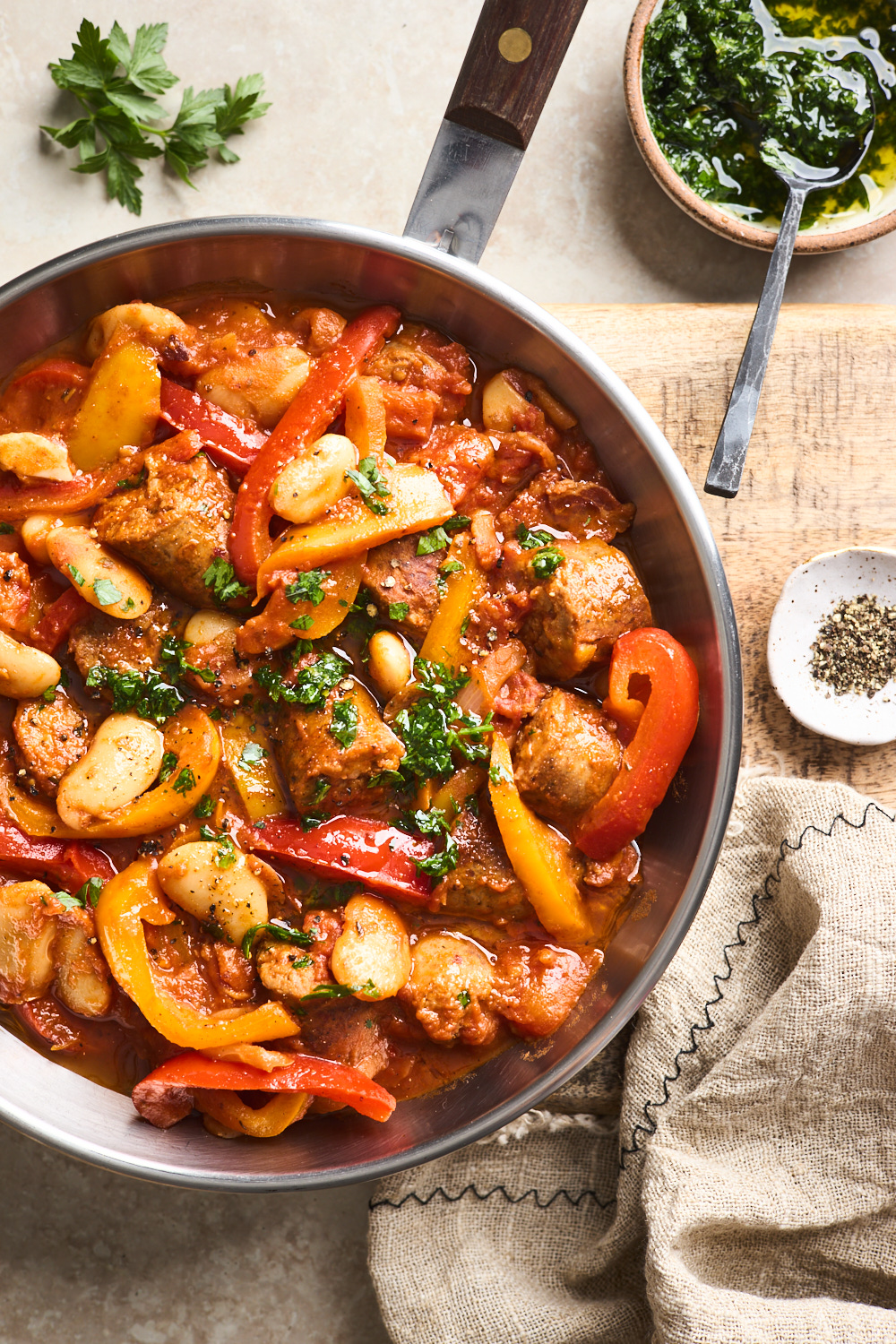 Ingredients in this Sausage and Sweet pepper dish:
Italian Sausage: you could use either sweet or spicy
Bacon or Pancetta: starting with some sautéed bacon or pancetta is a great way to build flavour in a soup or stew - it's optional
Peppers: You'll need 3 peppers I went for a variety of colours for this recipe but feel free to use any ones you prefer. Be sure to cut your onions and peppers into the same sized pieces for even cooking.
Onion: always adds flavour to the stew. I like to Cook it a few extra minutes so that is almost starts to caramelized but that is optional.
Seasoning: I used a Combination of paprika, chili flakes, oregano and thyme - but feel free to switch those up and adjust amounts according to taste.
Diced Tomatoes: 1 can is all I used if you think you want more or less feel free to adjust amounts.
Tomato Paste: not only helps to thicken the sauce but intensifies the tomato sauce flavours  too
Salt and Pepper: To taste.
Beans: I like to use white beans because they are so creamy and always suit the flavours in this stew but feel free to use whatever you like. I like to use butter beans, Lima beans (gigantes) or cannellini beans. You could use also chickpeas. I use canned because it's faster and more convenient but feel free to use your own cooked beans (cooked from dry beans)
Extra Add ins: If you wanted some added veggies, try adding in spinach or kale in the last couple of minutes or toss in some green beans or even sauté some zucchini in with the peppers too.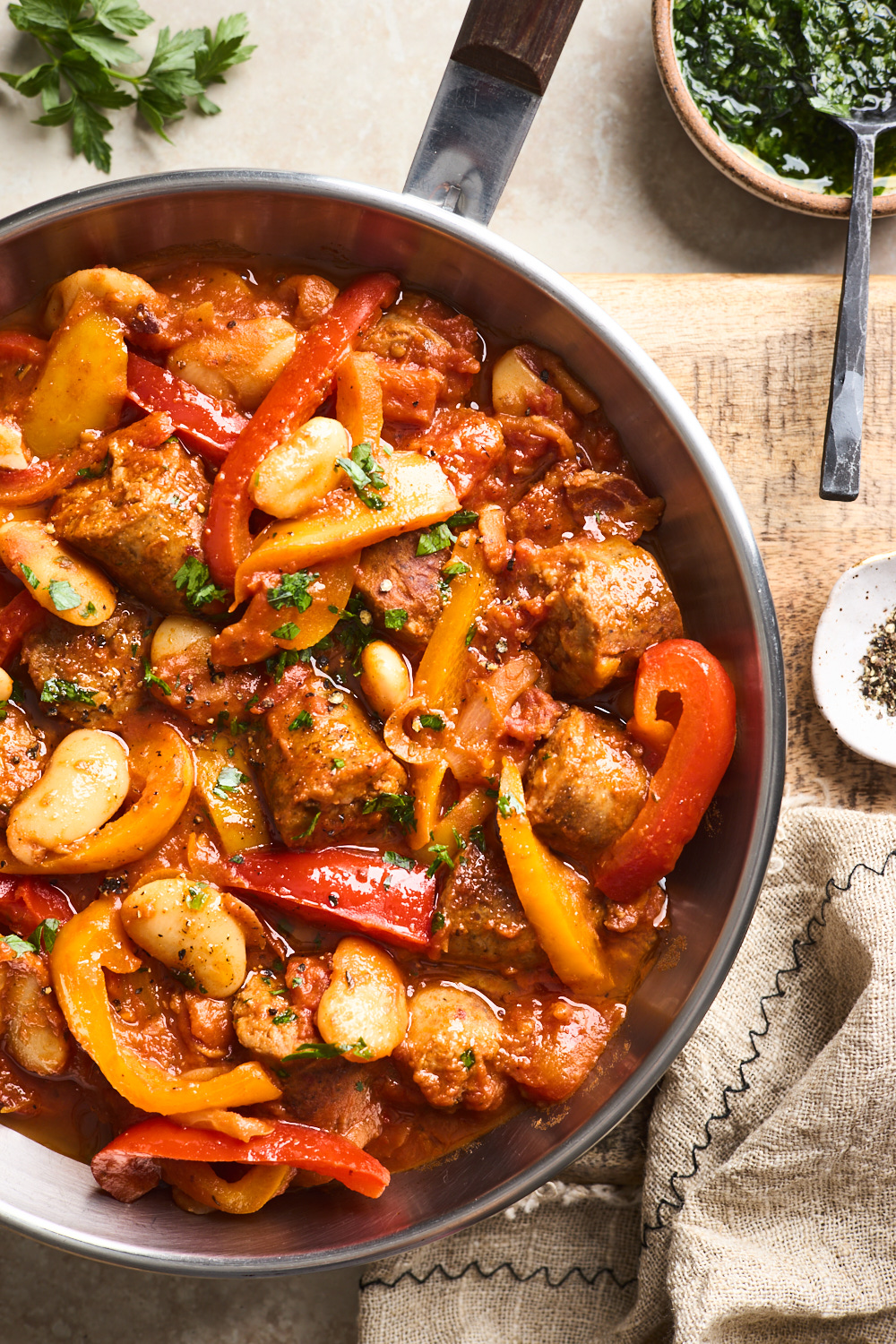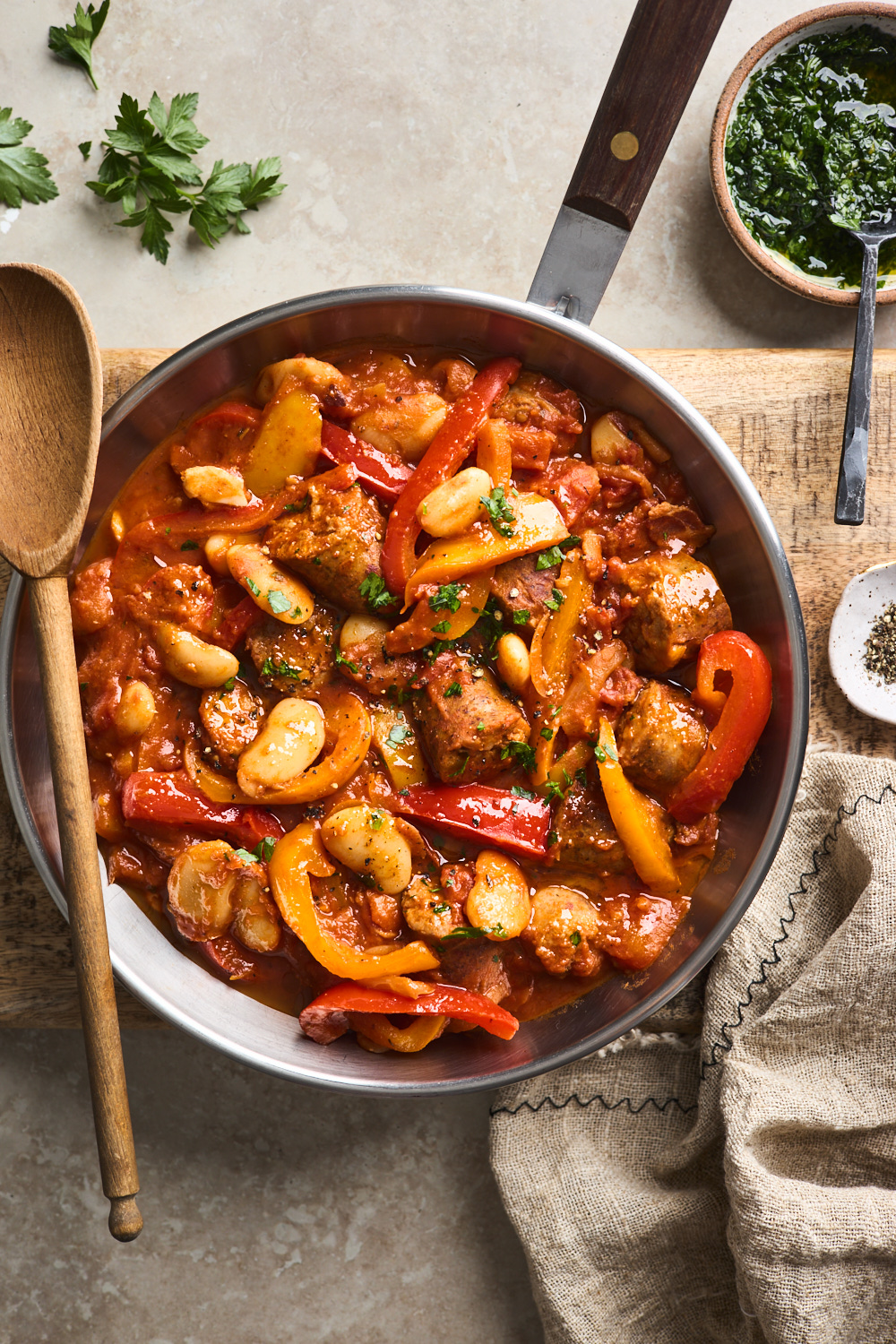 Which Sausages should I use?
You can use different kinds of sausages. My favourite kind that I use is spicy Italian sausage. Chicken sausage, turkey sausage, kielbasa and even ground sausage all work. Using precooked sausage speeds up the cooking process. You can slice the sausage before heating, allowing more of it to brown and crisp. This recipe uses uncooked sausage so it's important to cook it till the internal temperature registers 160 degrees. Let the sausage rest while you sauté the vegetables before slicing the sausage into bite sized pieces, and adding it back to the pan. This will allow the sausage to redistribute the moisture, keeping it nice and juicy. Plus I find it's easier to slice the sausage after its browned and rested without it falling apart. The sausage will continue coking when it gets added back to pan and simmers in the sauce as well.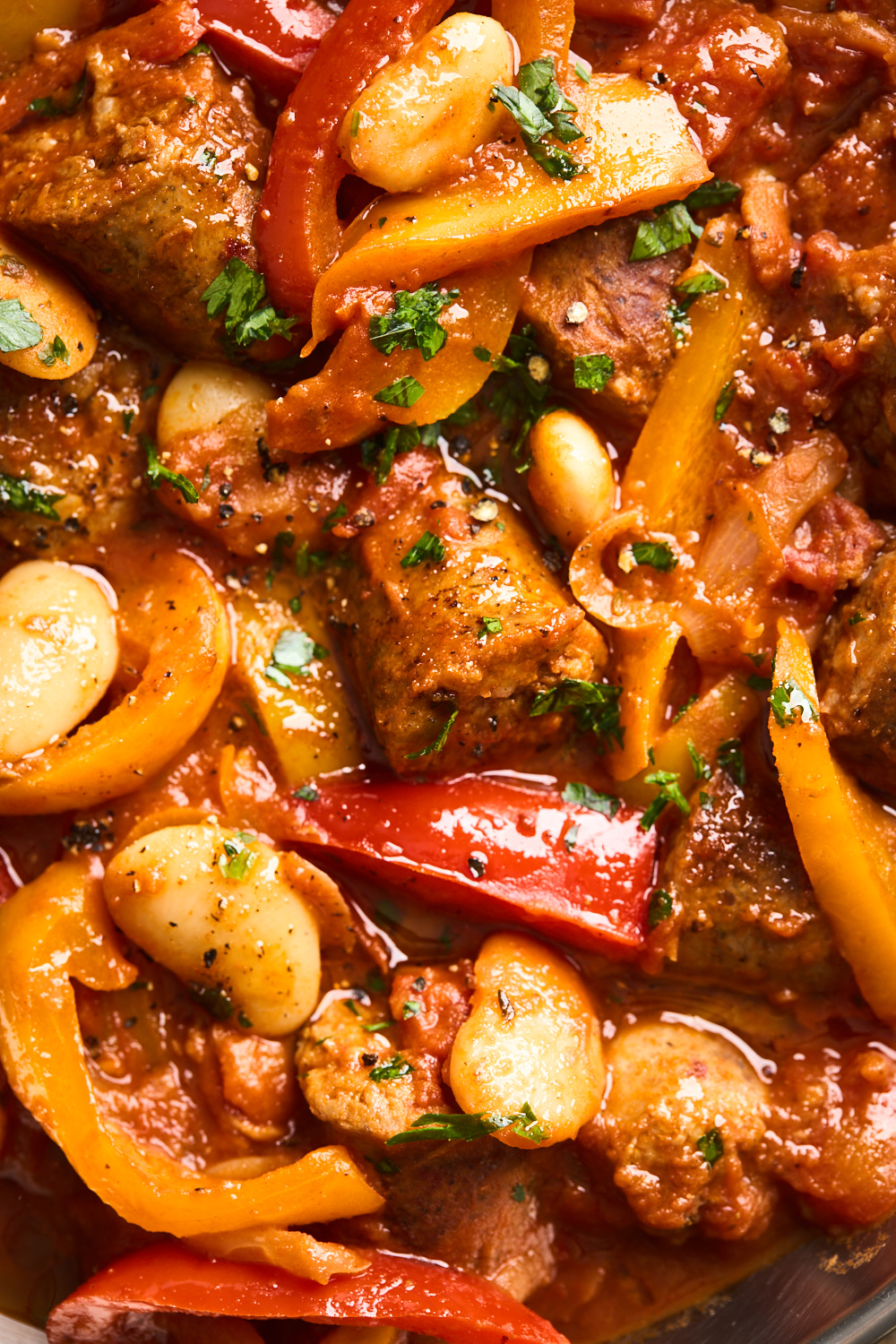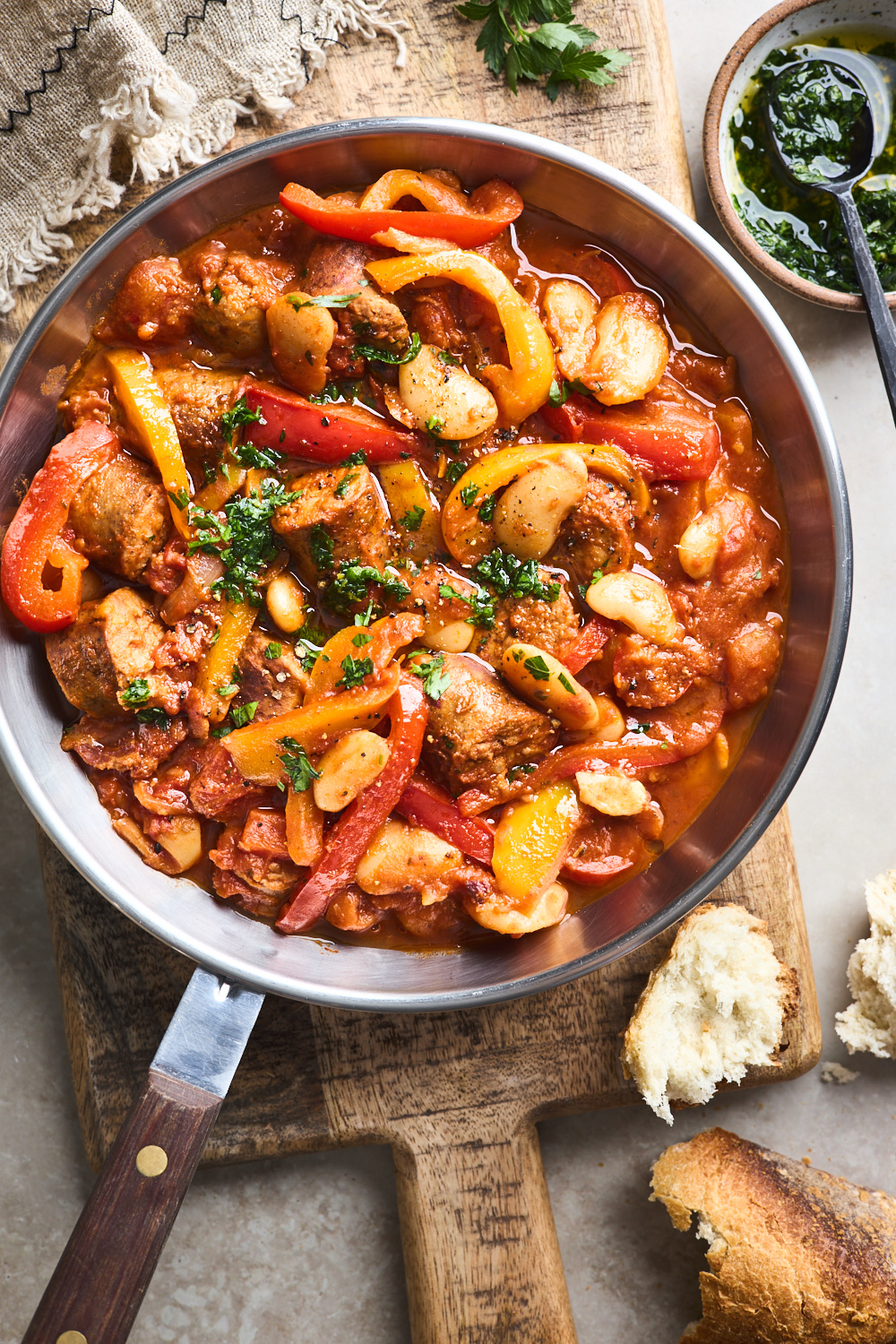 How to make Italian Sausage Pepper White bean Stew:
Cook Bacon and Sausage: In a large skillet over medium high heat add Cook the bacon built crops then remove from pan and set aside. Then add the sausage and cook 5-7 minutes until brown all over and remove and set aside on a plate. Then slice the sausages
Vegetables: Sautee the bell peppers and onion.
Combine: Add sausage back to the skillet. Add all the seasoning, tomatoes, and salt and pepper.
Cook: Let simmer until thickened.
Enjoy: Enjoy with crusty bread, or rice, mashed potatoes, cauliflower mash, over pasta or even eggs - any way you prefer.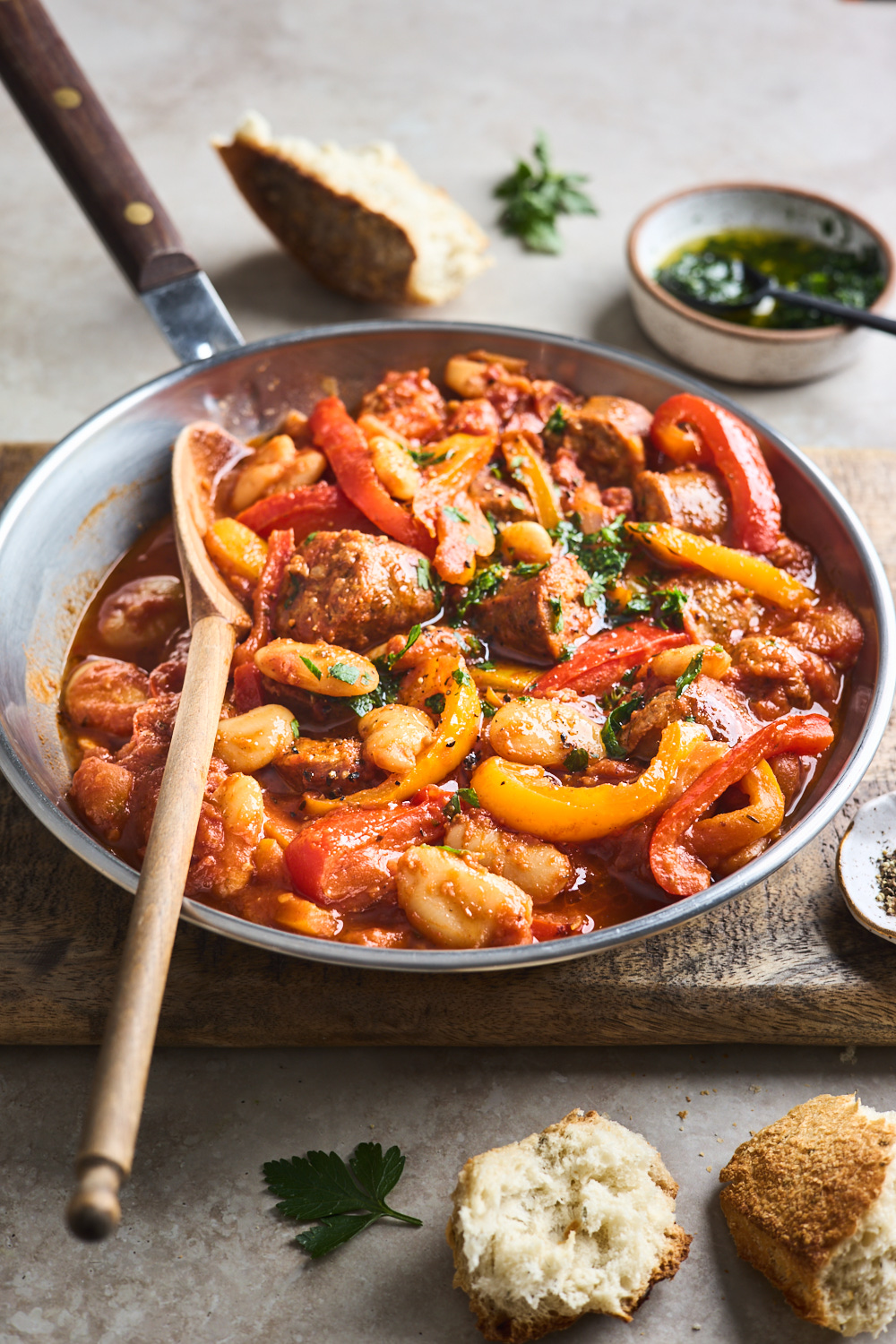 For more delicious dishes like this check out these:
Recipe
Prep Time: 10 mins
Cook Time: 45 mins
Ingredients
2 tablespoons olive oil

2-3 oz of bacon or pancetta, diced

4-5 links of Italian sausages, sweet or spicy (approx 1 -1 ½ lbs)*

1 onion, peeled and thinly sliced        

3 sweet bell peppers, seeds and stems removed and cut into large slices (I used red yellow and orange)

4 cloves of garlic, peeled and thinly sliced

1 teaspoon of smoked paprika

¼ teaspoon chili flakes

¼ teaspoon dried thyme

¼ teaspoon dried oregano

2 heaping tablespoons of tomato paste

¼ cup red or wine wine (optional)

1 28 oz can of chopped tomatoes and their juices*

1 bay leaf

2 15-19 oz cans of butter beans/Lima beans or cannelloni beans, drained and rinsed (or your favourite beans)*

parmesan finely grated to serve, plus the rind for cooking (optional but add loads of flavour)
For the Lemony Parsley  Gremolata (optional)
½ cup packed flat-leaf parsley finely chopped
1 garlic clove, peeled and minced
1 lemon, zested and juiced
2-3 tablespoons extra-virgin olive oil
Directions
Heat the olive oil in a large skillet over a medium heat. Add the bacon and cook until the fat has rendered and is golden and crisp. Remove from skillet onto a paper towel lined plate.
Add the sausages, in batches, and sauté unlit really brown all over 5-7 min approx. Remove to a plate. Once cool enough to handle, cut each sausage into 3-4 pieces.
In the same skillet, cook the onions and peppers with a pinch of salt for 5-7 minutes or until softened and the onions are translucent. Add the garlic and cook for 1 minute. Add the spices and tomato paste, and cook for a further minute.
Deglaze the pan with wine if using scraping up  all the brown bits at the bottom of the pan. Then add the tomatoes, bay leaf and Parmesan rind if adding.
Return the bacon and sausages to pan and add the beans, then simmer gently stirring occasionally for 30-45 minutes until sauce has reduced and thickened to your preference.
For the Gremolata: mix together all of the ingredients in a bowl and season with salt and pepper to taste. 
Serve the stew with crusty bread and the Gremolata drizzled over stew with grated Parmesan cheese.
Leftovers will keep refrigerated in an airtight container for up to 3-5 days. Reheat in microwave or stovetop.
Recipe Notes
For the Tomatoes: I used a large can of chopped or diced tomatoes because I really love saucy beans, but if you prefer less sauce feel free to use a smaller can of chopped tomatoes. Cooking time will be reduced.
For the Beans: I used two cans but feel free to use 1 can or none at all if you prefer these bean free
For the Sausages: I like to brown mine first before slicing them but feel free to slice them brown them. I find slicing them after they are browned is a bit easier to do without them falling apart. Also feel free slice them any size you like.
For a vegan version just omit the bacon and cheese and use a good quality Italian plant based sausage
Freezing this dish: Sausage and peppers also freezes extremely well and will keep for up to 3-4 months. Let thaw in the fridge and microwave to reheat.