Lemon Butter Salmon
This lemon garlic butter salmon is such a great way to cook salmon - easy, super quick, and delicious and it makes a great main protein dish. Serve with green beans, zucchini, easy parmesan roasted potatoes, roasted carrots or a tasty tangy kale caesar salad. This salmon is so easy to make and full of delicious lemon garlic butter flavor. We eat salmon or trout at least once a week and this lemon garlic salmon recipe is such a great way to enjoy it - simple enough for a weekday but tasty and fancy enough for a dinner party. This recipe works well with individual portions or one large filet if you would like to serve it whole on a platter (you might need to use your largest skillet though). I love to bake salmon but this is a simple way of cooking your salmon even quicker stove top in a skillet instead of in the oven in foil or parchment paper. Hope You enjoy it!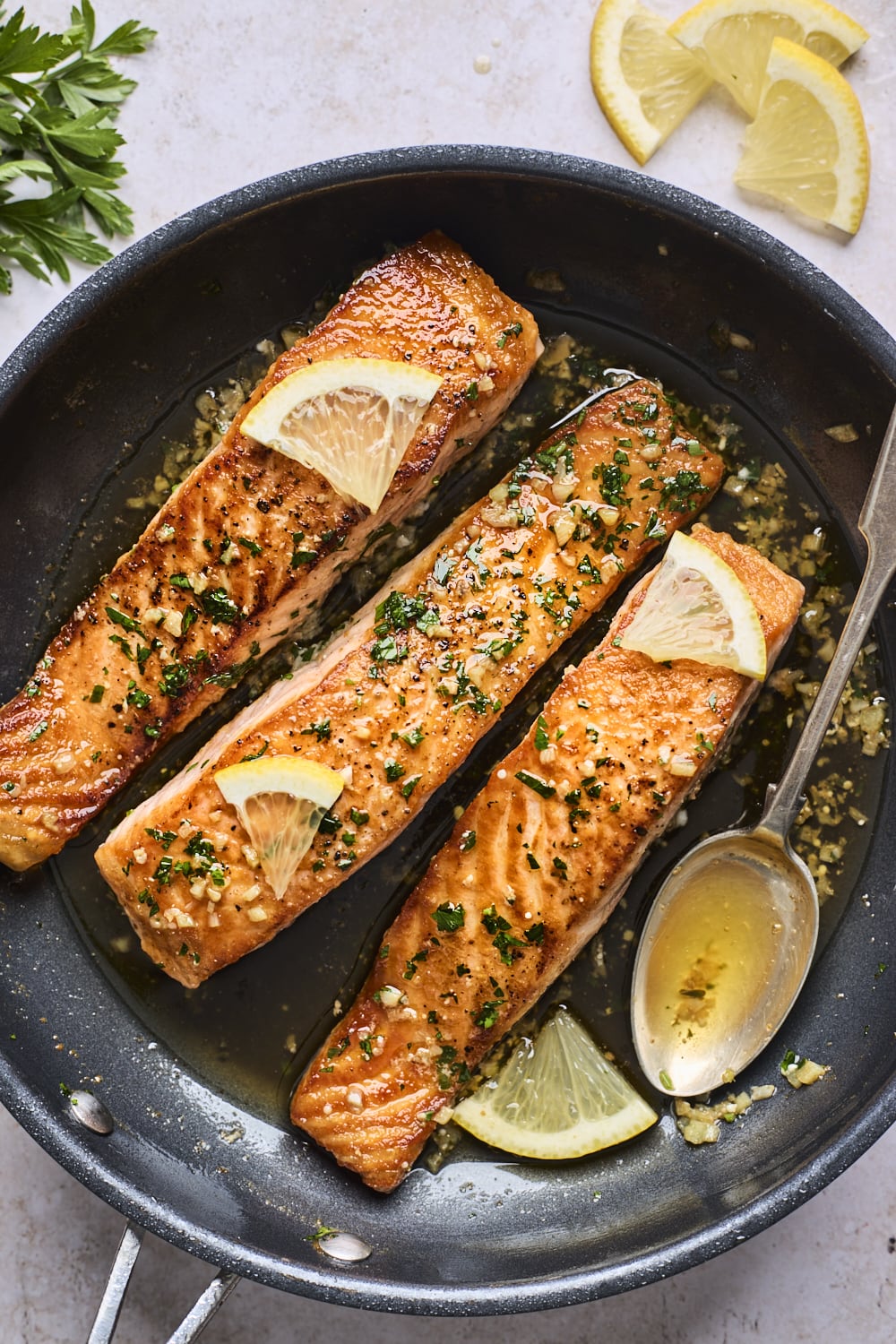 Lemon butter salmon recipe ingredients:
As the name suggest the ingredients are quite simple and minimal but together they make deliciously tender and flavorful salmon - here is what you will need 
Salmon - high in omega-3 fatty acids - you can either buy 4 portions of salmon or one large fillet to slice and portion yourself. Skin on is ideal I think because the skin really insulates the salmon, helping it to cook evenly and not overcook so easily and it also make it easy to move around on the pan 
Butter - I use unsalted so I can control the amount of salt in the recipe 
Lemon - you will need to juice the lemon and for extra lemony flavour I like to add in some freshly grated lemon zest too but that is optional 
Garlic - feel free to use as little or as much garlic as you prefer - I like mine pretty garlicky 
Olive Oil - or vegetable oil - this is to sear the salmon filets - butter doesn't do well with higher heat so I use olive oil or a neutral vegetable oil for this part 
Salt and Black Pepper - to taste (for extra flavour or a variation in seasoning use your fav seasoning blend like lemon pepper, cajun or greek seasoning) 
Extra Add Ins - add a touch of honey to sweeten the lemon butter sauce/garlic butter sauce, add some fresh herbs like a touch of fresh thyme or oregano to the lemon butter sauce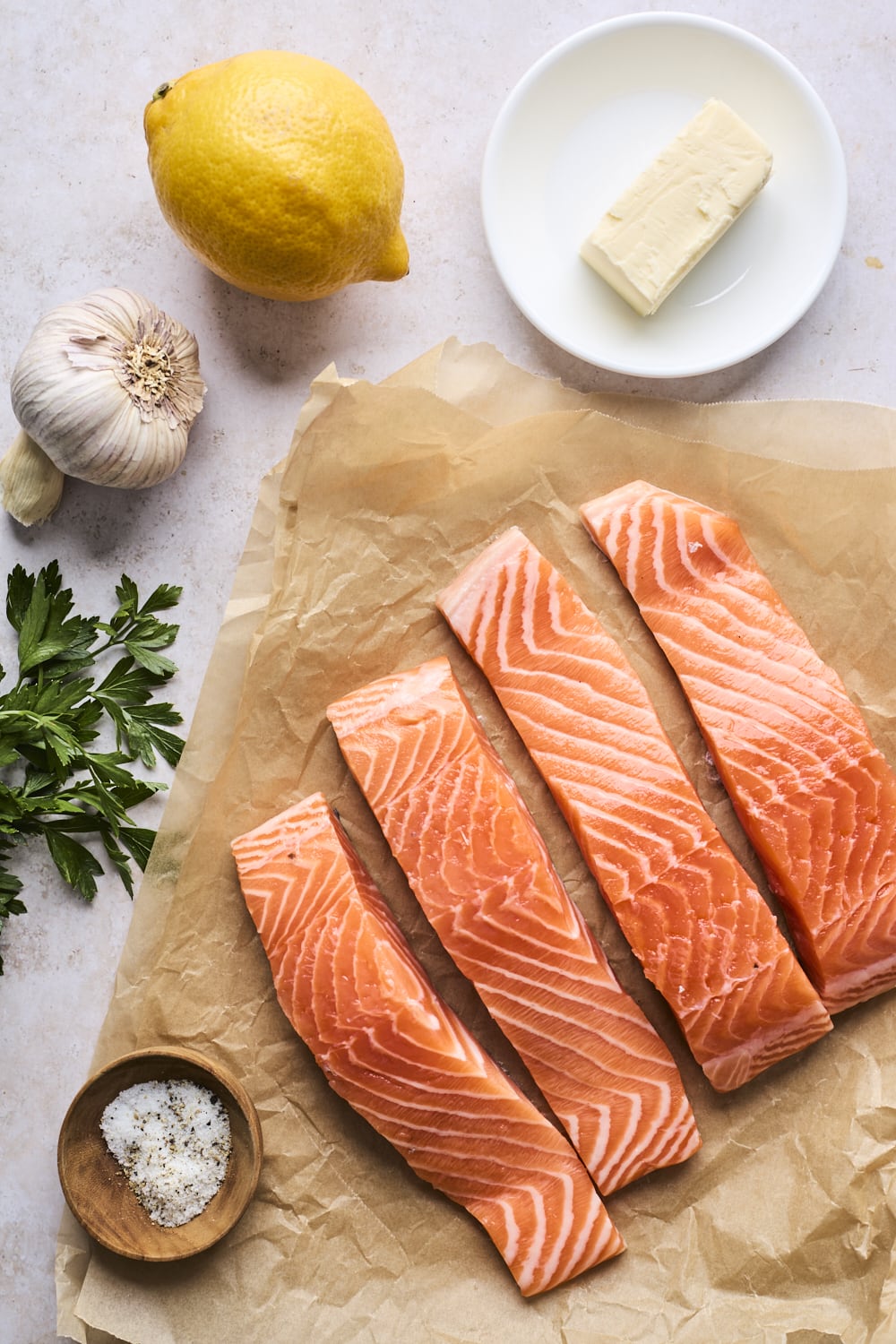 Simple Instructions to Make Lemon Butter Salmon
Remove salmon from fridge and allow to come to room temp 
Pat salmon dry and season with salt and pepper 
Heat pan and oil in pan - place salmon into hot pan skin side up and sear salmon without disturbing for 4-5 min 
Flip then cook for another 2-4 min until salmon is cooked through - remove from pan and set aside 
Make sauce - Add butter to pan and then the stir in the lemon juice, garlic and lemon zest if using cook until garlic is softened, remove pan from heat 
Place salmon back in pan skin side down and spoon over lemony garlic butter sauce 
Plate and serve with the pan sauce and extra lemon wedges and fresh parsley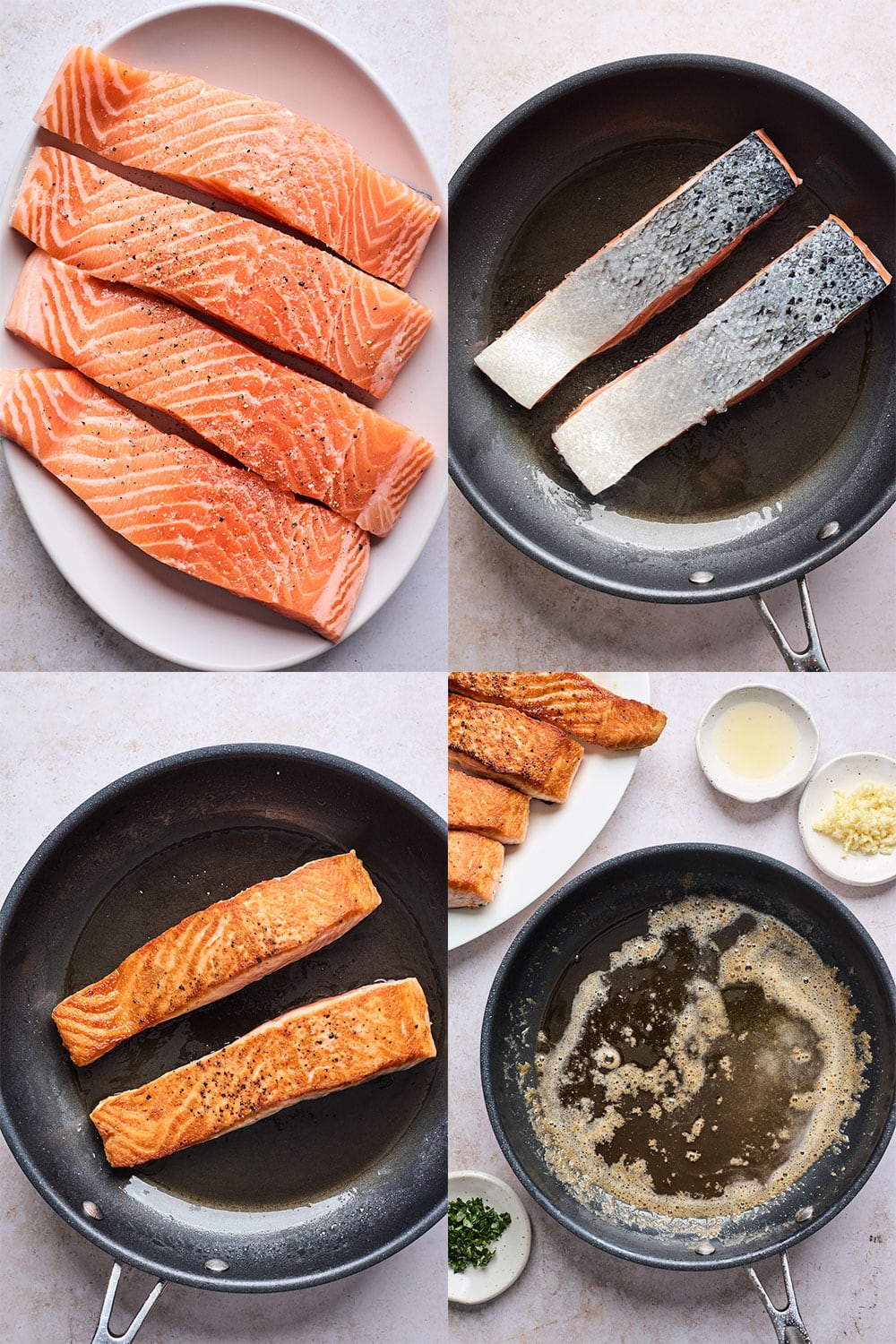 Tips for Making Lemon Butter Salmon 
Make sure to remove the salmon from fridge to allow it come to room temperature before searing for even cooking and also pat it dry before cooking as extra moisture will prevent that nice sear from happening. 
Use a non stick pan or a very well seasoned skillet to sear the salmon for a good golden seared layer. Pan searing helps lock in the moisture and prevent drying out. 
Try not to move the salmon around too much once it's first in the pan to allow a perfect sear on the salmon 
Use a thin spatula or long flexible fish spatula for easy flipping 
Be sure to allow time for your pan and the oil in pan to heat up - splash a drop or two of water in the pan and if it sizzles and dances around a bit you are good to go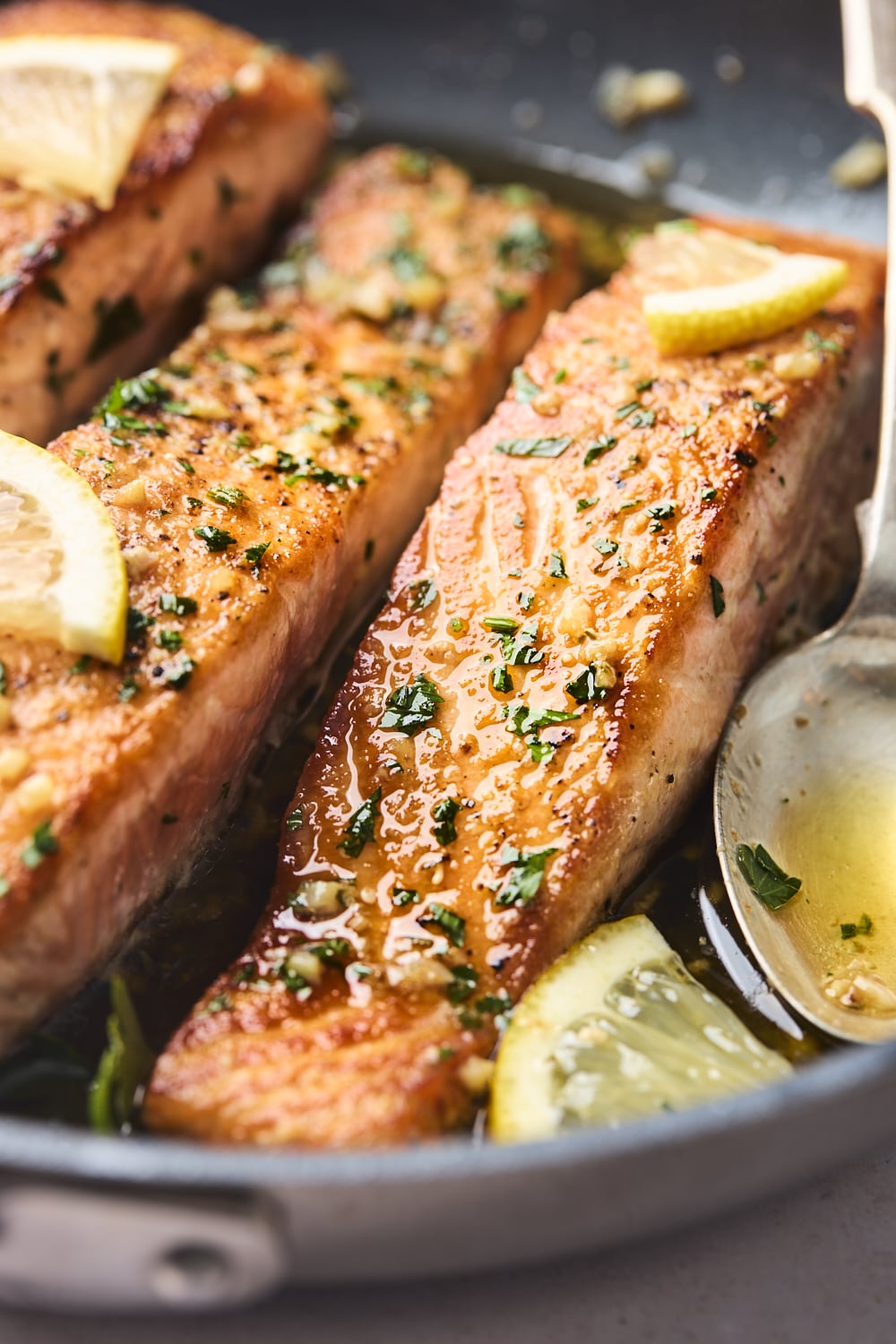 More Salmon Recipes You Will Love:
Recipe
Prep Time: 5 mins
Cook Time: 9 mins
Ingredients
4 salmon filets 4-6 ounces each (skin-on salmon) 

Salt and black pepper to taste 

1 tablespoon olive oil

4 tablespoons butter

2 cloves garlic peeled and minced 

2 teaspoons fresh lemon juice

½ teaspoon lemon zest (optional) 

1 tablespoon fresh chopped parsley, plus more for garnish (or basil, or dill)

Lemon Slices or lemon wedges for serving 
Directions 
Remove salmon from refrigerator 15-20 minutes before cooking salmon if possible to allow the salmon to come to room temperature. Pat the salmon dry with paper towel. Season each piece generously with salt & pepper.
Heat the olive oil in a medium size skillet or non stick pan over medium-high heat.
Place the salmon fillets, salmon skin side up, in the pan. Cook undisturbed for 5 minutes, or until a golden brown crust forms. Then flip the salmon over and cook for another 2-4 minutes (it should be cooked through) or until fish is opaque and easily flakes at its thickest part. Transfer the salmon to a plate.
Turn the heat down to medium-low. Add the butter to the pan and let it melt. Stir in the garlic and lemon juice. Continue stirring for a minute until garlic is softened and fragrant. Take the skillet off the heat once it's done.
Add the salmon back to the skillet and spoon some sauce over top and sprinkle fresh chopped parsley or any fresh herb if desired. Serve immediately with lemon slices and or lemon wedges for squeezing, and extra chopped fresh parsley or other fresh herbs to taste. 
Store leftovers in and airtight container in the fridge for up to 2 days. Reheat leftovers gently in a skillet over medium-low heat or in the microwave.