Kale Caesar Salad
This Kale caesar salad is an all year round favorite of ours - I'm always craving Caesar salad. This one is a kale spin on the classic Caesar salad. You all know I love my greens and if you love them as much as me - this kale salad is a great way to pack more into your day. The kale is tossed in a garlicky Greek yogurt caesar dressing without any egg and no mayonnaise. It's a delicious twist on a classic caesar salad but with dark leafy greens and a lighter dressing. This leafy green kale caesar salad is super hearty, and absolutely tasty. I like to put a Greek twist on just about everything so why hold back on this salad. I decided to make it with tzatziki instead of Greek yoghurt, feta cheese and pita croutons instead of parmesan cheese one day and it was wonderful - so this recipe can be made with tzatziki (Homemade or store-bought) for a real Greek Caesar salad experience or with Greek Yoghurt and parmesan cheese for more of a classic version. Serve this salad as a side or make it a meal by adding some type of protein, such as grilled chicken or shrimp, or white beans and chickpeas for a satisfying dinner salad. Add crispy crumbled bacon for a more indulgent Kale Caesar Salad.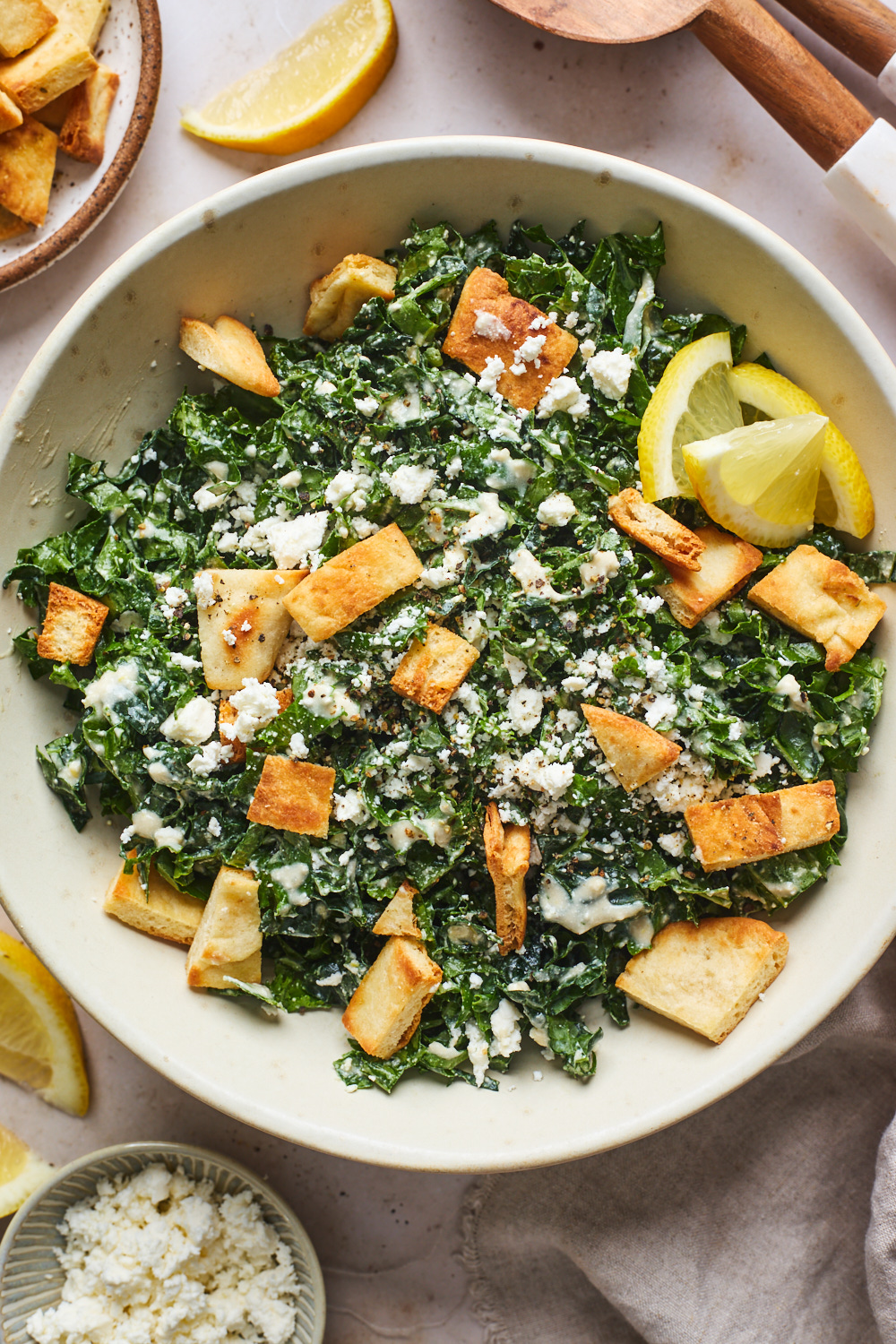 Why you are going to love this Kale Caesar salad:
It's lighter than most Caesar salads without any compromise to the taste.
It's hearty and filling & a great way to get more veggies in
Its got loads of flavour thanks to the garlicky tzatziki or Greek yogurt dressing
The tangy dressing is creamy, and luscious in texture, yet lightened up with a yogurt base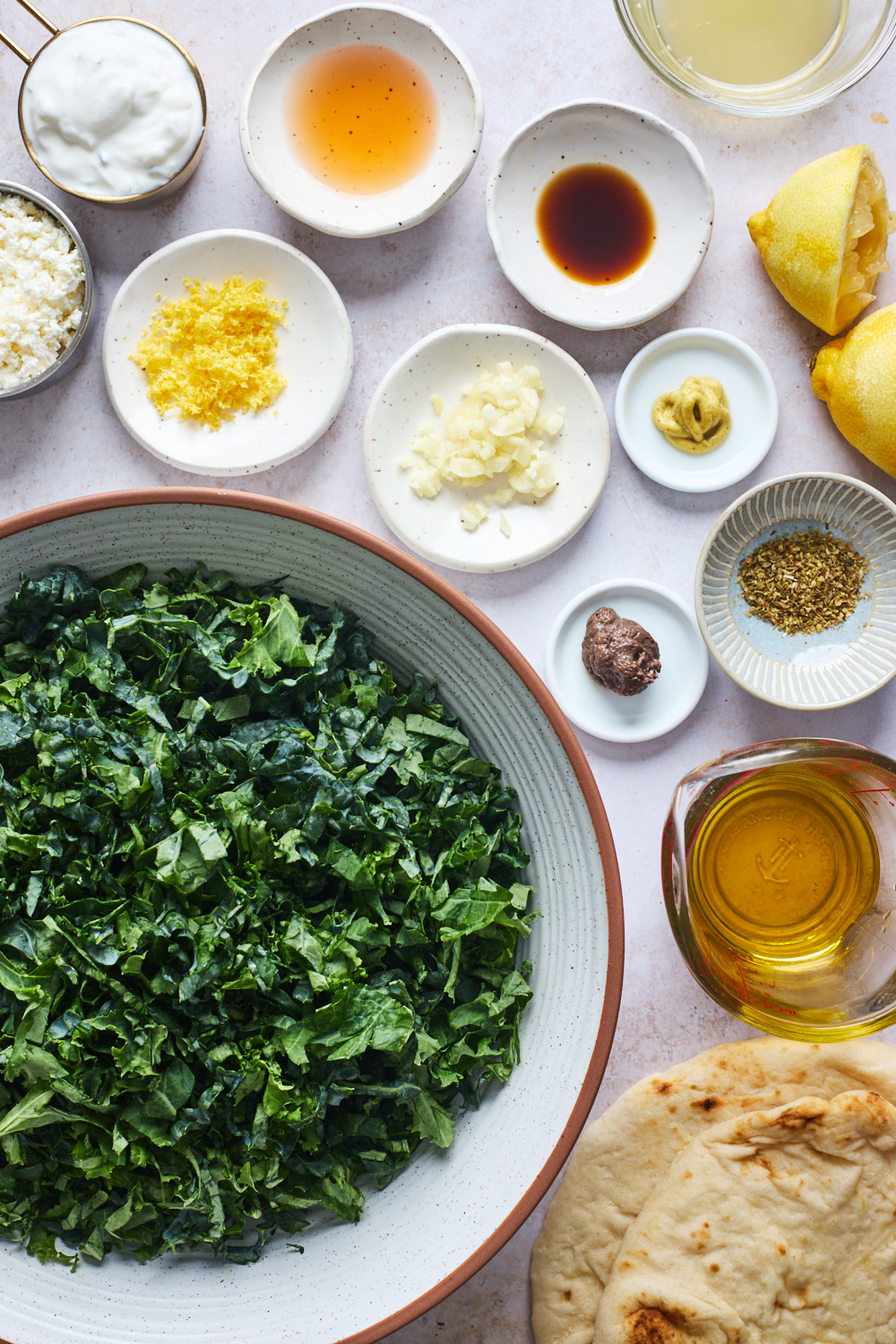 Kale Caesar Salad Ingredients
To make kale caesar salad, you'll need the following ingredients: For the Dressing:
Tzatiki or Greek yogurt - full fat for both for the best flavor but feel free to use low fat if you must
Anchovy paste - Pungent and salty and a great savory flavour - it adds that distinct flavour to a Caesar salad but feel free to omit for vegetarian/ vegan version. It adds umami flavour without the fishiness. If you literally can't tolerate anchovy, skip them and add finely minced or chopped capers instead.
Garlic- I always use fresh because it gives this salad the ultimate garlicky flavour you expect in a good caesar salad - so I don't recommend using garlic powder (if you are using tzaztiki in this recipe you may want to omit the garlic - I didn't but I do love my garlic)
Lemon juice & zest - freshly squeezed for the best flavor
Extra virgin olive oil - add luscious creaminess to the dressing
Feta cheese or shredded Parmesan - for a vegan version you could use a good vegan feta or vegan parmesan cheese or some sort of nutritional yeast based cheese
Dijon mustard - or you could use your fav mustard - like a spicy mustard or grainy mustard too
Worcestershire sauce - optional but adds flavour to the dressing
Sherry Vinegar or red wine vinegar - you could use white wine vinegar or regular white vinegar or apple cider vinegar but I don't recommend balsamic vinegar
For the Salad:
Pita bread - or flatbread for homemade croutons (recipe included below) - from a more traditional version you can use crusty sourdough bread or baguette made the same way. Feel free to skip this part if you are using store bought pita chips or store bought croutons
Kale leaves - feel free to use any kale you like - and you can also do a blend of kales or add some romaine lettuce to the mix for some added crunch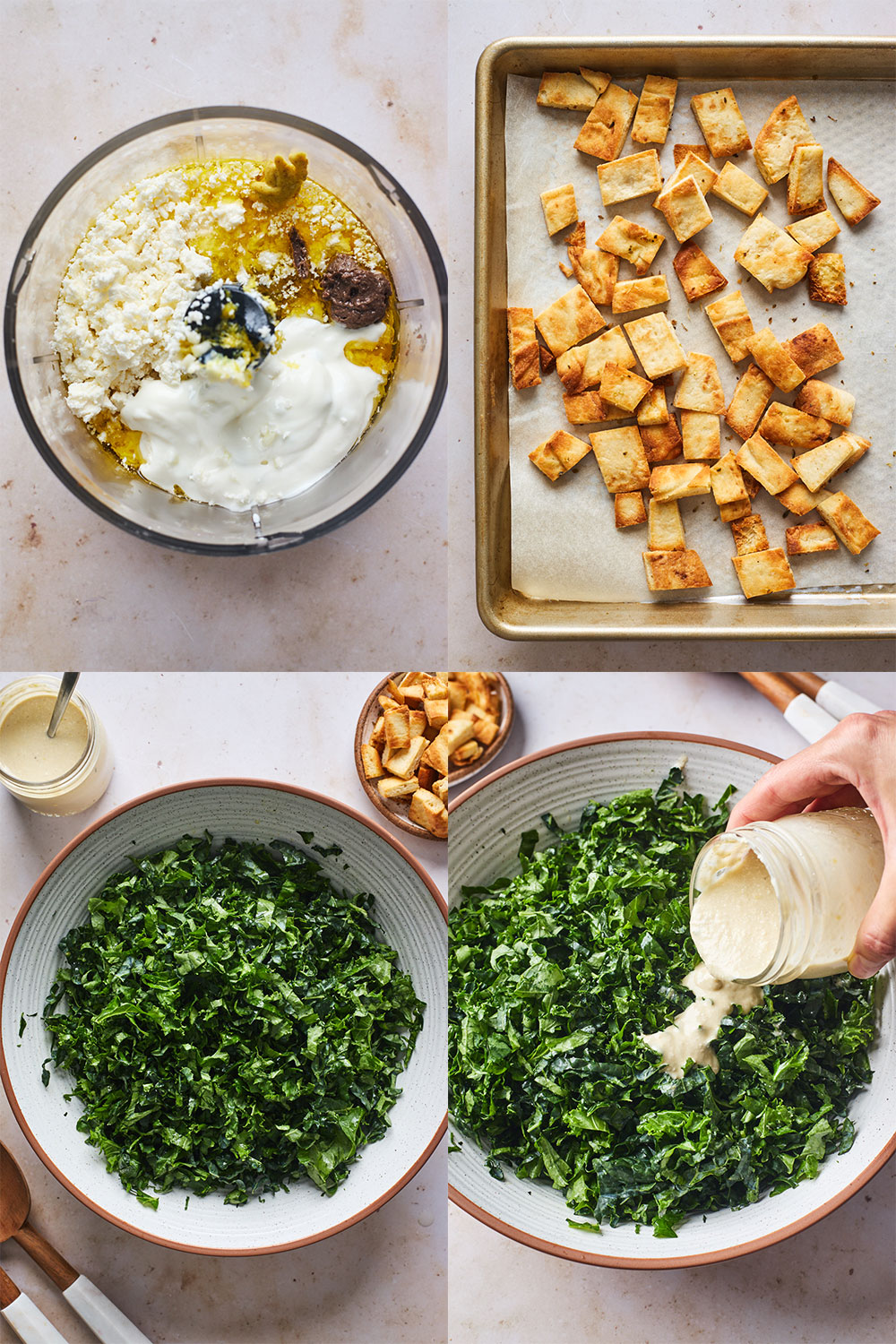 How to make this Greek style Kale Caesar salad
Make your own croutons: Homemade croutons are so much tastier than store-bought and very easy to make too. For this recipe, you'll need pita bread or stale crusty bread. Brush or toss with olive oil and season with salt and pepper and dried herbs of choice. Bake and allow to cool before sprinkling them over the salad.
Make the Caesar dressing: Into a bowl of a food processor or a mini chopper, add all of the Caesar dressing ingredients. Blend until smooth. Do I need a food processor to make this recipe? - its ideal for a creamy dressing but totally not necessary. If you do not have a food processor grate the garlic and whisk all the ingredients together in a medium bowl until smooth - although the feta cheese and parmesan cheese will not be blended so they will add some texture but that will not change the flavour - it will still be delicious - just a bit chunkier.
Massage the Kale: Why should you massage your kale? This step is totally optional but massaging the kale is suppose to break down some of the tough, fibrous texture of kale. This makes it easier to chew and digest, and makes for a more tender salad.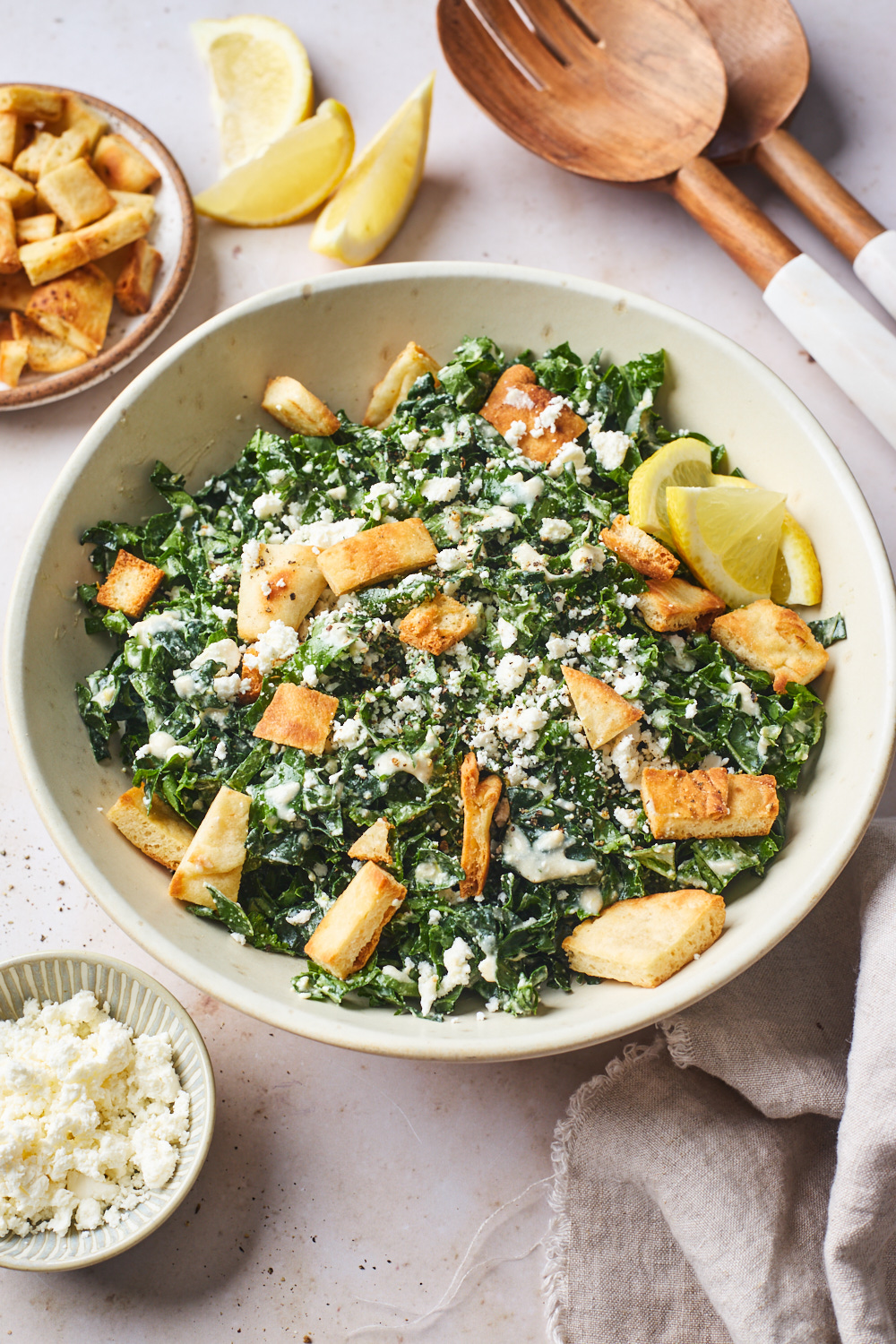 Make Ahead & Storage:
Salad: you can remove the kale leaves from the stem and slice or chop the kale but that is all I recommend for make-ahead with the salad portion of this recipe. How to store kale? Washed and chopped kale can be stored in an airtight container in the refrigerator for several days.
Dressing: The dressing can be made and stored in an airtight container in the refrigerator for up to 2-3 days. I Always recommend tossing the amount of salad with dressing that you plan to eat - because no dressed salad keeps well without getting soggy unless its a Bean Salad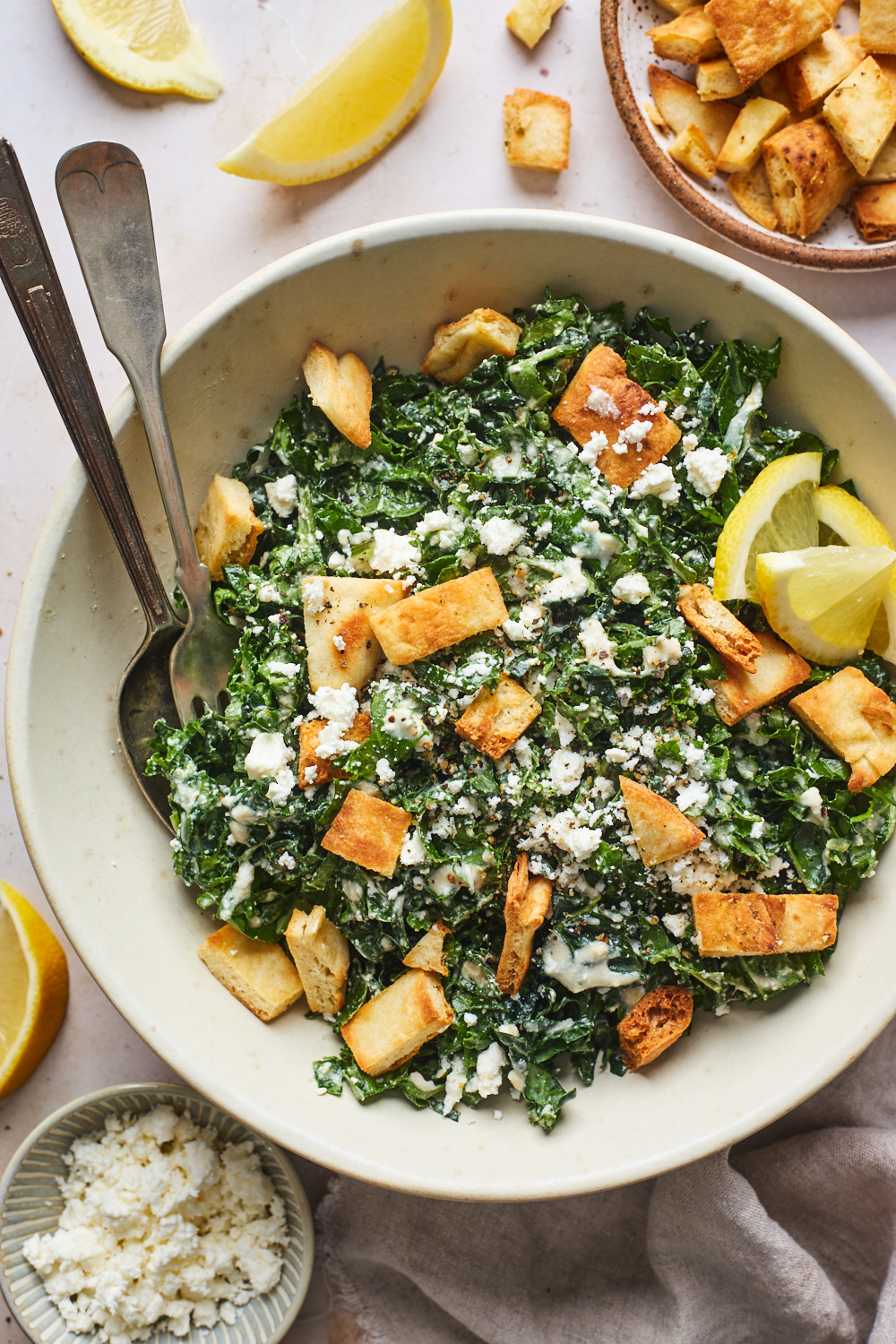 More Salad Recipes You Will Love:
Recipe
Prep Time: 15 mins
Bake Time: 10 min (for croutons)
Ingredients
For the salad and dressing:
2 garlic cloves, peeled

3 anchovy filets (I buy the ones packed in little jars of oil) or 1-2 teaspoons anchovy paste (omit for vegetarian version)

1 teaspoon Dijon mustard

1 teaspoon worcestershire sauce (optional)

1 teaspoon lemon zest

2 tablespoons freshly squeezed lemon juice

1 tablespoon sherry vinegar or red wine vinegar

⅓ cup tzatziki or full fat Greek yogurt

¼ cup plus 1½ tablespoons extra virgin olive oil

½ cup crumbled Feta Cheese or Parmesan cheese (plus additional for sprinkling on top, if you like that)

1 large bunch of kale (Tuscan/ Lacinato kale/ Dinosaur Kale or green curly kale ), destemmed and finely chopped - approx 4-6 cups - (can blend with ½-⅓ romaine lettuce)

Salt and black pepper to taste
For the flatbread or pita croutons
1 flatbread or pita bread

1½ tablespoons extra virgin olive oil

1½ teaspoons dried oregano thyme or rosemary - or a blend of three

Salt
Directions
For the croutons:
Preheat the oven to 400°F and line a baking sheet with parchment paper.
Cut the pita into approximately ¾ inch bite size pieces. Toss them with 1½ tablespoons of extra virgin olive oil, pinch of salt and the spices
Place them onto the lined baking sheet and bake for about 10 minutes or until the bread is crispy and golden brown. Set aside.
For the salad:
Combine all the dressing ingredients (reserving approx 1½ tablespoons of olive oil) in a food processor, mini chopper, or small powerful blender. Blend until the dressing is very creamy. Transfer to a small container. (it will keep for 2-3 days in a sealed container in the fridge)
Place the chopped kale in a large bowl. Add the reserved olive oil and ½ teaspoon sea salt. Then massage the kale (squeezing it between your fingers) until it softens and becomes a bit more tender, 1 min.
Dress the kale, adding the dressing a tablespoon at a time until it's evenly covered and dressed to your liking. Start with a little at a time. Season with salt and pepper to taste. Sprinkle over the extra feta or Parmesan cheese and croutons just before you are ready to serve the salad.
Recipe Notes
Be sure to cut the spine out of each kale leaf before slicing.
Kale Caesar dressing will keep in the refrigerator for about 2-3 days.
Feel free to add more tzatziki or Greek yogurt to the dressing after its processed if you want a thicker dressing - adjust all quantities to taste!