Sautéed Green Beans
These Garlic butter green beans are the perfect simple side dish. Tender buttery green beans with just enough savoury garlic flavor and a hint of lemon. The toasted sliced almonds add the perfect crunchy texture. These sautéed green beans are way and quick enough for a weeknight meal but delicious and pretty enough for a dinner party. They are simple and are on repeat and one of the many delicious was to enjoy this tasty vegetable!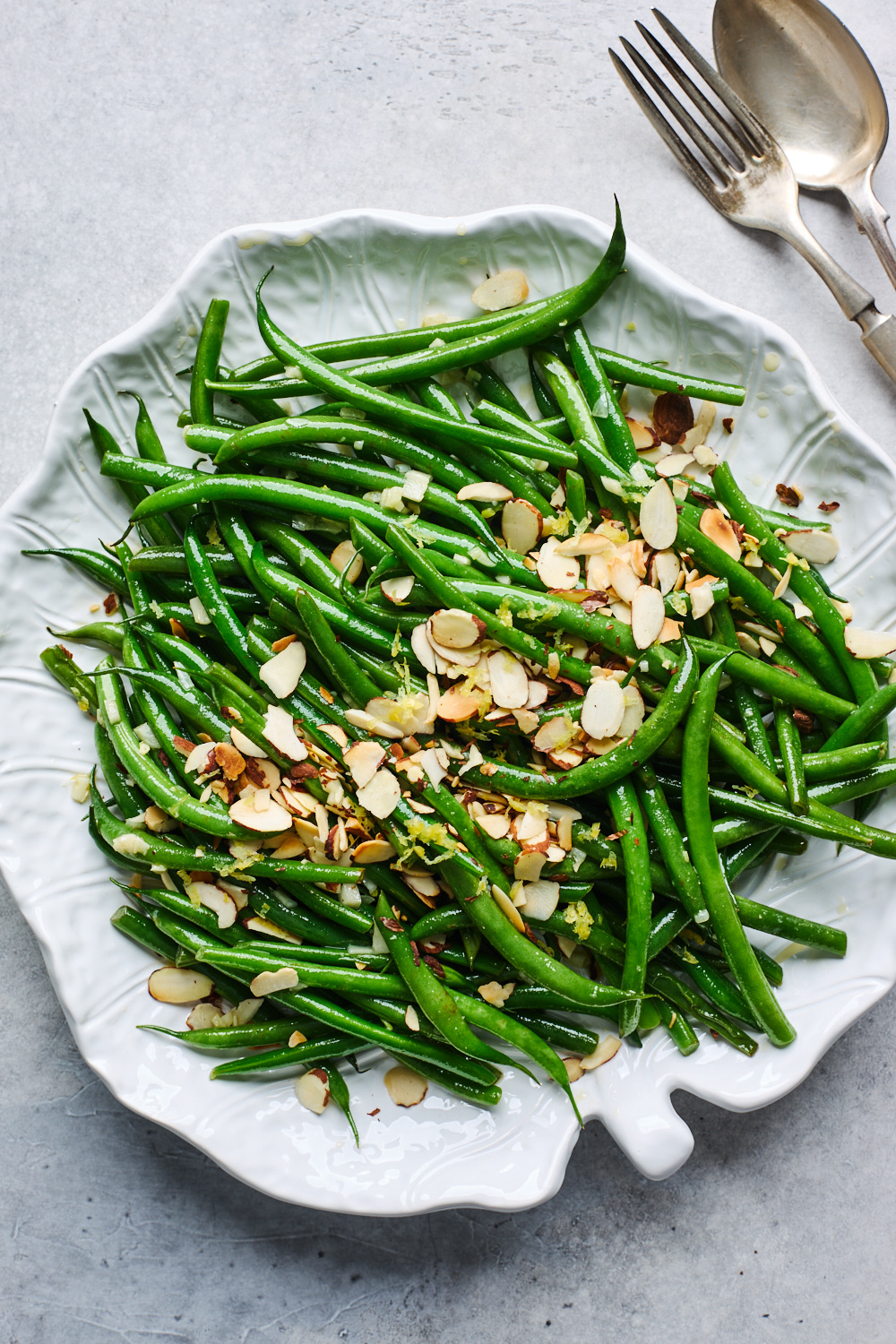 Why you will love this Sauteed Green Beans Recipe:
These green beans are simple and take minutes to prepare
It's the perfect side to just about any meal or protein
A great way to add more veggies to any meal
They are buttery lemony and garlicky - what's not to love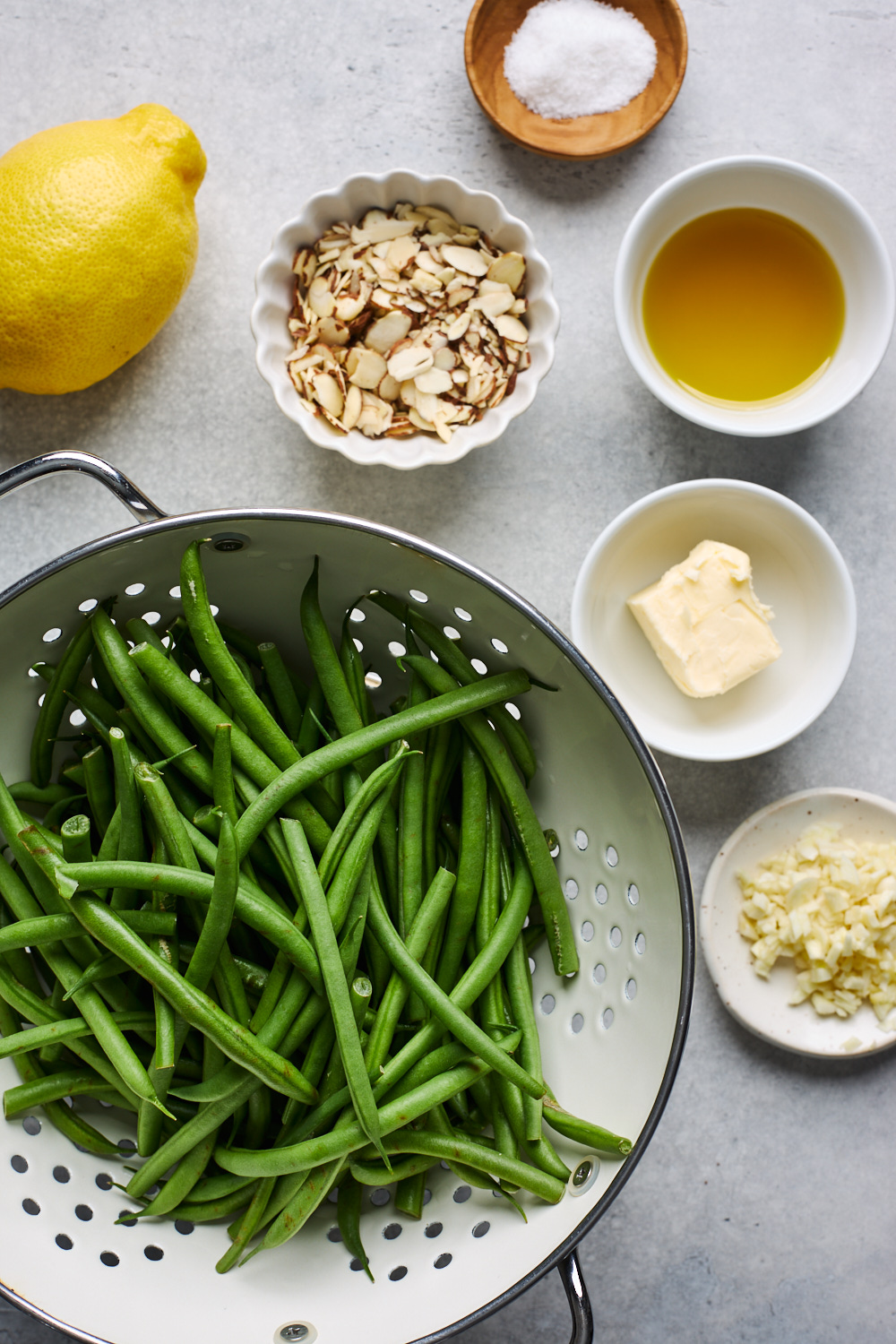 Simple Ingredients For These Sautéed Green Beans:
Fresh Green Beans: String beans or French style haricots vert, fresh is always better but if you are in a bind feel free to use frozen just thaw and pat them dry and no need to blanch just pop them right in the skillet.
Toasted Almonds: Toasting almonds aways gives them a richer nuttier flavour. They add that delicious crunch that is perfect with the buttery tender green beans. You can also use hazelnuts, walnuts, pecans or pine nuts too
Butter & Olive Oil: use both for the best flavours
Garlic: I recommend fresh garlic not dried garlic powder for best flavour
Lemon Juice & Lemon Zest: Freshly squeezed lemon juice and zest is what I use and what is best in this recipe
Extra Add Ins: chili or red pepper flakes, a sprinkle of parmesan cheese, switch up the flavour profile by adding some ginger, splash of soy sauce and sesame oil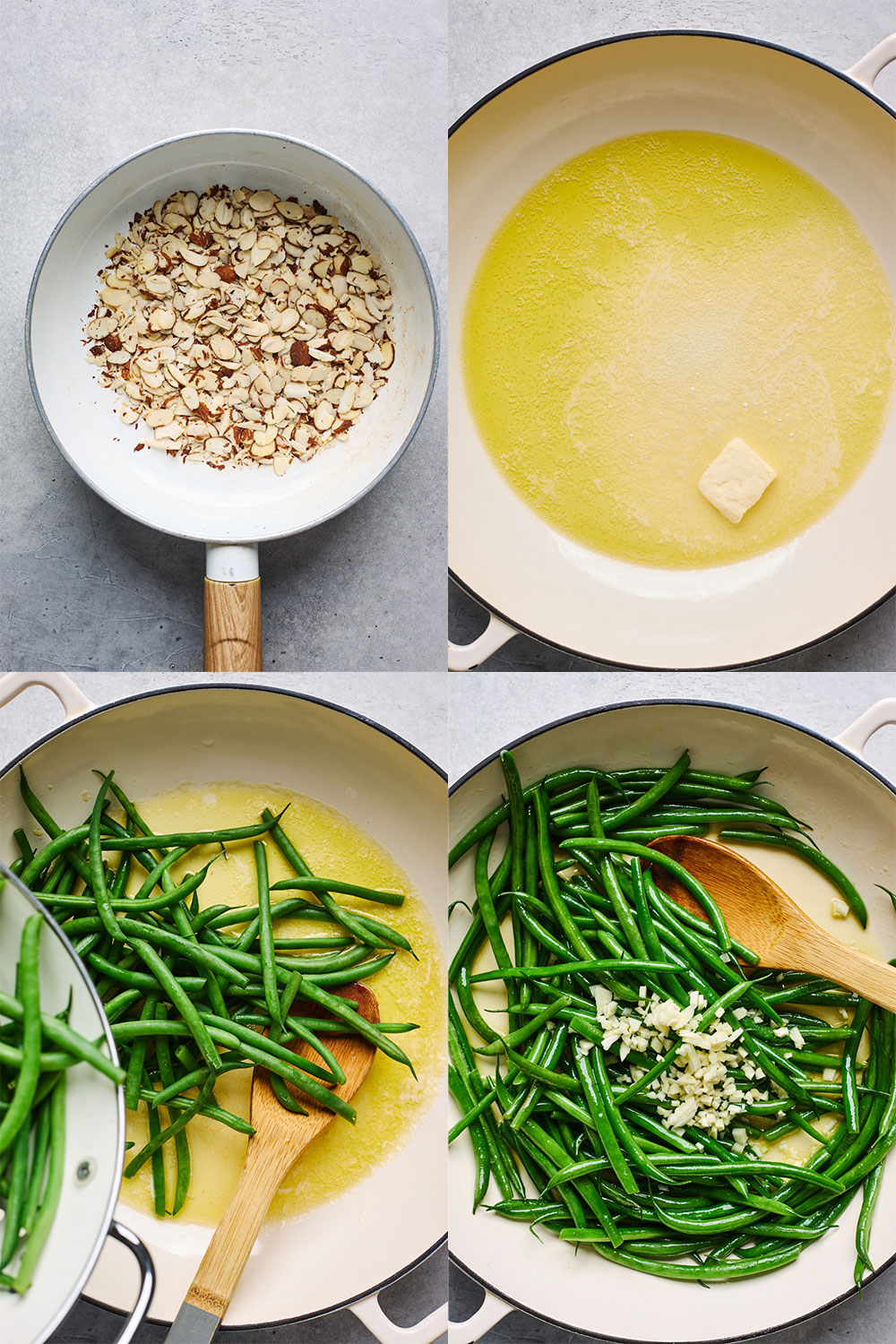 Sautéed Green Beans Variations:
Feel free to sauté extra veggies in the oil/butter mixture before adding in your green beans, like onions, shallots, green or any colour bell peppers (red peppers being my fav) or mushrooms. Toss in some cooked potatoes even for a heartier side dish
Feel free to add fresh herbs to add even more flavour to these sautéed green beans - fresh parley, basil oregano, thyme to rosemary
Feel free to use frozen green beans if you are in a pinch. Frozen ones are usually already blanched so just thaw and drain them and add then straight to the pan to sauté
Brown the butter before adding the green beans for some extra nutty flavour infused into these green beans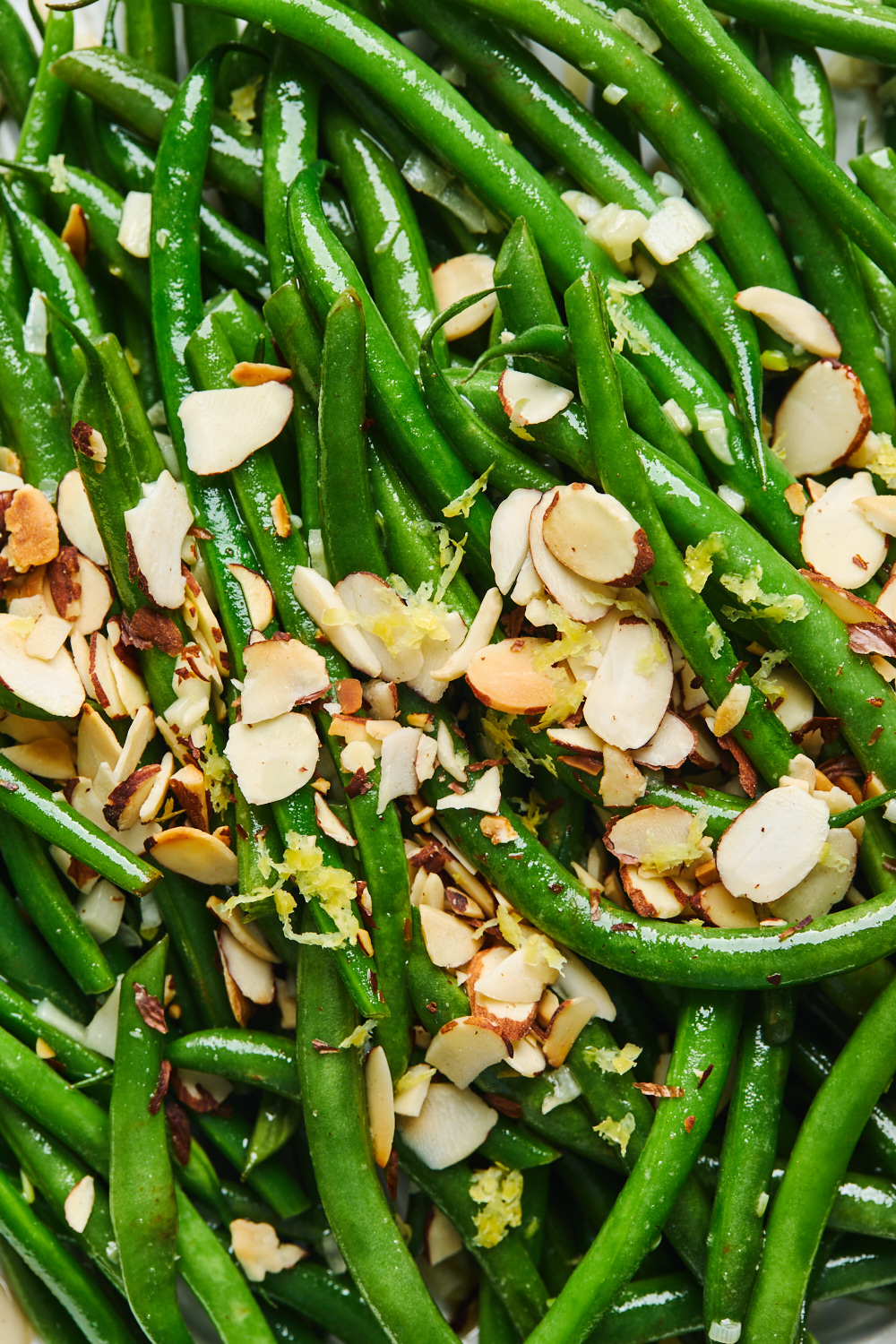 How to Make These Sautéed Green Beans:
Toast the Almonds: Simply toast them in a dry pan over medium heat for a few minutes - keep a close eye on them, stirring them often to prevent them from burning - then remove from pan and set aside to cool (you can toast then along with the green beans but I prefer toasting them separately because I find they have the potential of getting soggy if you add the green beans to the same pan)
Blanch Green Beans: Blanching the green beans is preferred for this sautéed green bean recipe. You want the green beans crisp-tender and to turn a bright green color for this recipe and you only need to blanch or boil them for a couple of minutes - the rest of the cooking happens when they are sautéed in the oil and butter. Once they are blanched simply drain the excess water and set aside the green beans
Sauté Green Beans: Melt butter and heat olive oil in a skillet then add green beans and sauté for another few minutes until the green beans are to your desired tenderness. Add the garlic and saute until fragrant - 30 seconds.
Serve: Serve green beans while they are hot. Drizzle with lemon juice and season with salt and pepper to taste. Sprinkle over the lemon zest and toasted nuts and serve.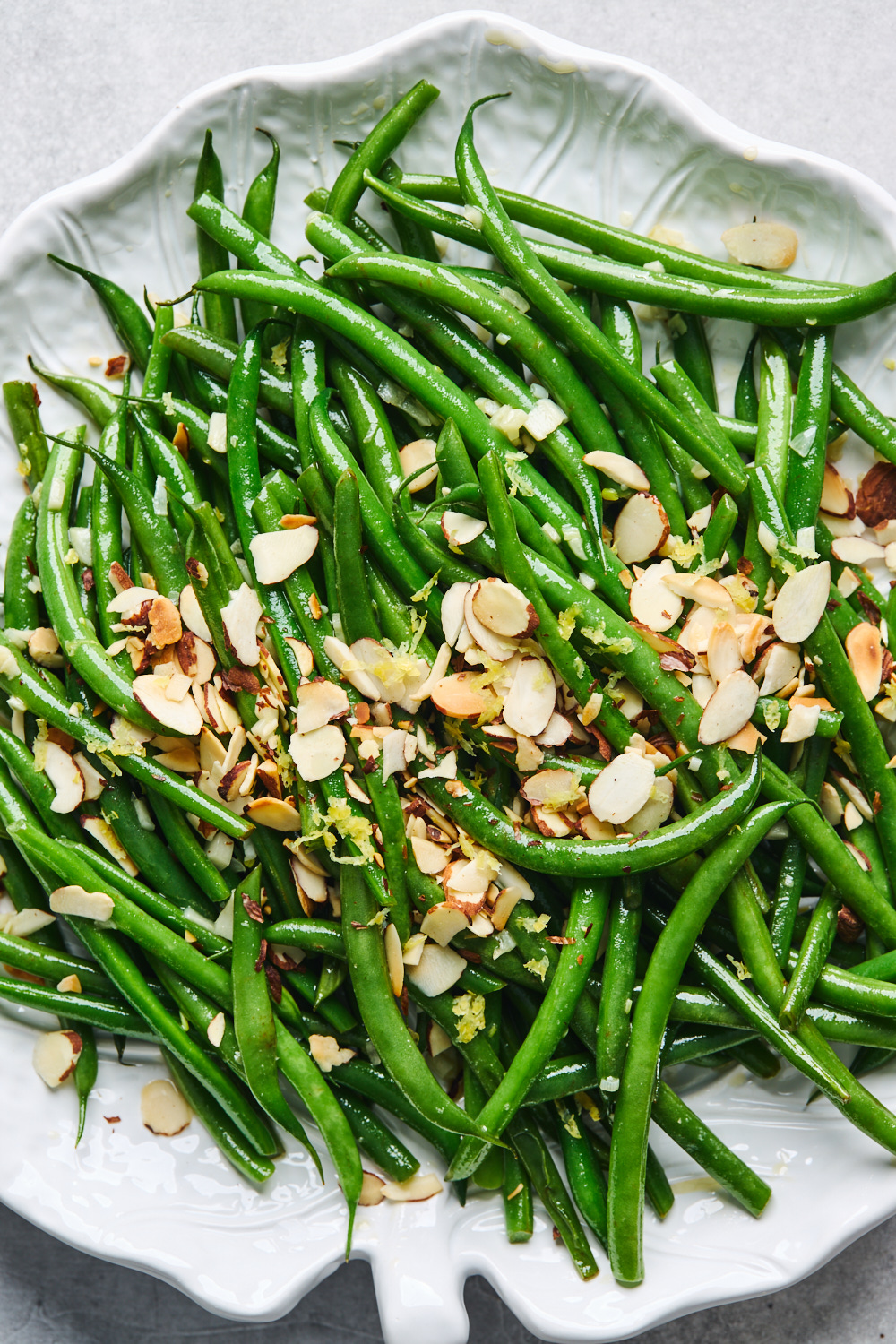 More Delicious Side Dishes You Will Love:
Recipe
Prep Time: 5 mins
Cook Time: 10-15 mins
Ingredients
¼ cup water (for blanching green beans)

1 lb fresh green beans/ fresh string beans, ends trimmed

Salt to taste

¼-½ cup sliced almonds

1 tablespoon olive oil

2 tablespoons unsalted butter

4 garlic cloves, minced

Cracked black pepper, to season

1-2 tablespoons fresh squeezed lemon juice and zest of one lemon for garnish
Directions
Toast Nuts: In a small skillet over medium heat, toast the almonds, stirring often, until fragrant and golden brown, 5 to 7 minutes. (Keep a close watch on the almonds, as they can quickly go from lightly brown to burnt.) Set aside.
Simmer Beans: Heat a large sauté pan over medium-high heat. Add green beans and water to pan and pinch of salt. Bring to a boil and simmer for 2-3 minutes. Drain beans shaking off excess water and set aside.
Sautee Beans: Heat oil and butter together in the same pan. When butter has melted, add the green beans back to the pan and sauté 1-2 min stirring them in pan to fully coat them with buttery goodness. Add the garlic, another pinch of salt, and pepper and sauté until garlic is fragrant (30 seconds).
Serve: Remove from heat and plate immediately. Drizzle with lemon juice and season with salt and pepper to taste. Sprinkle over the lemon zest and toasts nuts and serve.
Recipe Note
Refrigerate any leftover green beans in shallow airtight container or wrap tightly with heavy-duty aluminum foil or plastic wrap. Properly stored, cooked green beans will last for 3 to 5 days in the refrigerator.Reheat in the microwave or in a skillet over low to medium heat for a few minutes