Lemon Butter Sheetpan Baked Trout
This Lemony Sheet-pan Trout Recipe with Potatoes & Veggies with Garlic Herb Sauce is a full meal with crispy roast potatoes, tender green beans, and delicious trout. Oven baked trout doesn't need to be complex - sheet pan recipes like this one are perfect for a midweek meal and this one is flavorful enough for a dinner party. Its naturally a gluten-free dinner with a side dish built right in thanks to the crispy edged roasted potatoes and green beans. The garlic lemon butter flavours trickle down from the trout to the veggies adding so much flavor to every element of this meal. Top it off with a very tasty creamy lemony garlic herb sauce that you can dollop over the salmon or dip those golden buttery potatoes into - my favourite way to enjoy it. Its a great way to get in a serving of protein and heart-healthy Omega-3 fatty acids. Everyone in your family will love this dish for the flavor and you'll love it for its ease of cooking and clean up.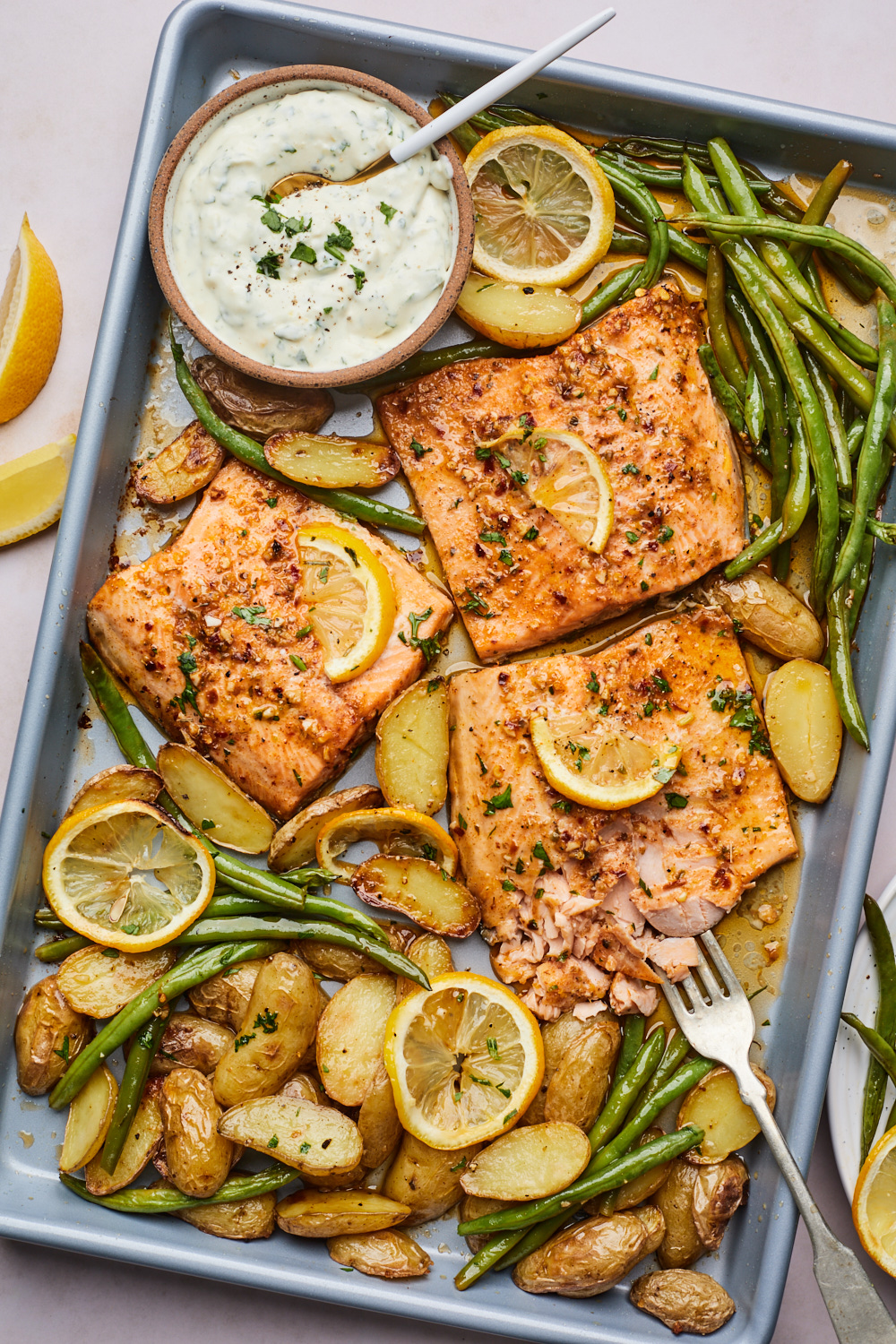 Baked Trout Recipe Ingredients
Baby potatoes - or new potatoes halved or feel free to use red potatoes or Yukon Gold potatoes but chopped into smaller pieces - usually I will have to quarter my red or Yukon golds
Rainbow Trout Skin-on filets - salmon is a good substitute if yo do not have any trout
Extra-virgin olive oil - or any vegetable oil you prefer
Garlic - feel free to use less or more according to taste and you can use dried ground garlic in a pinch too
Spices - dried oregano, ground paprika, and chili flakes or you can use dried thyme and cayenne or chili powder or if you have a preferred spice blend use that instead
Butter - unsalted preferred so you can control amount of salt added to recipe
French Green Beans (haricots verts) - French green beans are thinner than regular green beans and cook faster so I prefer them in this recipe but can be substituted with sliced asparagus or even sliced broccolini
Lemon Juice & Zest - freshly squeezed lemon juice is always best and fresh lemon zest as well
Fresh Parsley - chopped for garnish (or any fresh herbs) chopped fresh herbs are the perfect garnish For the Garlic Herb Sauce you will need: sour cream or mayo, dijon mustard, garlic, fresh herbs, lemon juice and zest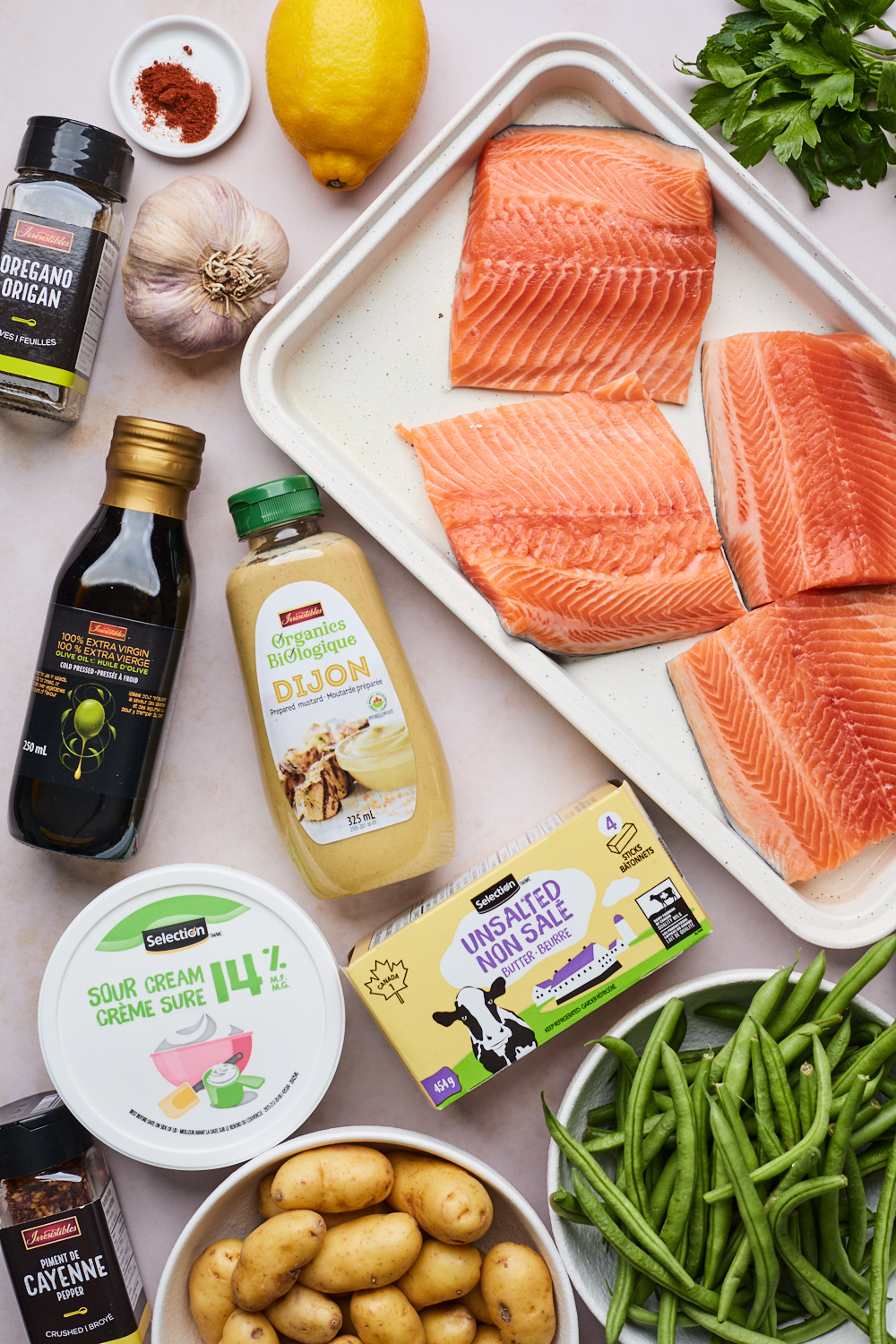 How to Make This Sheet Pan Baked Trout Recipe:
Sheetpan meals are easy but the key to a successful sheet pan meal is to get every component to cook for the right amount of time so that the rest of the ingredients don't over cook. I tried to make this recipe as simple and striaght forward as possible with minimal extra steps so that you can get this from raw ingredients to plated in no time and with little fuss. That being said there's an order of what goes in the oven first so here are the very simple steps in making this delicious Sheetpan trout and veggies meal:
Start with the POTATOES: Toss them with salt, pepper, olive oil and minced garlic and roast alone as they need the longest baking time of the three components. 20-25 min then remove Sheetpan from oven and push potatoes to the one side of the Sheetpan
Then Prepare the TROUT: Whisk together the marinade and brush or drizzle it over the trout. Carefully place trout in the middle of the hot sheet pan. Place a pat of butter over each fillet along with a small slice of lemon.
Prepare the GREEN BEANS: Toss the green beans with olive oil, salt and pepper and place them on the other side of the trout and potatoes, drizzling any remaining oil on them. Place reamaining lemon slices around the potatoes and green beans and bake until trout is finished cooking and green beans are tender with some browned edges
Prepare the Herb & Garlic SAUCE: This is optional but I love it dolloped over the salmon or for a dipping sauce for the potatoes. Its tangy and creamy and herby and delicious - simply whisk all the ingredients for it together and its good to go.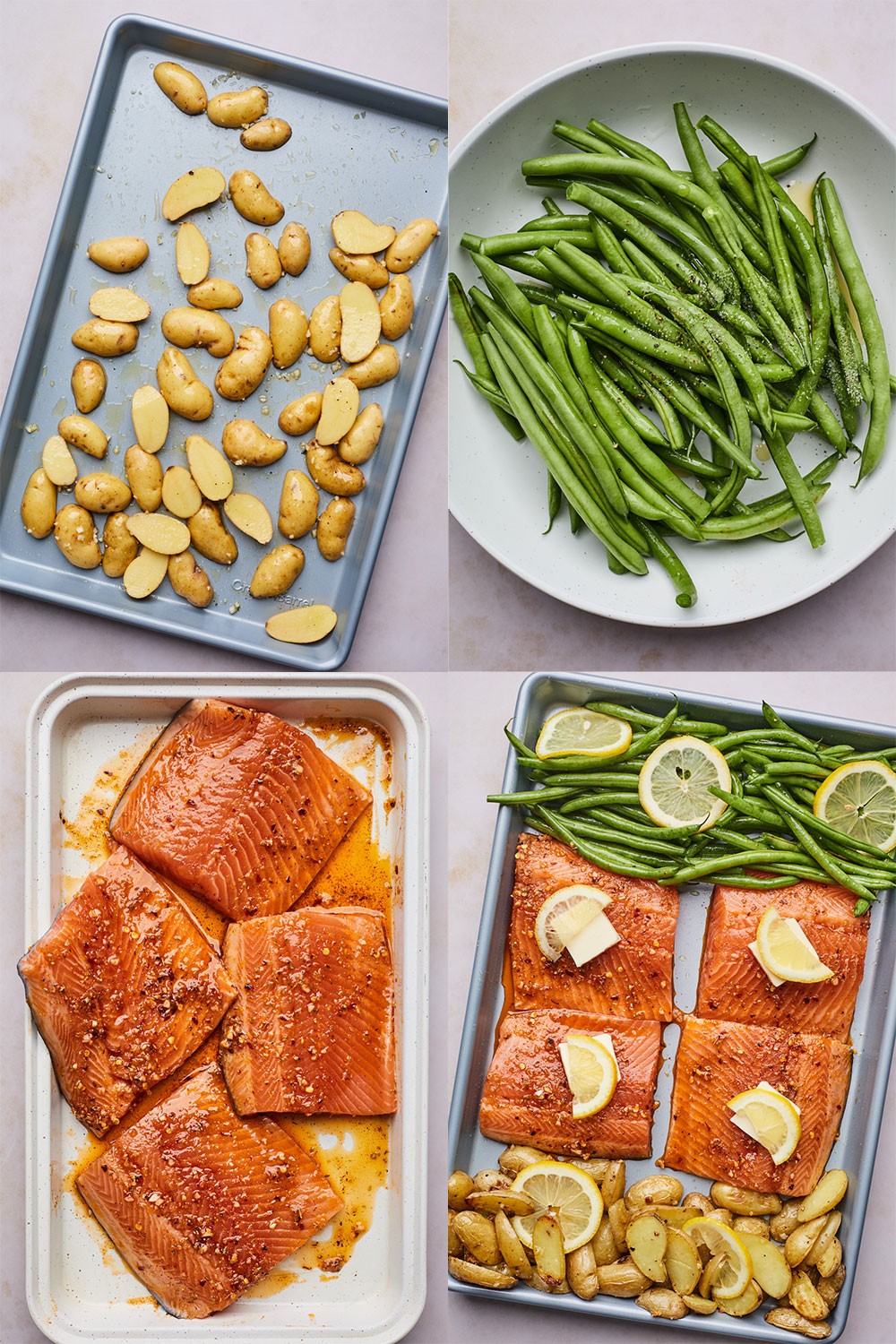 What to Serve With Baked Trout:
The beauty of this recipe is that you don't need to serve anything with it; it's an all-in-one meal! But we'll often throw together a simple green salad tossed with our favourite dressing. Enjoy!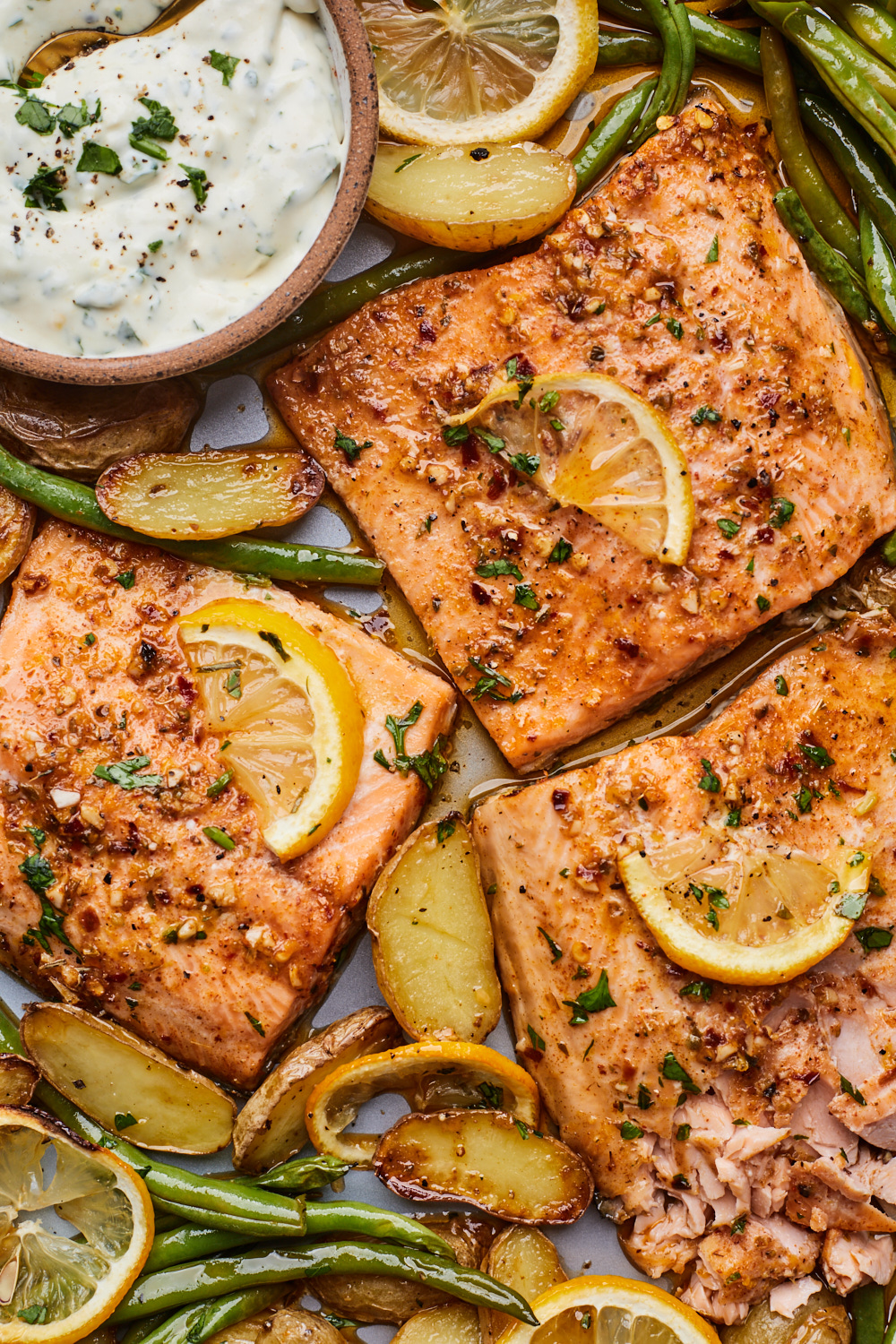 More Delicious Seafood Recipes You Will Love:
Recipe
Prep Time: 10 mins
Bake Time: 35 mins
Total Time: 45-50 min
Ingredients
1 lb. Baby potatoes, halved

4 (5-6-oz.) skin-on rainbow trout fillets

4 tablespoons extra-virgin olive oil

2 teaspoons minced garlic, divided

1 teaspoon dried oregano or thyme

½ teaspoon paprika

¼ teaspoon Chili flakes

4 teaspoons butter, divided

8-oz. French green beans (haricots verts), trimmed

2 teaspoons lemon zest, divided

1 lemon - halved and one half sliced

Fresh parsley chopped for garnish ( or any fresh herbs)
Garlic Herb Sauce (optional)
¼ cup sour cream or mayonnaise
1 tablespoon fresh lemon juice
1 teaspoon lemon zest
1 tablespoon chopped fresh parsley or fresh dill plus more for garnish
2 teaspoons Dijon mustard
1 teaspoon minced garlic or garlic powder
Salt and black pepper to taste
Directions
Preheat oven to 425°F. Toss potatoes with 2 tablespoons olive oil, pinch each salt and pepper, and 1 teaspoon of minced garlic. Arrange potatoes, on a large rimmed baking sheet. (Lining with parchment paper or aluminum foil is optional) Bake for approx 20-25 minutes, or until the potatoes are fork-tender
While the potatoes bake, prepare trout. Pat dry with a paper towel. In a shallow bowl, combine 2 tablespoons olive oil, remaining minced garlic, lemon zest, oregano, paprika, red pepper flakes, and a pinch each of salt and pepper. Drizzle over or brush trout with mixture.
Toss green beans with remaining olive oil and salt and pepper
Remove hot sheetpan carefully from oven and push potatoes to one side of baking sheet. Place trout fillets in the center of the baking sheet skin side down, add a pat of butter to each fillet. Add green beans next to fillets. Arrange lemon slices over trout and around veggies. Return to oven and bake additional 10-12 minutes then broil 2 min until golden
Remove from oven and squeeze remaining half of lemon over everything and garnish with a sprinkle of chopped fresh parsley
For the Garlic Herb Sauce: combining sour cream, lemon juice, parsley, Dijon mustard, and garlic in a small bowl. Stir with a whisk, and season to taste with salt and pepper. Stir in 1 to 2 tsp. water to thin out to desired consistency. Serve alongside the salmon and veggies.
Storage: Leftovers can be stored in an airtight container in the refrigerator for up to 3 days.
Recipe Notes
Baking time the will vary for not only the trout but the potatoes depending on the size of the piece of potatoes and the thickness and size of the trout. Also all ovens vary and run differently so its good to ensure oven is properly preheated. I recommend checking on both the potatoes and the trout a few minutes before recommend baking time is up to check for doneness.
I used a non stick heavy duty Sheetpan for this recipe. If your Sheetpan is not non stick make sure to either grease it before baking the potatoes or line it with parchment paper for easy cleanup.