Lemon Garlic Shrimp Pasta
Creamy pasta and shrimp in a garlic lemon butter sauce - basically what I'm craving daily! This is such a great midweek meal that we love. Simple and on the table in no time. It takes longer to cook the pasta then prep the sauce. You cannot beat that for the midweek!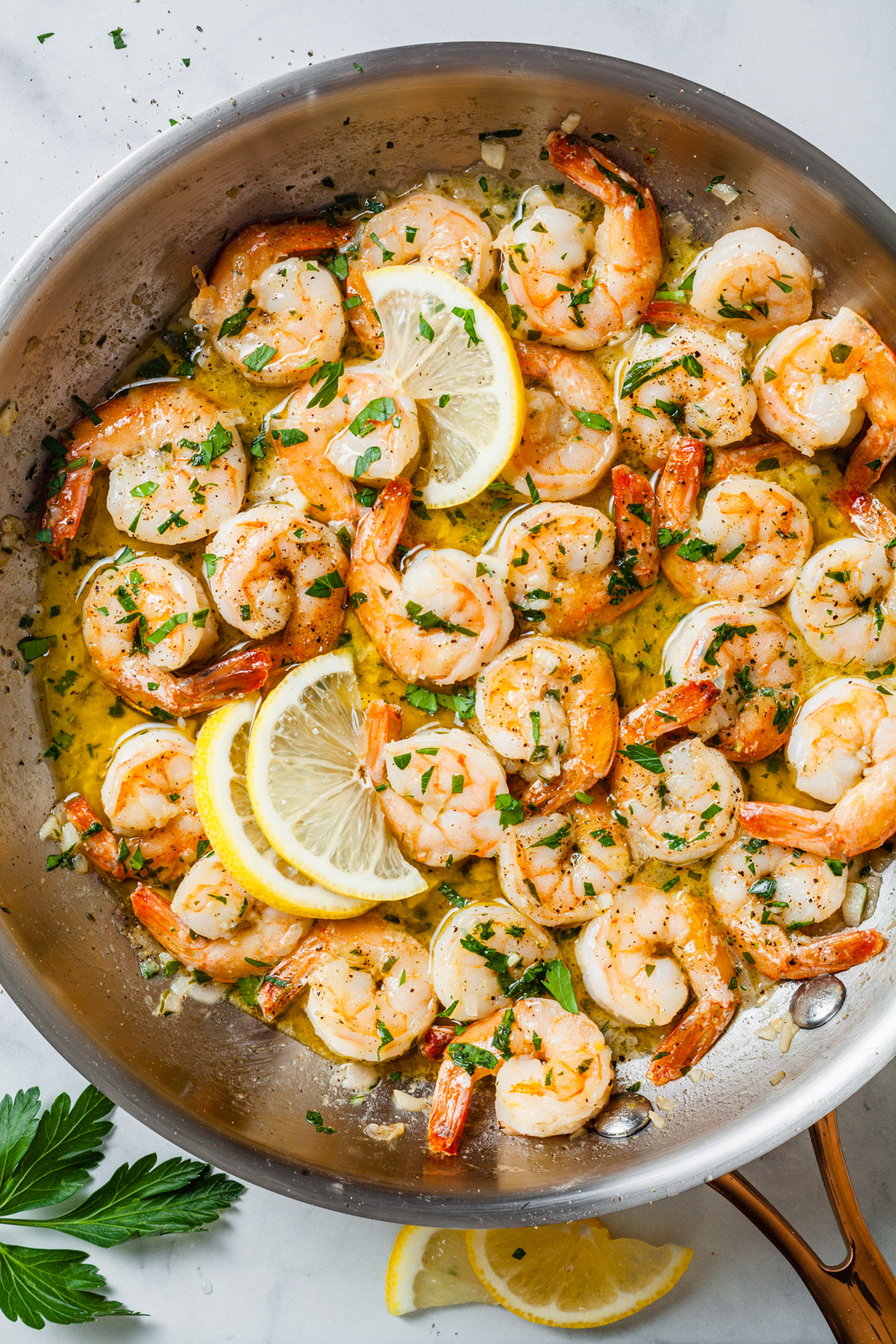 I made this recipe in collaboration with Zwilling and this brand new Rosé 10 Piece Cookware Set of pots and pans they sent me. It's a gorgeous set and I have to say they came at the right time for me. As many of you know I moved back here from living in Trinidad for 6 years last year. We left for Trinidad with most of our belongings all packed in a container. We came back with only 6 suitcases. We gave away and left back almost everything. It was a crazy freeing experience but it was a slight bit crushing too. I'm not overly attached to things but when it comes to my kitchen comforts and my favourite pots and pans, skillets and Dutch ovens that I have accumulated over the last 13 years of marriage and as a food blogger - I have to say I missed them and it was hard to see them go (they went to happy and appreciative homes though) because we get comfortable with our stuff and cooking with it plus a lot of it I have had from my wedding. Anyways I'm not too sentimental about it but I got to say I was super happy to receive this beautiful set and was in the market for one for sure - so huge thanks to Zwilling!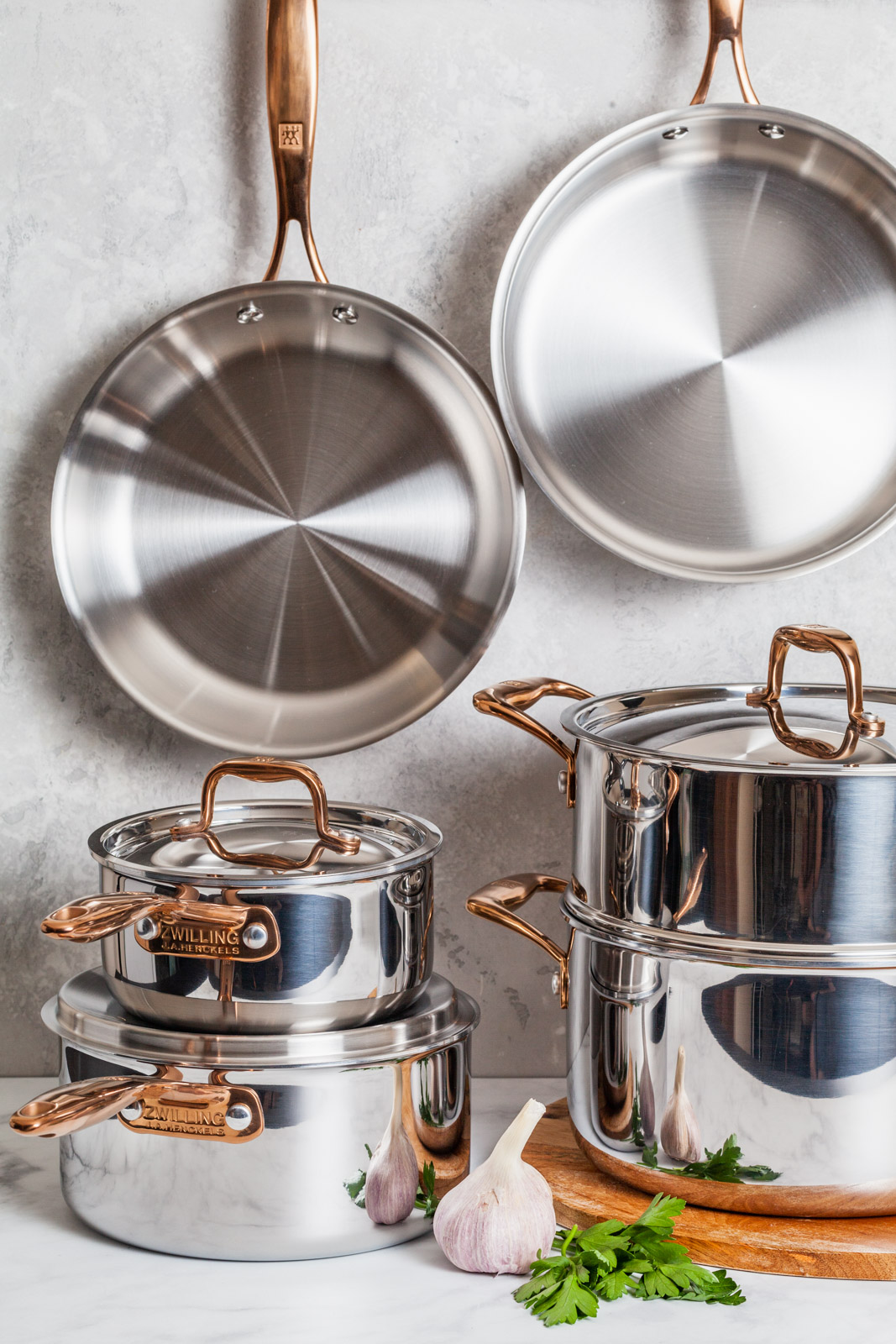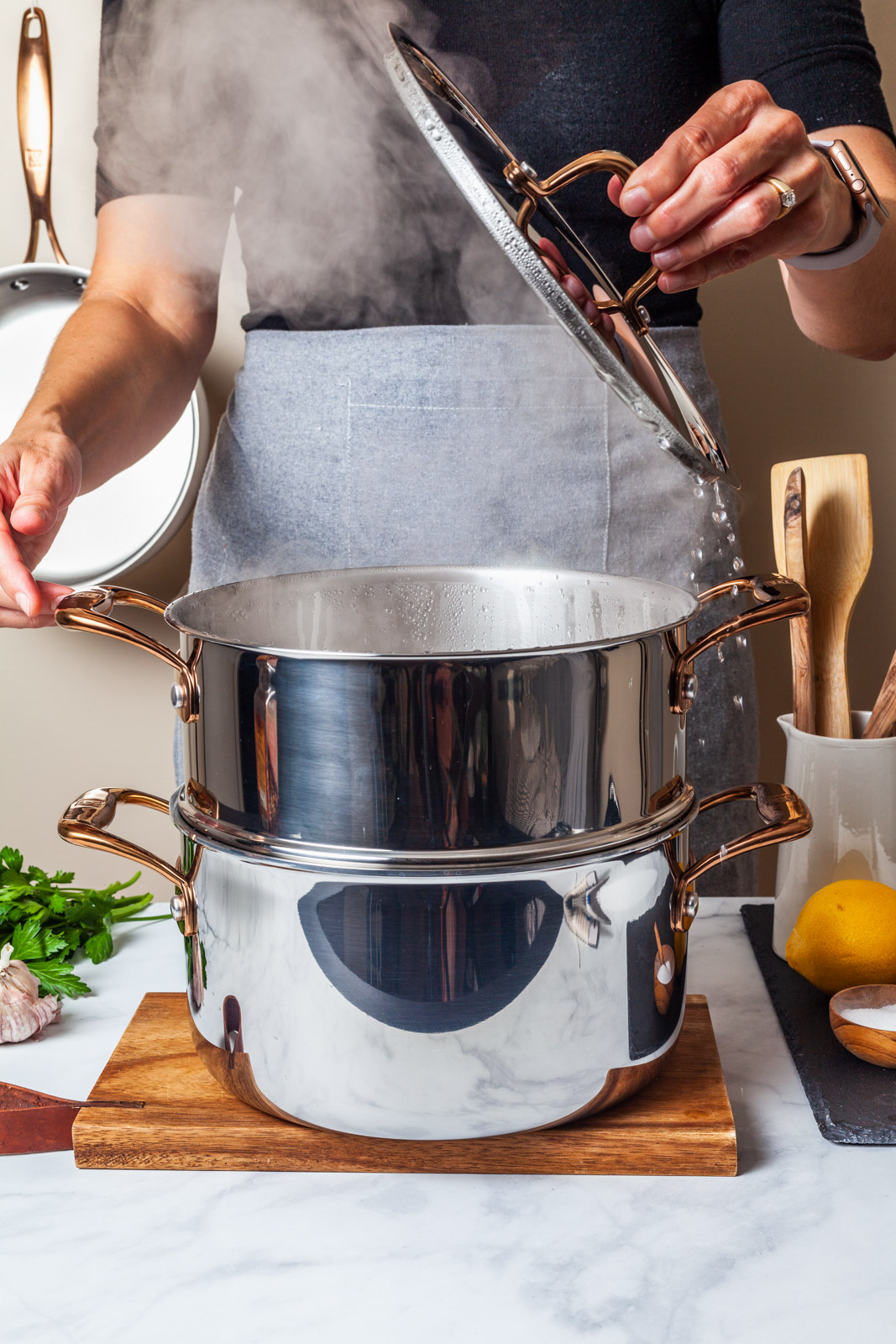 Zwilling not only kindly sent me a set but also offered to giveaway a set to one of my followers. Make sure and check out my Instagram post for more details and how you can win this set. Let me tell you more about it because not only are these beautiful but they have some really nice features. They are polished stainless steel. And all of the pots feature a measuring scale integrated on the interior which I think is super cool and saves you dirtying a measuring cup if you are adding anything to the pot. They have Ergonomic V-shape riveted 18/10 stainless steel handles provide comfortable control, and stay cool while cooking for enhanced safety and they are in a lovely rose gold. The dripless pouring rims help prevent kitchen spills which is always a plus for me!!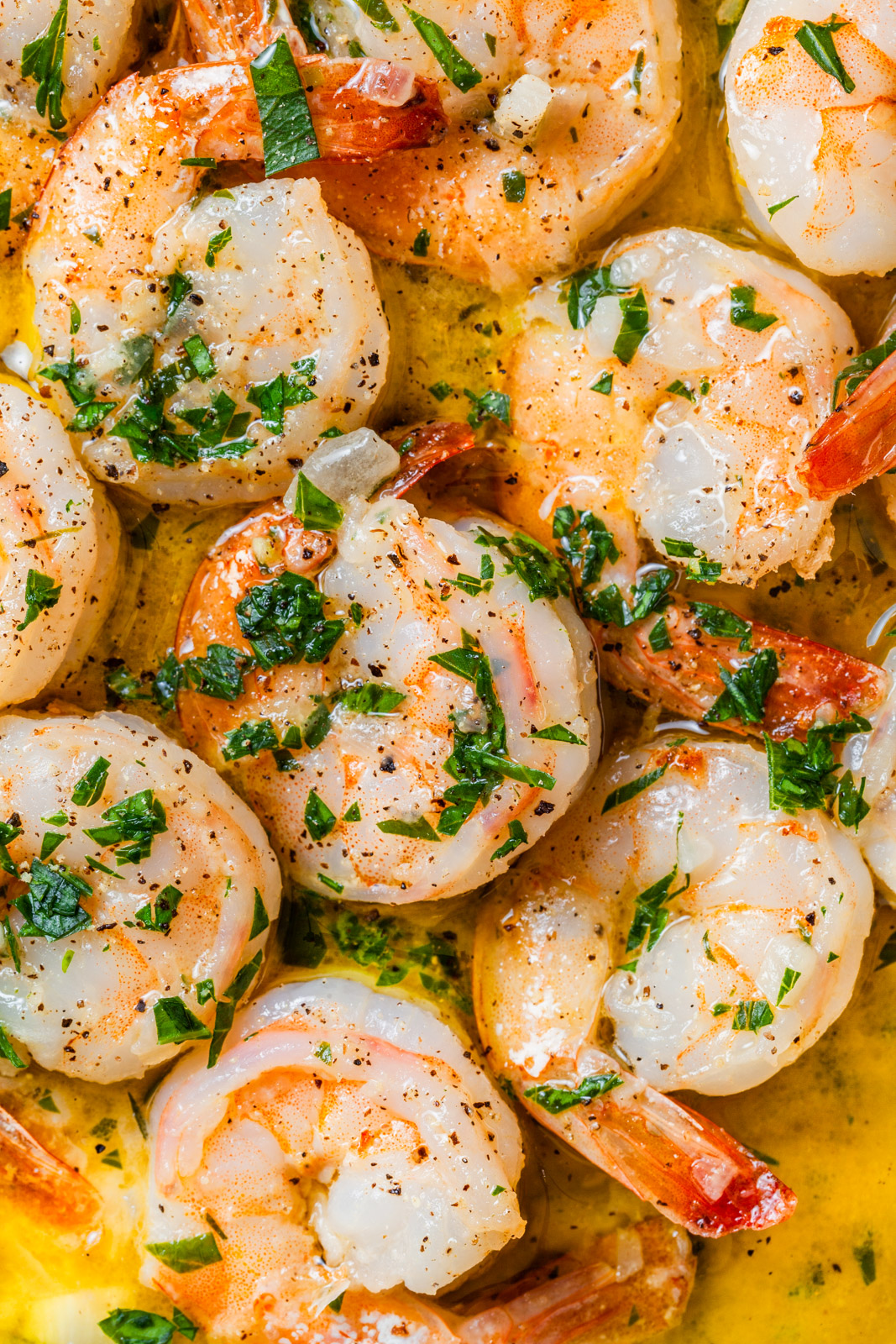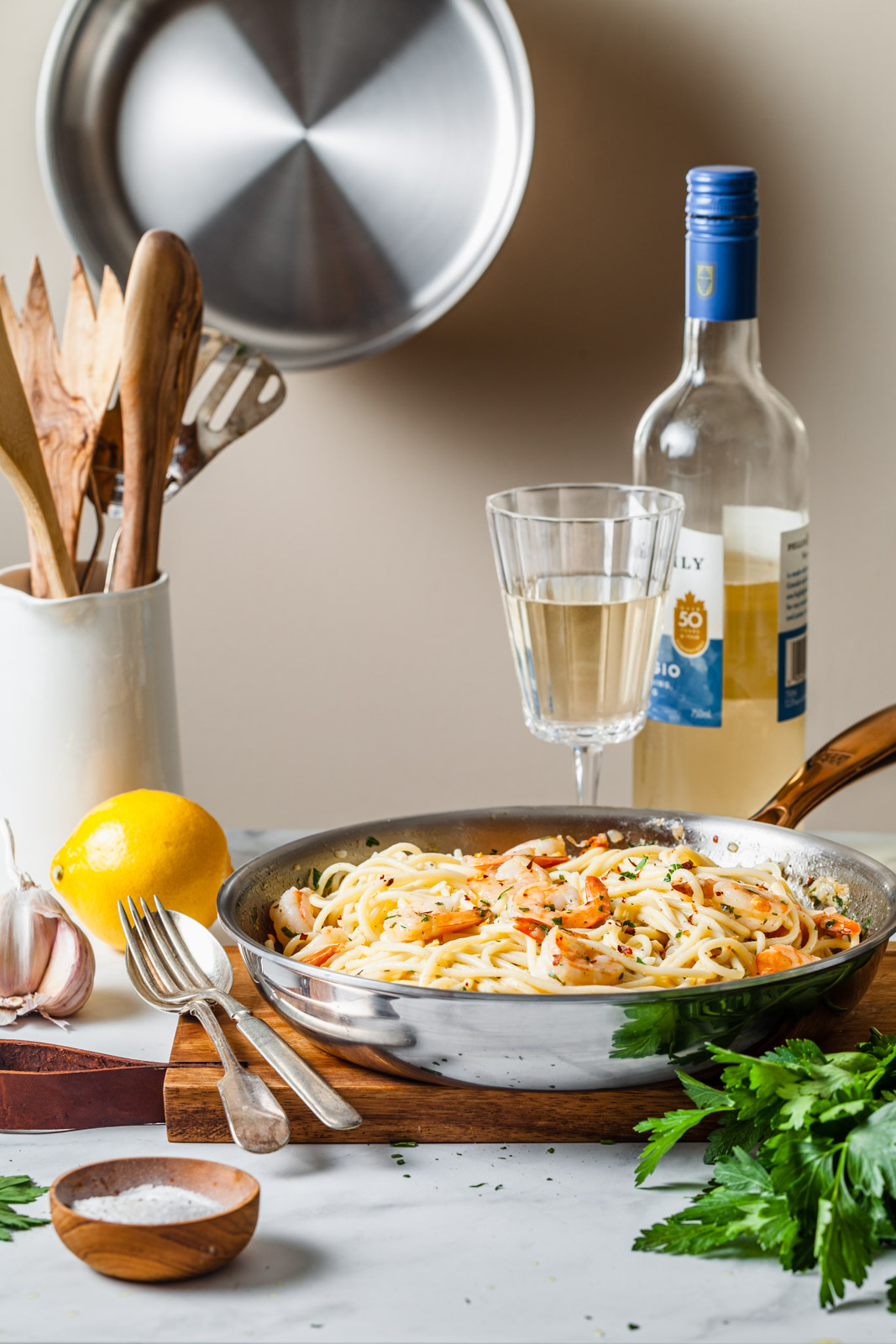 I enjoy cooking in these and know you will too! This is one of many recipes I will be making in these pots and pans that will hopefully last me as long or longer than my long lost set back in Trinidad. Hope you enjoy this simple recipe that is also perfect for date night and will easily be on repeat just like it is in our home.
I have partnered up with Zwilling to bring you this fabulous recipe, but all opinions are my own. Thank you for supporting Olive & Mango.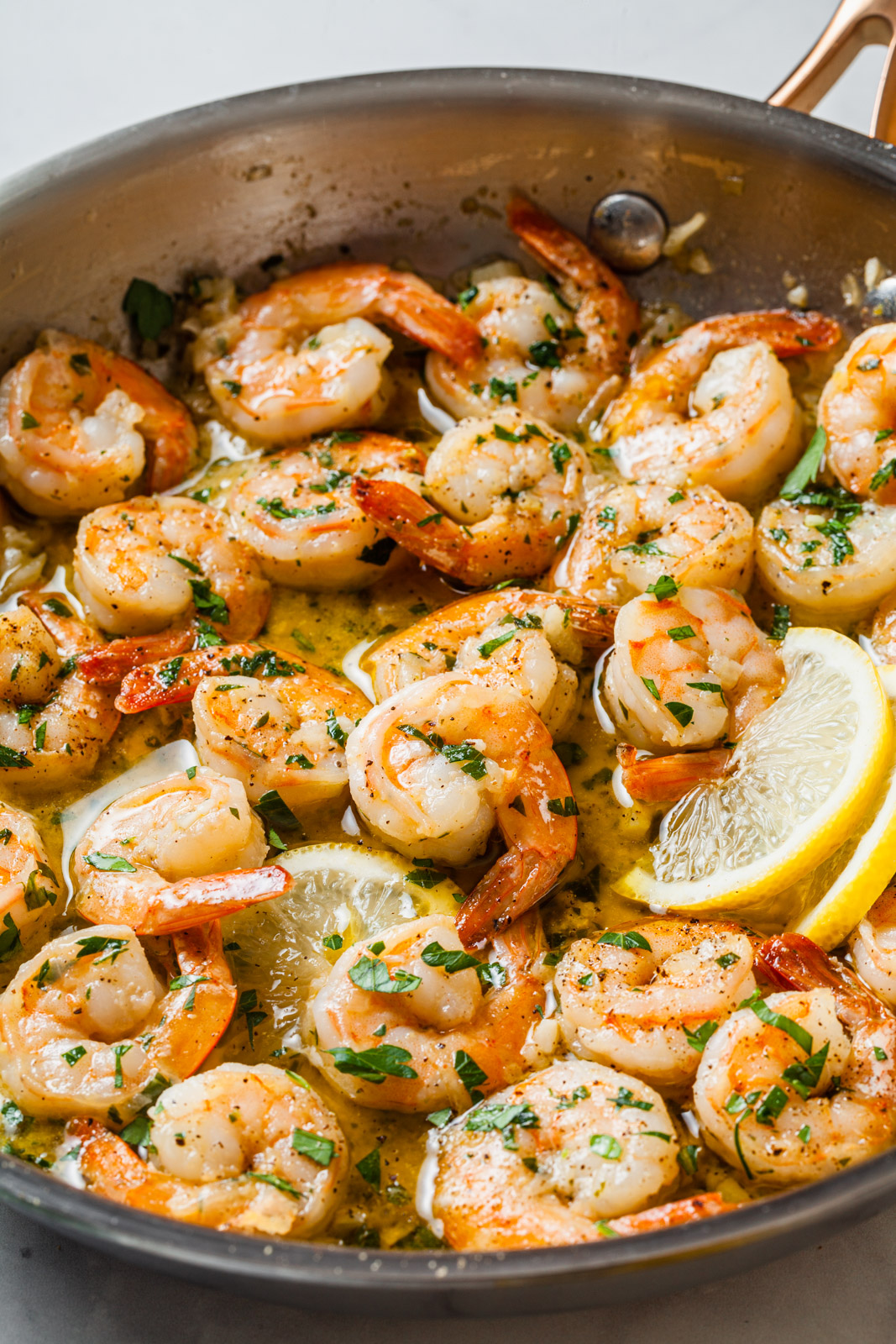 If you can not play the video
Checkout our Youtube channel
.
Recipe
Serves 4
Ingredients
2 Tablespoons olive oil - plus 1 tsp

4 tablespoons butter

4 cloves of garlic, minced

1 large shallot, diced

1 lb large fresh or frozen shrimp, shelled, deveined with tails on or off

Salt and pepper to taste

¼ cup white wine or broth

½ teaspoon red pepper flakes (optional)

2 tablespoons lemon juice plus more for garnishing

¼ tsp lemon zest

¼ cup chopped parsley plus more for garnishing

½ lb (227 g) of spaghetti or pasta of choice

¼ reserved pasta water
Directions
Cook your pasta in a large pot of boiling salted water according to instruction on package.
Reserve a ¼ cup of pasta water before draining and set aside. Drain pasta and return to pot.
Drizzle pasta with the tsp of extra olive oil and set aside while cooking the shrimp. (You could use a little butter instead of oil if you prefer - it's just to prevent pasta from clumping together while it sits while the shrimp cook)
Heat olive oil and 2 tablespoons of butter in a large pan or skillet on medium heat. Add garlic, shallots and chili flakes if using and sauté until fragrant and shallots are softened  and translucent, just a couple of minutes.
Add the shrimp, season with salt and pepper to taste and sauté for 1-2 minutes on one side until they just start turning pink and then flip. 
Pour in wine or broth and bring to a simmer for 1-2 minutes or until wine reduces by about half and the shrimp is cooked through (do not over cook shrimp)
Stir in the remaining butter, lemon juice, lemon zest and parsley and take off heat immediately.
Add the pasta to the pan and gently toss with the shrimp and buttery sauce. Feel free to add a bit of the reserved pasta water if needed to thin the sauce out. Check for seasoning and adjust if more salt and pepper is needed.
Serve immediately with extra chopped parsley and lemon slices/wedges
Adapted from Cafedelites.com