Mango Coconut Ice Cream
This mango soft serve is creamy, healthy and refreshingly delicious! This easy mango ice cream is a no-churn dairy free ice cream recipe that requires only 4 ingredients. It's dairy-free, refined sugar-free, and naturally vegan so it's not only tasty but guilt-free in so many ways. It's the perfect cool, sweet luscious tropical treat or frozen dessert. Made with frozen mango, coconut milk and maple syrup for sweetness, this Mango Soft Serve is blended to an airy and silky-smooth texture. Allow to freeze for 30 minutes to achieve perfect scooping consistency.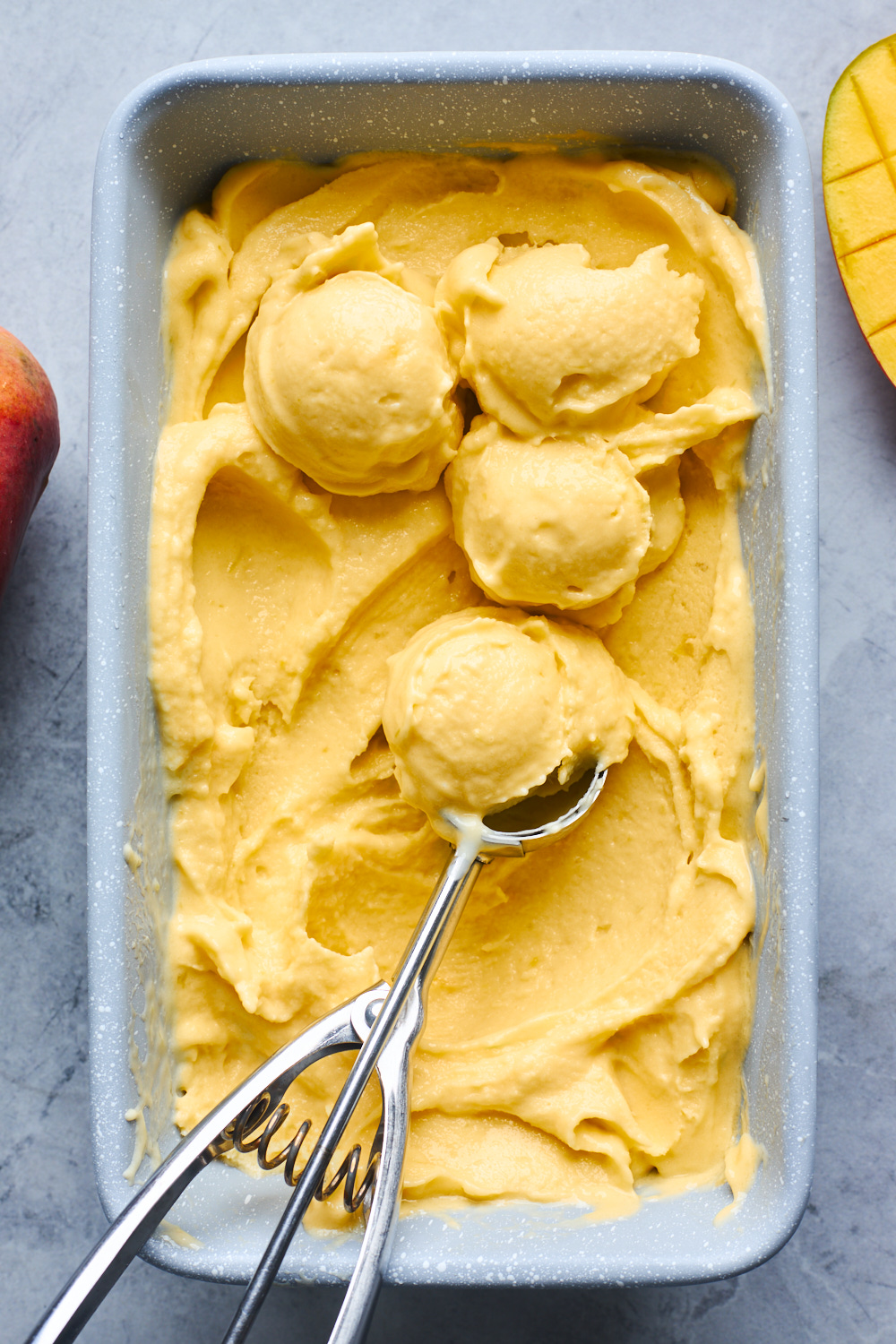 This is one of many great recipes from Eat With Us by Philip Lago and Mystique Mattai of Chef Sous Chef. I do love good homemade ice cream recipes especially when they are no churn ones. When I came across their mango soft serve recipe I had to try it and share it - its a simple recipe that turns out perfectly smooth and delicious every time. Philip and Mystique have created a beautiful cook book that is loaded with simple stunning recipes and stories and memories behind them. I love the clean minimalist style of the book and the way the recipes are written - clear, in a concise way with great tips to help execute the recipes. I also love the way the book is laid out - its unique and a great way to showcase the variety of recipes in the book. Instead of organizing it by courses or ingredients, its organized by the way we eat -simple foods, comfort foods, lavish meals made to impress, dishes enjoyed al fresco and feasts shared with loved ones. The pages that follow each chapter introduction offer practical advice to bring these moments to life: how to eat mindfully, make memories in the kitchen, create a date night at home, picnic in the city and effortlessly entertain. The photos and food styling is beautiful too. To get your hands on this lovely book by two fellow Torontonians check out this link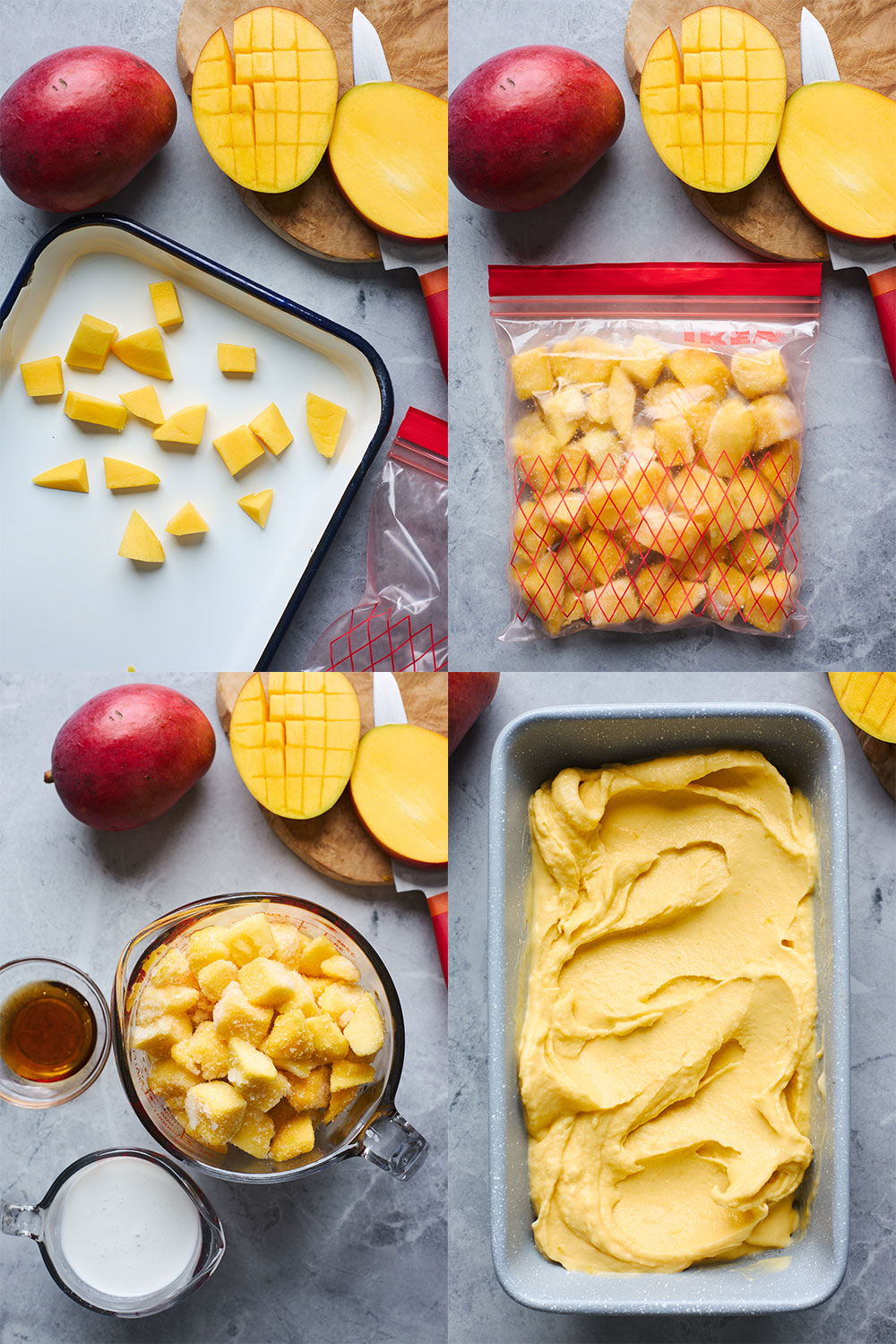 This homemade Mango ice cream has a hint of coconut flavour and made in a blender or food processor and doesn't require an ice cream machine. All it takes is a simple blending of the ingredients which takes mere minutes of prep time, time to chill and set and you've got easily scoopable ice cream. A super simple way to making ice cream that tastes amazing with a super creamy texture and is healthy. Its also known as nice cream or Mango nice cream ( a sugar free, dairy free dessert made from blitzing pieces of frozen fruit in a food processor rot blender)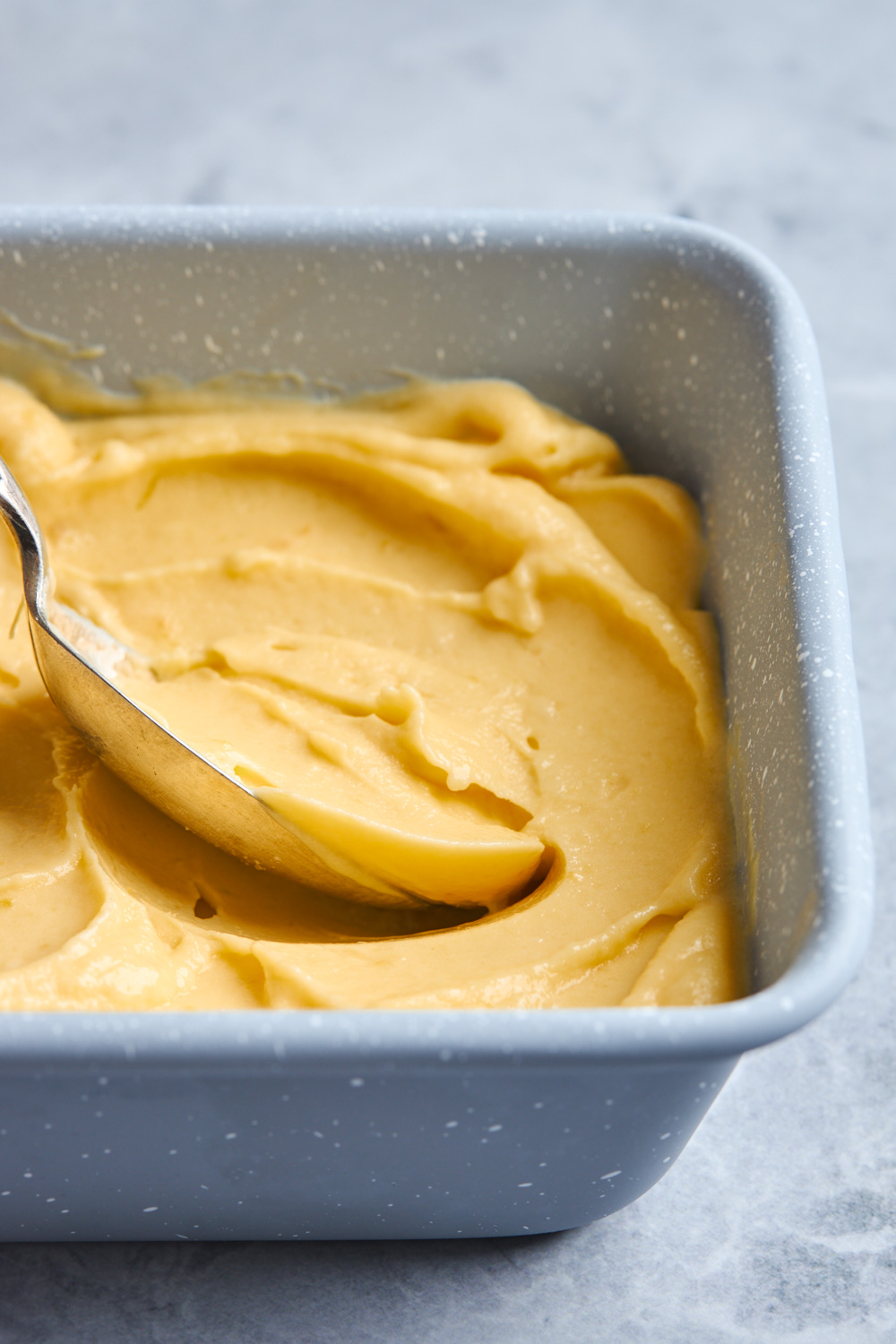 Why You Will Love This No-Churn Mango Ice Cream
It is so easy to make. All you need is 3-4 ingredients and a blender or food processor.
This is one of the best tasting nice creams you'll have all summer.
Cost-effective. Sometimes non-dairy, healthy ice creams can cost a pretty penny. Making it at home is always tastier
Pure and simple ingredients which makes this a healthy and guilt-free treat.
No-churn ice cream means there is no need for an ice cream maker. All you need is a blender.
Taste and texture are on point. Mango and coconut pair well as flavours, but the mango blends so well that it also makes it nice and smooth just like soft serve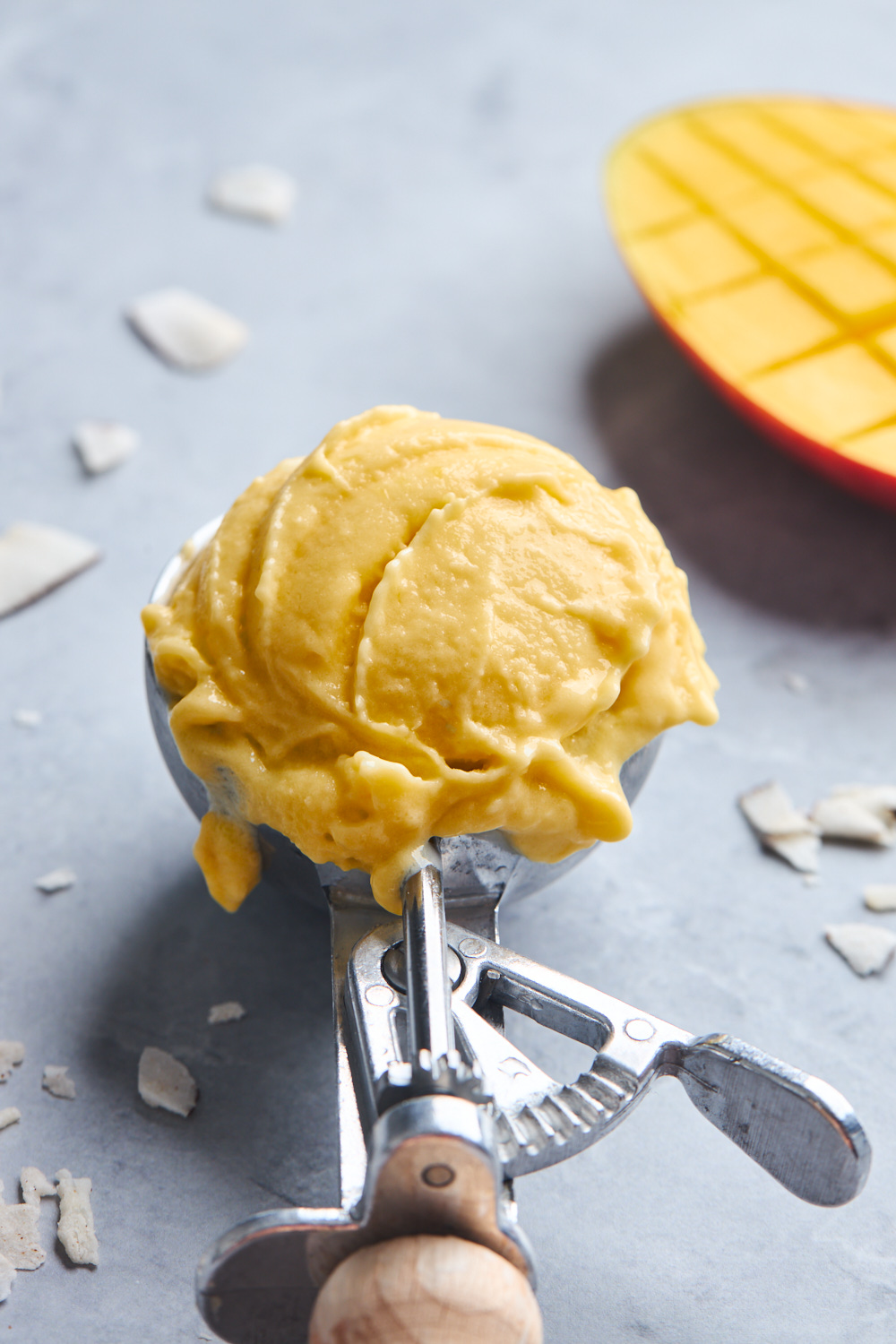 Mango Coconut Ice Cream Ingredients
This is not your typical no churn ice cream. There is no whipped cream that needs to be whipped to stiff peaks, sweetened condensed milk or dairy at all. No need for mixing bowl or stand mixer either. This recipe works in a High speed blender or high speed food processor. These are the simple ingredients you will need to make this mango ice cream:
Mango: Fresh or frozen mango works. Fresh mango will take longer to freeze but is sweeter. Frozen mango will make a thicker consistency and will be more ice cream-like right off the bat.I Peter freezing my own chinks of mango - instructions below on how to easily freeze fresh mango.
Canned coconut milk: I recommend using regular full fat coconut milk or coconut cream from a can, not carton. Light will work but ice cream will be more sorbet style not a as creamy
Maple syrup or honey: A touch of either works to sweeten your Mang ice-cream. You might find you need to use less sweetener when using fresh mango. Frozen mango chunks are usually made from mangos that aren't quite ripe yet, making them less sweet.
Vanilla extract: just a splash for added flavour: totally optional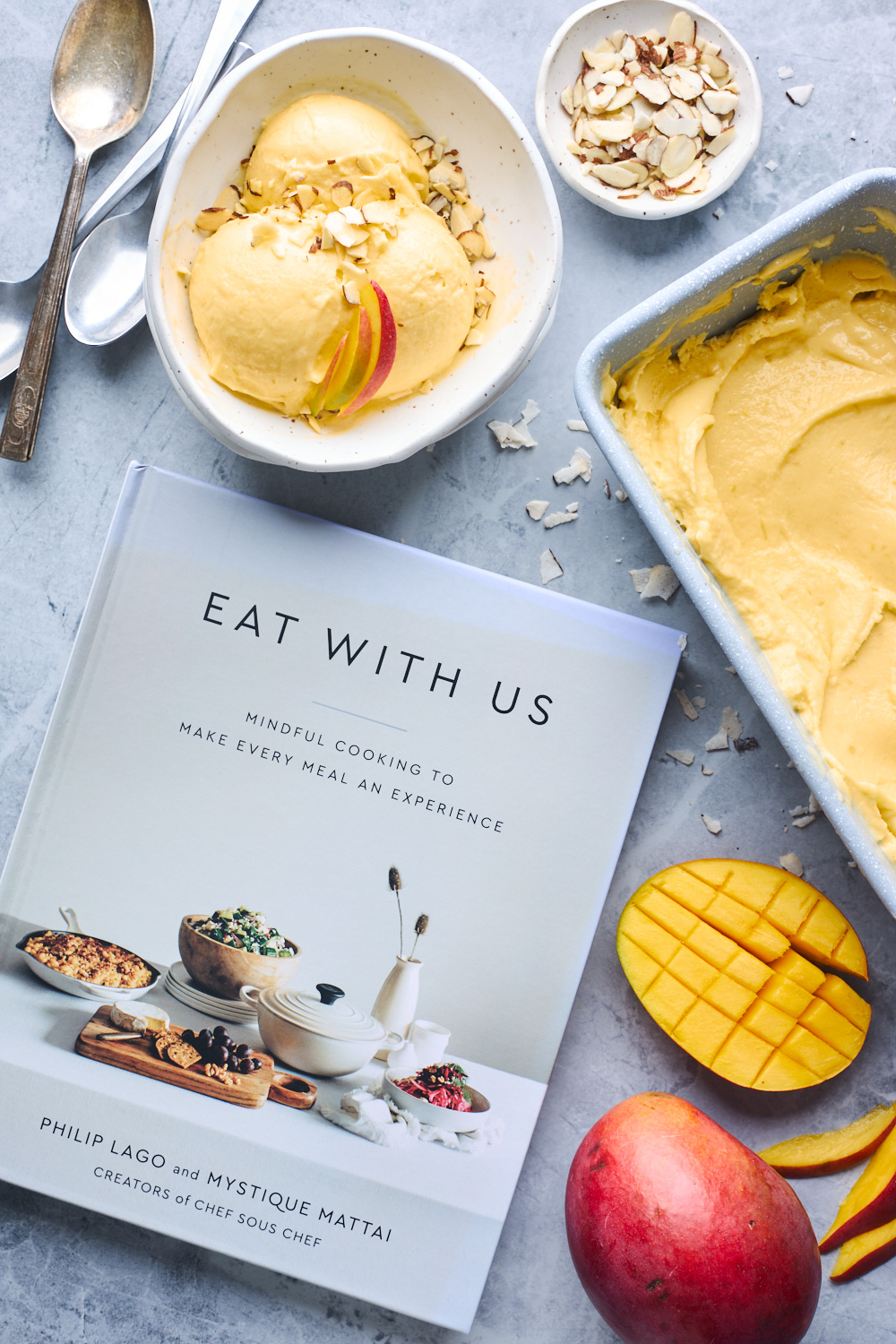 Mango ice cream variations:
No mango? Try pineapple, papaya, or guava, or frozen berries.
Toss some sliced frozen banana in there for added flavor or other fruit combinations. Think mango and kiwi, mixed berries, or peaches.
Fold in diced strawberries or serve sliced on top
Sprinkle with some toasted coconut, sliced almonds, cocoa nibs, or dark chocolate chips for a bit of added crunchy texture.
Add a hint of spice to your ice cream like a pinch of cinnamon or cardamom
Tips for Best Mango Ice Cream Results
Mangos need to be frozen (solid). It means you need to keep them in the freezer for at least 3 hours before making nice cream. Otherwise you will end up with a smoothie. For best results, keep mangos and other fruits that you are using always in the freezer so you have them on hand when you are craving this mango ice cream recipes.
Do not add extra liquid. Some recipes call for adding more liquid to thin out the mixture but that could potentially turn your ice cream to mango smoothie or mango puree, but that is not neccessary and it doesn't bring any good to a freshly made nice cream. Make sure to use a tamper/accelerator or plunger or take breaks in between blending to scrape the sides of the blender or food processor so all pieces get blended evenly.
If you decide to freeze this ice cream overnight or longer you will need to let ice cream thaw at room temperature for a few minutes before serving.
Coconut milk brand matters! Chose one that is rich and creamy
Air exposure is ice cream's worst enemy. After spooning out or scooping the portion you're serving, flatten a layer of wax paper, parchment paper, or plastic wrap against the ice cream's surface before replacing the lid. Or, put the whole pint in an airtight plastic bag for even more protection against ice crystals forming or crystallization.
Storing & Freezing (one and the same!)
To store:
You can either have this ice cream right out of the blender or pour ice cream into any freezer friendly container and freeze for at least 30 min - 6 hours or overnight. To serve, let thaw on a counter for a few minutes for soft serve. It will become softer and creamy.
Any leftovers will last in an airtight container for up to 3 months.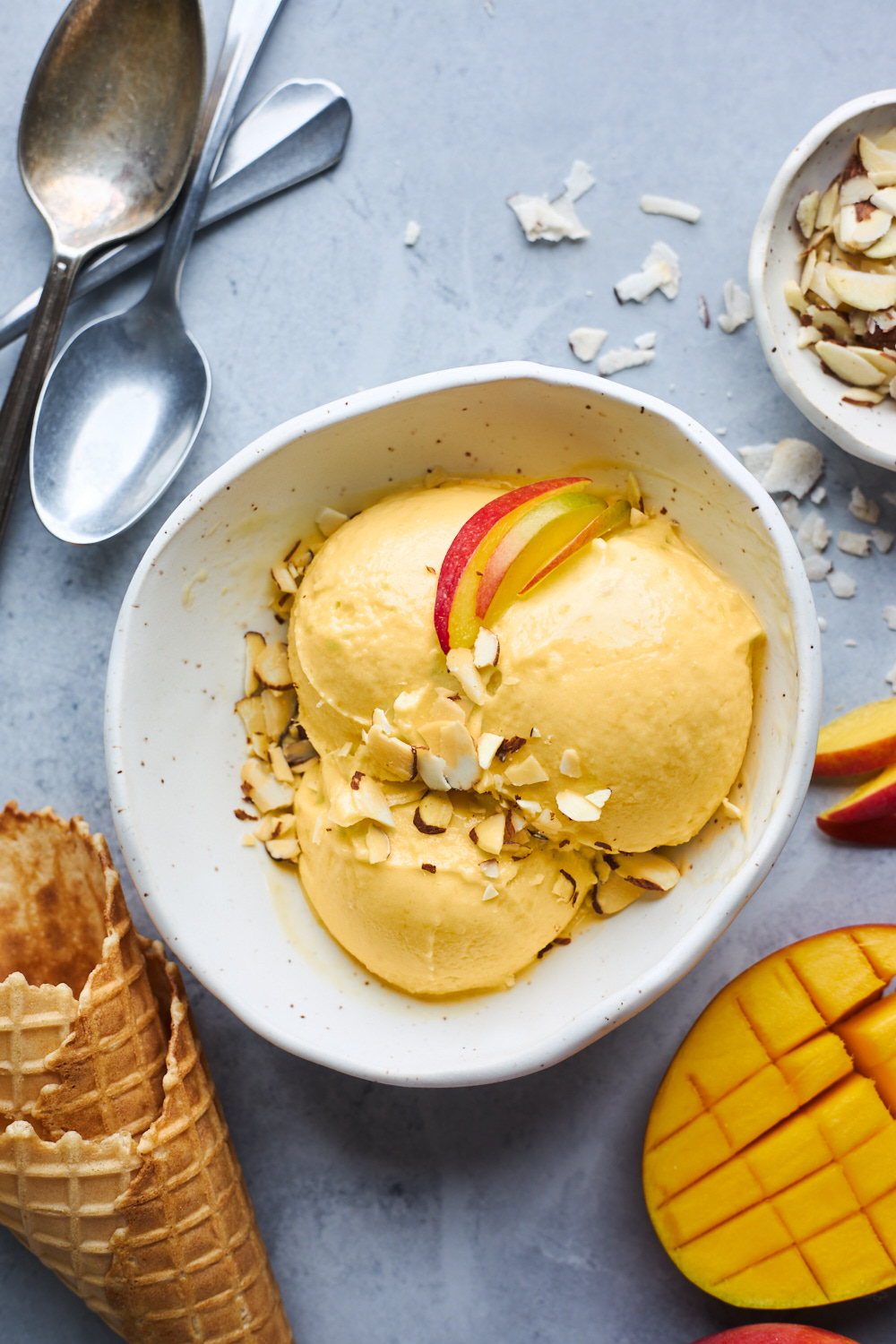 For more no churn ice cream recipes check these out:
More mango desserts you will love:
Recipe
Prep Time: 5-10 mins
Non Active Time: 30-min to set (optional)
Ingredients
1 cup coconut milk

2 tbsp maple syrup

4 cups frozen mango chunks

¼ teaspoon vanilla extract (optional)

Optional add ins: Pinch of salt, splash of vanilla extract or angostura bitters)

4 ice cream cones

¼ cup chopped almonds or coconut flakes (optional)
Directions
Pour the coconut milk and maple syrup and vanilla if using into a high-powered blender or food processor. Pulse on low for 2 to 3 seconds to combine.
Add the mango chunks and pulse on medium speed for 20 to 30 seconds, or until the blades no longer catch the ingredients. Use a tamper, if available, to help push down the mango as you blend. Scrape down the sides and continue to pulse until smooth and creamy.
Serve immediately in a bowl or transfer to a freezer-safe container and freeze to set for 30 minutes, if serving in an ice cream cone.
Recipe Notes
To achieve the perfect ice cream cone, dip your spoon in hot water and then scoop around the edge of the ice cream into the center. Press the spoonful of ice cream down on the cone to seal the scoop, then pull away (two scoops, please). Add a sprinkling of chopped almonds for additional contrast and crunch.
TIP: Get creative by replacing some or all of the mango with other frozen fruits, such as banana, strawberries or blueberries. It's the frozen fruit, milk and heat from the blender that helps it form a soft-serve-like consistency.
How to freeze mango. This is my favorite way to preserve all the fresh flavours of mango. When lived in the Caribbean I use to cube and freeze the plethora of mangos deuig mango season to enjoy treats like this to hold me over til the next season - usually my freezer stash of them didn't last that long. Here is how easy it is to freeze mangos:
Scrub the outside of the fresh mango under cold running water.
Peel, then slice or cube the fresh mango flesh
Spread the mango pieces over a cookie sheet that has been covered with parchment or wax paper.
Cover with plastic wrap and place in the freezer until solidly frozen.
Place the frozen mango pieces into a quart freezer bag. Remove as much air as possible.
Seal the bag and freeze flat in the freezer to save space..
Once frozen store the frozen mango in the freezer until ready to use.