Creamy Vegan White Bean Chili
This hearty warming vegan white bean chili recipe is so full of flavor even though its made with only ten ingredients (excluding spices that is) - this is similar to a white chicken chili but without the meat. It is really easy to make and what I love about chili is that it is quite versatile - it can easily be personalized to include your favourite ingredients. It's also a budget friendly meal, comforting and quite healthy. This recipe is creamy but dairy-free, and super easy to make. It doesn't need the meat to please every one and it's every bit as creamy and fabulous in this tasty veggie version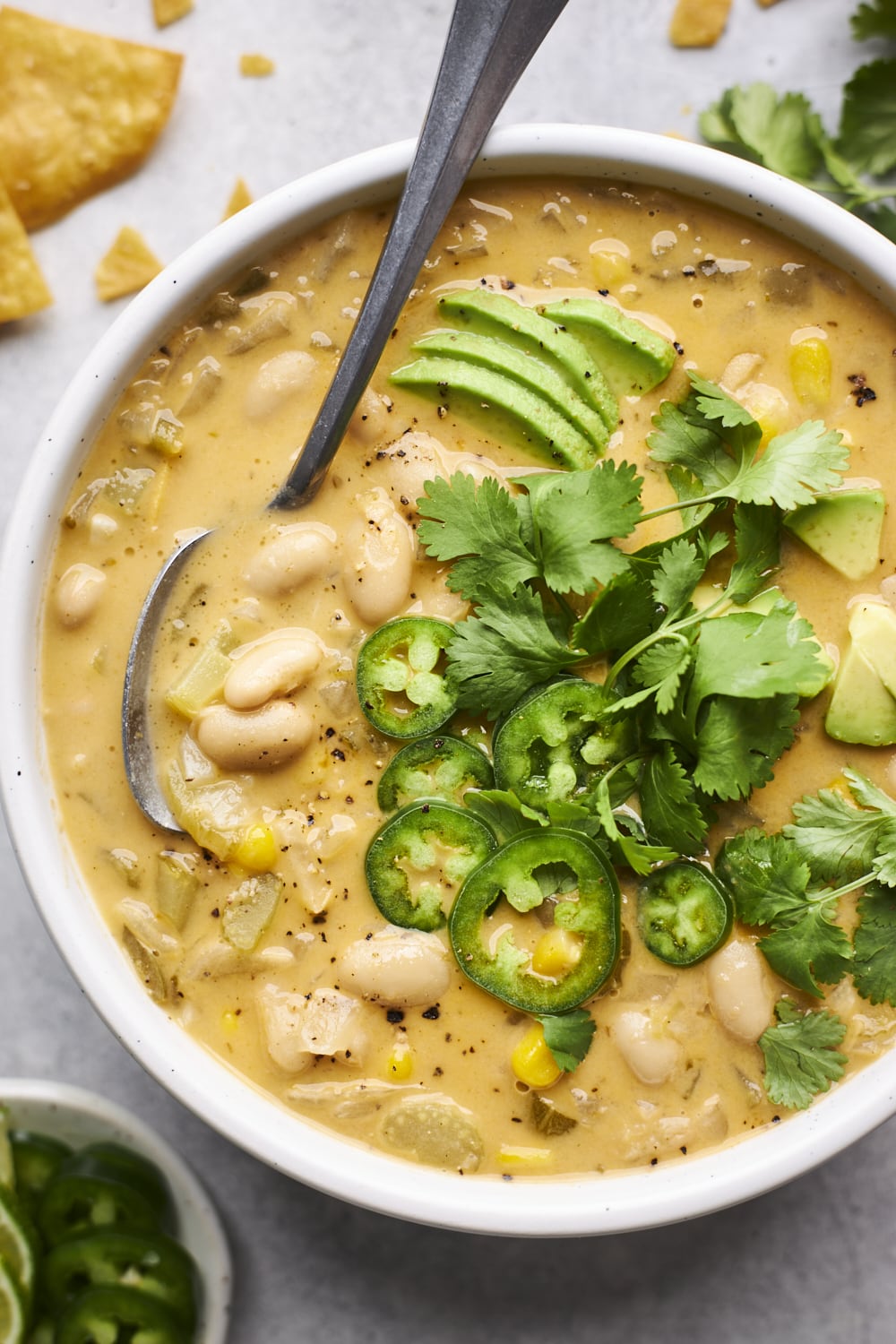 Why You Are Going To Love This Recipe
Budget Friendly
Simple Ingredients
Versatile
Easy to make and quick to make as well
Creamy cozy and comforting
Healthy - full of protein and fiber, meaning this soup will keep you full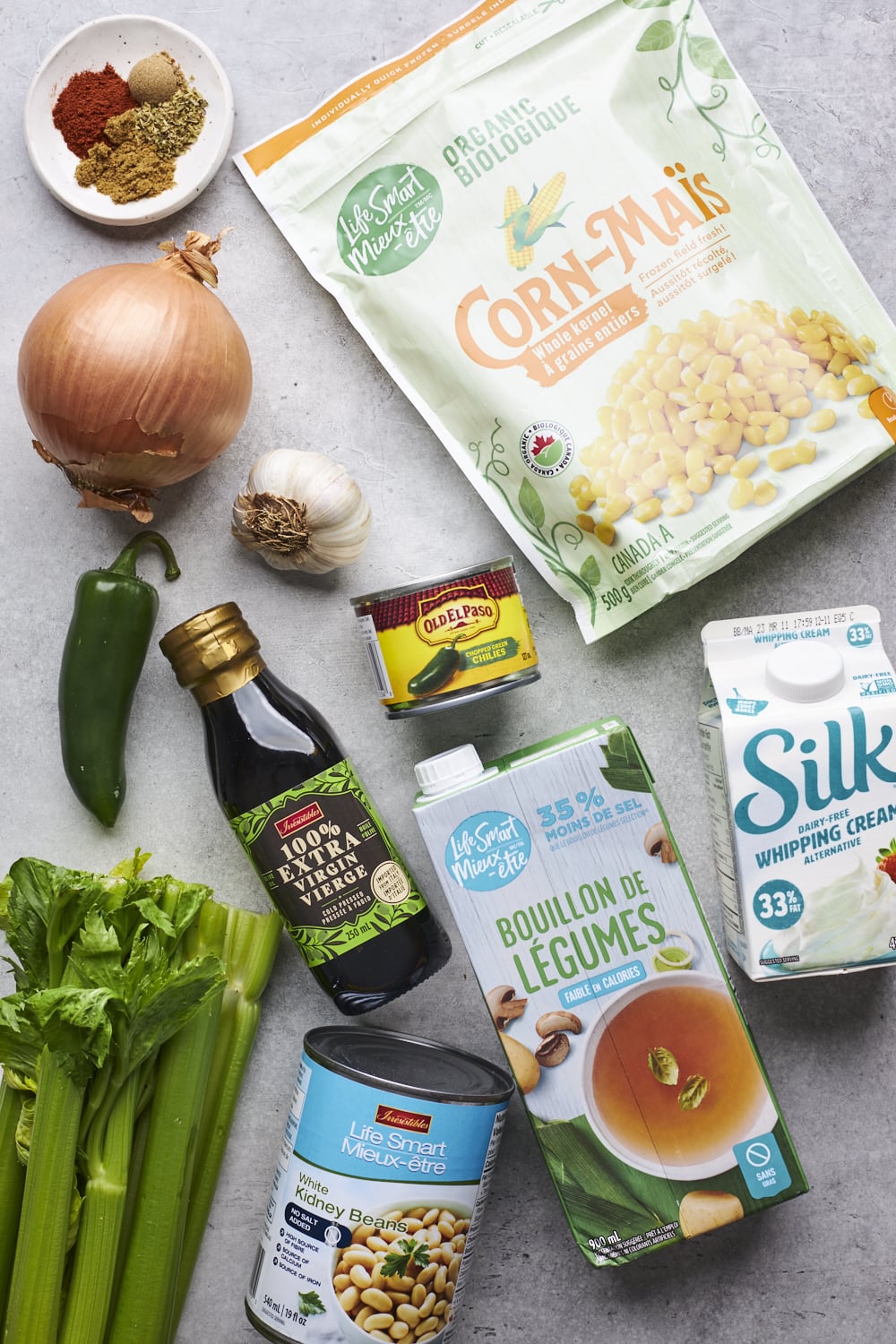 Ingredients For This Vegan White Bean Chili
Olive Oil - or you could use butter or plant based butter. I use 3 tablespoons - if that seems a bit excessive for you please adjust amount to taste
White Beans - I used cannellini beans but feel free to use any white beans like Navy beans, Great Northern beans, Baby Lima beans, butter beans or even chickpeas. Canned works great you can also use white beans you cooked from scratch
Onions & Garlic - feel free to adjust amounts to taste - I used a yellow onion but a red one would work too
Jalapeno Pepper - I love the flavour of jalapeño peppers and the slight heat they add. I usually add two cause we like the heat but feel free to use a sweet bell pepper or a poblano pepper instead fro a less heat - or use a blend of peppers
Celery - love adding celery to soups - feel free to add some chopped or sliced carrots if you would like as well for a compete mirepoix
Spices - I used a blend of ground cumin, ground coriander, oregano and chili powder - you could also add in some red pepper flakes for a little extra heat
Broth - vegetable broth or stock to keep it vegan or feel free to use chicken broth/chicken stock
Green Chilis - I used the canned chopped green chilies which always add nice flavour
Corn - I like the sweetness and extra texture that the corn adds - feel free to use fresh corn, canned corn or frozen corn and if you love corn feel free to add more in according to taste. If using canned, drain and rinse before use
Cream - I used silk Dairy free whipping cream - which is superb in the soup - but you could also use coconut cream or almond milk to add a bit of creamy richness to the soup - feel free to adjust amounts to taste
Alternatives - if you would like to add more protein or make it non vegan fee free to add some shredded chicken breast or chicken thighs. If you would like to make it even heartier feel free to chop 1 or 2 peeled potatoes and add that to the soup while it's simmering - the potatoes will also naturally thicken the soup as their starches break down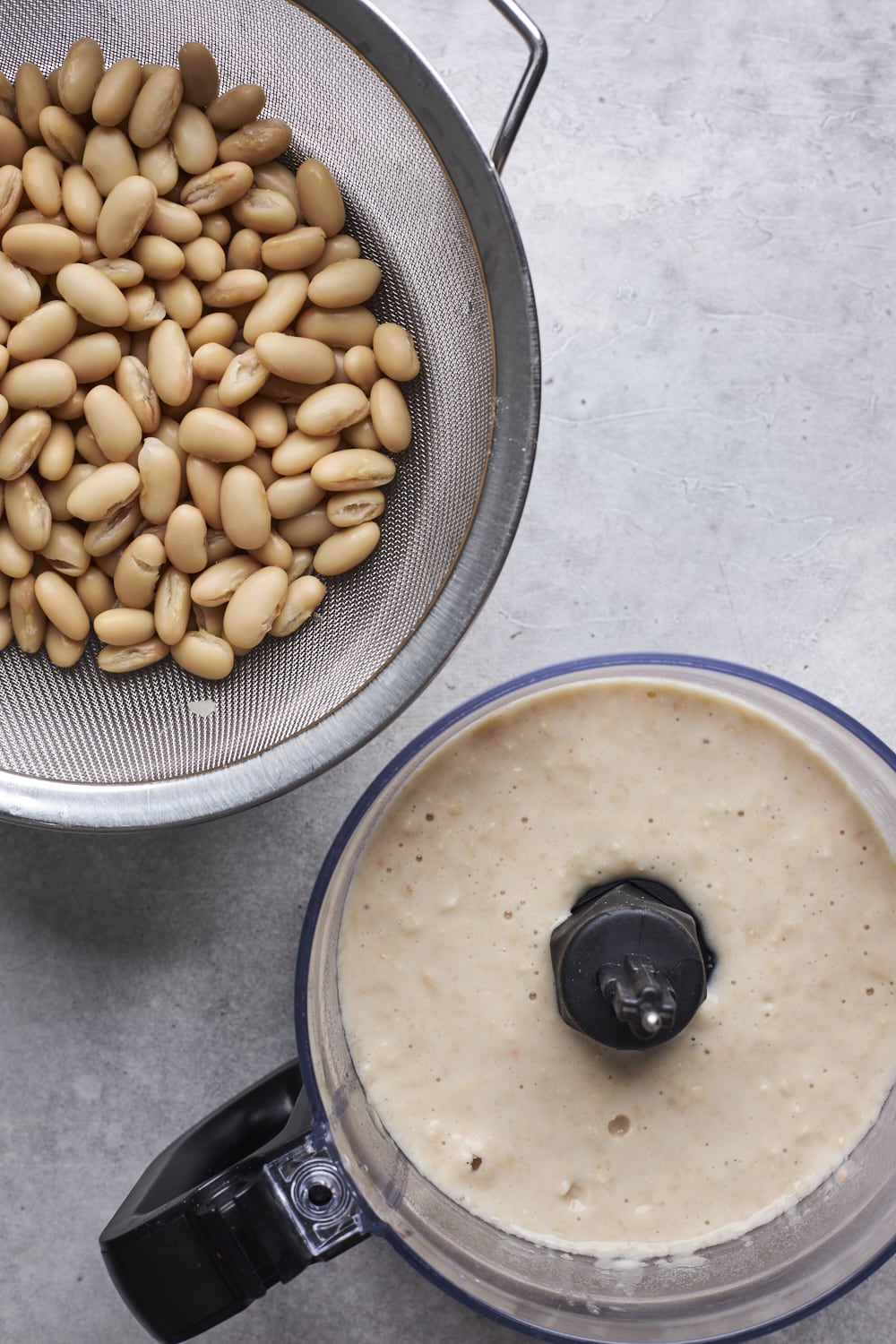 Easy Instructions To Make This Veggie White Bean Chili
PUREE 1 can of the beans along with the liquid from the can using a food processor blender or mash into a puree with masher or a fork. Drain and rinse the remaining can of beans and set aside the beans and puree
SAUTE the veggies with olive oil until tender then add the spices
Add all of the beans, broth and green chilies and SIMMER
STIR in the corn and cream
SERVE with some lime juice chopped cilantro and with any of the toppings you desire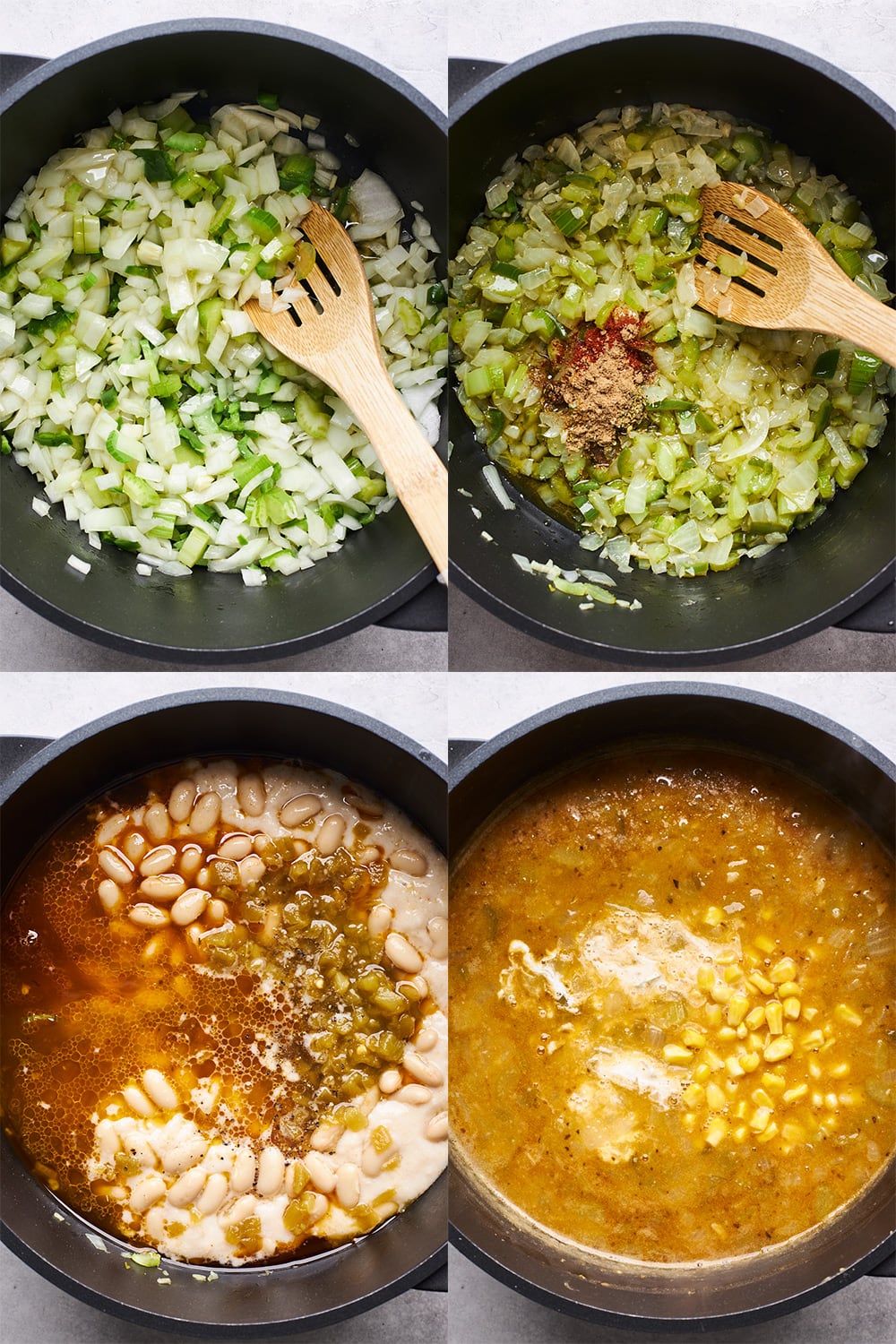 Chili Topping Options:
dairy-free sour cream
dairy-free cheese
salsa or salsa verde
Diced tomatoes
lime juice and zest
black pepper
sliced jalapenos or pickled jalapeños
tortilla chips/storebought or homemade
corn bread
Storage & Freezing
To store, transfer cooled chili to an airtight container & store in the refrigerator for up to 5 days, or you can store this soup in the freezer for up to 3 months. Reheat on the stovetop or in the microwave.
More Soup Recipes You Will Love: 
Recipe
Prep Time: 10 mins
Cook Time: 30 mins
Ingredients
3 tablespoons olive oil

1 large onion, peeled and diced

2 large ribs celery, diced

1 jalapeño, seeded and diced

4 cloves garlic, peeled and minced

½ teaspoon ground cumin

½ teaspoon dried oregano

½ teaspoon dried coriander

½ teaspoon Chile powder

1 teaspoon Salt and ½ teaspoon pepper, or more or less to taste

1 (4-ounce) can diced green chiles

2 (19-ounce) cans white beans, divided

4 cups vegetable broth, (less one cup if you want chili thicker)

1 cup corn, fresh or frozen

¼-½ cup plant based heavy cream (almond or coconut)
For serving (optional):
Diced avocado
Chopped cilantro
Sliced jalapeno
Tortilla chips
Lime wedges
Directions
Purée half of the beans (1 can) with its liquid until smooth in blender or food processor or mash with a masher or fork, set aside. Drain and rinse the remaining can of beans and set aside.
In a large pot or saucepan heat olive oil over medium to medium-high heat then add onion, garlic, celery and jalepeno and cook for 8-10 minutes, until veggies are softened, tender and starting to golden.
Stir in the cumin, oregano, coriander, chili powder and cook 1 additional minute.
Add the white beans (all of them Pureed and intact ones) to the pot along with the green chilies and vegetable broth and season with salt and pepper to taste.
Bring to a boil, reduce the heat and simmer, 15 minutes or until soup has thickened to your liking.
Stir in corn and cream and simmer 1-2 more minutes until warmed through.
Serve with whatever toppings desired and I like to finish mine with fresh lime juice, lime zest and fresh cracked black pepper.