One Pot Cauliflower Dal and Quinoa Green Curry
It never fails, at least once a week there is some sort of curry on the dinner table. I crave it at least once a week and many variations of it. This week comes this one pot meal that is simple to make, light yet super nourishing.
It's loaded with veggies and greens apart from the green curry itself and lots of protein from the lentils, chickpeas and of-course the quinoa. I love a little heat in my curry but if you don't you can definitely control it by reducing the amount of chilies in it. It's also quite creamy from the coconut milk. If you prefer it a little lighter you can substitute some of it with broth.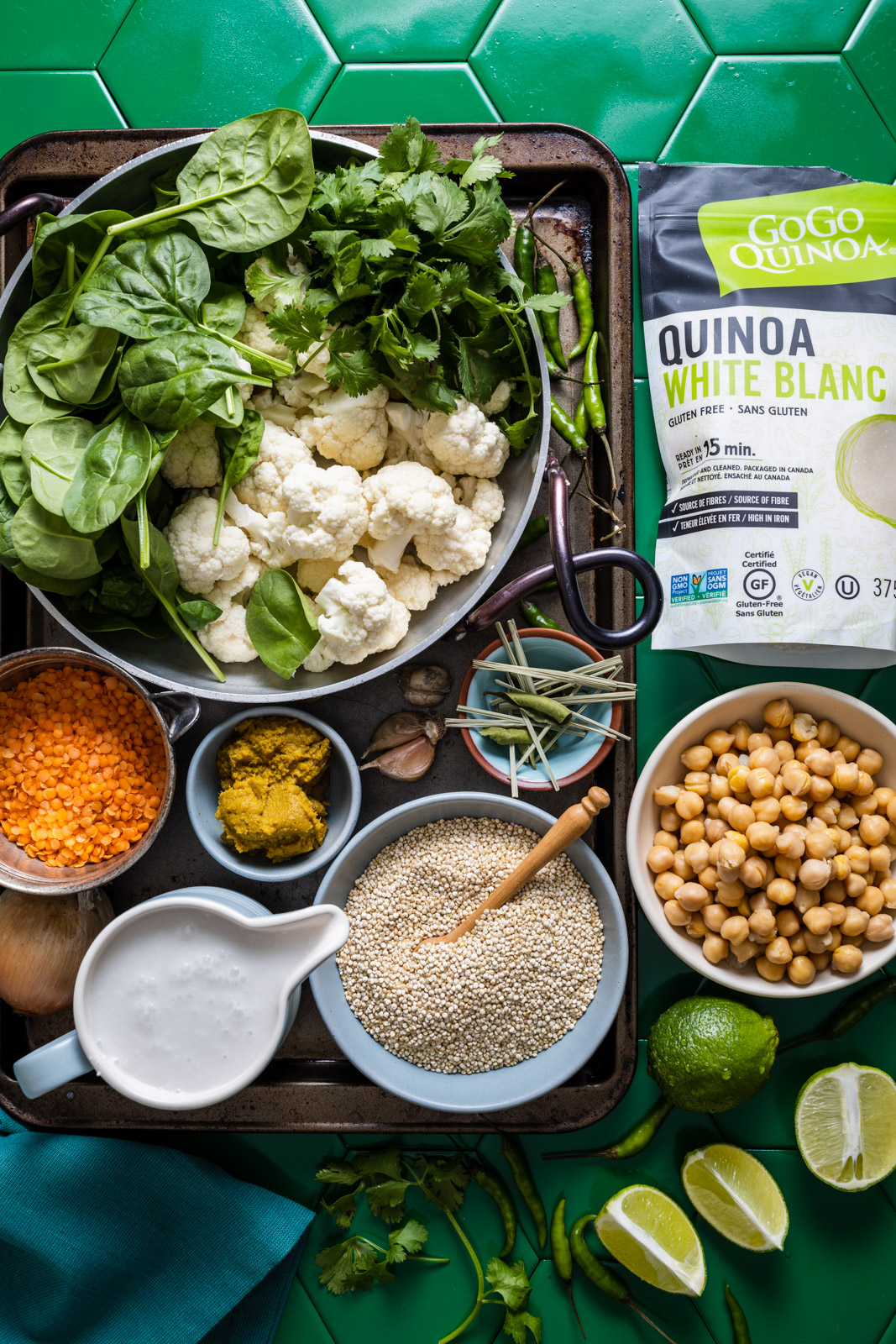 There are a great amount of fabulous recipes out there for homemade green curry paste or sauce. Homemade curry paste is always the best. It does make all the difference in a curry dish but let's be real we don't always have time to make it homemade and that is ok, thank goodness to the very many decent ready made store bought ones out there that save the day. This recipe works well with both so feel free to use homemade or store bought.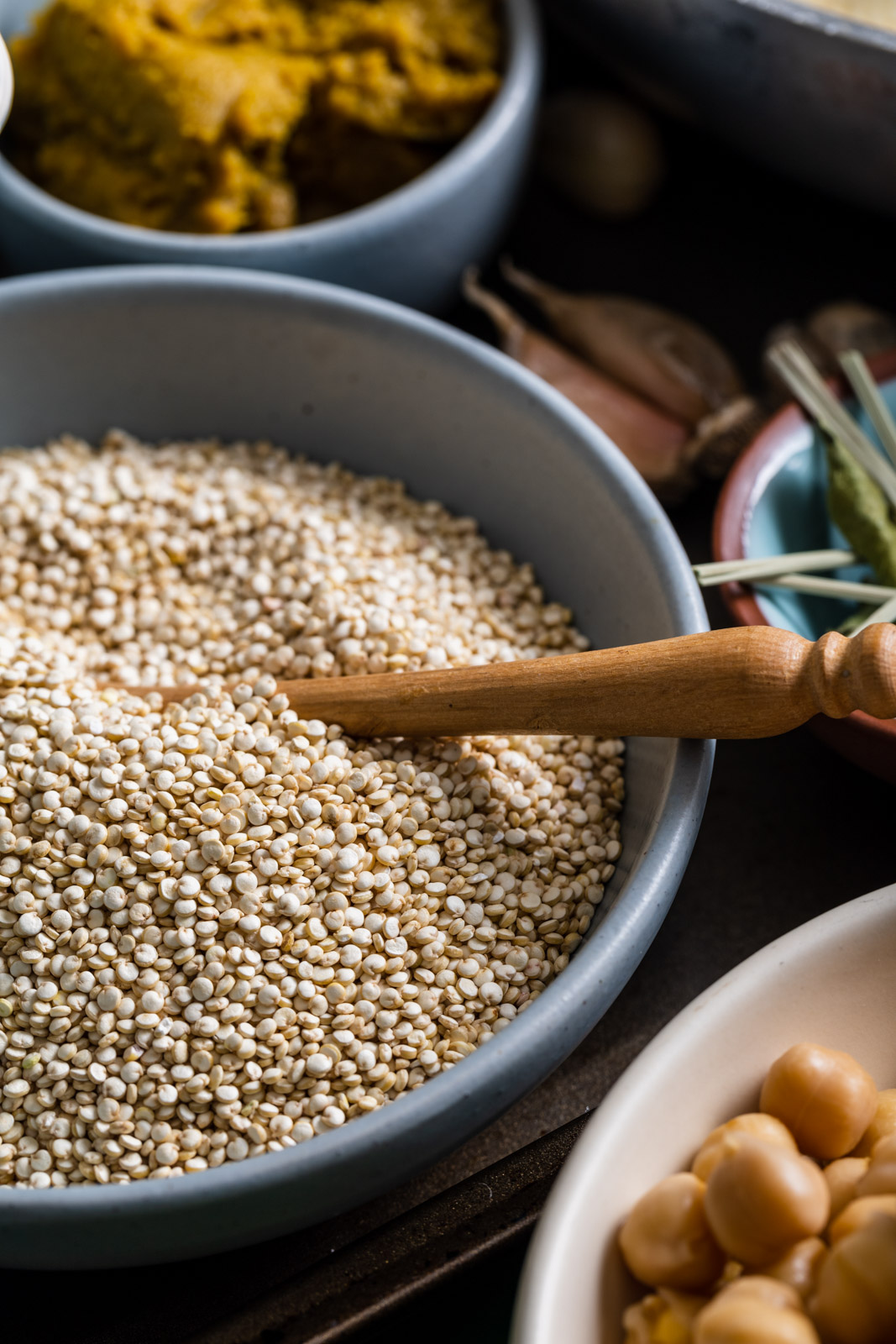 The addition of quinoa into the pot turns this curry into a full meal, one that is filling and so delicious. I made this one using GoGoQuinoa's White Quinoa. Quinoa makes for the perfect plant based protein addition. I love it in stews and soups and as a fluffy side. It cooks perfectly in this curry and adds some excellent texture as well. This is definitely my go to kind of comfort meal for the midweek. Quick and easy and never disappoints - hope you enjoy it! I have partnered up with GoGo Quinoa to bring you this fabulous recipe, but all opinions are my own. Thank you for supporting Olive & Mango.
Recipe
Serves 4
Ingredients
2 Tbsp coconut or avocado oil (or sub twice as much water)

1 onion (thinly sliced)

1-2 green chilies de-seeded and finely chopped

2 Tbsp chopped fresh ginger

4 cloves garlic (minced)

5 Tbsp green curry paste (plus more to taste)

2 cups roughly chopped cauliflower

¾ cup red lentils

1 cup GoGo Quinoa White Quinoa

Two 13.5-oz cans light coconut milk (can sub half with vegetable broth to lighten it up)

4 cups vegetable broth

2 Tbsp fish suace or soy sauce/tamari

One 14-oz can of chickpeas rinsed and drained

3-4 cups chopped spinach

Salt and pepper to taste

¼ cup of fresh coriander or cilantro plus more for serving

2 Tbsp fresh lime juice and more for serving
Directions
Heat a dutch oven or pot over medium heat. Once hot, add oil, onion, ginger, green chilies if using, and garlic. Sauté for 2-3 minutes, stirring frequently. Then add curry paste and cook for 1-2 minutes more.
Add cauliflower, quinoa and red lentils and sauté for a few more minutes. Add coconut milk, and broth and stir to combine. Bring to a simmer. Then stir in the fish sauce or tamari.
Return to a simmer and cook for approximately 15-20 minutes or until the lentils, and cauliflower are tender and quinoa is cooked through. In the last 5 minutes of cooking, add spinach and chickpeas and stir until wilted (about 3 minutes).
Stir in the cilantro and lime juice. Taste and adjust flavour as needed, adding salt and pepper, or green curry paste for more intense curry flavor. 
Serve garnished with more cilantro, lime slices and sliced chili's (red or green). I also love drizzling my bowl with chili oil for a little extra heat.