One Pot Shrimp Pasta Primavera
Updated 20 April 2023
Penne with a buttery lemon, cream, Parmesan sauce, and plenty of fresh vegetables - mushrooms, peas, asparagus, tomatoes, garlic, basil and shrimp. This delicious Shrimp Pasta Primavera is IDEAL for busy weeknights! It's ready in 30 minutes and uses just one pot for everything making cleanup a breeze. Serve it up with a side salad for even more veggies and even some garlic bread and dinner is sorted! You will love this Shrimp Pasta Primavera because you can make it in one pot, on your stove top, in 30 minutes or less. It's packed with bright green veggies, al dente pasta, a light cream sauce and plenty of plump shrimp. Finished with bright and citrusy lemon butter and a sprinkle of Parmesan cheese, this is springtime supper perfection.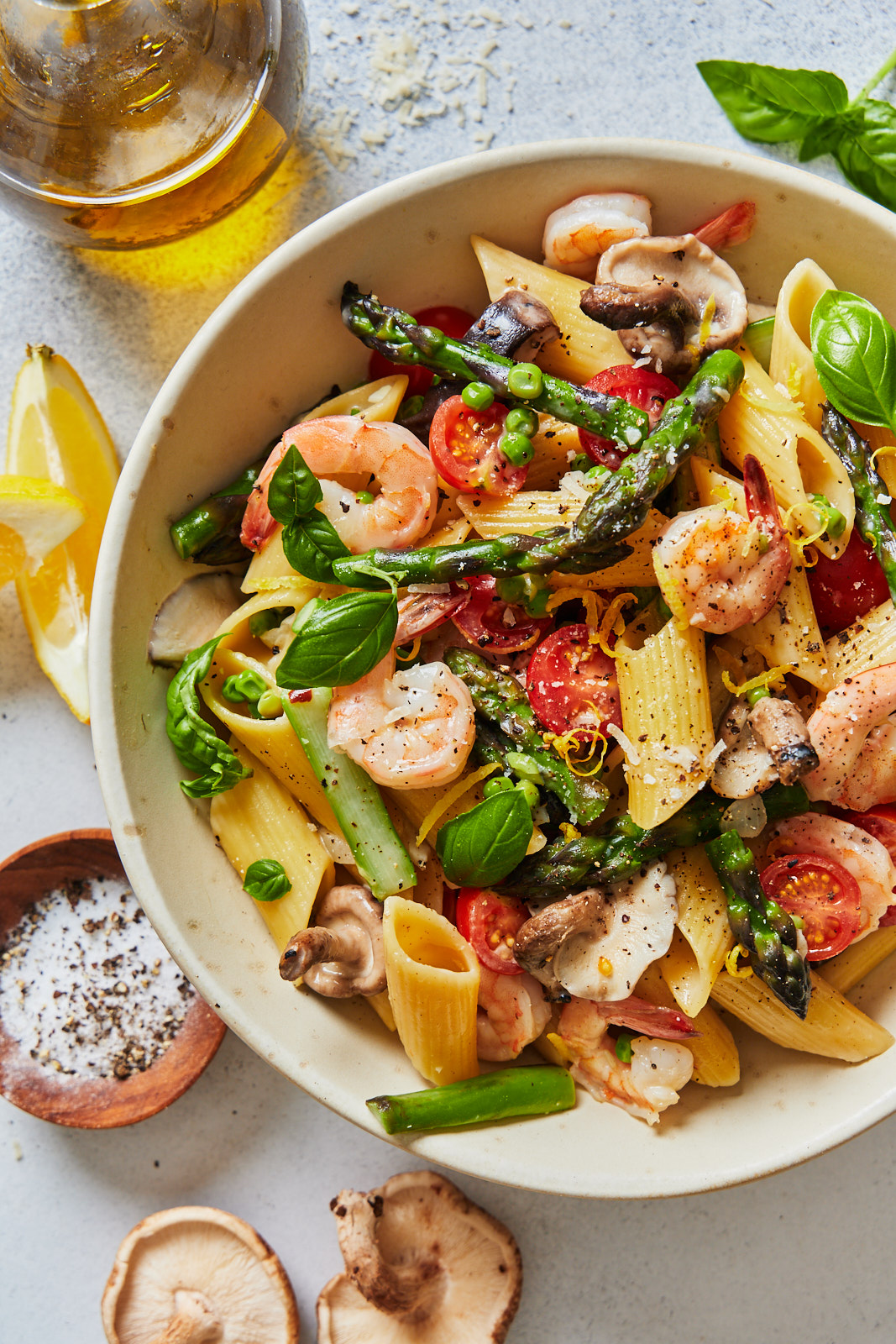 What is pasta primavera?
Primavera means springtime in Italian so Pasta Primavera really is a pasta dish loaded with all of spring vegetables. It's believed to be created in New York City in the late 1970s. It's loaded with vegetables, doused in butter, a touch of cream and lots of parmesan cheese. It is one of my favorite pasta recipes. I have sliced and diced carrots, bell peppers, peas, spring onions, baby broccolini, zucchini asparagus, yellow squash, broccoli, snow peas etc…into my primavera. It has a light sauce lighter than Alfredo sauce - but still creamy and delicious. It's so versatile and you can literally use whatever veggies are your favourite or that you might have on hand. For this one I just had to include local Ontario mushrooms which are in season right now and are so delicious in a creamy pasta.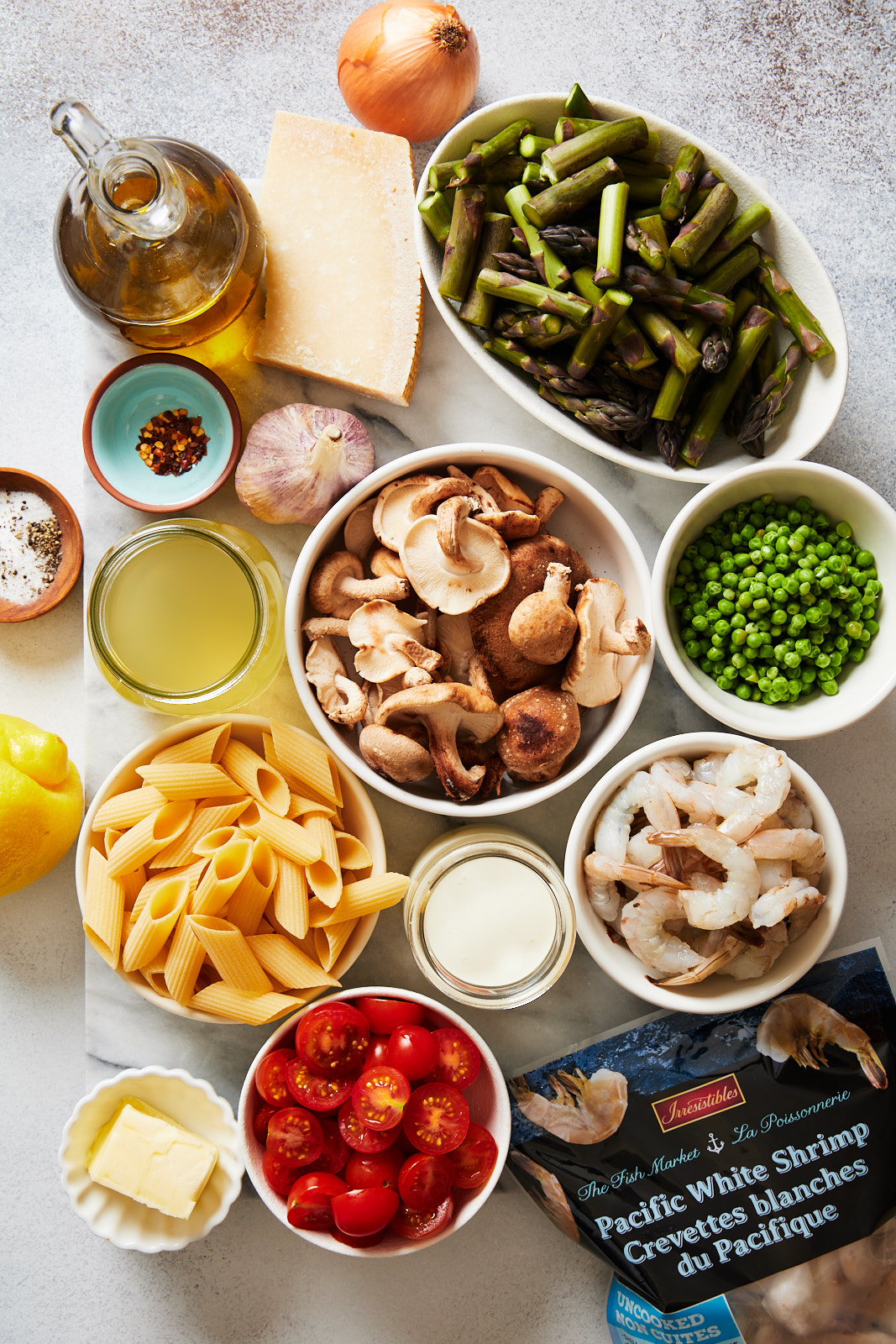 One Pot Pasta Primavera Recipe Ingredients
Pasta: any short pasts like penne pasta or rigatoni will work for this recipe - even bow ties or fussili will work too. Long pasta like spaghetti, fettuccine, or linguine will work too but I find for a one pot pasta short pasta cooks more evenly. You can use gluten free pasta as well - whatever pasta you use make sure to check the package instructions to see how long to cook the pasta for
Vegetables: I used mushrooms (any mushrooms will work - shiitake, cremini, white), asparagus, green peas and tomatoes but feel free to use any spring veggies you like (bell peppers, green beans, spring onions, baby broccolini, zucchini asparagus, yellow squash, broccoli, snow peas etc…)
Aromatics: Onion (feel free to use red onion or yellow onion),garlic, chili flakes, salt and pepper. Feel free to add more spices like oregano or thyme or Italian seasoning if you wish
Broth: Feel free to use vegetable broth or chicken broth or chicken stock (this really is the pasta water that the pasta cooks in and the starch from the pasta creates a luscious pasta primavera sauce)
Cream or Milk: I like to use cream usually half and half or heavy cream as most of the creaminess in this dish comes from the starchy pasta water/broth and not so much the cream. if you prefer a lighter version you can use milk instead or a plant based alternative like almond milk or cashew milk
Butter: I used unsalted but feel free to use salted as well - this helps give the sauce it's extra rich flavor and texture
Lemon Zest: This recipe only uses lemon zest for the sauce but for extra lemony flavour feel free to serve pasta with lemon wedges to finish dish off with a squeeze of fresh lemon juice
Shrimp: I used large frozen shrimp that I thaw overnight in the fridge - I usually get large shrimp and I have made them with tails on or off - feel free to decided based on your taste - that goes for the type of shrimp you use as well. (read on below for other protein options)
Herbs: I like to stir in fresh basil to the pasta but you can also do fresh parsley as well or instead of the basil if you prefer
Do I Have To Make This Recipe With Shrimp?
You can make this recipe with or without the shrimp. A classic primavera is usually primarily veggies but the shrimp adds some flavor and some protein. But if you prefer to skip the shrimp and keep this VEGETARIAN - just leave the shrimp out. If you would like another option for protein feel free to toss in some sliced grilled chicken or rotisserie chicken. But if you only have raw chicken to add to the dish you definitely would have to pan fry it before. You can either pan fry it first (then remove it from pan and continue with recipe as is) or grill it or roast it then add it back to the pan when you add the Parmesan cheese. If you want to make this a meatless pasta primavera that is totally ok too. Leave out the shrimp and either replace with more veggies or leave as is. I love it both ways. For a VEGAN version I would use a veggie based broth and either finish it off with a vegan butter or instead some olive oil. When I want a lighter version that is how I make mine. As for of Parmesan cheese feel free to leave out or add a little bit of nutritional yeast.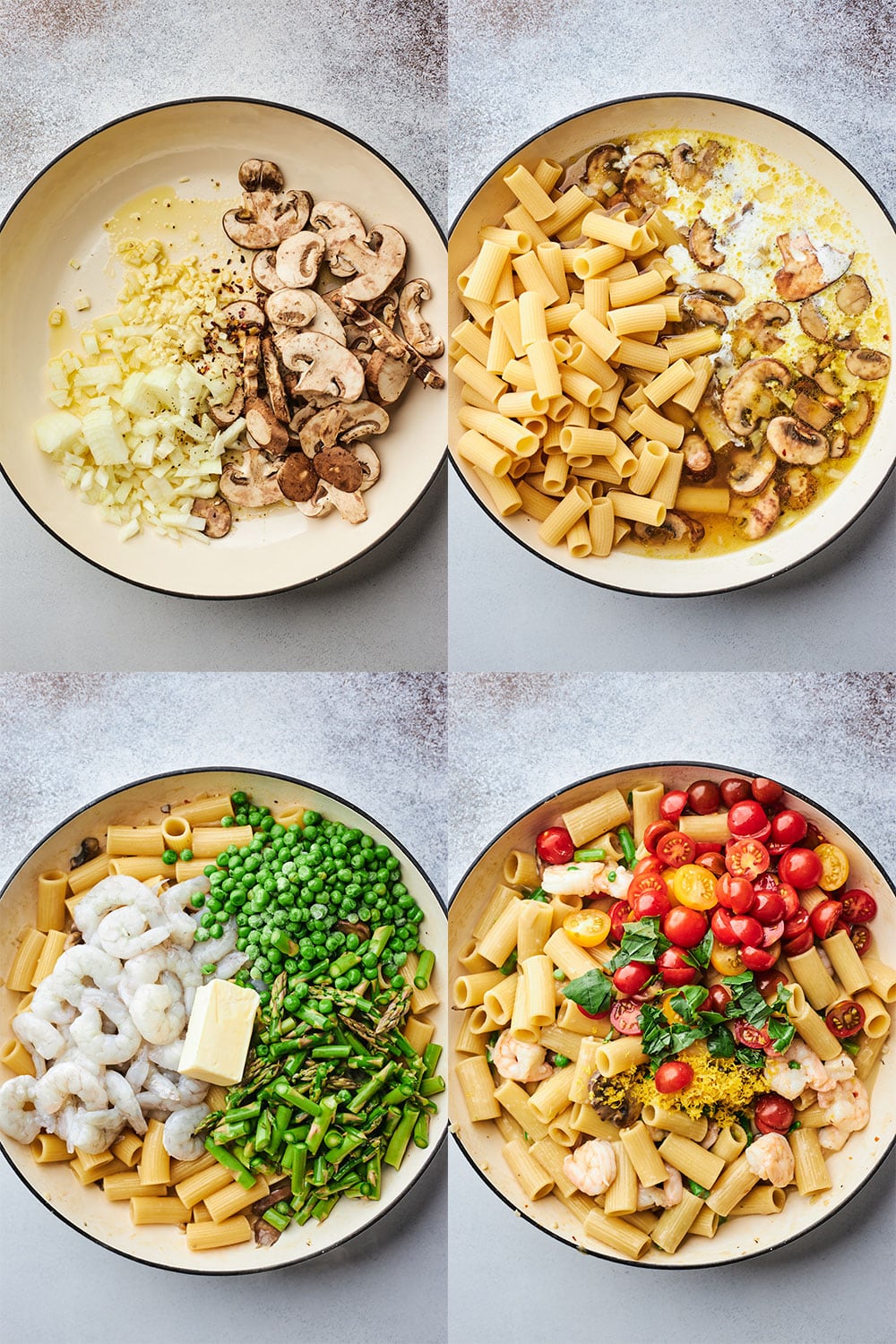 How to Make Pasta Primavera (one pot)?
The key to this one-pot dish is cooking the shrimp, vegetables, and pasta in stages. When combined, all of the ingredients will be perfectly al dente and coated in a tasty sauce that is slightly thickened by the starch in the pasta. Add more spring flavour by stirring in chopped fresh herbs such as parsley, dill, or basil into the pasta and of course lemon zest for extra fresh and delicious flavours. There are many variations of this dish especially in the way the veggies are prepared ahead of time. Some recipes call for grilling the veggies, others ask that you roast them before or even blanch them. All of them are great and affect the texture and flavours of this pasta. This quick version doesn't require any of that. The heartier veggies get either pan fried with the onions as they cook at the beginning and the rest get added in and get steamed and cooked along with the pasta until they are tender. Here is a quick Step by Step:
SAUTE onions, mushroms, garlic, chili flakes and pinch of salt and pepper until onions are softened 3-5 min
STIR in broth, pasta and cream then bring to a boil and simmer for 2-3 min shy of al dente (check pasta package directions for exact cooking time - for example my pasta said 13-15 min cooking time so I simmered pasta for 12 min wile stirring occasionally)
TOSS in the asparagus, shrimp, peas and butter and continue to simmer cooking remaining 3 minutes of cooking time
REMOVE from heat and stir in the parmesan cheese stirring well to melt cheese into the sauce
ADD tomatoes, basil and lemon zest and toss well to combine
SERVE with extra chopped basil and grated parmesan cheese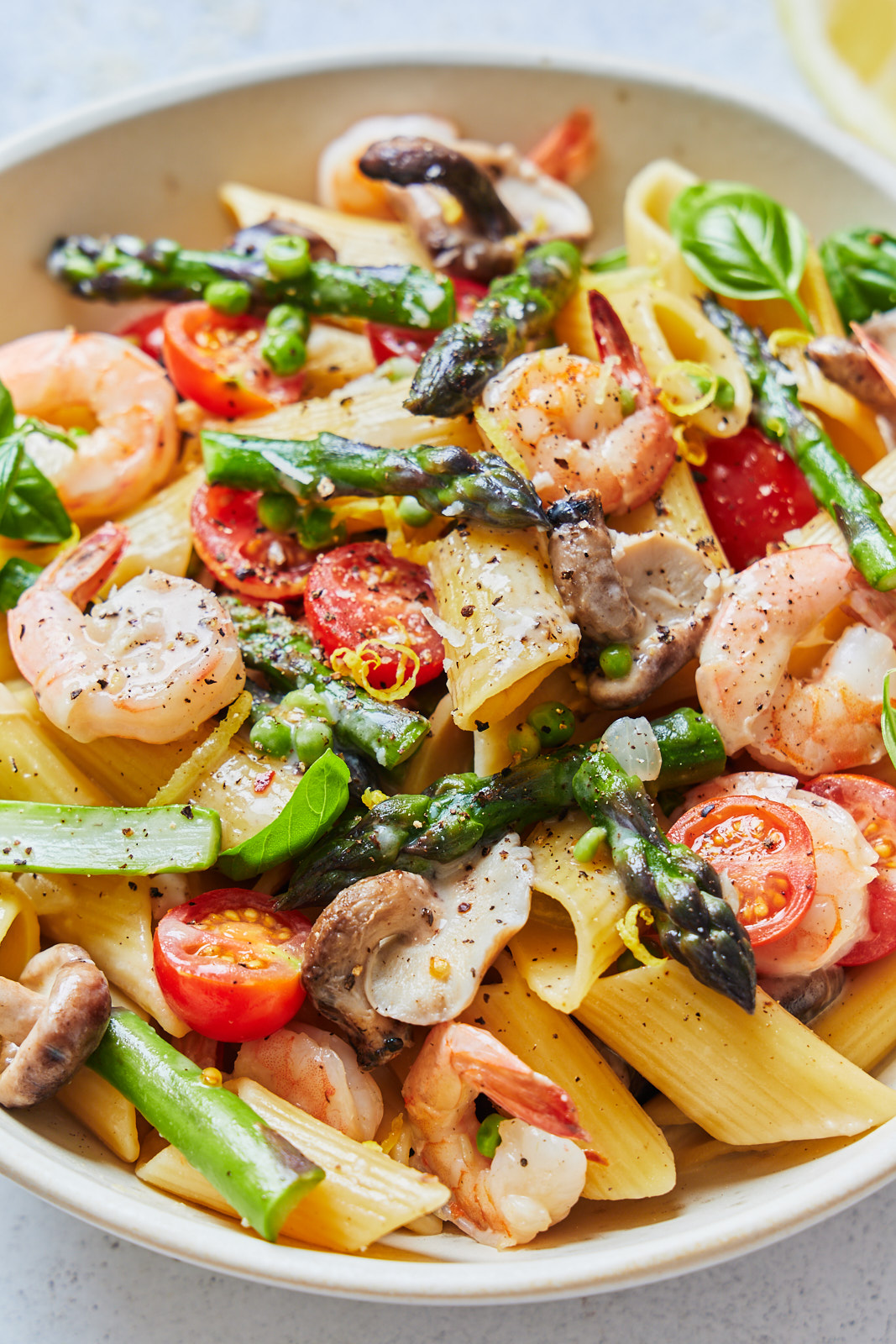 Can I Pre Cook The Shrimp Before Adding to The Pasta?
When it comes to the protein addition - there are options. The shrimp cooks perfectly in just a few minutes of getting stirred in with the pasta and the steam from the pan when the lid is closed. If that makes you feel a bit uncomfortable - have no fear you can start by sautéing the shrimp alone as your first step - remove from pan with a slotted spoon then continue with the recipe as directed and toss the cooked shrimp in at the end to get warmed through.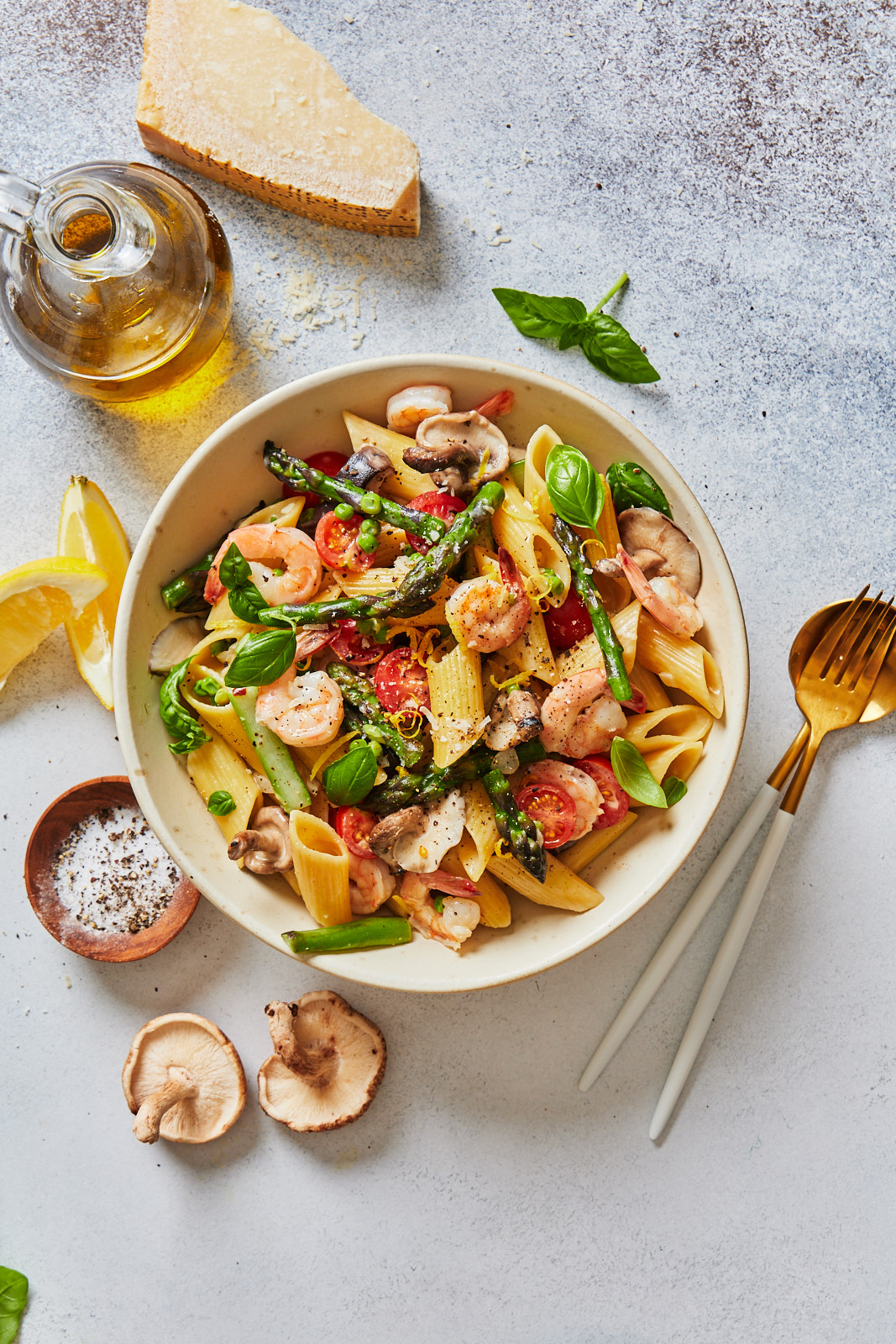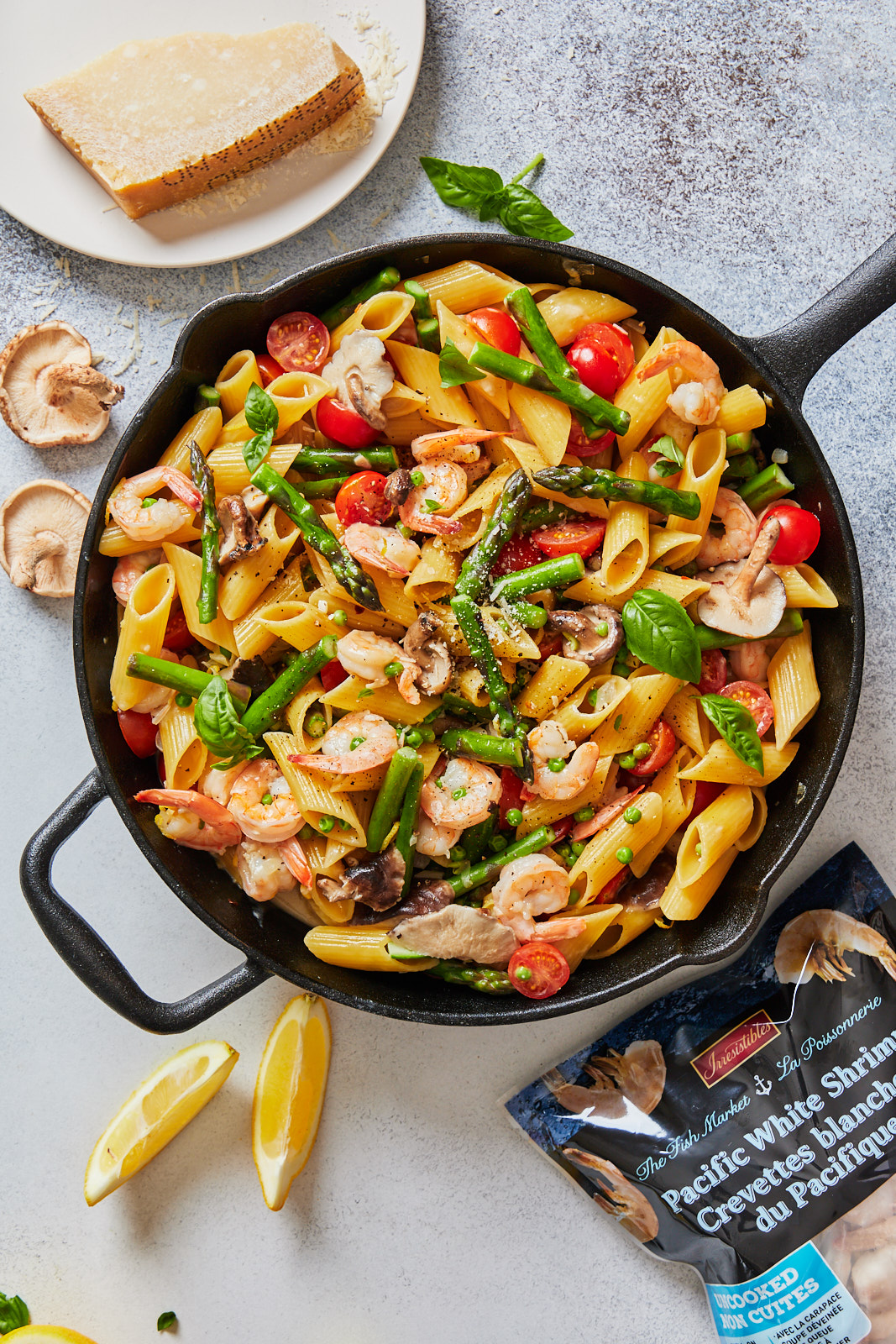 Recipe
Prep Time: 10 mins
Cook Time: 25-30 mins
Ingredients
2 tablespoons of extra virgin olive oil

1 onion peeled and diced

3 cloves of garlic minced

¼ teaspoon chili flakes

2 cups (285g/8oz) sliced mushrooms (shiitake, white, cremini)

12 oz/ ¾ lb of penne pasta (any short pasta like penne, rigatoni, bow ties)

3 cups (24oz) of broth or water (chicken or vegetable broth - plus more if needed)

½ cup (4oz) of cream or milk (sub with more broth/water if keeping it lighter)

1 ½-2 cups (6oz) asparagus, trimmed and chopped into approx 1 inch pieces

340 grams/11oz large shrimp, peeled, deveined, tails left on or off

1 cup (185 g/5oz) green peas, fresh or frozen

3 tablespoons (1.5oz) unsalted butter

¾ cup (6oz) finely grated Parmesan cheese, plus more for serving

Zest of one lemon (slice and serve with pasta after it's zested)

1 pint (2 cups/19oz) cherry tomatoes, sliced in half

¼ cup coarsely chopped fresh basil or fresh parsley
Directions
Heat olive oil in a large skillet or pot over medium-high heat and add the onion, and mushrooms stir and cook for 2-5 minutes until softened and translucent. Add chili flakes and garlic, and cook stirring fro 1 min. Season with salt and pepper to taste and stir to evenly season.
Add the pasta and stir in 3 cups of broth and ½ cup of cream or milk. Cover and bring to a simmer. Once boiling, uncover and cook, setting a timer for cooking pasta according to package instructions and stirring often. (If pot starts to dry out at any point, add another ½ cup broth.)
When 2-3 minutes remain on timer, stir in shrimp, peas, asparagus and butter. Cover and continue to cook for remaining minutes, then uncover and cook, stirring, until pasta is tender, shrimp are cooked through, and sauce is reduced.
Remove from heat. Stir in ¾ cup Parmesan and toss to coat until it's melted into sauce.
Toss in the lemon zest, basil and tomatoes and season with more salt and pepper, if needed.
Divide pasta among plates. Top with additional basil, and additional Parmesan.
Leftovers can be stored in an airtight container in the refrigerator for up 2-5 days. Reheat stove top or in the microwave with a splash of broth or cream if needed to loosen up the pasta to desired consistency.
Recipe Notes
This pasta dish will progressively get thicker as it cools so you may need to thin out the sauce a little if you are reheating leftovers.
See Post above from shrimp and vegetable alternatives. If you are adding veggies that require more cooking time makes sure to saute them first with the mushrooms or like the mushrooms until they are softened and tender