Orange Cranberry Scones
These cranberry orange scones are slightly crisp on the outside and moist and tender on the inside thanks to fruit and the cream. They are bursting with cranberry orange flavour - my favourite combo of flavours with cranberries and works really nicely in these easy to make scones. They are the perfect recipe to add to your breakfast or brunch menu and also make the perfect edible gift if you are willing to share. Love cranberries? Make sure to try my easy to make Cranberry Sauce and these tasty and easy to make Cranberry Hand Pies.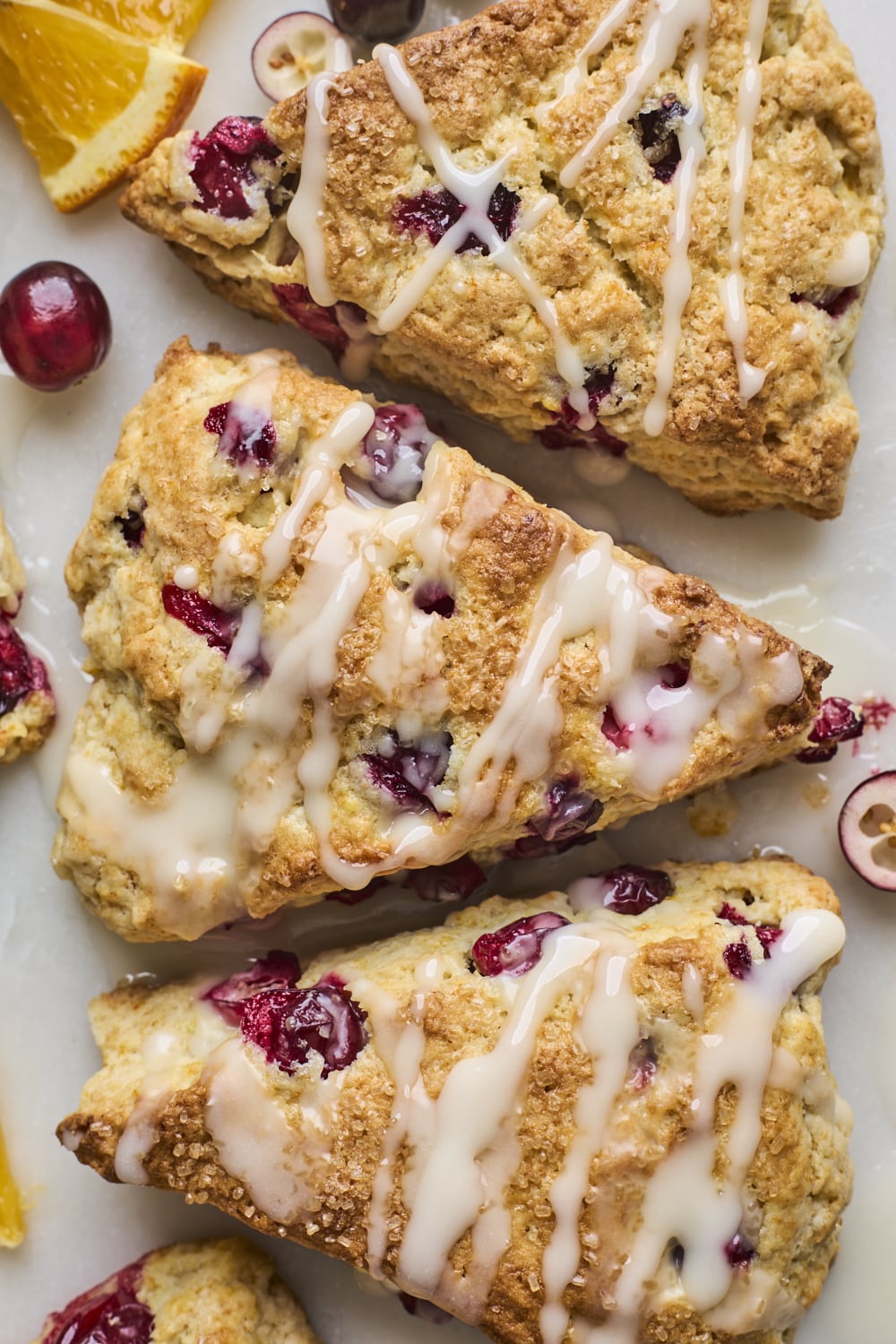 Cranberry Orange Scone Recipe Ingredients
Flour: all-purpose flour is what I use for this recipe
Sugar: I use granulated sugar for these but brown sugar works too.
Baking Powder: Adds lift.
Salt: Adds flavor.
Butter: Besides flour, butter is the main ingredient in scones. It's responsible for flakiness, flavor, crisp edges, and rise. I use unsalted butter - and its critical to keep it chilled or frozen.
Half and Half Cream or Buttermilk: For the best tasting pastries, stick with a thick liquid such as heavy cream or buttermilk. I usually use heavy cream, but if you want a slightly tangy flavor, use buttermilk. Thinner liquids change the flavor and appearance - and can create dry, bland, and flat scones.
Vanilla extract: adds the perfect flavor to sweet scones, these scones go really well with orange extract too - I would add ¼ teaspoon along with the vanilla extract for a little more punch of orange flavor if you prefer
Cranberries: Fresh cherries is what I used in this recipe but feel free to use frozen - allow them to thaw and pat them dry before adding to dough. Feel free to use dried cranberries if that is all you have.
Orange Zest: adds delicious flavour to these scones - and of course cranberry orange is such a classic combination but if you prefer lemon zest you are welcome to use that instead - some other recipes add a pinch of cinnamon to the dry ingredients too but that is up to you.
Turbinado sugar: or coarse sugar to add a little crunch to the top of the scones - totally optional
Powdered sugar: for the glaze if making
Freshly squeezed orange juice: for the glaze if making to add extra orange flavour to these scones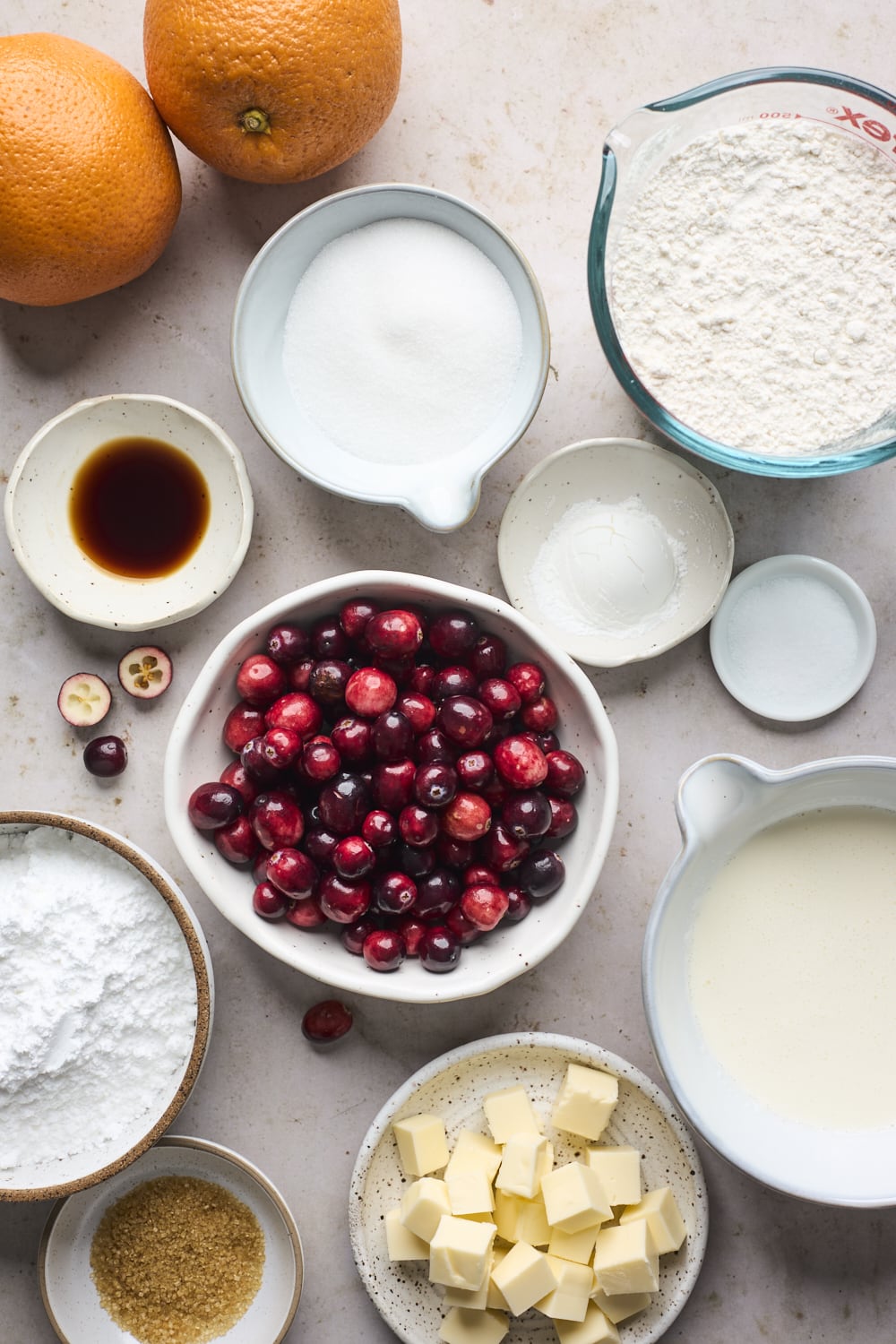 How to Make Cranberry Orange Scones
Whisk the dry ingredients together. Use a big mixing bowl because you want lots of room for the mixing process. You can also use a food processor and pulse the dry ingredients together until combined.
Cut in the cubed chilled butter. You can use a pastry cutter or 2 forks, or your hands. A food processor works too. To avoid overly dense scones, work the dough as little as possible. Messy and crumbly is a good thing! If using food processor empty out the flour mixture into a large bowl
Add cranberries to flour butter mixture and toss to combine
Whisk the wet ingredients together. In this case the cream and the vanilla - there are no eggs in this recipe
Mix wet ingredients and dry ingredients. Mix together gently with a fork, then pour out onto lightly floured counter.
Form into a disc and cut into wedges. Wedges are easiest, but you can make 10-12 drop scones too
Brush with remaining cream for a golden brown, extra crisp and crumbly exterior. And for extra crunch, a sprinkle of turbinado or coarse sugar on top.
Refrigerate for at least 15 minutes. Keep scone dough as cold as possible. To avoid over-spreading, I recommend chilling the shaped scones for at least 15 minutes in the refrigerator before baking. In fact, you can even refrigerate overnight for a quick breakfast in the morning! I usually chill them while I'm preheating the oven - it's optional but I strongly recommend it.
Bake until golden brown. Scones bake in a relatively hot oven for only 18-22 minutes.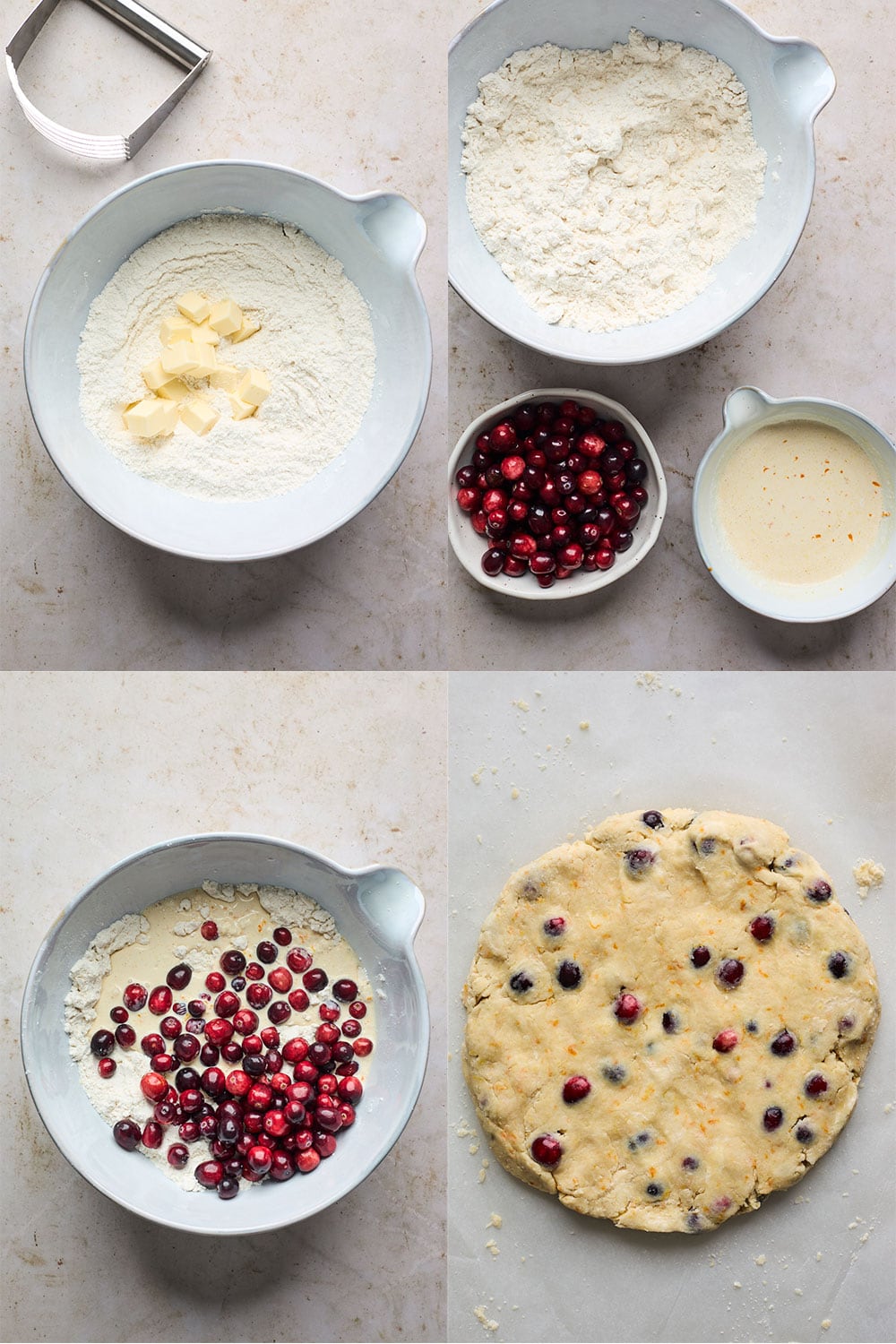 Tips for the Perfect Cranberry Orange Scones
Use Cream or Buttermilk: Avoid thinner milks which yield a flatter, less flavorful scone. Canned coconut milk works well as a wonderful non dairy option!
Refrigerate Before Baking: Remember, cold dough is a successful dough. To avoid over-spreading, I recommend chilling the shaped scones for at least 15 minutes in the refrigerator before baking.
Use COLD butter! If you're making these in a very warm climate, I suggest popping your butter in the freezer
Do not overwork the dough - knead it a few times for it t come together but a shaggy messy dough is best for buttery layered flaky scones with a good rise - instead of dense dry over worked scones. And only add a little extra cream if you absolutely need to - you don't want to be working with wet dough.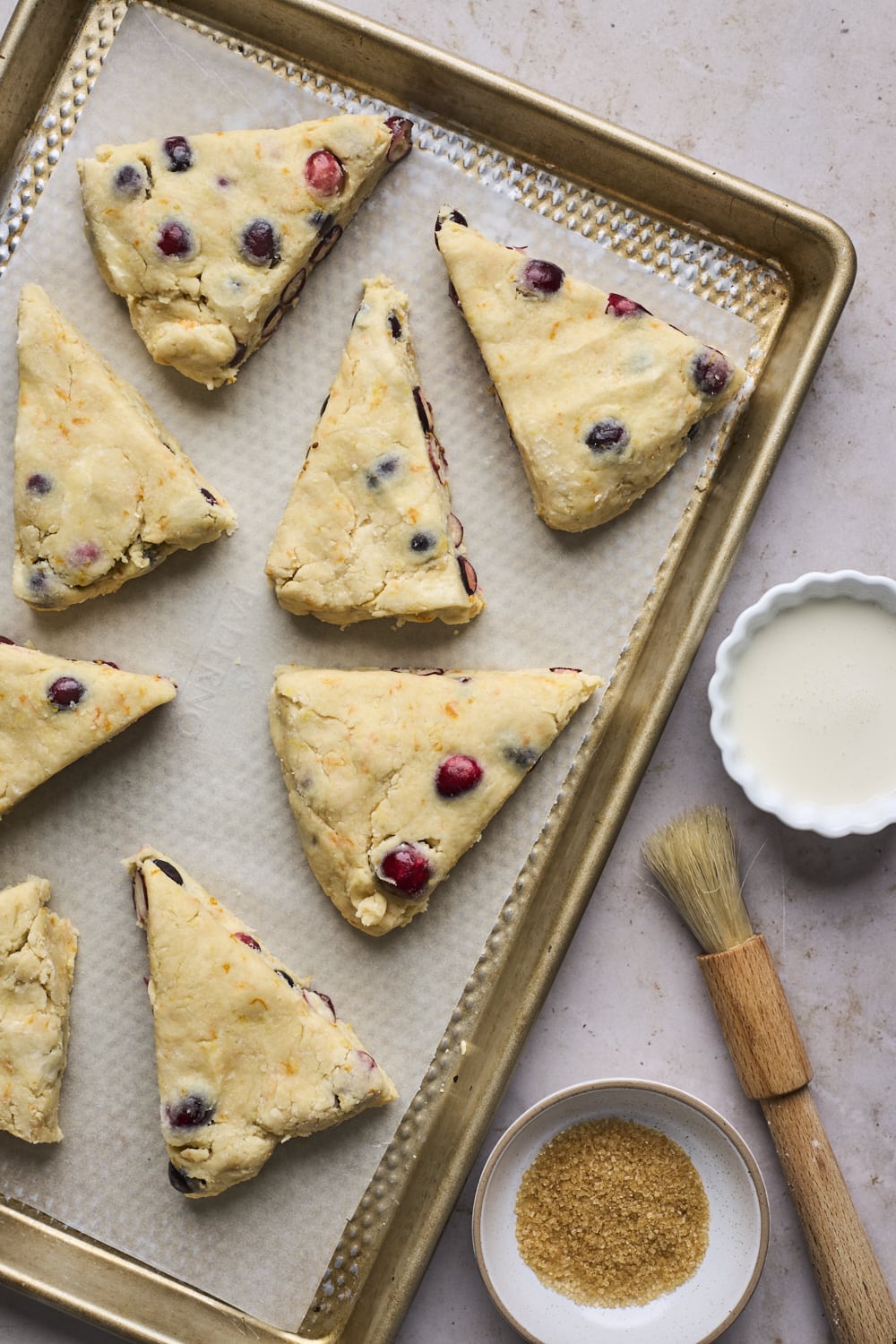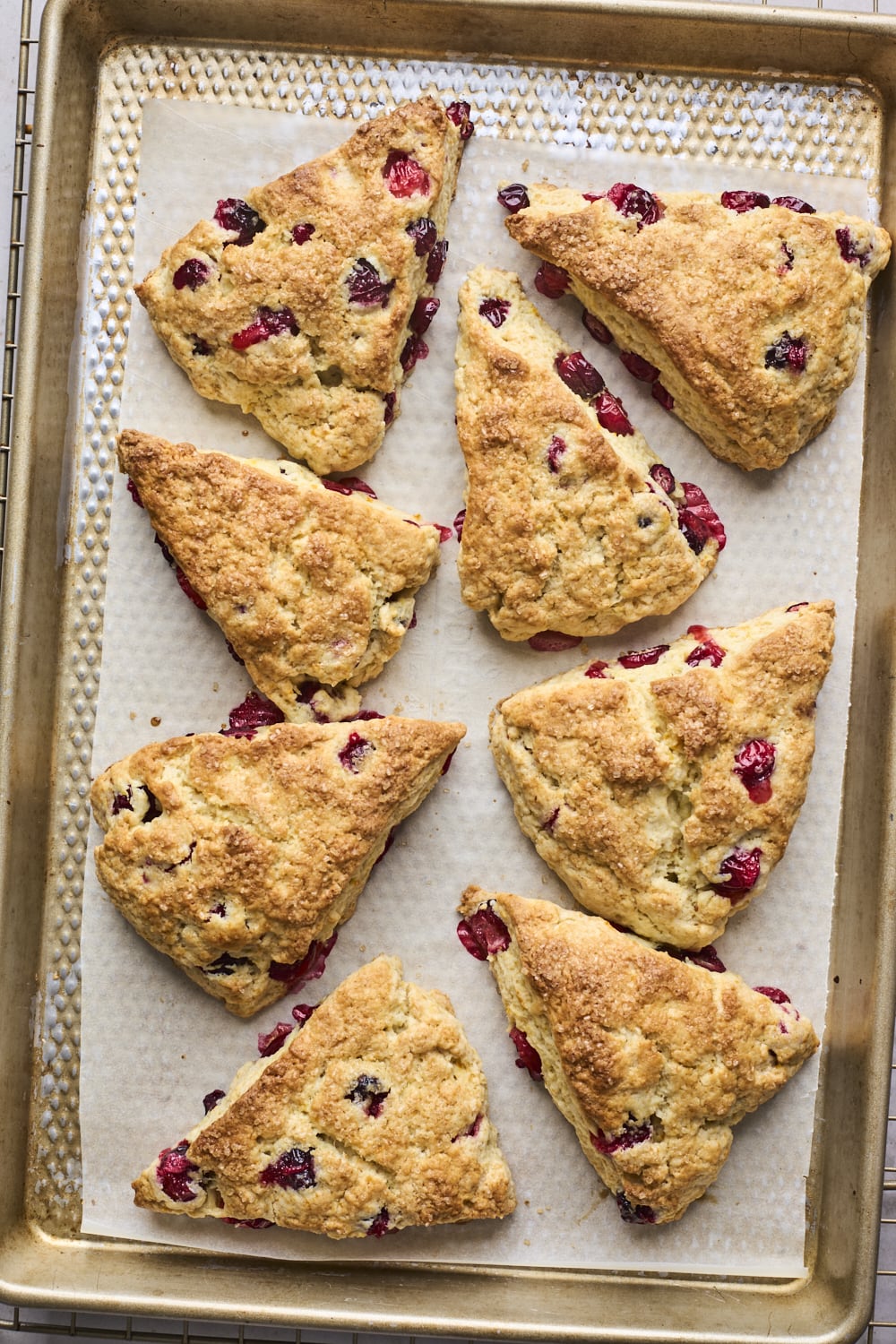 How to Freeze Scones
There are several ways to go about freezing scones. You can even shape this scone dough into wedges and refrigerate overnight before baking. Here are two ways I freeze my scones:
Freeze Before Baking: Freeze scone dough wedges on a plate or baking sheet for 1 hour. Once relatively frozen, you can layer them in a freezer-friendly bag or container. Bake from frozen, adding a few minutes to the bake time in the recipe below. Or thaw overnight, then bake as directed.
Freeze After Baking: Freeze the baked and cooled scones. I usually freeze in a freezer-friendly bag or container. To thaw, leave out on the counter for a few hours or overnight in the refrigerator. Warm in the microwave for 30 seconds or on a baking sheet in a 300°F oven for 10 minutes.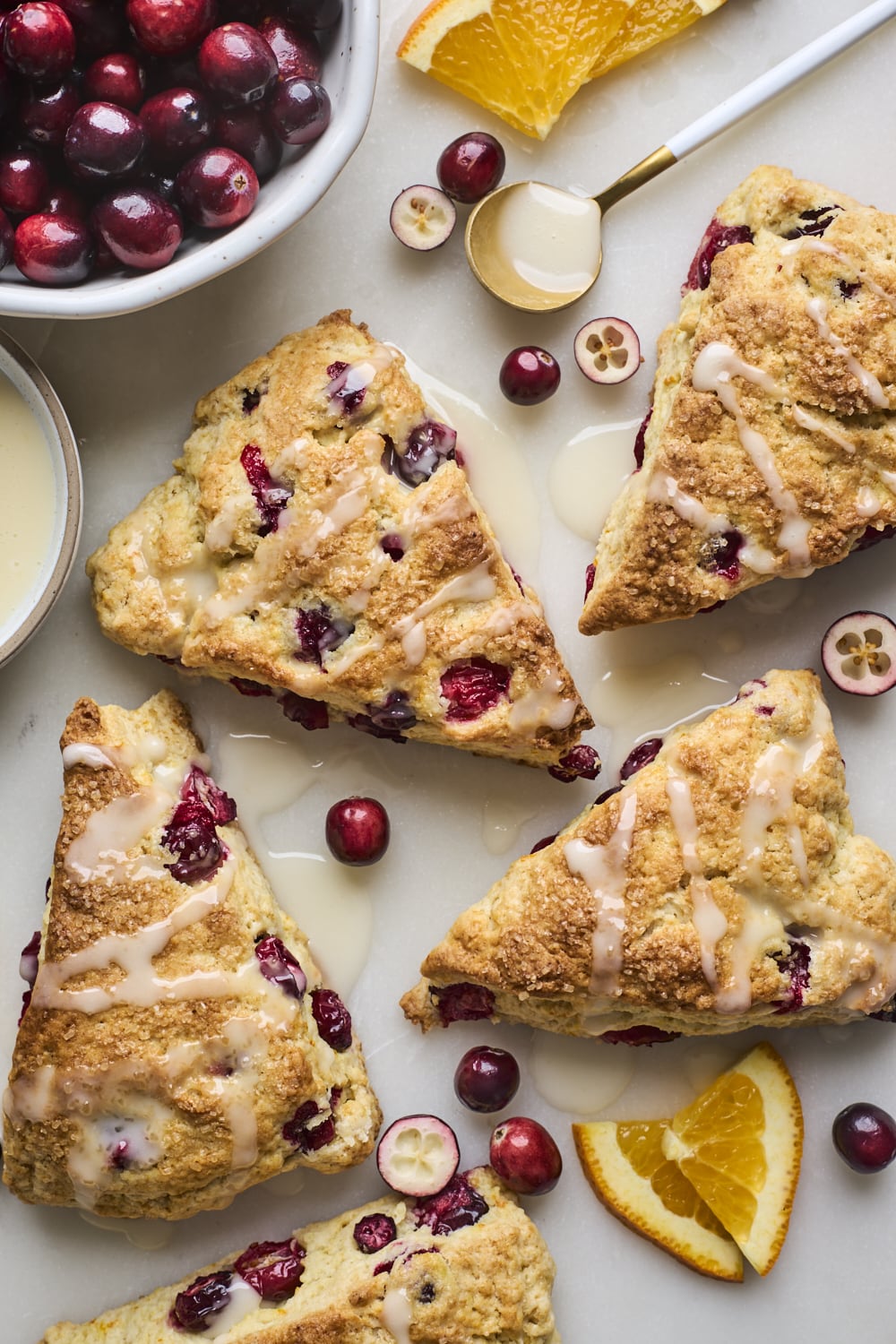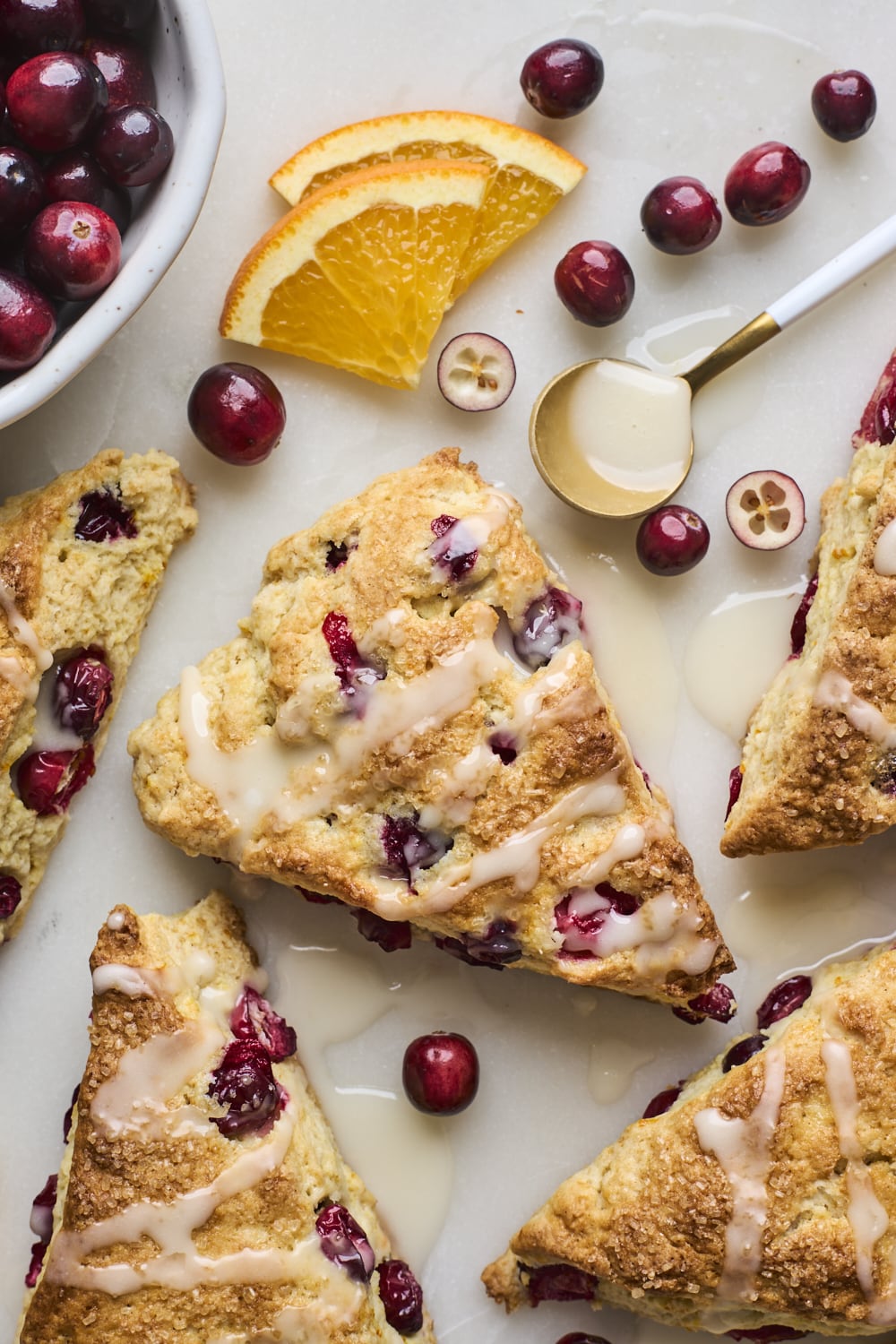 More Cranberry Recipes You Will Love:
If You Love Scones Check These Fall Ones Out:
Recipe
Servings:
8 large or 16 small scones
Prep Time: 15-20 mins
Cook Time: 25 mins
Ingredients
2 cups all-purpose flour, plus more for work surface

5 tablespoons granulated sugar

1 tablespoon baking powder

½ teaspoon salt

6 tablespoons cold unsalted butter, cut into small pieces

⅔ cup half-and-half cream + 2 tablespoons

1 teaspoon pure vanilla extract

Zest of one large orange

1 cup cranberries, fresh or frozen drained on paper towels

1-2 tablespoons Coarse sugar for sprinkling / turbinado sugar (optional)
Orange Glaze
1 cup (120g) confectioners'sugar/powdered sugar

2-3 Tablespoons (30-45ml) fresh orange juice
Directions
Preheat oven to 400°F. Line a baking sheet or baking pan with parchment paper. (If you plan on chilling the scones before baking don't preheat the oven until they are chilling.)
In a bowl, whisk together dry ingredients: flour, granulated sugar, baking powder, and salt.
Add butter to the dry ingredients then cut in butter with a pastry blender or two knives until mixture resembles coarse crumbs and butter is size of peas.
Whisk cream, vanilla extract and orange zest together in a small bowl. Drizzle over the flour mixture, add the cranberries, then gently stir/mix together until everything is combined and dough is moistened but still quite shaggy. Feel free to add a touch more cream only if needed - 1 tablespoon at a time
Pour mixture onto lightly floured surface or clean floured board, knead dough gently by folding it over itself a few times collecting any bits of flour until dough is formed pressing in cranberries if needed.
Pat with your hands or use a rolling pin to gently roll dough into a 1-inch-thick round. Use a dough cutter or knife to cut into 8 wedges; place on a baking sheet, 2 inches apart.
Place scones on a lined baking sheet. Brush tops with remaining tablespoon half-and-half cream; sprinkle with coarse sugar if using.
Chill and refrigerate for at least 15 minutes. - optional step. (If you plan on chilling scones prior then this is the point you would want to preheat your oven while the chill)
Bake until golden brown, 18-22 minutes. Let cool on a wire rack.
Make the glaze: Whisk the confectioners' sugar and orange juice together. Add a little more confectioners' sugar to thicken or more juice to thin if needed. Drizzle over cooled scones.
Leftover iced or un-glazed scones keep well at room temperature for 1-2 days or in the refrigerator for 5 days.
Recipe Notes
If you prefer to use your food processor to make the dough simply pulse the dry ingredients to combine then add the butter and pulse until butter is pea sized then empty out into a large bowl and proceed with recipe as written.