Pear Crumble
This pear crumble/crisp recipe is a tasty spin on apple crisp bursting with ginger, cinnamon spiced pears covered in a buttery, crunchy pecan, cinnamon, brown butter topping. A delicious and simple to make recipe. Simply combine the pears with a simple blend of brown sugar and seasonings (I like to use some delicious add ins like candied ginger and maple syrup but those are optional) then sprinkle on the topping that is stirred together in ONE bowl (no food processor, no cutting in cold butter) and bake. This easy pear crumble recipe is made with pantry friendly ingredients and can even be assembled ahead of time then just popped in the oven for an easy stress-free dessert perfect for any occasion.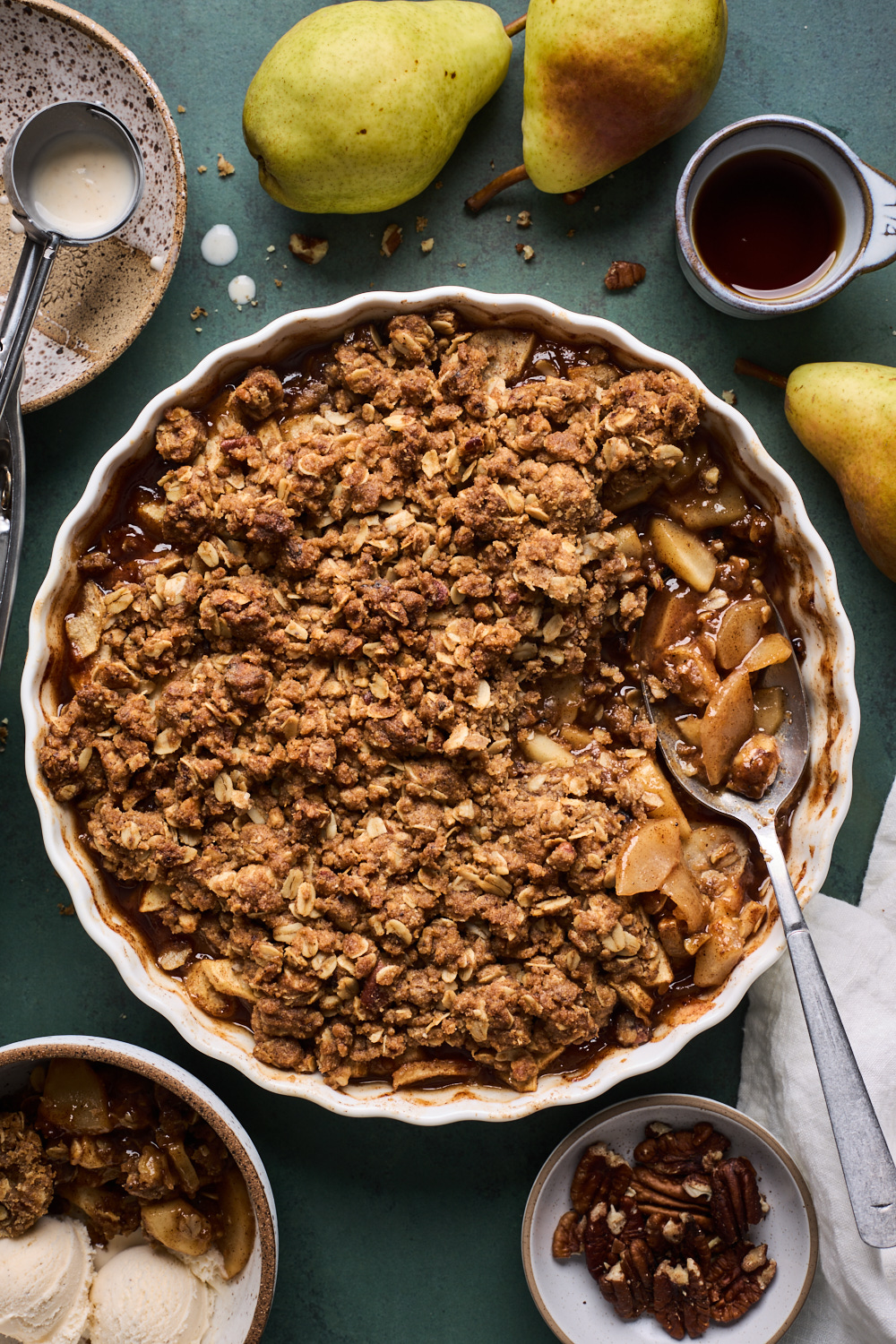 Fall is the season of desserts! We especially love whipping up cozy, comforting desserts this time of year like cardamom pear ricotta cake , apple pie, pumpkin bundt cake and chewy pumpkin molasses cookies.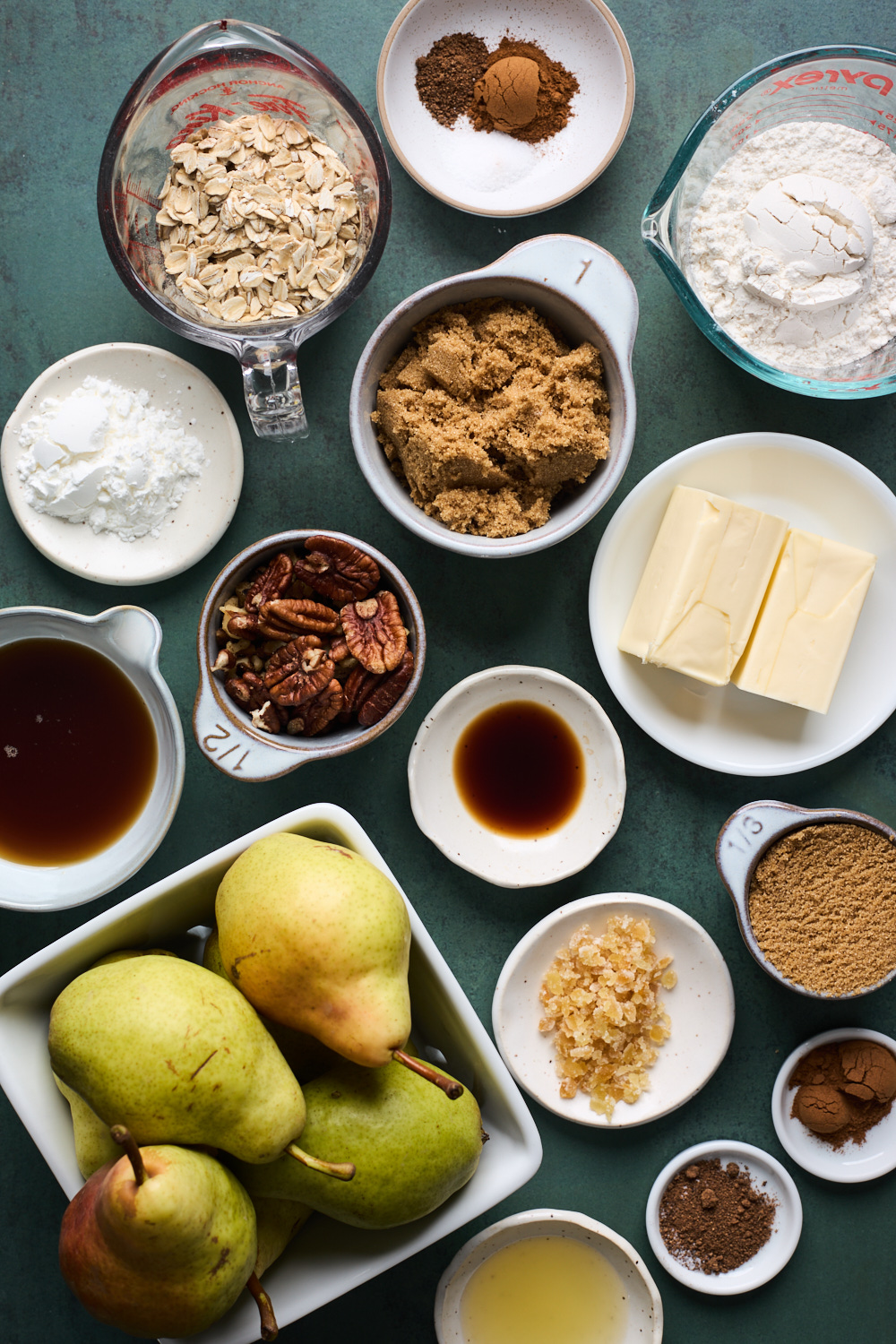 Pear Crumble Filling Recipe Ingredients:
Pears: Feel free to use any variety of pears that you prefer and feel free to use half apples and half pears if that is what you have on hand. In a pinch you can use canned pears, drained, instead of fresh but fresh is always preferred.
Sugar: I used brown sugar for the filling but granulated white sugar can be used as well to sweeten the pears - feel free to add more or less sugar according to taste and also according to how sweet your fruit is
Maple Syrup: I like to add just a little maple syrup to add warm maple flavour to these pears and to the pan juices - its optional if you don't have any on hand and if you can replace it with honey or a little eaxtra brown sugar ( i recoommned using maple syrup if you have it though)
Cornstarch: fruit releases a lot of moisture when baked in a crisp or crumble and the cornstarch is the thickening agent to prevent the filling from becoming too watery.
Lemon juice: the slight acidity helps balance the sweetness but I also always toss pears and apples with a little lemon juice to prevent them from turning brown
Vanilla extract: I use pure vanilla extract and love the flavour it adds to all baked goods including crisps and crumbles
Spices: cinnamon, nutmeg, ginger, and salt enhance the flavors and balance the sweetness of the pear crisp. Feel free to use the blend of spices you like - even adding some clove or cardamon or all spice or a dash of black pepper. I used candied ginger in this recipe but it is totally optional - it adds the perfect gentry flavour but feel free to omit this and use ground ginger instead and make sure to make the filling as gingery as you like.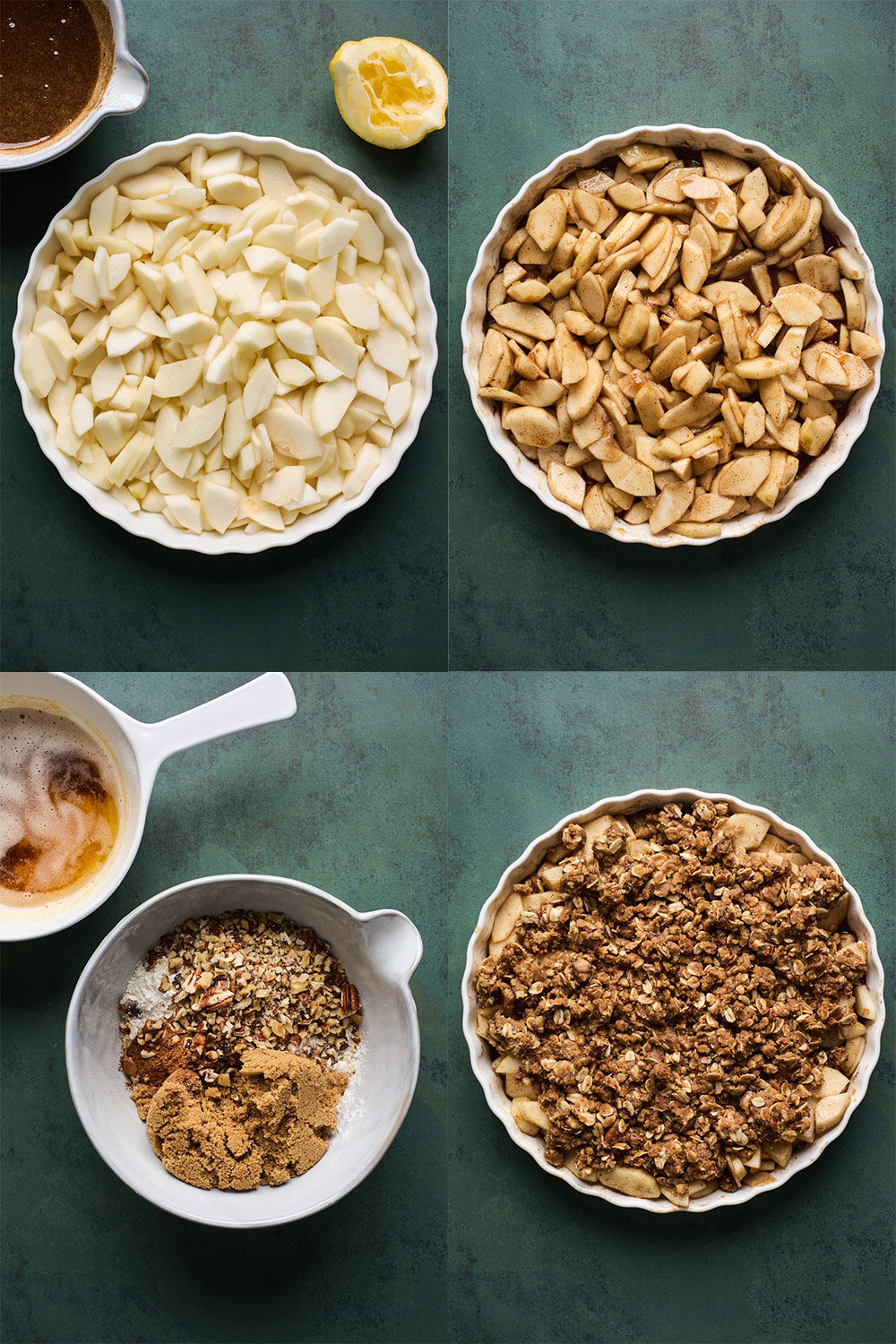 Pear Crisp/Crumble Topping Ingredients:
Flour: I use all purpose flour which helps bind the topping ingredients together. Feel free to use a good all purpose gluten free all purpose flour if desired
Old fashioned oats: I always love to add old fashioned oats (not quick oats) to my crumble and crisp toppings. Feel free to use gluten free oats if desired
Pecans: finely chopped for some nutty flavour and also some crunch - feel free to substitute with walnuts, hazelnuts or almonds
Granulated sugar: adds additional sweetness and balances the brown sugar. Feel free to use brown sugar if you prefer
Butter: melted butter or browned butter is how I use unsalted butter in this recipe and I love it - its an easy way to incorporate the butter into the crisp/crumble topping. For a vegan or plant based version feel free to use coconut oil or vegan butter although I have not browned vegan butter before so let me know how that goes or just use it melted
Salt: just a pinch is all you need and it always adds just enough savoryness to balance and enhance the flavours
Spices: I used 1 teaspoon cinnamon and pinch of nutmeg in the topping to warm it up - feel free to adjust amounts acording to taste or leave it out if you prefer a spice free topping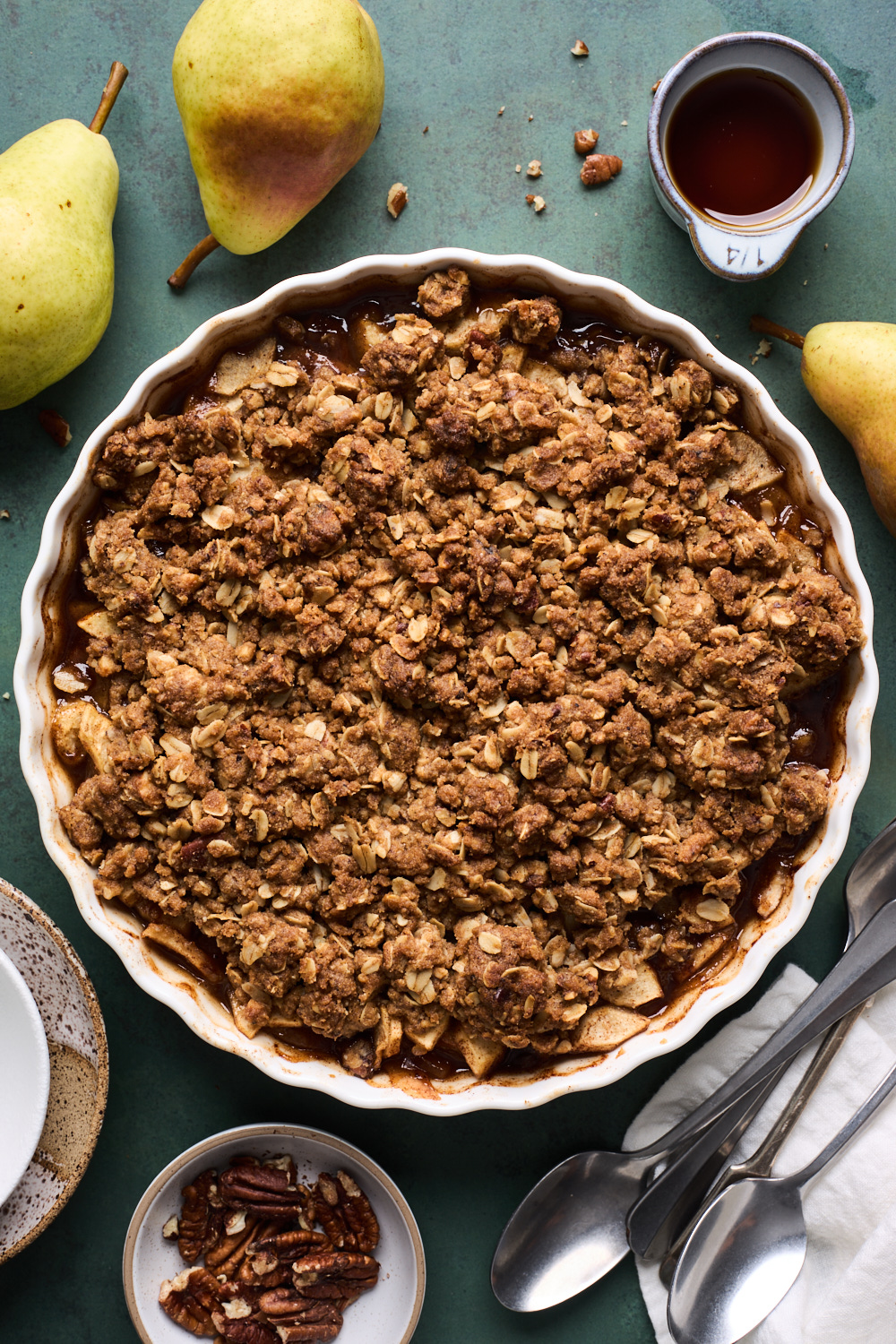 Pear Crumble Instructions:
Make the Pear Filling - This is super easy to make - you just toss sliced pears with lemon juice and place them in skillet or baking pan, then stir together the remaining ingredients sugar, corn flour or corn starch, vanilla, spices, candied ginger if using, maple syrup and salt then pour over pears and toss to fully coat. Feel free to use a mandolin to slice pears or slice them by hand - either slice the pears or chop into cubes.
Make the Crumble Topping - brown or melt the butter, combine the dry ingredients then drizzle in the butter and stir until you get a crumbly texture (I like to use a fork to stir the butter through)
Add the Pear Crumble Topping - The Pear Crumble topping goes onto the pears. It may seem a little thick but it will cook down in the oven.
Bake the Pear Crumble - Bake until the filling is cooked through and bubbly and the topping is golden brown. Feel free to tent with foil if topping gets brown too quick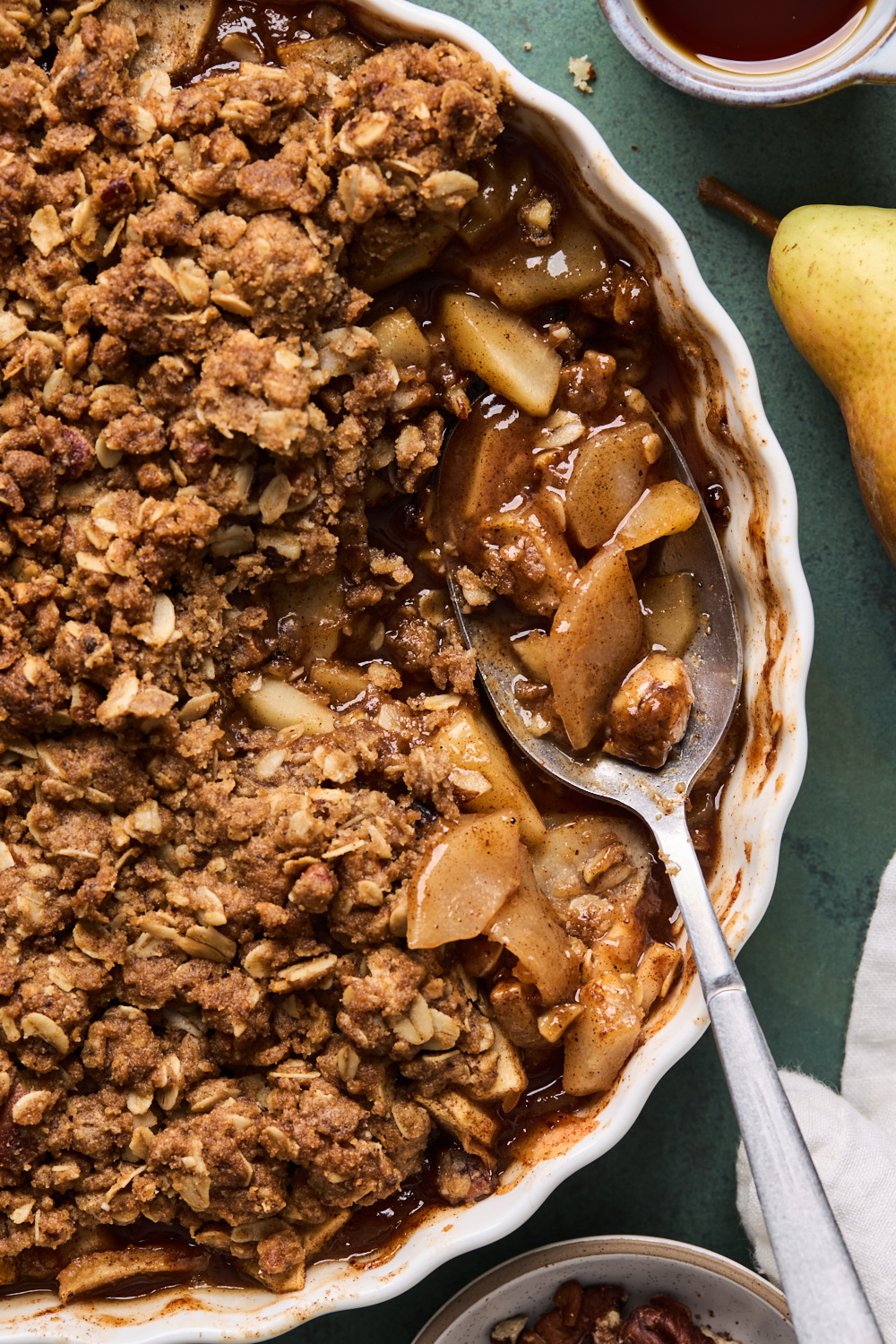 Storage, Make Ahead and Reheating Pear Crumble:
Storage: Tightly cover the pie dish, skillet or baking dish with foil or plastic wrap and store in the refrigerator for up to 3-5 days.
Make Ahead: for same day assemble the whole thing, then cover with foil and place into the fridge until ready to bake it. You may need to tack on 5 minutes or so to account for the cold fruit, but this works perfectly.
Reheat: Reheat individual portions in a microwave-safe dish for about 1 minute in the microwave or in the oven covered in foil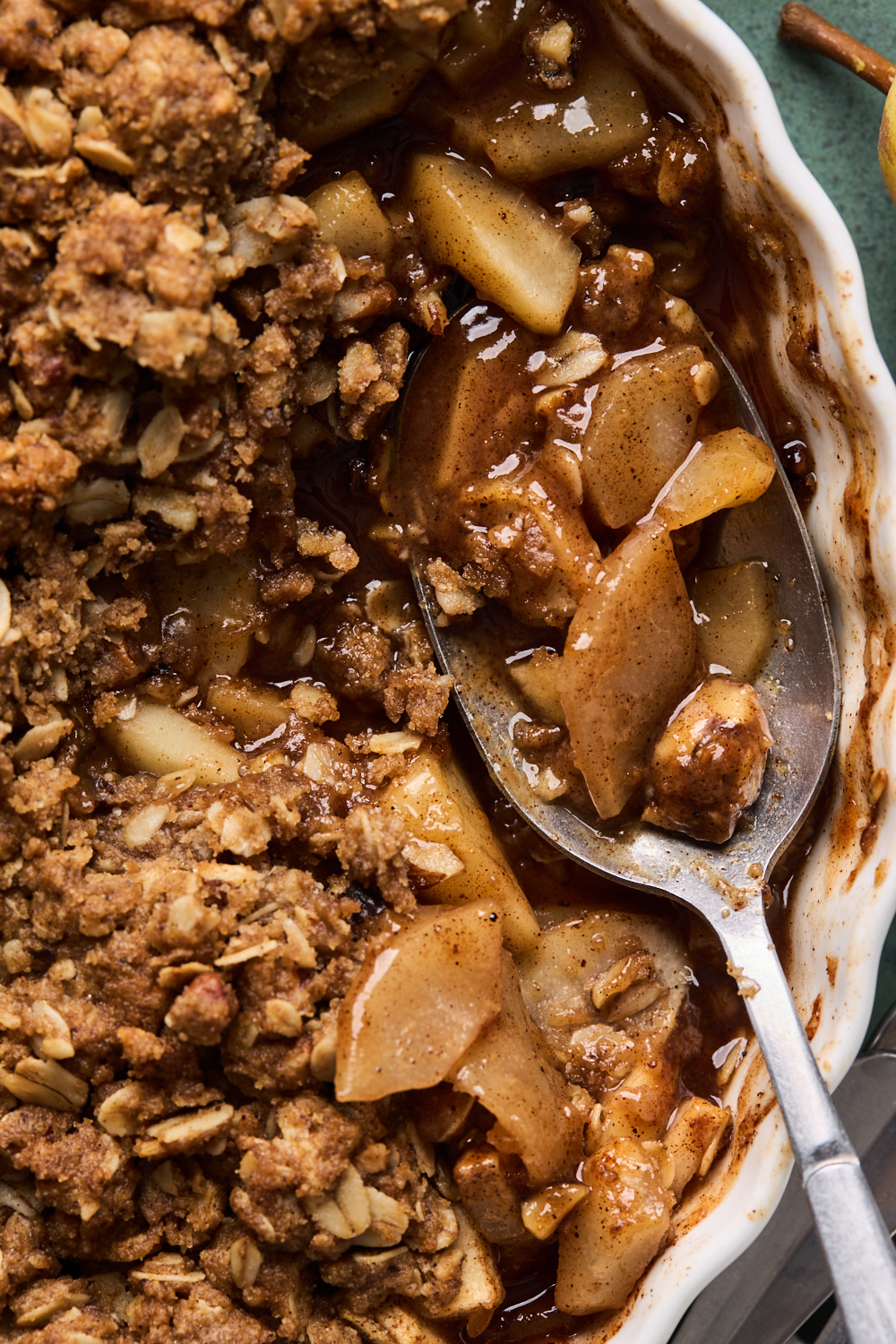 More Fall Recipes You Will Love:
Recipe
Servings:
Serves: 6-8 (9x9 baking dish or 9 inch skillet)
Prep Time: 20 mins
Cook Time: 45 mins
Ingredients
For the Filling
5 pears medium size pears, sliced ¼ inch thick (can easily do half half with apples)

¼ cup pure maple syrup

⅓ cup light brown sugar

1¼ teaspoon ground cinnamon

½ teaspoon ground nutmeg

1 tablespoon candied ginger finely minced or 3/4 teaspoon ground ginger

1¼ teaspoons pure vanilla extract

¼ teaspoon salt

1 ½ tablespoons lemon juice

1 ½ tablespoons cornstarch
For the Crisp/ Crumble Topping
½ cup old-fashioned/rolled oats

½ cup pecans or walnuts, roughly chopped

½ cup + 2 tablespoons all-purpose flour

½ cup granulated sugar

½ cup unsalted butter

1 teaspoon ground cinnamon

¼teaspoon ground nutmeg

¼ teaspoon salt
Directions
Preheat oven to 350°F. Butter a 9-inch pie dish or skillet or or 9x9 square baking dish or baking pan and set aside.
For The Pears: Peel and slice pears and place sliced pears in baking dish and toss with lemon juice and spread out in pan in an even layer
In a small mixing bowl, whisk the maple syrup, light brown sugar, cinnamon, nutmeg, ginger, vanilla, salt, and cornstarch until combined. Pour maple syrup mixture over pears and mix until evenly coated.
For The Topping: In a separate medium size bowl, combine and stir the oats, pecans, flour, granulated sugar, cinnamon, nutmeg and salt
Brown or Melt Butter: In a small saucepan set over medium heat, add the butter. Heat until the butter foams then begins to brown and becomes speckled (about 3-5 minutes), whisking every so often. Pour into the bowl with the topping ingredients and stir until crumbles form.
Assemble: Sprinkle topping over the pear filling.
Bake the crumble in the preheated oven for 40-45 minutes until the fruit juices are bubbling and the top is golden brown. Fruit should be fork or knife tender. Tent with foil if topping starts to brown too quickly
Allow the crisp to cool slightly before serving. Serve warm or room temperature with vanilla ice cream and/or a drizzle of caramel syrup.