Pecan Pie Cobbler (Easy Pie Crust Version)
This easy pecan pie cobbler recipe is just the best. It really can't get easier to make a dessert than this especially using store-bought pie crust which I usually have in the freezer at all times. This crust-lined dish is full of gooey pecan pie filling and is totally scooplable so you can serve it right out of the baking dish. I love pecan pie but I got to say this is just as delicious with half the effort involved - this might be your new favourite way to have pecan pie. I call it lazy girl pecan pie - but no one will ever know it but you because its just so good. This pecan cobbler is full of our favourite pecan pie flavors and I spike this one with a bit of bourbon which is optional but a great add in cause bourbon and pecan were sort of made for each other. Serve this up with vanilla ice cream or for a "ligther" option a dollop of pillowy vanilla whipped cream. The recipe can easily be doubled to feed a crowd. You are welcome!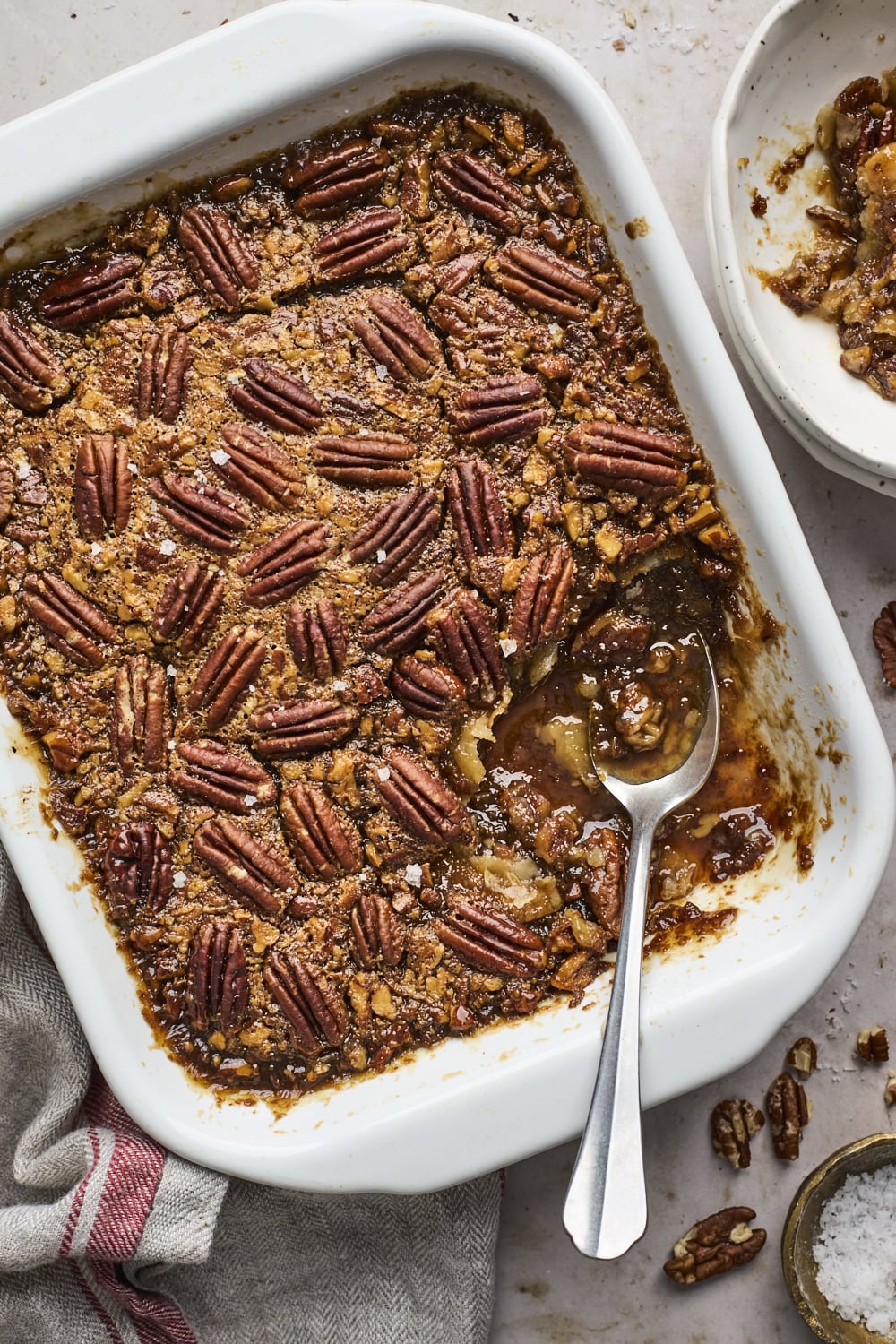 Ingredients for This Pecan Pie Cobbler
Pecans - I use pecan halves in this recipe and chopped pecans. Feel free to use walnuts instead for a walnut version. I usually use what is on sale 
Butter - I use unsalted butter for the filling 
Pie Crust - I like to use store-bought pie crust for this recipe because it makes it even easier and quicker to whip up but feel free to make your own if you have your own favourite pie crust recipe. If you are making your own make sure to really roll out your pie crust thin for best consistency. A simple all butter pie crust will work - x'2. You will have loads of scraps but you will need more than one single pie crust unless you double the recipe and make a large 9x13 size pecan pie cobbler then you will use the full amount of the 2 pie crusts with a lot less scraps. If you are looking for a recipe for 2 all butter pie crust I have a good one on the blog I use all the time - grab it here. If using store bought frozen - (the type I recommend for this recipe if using storebought) make sure to thaw in the fridge and only take it out of the fridge and package when ready to use it otherwise it gets stickier to work with. (I like to store any pie crust scraps in the freezer to make cutouts for my pies - so not to waste them) 
Corn Syrup - it's a classic ingredient in pecan pie - feel free to use dark corn syrup or light corsyrup. If you would prefer to make this pecan pie cobbler without corn syrup you can substitute it with Maple Syrup, Cane Syrup, Honey, Brown Rice Syrup, Agave Nectar. You can't make this pecan pie cobbler without one of those ingredients. Be sure to use something that you like the flavour of because it will be pronounced in this cobbler - ie if you don't like maple syrup chose a more neutral tasting alternative because you will definitely taste the maple syrup 
Bourbon - this is a bonus ingredient which is perfect with pecan pies - love the hint of flavour it adds but feel free to leave it out - no need to substitute it with any thing 
Vanilla Extract - the back bone of flavour in all baked goods - at least I think so - use pure vanilla extract for best flavour 
Corn starch or corn flour - I have made this cobbler with and without the cornstarch and the pie sets well with or without it - I add just a touch of corn starch to set the filling a bit more than usual - making it slightly less gooey and slightly easier to spoon out - so it's according to how you want to enjoy this dessert - there is definitely nothing wrong with a gooier pecan pie cobbler - so feel free to leave it out
Eggs - make sure they are room temperature so that they get incorporated into the filling evenly 
Brown sugar - helps in adding sweetness and caramelizing the pecan pie cobbler 
Extra add ins: a great way to make this even more decadent is adding some chocolate chips or toffee bits to this pecan pie cobbler - ½ if you decide to add some stirred into the pecan mixture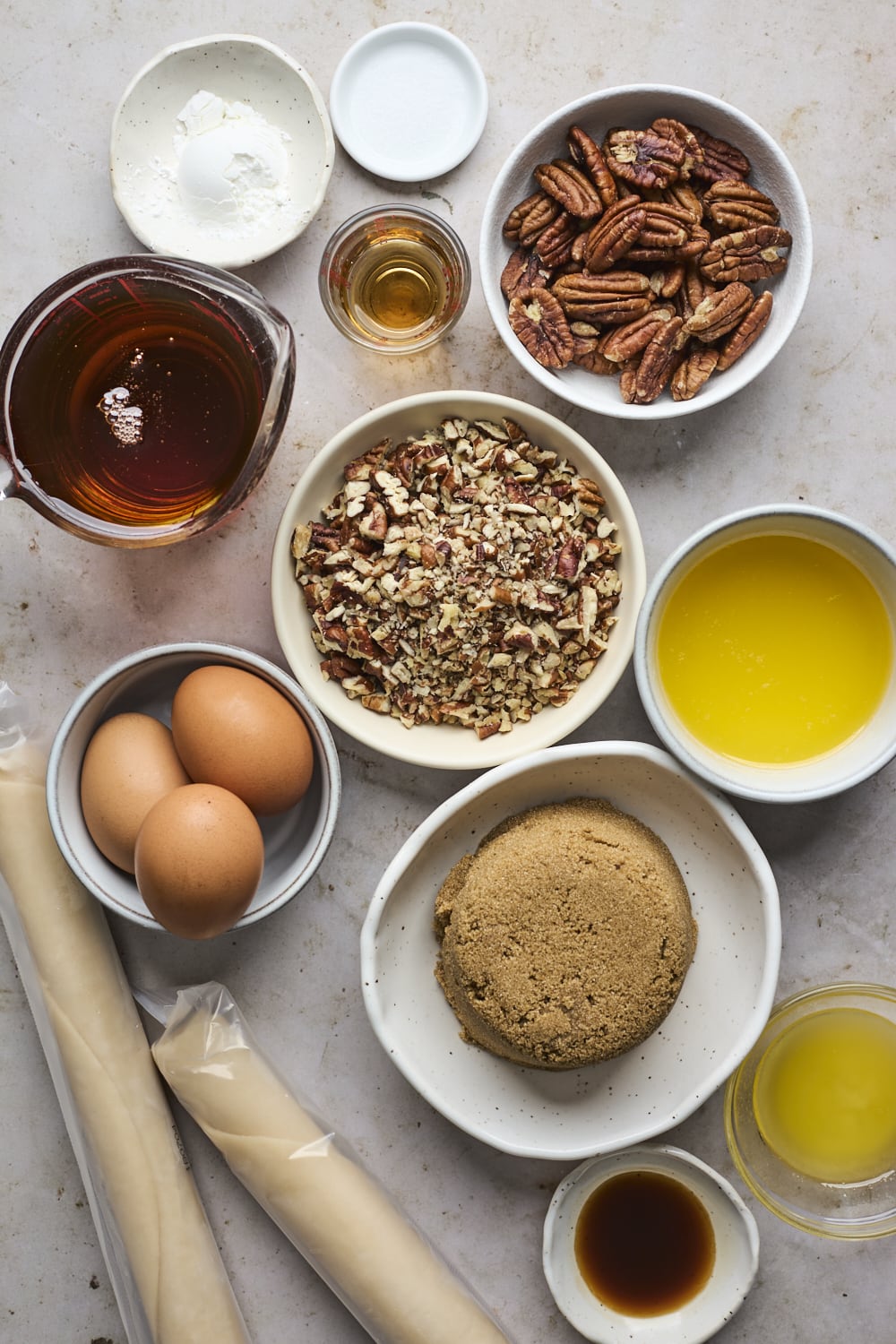 How to Make This Easy Pecan ie Cobbler with Pie crust
There's really nothing finicky about making this pecan pie cobbler other than trimming the pie dough to fit your pan and even that doesn't have to be perfect - in fact I use the bottom side of the pan as my measuring tool and trace around it (or sort of around it) - it doesn't have to be perfect - that is the best part about this dessert. Same flavours and all the things you love about a pecan pie with way less effort! Here are the simple steps to making a very tasty pecan pie cobbler:
Prepare the 'Filling" - Whisk together the eggs, melted butter sugar, vanilla, corn syrup, cornstarch if using and bourbon if using until well combined. Stir in the chopped pecans leaving the halves to top the cobbler with later
Roll out the one pie crust and fit into pan trimming the edges to fit along the bottom of the pan 
Pour ½ of the filling into the baking pan over the base crust 
Roll out the second crust and trim to fit over the filling in the pan, brush top with remaining melted butter 
Transfer to oven and bake until top crust is lightly golden brown 
Carefully remove hot baking dish from oven and turn DOWN oven temp.
Pour over the remaining pecan pie mixture and sprinkle over the pecan halves or place them in a pattern on top of the filling 
Place back in the oven and continue baking at reduced temperature for another 20-30 minutes or until set 
Once done remove from oven and wait a few minutes to allow it to set and cool slightly before digging in and serving with whipped cream or vanilla ice cream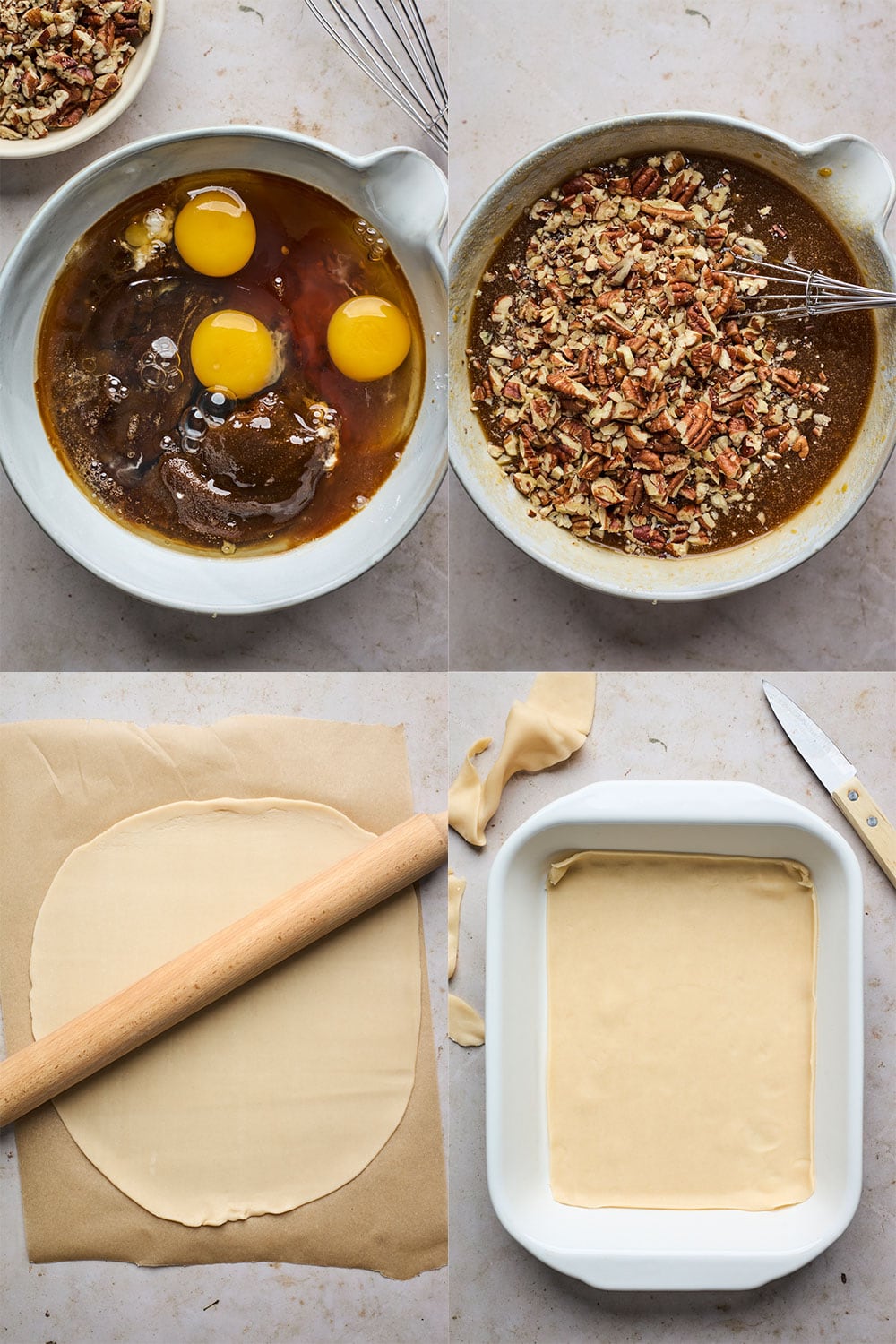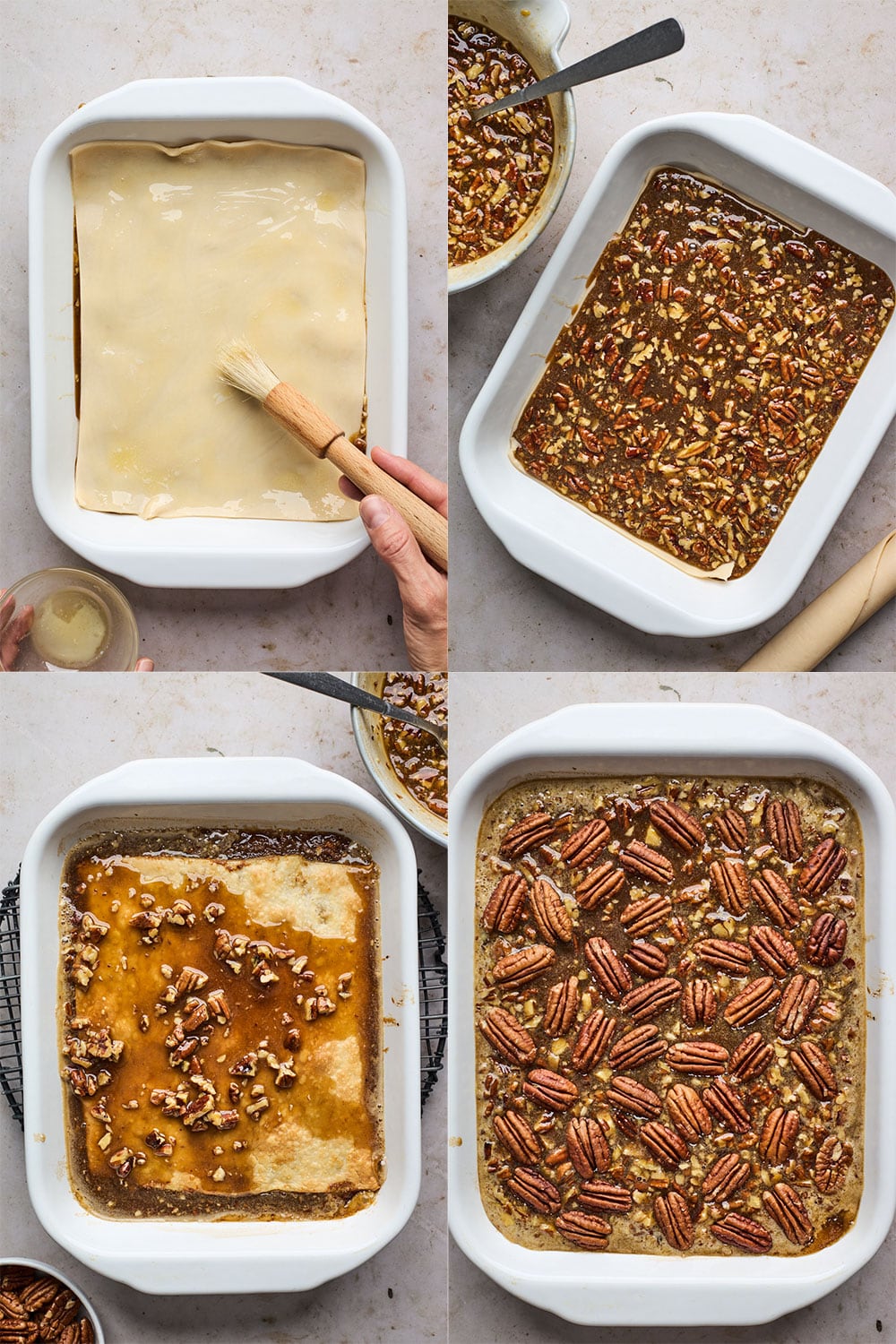 Storage
This is the kind of dessert that tastes best when you make it. Leftovers though if any, can be stored in the fridge wrapped tightly or in an airtight container for a couple of days and reheated in the microwave.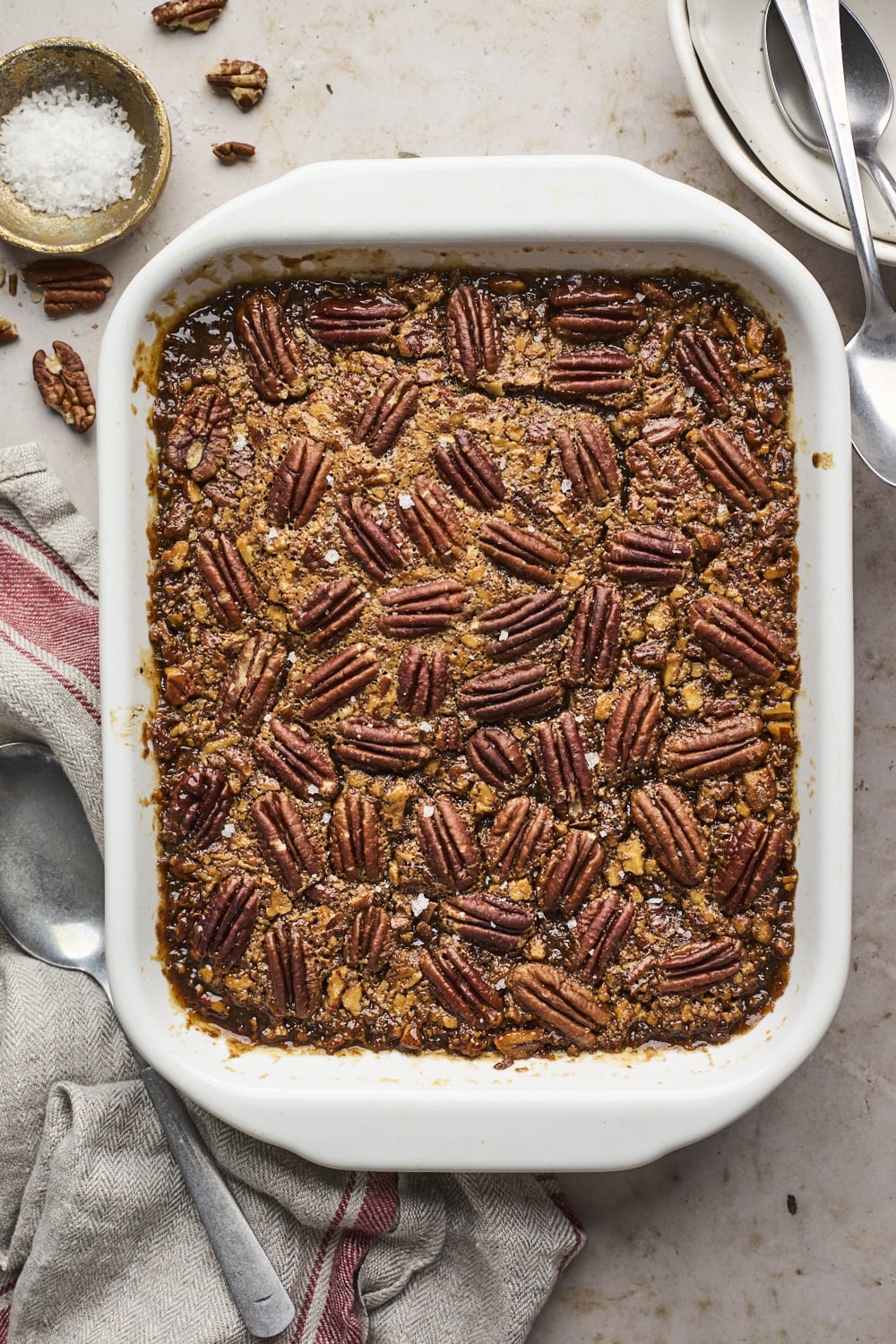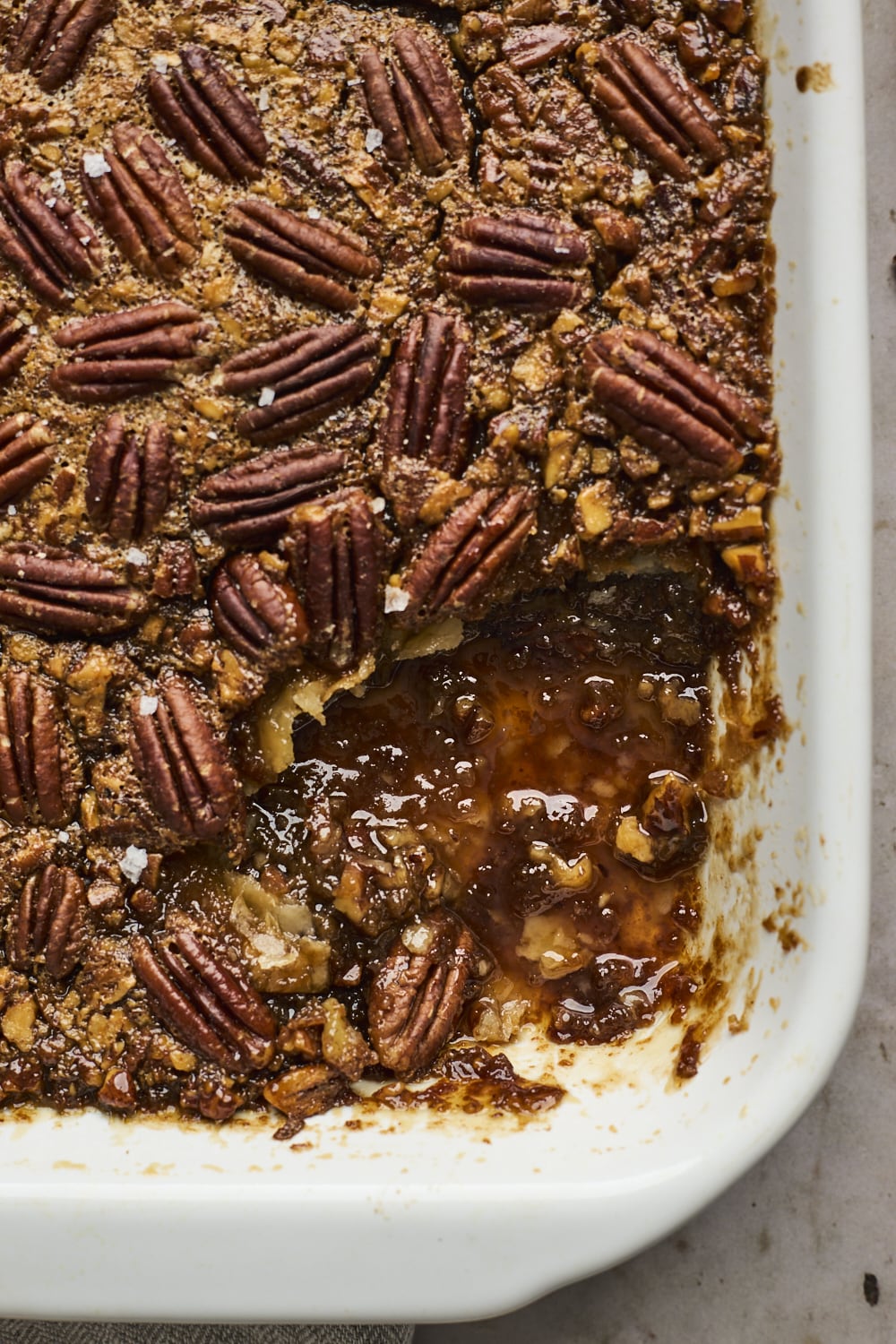 More Sweet Treats I know you will love:
Recipe
Servings:
one 8x8 pan (can easily be doubled)
Prep Time: 15 mins
Cook Time: 45-50 mins
Ingredients
2 rolled refrigerated pie crusts (2 come in a package)

1 teaspoon cornstarch or corn flour

1 tablespoon bourbon (optional)

1¼ cup brown sugar 

¼ cup butter, melted and cooled slightly, plus 1 tablespoon 

1¼ cup corn syrup, (light corn syrup dark corn syrup) 

3 eggs 

2 teaspoons vanilla extract 

½ teaspoon salt 

1 cup chopped pecans 

½-¾ cup pecan halves 

Flaky sea salt - for sprinkling (optional) 
Directions
Pre-heat oven to 425°F (you will lower to 350°F after baking the first layer).
Grease the bottom of the dish with non-stick spray. I used a 8x8 casserole dish or glass baking dish. (Double recipe for 9x13).
In a large bowl with a wire whisk, whisk together the brown sugar, corn starch, ¼ cup melted butter, corn syrup, eggs, bourbon if using, and vanilla extract until well combined. Then Stir in 1 cup of chopped pecans an set aside. 
Roll out one pie crust/pastry on a clean work surface into a square shape and place it in the dish, trim edges into a rectangle or square to fit the pan. It does not have to be perfect and it's ok if it comes up the sides a little but not all the way up on the baking dish. 
Stir the pecan filling to agitate it and spoon HALF or pour out half of the pecan mixture over the pie crust/crust lined dish.
Roll out the second pie crust thin and trim to fit the pan and place crust on top of the mixture. Brush remaining 1 tablespoon of melted butter over the crust or spray crust then transfer to oven and bake for approximately 14-16 minutes or until the crust is light golden brown.
Carefully remove from oven and turn the oven temperature DOWN to 350°F.
Stir the remaining pecan pie mixture to agitate a bit and pour the rest of it over the cooked crust. Add the ½-¾ cup of pecan halves to the top of the cobbler in a pattern/decorative fashion or just sprinkle them over 
Carefully return the hot baking dish to oven again and bake for an addition 25-30 minutes at 350°F or until the top has set with a very slight jiggle in he middle. 
Once done remove from oven and allow to cool on wire rack 15-20 min or wait until it comes to room temperature then serve with vanilla ice cream and a sprinkle of flaky sea salt if desired. I prefer it warm and gooey!
Recipe Notes
Check out blog post for more details about the pie crust - but I wanted to make a note that two pie crusts are what you will need for the 8x8 pan and also if you are doubling the recipe. Unfortulaly the 8x8 will require more than 1 pie crust even if rolled out thin and cut in half - it will be too thin - so you will have quite some scraps after trimming them - just an FYI