Easy Pecan Pie Bars
Updated 16th Oct 2021
This is a wonderful and easy recipe for pecan bars that includes a simple shortbread bottom and a one bowl mix & pour topping loaded with pecans. This tasty dessert recipe is from The Bite Me Balance Cookbook. I was happy to review Julie Albert and Lisa Gnat's newest cookbook and i thought you guys would love this recipe as much as I do that is why I chose to highlight this one out of the 138 original recipes from book.
Why you will love these Pecan Pie Bars:
They are so easy to make. I love a classic pie but if you are looking for a way to enjoy pecan pie without the fuss of pie crust to chill and roll, these are the tastiest option. So much easier than baking an entire pie
The shortbraed crust is tender and buttery and just sweet enough- also so simple to make
The pecan pie topping is just like a pecan pie; crunchy with just the right amount of gooeyness
A tasty and fun alternative to pie and perfect for a crowd or for freezing to enjoy at a later date.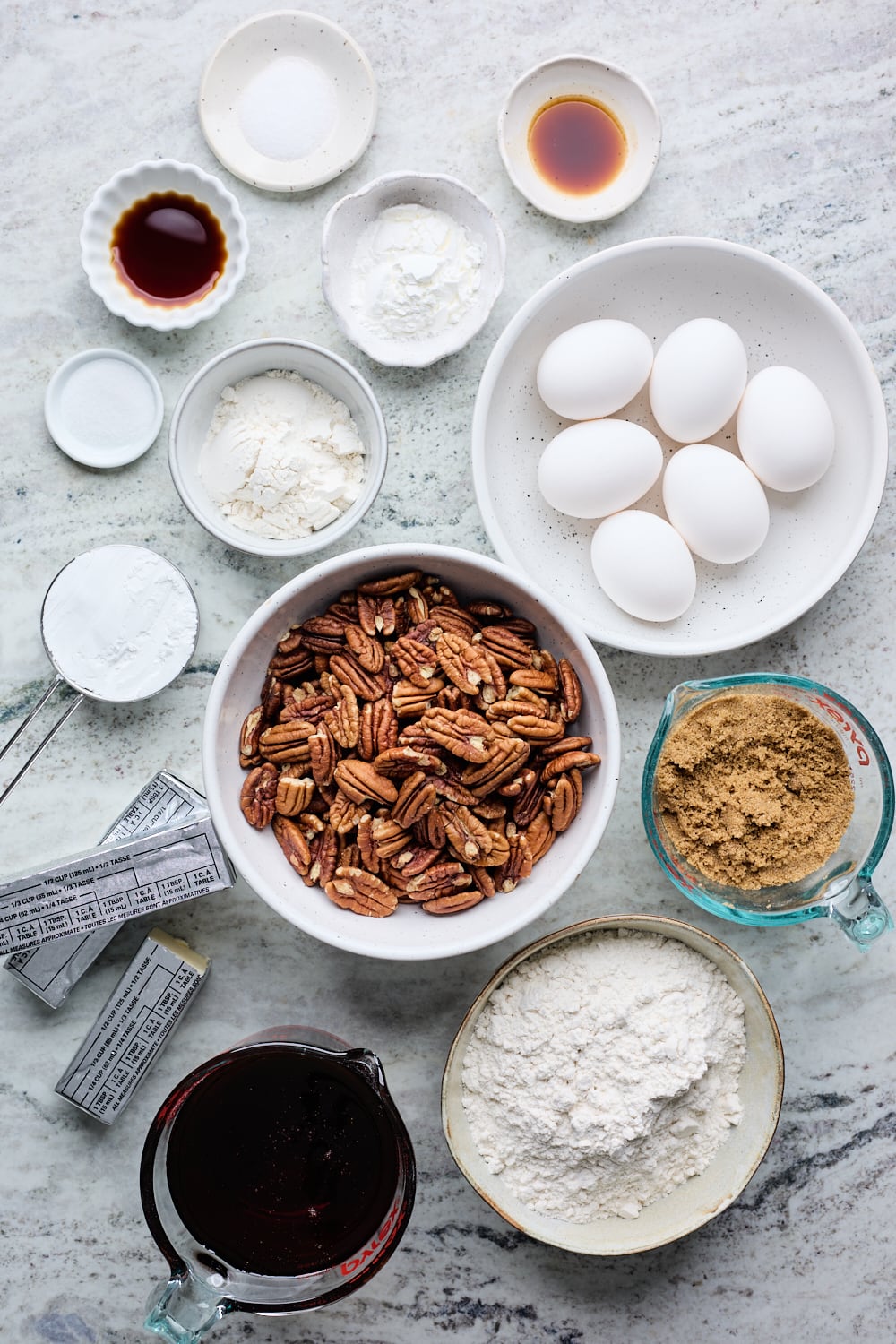 The book is full of very approachable recipes that are perfect for everyone from amateur to the well seasoned home cook. The ingredients are fresh and simple and the focus is on quality making each dish fabulous. The book highlights the importance of balance when it comes to healthy eating, something I am very much behind. I don't follow any particular diet (gluten free when it comes to pasta only and easy on the diary), ofcourse if your health dictates a certain diet that is a whole other story, but when it comes to regular day to day eating I'm very much about balance and making smart choices when it comes to what we put into our bodies but allowing some indulgence.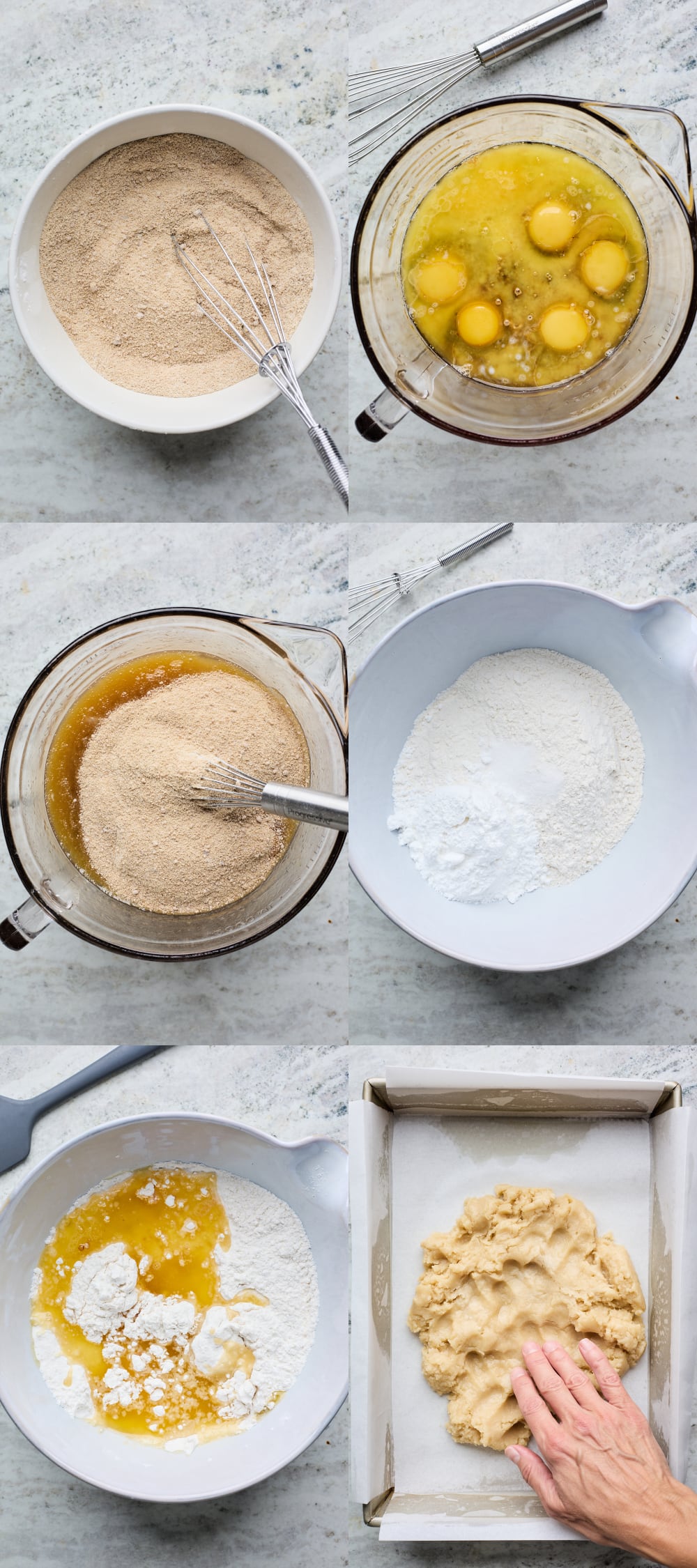 The ladies have coined a phrase that is a perfect reflection of their sense of humor - "Moderation is the granny panties of the diet world". They are not cool and trending but they do the job- (I said that) "It really comes down to a lifelong commitment to eating smarter and moving more" they add and I couldn't agree more. The book is filled with wholesome daily eats and delectable occasional treats like these delicious and easy pecan pie bars. The recipes are 75% healthy and 25% butter. The book itself is broken into four sections: Breakfast and Brunch, Lunch, Weeknight dinners, as Gatherings. The recipes are written clearly and in a concise manner. There are also tips included for each recipe along with some fun quotes along the way. It's well written and the photography is beautiful. It's bright and vibrant just like the personality of these two sisters.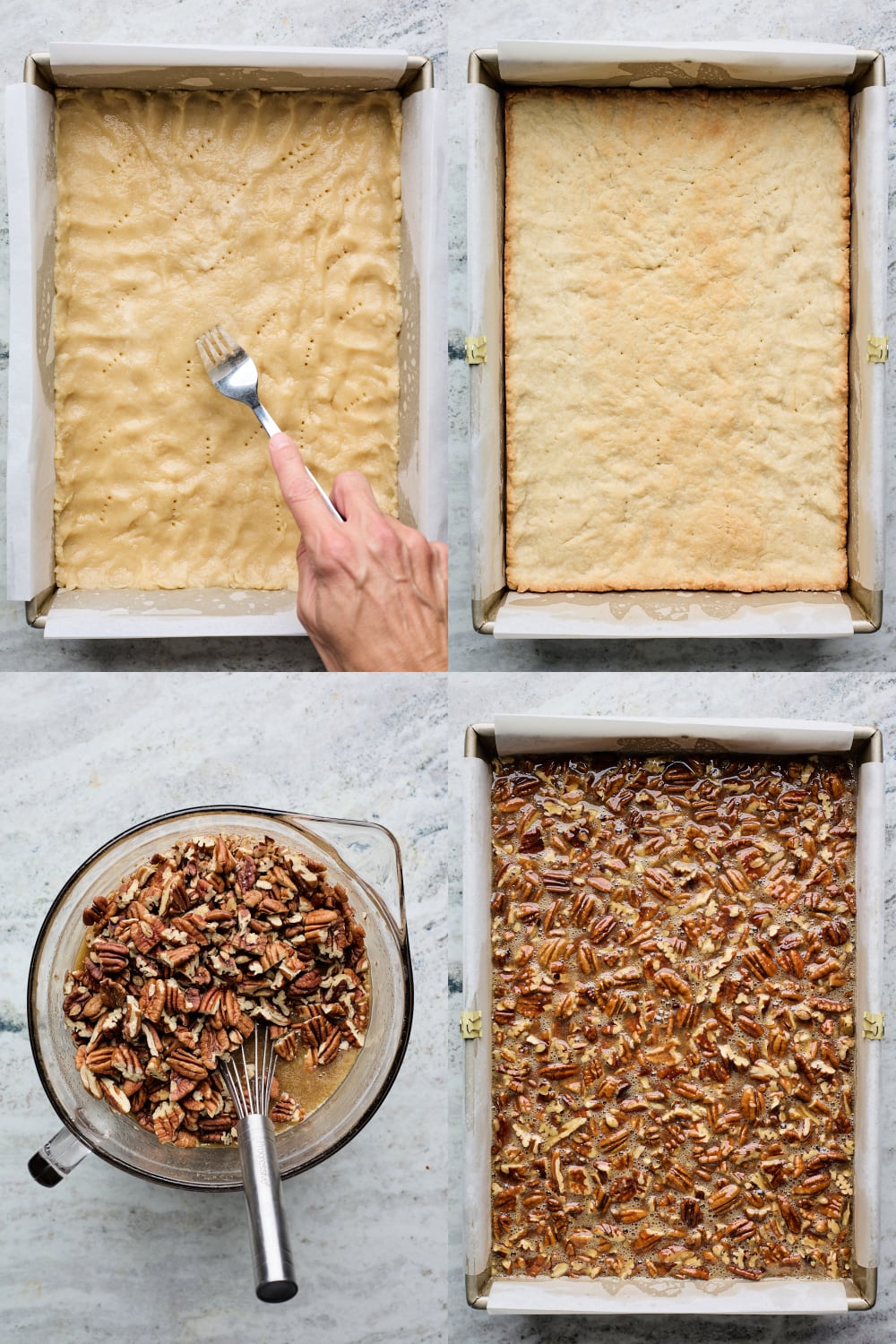 When it comes to these pecan pie bars - we can't get enough of them. They are the perfect make ahead treat and freeze very well too. They are way easier to make then a traditional pecan pie and make enough to share. These sweet, sticky, salty, crunchy and nutty bars are definitely a crowd pleaser and the best pecan bars we have made. The ratio of crust to filling and pecans is perfect and you really can't beat a recipe that comes to gather quickly and easily. This is one of the many delicious recipes in the Bite Me Balance Cookbook. From smoothies to Lisa's famous biscotti - there's something for every meal and everyone.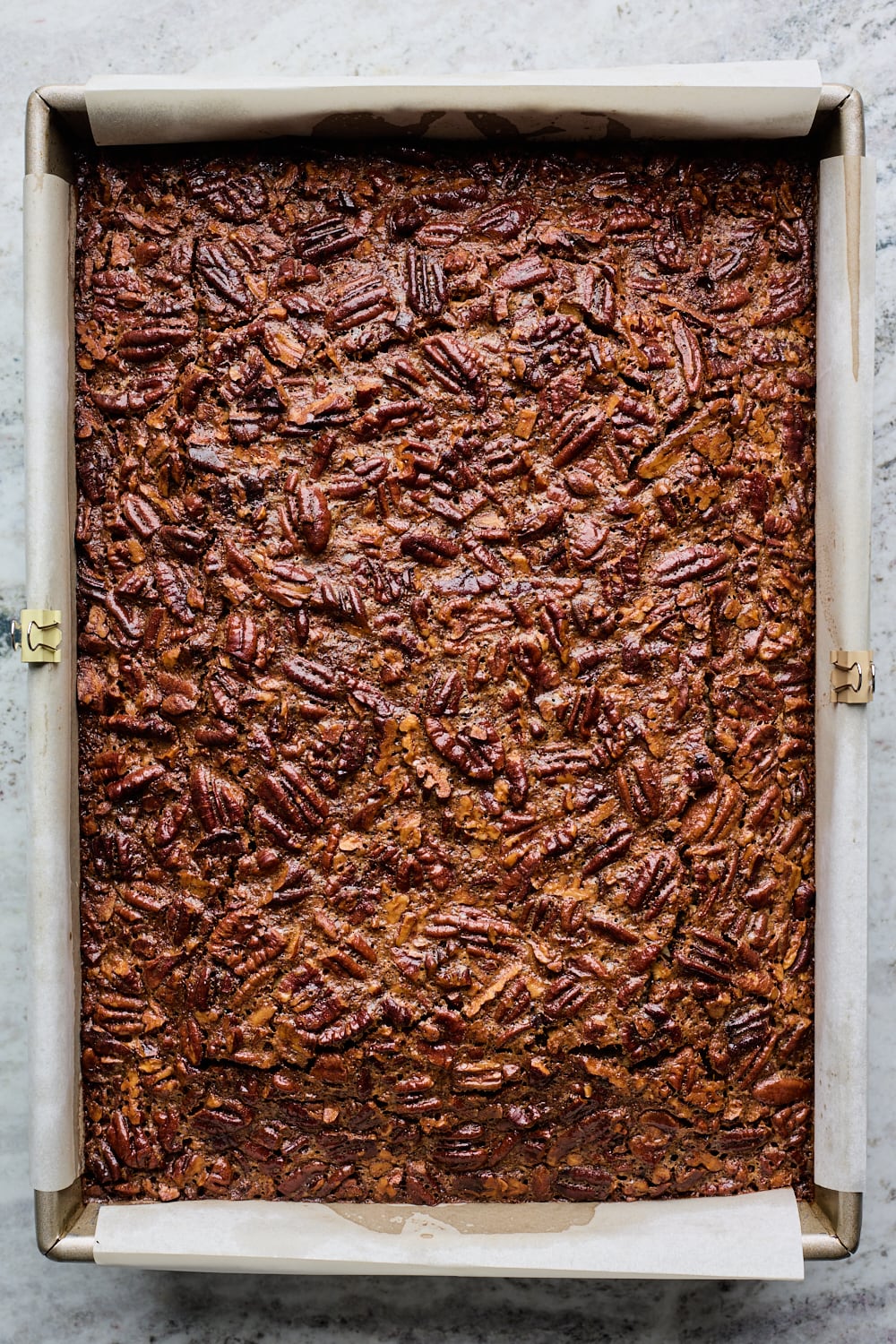 Easy Pecan Pie bar ingredients:
All Purpose Flour – This will be for the crust, as well as the filling.
Butter – The crust is a shortbread-style, so you will definitely need butter! I prefer unsalted but salted would add a delicious
Sugar – You'll need icing sugar for the crust and brown sugar for the filling
Corn Syrup – You can use light or dark, whatever you have on hand.
Eggs – 6 large eggs for the filling
Vanilla/Salt – Important for flavor
Pecans – pecans are definitely a must in pecan pie bars. You can buy the pre-chopped, or coarsely chop the pecan halves yourself.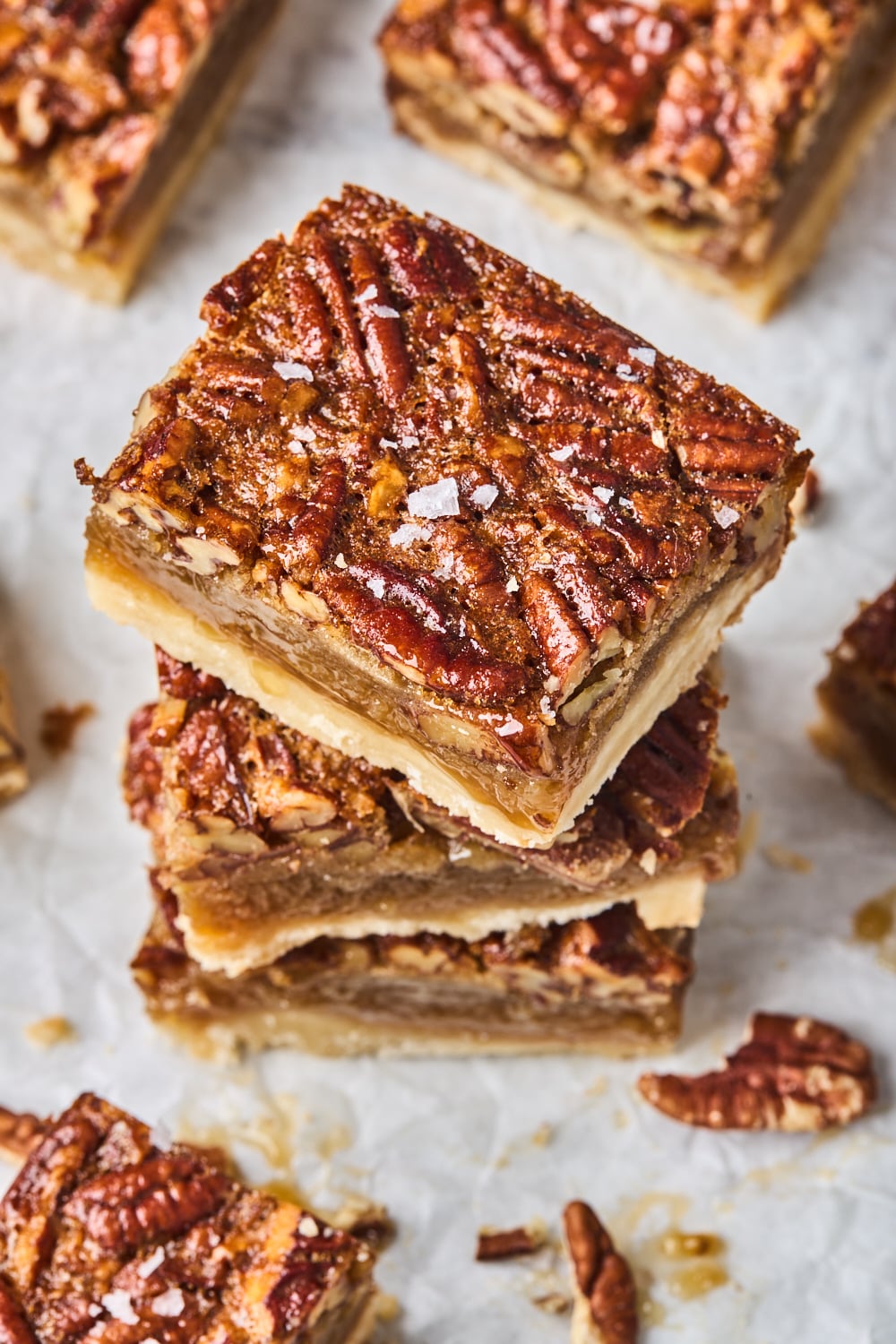 How to make these easy pecan pie bars
The filling is very similar to a regular pecan pie, except I use brown sugar instead of white because it brings some molasses for more depth of flavor. The shortbread base also needs to get pre-baked for a bit to set up. Just a few simple steps are required to perfect pecan pie bars:
First whisk together the dry ingredients in the filling, then the wet ingredient. Add the liquid mixture to the dry and mix until well combined. Set aside while you preheat oven and make crust this will give it some time to thicken up.
Whisk together the crust ingredients except the butter then drizzle in the melted butter and stir until combined. Empty into greased or lined pan and then press it into the base of it. Then bake.
As soon as the crust is out of the oven stir the pecans into the filling which should have thickened a little more by now. Then immediately pour into warm crust. Carefully transfer back into the oven and bake until set

Can You Make Pecan Pie Bars in Advance?
Yes the are perfect for making ahead. I usually make them the night before I am serving them, and leave them in the pan (uncut) and refrigerate. When I'm ready to serve them, I cut them up and arrange them on a platter. I like to use a serrated knife to slice through the pecans so they don't get pushed through the gooey part of the filling.
Do You Have To Refrigerate Pecan Pie Bars?
I do prefer to refrigerate Pecan Pie bars because it makes it easier to cut them up into nice pieces. You could leave them at room temperature and it will be fine, but the filling will get slightly soft. if you prefer them warmed up or served at room temperature taht is fine but store them refrigerated. Store airtight in the refrigerator for up to 4 days.
Can You Freeze These Pecan Bars?
You absolutely can either in the pan or individually For up to 2 months. Make sure everything is wrapped airtight before freezing. Allow it to thaw in the refrigerator or heat in a 300°F oven for about 20 minutes.
I have partnered up with the publishers to feature this great cookbook by the Bite Me More duo of Julie Albert & Lisa Gnat. If you would like to purchase their book you can visit their site. This was a sponsored collaboration, however all opinions are my own. Thank you for supporting Olive & Mango.
If you like this recipe you will love these:
Recipe
Servings:
Makes 25-30 bars
Prep Time: 20 mins
Cook Time: 65 mins
Ingredients
For The Pecan Pie Filling
1 cup brown sugar

5 tablespoons flour

3 tablespoons cornstarch

1 teaspoon kosher salt

6 eggs

2 cups corn syrup *

6 tablespoons melted butter

1 tablespoons vanilla extract

3 cups coarsely chopped pecan halves
For The Buttery Shortbread Crust
2 cups all purpose flour

½ cup icing sugar

1 teaspoon vanilla extract

½ teaspoon kosher salt

1 cup melted butter
Directions
Preheat the oven to 350°F. Coat a 9-by-13-inch baking pan with nonstick cooking spray and line with parchment paper, extending the paper over the edges for easier removal.
For the pecan filling, in a large bowl, whisk together the brown sugar, flour, cornstarch and salt until there are no lumps.
In a separate bowl, whisk together the eggs, corn syrup, melted butter and vanilla. Add the liquid mixture to the dry mixture and whisk until combined. Let the mixture stand while preparing the crust.
For the crust, in a large bowl, stir together the flour, icing sugar, vanilla and salt. Add the melted butter and stir until combined. Press the dough onto the bottom of the prepared pan in an even layer. Poke the crust with a fork 5 or 6 times in different locations to prevent air bubbles. Bake the crust in a preheated oven for 20 minutes, until golden.
Stir the pecans into the pecan filling and pour the filling evenly over the crust. Bake at 350°F for 45 minutes until the filling is just set; the centre should be a little wobbly but not runny. Cool completely on a wire rack, refrigerate and chill at least 2 hours before cutting.
Store airtight in the refrigerator for up to 4 days.
Recipe Notes
* Light or dark corn syrup can be used; the dark syrup gives more colour and a deeper flavour.
It's very important to let the mixture stand for about 15 minutes while the bottom layer pre-bakes. This gives the flour time to soften and help thicken the top layer. You also do not need the bottom layer to cool before pouring in the filling. Pour on the topping while the crust is still hot.
Cutting these without crushing the layers can be tricky. The key is to break through the pecan layer first then the rest is wash. To do this I use a sharp serrated knife to help cut or saw through the pecans. Once you have cut through those gently cut through the two other layers evenly. Then cut one entire row off at a time and then cut each row separately into whatever size slices you prefer.
To make these pecan chocolate chip bars simply stir in 2 cups of chocolate chips to the filling