Chocolate Hazelnut Saltine Toffee
Chocolate hazelnut saltine toffee - toffee made from saltine crackers and chocolate and chocolate hazelnut spread (nutella) - aka or better known as 'crack' for its super addictive quality. This is really lethal stuff and I strongly recommend making this to share - like get it out of the house otherwise you will find it quickly disappearing - you won't have much control over it - you will just keep going back for more and more. I love to make this with Nutella but it can be made with peanut butter or any nut or seed butter or if you are more of a purist you can just do chocolate - it will still be just as delicious and addictive. It's got all the things I love - a bit of sweet a bit of crunch a bit of salty all in one - the perfect treat. I like to top it with toasted hazelnuts and a sprinkle of flaky salt to cut through the richness. My husband says it tastes like a Skor bar but better and I have to agree. It takes minutes to make but it does take 1-2 hours to fully set so plan accordingly if making ahead. It's worth the wait!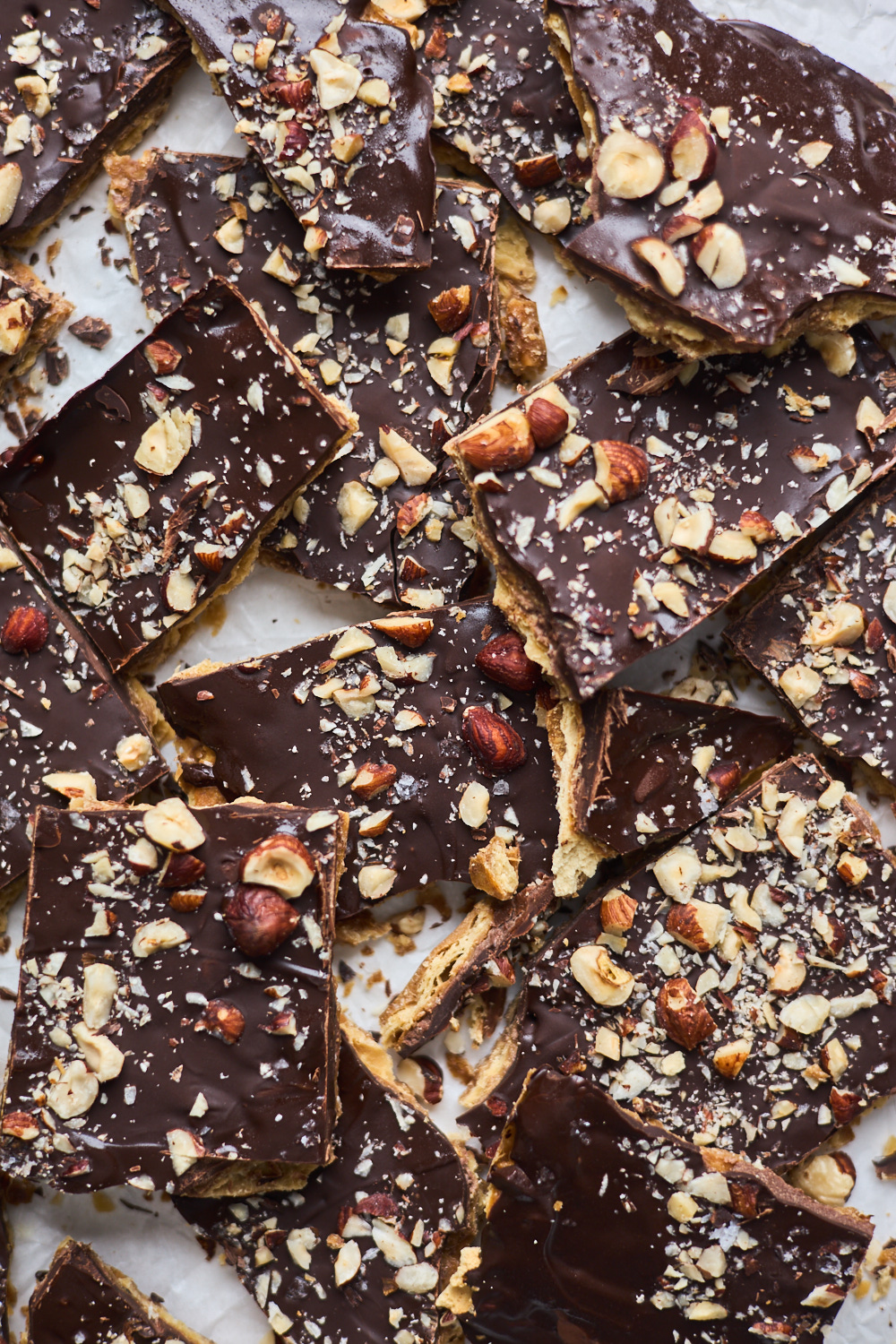 Four layers of deliciousness:
Layer #1: You guessed it's the Saltine crackers. Line them up on the base of a prepared sheetpan in a single layer. You can also use Ritz crackers or graham crackers, or other plain, salty crackers you have on hand. Some have even used pretzels.
Layer #2: Toffee is the second layer and it's made by boiling the sugar and butter until golden amber. It's drizzled all over the crackers and baked for a few minutes until nice and bubbling.
Layer #3: this layer is a combination of chocolate and chocolate hazelnut spread or nutella. First dollop and spread nutella over the bubbling toffee then sprinkle over  the chocolate chips or chopped chocolate, which is melted and then spread evenly or swirled through the Nutella.
Layer #4: Top with chopped toasted hazelnuts for extra crunch and a bit of flaky sea salt to balance all the sweetness.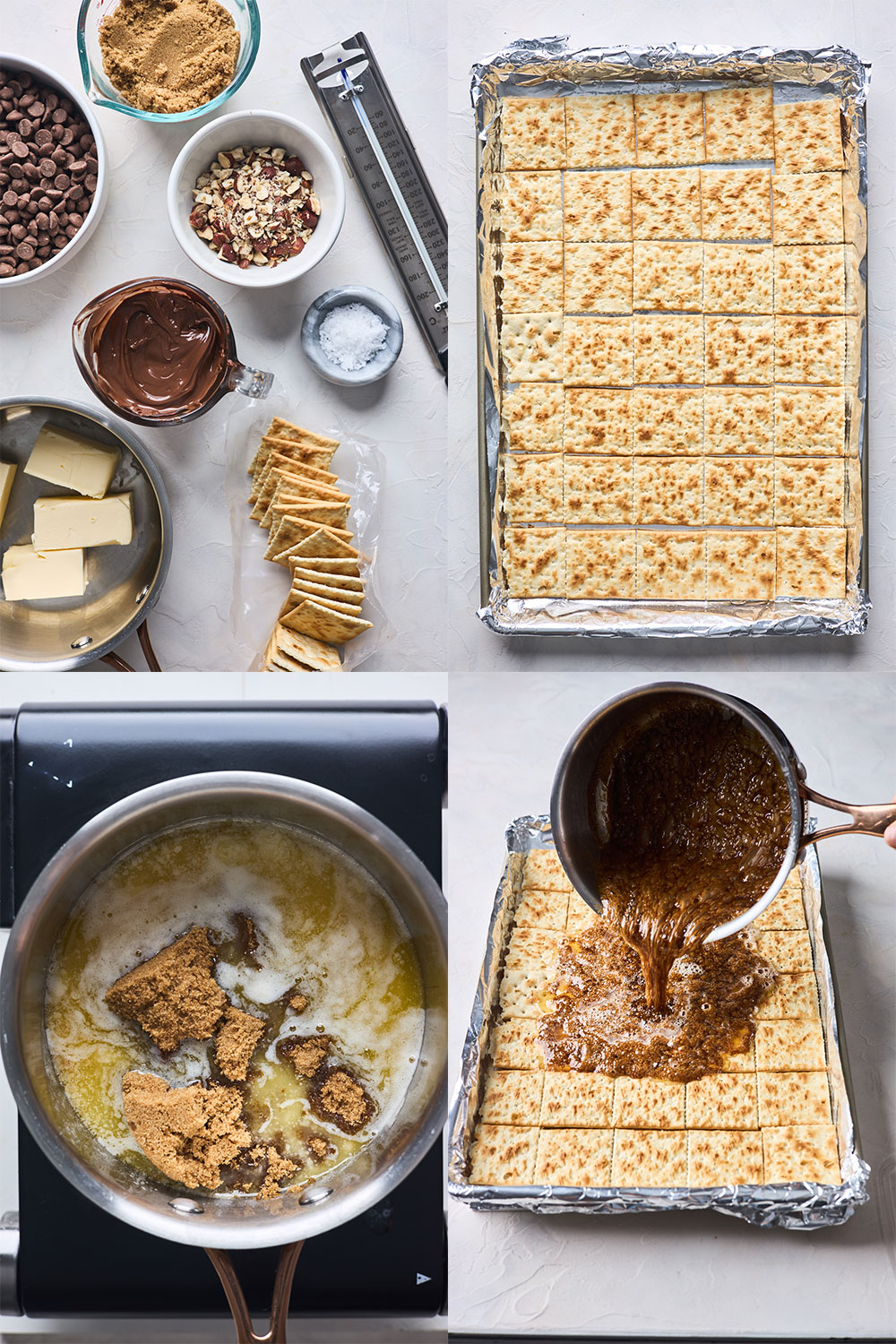 Chocolate hazelnut saltine toffee Ingredients:
This tasty snack is made with pretty simple pantry items - 6 to be exact and is fairly easy to make. Here is a bit more about the ingredients and substitutions:
Saltine crackers: I like to use the salted ones but plain or salted is fine in this recipe. You can also use Ritz crackers or graham crackers, or other plain, salty crackers you have on hand. Some have even used pretzels.
Butter: I use unsalted so you can control the amount of saltiness in this recipe a little better. I have not tried this recipe with vegan butter but I don't see why it wouldn't work.
Sugar: I always use brown sugar but coconut sugar will also work.
Nutella: you can use any chocolate hazelnut spread you like - I just always have Nutella in my pantry. You can replace it with peanut butter or any nut or seed butter or go nuts and use some cookie butter too. You can also just omit it if you want a plainer more pure chocolate toffee treat.
Chocolate: chocolate is a must and you can use any chocolate you like - milk, dark, semi sweet, white chocolate or a mixture of them too. I have more to say about this in the next paragraph - it is a lot so it deserves it's own paragraph
Hazelnuts: I love to add something nutty over top and it only seemed appropriate to add some toasted hazelnuts to this version of toffee. But you could add sprinkles or leave it plain too.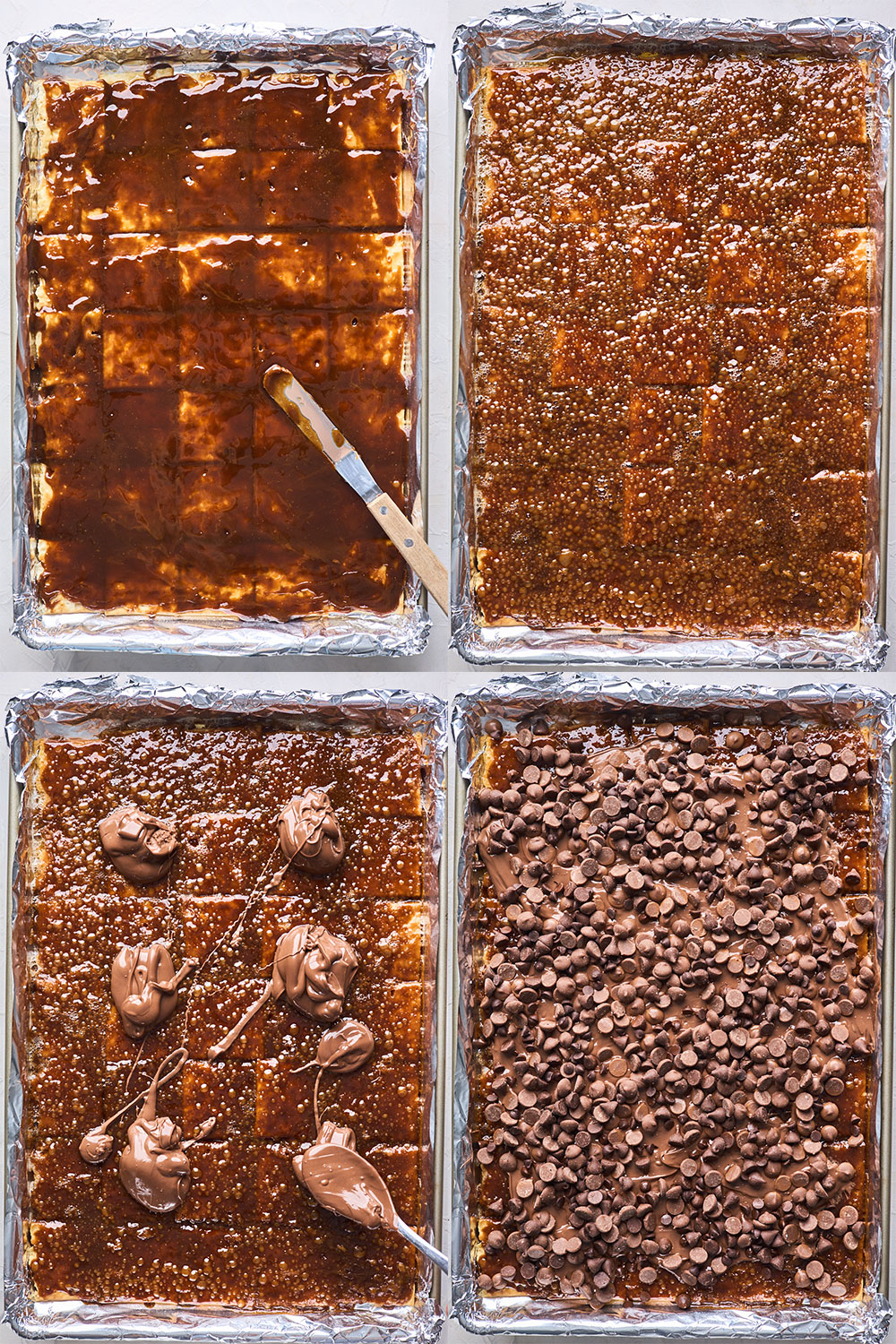 What kind of chocolate should I use for this saltine toffee bark?
The direct answer is any chocolate BUT… not all chocolate is equal. I found that using baking chocolate or good quality chocolate always melts better and more evenly and gives the bark a better flavour. I usually use whatever I have on hand (it's a great way to go through all your half bags of chocolate chips and half bars of baking chocolate). I find that chocolate chips don't melt as well and don't create as much of a smooth looking texture to the chocolate layer. Chocolate chips are made to retain their shape. They don't melt as easily as baking chocolate or other types of melting chocolate because they contain less cocoa butter than those chocolatey items. That being said I use them all the time and the saltine toffee treat tastes phenomenal no matter what kind of chocolate you use. And as for dark or milk or semi sweet - my preference is always dark chocolate but you should use what you like. I found that the dark chocolate masked the flavour of the Nutella a bit whereas in the semisweet chocolate version I could definitely taste it more.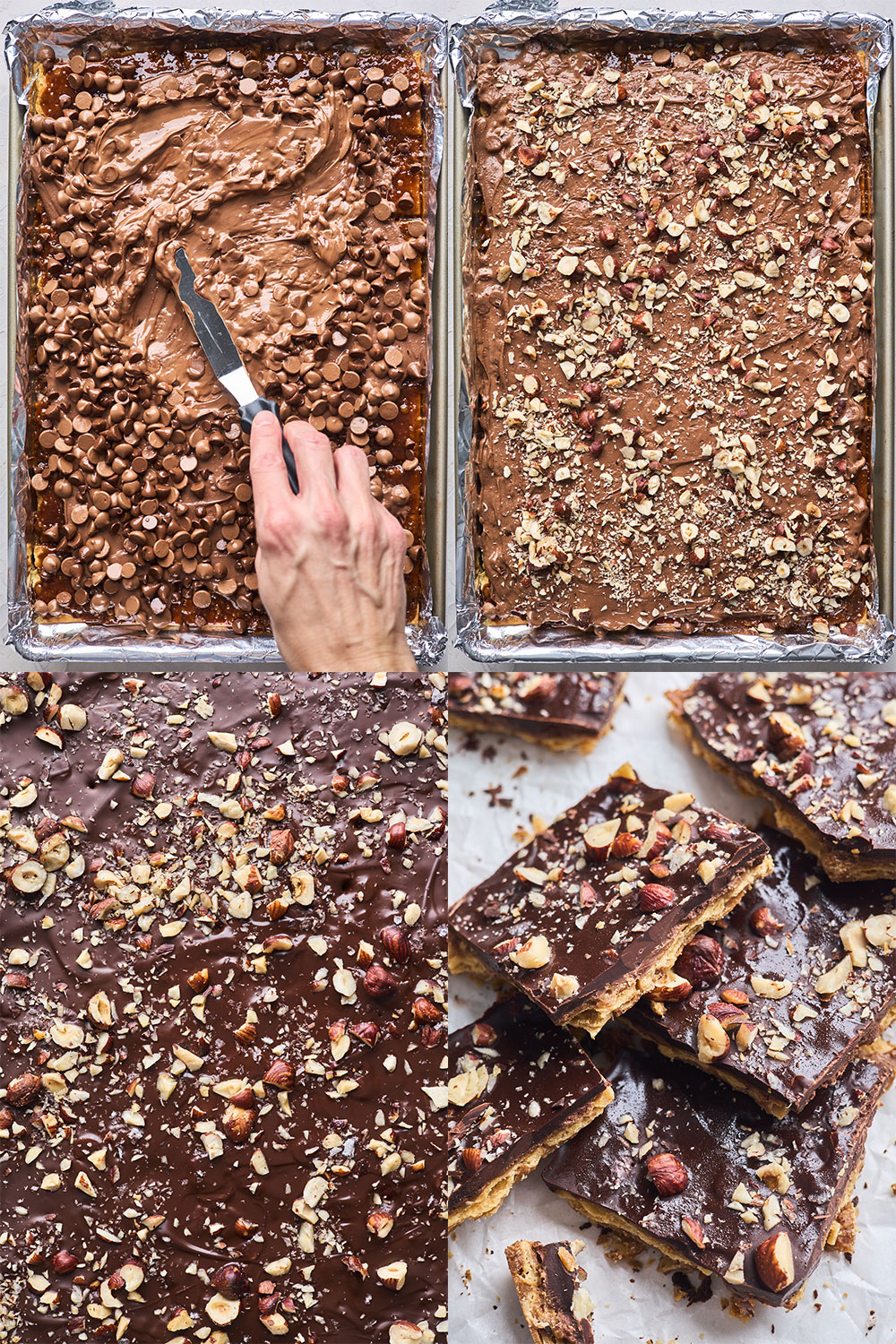 Chocolate saltine toffee making TIPS:
Keep your eye on the toffee while boiling. Make sure you boil it for 3 minutes (set a timer if needed) so it doesn't burn. I recommend using a candy thermometer to take the stress off but you don't need one to make this toffee treat. (A candy thermometer is one of those kitchen tools that you almost never use or need until you do and then you wish you had one - it's a pretty cheap investment and doesn't  take up too much drawer real estate)
The better the quality of chocolate you use the better result - if using baking chocolate or whole bars make sure to chop it evenly and fine.
If you don't like Nutella just leave it out or swap it with peanut butter or any other nut or seed butter.
Prepare everything else in advance: this recipe goes pretty fast once you get started so it's always best to have all your ingredients prepped. Once the toffee mixture is ready you'll need to pour it over the saltines quickly. Prep your baking sheet with the saltines on it and measure out the chocolate hazelnut spread and chocolate before getting started on the toffee.
Be very careful!!! The bubbling toffee and pans are super hot and the toffee can burn if spattered. Be careful when handling them and when pouring out the bubbling toffee - please!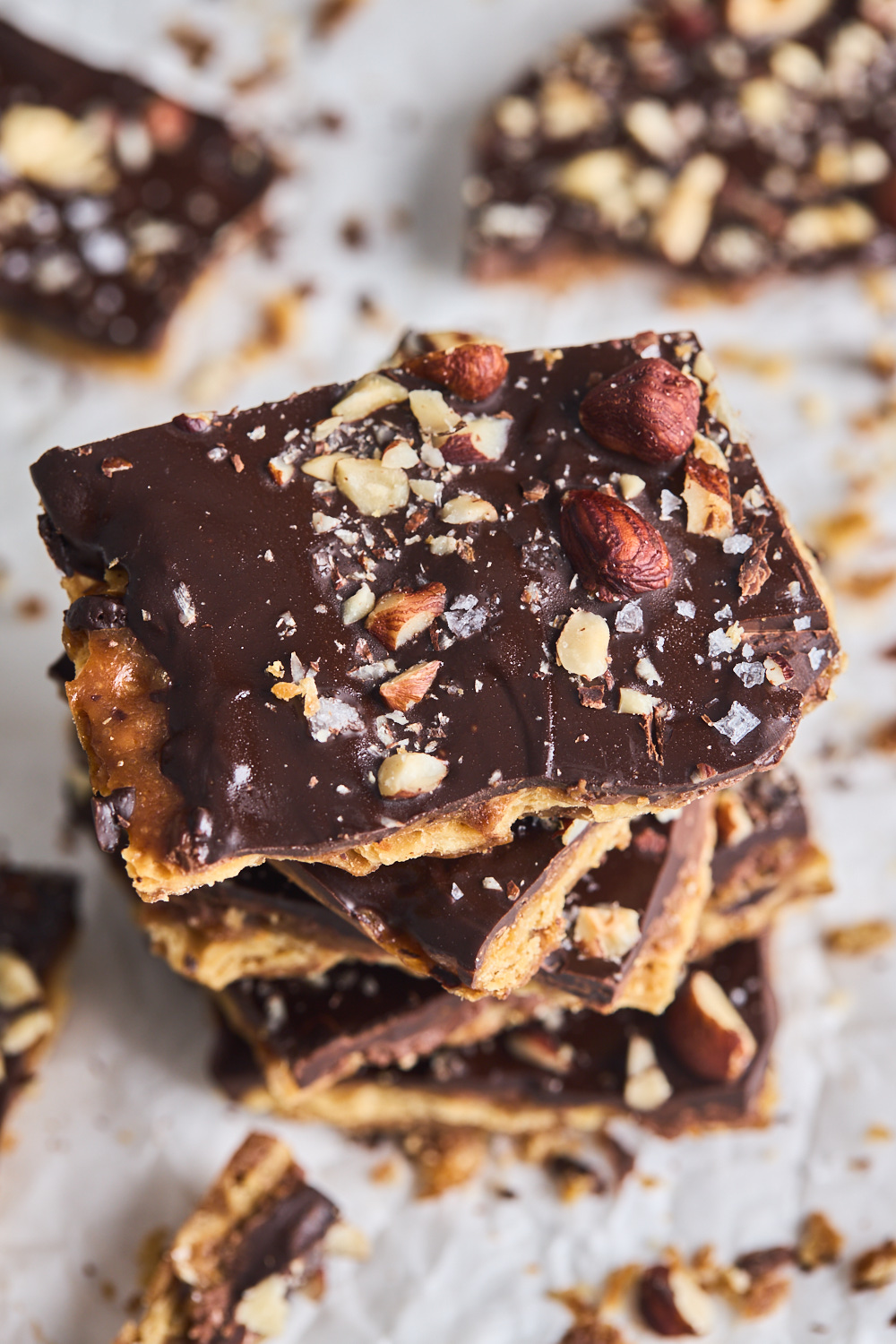 More treats I know you will love:
Recipe
Prep Time: 10 mins
Cook Time: 10 mins
Not active time: 1-2 hours to chill
Ingredients
one sleeve salted Saltine crackers (about 35–40 crackers)

1 cup unsalted butter

1 cup packed dark or light brown sugar

6 Tablespoons Nutella or your favourite chocolate hazelnut spread

2½ cups semi-sweet, dark, milk, or white chocolate chips or approx 12-14 ounces Chocolate (chopped fine if using whole chocolate bars)

optional: ½ cup chopped toasted hazelnuts and flaky sea salt for topping
Directions
Preheat oven to 400°F  Cover a 9×13 baking dish with foil. Spray with nonstick cooking spray or grease with oil. Arrange the saltines in one layer in the pan, leaving a little bit of room between each cracker, and set aside.
Stirring lightly, bring butter and brown sugar to a boil in a large saucepan. As it begins to boil, leave it alone without stirring for 3 minutes or until it turns an amber color and the temperature reaches 285°F.
Immediately and carefully pour boiling mixture evenly over crackers, then bake for 5 minutes.
As toffee bakes, warm nutella in microwave for 15-30 seconds to make pourable.
Remove toffee from the oven, then pour nutella over top. Smooth it into an even layer. Immediately sprinkle chocolate chips or chopped chocolate on top, then return the pan to the oven for 1 minute to help chocolate chips melt. Remove from the oven and spread chocolate chips into one melted chocolate layer.
Top with chopped hazelnuts and some flaky sea salt and refrigerate toffee for 2 hours. Once set, break into pieces.
Recipe Notes
Make Ahead & Freezing Instructions: This toffee tastes wonderful for up to 2 weeks, so make it ahead and keep it covered tightly in the refrigerator. It freezes well too– up to 2-3 months. Thaw overnight in the refrigerator then enjoy.