Peppercorn Roasted Beef Tenderloin
This Peppercorn Roasted Beef Tenderloin is melt-in-your-mouth tender. Pair it with a creamy horseradish sauce or simply enjoy it with the delicious pan juices for an unforgettable dinner. It's the best way to spoil your family with a special dinner. It's a cut of meat that everyone who eats meat enjoys for how tender and delicious it is and surprisingly fool proof and easy.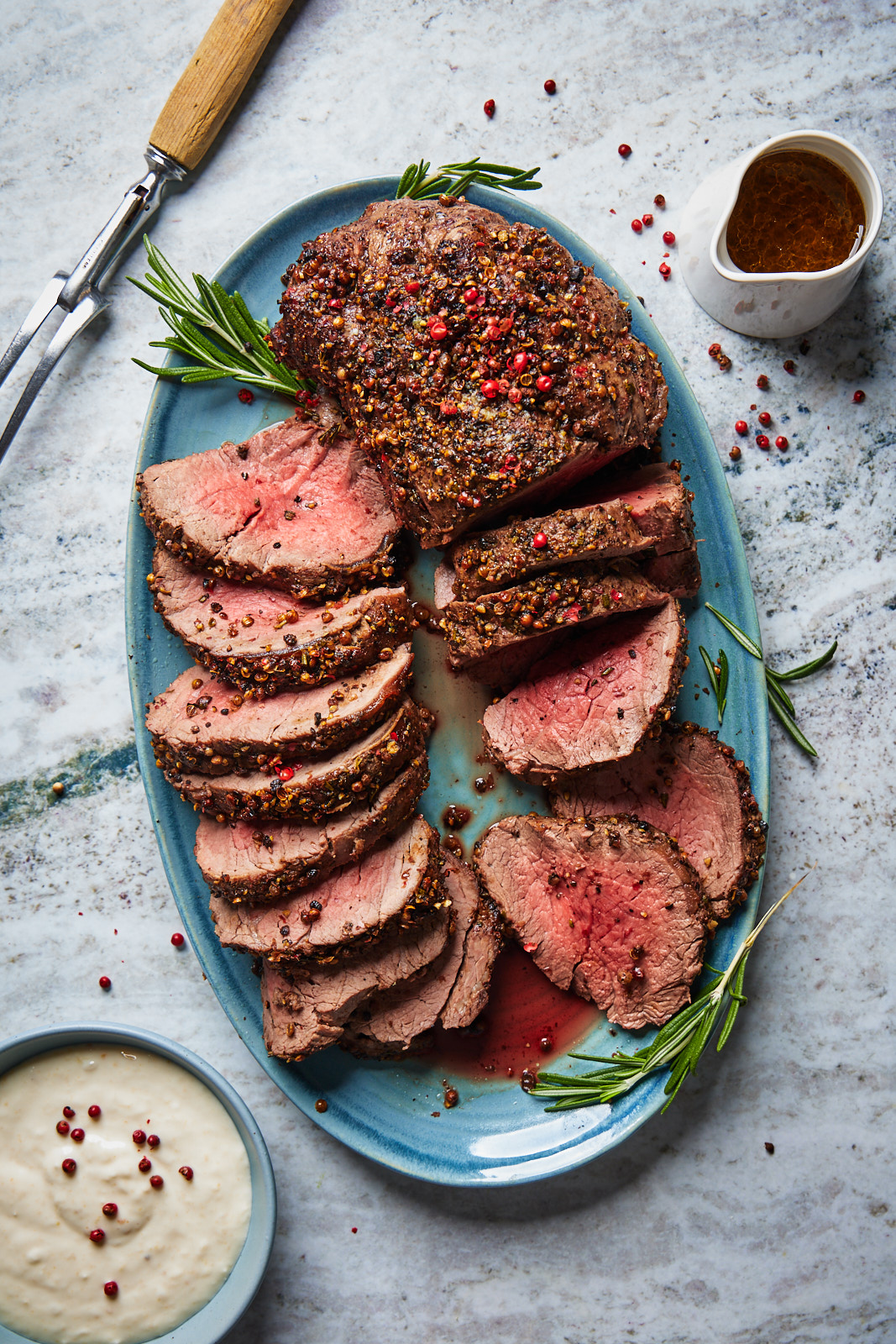 This Beef Tenderloin is so easy to make by simply roasting it in the oven and the tenderness can't be beat. Even the leftovers stay mouthwateringly tender when reheated. To infuse the tenderloin with delicious flavors, it is crusted with a peppercorn spice rub. There are loads of recipes out there that call for different techniques like slow roasting then broiling it, or searing it stovetop before roasting. I'm sure they all yield a beautiful piece of meat but I wanted to share my go to simple recipe for beef tenderloin. It's perfect every time and so easy. It's also quite predictable - I'm always nervous of over searing or broiling too long or to late in the game - which would cause the tenderloin to be over cooked and dry and essentially ruined.  This recipe is based off of a Food Network recipe and I use it as a basis for cooking my beef tenderloin.  I often switch up the flavour of it - adding different herbs and spices to it or using some mustard to coat it too or an herb butter, but the rest stays the same.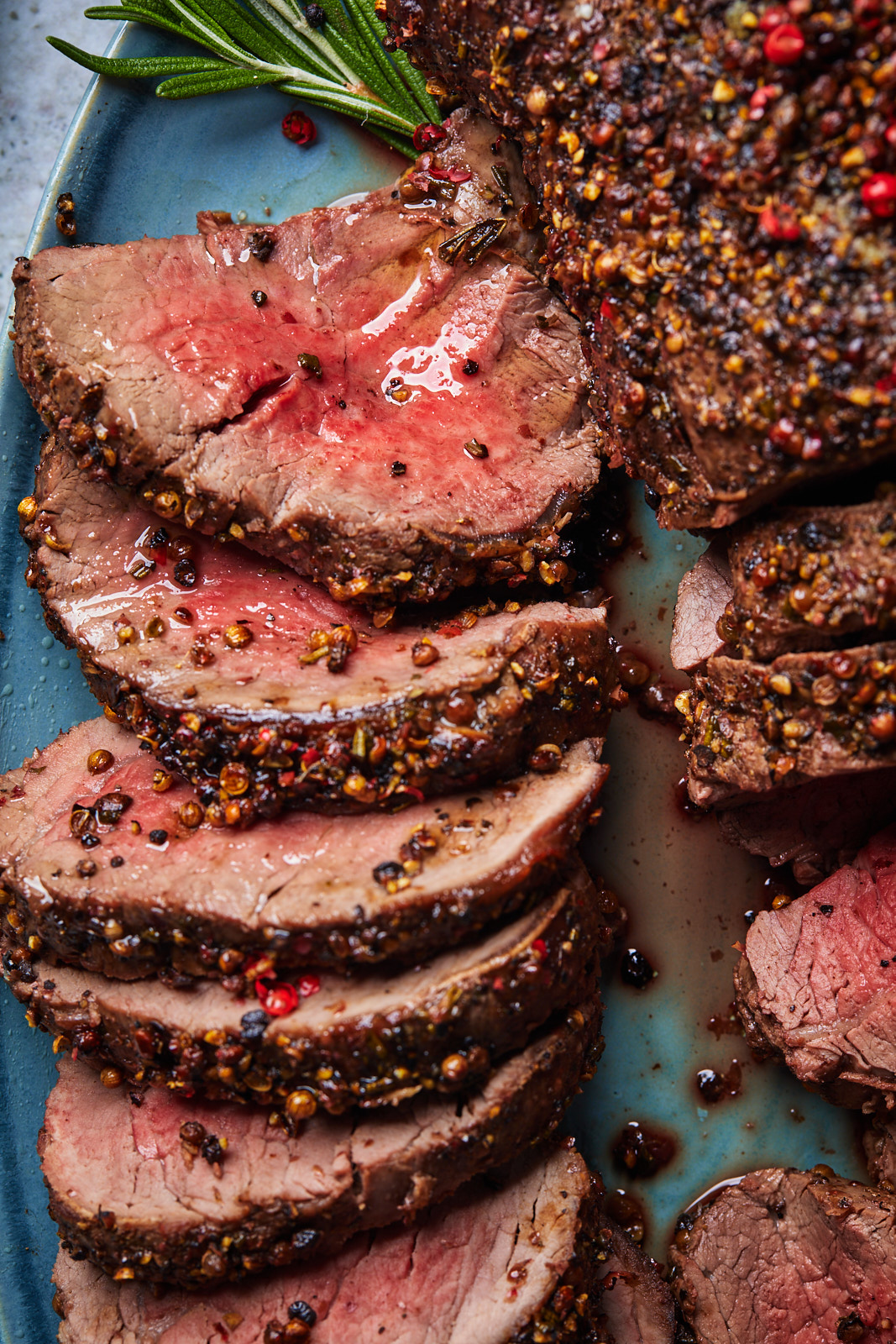 Beef tenderloin is the most tender cut of beef and for that reason, it is the highest priced cut of beef as well. This cut of meat is where we get those tender and tasty filet mignon steaks. It's definitely one of those cuts of meat that you look forward to getting when they are on sale. For this reason it's very important to not overcook it - one of the most common issues that holds people back from cooking beef tenderloin. To prevent that I would use a meat thermometer whether it's an oven safe leave in one or a digital one. More details on that in notes. I would not tackle any large pieces of meat especially such a pricey cut without a meat thermometer. Once you have one of those - preparing tenderloin is much more foolproof and takes much less time than you would think so don't be intimated to roast one yourself.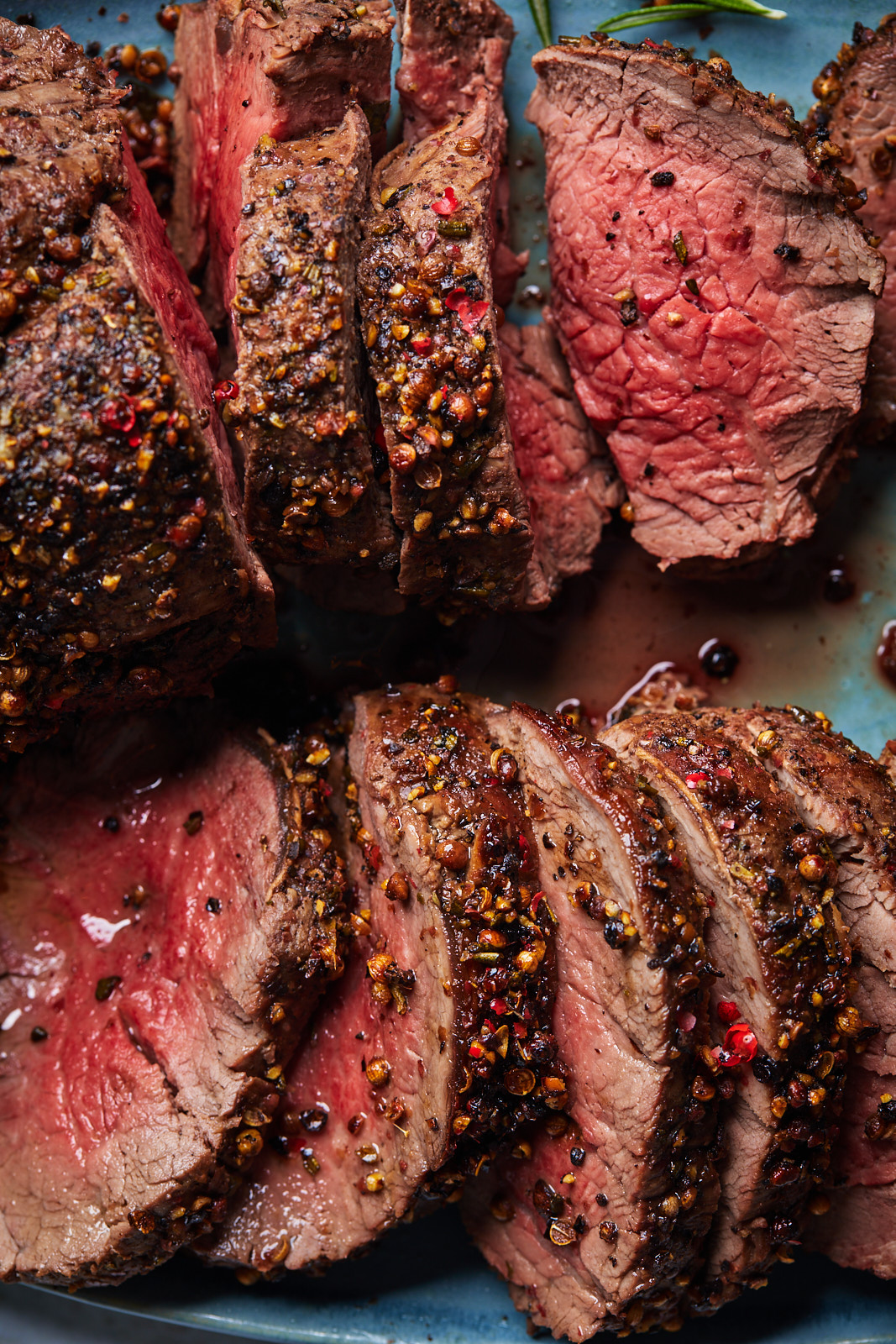 The pan juices on this one are so good. I always make it with the brown butter sauce that I pour over it as it comes out of the oven. It's amazing. I drizzle over the pan juices onto it right before serving as well but you can also make au jus to serve with it - just skim off the fat and strain and reduce the remaining pan juices a little then serve on the side. This is easy and delicious and it makes for the best leftovers that you can enjoy as is or in a sandwich - I even fried mine up a bit and made some lomo saltado with it and a side of potato wedges, and used the rest of it in a Vietnamese style beef Pho soup. This was a pricey cut but I couldn't pass it up when I saw it on sale. I actually paid 40 dollars for this 4 lb beef tenderloin which the butcher trimmed and tied for me and it made its money worth in meals for us. So if you are going to splurge this is a great options just make sure you have your meat thermometer handy and enjoy every tender bite of this.
Recipe
Prep Time: 15-20 min (once the tenderloin is room temperature)
Cook Time: 35-40 mins
Ingredients
2-3 tbsp. Olive oil

2 tbsp. pink peppercorns

1 tbsp. green peppercorns

1 tbsp. black peppercorns (or 4 tbsps of the multi coloured blend)

3 sprigs rosemary, finely minced

2 tsp. brown sugar

1 tsp. salt

1 cup of beef stock

4-lb beef tenderloin, trimmed and tied with butcher's twine
Brown butter sauce (optional)
1 stick butter
2 cloves garlic, crushed
Directions
Heat oven to 425°F. Using meat mallet, rolling pin or bottom of heavy pan, coarsely crush peppercorns, transfer to small bowl. Add the rosemary, brown sugar and 1 teaspoon salt; mix to combine.
Pat tenderloin dry with paper towels. Brush or rub it with olive oil. Then rub all over and press in with spice mix. Transfer it to a roasting pan with rack. Pour beef broth into pan around roast. Roast to desired doneness, 135°F for medium-rare, 35 to 45 minutes. (At this point if you are making the brown butter sauce, you would pour it over the tenderloin right out of the oven - details below). Stay near the oven and keep checking the meat thermometer to make sure it doesn't overcook. 
Transfer to cutting board; let rest at least 10-15 minutes before slicing. Serve with Horseradish Cream Sauce. Leftovers keep up to 3 days sealed and refrigerated. Freezing instructions in notes below.
For the Brown Butter Sauce: (if using) While the meat is roasting, melt the butter with the garlic in a small skillet, and allow the butter to slightly brown. Remove the garlic and discard. Once the meat is done, out of the oven but still in the pan, pour the garlic butter over gently (it should sizzle when it hits the meat). Cover the meat loosely with foil and allow to rest for 10 minutes before slicing.
Recipe Notes
Remove your tenderloin from fridge and set on counter for about 2 hours prior to cooking, to come to room temperature. This is important for the beef to cook evenly.
It's definitely a must to have some sort of meat thermometer whether it's an oven safe leave in one or not. If you do not have a leave-in thermometer, take the tenderloin out of the oven to measure the temperature and close the oven so the oven temperature doesn't lower. Roast beef tenderloin until it reaches 130°-135°F for medium-rare or 140°F-145°F for medium. I always recommend you err on the side or rare as it continues to cook a few degrees more in the pan when it comes out of the oven. I also recommend making sure to check the temperature of the tenderloin between the thinnest and thickest parts - either extreme will cause you to either overcook it or undercook it.
Temperatures and times will differ according to size of the roast and even between ovens. These suggested times are based on a 4 lb beef tenderloin.  - smaller ones would take less time to roast and larger ones would need more time. Here is a great reference guide for knowing times and temperatures for smaller or larger cuts of beef tenderloin.  
Freezing leftover beef tenderloin: Before adding cooked meat to the freezer, place it in the refrigerator to bring the temperature down. Package the cut filets with freezer paper and freezer bags, just as when freezing raw meat. Alternatively, store the cooked filets in a rigid storage container with a tight-fitting lid. Meat can dry out, so pour gravy or pan drippings over the meat to keep it moist before freezing. Store cooked filets for two to four months in the freezer. Thaw out in the fridge and then reheat in the oven.