Salmon Salad
This chopped salmon salad is fresh and so delicious. It combines the flavours and veggies in a Mediterranean salad with perfectly tender seared or baked salmon fillets drizzled with a light lemony dijon dressing which does double duty as the marinade for the salmon too. It's a perfect meal size salad that is filling enough to be served for dinner, but also perfect for lunchtime. Its's loaded with flavor and packed full of protein and good fats thanks to the salmon and avocado. It's the perfect recipe for a quick and easy weeknight dinner. From start to finish this recipe comes together in under 25 minutes!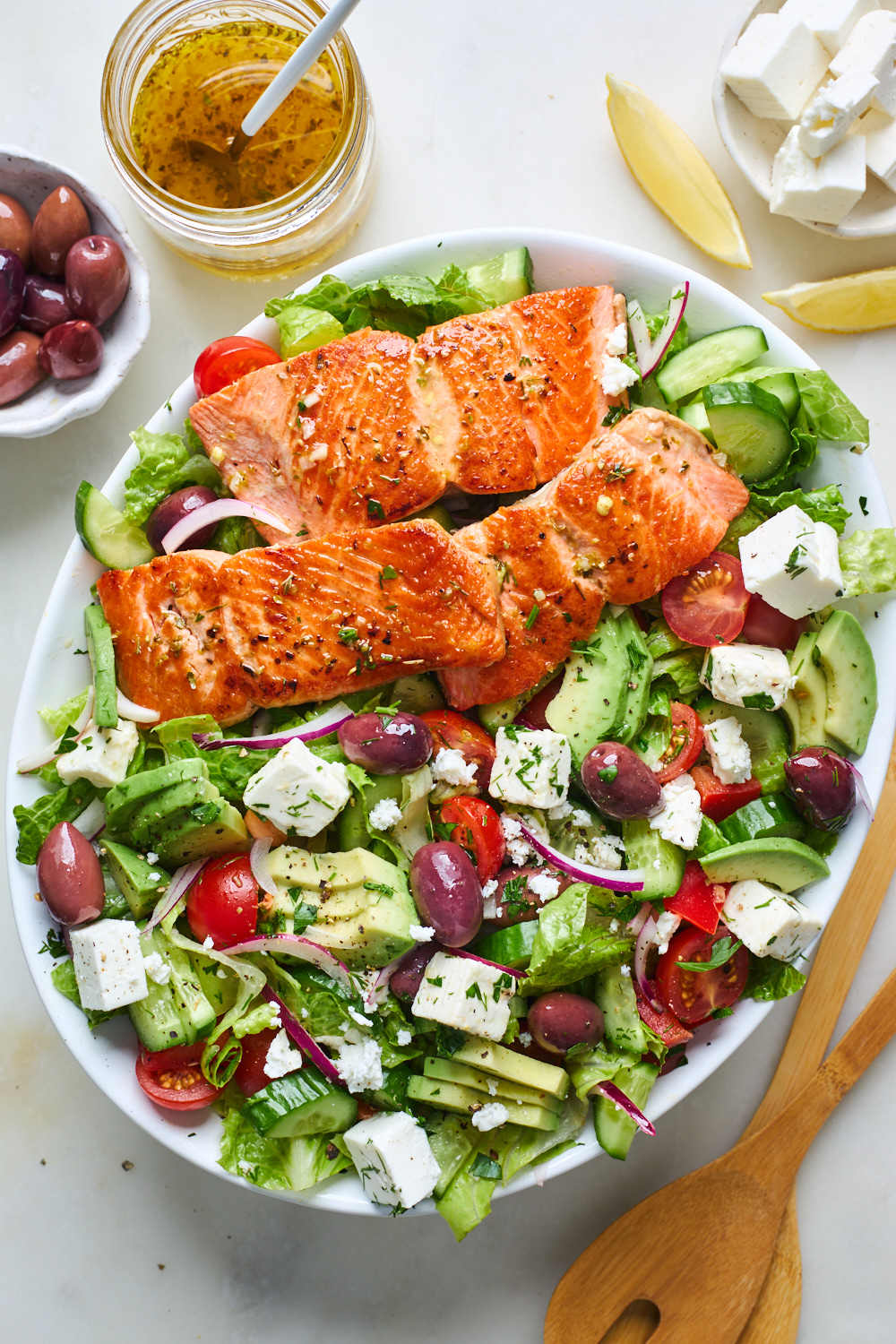 Chopped Salmon Salad Ingredients
One thing I particularly like about this chopped salad recipe is, it's very easy to customize to your tastes. So, if you don't care for my choice of veggies, use whatever you enjoy and/or have on hand.
SALMON- You could use salmon filets or also one larger piece and break it up over individual portions. I really love this salad with fresh seated salmon but if you don't want to make the salmon salad using a fresh salmon filet, you can use canned boneless salmon instead.
SALAD GREENS - I like to use romaine lettuce for my salad greens or you could use any baby greens you like
BELL PEPPER - Any color, seeded and chopped.
TOMATOES - You can use halved cherry tomatoes, quartered Roma tomatoes, or your favorite in-season variety quartered or diced.
CUCUMBER - I recommend using either a mini (Persian) cucumber or about half of an English cucumber.
OLIVES - Pitted Kalamatas are great in this salad but any variety would be delicious in this recipe.
FETA CHEESE - love the salty briny flavour it adds - optional
AVOCADO – In addition to the creaminess it provides to the salad, avocados also contain heart-healthy fat.
FRESH HERBS – Adding some fresh parsley and dill will give the chopped salmon salad an extra boost of flavour You can also try basil, cilantro, or tarragon.
Salad Dressing Ingredients
This is the type of salad that is too light and healthy to coat in a heavy creamy mayo or Greek Yogurt based salad dressing. I like to keep things light and flavorful by making a simple dressing of fresh lemon juice, wine vinegar, dijon, garlic, oregano, olive oil, salt and pepper. Be sure to use fresh lemon juice as bottled lemon juice doesn't have the same fresh bright flavour to it.
Seasoning alternatives for this Salmon Salad
The seasoning for your salmon really depends on how you plan on dressing your salad. Since we are using a light dressing, we have a lot of room to play around for the seasoning. Instead of the oregano feel free to use other spices or spice blends. Here are some ideas:
Cajun seasoning
Italian seasoning
Herb de Provence
Old Bay seasoning
Salt, pepper, and paprika
Chili pepper
Cayenne and garlic powder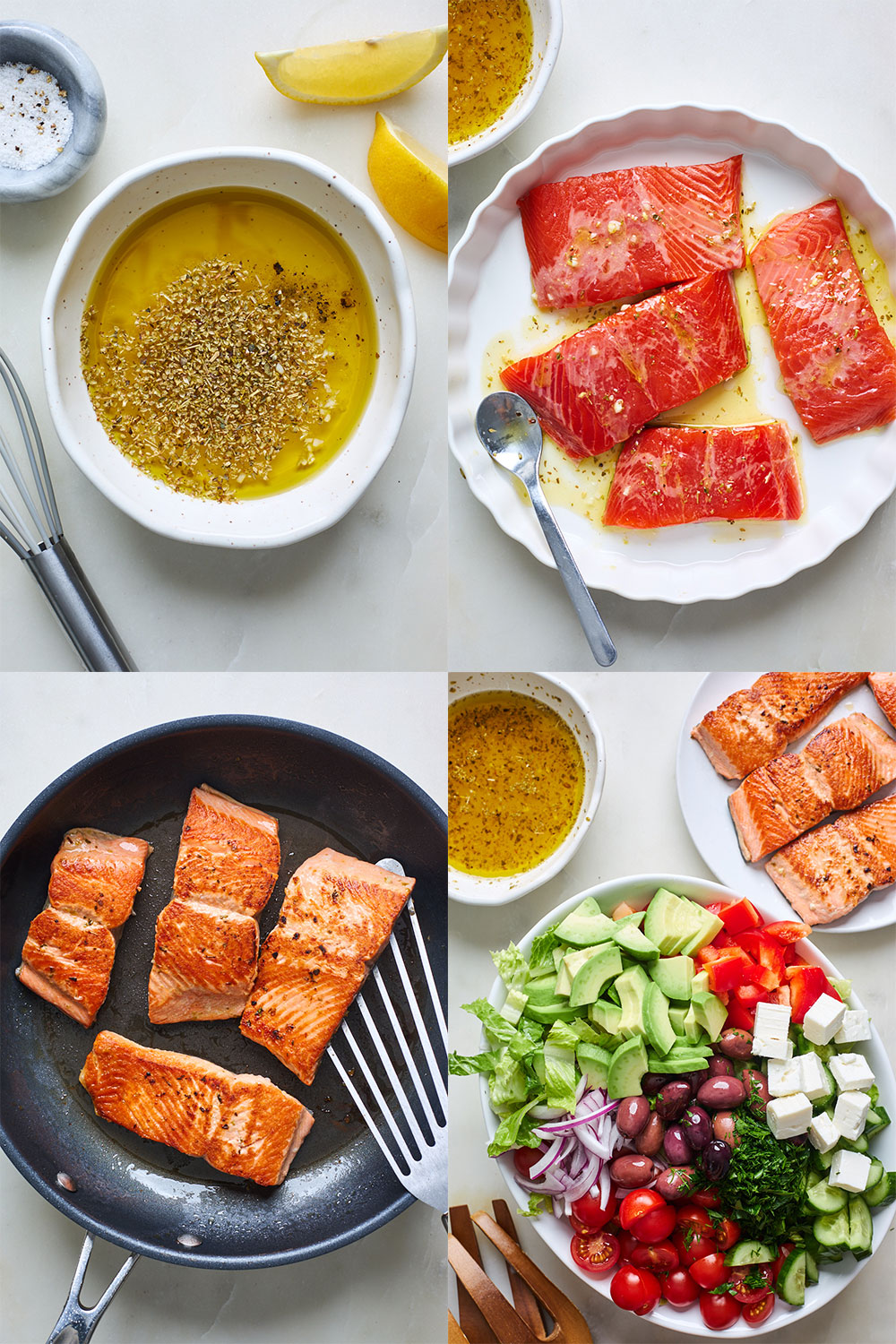 Customize Your Salmon Salad Recipe
This salad is completely customizable! Here are some suggestions for variations and substitutions:
Switch up the greens – if you're not a romaine fan, feel free to use your favorite leafy green instead.
Make this dairy-free – simply skip the feta cheese (or use a vegan option).
Use different veggies – Have different veggies on hand? Toss them in! Like carrots, corn, celery, artichoke hearts, radishes, or anything that you like (or need to use up!).
Add some Grains – You could add some quinoa, rice or farro to make this a heartier salad.
Use a different protein – swap the salmon with chicken or if you want to make this salad vegetarian swap in tempeh, tofu or beans like chick peas or black beans
Switch up the dressing – use your favourite homemade one or store-bought dressing
Add nuts or seeds –like sliced almonds, crunchy pepitas or hazelnuts
Add Croutons for some extra crunch
Switch up the fresh herbs – I love adding fresh dill and parsley to my salads, but you can use any of your favourite fresh herbs like basil, cilantro, or tarragon.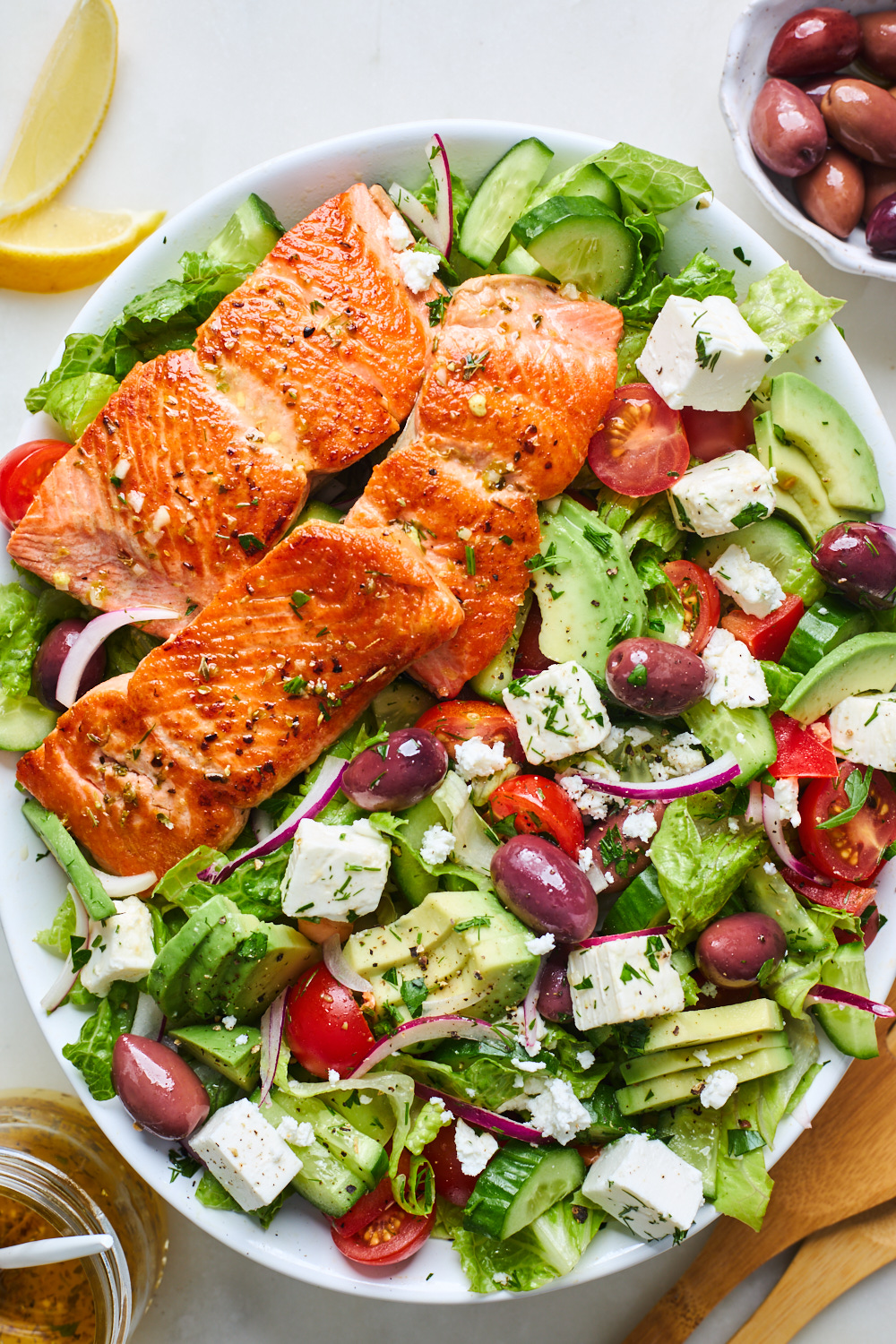 How to make this Mediterranean salmon salad:
Add romaine lettuce to a large container with an airtight lid.
Slice onions, chop grape tomatoes, herbs, cucumbers, bell pepper, avocado and kalamata olives. Add to the container with lettuce. Crumble feta cheese on top.
Make marinade/dressing
Toss and coat salmon with marinade and then cook salmon
When you're ready to serve, drizzle dressing over top of salad with salmon and mix to combine.
You want to make sure you mix in the dressing as close to serving as possible. If you don't plan to eat the full salad, only add dressing to the portion you plan to eat and store the rest in the fridge.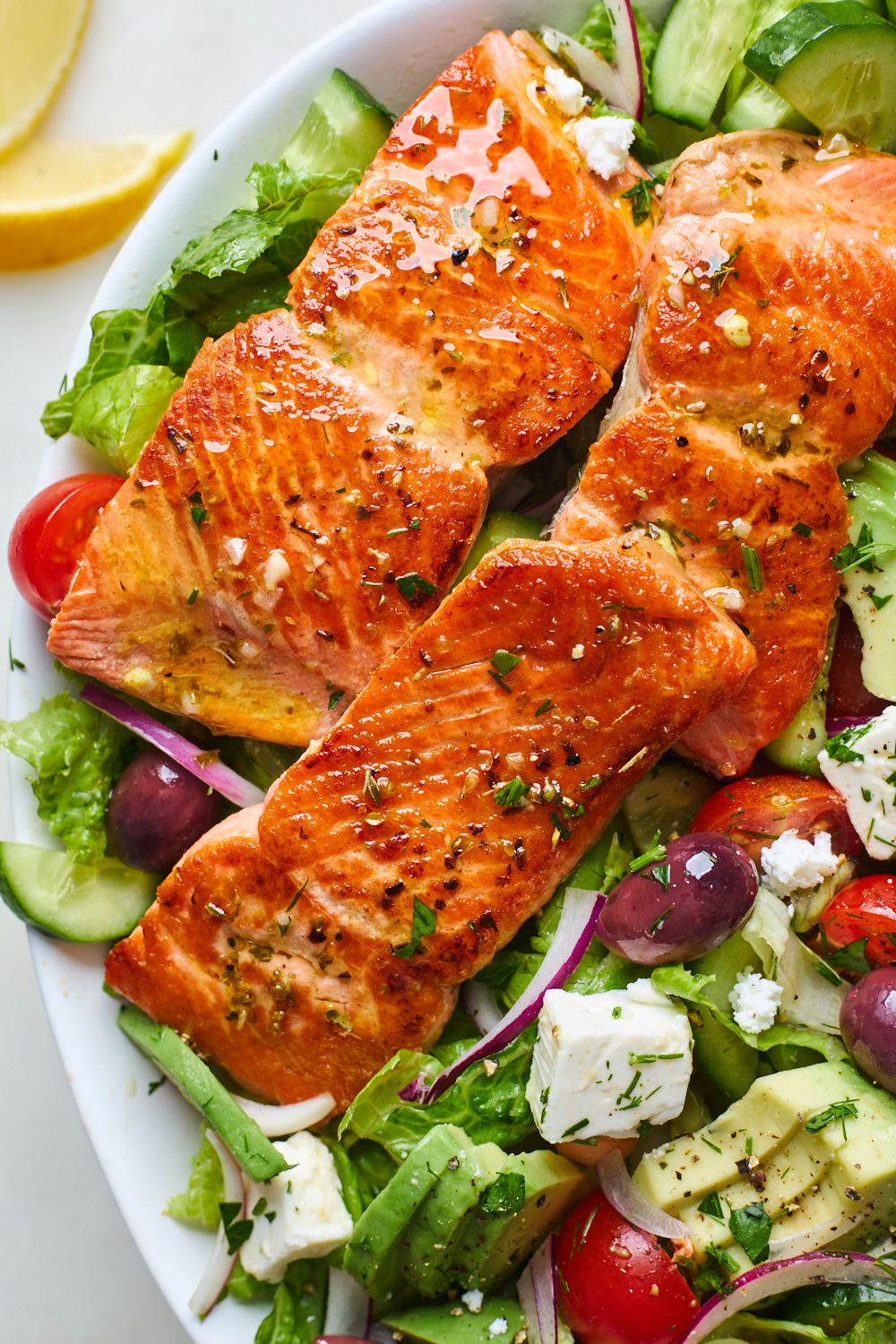 Can I Bake My Salmon for This Chopped Salmon Salad?
You can bake or roast the salmon for this recipe easily - here is the simply instructions for baking the salmon instead of pan frying or searing the salmon:
Preheat the oven to 400°F.
Line a baking sheet with parchment paper or silicone mat.
Place salmon on the baking sheet, skin-side down, season with salt and pepper and bake 10 to 12 minutes.
Remove from the oven and let it cool down.
Flake flesh or leave whole and set aside.
Salmon Salad Make Ahead & Storage:
How Long Will Salmon Salad Last In The Fridge?
If you make the salad using fresh salmon, it will keep well for 3 to 4 days. Using canned salmon, it will keep an extra day or two. Regardless of what type of salmon you use, the salmon should be kept in an airtight container. Otherwise, any foods nearby might absorb the aroma of the salmon.
How To Store This Chopped Salmon Salad
If you'd like to meal prep this, I suggest either storing each component of the salad separately and then combine the ingredients the morning of packing your lunch. Alternatively, you can pack the ingredients together in meal prep containers but pack the salad dressing on the side.
The dressing can cause your salad to be soggy so by storing it on the side, the meal prep will last longer. Also, if you are meal prepping this, add the avocado on the day of eating as your avocado can turn brown from oxidation.
More Salad Recipes and Easy Salmon recipes you will love:
Recipe
Prep Time: 15 mins
Cook Time: 10 mins
Ingredients
Marinade/Dressing:
¼ cup olive oil + 1 tablespoon

½ teaspoon Dijon mustard

2 tablespoons lemon juice fresh squeezed

1 tablespoon white or red wine vinegar

1 clove of garlic peeled and minced or grated

1 teaspoon dried oregano

Salt & pepper to taste

1 pound (500 g) skinless salmon fillets
Salad:
4 cups chopped Romaine lettuce

1 large cucumber diced

1 bell pepper seeds and stem removed and diced

1 cup cherry tomatoes halved

¼ cup sliced red onion

1 avocado sliced

½ cup feta cheese crumbled

⅓ cup Kalamata olives

2 tablespoons chopped parsley

2 tablespoons chopped dill

Lemon wedges to serve
Directions:
Prep Salmon - Make Marinade /Dressing: Whisk together all of the marinade/dressing ingredients in a bowl. Take 2 tablespoons of it and place onto large shallow bowl reserving the rest for the salad. Season salmon with a pinch of salt and pepper and place in bowl with the dressing. Toss to coat with the marinade
Sear salmon: Heat remaining 1 tablespoon of oil in a skillet or grill pan over medium-high heat and cooker sear salmon for 3-4 minutes. Test the salmon; when the bottoms release fairly easily, it's ready to flip. Turn each filet over, and cook for an additional 1-2 minutes, until it's cooked through and has a golden crust. Remove from the heat and set aside.
Assemble the Salad: Combine lettuce, tomatoes, bell pepper, cucumber, olives, herbs, avocado, feta and onion in a large bowl or on a large platter. Drizzle with about half of the dressing and toss to combine. Top with salmon and additional dressing, to taste, either on the serving dish or on individual plates.
Recipe Notes
Extra dressing can be stored in a jar in the fridge for up to a week. Give it a good shake to recombine and use on any salad you like.
To bake salmon: Preheat oven to 400°F. Place filets skin-side down on a greased baking dish, pour the lemon juice over top and bake for 10-12 minutes or until just cooked through.