Greek Green Beans (fasolakia yiahni)
This easy and delicious braised Greek green bean dish makes a wonderful vegetarian side dish or entree. The green greens fasolakia/φασολάκια (fah-soh-LAH-kiah) are braised or prepared yiahni/γιαχνί (yah-HNEE) and slow cooked with potatoes, tomatoes, onions, and herbs in a luscious extra virgin olive oil base until they are melt in your mouth tender. Ultra-savory, comforting and fragrant, we suggest adding some good, crusty bread and a hunk of creamy, salty, briny feta cheese to this delicious vegetarian dinner. Easily made vegan without the cheese! This dish reheats beautifully and even tastes better the next day and can even be served cold or room temperature which also makes it a fantastic make ahead meal or side dish.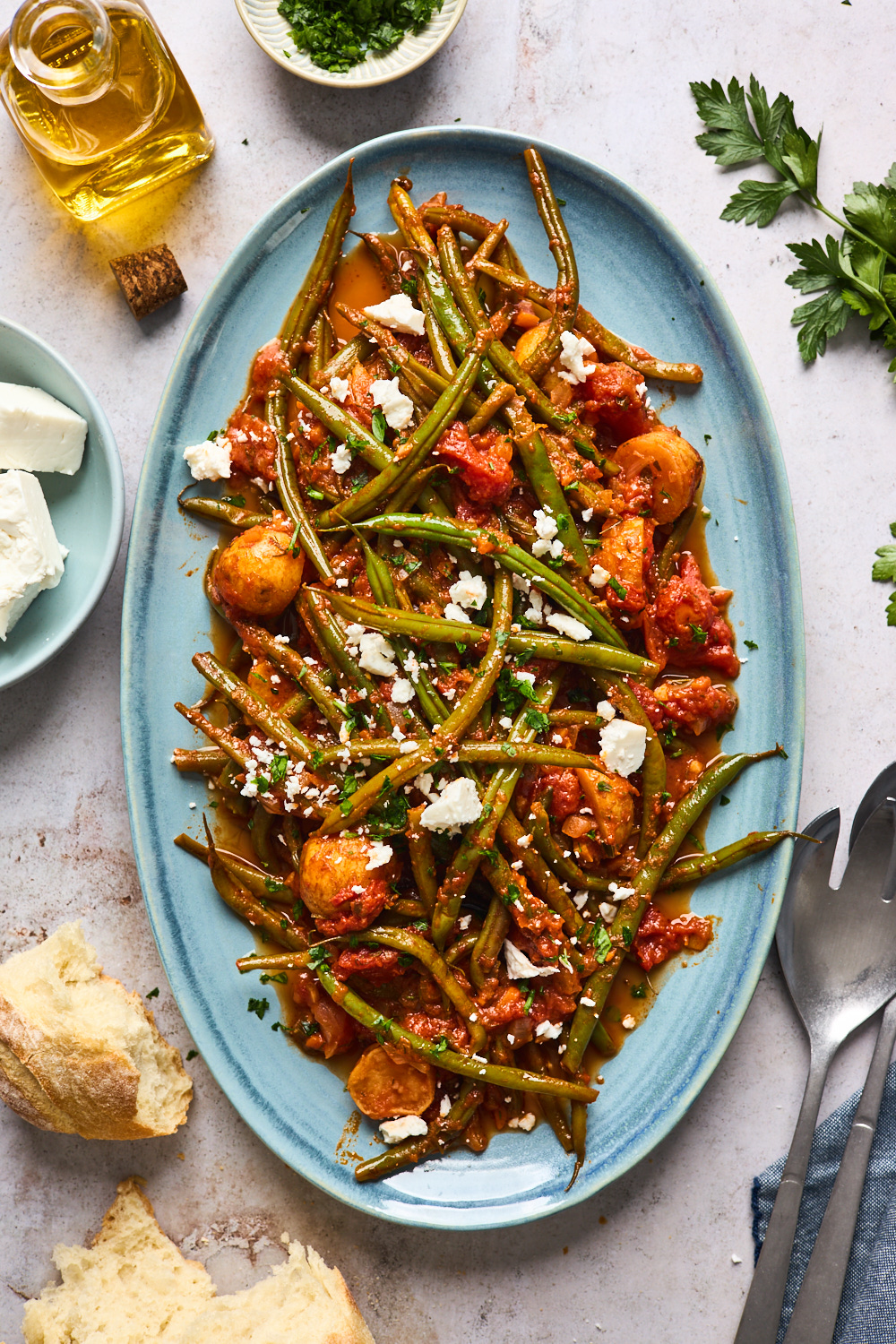 Full confession - I hated this dish growing up - my mom made and still makes a fantastic version of this classic meal but the one thing she realized even before I did over the years is that the reason I had a deep aversion to this dish is because she always made it with beef - so it was a beef stew sort of dish. I would still eat it cause there was no getting around not eating what was served on your plate growing up - (unless you were the male child that is lol) but it was definitely not my favourite. Until…my mom made it without the meat - that change the whole dish for me.I don't know why - but it was a complete switch. Now we make this dish all the time and of course I make mine meatless all the time - and this is how I usually make mine - my mom doesn't add as much veggies to hers and not as many herbs. When making this recipe -  feel free to make it your own - adjust things according to your taste.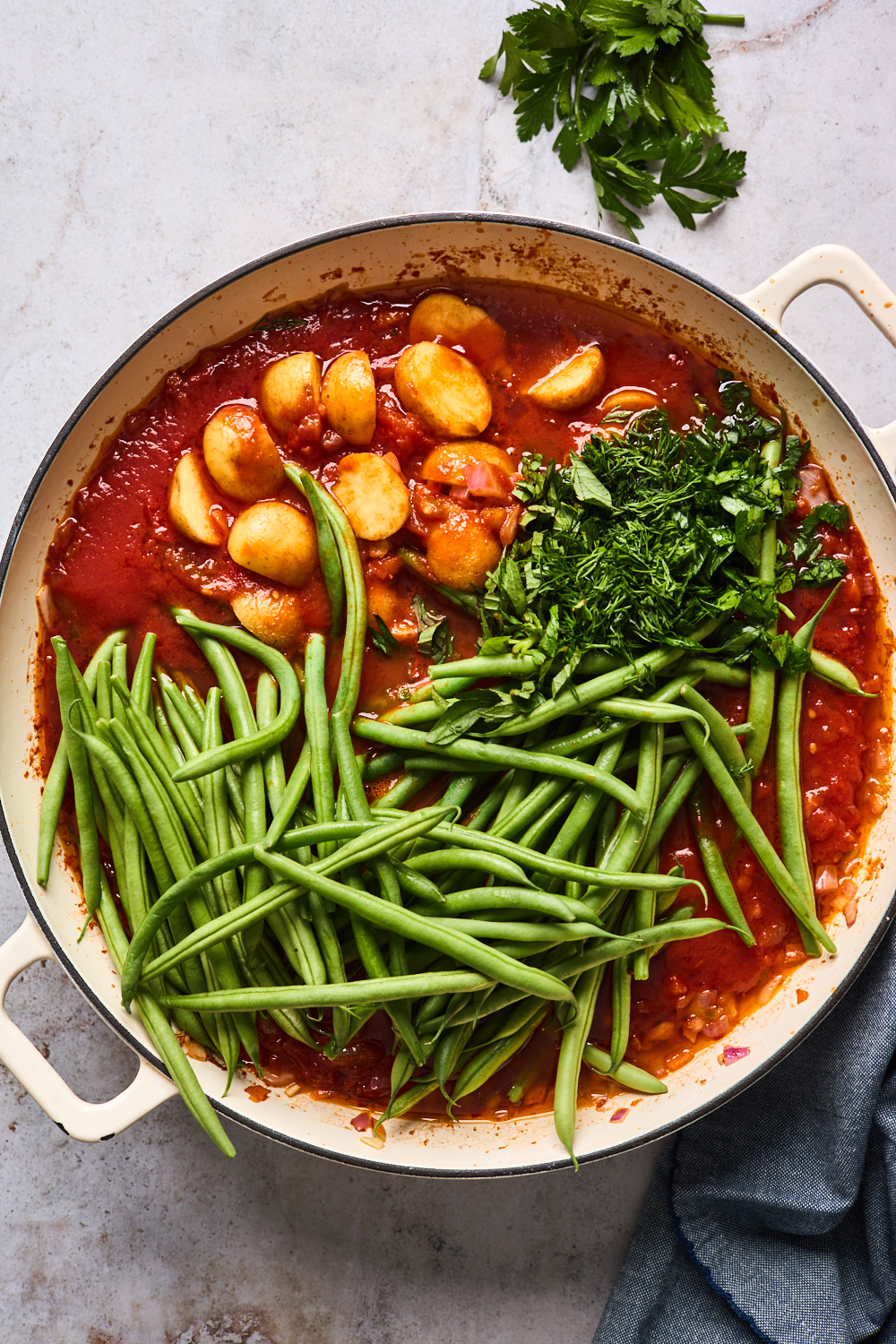 What is braising and Lathera Style Cooking?
Braising is the cooking of meat or vegetables by heating them slowly with oil and moisture in a tightly sealed vessel. Braising is a combination of covered roasting/cooking and steaming. Braising is a combination of two different cooking methods. You begin by sautéing, then finish by adding liquid and simmering until tender. This green bean dish is part of a family of Greek dishes known as "lathera" or "ladera". It's a style of cooking particularly used for vegetables cooking or braising them in olive oil, often with tomatoes and herbs as well. They braise in the delicious oil and sauce until they are very very tender and the sauce has thickened. In Greek cooking this tecnique, is called "Giaxni", or "yiahni"which means 'steamy'. 'Giaxni' is a very common technique used in different kinds of traditional Greek recipes, which may include meat, fish or vegetables and cooked in a large pan.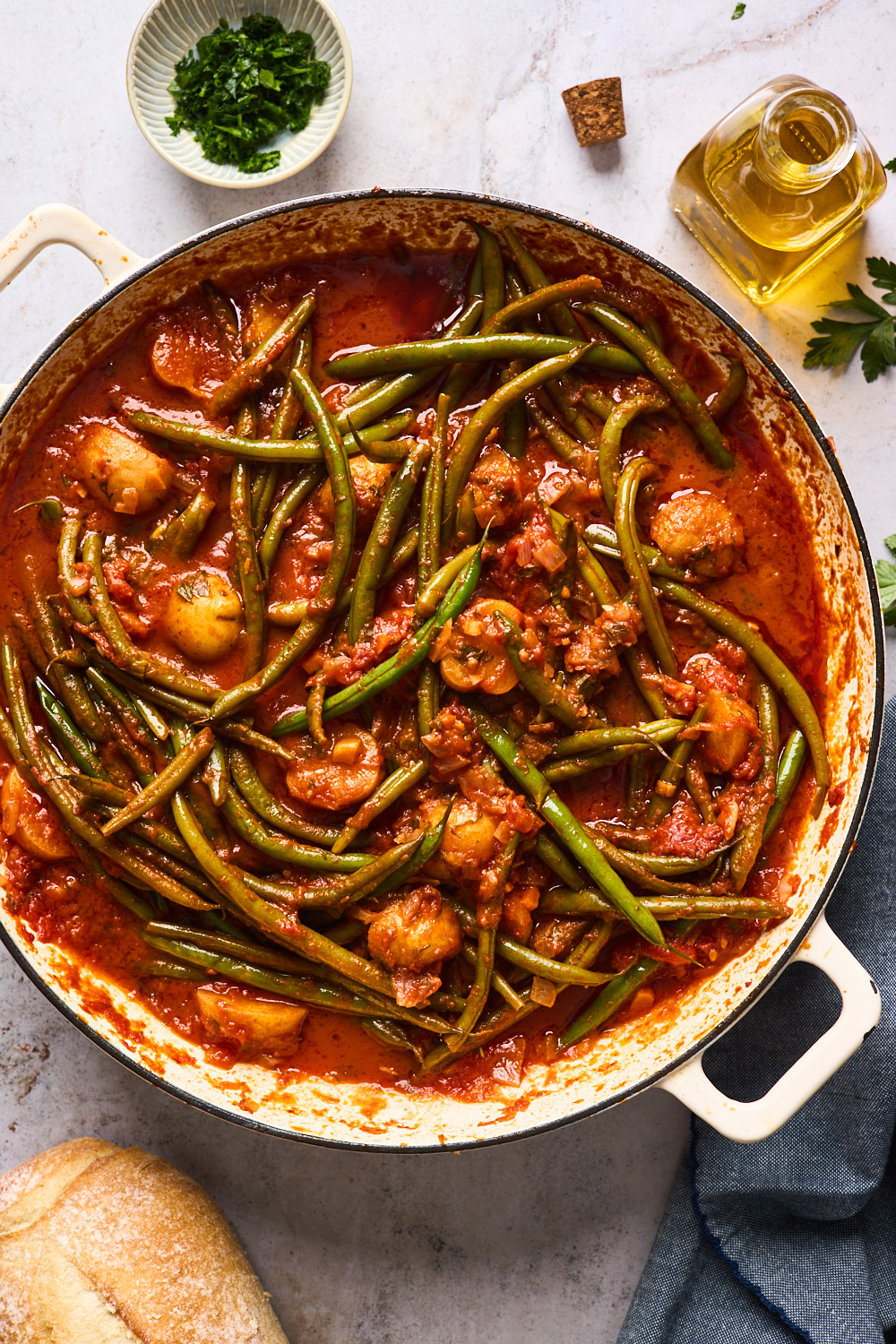 Greek Green Beans Ingredients:
Olive oil: A must - a lot of the flavour in a dish like this comes from the rich flavours in the olive oil. Lathera dishes literally mean oily - this dish is in that category. Don't skimp on it.
Onions- shallots, red onion or yellow work well in this recipe - use what you have
Garlic- ok I may have added a few extra cloves of garlic in my recipe - because you really can't have enough but if you think that it's a bit excessive please adjust accordingly
Green Beans - fresh works best here and I like to leave them whole (trimmed but not sliced) but they can be halved as well for bite size portions. Frozen can be used in a pinch but I don't recommend canned
Tomatoes and Tomato paste - use fresh tomatoes or canned whole tomatoes or diced is fine too. Tomato paste always adds richness to a tomato based dish
Fresh Herbs - the more fresh herbs the better I say - some households don't add as much or any but I love the flavour they add- my favourite fresh herbs to add are parsley dill and a touch of mint
Spices - I used dried oregano, chili flakes and paprika you can adjust according to taste (that goes for salt and pepper too)
Wine - I like to deglaze the pan with a bit of white or red wine but that is optional
Stock or water - some liquid is needed for the veggies to cook - I usually swirl a bit of water in the can of tomatoes and add that but you can use plain water or vegetable or chicken broth/stock for more flavour
Potatoes, Carrots & Celery - the potatoes add some heartiness to this dish and easily take this to complete meal status. They can be made with or without them. The carrots and celery are optional - I like to add them in for extra flavour - a delicious mirepoix always adds loads of flavour to just about any stew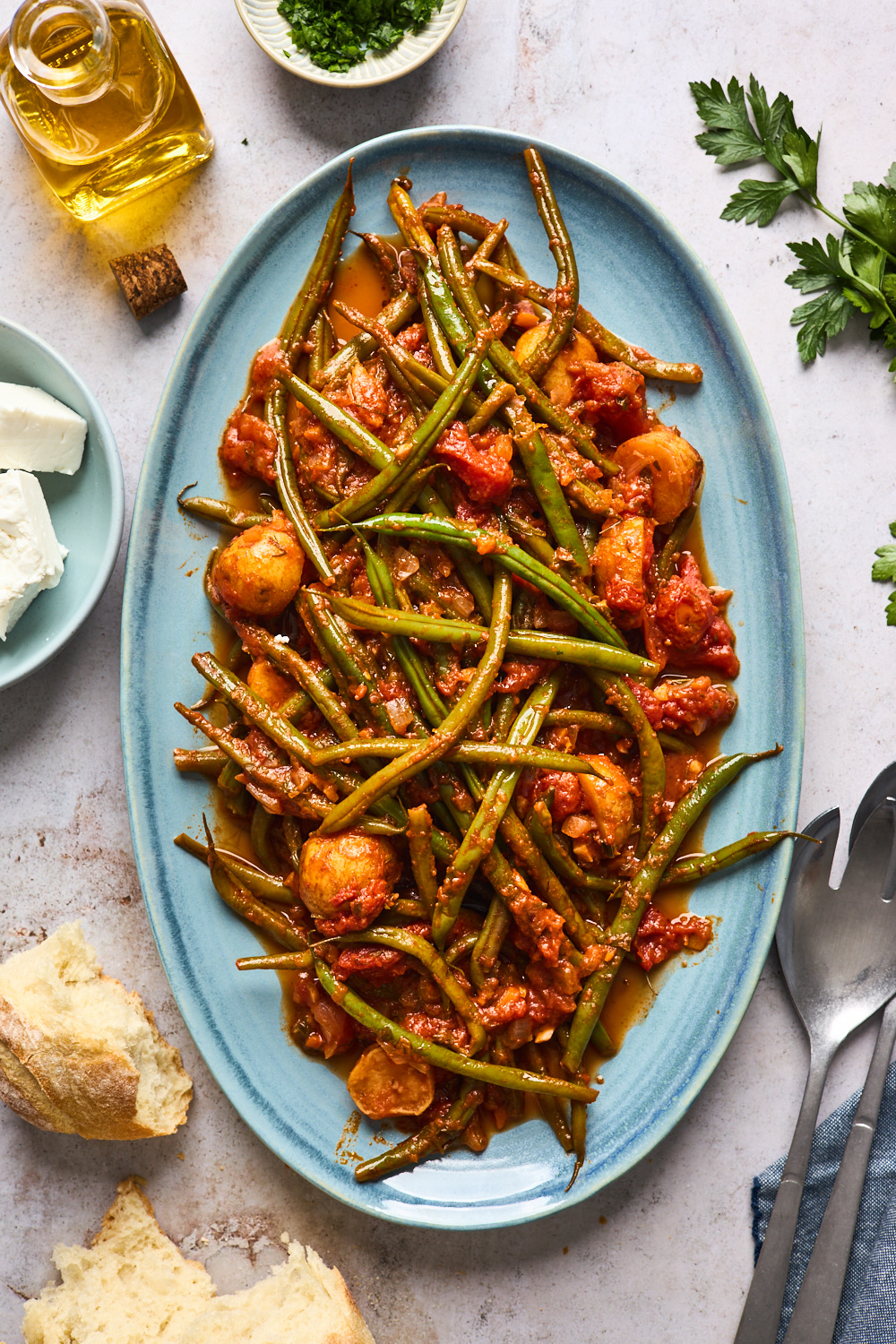 How To Make Greek Green Beans
To make these beans, heat olive oil in a skillet over medium heat. Add in onions, veggies and garlic cooking them just until soft.
Add the tomato paste, deglaze with wine then add the tomatoes and their juices and simmer for a few minutes
Add the green beans and potatoes and herbs and spices
Simmer with lid on for 45-60 min stirring occasionally until veggies are very tender and sauce has thickened
Serve warm or room temperature with feta and crusty bread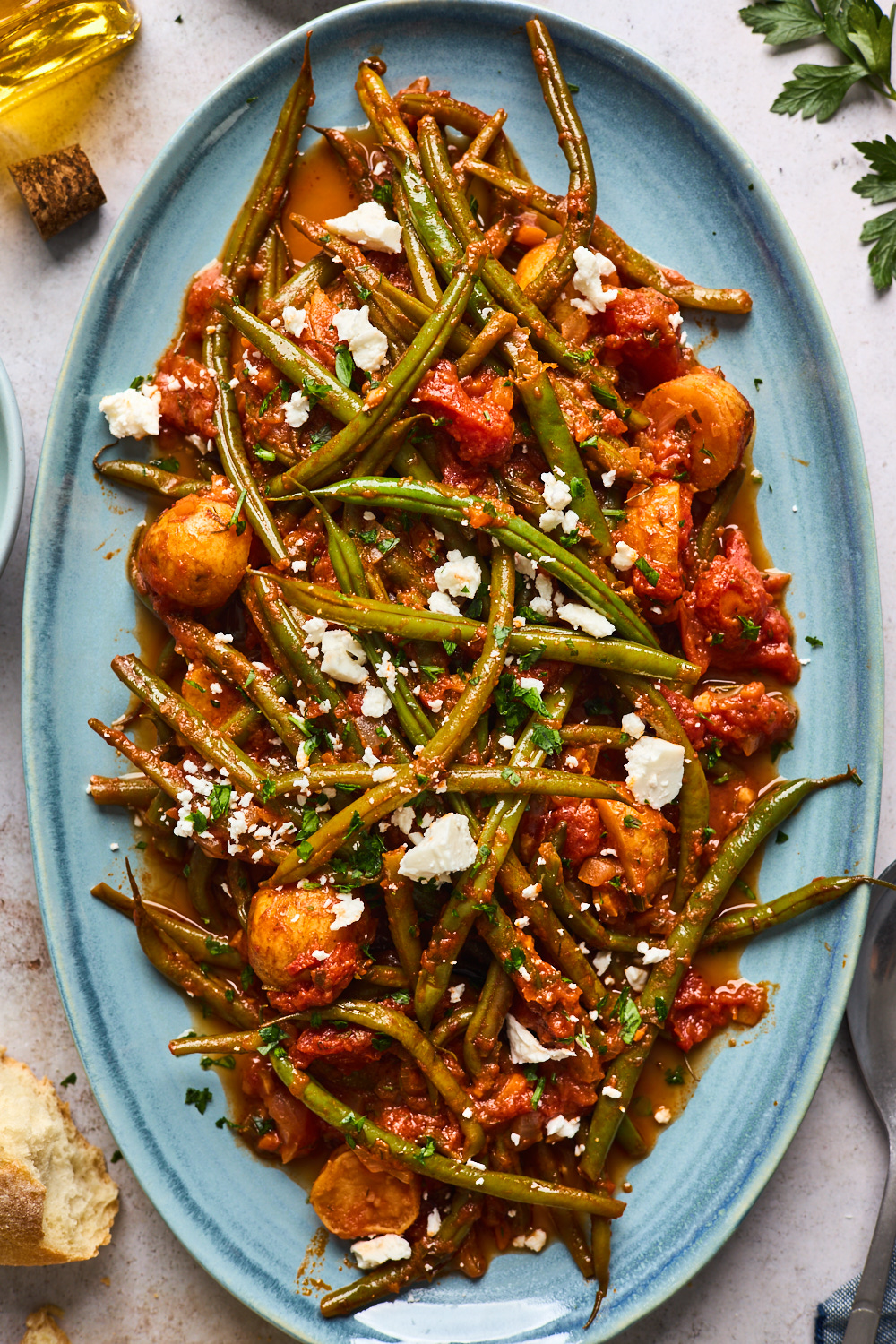 Tips & Tricks
Any fresh string beans will give you the best results. Feel free to use frozen green beans in a pinch.  I don't recommend canned as they will get overcooked when preparing the dish.
In order to prepare ahead of time, wash and cut the fresh veggies. Just store them in an airtight container for up to one day in the refrigerator until you're ready to cook. Make sure to submerge the cut potatoes in water so they don't brown.
You can store leftovers refrigerated in an airtight container for up to 5 days.
To reheat, there are a few options. Bake in the oven at 350° F for 15 minutes. You can also heat in a skillet over medium heat until hot. Or, microwave in a microwave safe dish in 30 second intervals until warm.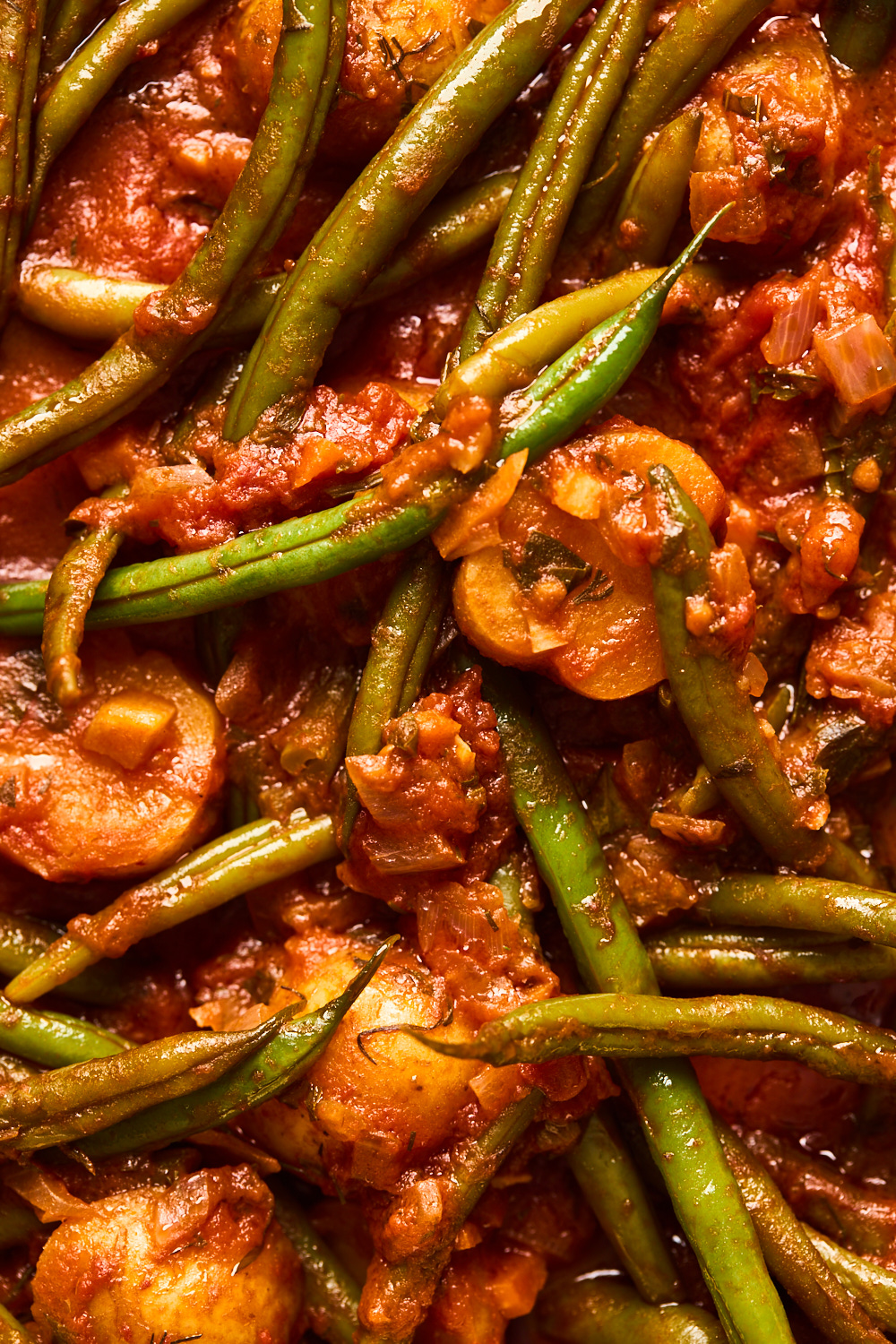 What to serve with Greek Green Beans
These Greek beans can easily be a full vegetarian meal but they also make a fabulous side with just about anything. They are great with my Greek Grilled Chicken Breast, my Greek Style Skillet Roast Chicken With Crispy Potatoes and delicious with my Cumin Spiced Meatballs in Rich Tomato Sauce and even a classic Simple Roast Chicken
More delicious Greek recipes you will love:
Recipe
Prep Time: 10 mins
Cook Time: 50-60 mins
Ingredients
½ cup Olive oil

3 shallots or 1 Large red onion, finely diced

1 carrot peeled and finely chopped (optional)

1 stalk of celery finely chopped (optional)

5 cloves of garlic, peeled and chopped

½ teaspoon chili flakes

1 teaspoon paprika

¼ cup white or red wine (optional)

1 (28 oz) can whole tomatoes and their juices or 3 large fresh tomatoes, diced

2 tbsp Tomato paste

3 Medium potatoes, cut into 1½" pieces or 8-10 baby potatoes halved (approx 2 cups)

1½ pounds Green string beans, or Romano beans ends trimmed

1 cup Flat leaf parsley, finely chopped

1-2 tablespoons fresh dill, chopped

1-2 tablespoons fresh mint, chopped

1 cup of water or broth

Salt and pepper to taste
Directions
Heat the olive oil over a medium high heat in a large saucepan. Add the onion, chili flakes, carrot, celery, and garlic and cook until soft, about 5-7 minutes. Season with salt and pepper.
Stir in the paprika and the tomato paste and cook for 1 minute. Then deglaze the pan with the red or white wine if using. Add the canned or fresh tomatoes breaking them up with a fork if needed and cook for another 5 minutes.
Add the potatoes, green beans, and fresh herbs and the water or broth and stir to combine.
Allow it to come to a boil then REDUCE temperature so it's a low simmer and cover pan and continue to cook stirring occasionally for 50-60 until potatoes and beans are very tender and sauce has thickened.  If the sauce is still watery  remove lid and continue to simmer a few extra minutes to cook off any remaining liquid. Sauce should be thick. Season with more salt if needed.
Serve and garnish with more fresh herbs and enjoy with an extra drizzle of olive oil, a chunk of feta cheese and plenty of crusty bread.
Recipe Notes
This dish's savory, fresh flavor is only enhanced the next day and is fabulous reheated or even eaten cold or room temperature.
You can store leftovers refrigerated in an airtight container for up to 5 days.
To reheat, there are a few options. Bake in the oven at 350°F for 15 minutes. You can also heat in a skillet over medium heat until hot. Or, microwave in a microwave safe dish in 30 second intervals until warm.
About the fresh herbs - I add some in with the sauce and I serve with more - feel free to add them in just before the Beans are done for a fresher flavour - I do both because I love all the fresh herbs but it might be over kill for some - add as little or as much as you like