Sheet Pan Lemony Chicken With Potatoes and Green Beans
This simple chicken, potato, and green bean recipe is just the kind of easy dinner that's perfect for weeknights. I think it's even fancy enough for company - it's always a hit. The key to making this straight forward Sheet pan Chicken and Vegetables recipe not your average dinner is the briny olive-shallot dressing that you'll spoon overtop of the chicken when serving. I like to use Castelvetrano olives but any olives will work. The pesto potatoes are to die for and the crispy skinned lemon pepper chicken is juicy and delicious with the sauce over it. I like to serve this dish with my favourite side of all time - lemony garlic green beans. Simple and perfect with the lemony flavours in this dish. Did I mention it also comes together in under an hour? Gotta love a simple and quick sheetpan meal that packs a ton a flavour in each bite. I go into detail about each component of the recipe below including substitutions.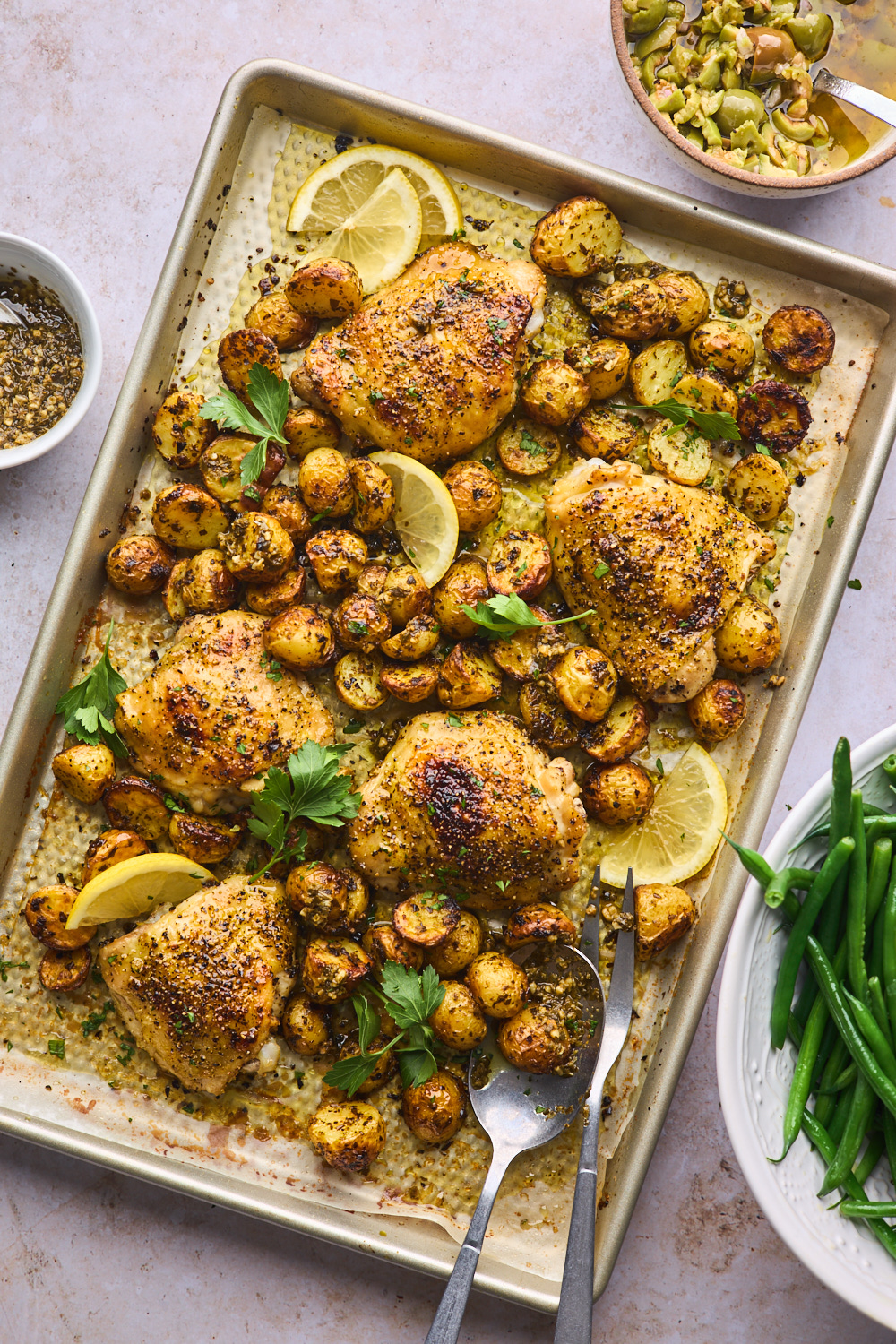 Why you will love this recipe:
If you like lemony briny flavours this dish has what you are looking for
This is simple to make and takes very little effort to put together - gotta love a good Sheet pan meal
The recipe itself is also quite versatile  and the flavour palate and spices can be adjusted or even substituted according to preference - just keep the method the same
You can use boneless skinless chicken thighs or boneless skinless breast if you prefer - just be mindful of the cooking time. More details below about that.
The Pesto Potatoes
Because this meal has a few simple components, I thought I would split up the post discussing a little bit about each component starting with the pesto potatoes. I know Basil isn't in season right now but you can easily find store bought pesto at the grocery store all year round - if you feel compelled to make your own then by all means do - my homemade pesto recipe is delicious. I tend to always have a jar of pesto in the fridge all the time just for these potatoes and of-course to swirl through pasta or even add to my fried eggs. Roasted potatoes are just the easiest and most delicious side. Simply slice the new potatoes in half and toss them with olive oil and salt and pepper and maybe some herbs and roast until golden. Well I took your average roasted potatoes to the next level by tossing them with some pesto for extra flavour. You will love them. If there is absolutely no way you can get your hands on pesto - don't sweat it - just toss the potatoes with the olive oil and season with salt and pepper and maybe a little dried thyme for some flavour. I like to squeeze a bit of lemon juice over them when they are done and even toss them with some extra pesto and if you want to go even further a sprinkling of grated Parmesan cheese.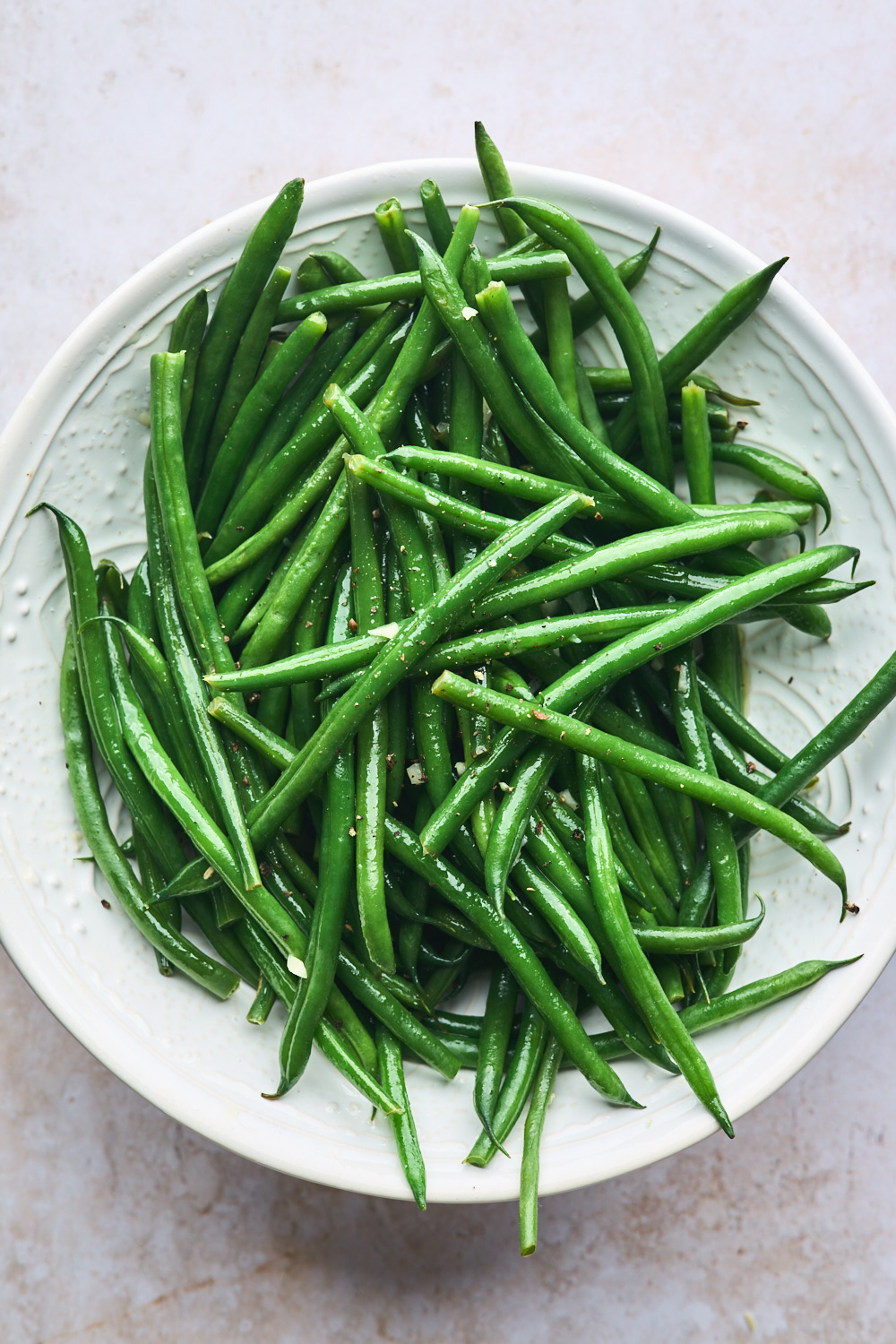 The Lemon Pepper Chicken
You guys know I love coking chicken thighs. Thighs are more budget-friendly to purchase than chicken breasts, they are more flavorful and juicy as well.  Believe it or not, thighs are much easier to cook as well, without having to worry about them drying out. For this recipe, I prefer to use skin on and bone-in chicken thighs. These chicken thighs come out of the oven with a crispy outside and juicy center! However, if you have some boneless and skinless thighs on hand you can use those as well and they work great with this recipe. One thing to watch is that thighs without the bone may cook a little faster. Keep an eye on them. Chicken should reach an internal temperature of 165 degrees before consuming.
Yes, you can use chicken breasts for this recipe if you prefer!  There is no need to cut them in half. You will need 4 small chicken breasts.  The cooking time will remain the same.  Keep in mind that they won't be as crispy on the outside due to not having the skin on like your chicken thighs would.  But, they are still very juicy and tender! I love Lon pepper seasoning - it's definitely a seasoning blend I use a lot and always have stocked - if you don't have any check the recipe notes below for substitute. Each lemon pepper seasoning out there varies slightly - keep this in mind when adding salt and pepper to your chicken as they usually have salt in the seasoning blend already. If your lemon pepper seasoning blend is a bit on the bland side feel free to add a pinch of Paprika, Italian seasoning and even some onion and garlic powder to taste. The one I use has some extras in it so I really don't need to add much except for some lemon zest for a little extra lemony flavour to the chicken.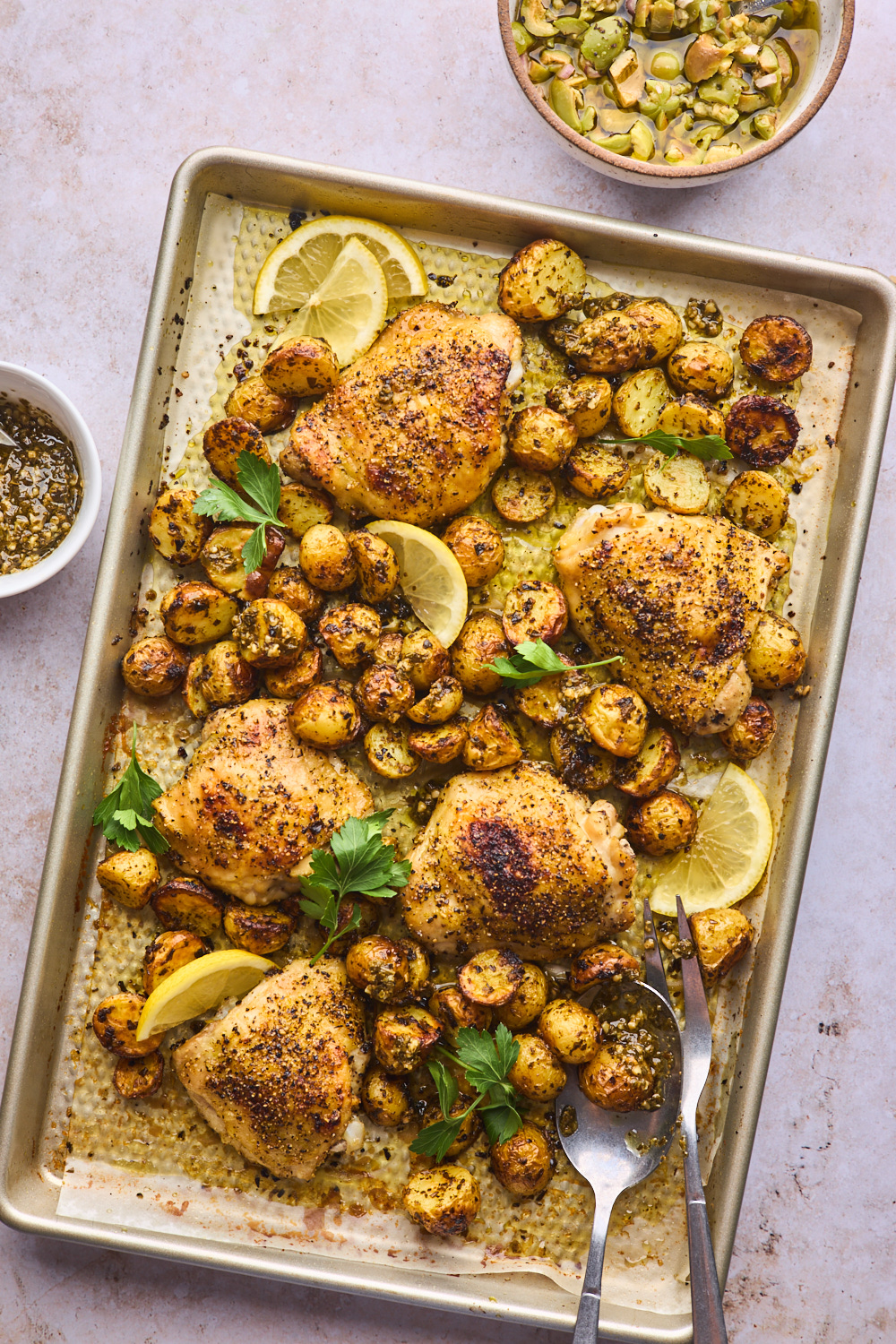 The Lemon Garlic Green Beans  
These Lemon Garlic Green Beans are a light and delicious side dish to compliment just about any meal or make a batch for a healthy and crunchy snack. I don't cook the garlic - it goes in raw just like it would if I were adding garlic to a salad dressing. I toss the green beans with the other ingredients while they are still hot but if you prefer to put them in an ice bath to cool them down first feel free to. I like mine warm.  The recipe calls for either blanching the green beans or steaming them. It's totally your choice. If you prefer to use another veggie as a side I recommend asparagus or even broccoli - I cook both of those the same way - usually steam them instead of boiling them though but with the same dressing.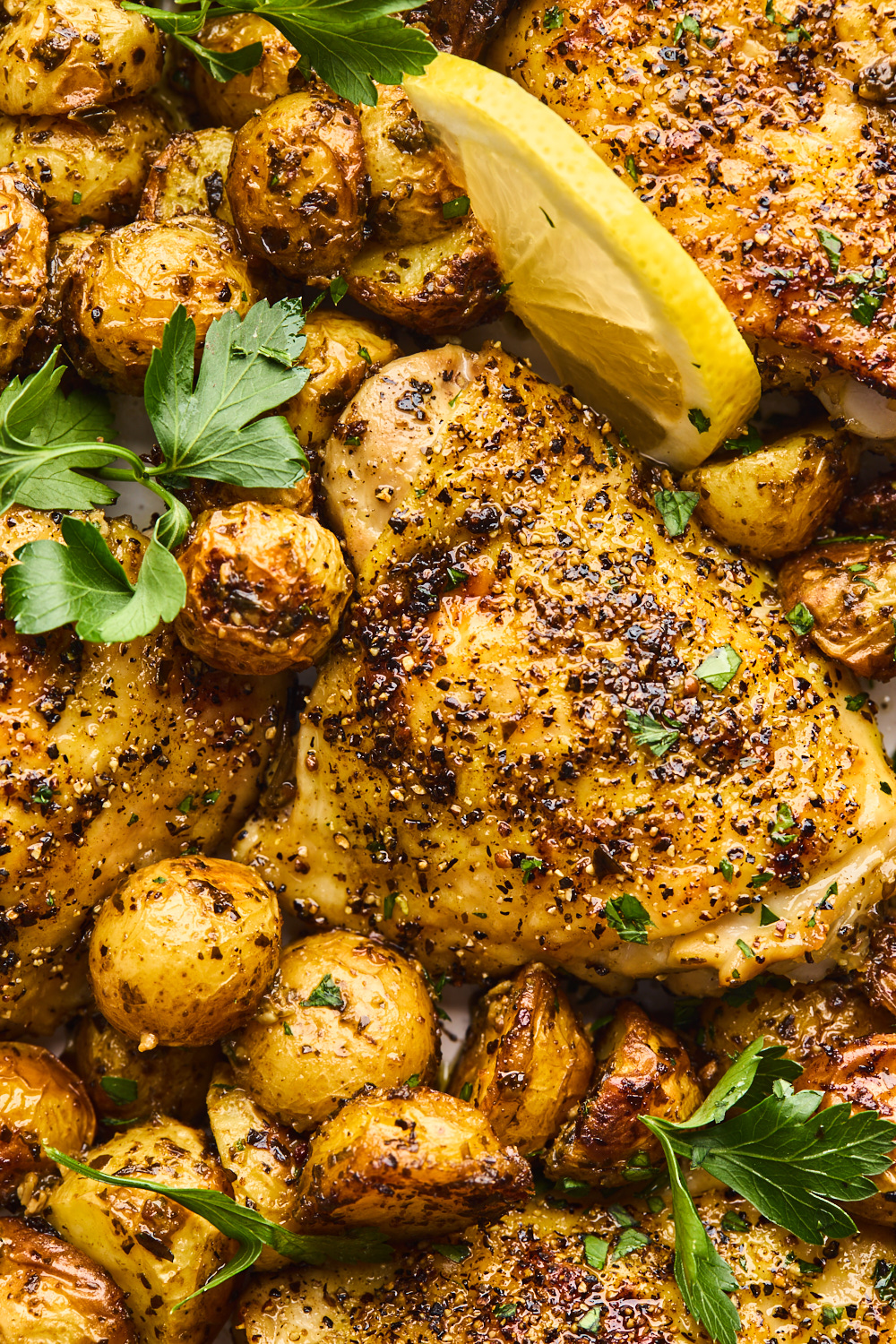 The Olive & Shallot Dressing
Ok obviously this is optional and you definitely do not have to make a dressing for this chicken but at the same time why not? It's a bit extra but I love it and - I even like to dress my salmon with a tasty dressing similar to it. It takes this dish to the next level! I promise you won't be able to get enough especially if you are a fan of lemony briny flavours like I am.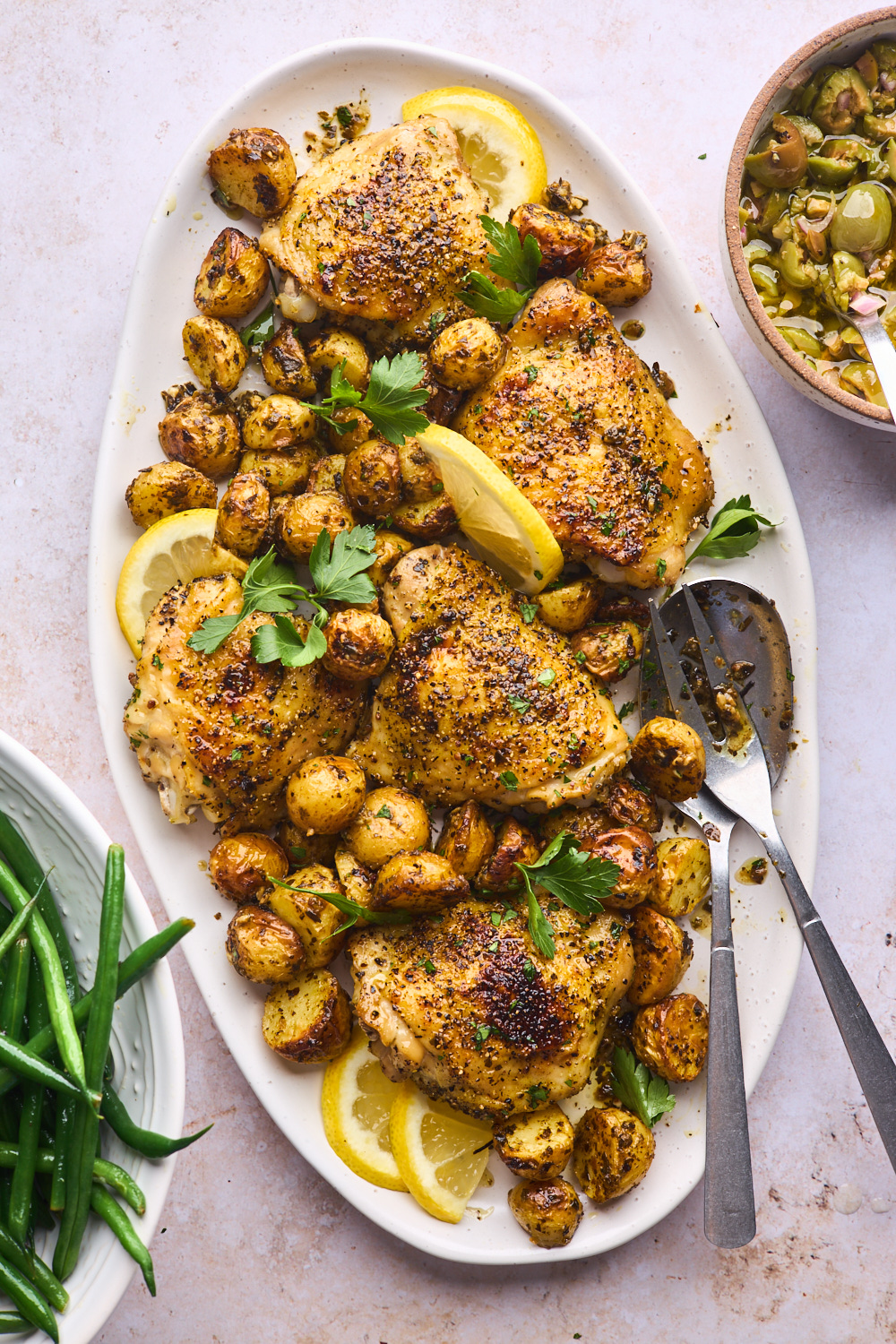 How to make Sheet-Pan lemony Chicken With Potatoes and Green Beans:
Toss potatoes with pesto, oil, salt and pepper and roast
Rub chicken with oil, lemon zest and lemon pepper seasoning
Remove potatoes from oven and push to one side of Sheetpan - add the chicken to the empty half and roast until crispy and cooked through
Steam or blanch green beans then toss with oil, lemon juice and garlic - plus salt and pepper to taste
Toss chopped olives with the shallots, lemon juice and olive oil then serve with the chicken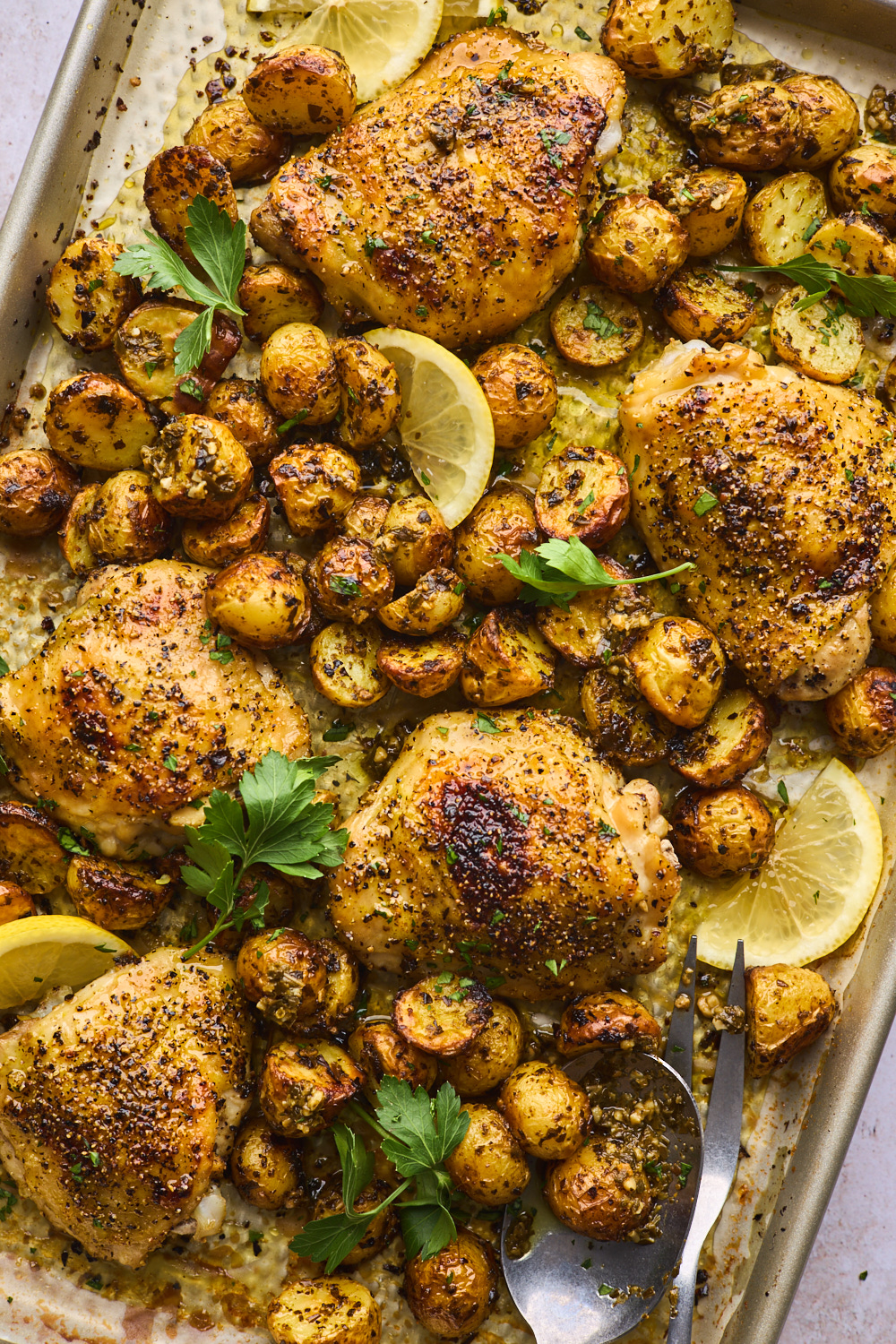 Check out more delicious Sheetpan meals like this:
Recipe
Prep Time: 15 mins
Cook Time: 45-50 mins
Ingredients
For the potatoes
1 pound baby potatoes, halved (quartered if large)

1 heaping tablespoon pesto plus more for drizzling

2 tablespoons olive oil

Salt and pepper to taste
For the chicken
4-5 bone in skin on chicken thighs  (approx 1½ lbs )

1 tablespoon olive oil

1 tablespoon lemon pepper seasoning *

½ teaspoon lemon zest

Salt and pepper to taste
For the Olive Shallot Dressing
1 tablespoon lemon juice

2 tablespoons olive oil

½ cup pitted, chopped Castelvetrano olives

1 small shallot, peeled and finely chopped
For the Green Beans
8 ounces trimmed green beans or haricots verts

1 tablespoon lemon juice

1 tablespoon olive oil

1 small clove of garlic peeled and minced

Salt and pepper to taste
Directions
Preheat oven to 400°F.
Prepare the Potatoes: Toss potatoes with oil, pesto and season with salt and pepper on a rimmed baking sheet. Roast for 15 minutes.
Prepare the Chicken: Toss chicken with olive oil, lemon zest and lemon pepper seasoning.  Remove sheet pan from oven and push potatoes to the side. Arrange chicken on other side and return to oven. Roast until chicken is cooked through, approx 30- 35 min or until  internal temperature is 165 degrees.
Cook & Dress Green Beans: Meanwhile, cook green beans in a pot of boiling salted water or steam until bright green and crisp-tender, about 4 minutes. Toss with the olive oil, lemon juice, and garlic and season with salt and pepper to taste
Make Olive & Shallot Dressing: Mix olives, shallot, lemon juice, and remaining 2 tablespoons oil and ½ teaspoon pepper in a small bowl. Spoon dressing over chicken. Serve with potatoes and green beans.
Recipe Notes
No lemon pepper seasoning - no problem: If you don't have access to lemon pepper seasoning feel free to rub the chicken with a pinch each lemon zest, salt, pepper, garlic powder, onion powder, paprika, and Italian seasoning.