Spring Green Fattoush
This spring green salad combines the classic and delicious combo of peas and mint with a twist on a Lebanese fattoush salad adding crunchy cucumbers and radishes. Briny feta always adds a nice touch to this salad along with the lemony dressing. It's the perfect salad to savour all the flavours of spring. It is also very versatile so feel free to throw in extra greens or green veggies of your liking like snow peas, shaved Brussels sprouts, aoragaus or chopped kale and romaine lettuce. It makes the perfect side or light main.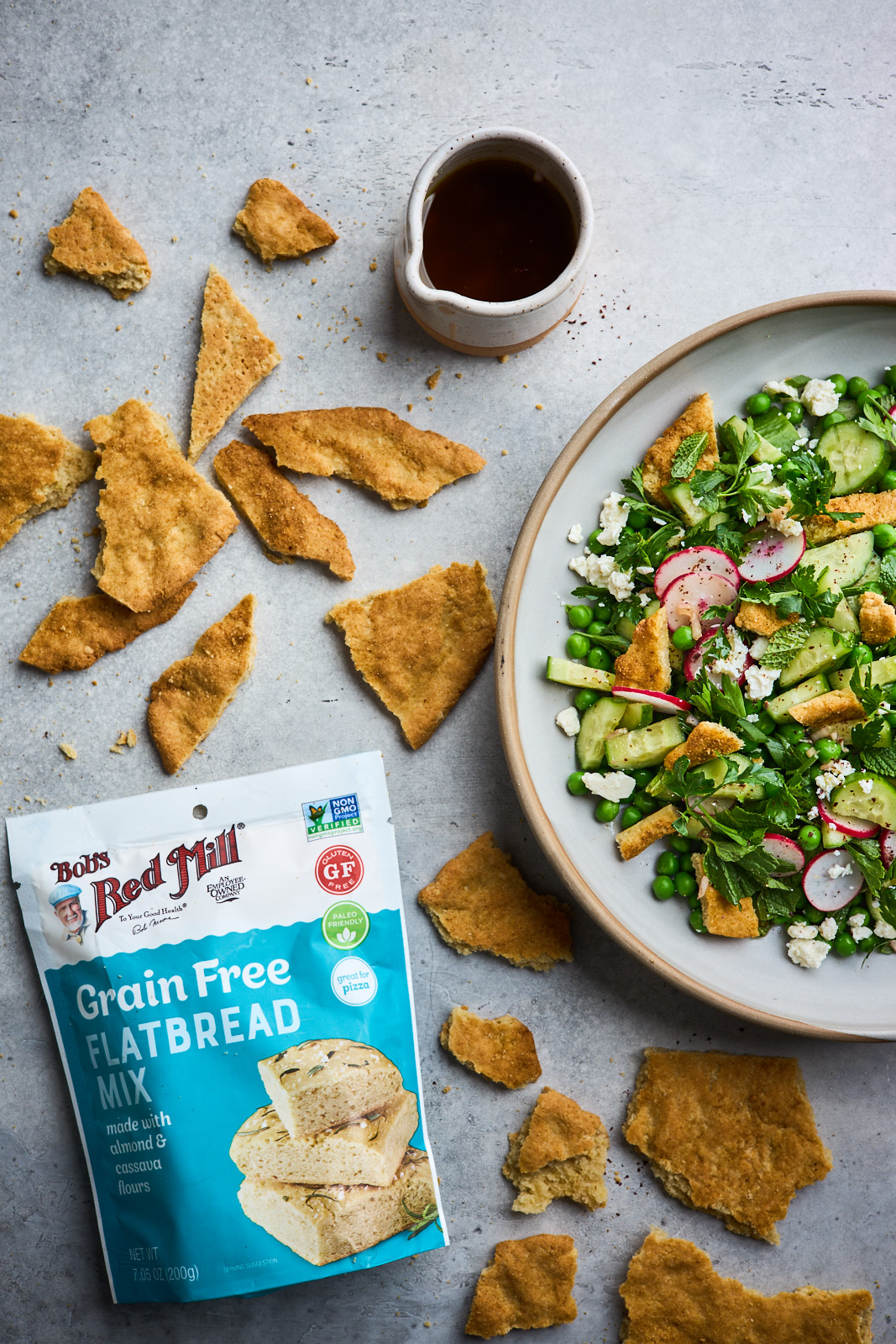 Spring has officially arrived here and the weather is starting to slowly show it. We are hopefully done with the well below zero temperatures from just a few weeks ago and looking forward to longer days and longer walks outdoors! This is just the right salad to help bring on the spring vibes even if it isn't feeling all that springlike where you are. In fact I make this salad all year round as I love peas and cucumbers and all the ingredients in this salad and usually always have them on hand so it's quite easy to whip up especially if you are using frozen peas.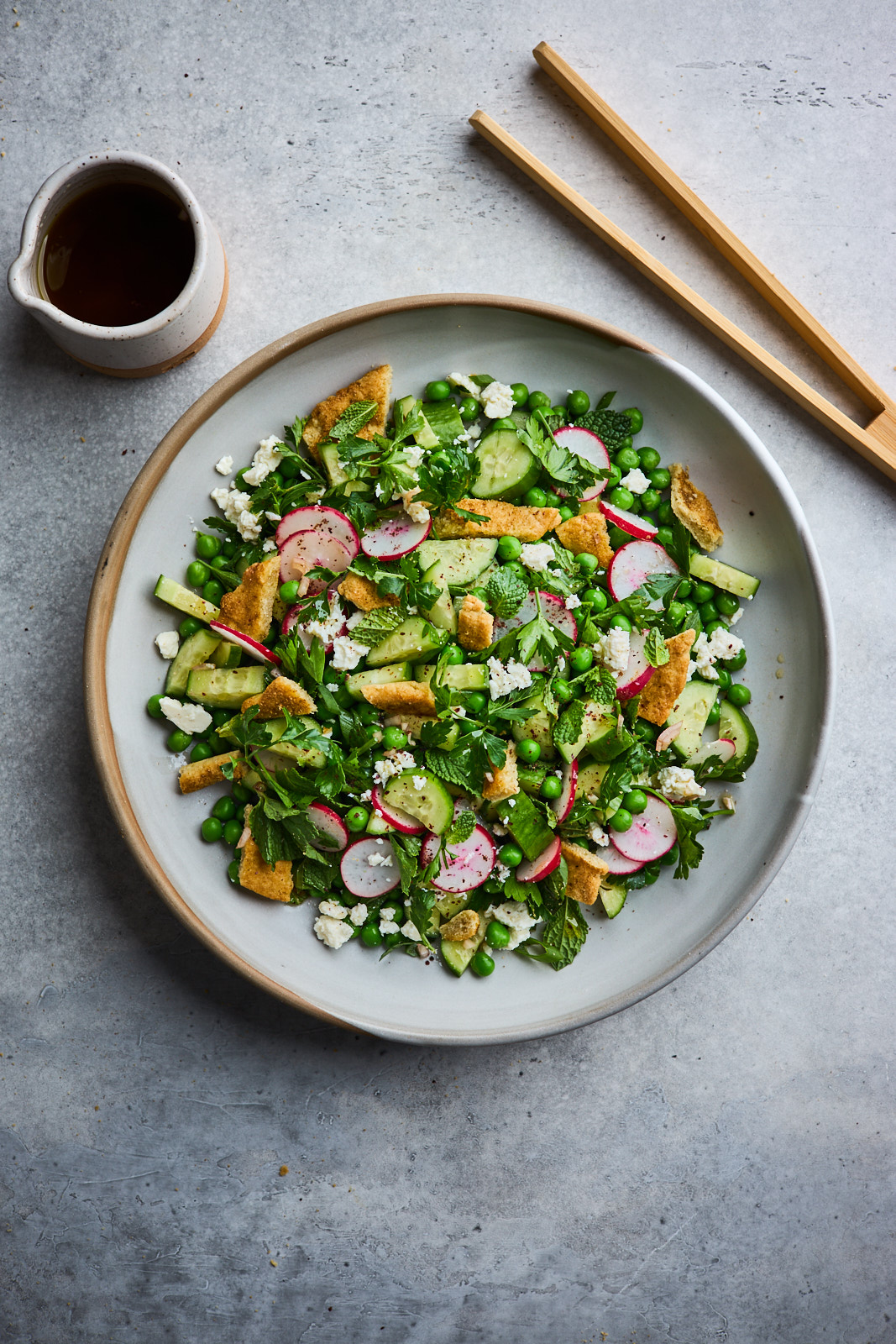 What is fattoush
Fattoush, a traditional Lebanese salad, is a delicious combination of fresh veggies, a bright citrus dressing, herbs and toasted pita bread. Usually it's made with chopped lettuce, cucumber, tomato, parsley, raddish, spring onion, mint, and often with chopped sweet peppers. My spring version uses green veggies.  I made this salad in partnership with Bob's Red Mill using their Grain Free Flat bread mix to make my own flat bread to add in to the salad. I thought it was a great way to use the mix for a grain free addition to the 'bread' or 'crouton' portion of a fattoush salad. It's an easy mix to use and your flat bread comes together in minutes - no proofing required and produces a crispy grain free and gluten free flat bread base. It has a subtle nuttiness and sweetness to it that my husband loves and he is pretty picky when it comes to anything gluten free. Bob's Red Mill always has you covered with so many grain free options for baking and cooking for all your dietary needs.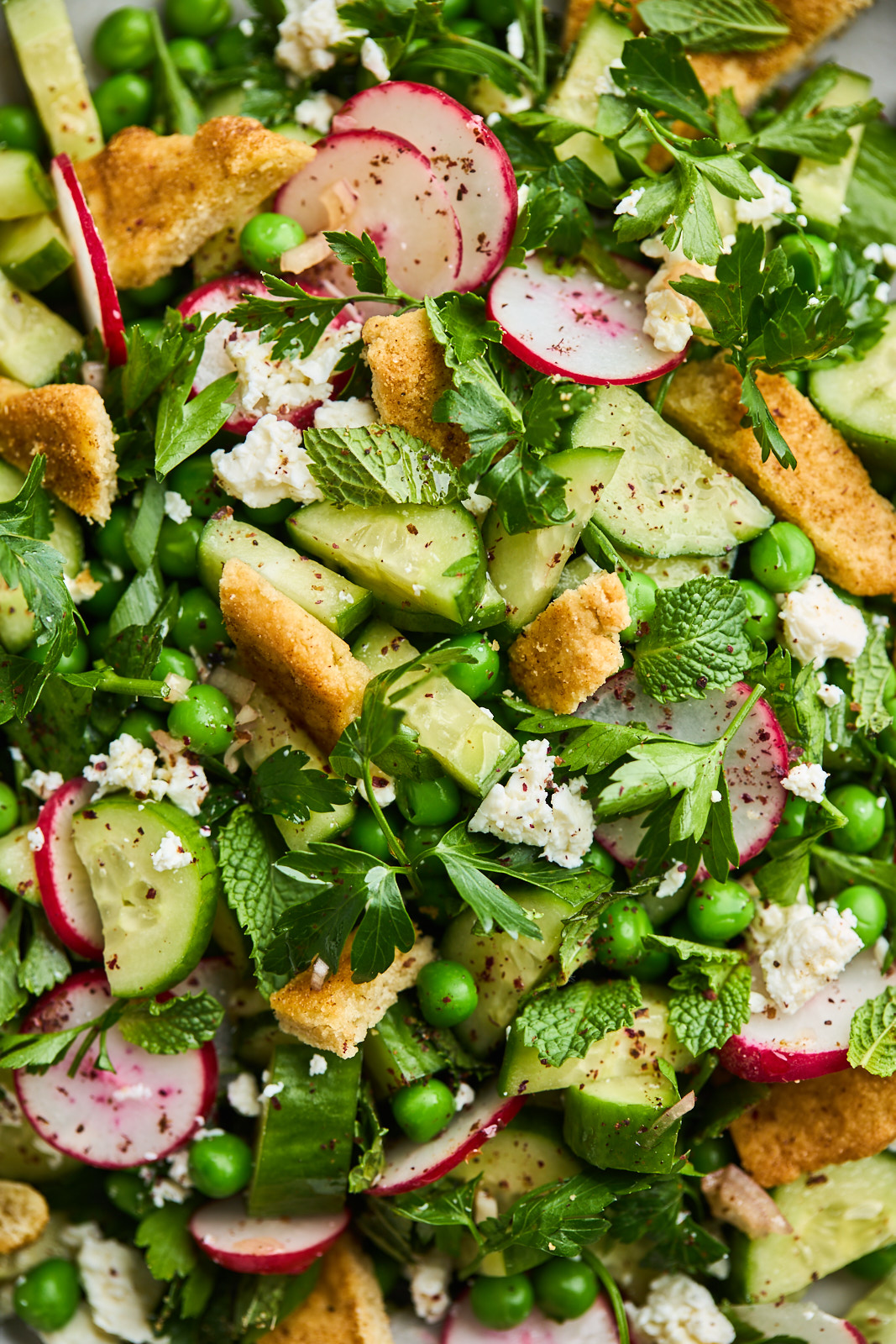 How to make Spring Green Fattoush
It's a very simple salad to make with maximum flavour from the delicious and zingy dressing to all the crunchy veggies, fresh herbs and salty briny feta. Here is how to make it:
PREPARE the flatbread Either make your own homemade flatbread or you can use store bought flatbread or pitas or even naan bread. If you are using the Bob's Red Mill flatbread mix you simply mix the flour with water, oil and eggs and then press it out into the size you want your flat bread to be, brush with the spiced oil and bake. See recipe notes below if using store bought pita or flat bread.
WHISK together all the dressing ingredients
CHOP all your veggies and blanch your peas, crumble your feta
TOSS all the salad ingredients together then toss with the dressing, break up your flatbread into pieces and toss into salad and enjoy!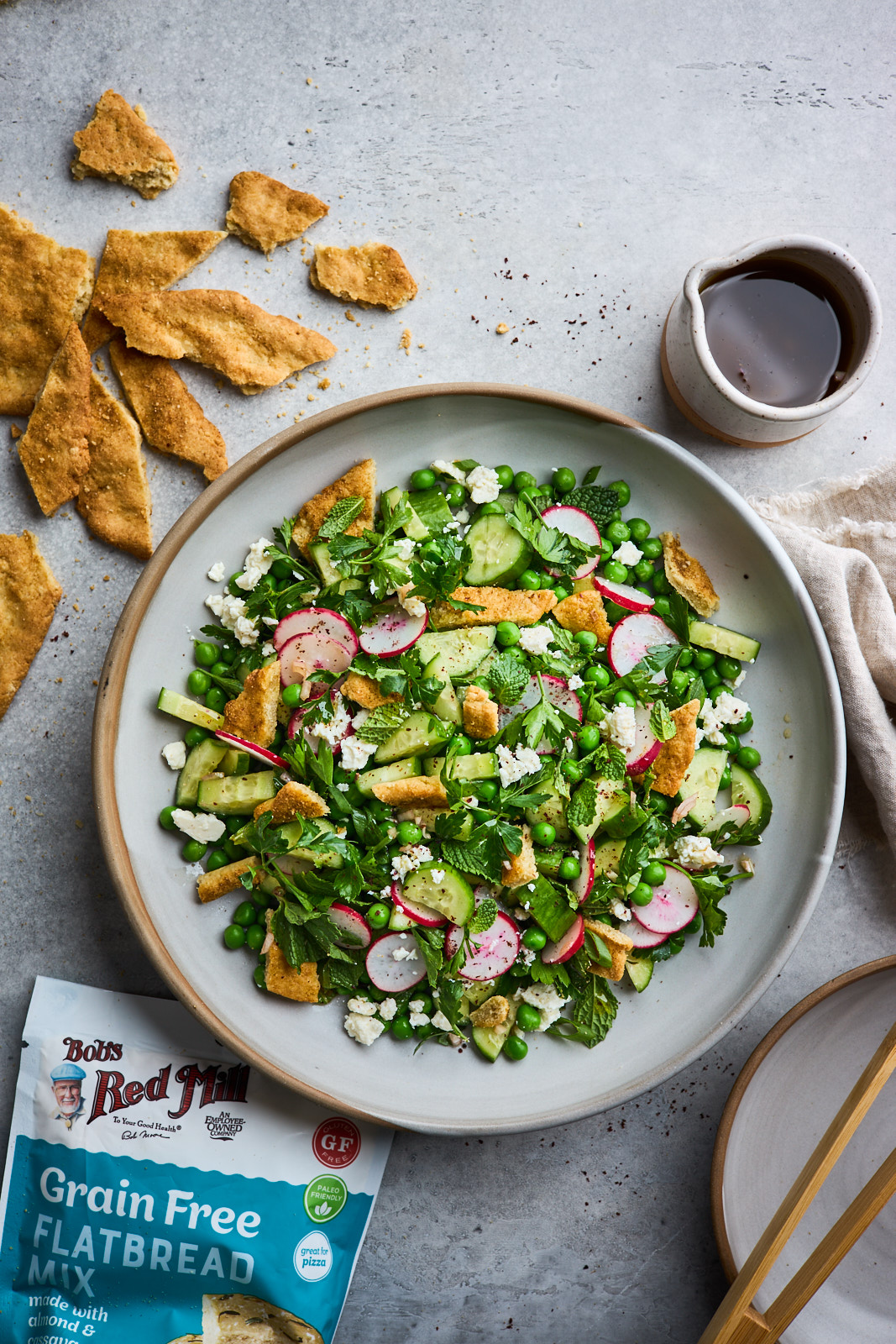 The perfect accompaniment to your dinner table, this twist on the classic Lebanese salad maximises fresh spring greens! If you like this recipe you will love:
I have partnered up with Bob's Red Mill to bring you this fabulous recipe, but all opinions are my own. Thank you for supporting Olive & Mango.
Recipe
Prep Time: 10-15 mins
Cook Time: 20 mins (if making flatbread) *
Ingredients
For the flat bread *
For the salad
3 cups fresh or frozen peas

4 small Persian cucumbers diced

4 small Radishes sliced

1 green onion sliced

¼ cup feta

1 small bunch each fresh parsley and mint chopped (approx. ¼ cup each) see recipe notes for extra add ins *
For the dressing
1 small shallot, peeled and minced

1 clove garlic, peeled and minced

½ teaspoon salt

1 teaspoon sumac

¼ cup lemon juice

1-2 tablespoons pomegranate molasses

⅓ cup olive oil
Directions
For the flat bread:
Preheat oven to 400°F; line baking sheet with parchment paper.
Mix together eggs, oil, water and bread mix in a large bowl. Let sit for 5 minutes.
Divide dough in half and scoop into two 6-inch rounds, using wet hands to smooth edges.
In a small bowl stir together the remaining 2 tablespoons of olive oil, the cumin, pepper flakes and salt. Brush the rounds with the spiced oil.
Bake until golden, about 15-20 minutes. Let cool completely and then slice or break apart into pieces and set aside
For the dressing
Place the shallots, garlic, salt, sumac and vinegar in a small bowl. Add 1-2 tablespoon of the pomegranate molasses and the olive oil. Whisk to combine.
For the salad
Bring a pan of water to the boil, add the beans and blanch 1 min until just tender. Drain, rinse with cold water to cool, then drain again.
Slice cucumbers, radishes, and green onions. (And any extra add ins) Crumble feta and chop all the herbs.
Assembly
In a large bowl, combine all of the salad ingredients. Pour most of the dressing over top. Toss. Add more dressing or serve the rest on the side. Add the broken pieces of flatbread in and toss again. Serve.
Recipe Notes
If using store-bought flat bread or pita bread heat the oven to 400ºF. Brush with spices oil mixture as stated In recipe then bake for 5-7 minutes until they are nicely toasted but not burned. Remove pan from oven and transfer pitas to a rack to cool. Then slice or break apart into pieces and add to salad when ready.
Please feel free to add in other fresh ingredients to this salad according to your preference like sliced snap peas, shaved Brussels sprouts, asparagus, sliced green beans and extra greens as well like chopped kale or romaine lettuce.
Adapted from BBC Good Food