Strawberry Almond Tea Cake
I have to say that when I was planning on making this cake, which is actually a compilation of three different cakes and recipes I have made, I didn't think it would be this good. It's a really light and simple looking cake but it's one of those cakes that you just keep going back for more. The flavour of it is bright with subtle citrus notes. The vanilla in it makes it fragrant and sweet along with the almonds cooked into it and the ones on top that are slightly toasted. The strawberries aren't overpowering at all. They add beautiful moistness to every bite and a mellow strawberry fragrance.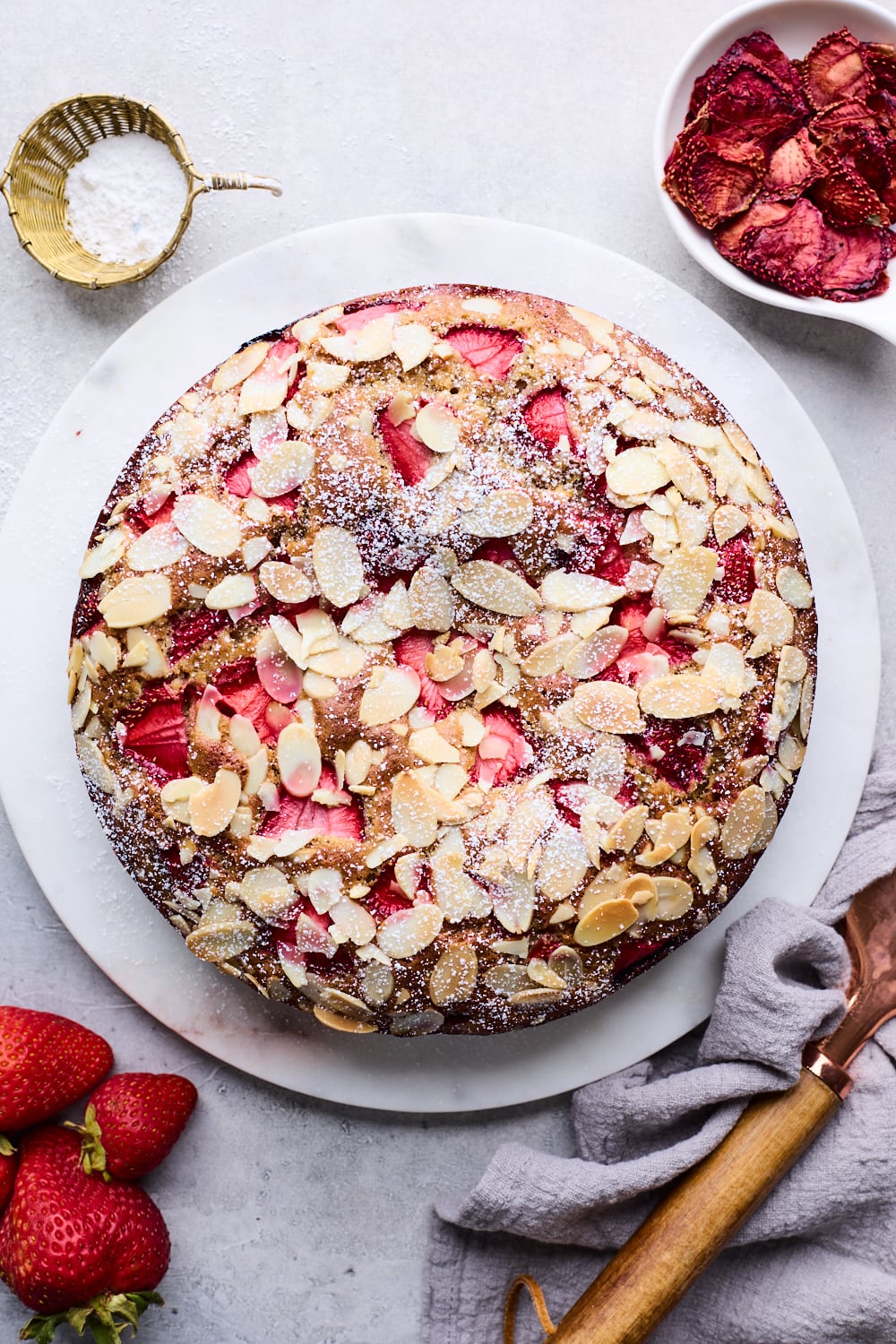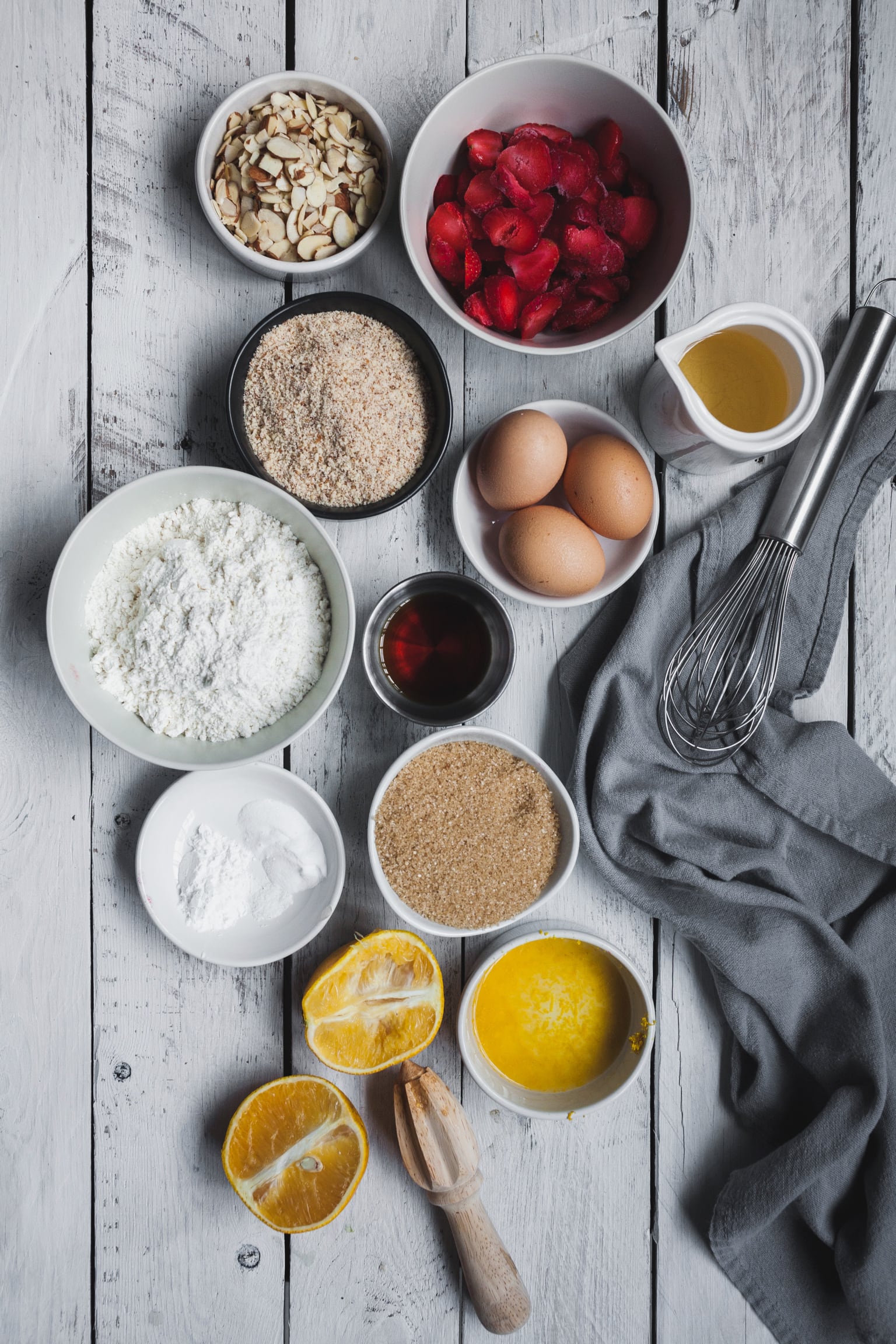 Let's just put it this way – I am not one for cakes (maybe a bite here and there because I always want to taste them), but this one had me going for a whole piece and then some. I actually think it's because I don't have a sweet tooth when it comes to cakes. I find they are always super sweet and I can only really handle a bite or two- probably the reason I'm so fond of cupcakes. This cake differs in that it's not overly sweet. It smells sweet and tastes sweet without the zing or sugar rush to your taste buds.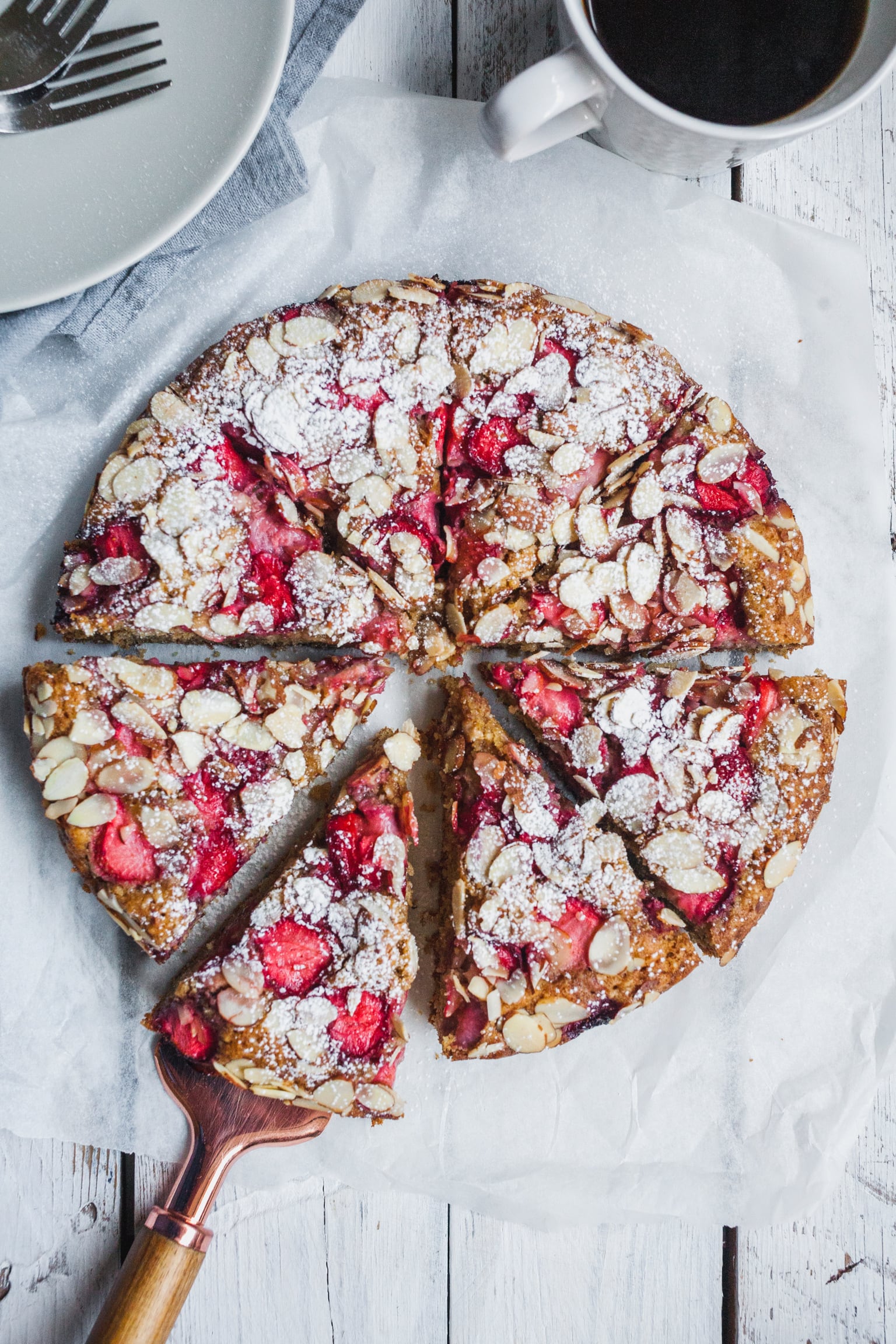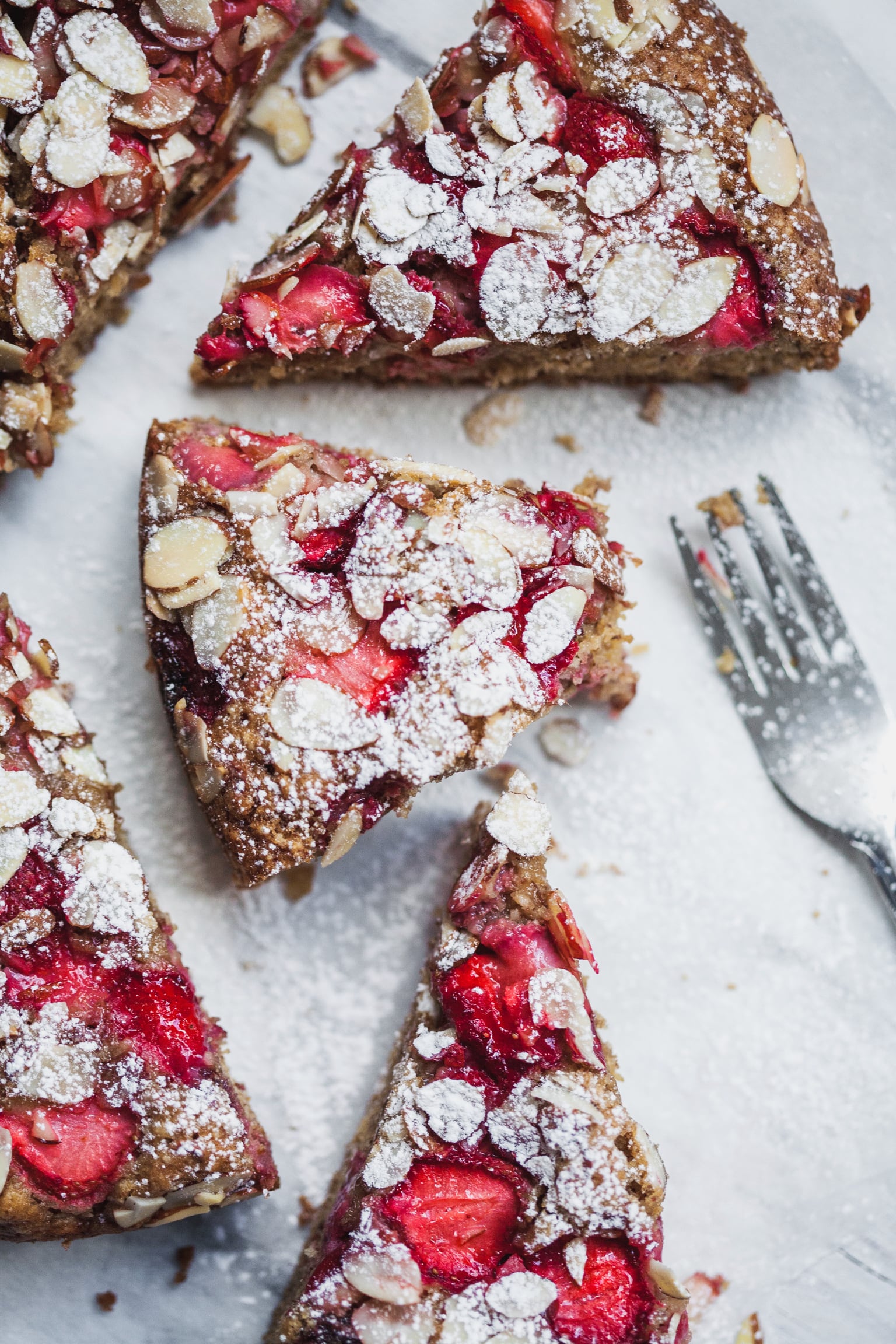 I have never tried it with all almond flour. I have only used the almond meal and AP flour version as well as the gluten free version using all almond meal or ground almonds. The difference with that gluten free version is that the cake isn't as light. It's a little denser but the flavours are still exactly the same. I am not gluten free so I haven't experimented with any other gluten free flours but I'm sure this would work beautifully with all almond flour or possibly even coconut flour. If you have any alterantives i would love to get your input.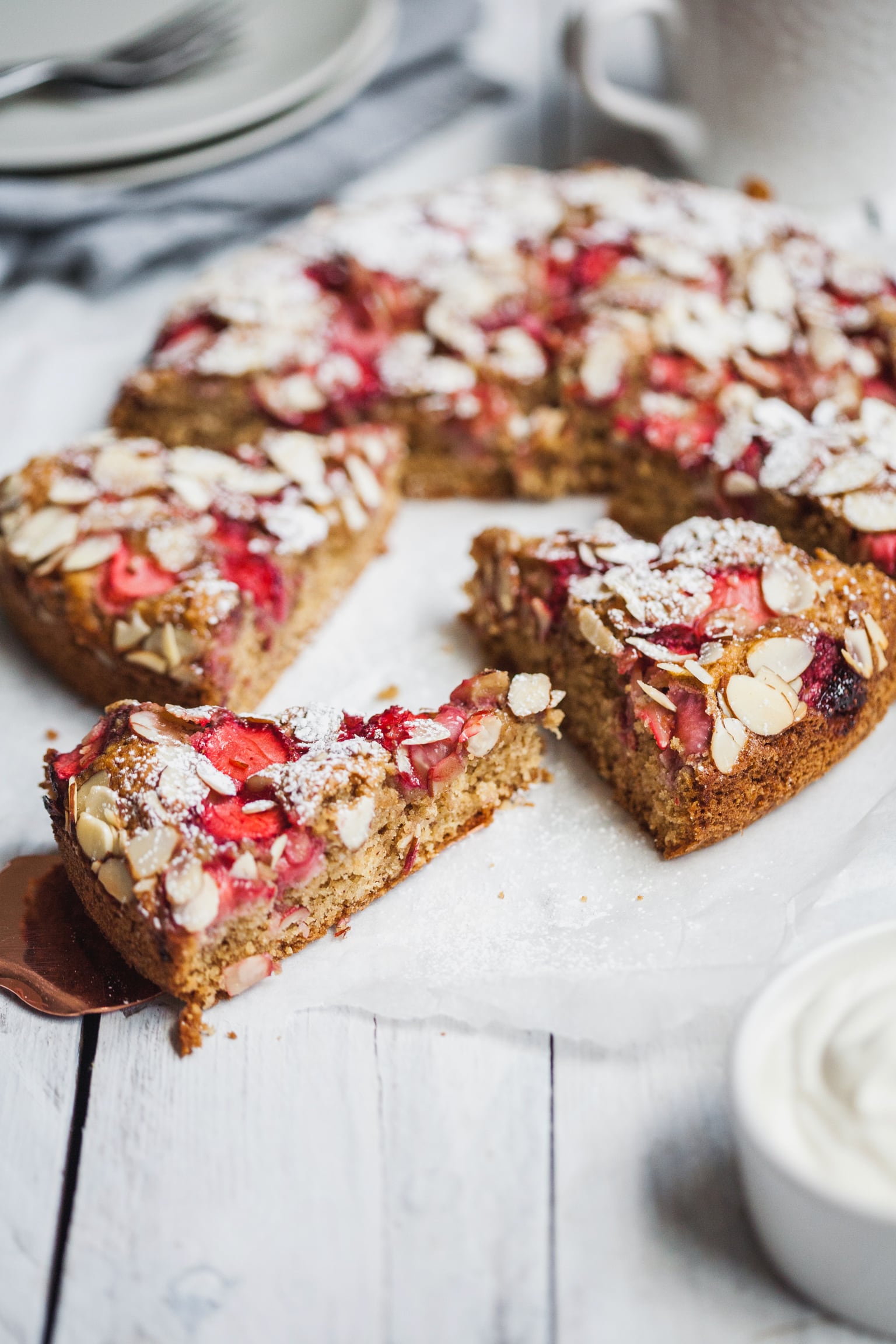 The reaction between the acidity of the orange juice and the baking soda and powder give it it's extra lift, so one of the recipes I was comparing this one too gave some good advice especially if you're going to make it fully gluten free with the almond meal or GF flour. As soon as you fold in the dry ingredients to the wet don't dilly dally, top it with the berries and almond flakes and put it right into the oven so that it holds its lift or airiness created by the chemical reaction.
I serve this dusted with some powdered sugar and with coconut whip cream (recipe below) and extra berries. A quick and easy recipe! Simply, perfect for Spring and Summer when fresh berries are in abundance! If you live in a place where fresh berries are not in abundace like I do at the moment, then definity use frozen. That is what I use and it always turns out fabulously. This time around making it, I garnished with strawberry chips, which are really over the top but I was inspired by my friend Jennifer over at The lemon apron and used Martha Stewart's recipe for them. I used frozen berries to make the chips which took a little more time to dry and dehydrate but they turned out soo good and looked so pretty. The recipe I used is included below. You just need a bit of patience to make them but its so worth the extra effort I promise. Enjoy!
Recipe
Prep Time: 10-15 mins
Bake Time: 25-30 mins
Ingredients
1 cup fresh or frozen strawberries – sliced (I use frozen)

2 tbsp freshly squeezed orange juice

½ tsp orange zest

3 eggs

¾ cup of coconut sugar or brown sugar

½ cup coconut oil

2 tbsp pure vanilla extract

1¼ cup of AP flour

¾ cup of almond flour or almond meal is what I usually use - finely ground almonds

1½ tsp baking powder

1 tsp baking soda

1 pinch of salt

½ cup of flaked almonds
Directions
Preheat oven to 350°F
Grease a springform pan and line bottom with parchment paper for easy transfer to plate (optional to line if you're serving straight from the pan)
In a medium bowl combine the dry ingredients: flour, Almond meal, salt, baking powder, and soda and whisk well until all combined
In a large mixing bowl beat the eggs and oil until well combined and then gradually beat in the sugar then the vanilla, orange juice and zest
Gently fold the dry ingredients into the wet until just combined
Fold half of the strawberries into batter
Pour batter into the springform
Place remaining strawberries gently on top of the batter spreading them evenly across it and then sprinkle​ with the flaked almonds
Bake for approximately 25-30 minutes until cake is set and golden brown. If the top is getting too brown then place a piece of foil over the pan for the rest of the baking time
Once done remove and let cool on a wire rack
Before serving dust with a little powdered sugar and serve with coconut cream (recipe below) and more strawberries. I have served it with coconut ice cream and it's a hit with ice cream as well!
Coconut whip cream
Ingredients
1 can of coconut cream/or a thick milk
1 tsp of pure vanilla extract
¼ cup powdered sugar
Directions
Place the can of coconut cream in the fridge for a few hours or overnight - or in the freezer for 30 min to an hour to allow the milk fats to solidify
Open the can and drain out the liquid part reserving the solid creamy milk fat- you can save the liquid part to drink or add to smoothies
Place the milk solids in a large mixing bowl and beat with a mixer until light and fluffy
Add the vanilla and sugar if you want it sweetened and mix until well combined - I don't usually sweeten; I leave as is because I find it has a natural sweetness and it contrasts well with the sweetness of the cake.
A note about the coconut whip. I learned from experimenting that the milk fats must be pretty solid when you remove them from the can so that they whip up well. Also if you're having trouble getting it to whip try a different brand of coconut cream or milk. You really need a thicker kind of coconut milk not the really watery ones without a lot of fat.
Candied Strawberry Chips
Ingredients
½ cup sugar
10 strawberries, rinsed and hulled (I used frozen)
Directions
In a small saucepan over medium-high heat, bring sugar and ½ cup water to boil, stirring until sugar has dissolved. Remove from heat; let cool completely.
Preheat oven to 200 degrees. Slice strawberries lengthwise as thinly as possible. Dip slices in cooled syrup; place on parchment-lined baking sheet. Bake until dry but still bright red, about 2 hours.
Immediately transfer chips to a wire rack to cool completely.