Super Simple Vanilla Almond Granola
Updated 1st Sept 2023
There's nothing like homemade granola - we just love it and make this particular recipe all the time. This homemade granola recipe is so easy to make and is just sweet enough with loads of flavor and crunchy texture. With hints of vanilla, coconut and almond throughout each bite. This is my staple go to granola for eating with milk, yogurt parfaits, over my smoothie bowl or as a snack. I never ever get tired of the almond vanilla crunch and once you try the recipe and taste it I'm pretty sure you will be hooked too!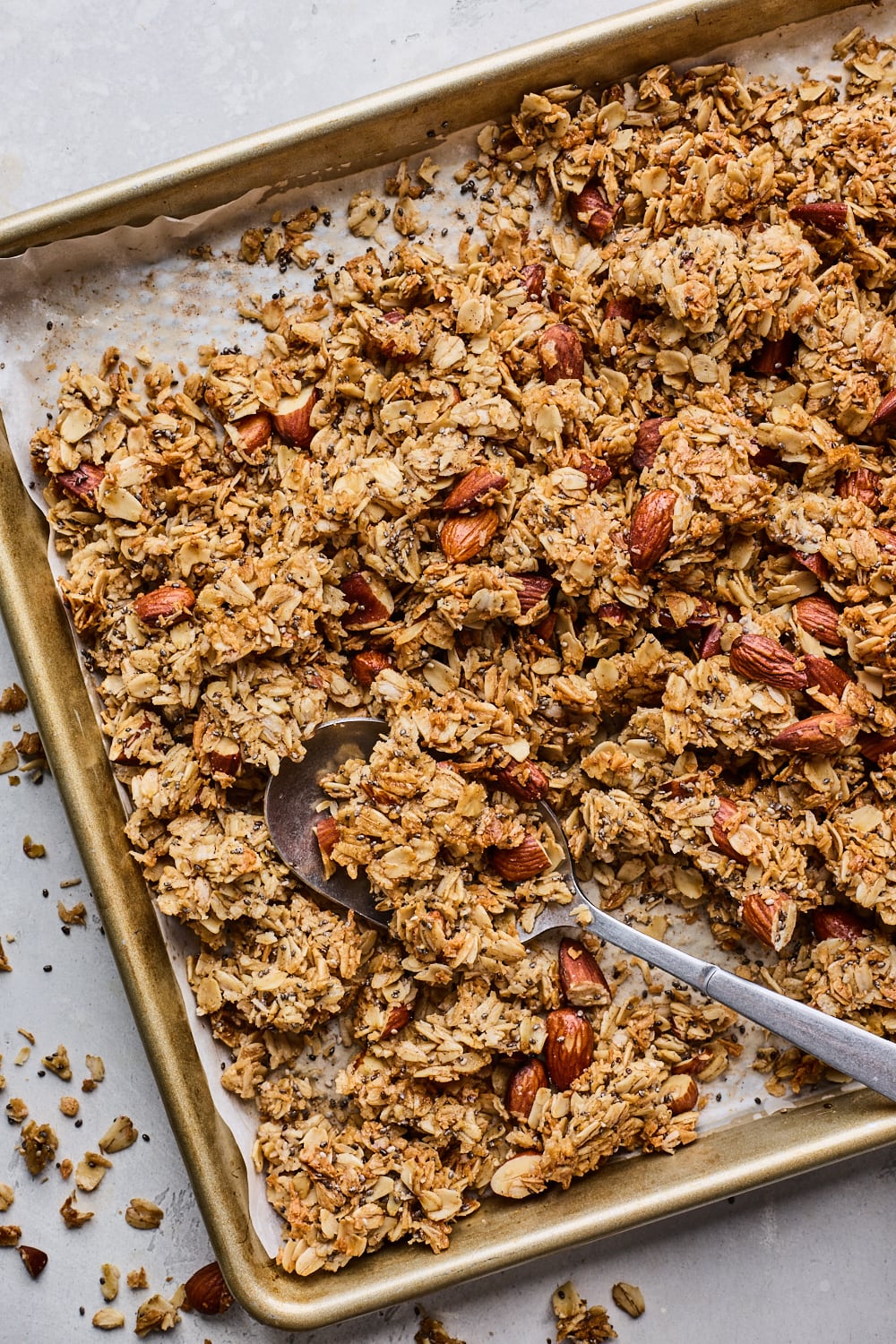 Why Make Your Own Granola?
One of the things I make homemade and enjoy making is granola. It is a weekly or bi-monthly food prep item i make regularly including peanut butter. Yes it's cheaper but that's not really the only reason I make it, it's also a much more healthy granola recipe. When you make your own granola and peanut butter and other similar goods you really can control what goes into them. A lot of store-bought granola brands - even some that claim that they are natural have a lot of other added ingredients that you may not want to be including in your daily diet. Understandably they may include preservatives to lengthen shelf life but many also contain a lot of sugar as well as added artificial flavourings. So I like to make these things at home myself because one, they are pretty simple to put together, and two, they are pretty quick to make or at least don't take a lot of prep time, and three, you can customize the flavours.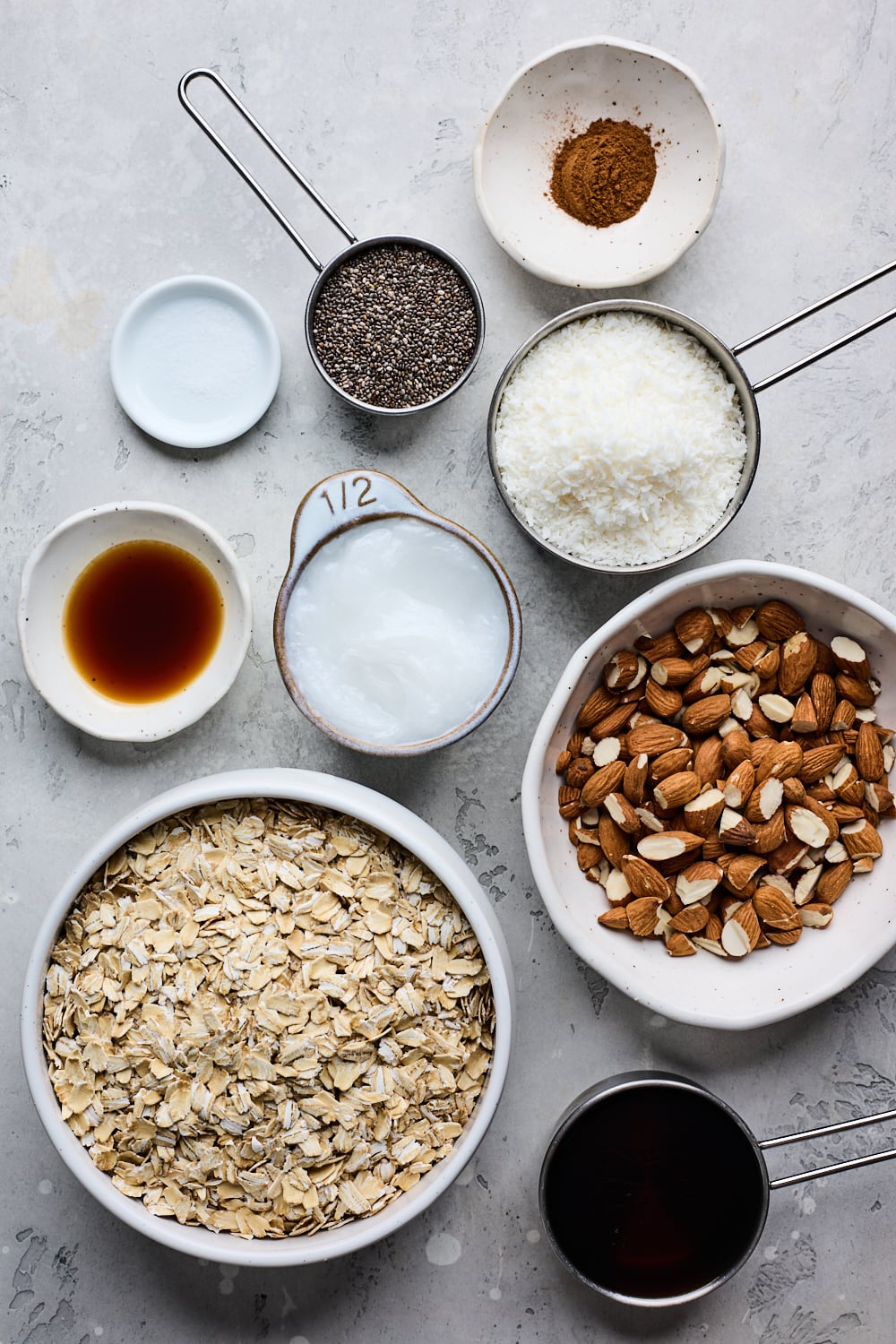 Easy Homemade Granola Recipe Ingredients
OATS: I always use old fashioned rolled oats for granola instead of quick oats and instant oatmeal oats for best result and textures they are flat larger and flaky - the latter are powdery and don't add anything to the texture of your granola. I use gluten-free oats
SWEETENER: I always use either honey or maple syrup for the best kind of natural sweetener, flavor and texture for this granola - I also love the flavour that maple syrup gives this granola. You can also use agave as a sweetener instead. Liquid sweetener is optimal for combining and binding ingredients as is the coconut oil
OIL: I always use coconut oil for this recipe for the best flavour - but feel free to use olive oil for a more savoury flavour, canola oil or melted butter - the fat is necessary for combining and binding all ingredients
ALMONDS: I always use raw almonds but you can swap them out for any other nuts like walnuts, pecans, cashews, pistachios, peanuts, or hazelnuts. No need to toast them before hand as they get baked in with the oats
CHIA SEEDS: I love the texture they add and the bonus little bit of protein and fiber. Feel free to omit if you are not a fan or substitute with other seeds like flax seeds, hemp seeds, sunflower seeds or pepitas/pumpkin seeds for some crunch and added nutrition
COCONUT: I love to add unsweetened shredded coconut for flavor and texture but you can even use coconut flakes in this recipe too
SALT: For balancing the flavours
CINNAMON: Ground spices add some extra flavor to granola. I kept things simple with ground cinnamon which adds just the right amount of flavour and warmth to the granola without overpowering - but feel free to use any spice or spice blend you like in its place or omit
VANILLA: I love to add a touch for flavour - feel free to use a little almond extract for a variation if you would like or a blend of the two of them - always try to use pure extracts for the best flavour
VARIATIONS: Feel free to add dried cranberries, goji berries, raisins, chopped dried apricots, dried currants, tart cherries, chopped dried mango, and dried blueberries to the mix but toss them in after the granola has been baked so they don't harden in the oven.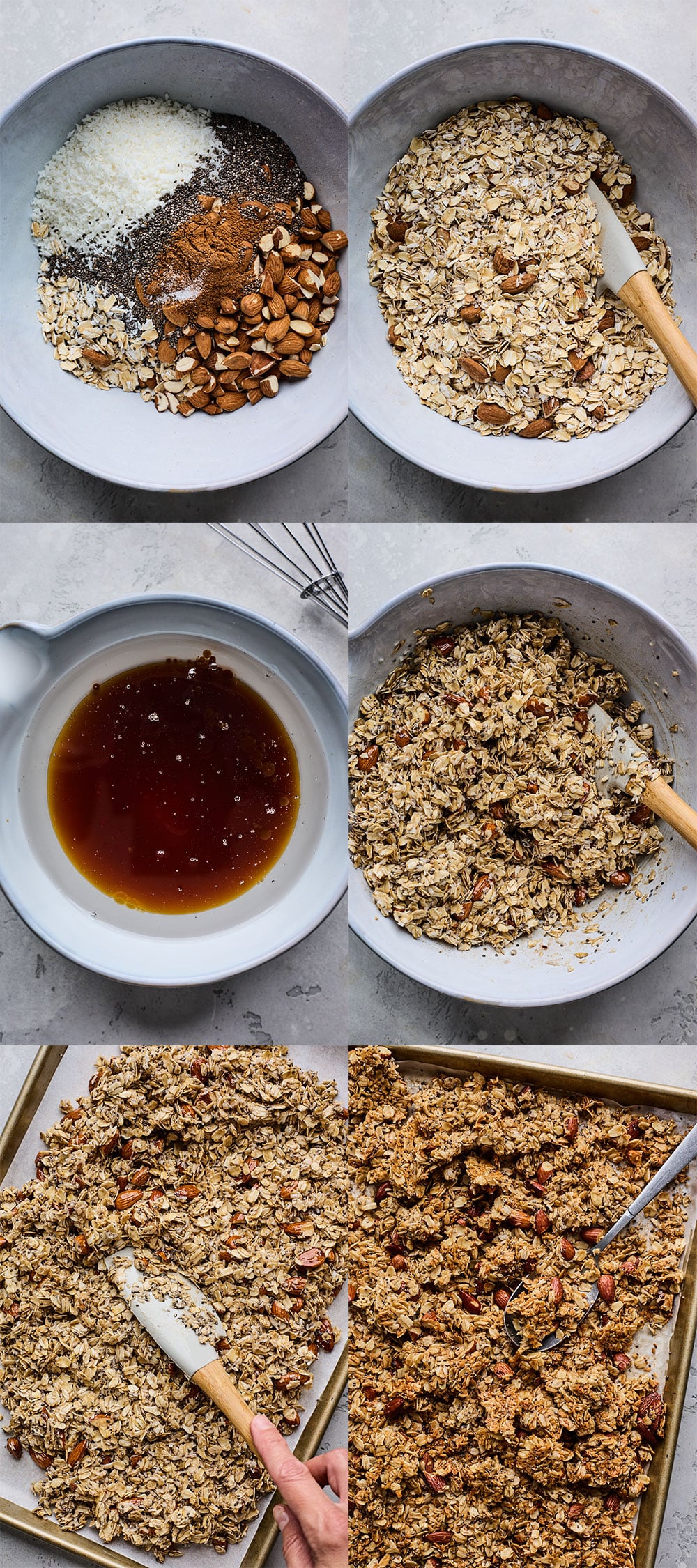 How to Make This Simple Granola Recipe?
Homemade granola isn't just delicious but it's so easy to make. My husband loves his granola so I always like to keep a homemade batch on hand. It's basically made of some very accessible pantry ingredients. It's comprised of rolled oats, a sweetener and a binder which is usually in the form of an oil or sometimes egg whites. In this recipe it is oil. You can jazz it up by adding more seeds, nuts, or even dried fruit which would add to the flavour of it but my husband doesn't really like raisons or dried fruit in his cereal or granola so I make it without. Once those ingredients are mixed well they are baked until crisp, toasted and golden brown. Here is a breakdown of the recipe instructions:
PREHEAT oven
PREPARE sheet pan by greasing it or lining it with parchment paper
TOSS together the dry ingredients
WHISK together the wet ingredients
COMBINE the dry and wet ingredients until everything is well coated and combined
PRESS granola mixture gently into pan to flatten and snuggly fit the mixture into sheet pan
BAKE granola for 28-30 minutes or until edges are lightly golden
COOL COMPLETELY in pan on cooling rack for 1-2 hours until completely dry and crisp
BREAK APART or crumble to desired size and texture
ENJOY as is as a snack or cereal or with whatever you enjoy granola with
Homemade Granola Recipe Tips
Use old fashioned rolled oats not quick oats or instant oatmeal oats for better texture and result
Keep the binding ingredients and ratios consistent for best texture and result
Allow Granola to cool completely before packing away - otherwise it will create condensation and get soft and soggy and lose its crunchy texture
If you chose to add chocolate chips or dried fruit toss it into the granola either after it comes out of the oven or toss in after its cools
Make sure to use the proper size baking sheet - if it's too large and the granola mixture is spread out too thin you will burn your granola. I like to use a 9x13 or 10x15 inch sheet pan as a basic size - you want your granola to sort of fill the pan snuggly
Use a spatula or your hands to press down the pre-cooked granola gently to create a uniform layer this will also help the granola to fit snuggly as mentioned above. This helps with the formation of little clumps or clusters, which can be broken up or crumbled to suit everyones granola preferences.
You know the granola is done baking when it smells sweet and the edges just start to turn golden. No Need to wait until its deeply brown all over because there is risk of burning it or the add ins like the nuts - The granola gets crispy not just from the baking process - the magic happens as it cools and dehydrates in the pan!
Don't be tempted to increase the temperate of the oven to bake granola faster - this doesn't work with granola - you will end up burning the granola and the nuts before the oats have had the needed time to dry out and crisp up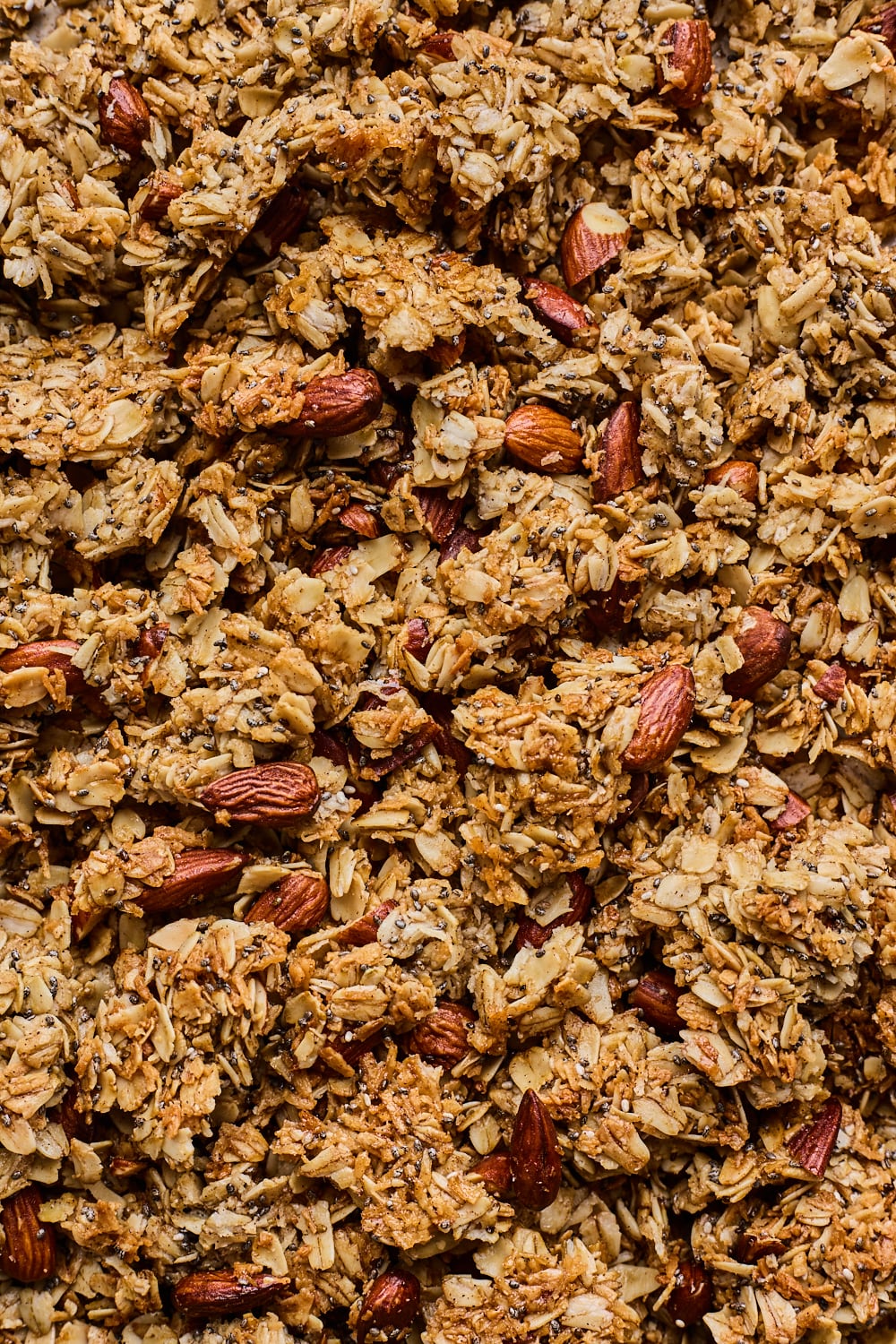 How To Store Granola Properly and Freeze Granola
STORAGE: Cool granola fully then crumble and place granola in a well sealed and airtight ziplock bag or container and place it in a cool or at least room temperature, dark, dry cupboard away from any major heat sources to keep granola crisp which will also help nuts from going rancid. The granola will keep like this for up to 3-6 months. If you live in a hot, humid environment the shelf life will be more like 2-3 months.
DO NOT STORE IN FRIDGE: The moisture in the fridge can cause the granola to go soggy and develop mold, so it's best not to store it in the fridge or in any area where thee is a potential for high heat or high humidity or condensation.
DO FREEZE: Freezing granola is the best way to ensure it stays good and combat humidity for as long as possible. It's great if you want to make a huge batch or if you are not sure exactly when you're going to eat the granola. The granola will last 3-8 months in the freezer but best to eat it within 3 months for best quality, texture and flavour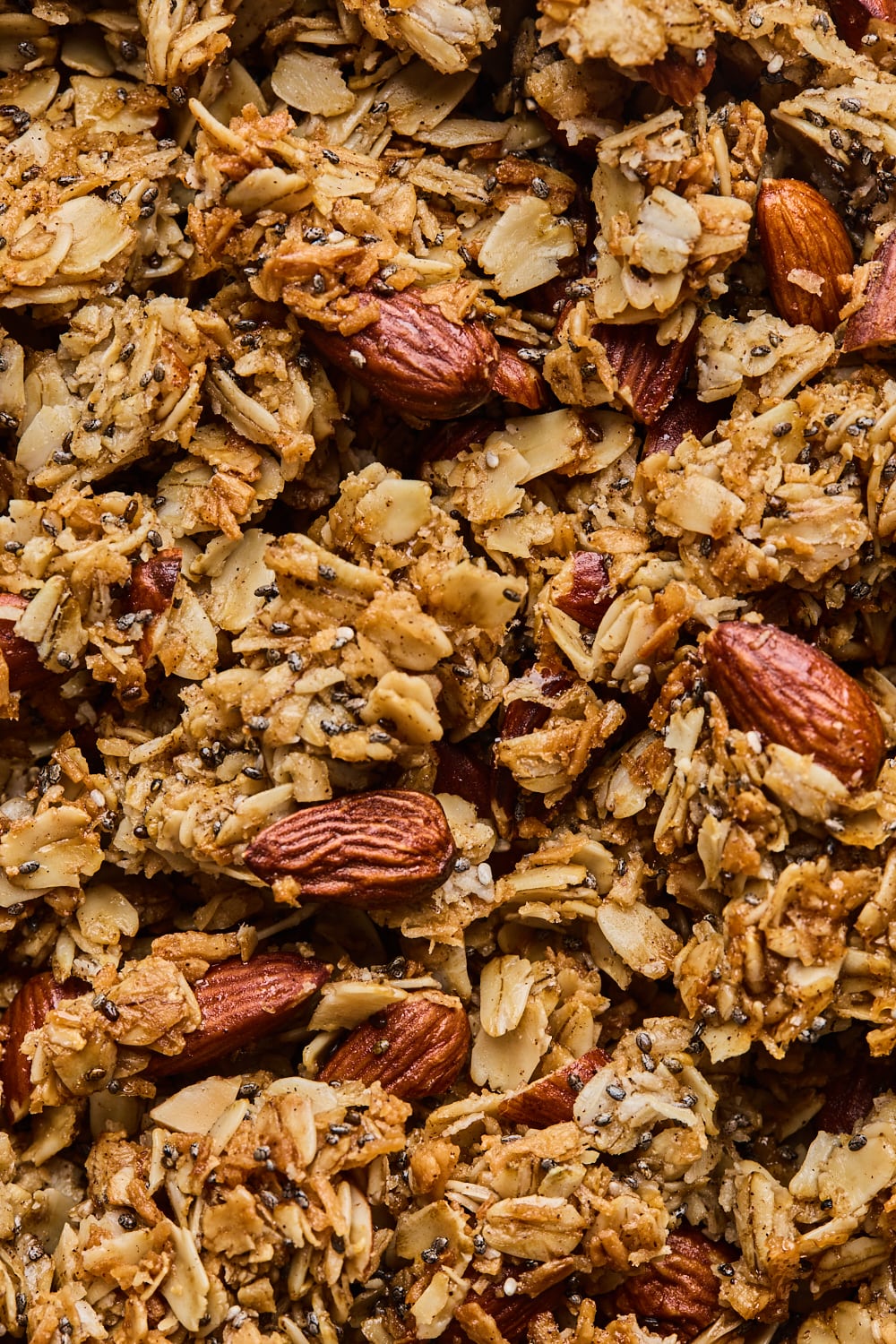 Serve This Granola With…
This granola has a nice crispy crunch and it goes with everything. I have it as a snack all the time either on its own or with fruit and PB, top my smoothie bowls with it, and my husband has it regularly as a cereal or with yoghurt sort of parfait style. I have a couple other go to flavours up my sleeve and will share them with you guys soon! Hope you like this simple recipe and do tell me what you like to add to your homemade granola!
Basic Main Ingredients
Rolled oats
Maple syrup
Coconut oil
Almonds
Vanilla extract
Substitutions
Maple syrup can be replaced with honey or any other liquid sweetener you prefer
Use Gluten free oats to make this GF granola
Coconut oil can be replaced with any other oil you have - preferably a vegetable based one
Replace the almond with any other nut you would like or leave out if you have nut allergies
Replace the chia seeds for hemp seeds or pumpkin seed, sesame seeds or sunflower seeds for extra crunch
Replace the vanilla extract with almond extract from more almond flavour
More Recipes You Will Love
Recipe
Servings:
Makes approx 4-5 cups Serves 10
Prep Time: 5-10 mins
Cook Time: 28-30 mins
Total Time: 40 min
Nom Active Time: 1-2 hours for cooling
Ingredients
3 cups old fashioned rolled oats (not quick oats)

1 cup unsweetened shredded coconut

1 teaspoon cinnamon

A pinch of salt

¼ cup chia seeds (optional)

¾ cup of chopped almonds

1½ teaspoon vanilla extract

½ cup maple syrup, honey or agave for sweetness (I prefer maple syrup because of the flavor and it's runnier and gets incorporated well)

½ cup of coconut oil
Directions
Preheat oven to 300°F. Grease a 9x13 or 10x15 sheet pan / cookie sheet with cooking spray or line bottom with parchment paper and set aside.
In a large bowl combine all the dry ingredients: oats, nuts, coconut, seeds, spices tossing to combine and stir until everything is well combined.
In a separate small bowl whisk together the wet ingredients: oil, honey or maple syrup, and vanilla
Pour wet ingredients into the dry ingredients and stir very well until everything is coated evenly and well combined
Spread mixture evenly and in a thin layer so that it can crisps up pressing on it gently to allow everything t clump together.
Place sheetpan into the oven and bake until lightly golden brown and crisp — approx 28-30 minutes
Remove from oven one done place on cooling rack and let stand to cool for 1-2 hours until completely cool and very crispy. You don't want to store it in a container as soon as it's out of the oven because it will get moist and mushy from the moisture created by heat
Once completely cool - feel free to break off checksum or crumble to the size of your liking and store in a sealed and very airtight container. This doesn't last longer than a week in our household so it should be fine for at least a week if not more if it lasts that long.
Recipe Notes
STORAGE: Cool grail fully then crumble and place granola in a well sealed and airtight ziplock bag or container and place it in a cool, dark, dry cupboard away from any major heat sources to keep granola crisp which will also help nuts from going rancid. The granola will keep like this for up to 3-6 months. If you live in a hot, humid environment the shelf life will be more like 2-3 months.
DO NOT STORE IN FRIDGE: The moisture in the fridge can cause the granola to go soggy, so its best not to store it in the fridge or in any area where thee is a ponteila for high heat or Hugh humidity or condensation.
DO FREEZE: Freezing granola is the best way to ensure it stays good and combat humidity for as long as possible. It's great if you want to make a huge batch or if you are not sure exactly when you're going to eat the granola. The granola will last 3-8 months in the freezer but best to eat it within 3 months for best quality, texture and flavour