Sweet Potato Casserole
Creamy bourbon sweet potatoes topped with a brown butter bacon pecan and sage topping. Brown butter and sage are a fabulous pairing for sweet potatoes. This a sweet and savoury version of a classic American side dish that originated in the South. It's usually served with a meringue topping or a marshmallow topping. I'm not going to knock the marshmallow topping but I will say it's not my families favourite so I'm sharing one that is not as sweet and has a delicious and addictive brown butter, brown sugar, bacon, pecan and sage crumble topping. I also added a bit of bourbon to the sweet potatoes because it just works! You can boil, bake, or microwave your sweet potatoes before mashing them, then mash, add the rest of the ingredients to them and then bake with that delicious topping. It's easy to make the day of or can be prepared in advance for an easy make-ahead side dish.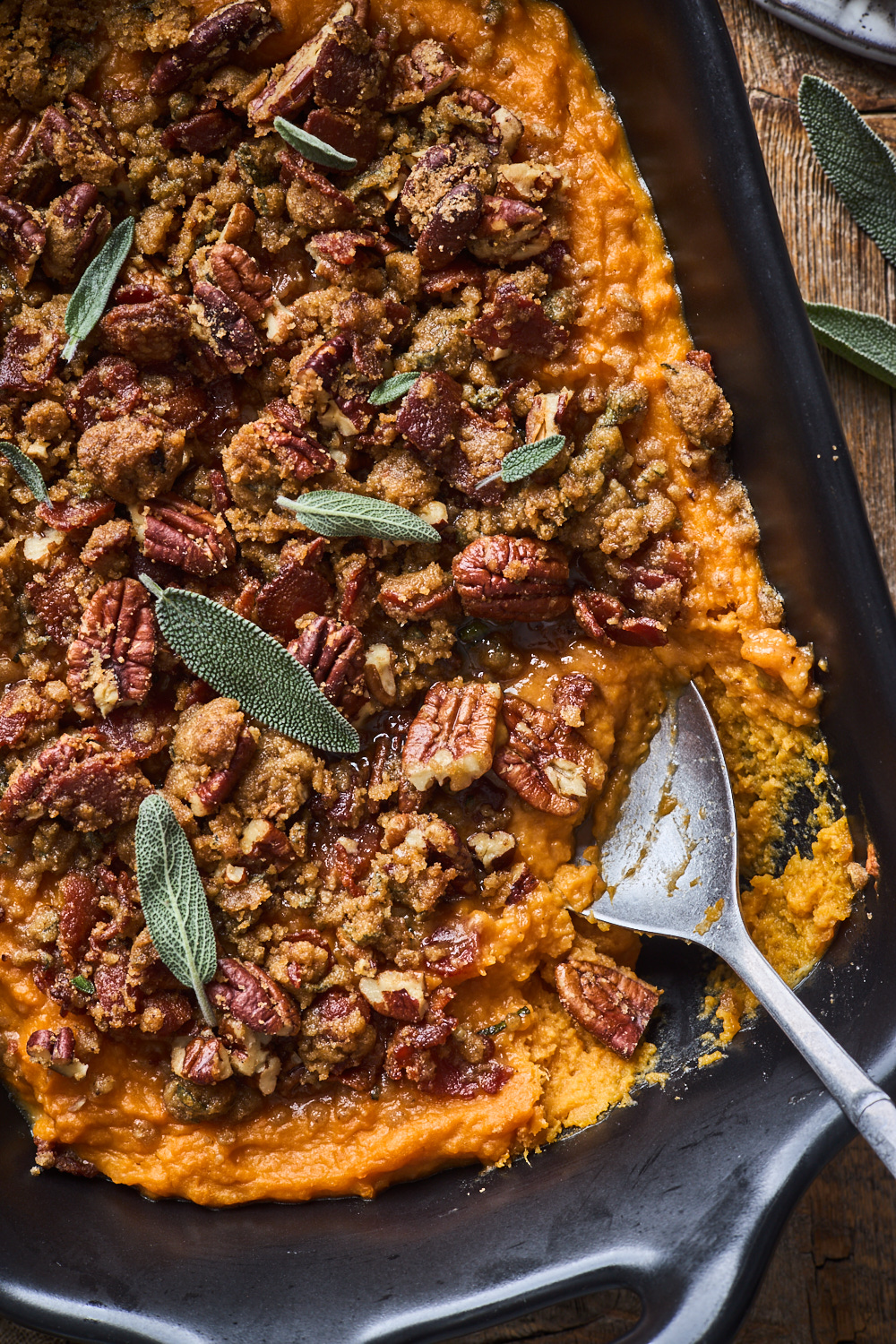 What is Sweet Potato Casserole?
A southern-style casserole that is a dessert-like side dish. It is made of cooked and mashed sweet potatoes combined with brown sugar, butter, vanilla, milk and eggs. In this recipe, the sweet potato mixture is then topped with a buttery pecan bacon streusel topping and baked until golden brown. It's a traditional southern favorite for family meals and special occasions. Why you will love this version of sweet potato casserole: Crunchy texture on top of smooth and buttery sweet potatoes. Simple to prepare. Tons of flavor thanks to brown sugar, bourbon, brown butter, sage, bacon, and pecans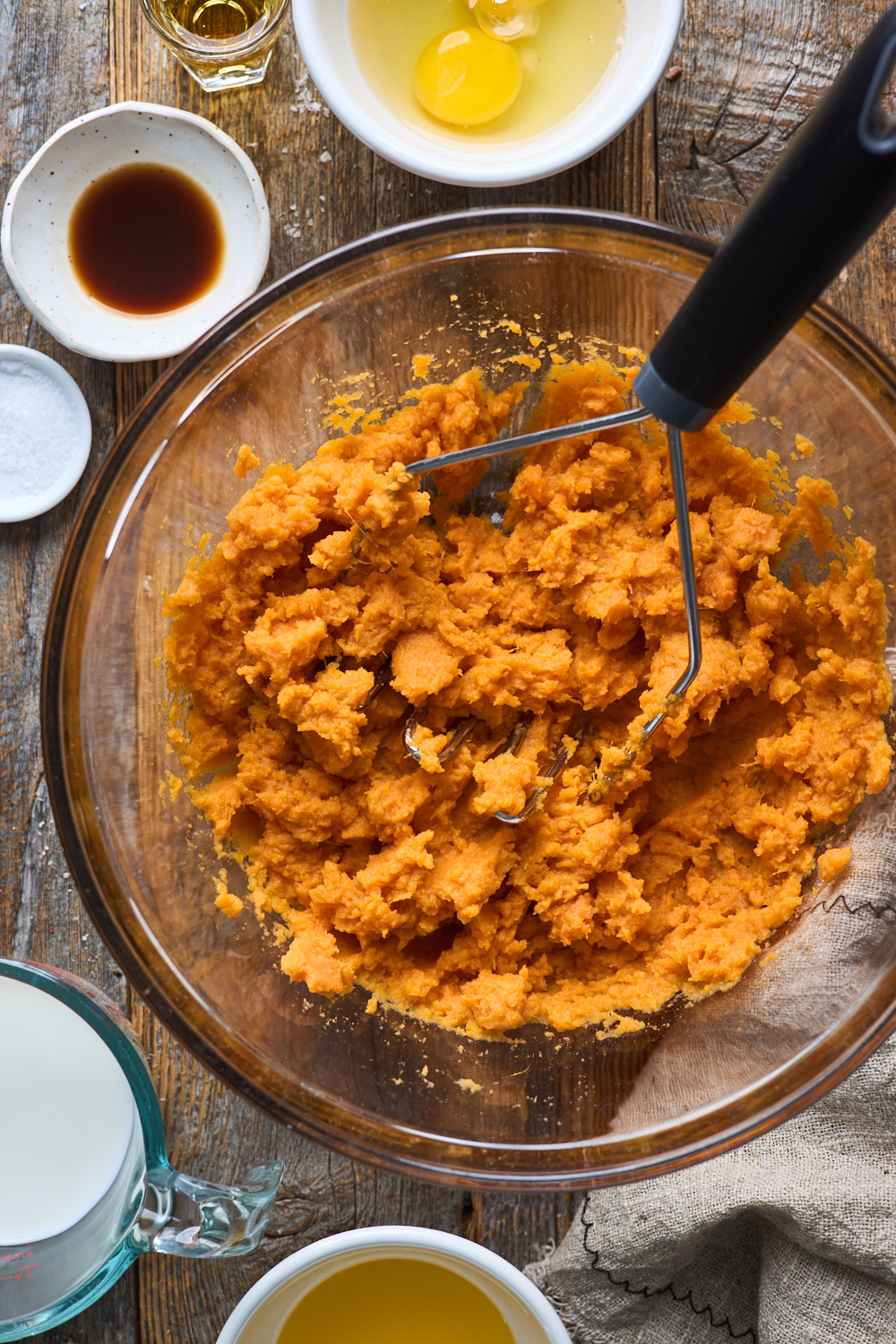 Sweet Potato Casserole Ingredients:
Sweet potatoes: I just boiled these. But you are also welcome to bake or microwave them and then hollow out your sweet potatoes instead. ARE YAMS THE SAME AS SWEET POTATOES? Yams are starchier and look more like a white potato. Baking instructions in recipe notes below.
Milk and butter: I always use whole milk and unsalted melted butter. Feel free to brown the butter before adding it to the potatoes. Feel free to use almond milk or non dairy milk if you wish or even heavy cream for an extra decadent mash.
Brown sugar: it's the perfect amount to sweeten the potatoes and the topping - brown sugar always has a deep molasses flavour that I love - it's perfect with the sweet potatoes.
Vanilla extract & Bourbon: optional but really enhance the flavour of the sweet potatoes
Eggs: provide structure to the creamy sweet potato filling
Pecans: not a fan of pecans, try other varying nuts that have a sweet and savory crunch to them or just leave them out if needed. Walnuts or almonds are always a great choice.
Seasonings: sometimes I like to add in a pinch of pumpkin pie spice or a little cinnamon to add a hint of fall in the sweet potato casserole recipe.
Bacon: It's the perfect salty crispy addition to the topping - if you are keeping this vegetarian just leave out.
Sage: it's wonderful with the sweet potatoes but feel free to use any other herb or spice you might like.
All purpose flour: it is used in the topping to create that crumbly streusel'y topping. You can make this recipe gluten-free by using a 1:1 gluten free flour.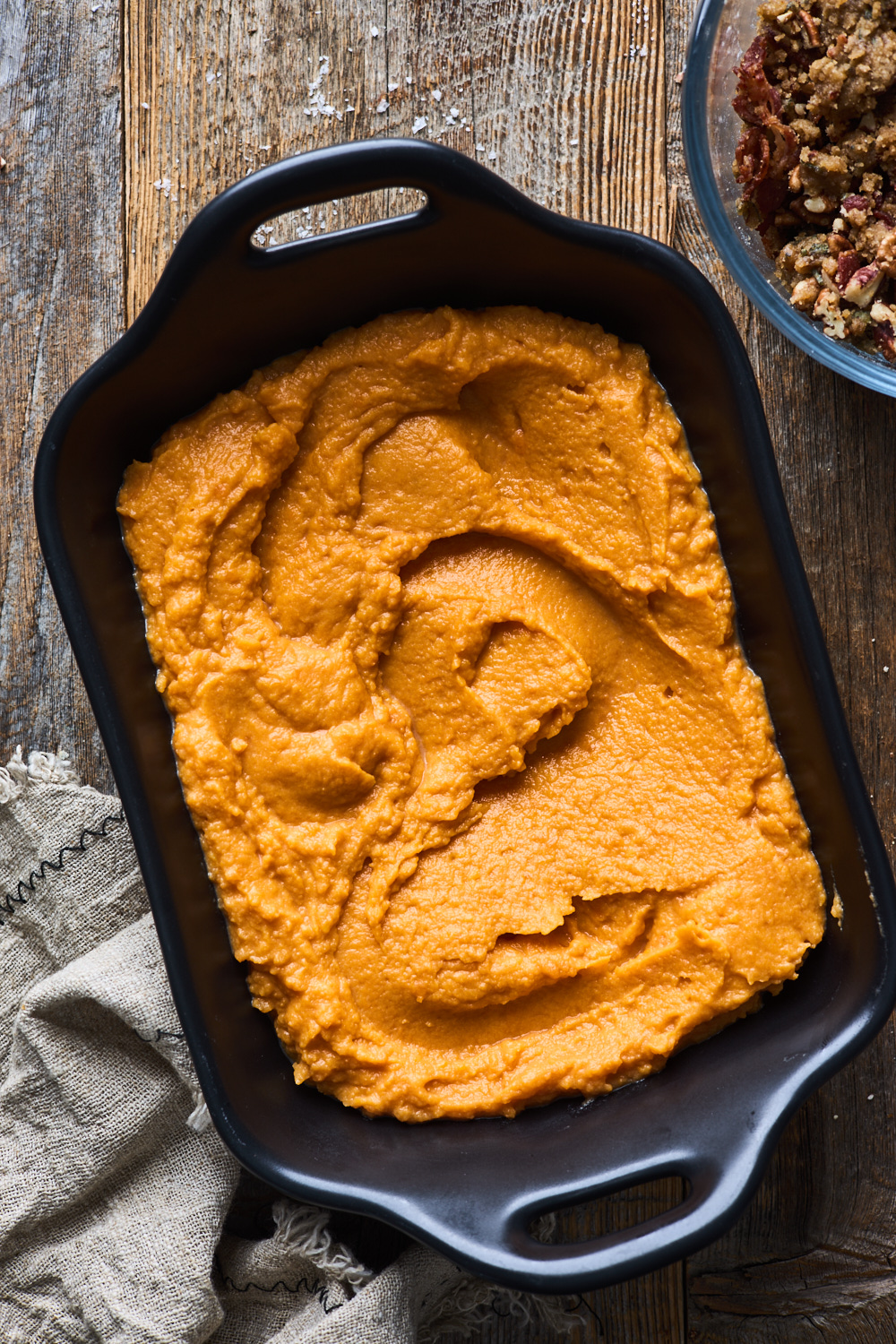 How to make sweet potato casserole
To make this sweet potato casserole recipe, simply…
Heat the sweet potatoes on the stove & bring to a boil
After you boil the potatoes, drain them & mash them in large bowl
Add the sugar, salt, eggs, milk, bourbon and vanilla & mix well
Pour the mixture into a casserole dish
Combine the ingredients for the topping
Sprinkle the topping over the sweet potatoes but do not mix together (this creates the crunchy top to the casserole)
Bake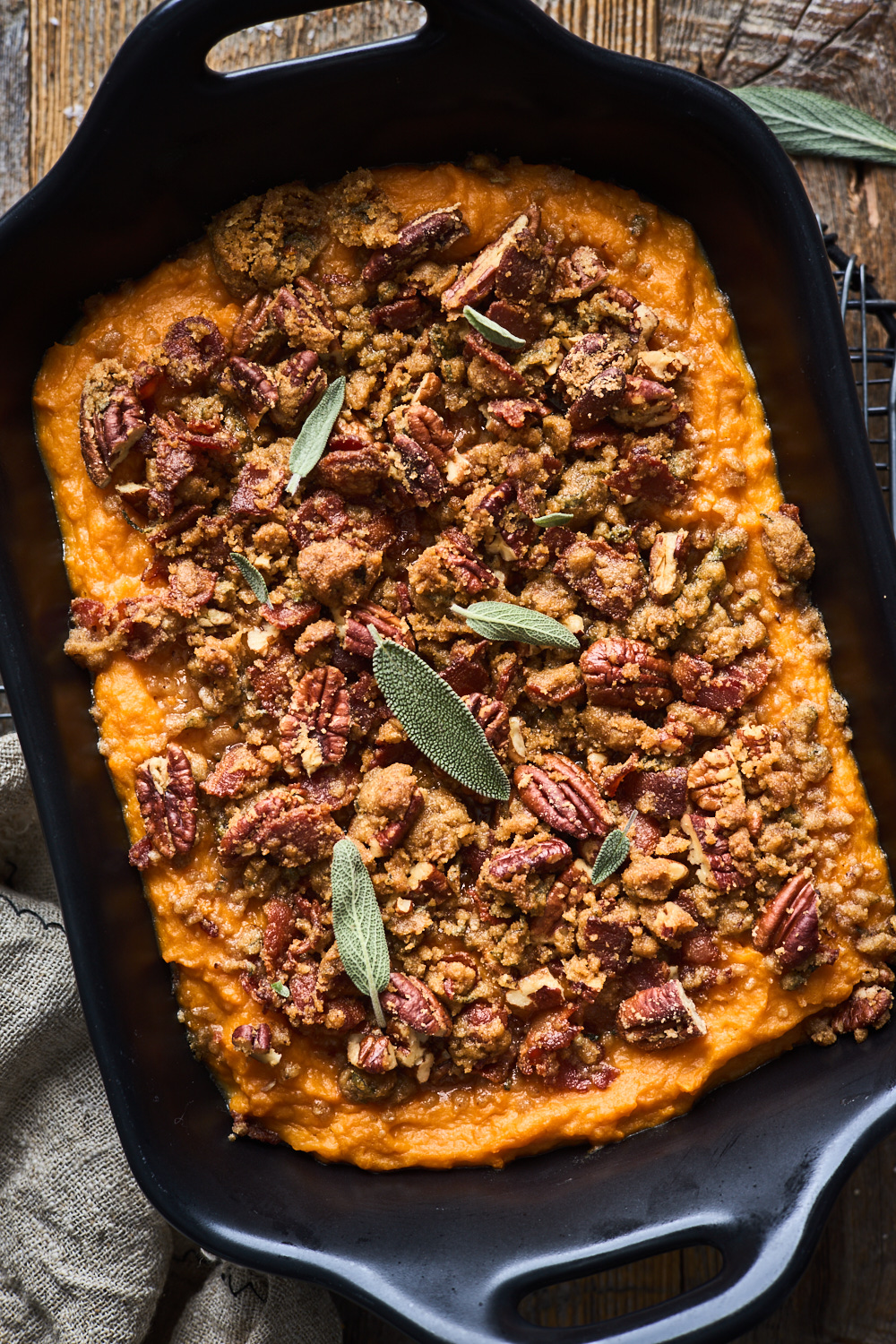 Tips for making sweet potato casserole
Steam, broil, roast or microwave the sweet potatoes in order to mash them easier.
For a silky, smooth sweet potato puree them in a food processor or a hand mixer rather than by hand.
Add in marshmallows, nuts or different seasonings for a variety of sweet potato casserole recipes. Or you could do a meringue topping as well.
If using marshmallows be sure to add these at the end of baking for about 5 minutes or until golden brown.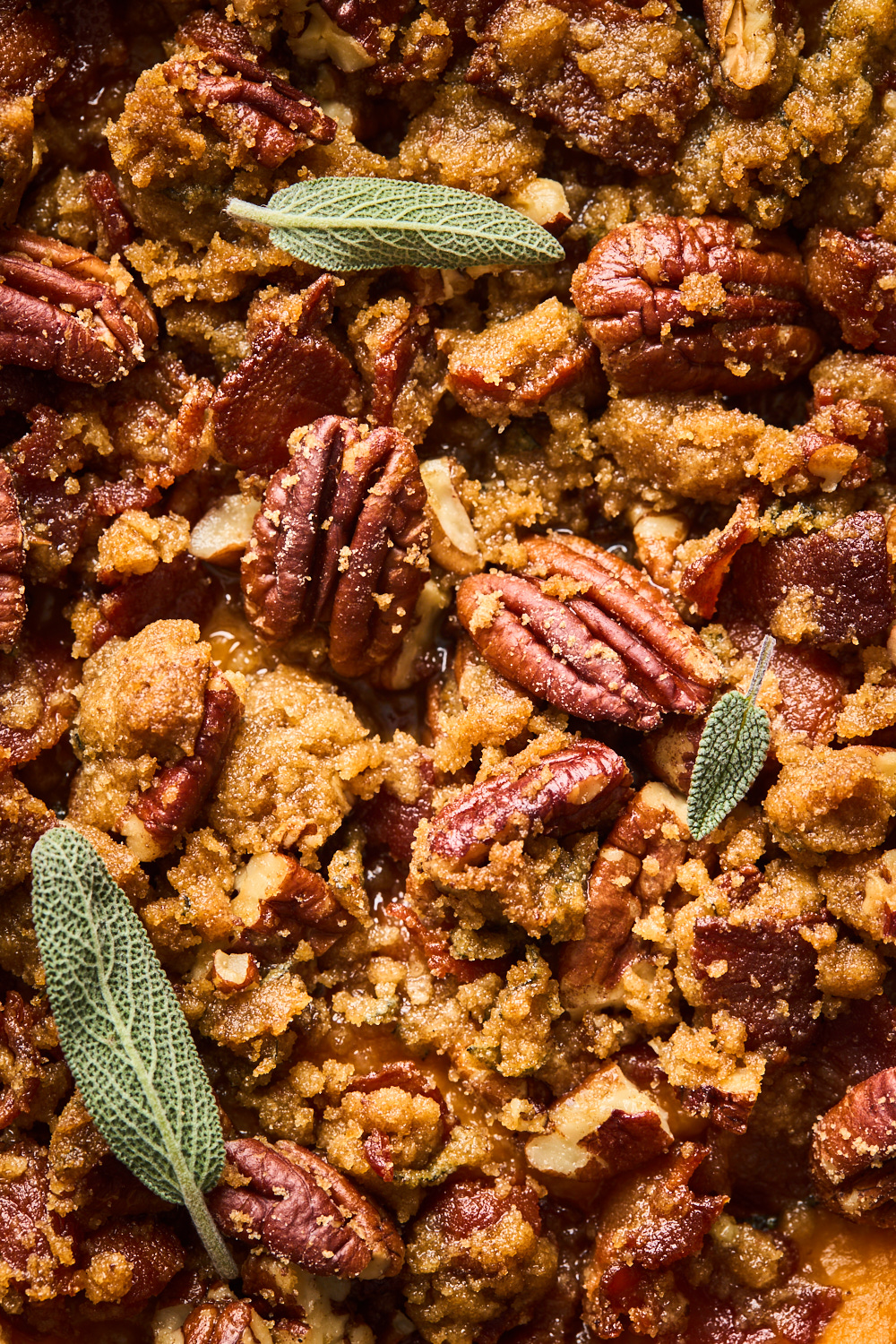 What to serve with this Sweet Potato Casserole:
This is a dish that's designed for making ahead and sharing with family and friends. It's definitely a great side for a special occasion meal since it's quite decadent. It's perfect alongside a roasted Turkey a golden Turkey breast. Alongside the most perfect roasted beef tenderloin, a Pork roast or deliciously cooked lamb leg.
For more ideas for your Sunday Supper, fabulous side dishes or dishes with sweet potatoes, head to one of these recipe collections:
Recipe
Prep Time: 15-20 mins
Cook Time: 50 min (to boil potatoes & bake the casserole)
Ingredients
For the sweet potatoes:
½ stick (4 tablespoons) unsalted butter, melted, plus more for buttering the baking dish

3 to 4 large sweet potatoes (about 1 ¾ pounds), peeled and cubed

½ cup milk

1/4 cup brown sugar, packed

1 teaspoon pure vanilla extract

½ teaspoon kosher salt

2 large eggs

2 tablespoons bourbon

Pinch of cinnamon (optional)
For the bacon pecan topping:
4 slices bacon, chopped

¾ cup brown sugar

½ cup all purpose flour

1 ½ cups pecans roughly chopped

6 tablespoons salted butter, melted or browned

½-1 teaspoon chili flakes

2 tablespoons fresh chopped sage plus more for garnish
Directions
For the sweet potatoes:
Add 1¾ pounds peeled and cubed sweet potatoes to a large pot of salted water. Bring to a boil over high heat, then lower the heat to a simmer and cook until the potatoes are very tender, 15 to 20 minutes. (Note, it will take less time if you cut the sweet potatoes in smaller pieces) Drain and cool.
Place potatoes in a large bowl and mash with a potato masher.
Add the the melted butter, milk, brown sugar, vanilla, bourbon, salt, cinnamon if using and eggs in a large bowl and whisk well to fully combine.
Transfer to the prepared baking dish.
For the topping:
Preheat the oven to 350°F. Butter a 2-quart baking dish (8x11)
Melt ½ stick of butter in a medium saucepan over medium heat and allow to brown, swirling pan occasionally. Set side to cool slightly. (Optional - you could just melt it)
In a large skillet over medium heat, cook the bacon until crisp. Remove the bacon from the pan and drain onto a paper towel.
In a medium bowl, combine the brown sugar, flour, pecans, butter, chili flakes, and sage. Stir in the bacon. It's should be crumbly.
Spread the mixture over the top of the sweet potatoes in an even layer. Bake until mostly set in the center and golden on top, 25 to 30 minutes. Serve hot.
Recipe Notes
Marshmallows: To add a marshmallow topping instead, simply top the casserole with a layer of mini marshmallows and add them 5-10 minutes before the casserole is done baking unit they are golden brown. It's Dalits take love for them to get some colour on them.
To make-ahead: You can prepare sweet potato casserole 1-2 days ahead of time. First make the filling and smooth into your baking dish. Then make the topping but instead of putting it on the casserole, place it in a ziplock bag. When you're ready to bake your sweet potato casserole, take it out of the fridge and sprinkle the topping on top! Then bake at 350 for 35-40 minutes.
To store: Store sweet potato casserole covered in the refrigerator for 4-5 days.
To freeze: Prepare the sweet potato casserole completely, but don't bake it. Cover with a double layer of aluminum foil and freeze for up to 3 months. Thaw overnight in the refrigerator. Allow it to come to room temperature for 30 minutes on the counter before baking.
Baking sweet potatoes: Cook the sweet potatoes– Poke each potato 3-4 times with a knife (allows steam to escape). Preheat oven to 400°F. Line a baking sheet with foil and place potatoes on it (to not make a mess of the oven). Bake for 40-60 minutes (depending on the size of the potatoes) until fork tender.
Canned yams or sweet potatoes can also be used in this recipe to make this easier and quicker. I never think the flavours are white the same when you use canned but in a pinch canned will work. Use three 15 ounce cans of sweet potatoes, drained. Proceed with the rest of the recipe as written. Cooked or baked sweet potatoes can be baked ahead and last about 3 to 5 days in the fridge in a sealed container or ziploc bag.