Juicy Simple Roasted Turkey Breast
This roasted turkey breast is roasted to golden brown perfection. The perfect quick and easy no fail option for entertaining a smaller group or everyday dinners. It's tender, flavorful and juicy – no dry meat here!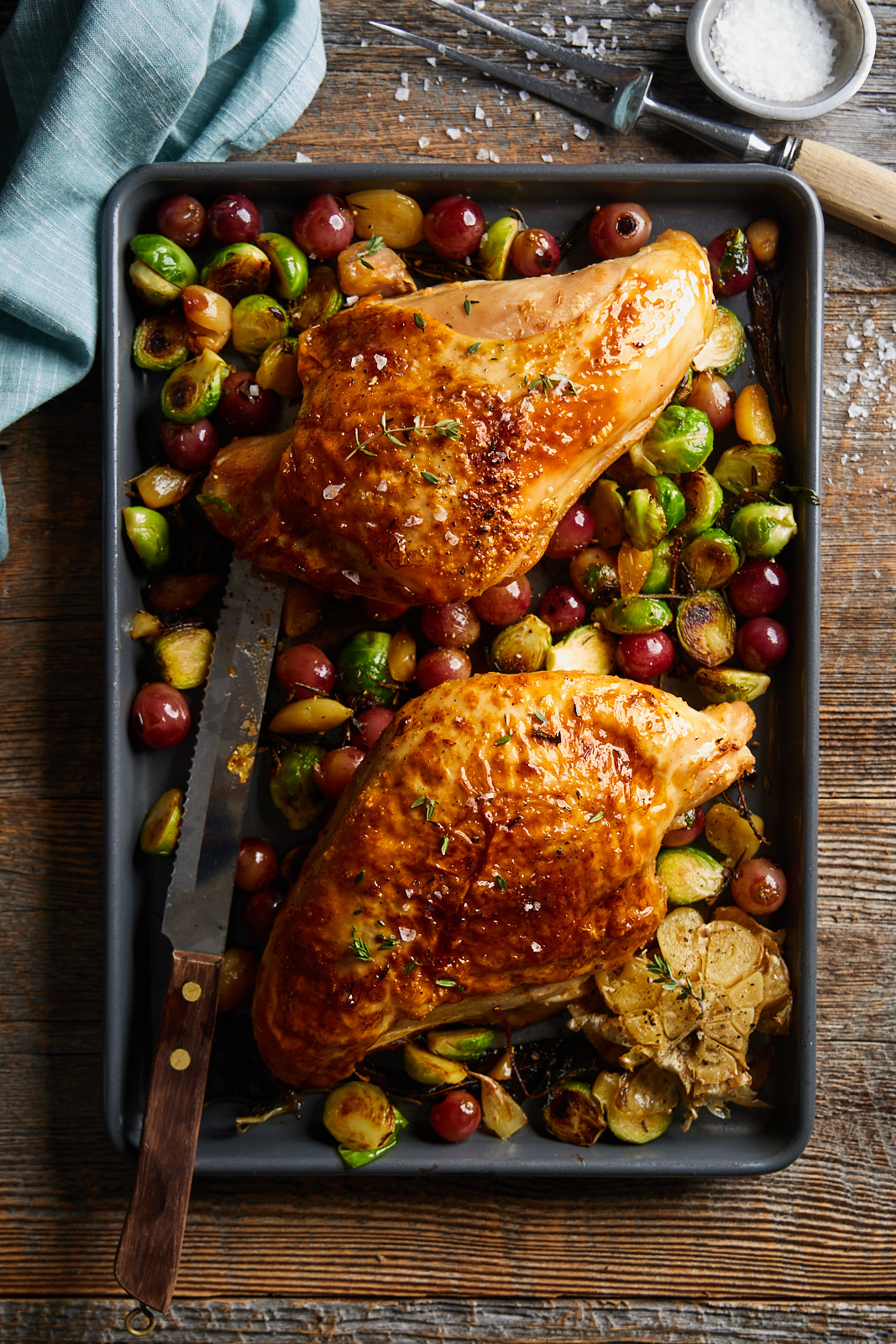 This has to be one of the easiest and most customizable roasted turkey breast recipes I have ever made. It's one I love because it's so easy but also because it's so versatile. There's very few steps involved in making this delicious and juicy turkey breast. I start the process by salting my turkey breast generously. Salting not only flavours the turkey but it also tenderizes it. You can salt and allow the turkey to sit out of the fridge at room temperature for 30-40 minutes or you can even salt it and refrigerate it uncovered over night which will do all those things I mentioned above plus help it dehydrate the skin allowing it to crisp up beautifully when roasted. It's a simple step but one that I always leave room for.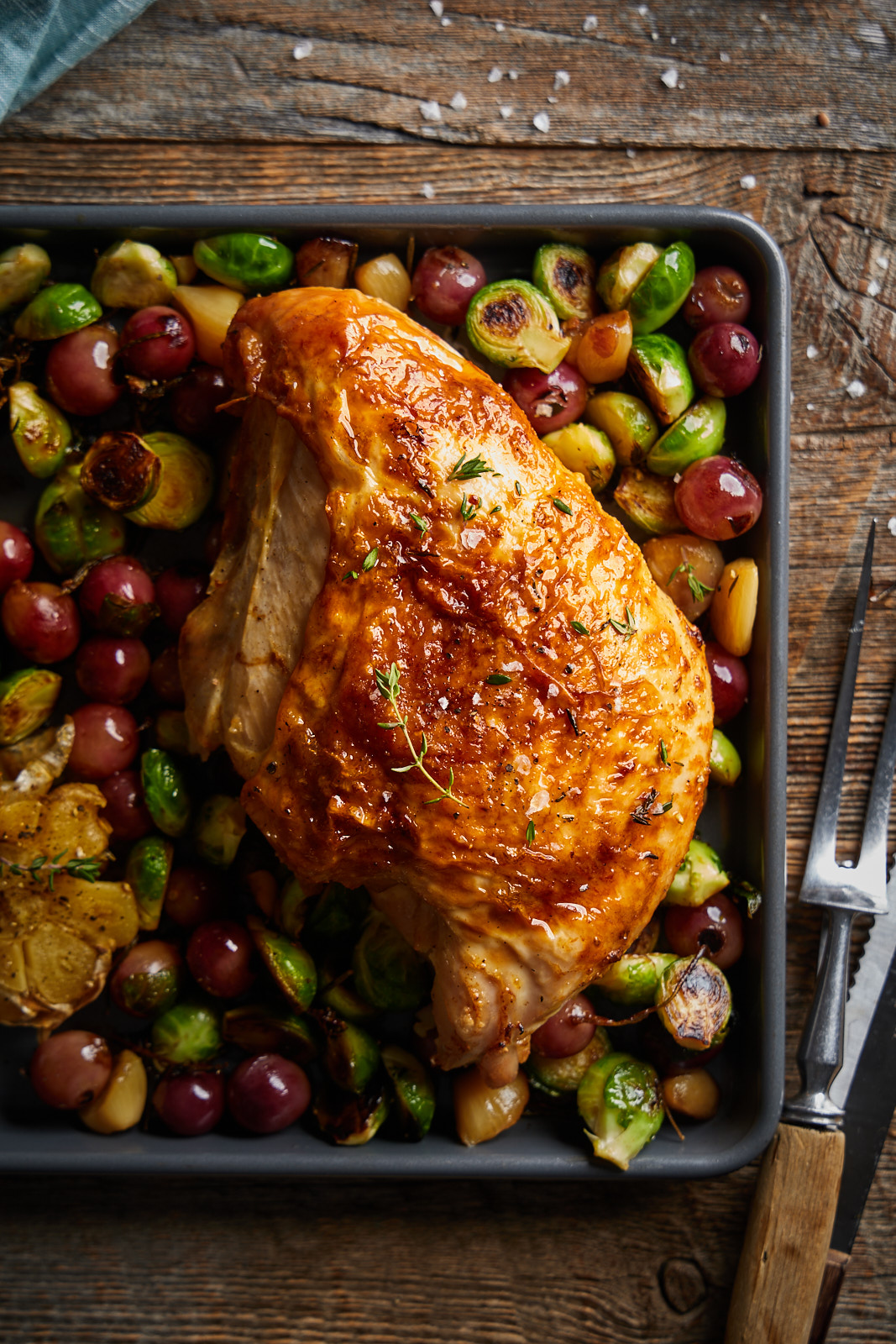 As you notice the recipe calls for only salt and pepper as the primary seasoning for the turkey. I love it simple just like that but sometimes I will add extra seasoning to the butter making it a herbs and garlic rub by adding finely chopped fresh herbs and minced garlic or I will add dry seasoning blends into the butter - any kind you like or are feeling for. Adding a few tsps of spices to the butter will help add the flavours of it to every part of the turkey. This is the part that is easily customizable so feel free to add what you like to the butter.  I used fresh herbs and garlic to rest the turkey over and this adds flavour to it and the pan drippings. I serve the garlic with the turkey as they are perfectly soft and can be eaten like that or even smeared on crusty bread. Feel free to switch up the herbs according to your taste as well.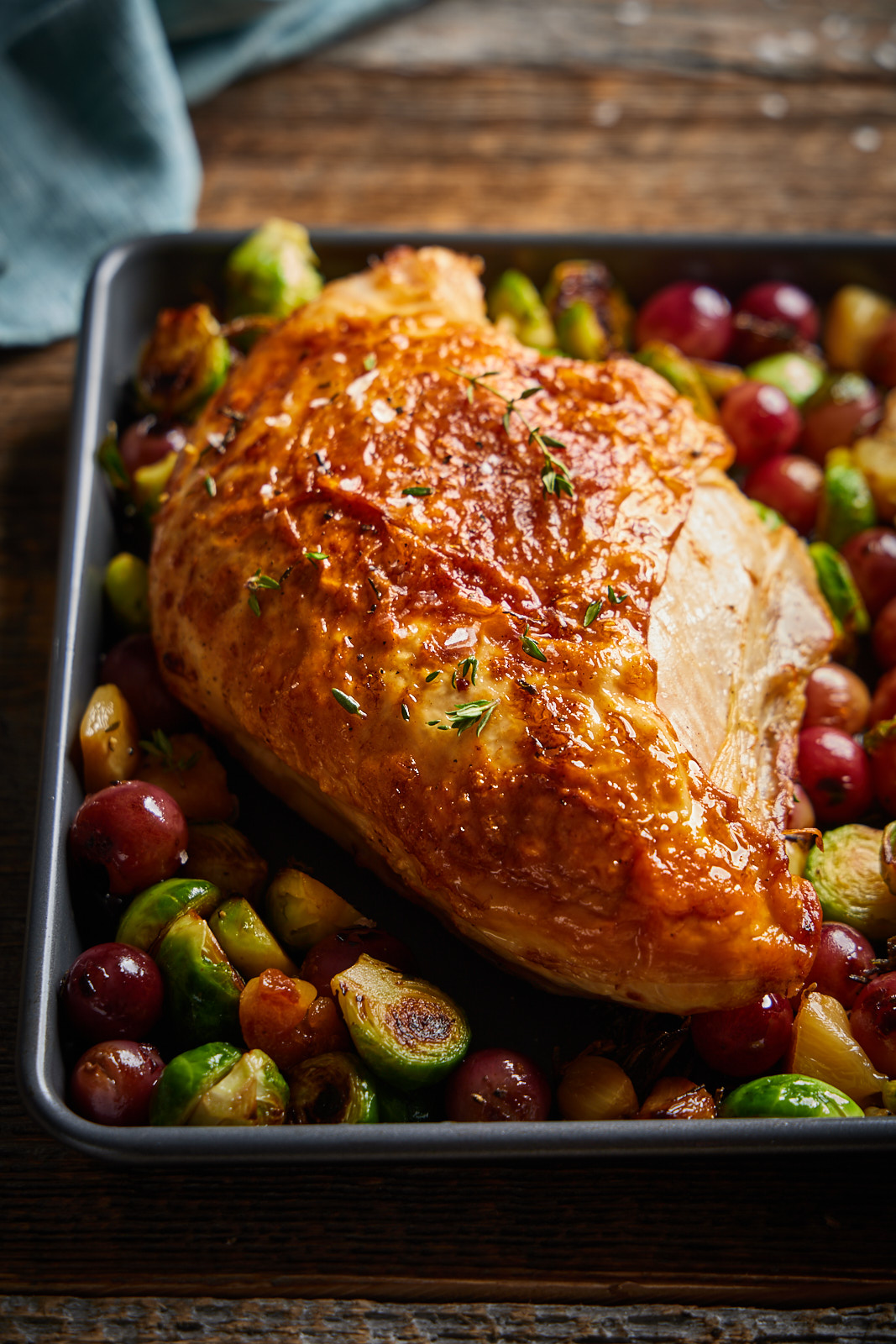 The butter makes all the difference in this recipe. Do not skimp on it and you can even add more as my notes below explain further. I love the flavours of the pan juices created by the butter and the natural juices of the turkey along with the herbs and garlic that eventually make it to the bottom of the pan. It's super rich and you only need a tsp or so per serving to pour over. I prefer my turkey breast served with the butter pan juices but if you like a traditional gravy I have included how to make it with the pan juices in the notes below.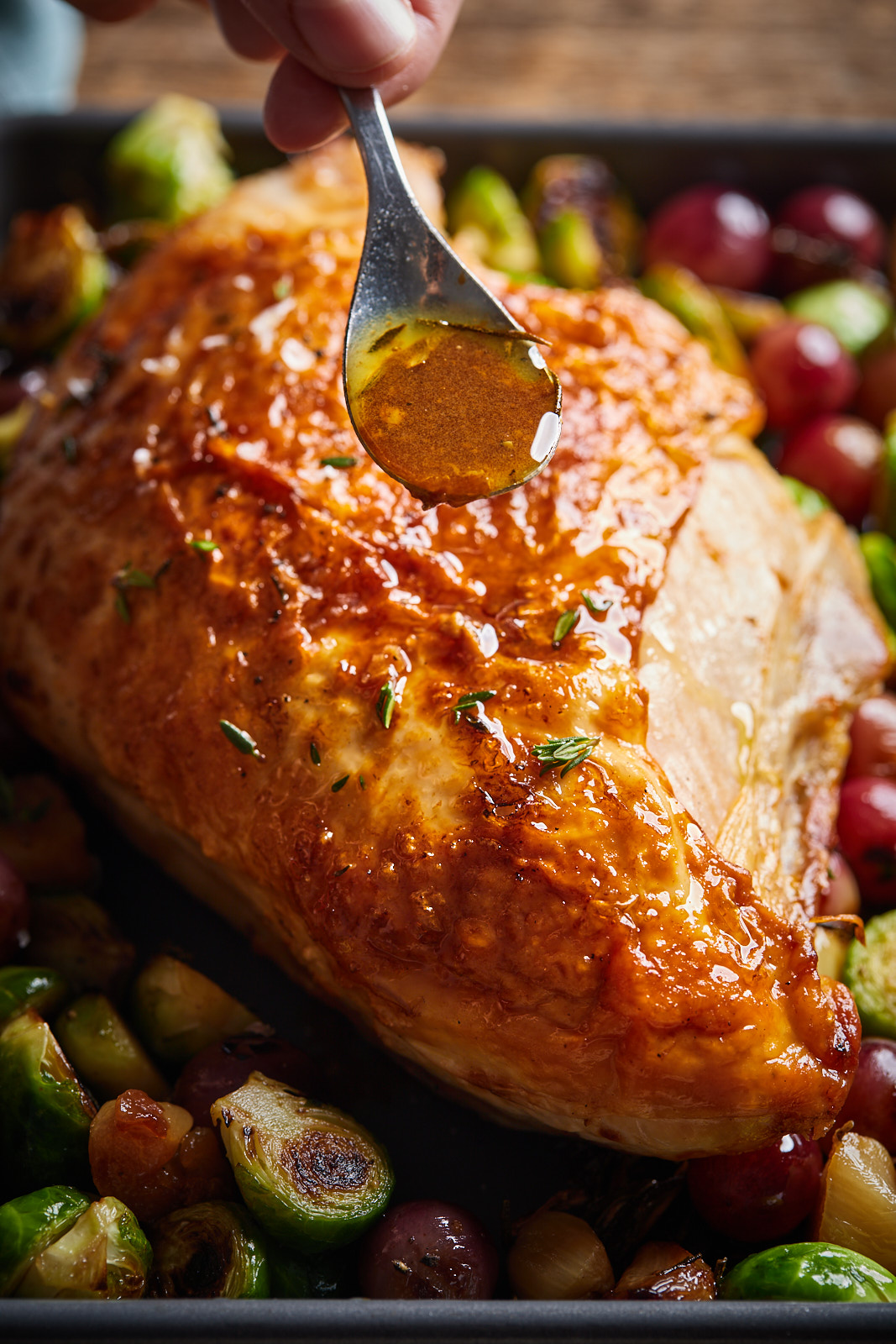 There's really so many ways to cook turkey and turkey breast out there. Many recipe say cover turkey the whole time other say don't season under the skin of the turkey as it's pointless or risk tearing skin, some say never baste cause the fluctuation of oven temperature from opening and closing it will affect the bird. I think all those points may have a bit of merit but on the whole I have found this simple method of roasting the breast to be the easiest and has also proved to yield the most consistent result. I hope you find it just as easy and delicious. Enjoy!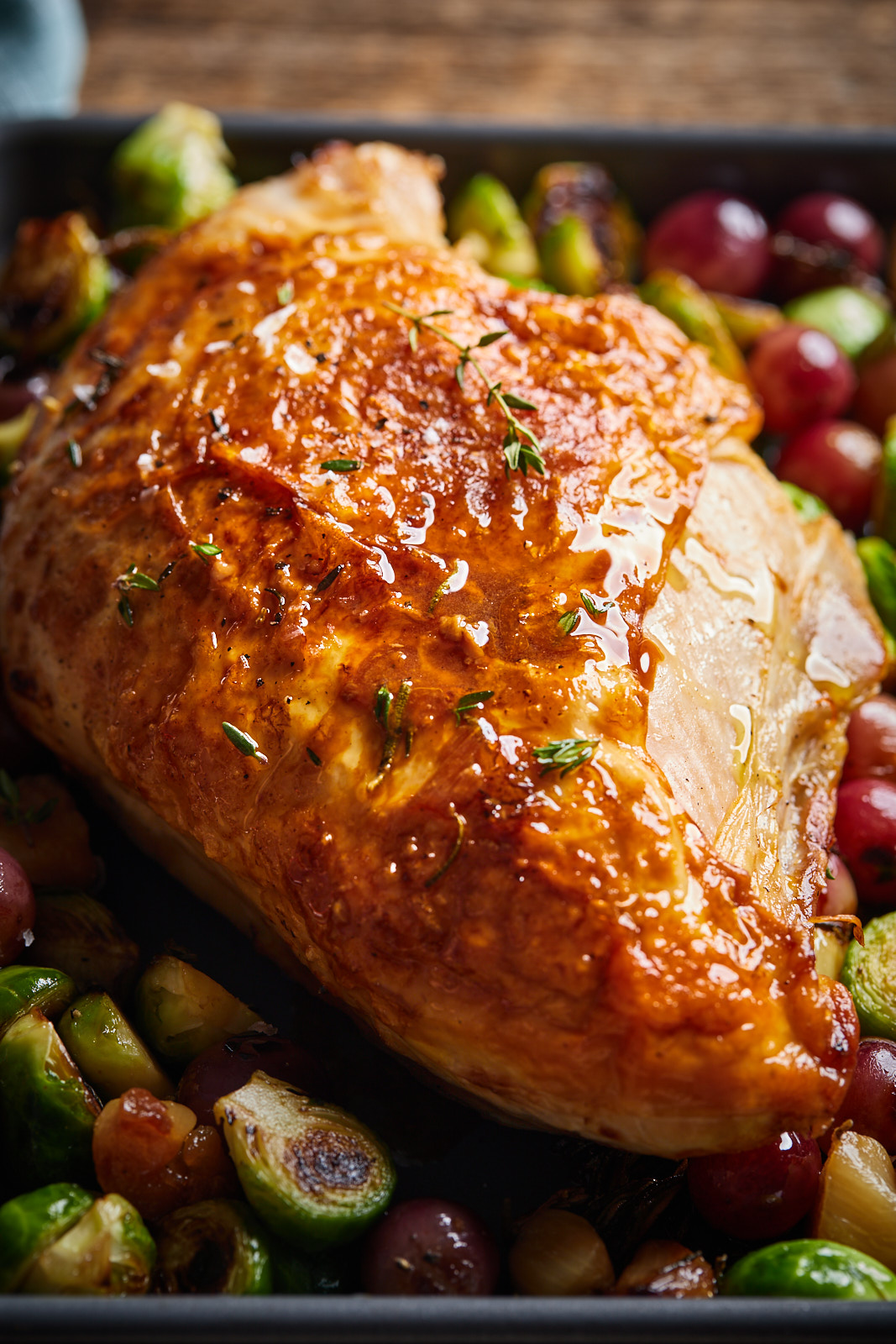 I served my turkey with my Roasted Brussel Sprouts and Grapes With Bacon but it would also be great with my Greek lemon potatoes. Check out all my sides to see what suits you most.
Recipe
Prep Time: 10 mins
Inactive time (for aslting turkey breast): 30 mins
Cook Time: approx 1hr 30 mins (more or less depending on size of breast)
Resting time: 15-20 mins
Ingredients
6 pound turkey breast, skin on, bone in, not brined, and completely thawed (mine came separated into 2)

½ cup butter softened *

salt and pepper (approx. 1 tbsp each)

1 cup broth

flavorings: 1 head of garlic sliced in half across it (or you can use 1-2 shallots cut in half), small bunch of fresh herbs like sage, fresh rosemary, thyme *
Directions
Remove turkey from fridge and pat dry and salt the turkey generously on both sides and under the skin. Set aside at room temprature for 30 minutes BUT, if you have the time, chill the turkey in fridge uncovered for 2 hours or overnight (see notes)
Preheat oven to 450°F
Take ¼ cup of softened butter and smear all over the turkey breast, including under skin. Sprinkle with pepper.
Pour broth into the bottom of roasting pan with rack. Place garlic and herbs on the rack, then place breast or breasts over herb and garlic piles skin side up.
Place in the oven (middle rack, uncovered) amd immediately REDUCE temperature to 350°F and roast 14-16 minutes per pound or until the internal temp is 160-165°F. Continue cooking for 10-15 minute increments until the internal temp reaches 160-165. *
Melt the remaining butter and use to it to baste the turkey breast approx. every 30 minutes.
Remove from oven and let rest 15-20 minutes.
Carve and serve immediately. Store leftovers in an airtight container and keep in the fridge for up to 4 days. You can also freeze leftover turkey meat, but remove it from the bone, first, then transfer to ziploc freezer bags and keep in the freezer for up to 3 months.
Recipe Notes
Salting the turkey not only ensures the turkey is flavourful but it also tenderizes it. And if you do end up chilling it uncovered in the fridge, the circulating air will dry up the skin some which will help it cook to a cripsy golden brown while the tukey breast stays nice and juicey. 
Feel free to use extra butter up to ¼ if you want to go heavy on the basting, or if you want extra pan juices.
For Gravy - I personally love the pan juices for this recipe but if you prefer to make gravy here is how to do it: Scrape the pan juices into a large saucepan over medium high heat. Bring to a simmer then add ¼ cup of plain flour. Mix into a slurry and cook for 1 minute. Slowly pour in 1 cup of chicken broth, whisking as you go. When it heats up, it will thicken, if it's too thick, add water (depends on how much juices were in pan). Season with more salt and pepper as needed.
Note the turkey will continue to cook after you take it out of the oven. You can pull your turkey out of the oven around 160°F, then cover it with foil for 5-10 minutes or until it comes up to 165°F.
Although minimally seasoned this is definitely not a bland bird. If you would like to add more seasoning feel free too. I like to add minced fresh herbs and garlic to the butter to add more flavour or you can actually add any dry rub seasoning to it too. You can add lemon pepper, Cajun seasoning, Mexican seasoning, harissa seasoning, the list goes on. Adding a few tsp of spices to the butter will help add the flavours of it to every part of the turkey.