Tiramisu Cake
Tiramisu is a classic Italian dessert that everyone seems to love - me included! It is one of those desserts that you can just keep eating because its tastes so light and creamy in each bite. The espresso/liqueur infused cake gives this cake its signature flavor and the luscious mascarpone layer is rich, creamy and is perfect along side the soft fluffy textures of the cake. This version shares the same classic flavours and textures, the only difference is that it is made on a sheet-pan (no need to fuss with multiples cake pans and cake layers) and only has one layer of "lady fingers" or sponge cake and one layer of mascarpone cream. Essentially its a giant lady finger soaked in a delicious coffee syrup and topped with a light creamy mascarpone cream layer. It's a genius way to make a tiramisu - and you can either eat it straight out of the pan or slice it up and serve it up in slices. This recipe comes from Ricardo's Sheet Pan Everything Book which I was sent and its a total winner. 
About the Book
I love sheet pan recipes and I know that you guys love them too so I always try to find unique and fun recipes to share with you and let me tell you that this Sheet Pan Everything book by Ricardo is full of simple, delicious and fun sheet pan recipes. It was really really difficult to chose which recipe I wanted to share with you guys because they are all so so good. This did not surprise me at all. Celebrity Chef Ricardo always delivers with his recipes! In the book you will find some great tips on sheet pans - which ones to use - pros and cons for the different varieties and what some are best for. The recipes are split into 6 categories: Get Ready for The Week for some excellent meal prep ideas easily done on a sheet-pan, Snacks to satisfy all the cravings, Weekdays - basically simple and delicious quick mid week meals on the sheet pan, Brunch - loved this section with some clever ideas for French toast, hash browns and pancakes, Entertaining - with meals that can be served family style, and last but not least Sweets - this is where the tiramisu recipe lies. The recipes are simple and clear - they are well tested and well written and the steps are easy to follow. I love my sheet pan and if you are like me you will love this book - but if you are looking for an excuse to use your sheet pan this book is also for you - excellent and practical recipes the whole family will love!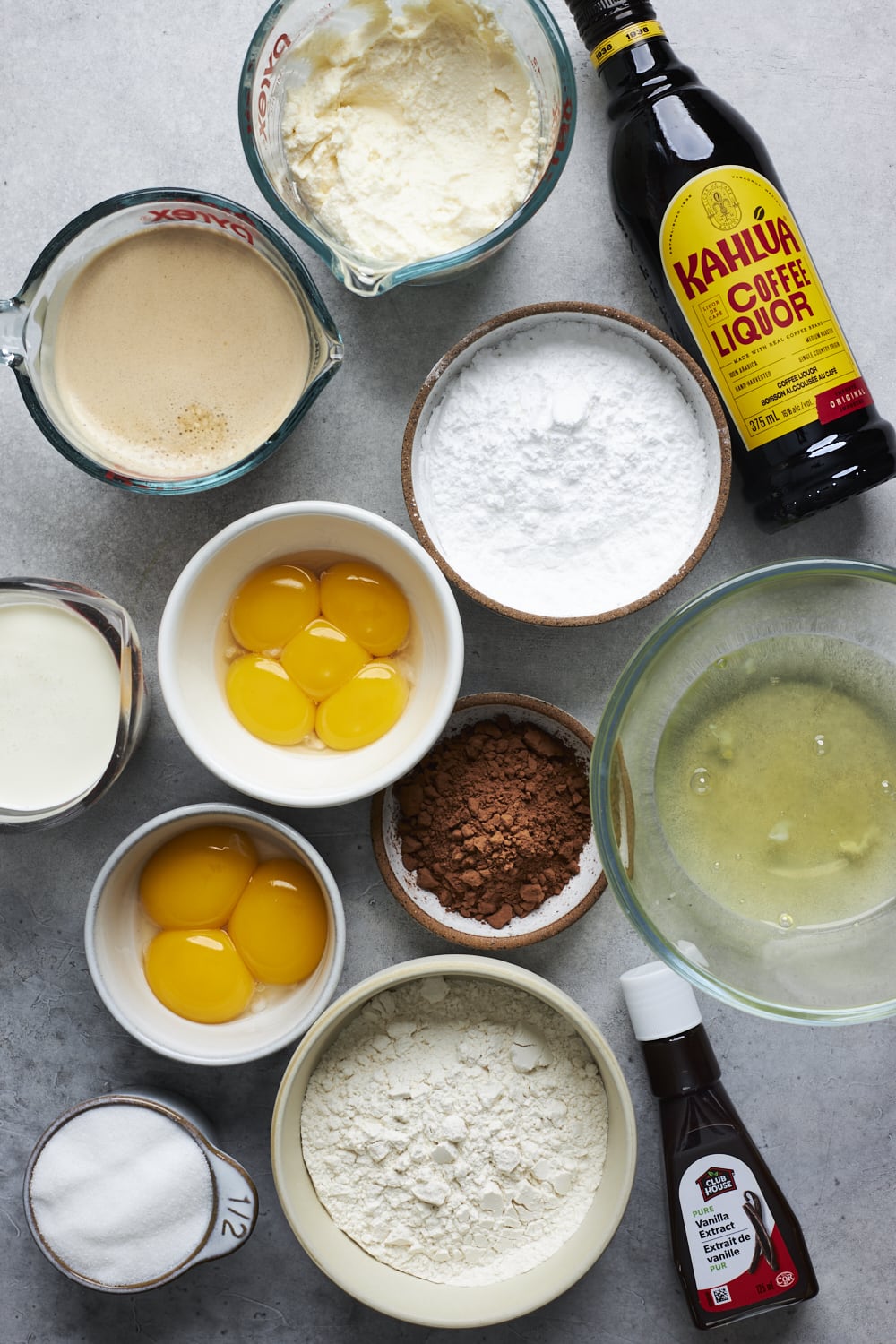 Ingredients in This Tiramisu Cake Recipe
Dry Ingredients
Flour - all purpose flour is what you will need - I have not tried it with an alternative flour 
Powdered Sugar/confectioners sugar - this keeps the 'cake' layer light and airy 
Granulated Sugar - this helps sweeten the coffee syrup and mascarpone topping 
Cocoa Powder - for dusting top with
Wet Ingredients
Mascarpone - it wouldn't be true tiramisu without mascarpone! it's a very thick, rich Italian cream that has a consistency like cream cheese but the flavour is sweeter. Make sure to use the full fat variety. Softened cream cheese can be used but it won't be the same flavour or quite the same texture.
Freshly Brewed Espresso - or you can use instant espresso powder in a pinch. Feel free to use strongly brewed coffee too 
Eggs & Egg Yolks - farm fresh and pasteurized are a must (note about raw egg yolks and omitting them in recipe notes below) You will need 5 eggs separated for the cake layer and 3 yolks for the mascarpone cream. 
Coffee liqueur - I used Kahlua - but for a more traditional tiramisu flavour you can use masala or rum - I actually thought the Kahlua worked really well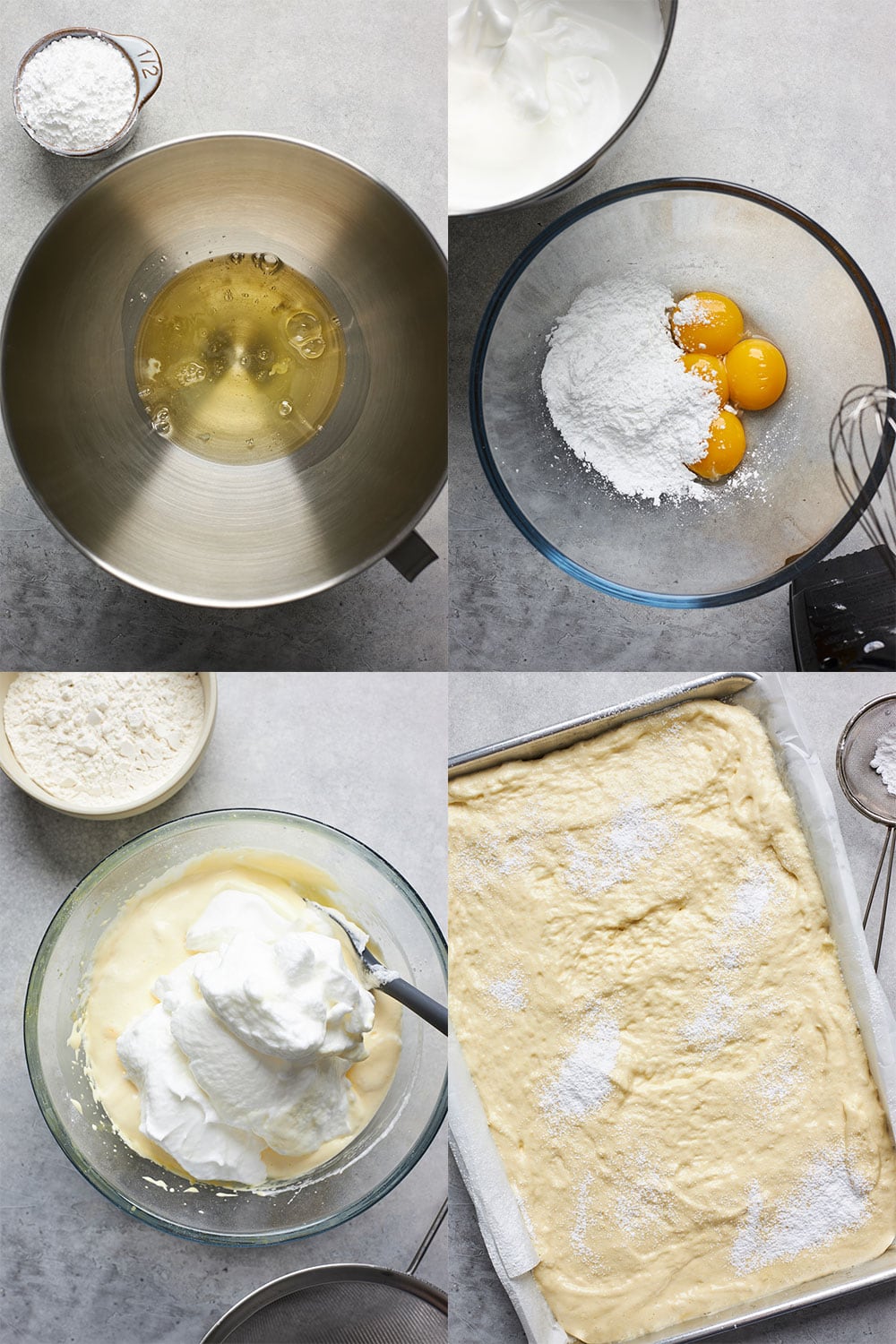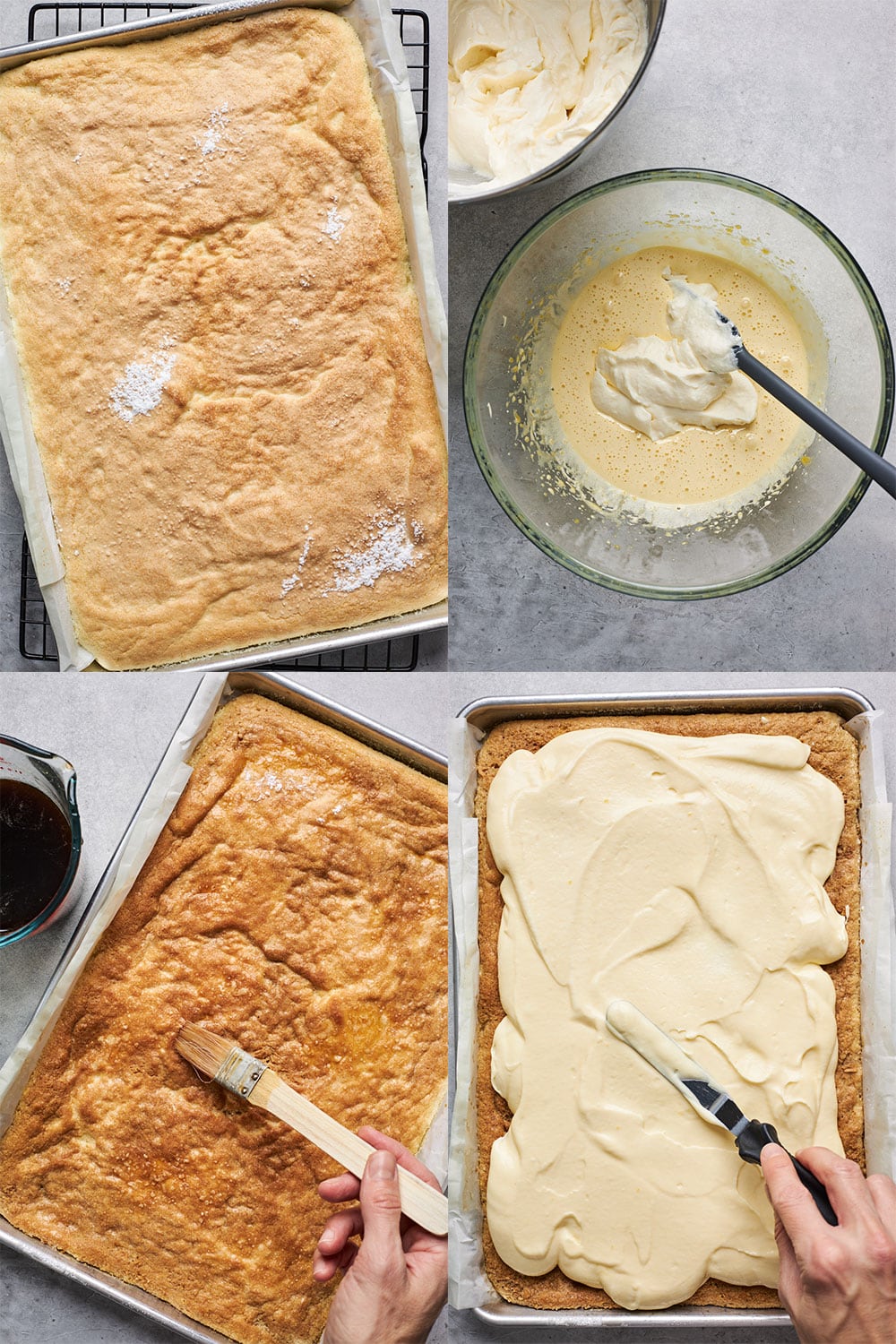 How to Make This Tiramisu Sheet Cake:
Ok I will be honest here this cake does take some effort and some bowls to clean (but that usually goes for most tiramisu recipes) but the steps are very straight forward and easy to follow - and the mixer does pretty much all the work and I think this recipe is well worth the effort. Lets breakdown the steps shall we.
Prepare Pan and Preheat the Oven - simply line pan with parchment paper and lightly grease 
Make the Cake Layer:

Start by whipping the egg whites and powdered sugar into a meringue
Whip the yolks with powdered sugar until super thick and rich 
Fold the meringue into the yolks 
Sift in and fold the flour into the mixture 
Spread batter into prepared pan and bake, then allow to cool

Make the Coffee Syrup - mix the espresso with the sugar and the Kahlua, set aside 
Make the Topping:

Whip the egg yolks sugar and vanilla until ultra thick and creamy 
Whip the mascarpone with sugar then add the heavy cream and continue beating until thick peaks form 
Fold mascarpone mixture into the yolk mixture 

Brush Cake With Coffee Syrup 
Top Cake with Mascarpone cream 
Cover and Chill
Dust with Cocoa Powder & Serve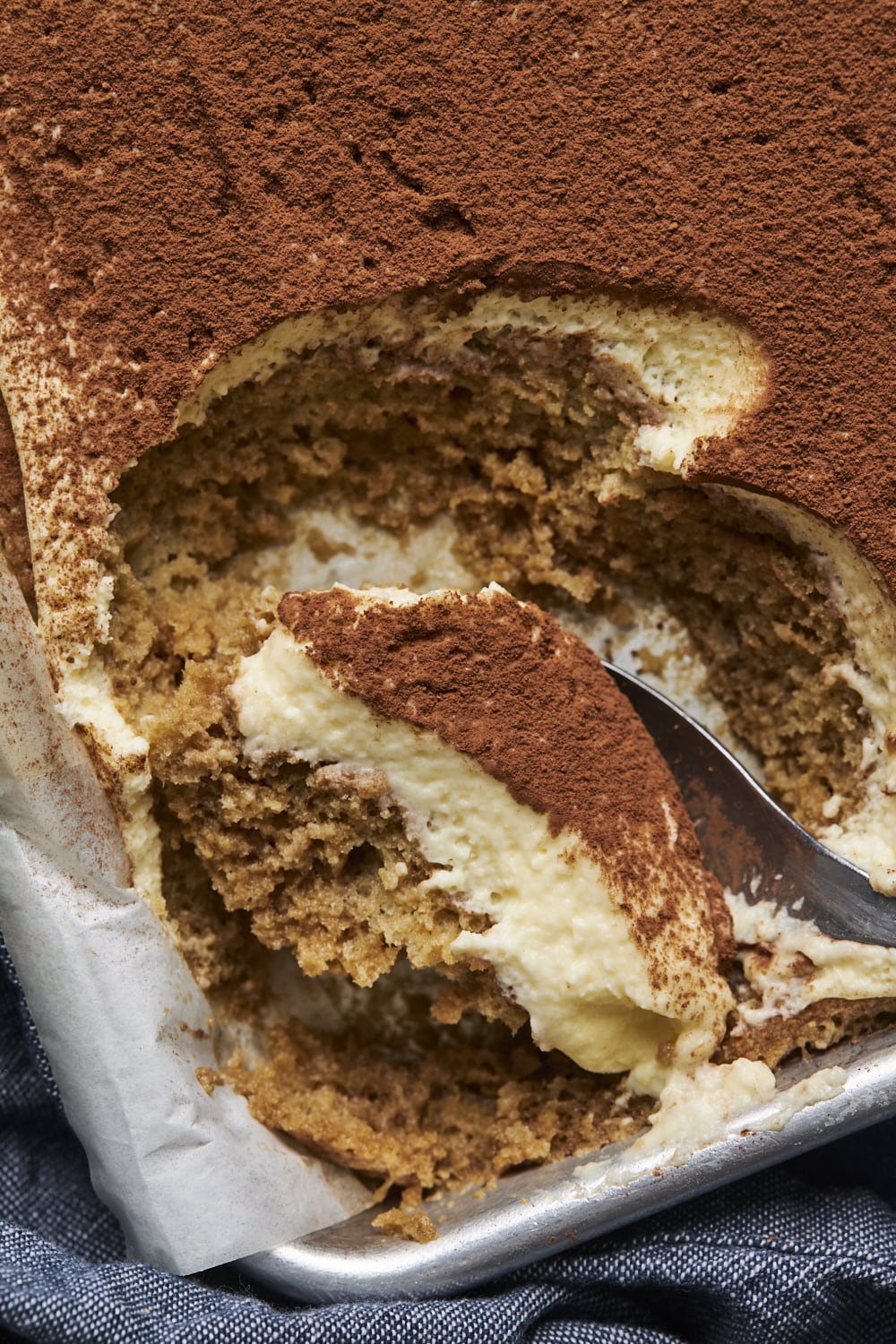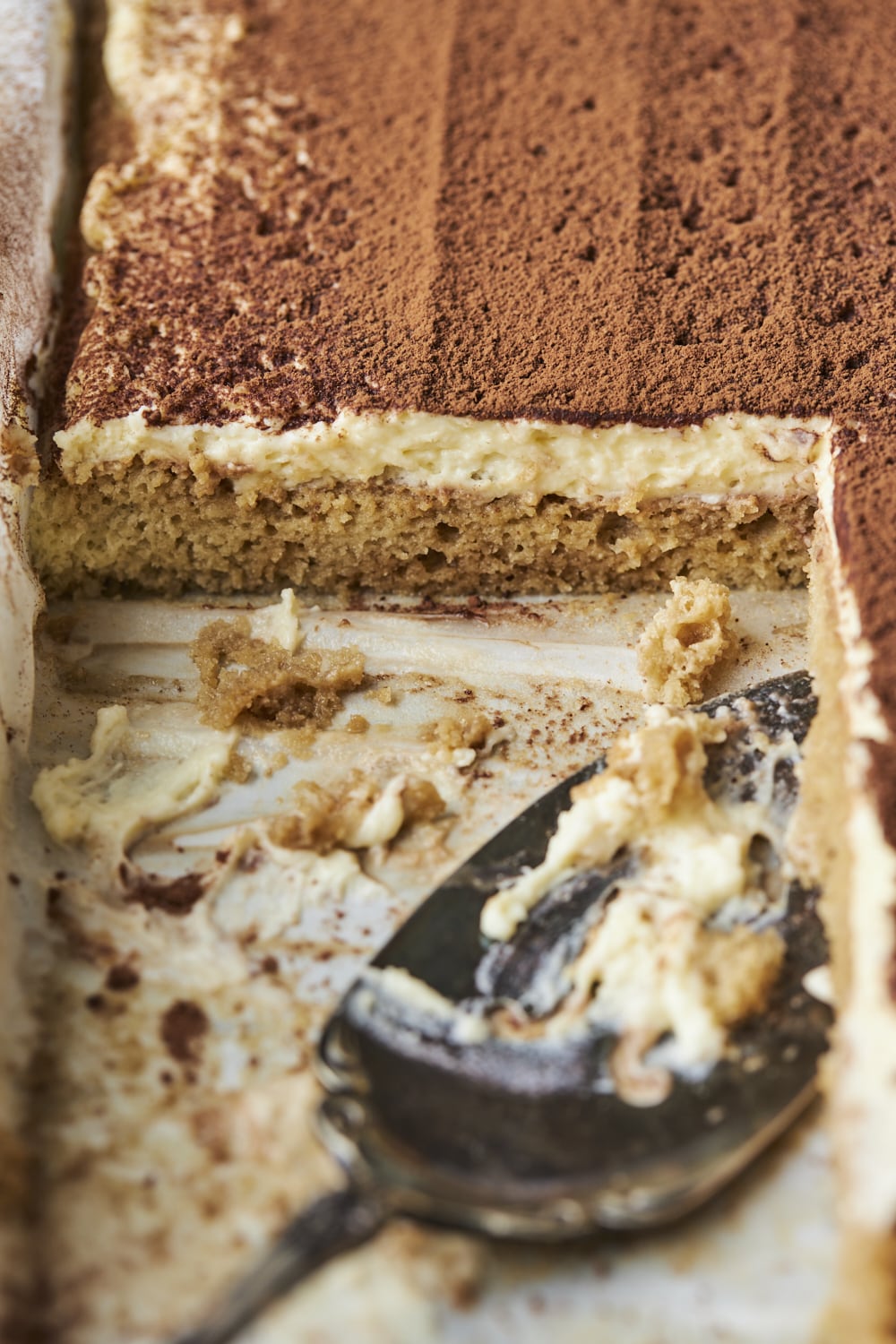 Tips For Making This Tiramisu Cake
Make sure that your eggs and mascarpone are all room temperature. That will help them mix together more smoothly.
Make sure the coffee is chilled before brushing over cake 
Make sure Cream is chilled before adding it to the mascarpone mixture 
Allow the tiramisu to chill for at least 6 hours or overnight before slicing, to allow it time to fully set up.
Tiramisu can be made in advance- it holds up well and can be made up to two days ahead of time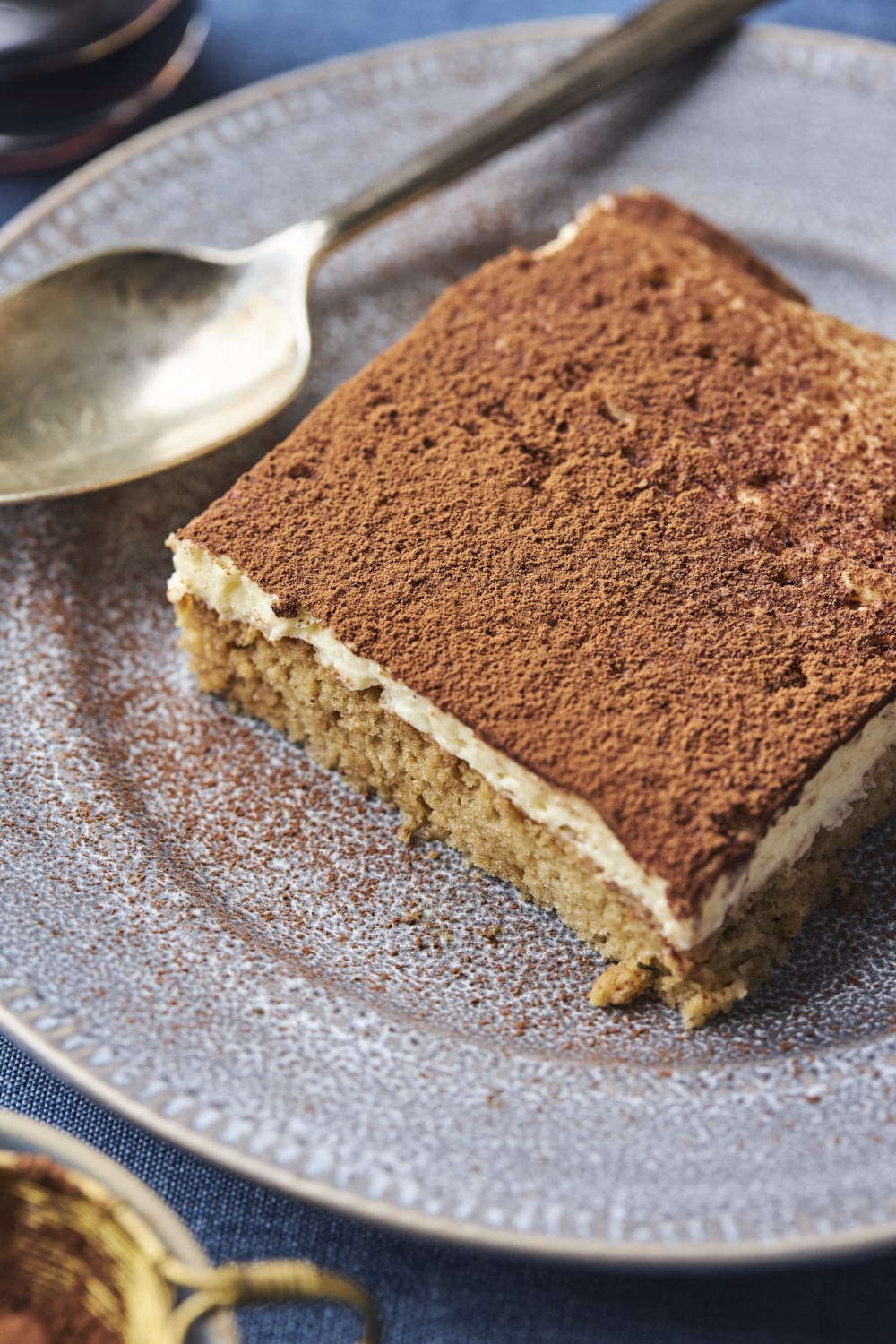 More Cake Recipes & Sweets You Will Love:
Recipe
Yields: one 9x13 Sheet-pan
Prep Time: 45 mins
Cook Time: 8 mins
Non Active Time: 5 hours
Ingredients
For the Cake
5 eggs, at room temperature, separated (130 g) 

1 cup icing sugar, plus more for sprinkling (150 g) 

1 cup unbleached all-purpose flour
For the Toppings
1¼ cups (310 ml) hot espresso or strong coffee

½ cup (105 g) sugar

3 tablespoons (45 ml) coffee liqueur

3 egg yolks

1 teaspoon (5 ml) vanilla extract

¾ lbs (340 g) mascarpone cheese, at room temperature -(approx 1 ½ cups) 

1 cup (250 ml) 35% heavy cream (heavy whipping cream) 

Cocoa powder, for serving
Directions 
For the Cake Layer
With the rack in the middle position, preheat the oven to 400°F (200°C). Line a small 13 x 9-inch (33 × 23 cm) sheet pan with parchment paper, letting it hang over two sides.
In a large mixing bowl of a stand mixer or a hand mixer with whisk attachment, whisk the egg whites at medium speed until soft peaks form. Gradually add ½ cup (65 g) of the icing sugar and continue to whisk until firm peaks form. Set the meringue aside.
In another bowl, whisk the egg yolks and remaining icing sugar with an electric mixer until the mixture is pale, is tripled in volume and falls from the beaters in a ribbon, about 10 minutes.
Using a spatula, mix one-third of the meringue into the egg yolk mixture, then gently fold in the rest. Scrape sides of the bowl. Sift the flour over the mixture and gently fold in using a whisk. 
Spread the cake batter out evenly on the sheet pan using an offset spatula . Sprinkle with a little icing sugar. Bake for 8 to 10 minutes or until a toothpick inserted in the center of the cake comes out clean and the top of the cake is slightly golden. Let cool completely on a wire rack 
For the Topping
In a small bowl, combine the coffee with 3 tbsp of the sugar. Add the coffee liqueur. Refrigerate coffee syrup until ready to assemble the tiramisu.
In a large bowl, whisk the egg yolks, ¼ cup (55 g) of the sugar and the vanilla with an electric mixer until the mixture is tripled in volume, about 5 minutes.
In another bowl, whisk the mascarpone and remaining sugar (1 tbsp) with an electric mixer until smooth. Add the cream and continue to whisk until firm peaks form.
Using a spatula, gently fold the mascarpone mixture into the egg yolk mixture.
Using a pastry brush, cover the cake with the coffee mixture. 
Top with the mascarpone frosting/topping mixture. I slathered it on but feel free to use a piping bag if you prefer to pipe it on. 
Cover with plastic wrap and refrigerate for at least 4 hours or preferably overnight. When ready to serve, sprinkle the cake with cocoa powder. The cake will keep for 2 days in the refrigerator.
Recipe Notes
A Note About the Egg Yolks - Is it safe to eat tiramisu with raw eggs?
I know using raw eggs concerns some people. Traditional tiramisu is usually made with raw eggs. Yolks and white separated and whisked. In this recipe I use the yolks only as they add a luscious and rich flavour to the tiramisu that cannot be replaced. Many recipes make tiramisu by beating eggs over a double boiler but this is not the traditional way to make Tiramisu. That is a great option if you prefer to bring yolks to temperature without cooking them. While food safety may have been a valid concern in the past, nowadays, using pasteurized raw eggs in cooking is so much more acceptable and common and safe because the quality of fresh produce is so much better - think mayonnaise, lemon meringue pie (the meringue topping specifically) chocolate mousse, cookie batter, hollandaise and the list goes on. I understand though if you prefer to OMIT the YOLKS all together in the topping. Just beat or whisk the sugar in with the mascarpone instead of the yolks and proceed with the recipe as written. PRECAUTION: To be extra cautious, it is recommended that very young children, pregnant women, elderly or those with compromised immune systems do not eat foods made with raw eggs.