Ultimate Lasagna Bolognese
This is the ultimate lasagna bolognese. Homemade is always best when it comes to lasagna. The rich bolognese sauce or meat sauce is full of flavour and easy to make. The white sauce or béchamel sauce gives this lasagna an incredible creamy richness like no other. And we can't call this the ultimate lasagna without it having loads of cheese in it. Layers of shredded mozzarella are in each layer and then loaded on top for that extra cheesy topping with crispy edges. It's ooey, it's gooey and it's soooo good!!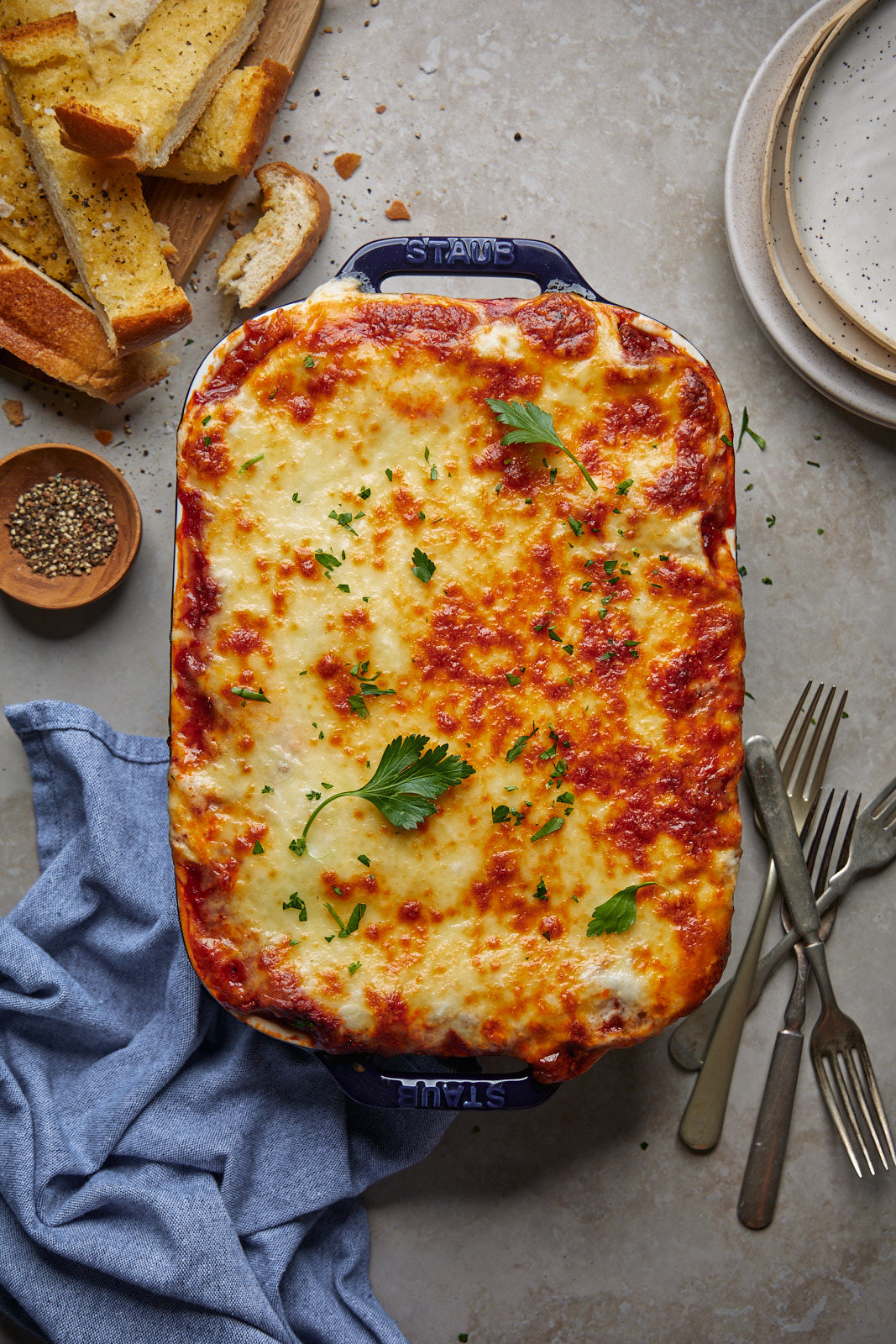 An authentic lasagna bolognese may be slightly different using more pork in the meat sauce and pancetta in it too. You could definitely use a blend of ground meat in your bolognese or meat sauce and even start with browning some pancetta before adding the veggies for extra flavour. Most commonly white wine is used in the sauce too - I used red because I like mine with red. Feel free to use whichever you like. When it comes to simmering the sauce, I thought 45 min was enough to reduce mine enough for the lasagna and still be brimming with rich flavour but if you want to simmer it longer for more flavour feel free too. Many bolognese recipes call for it to simmer away for over two hours to build that extra flavour, adding extra liquid as needed. If you have the time or if you are making the sauce ahead - go for it!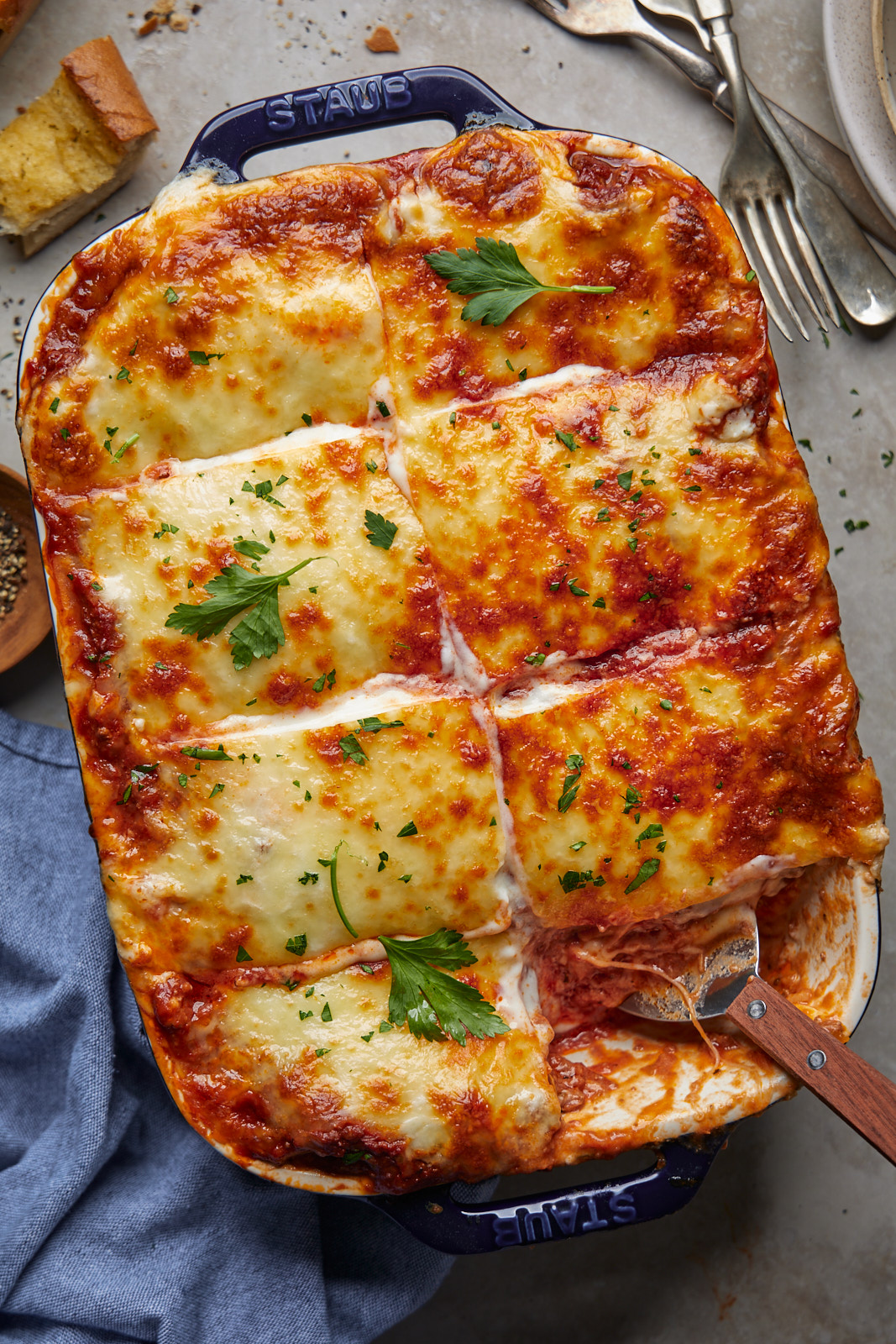 When it comes to the pasta itself - homemade is always best but the next best is buying it fresh. This reduces the overall cooking time and baking time of this lasagna recipe. The texture of fresh pasta is always better I find too. I love how it's doesn't absorb as much of the sauce so you still end up with a predictably saucy lasagna - not saucy when it goes in and then dry when it comes out of the oven. If you can't source fresh it's not a problem. I have all the details about making this lasagna with no-bake pasta or pre-boiled pasta in notes below.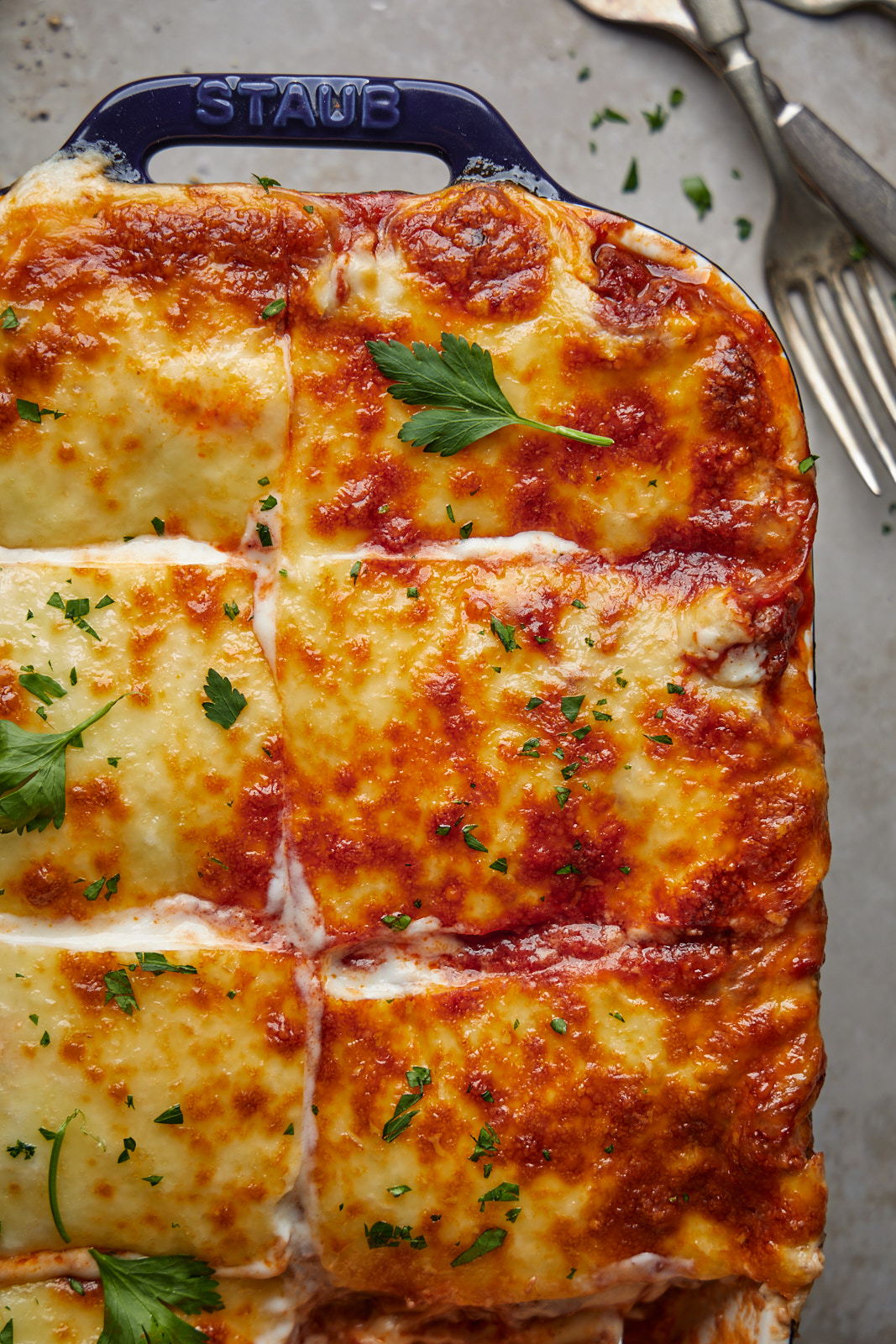 Lasagna can be quite an intimidating thing to make for some. Let me reassure you that you can do it. Think of it in three basic steps. Step 1 - make the bolognese sauce. Step 2 make the béchamel sauce. Step 3 assemble. I love to make the bolognese the day before to save me a step. When I make it ahead I let it cool down and then I refrigerate it until I need it - usually the day after. The bolognese sauce is the thing that takes the longest to make because of it having to simmer for a while and also is the portion of the lasagna with the most ingredients in it. Once you have that out of the way the rest is a cinch and takes no time to do.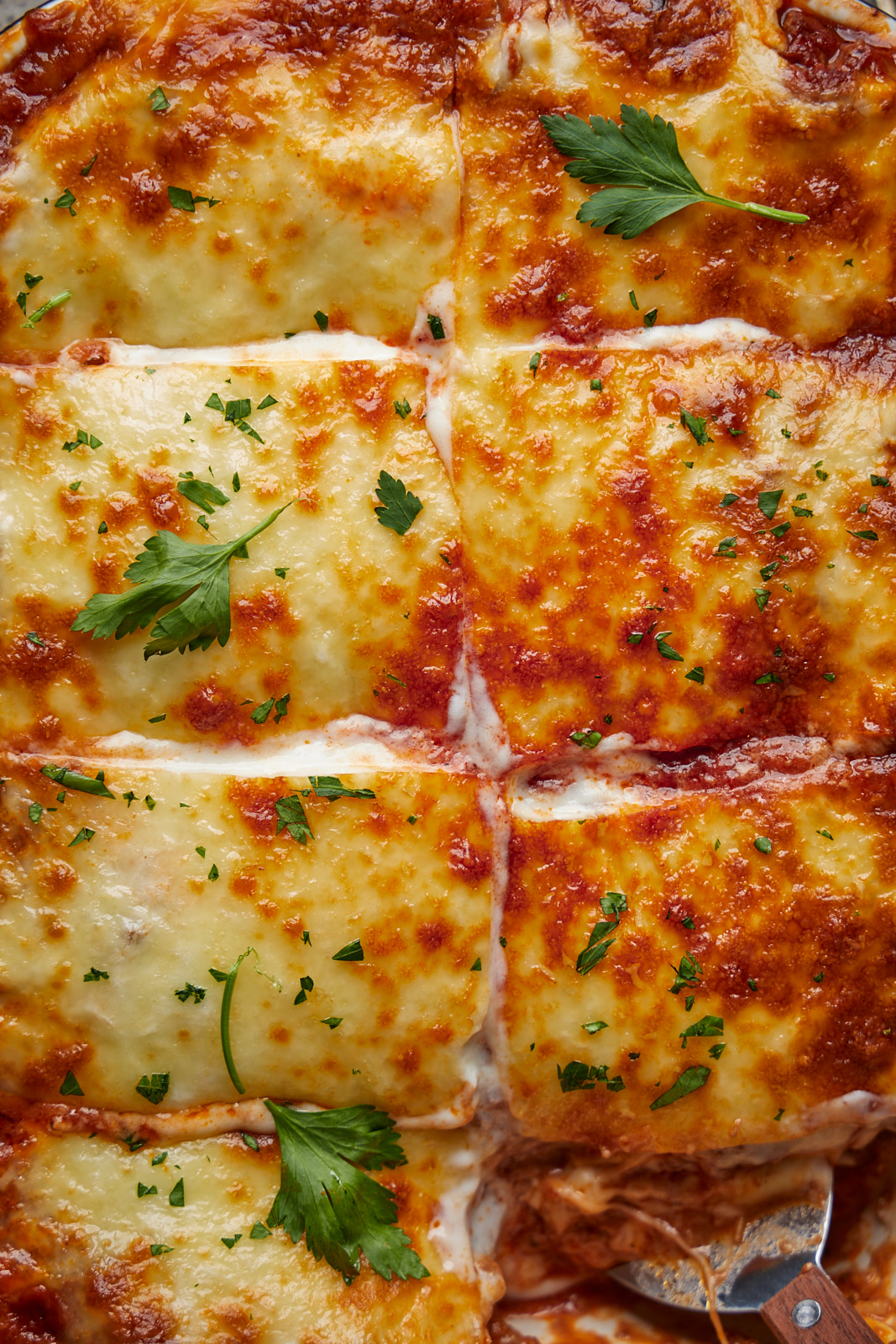 The béchamel sauce is amazing and adds that extra luscious richness to lasagna. It's sounds so fancy but it's quite easy to make as well. The key to a good one is to make sure you stay close to it and whisk it often or even continually. It's not something you walk away and allow to simmer and thicken on its own. I always recommend using whole milk in it for full richness and also seasoning it well too.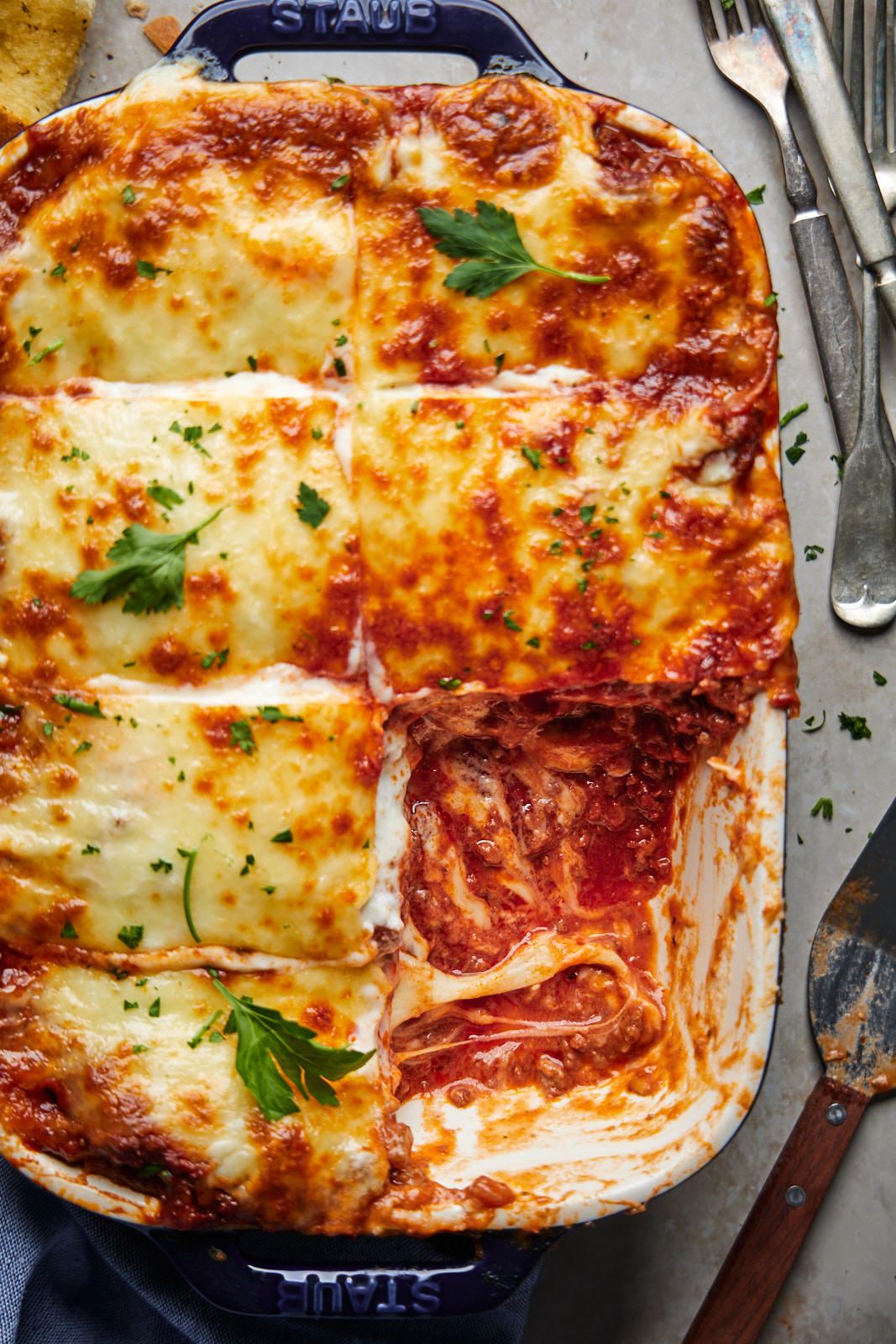 I truly can't resist a cheesy gooey messy slice of lasagna. It has to be one of my favorite meals. This recipe doesn't shy away from cheese, or richness so it's definitely not an everyday kind of meal. It's the perfect kind of comfort food that is great for family dinners, potlucks and it's great for making and taking to friends and family that might be in need of a meal. Lasagna as a whole is just about the best dish to make ahead. It can be made without baking - prepped and ready to be baked up to 24 hrs in advance and frozen for up to a month. All the details about how to go about that in notes below. This ultimate lasagna bolognese does not disappoint and worth that extra bit of elbow grease involved in making it at home. Watching people eat and savour each and every bite is also something else too!
Recipe
Prep Time: 20 mins
Cook Time: 2 hrs aprox
Ingredients
For the Meat Sauce
2 tablespoons olive oil

1 onion, finely chopped

1 carrot, finely diced

1 rib of celery, finely diced

4 cloves of garlic, minced

2 teaspoons Italian seasoning blend (more to taste)

34 oz (1 kg) of ground beef or you could use a mix of ground pork and beef (I usually do a 60-40 % beef - pork mix if I'm blending)

3 heaping tablespoons tomato paste

¼ cup of red wine for deglazing (optional)

24 oz (approx 700 ml) Passata or strained tomatoes

14 oz (approx 410 ml) crushed tomatoes

2 beef or vegetable bouillon cubes, crushed (I used the liquid ones)

1-2 teaspoons Worcestershire Sauce (optional)

1-2 teaspoons sugar or honey (optional)

Salt and pepper, as needed according to taste
For the White Sauce (Béchamel)
4 tablespoons butter

¼ cup all purpose flour

3½ cups while milk room temperature or warmed slightly

1 cup fresh grated parmesan

Pinch of nutmeg or clove

Salt and pepper to taste
For the Lasagna
13 oz (375 grams) fresh lasagna sheets approx 6-8 large sheets trimmed if needed

17 oz (approx 4 cups) fresh mozzarella cheese, shredded

Chopped fresh parsley or basil for serving
Directions
For the meat sauce
Heat oil in a large heavy bottom pot over medium heat. Add garlic, onion, celery and carrots. Cook for 8-10 minutes until softened and sweet - but not browned.
Add beef, turn heat up and cook the beef, breaking it up as you go. Once it's cooked, stir in the tomato paste and Italian seasoning and cook for a minute then deglaze with the wine if using. Allow to simmer and reduce another minute then stir in the passata, crushed tomatoes bouillon and W sauce if using.
Stir then adjust the heat so it is bubbling very gently. Place the lid on and cook stirring stirring occasionally, for 30 min then remove the lid and simmer for another 10-15 min. The sauce should be thickened and rich. Adjust seasoning and salt and pepper to taste, and add sugar or honey if needed. This can be made a day ahead and brought to room temperature before assembling lasagna.
For the bechamel sauce
In a large saucepan, melt butter over medium low heat. Add flour and whisk constantly for 1 minute.
Pour approx 1 cup of the milk in, whisking the whole time. Once mostly lump free, whisk in the remaining milk.
Turn heat up to medium high. Whisk occasionally at first then regularly after a few minutes until sauce thickens - about 5 - 8 minutes. It should coat the back of the wooden spoon.
Remove from heat, add cheese, nutmeg, salt and pepper. Mix until the cheese is melted. The sauce should be thick but still easily pourable - If it's too thick, add whisk in a little extra milk.
Assembly
Preheat oven to 350°F
Spoon and spread approx 1 cup of the meat sauce at the bottom of a 9x13-inch baking dish, then cover with pasta sheets. Trimming sheets if needed. Layer with 2 cups of meat sauce (or enough to cover pasta), 1 cup of béchamel sauce spread over the meat sauce and then sprinkle approx ½ cup of mozzarella over top. Repeat layers making sure you have a good amount of cheese left for the top layer.
For the last layer – cover with lasagna sheets, pour over remaining meat sauce followed by the remaining béchamel sauce and then sprinkle with remaining cheese. Place on a large baking sheet to catch any bubbling cheese and mess and bake for 25 minutes or until golden and bubbling.
Remove from oven and let stand 10-15 minutes before slicing and serving. Serve garnished with chopped fresh parsley or basil. Leftovers keep for up to five days if stored in a tightly sealed container to keep out excess moisture and other contaminants. Reheat in oven or microwave.
Recipe Notes
If you are using NO - BOIL noodles in this recipe make sure to check and follow the baking directions found on the package. Most no bake noodle recipes require more sauce or liquid in the suave so you may have to add more broth or water to the sauce for the noodles to cook in. I would add from ½ -1 cup of extra water or broth to sauce. Make sure to wrap in greased foil tightly before baking if using these noodles. They rely on steam created from baking to cook the pasta with the sauce.
Feel free to use the PRE-BOILED noodles if you can't get fresh ones. Cook them according to the package and layer them the same way as you would fresh pasta sheets. Most of the dry noodles don't come in large sheets like the fresh do so you may need more than the recipe requires depending on the size and coverage of the dry/ pre boiled sheets.
To MAKE AHEAD: Let the sauce cool a bit then assemble the lasagna wrap in plastic wrap and foil and refrigerate and bake later - up to about 24 hours in advance is fine. For longer than that it is best to make and freeze instead. Remove wrappings before baking.
To FREEZE: Wrap lasagna tightly in plastic wrap, covered with aluminum foil, and freeze for up to 1 month. To bake, unwrap lasagna, cover with greased aluminum foil, and bake on foil-lined sheet in 375 degrees F oven on middle rack until hot throughout, about 1 hour; remove foil and continue to bake until cheese is golden, about 10 minutes
Adapted from Recipe Tin Eats