Waldorf Salad
This sweet and savoury salad known for it's sweetness and crunch, is a favorite around here, particularly in the fall when apples, pears, grapes and walnuts are in season. It's got loads of greens in it and a hit of creamy blue cheese with a vinaigrette dressing instead of the typical mayo based one the classic has.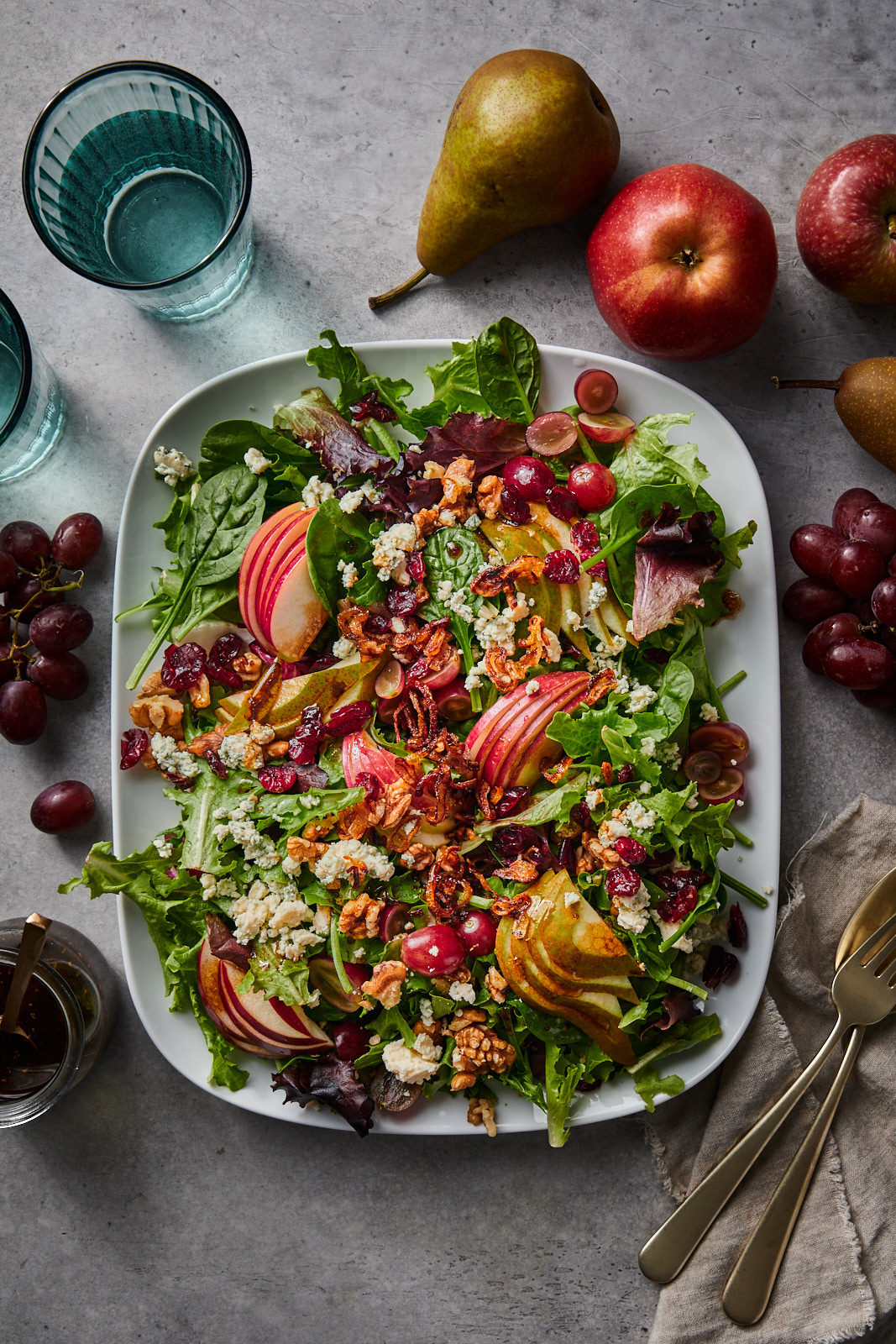 Let's talk classic for a moment. A classic Waldorf salad Is generally made of fresh apples, celery, walnuts, and grapes, dressed in mayonnaise, and traditionally served on a bed of lettuce. It was created by Edouard Beauchamp, the Waldorf's original executive chef, and Oscar Tschirky, its maitre d'hotel. It appeared in a cookbook he published just three years later, The Cook Book, by 'Oscar' of the Waldorf. Both he and the salad are iconic features of the Waldorf. Ofcourse everyone has a take on this salad as with most - as soon  as it was introduced, people began to elaborate on the original three ingredients, adding chopped walnuts, and sometimes other items, like oranges and marshmallows, and the list goes on. Even the Waldorf's very own recipes for it's mayo dressing has morphed into "an emulsified mixture of Dijon mustard, olive oil, Champagne vinegar, egg yolk and white truffle oil."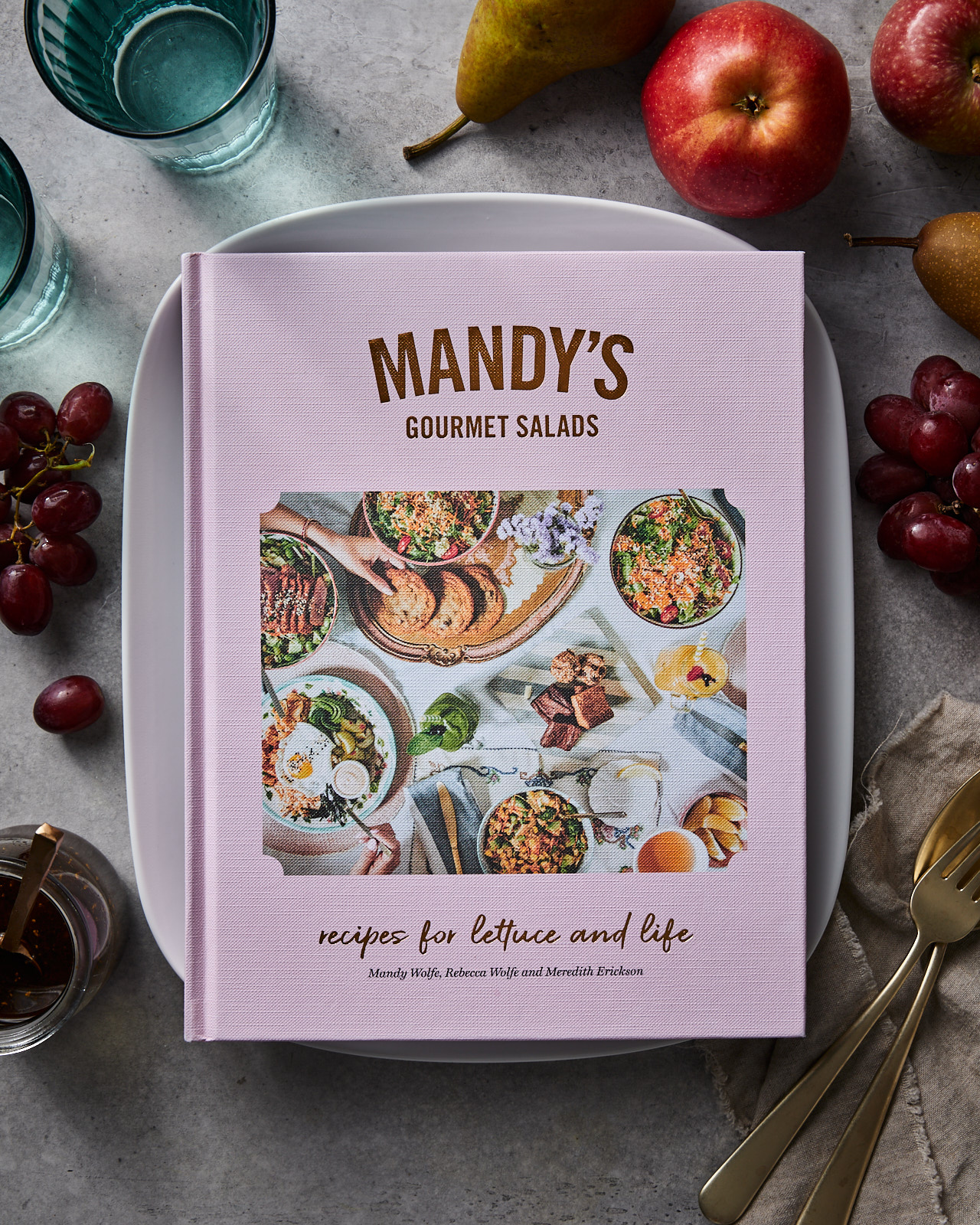 This salad recipe is from Mandy's Gourmet Salads cookbook.  It's very close to a pear, walnut and blue cheese salad I love to make expect in true Mandy's fashion, adds several other key ingredients to make it even more fabulous. Mandy's Gourmet Salads is an amazing salad bar chain in Montreal which started off in the back of a woman's clothing store in 2004 and now serving 8 locations in Montreal with further expansion on the horizon. I'm very much hoping they can open up some locations in Toronto eventually.  I have said this many times before in posts - I am a lover of salads but not a lover of making them. I'm always looking out for a great salad place but as of yet have not found one that even comes close to Mandy's (and I have only been there once). Their salads have the perfect balance and ratios when it comes to salad to dressing ratios and always flavour ratios. Mandy and Rebecca Wolfe - the owners and creators of Mandy's put in tons of work creating the perfect balance and  combinations for their salads and grain bowls and even their delicious smoothie blends. I wanted to try everything when I was there last year.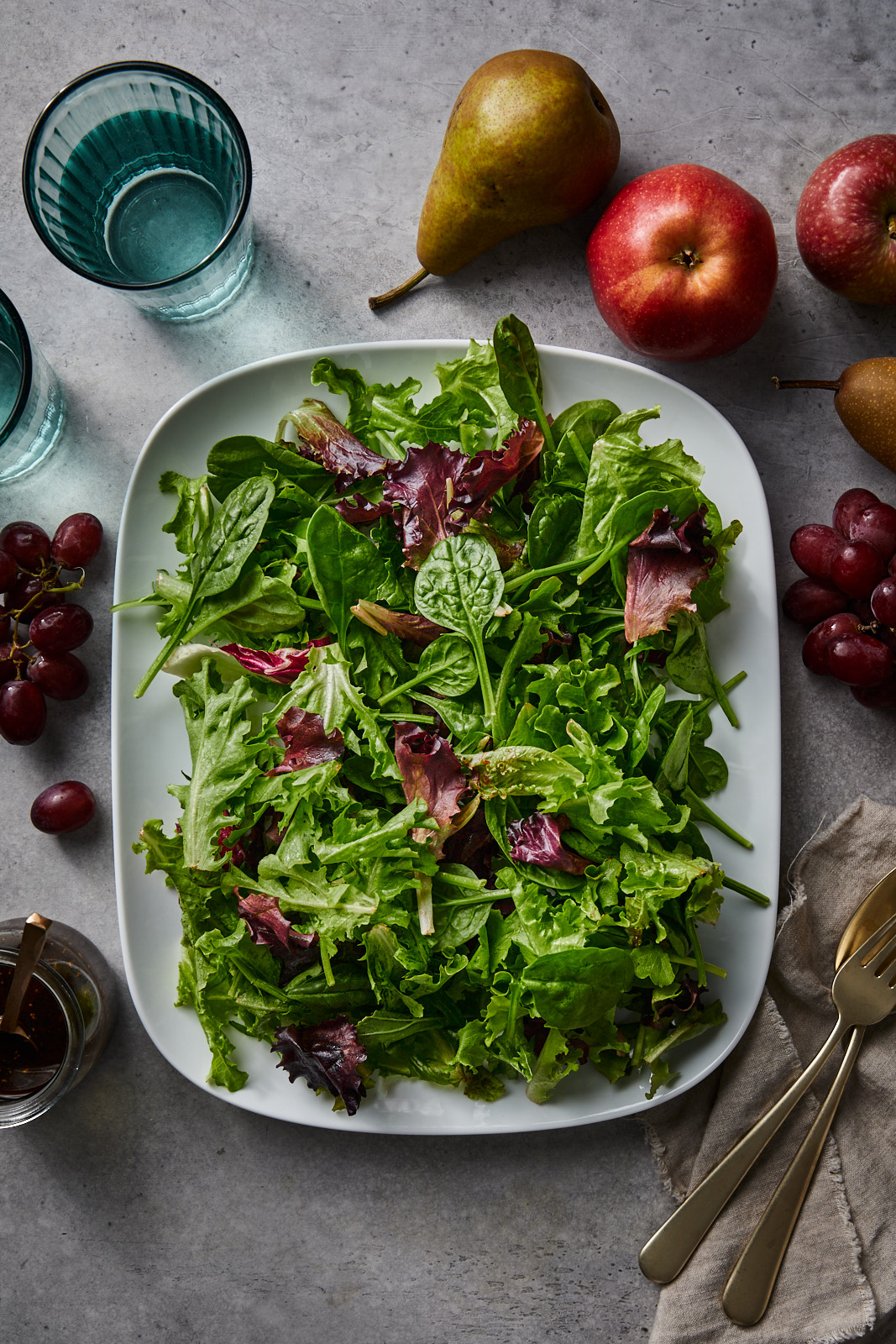 While I was there I must have posted a picture of my salad from Mandy's on IG and a friend from a publishing company told me to look out for a cookbook coming soon from the salad bar and I was thrilled when I received a copy of it. It's loaded with the most delicious salads.  But that is not all.  The book is separated into sections sharing not only salads, but smoothies, dressings, grain bowls, and sweet treats. It's become my salad reference guide and inspiration when I'm in a salad rut. The book is beautifully laid out with recipes of course, along with short salad stories - how some of them were created and snaps of Mandy and Rebecca and their families — along with lovely shots of their stores and Montreal.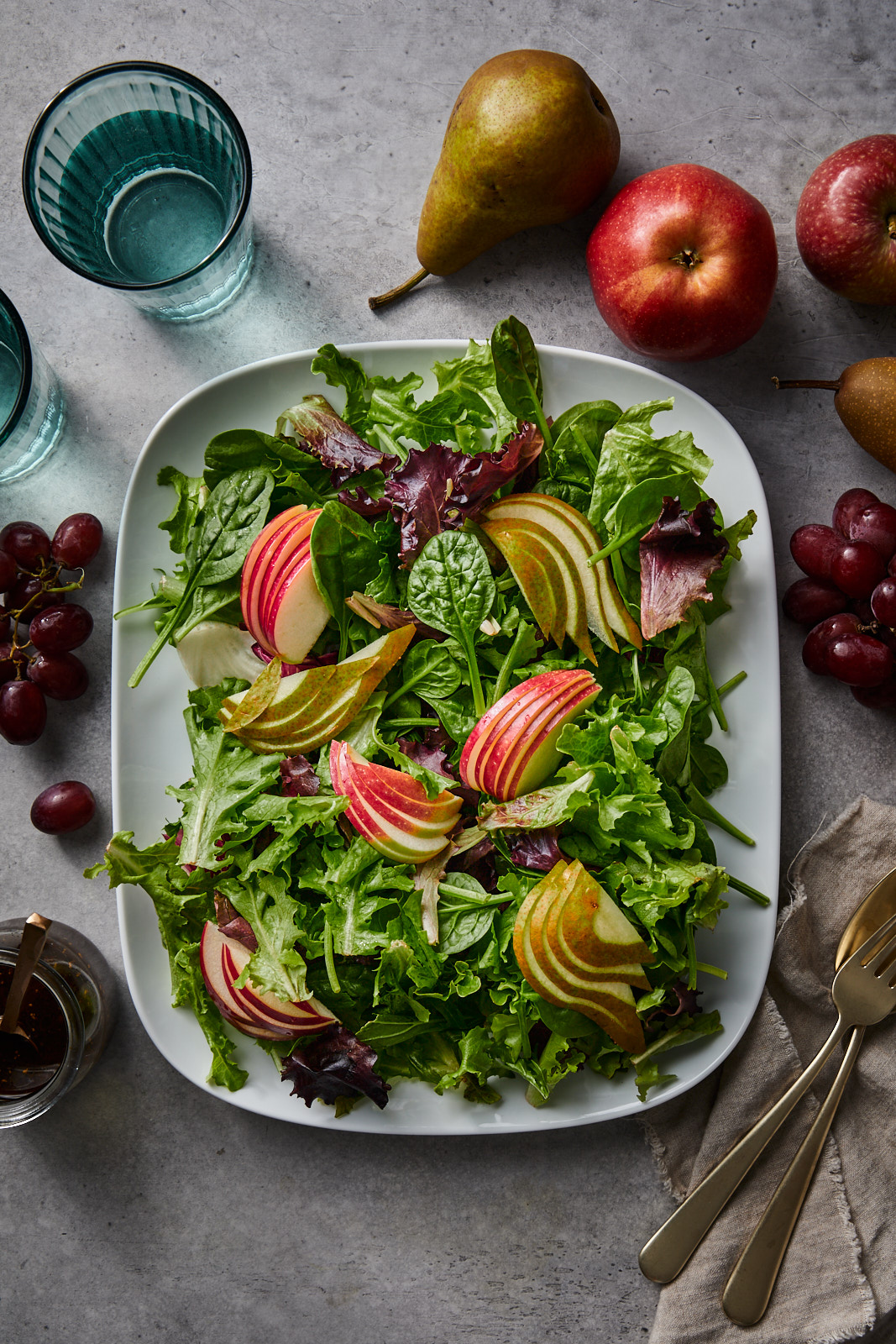 The book is a collaborative effort between Mandy and Rebecca Wolfe and Meredith Erickson who is the author of Alpine Cooking another book I featured on the blog and love so much. The photographer for the book is none other than Alison Slattery an amazing Montreal based food photographer hailing from southwest Ireland. I got to meet her and a few other food bloggers the last time I was in Montreal and was so thrilled to see her work in print in this book! If you love salads as much as I do you must have this book! It's been a #1 top seller for a while and for good reason and if you are fortunate to live near a Mandys salad bar please enjoy a salad for me!!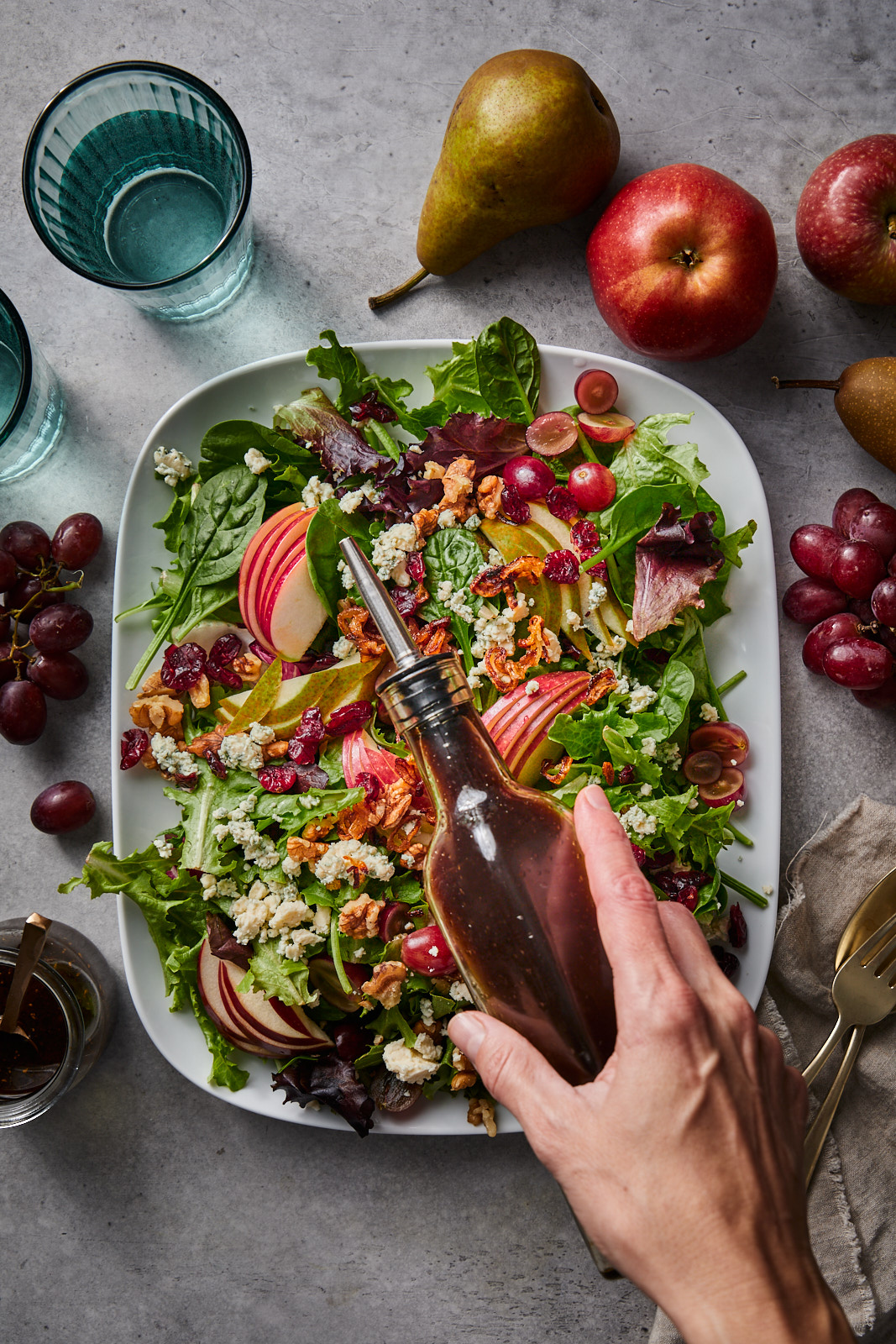 This recipe comes from their lovely book with just a few additions and adjustment by me. I double or triple the recipes to make this a shareable salad. I love the addition of the fried shallots and now making them on the regular. I added some grapes to mine and basically combined a bit of both Waldorf salad recipes from the book - the regular and the deluxe. It definitely seems like everyone has their own favorite version of a Waldorf Salad! This is mine. If you have one you would like to share, please let me know in the comments below.
Recipe
Ingredients
For the salad
2 cups mesclun greens (or mixed greens)

2 cups baby spinach

½honey crisp apple, diced or sliced

½Bartlett pear, diced or sliced

½cup of seedless grapes sliced in half

¼ cup of crumbled blue cheese

¼ cup of toasted walnuts

2 tbsps dried cranberries

2 tbsps crispy fried shallots (recipes below)

1 tsp minced Rosemary
For the classic balsamic dressing: (makes 2 cups)
½cup balsamic vinegar

2 tbsp honey

2 tsp Dijon mustard

1⅓ cups olive oil

¼ tsp each of salt and pepper
For the crispy shallots: (makes 1 ½cups or 12 portions)
½lbs shallots (approx 6 large ones) peeled and sliced thin into rings

4 cups of avocado oil
Directions
For the salad: combine all the ingredients in a large bowl. Top with the dressing and toss until well mixed and combined.
For the shallots: combine shallots with the oil in a small pan or skillet. Heat oil over medium high heat and allow the shallots to sizzle for a couple of minutes before turning down the heat to medium stirring until the shallots are golden. Transfer to a paper towel lined plate to drain. The shallots will crisp up as they cool. Transfer extra shallots to an airtight container and they will keep for up to a week at room temperature.
For the classic Balsamic dressing: blend or whisk together the vinegar, honey, mustard, and olive oil. Then season with salt and pepper. Transfer the dressing to an air tight container and refrigerate until ready to use. It will keep refrigerated for up to 7 days.