White Mushroom Pizza
This white mushroom pizza aka pizza without tomato sauce is the perfect pizza for pizza night and for all you mushroom lovers out there like me. Caramelized mushrooms sauté with garlic, shallots and herbs which then top the simple olive oil dressed pizza dough, nestled between two layers of stretchy mozzarella cheese. Can you add extra cheese of varying types to this mushroom pizza recipe? You absolutely can - add some fresh torn burrata or dollops of goat cheese or fresh ricotta before serving for a creamy finish. I love to eat mine with some fresh arugula or micro greens over the pizza, extra drizzles of olive oil, chopped fresh herbs, lemon zest and a generous squeeze of lemon juice. Or save the arugula for on the side and enjoy this pizza with a side salad and dinner or date night dinner is done - just add wine!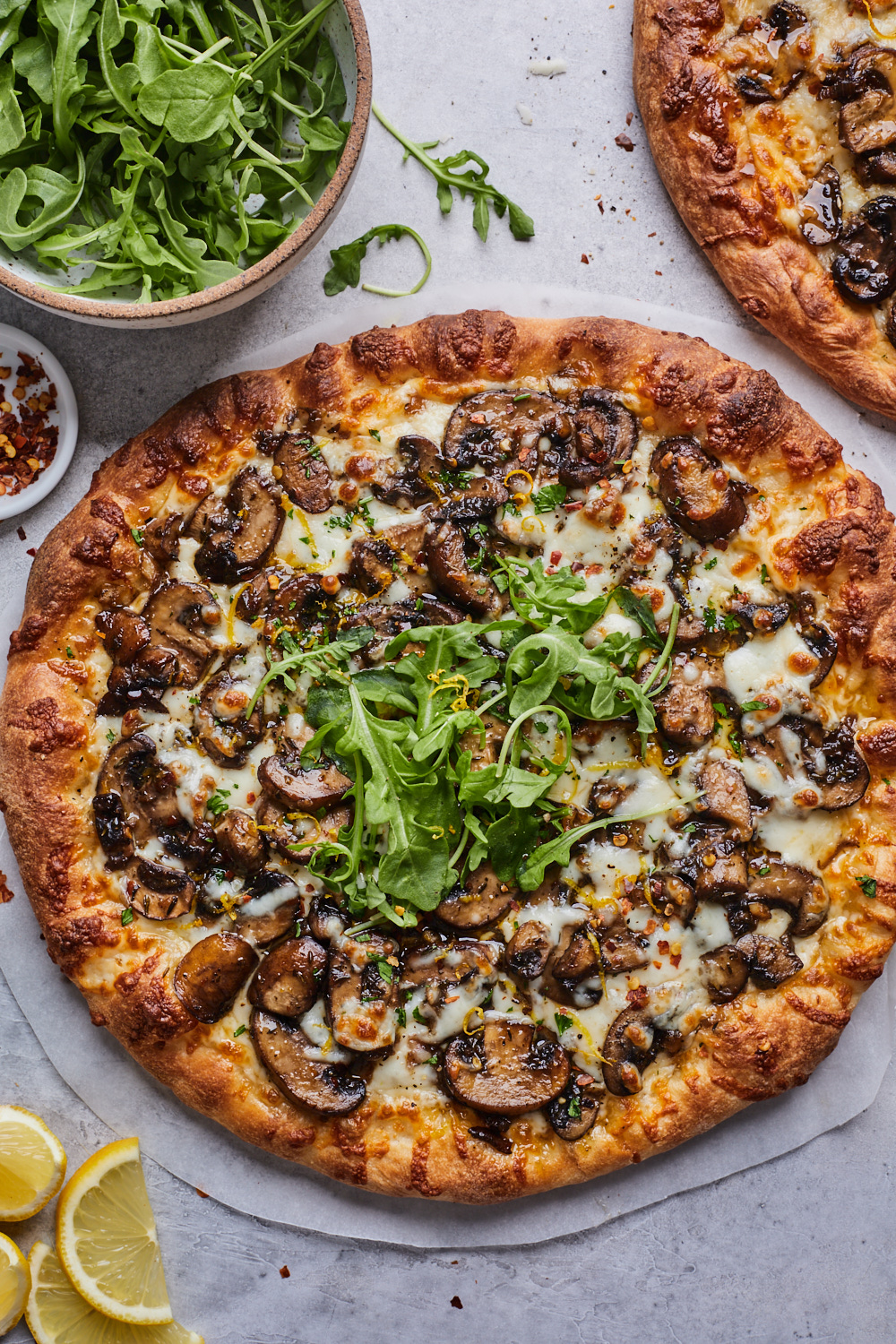 What is White Pizza:
White pizza is pizza made without tomato or marinara sauce, and the base is made with cheese and sometimes a white creamy béchamel-like sauce - the tomato sauce less crust is really what makes it a white pizza.

Mushroom Pizza Ingredients:
Mushrooms - This is where you can have some fun - use any variety you like. I seem to always have cremini mushrooms on hand but you can use a mix of mushrooms like shiitake, oyster, chopped Portobello mushrooms or white button mushrooms. Make sure to use fresh mushrooms for this recipe as I didn't share instructions about using dried reconstituted ones.
Pizza Dough - use your favourite homemade recipe or use store-bought frozen pizza crust or (cauliflower crust) in a pinch but store-bought fresh pizza dough is preferred. Take it out of the fridge while your oven is preheating so it comes to room temperature - this will make it a lot easier to stretch or roll out the dough.
Shallot & Garlic - these are the perfect flavourings to go with the sautéed mushrooms - use as little or as much garlic as you prefer. Use dried garlic in a pinch but fresh is always best. If you don't have a shallot feel free to use a small yellow onion or small red onion
Spices - I used a combination of thyme, oregano and chili flakes or red pepper flakes. Adjust amounts to taste and feel free to vary the spices and use fresh instead of dried if you prefer. I love mushrooms with rosemary and sage too
White Wine - This is totally optional. I love to add a splash of white wine to the pan to add some extra flavour to the mushrooms - fee free to use dry sherry instead or I have even added some soy sauce or even a teaspoon or so of miso paste in there with them for extra umami flavor. You can also add nothing if that is what you prefer.
Mozzarella Cheese - I don't recommend the preshredded stuff as it doesn't have the same stretch'abiliy because of the additives but if that is all you have that is ok. You can also use fresh mozzarella slices and even do a combination of a variety of cheeses to top the pizza and even add other varieties of cheeses after it bakes to finish it off.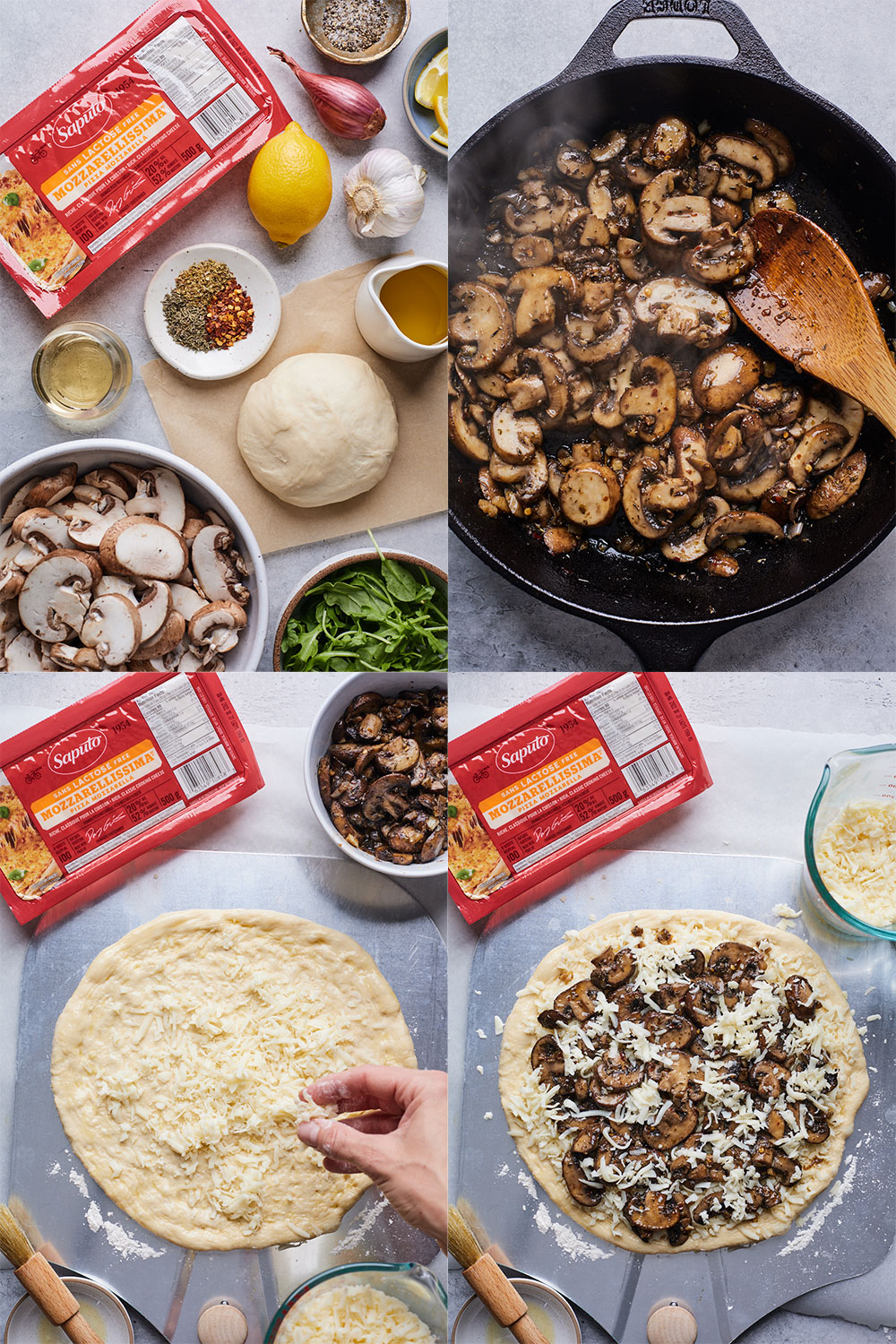 How To Make This White Mushroom Pizza Recipe:
Preheat oven while you prepare the mushrooms
Sauté mushrooms with olive oil shallot, garlic and spices until well caramelized (and a splash of white wine)
Stretch or roll out pizza dough and brush with olive oil
Top pizza dough with ¾ of the grated cheese then top with mushrooms and remaining cheese
Transfer pizza to oven and roast or bake until cheese is melted and pizza crust is brown and slightly charred in spots
Garnish, slice and enjoy!
Do I Need to Cook Mushrooms Before Adding Them To Pizza?
I strongly recommend that you do. I always cook mushrooms before topping a pizza because this not only ensures they are fully cooked through and juicy and caramelized but also more flavourful instead of being dried out and flavourless.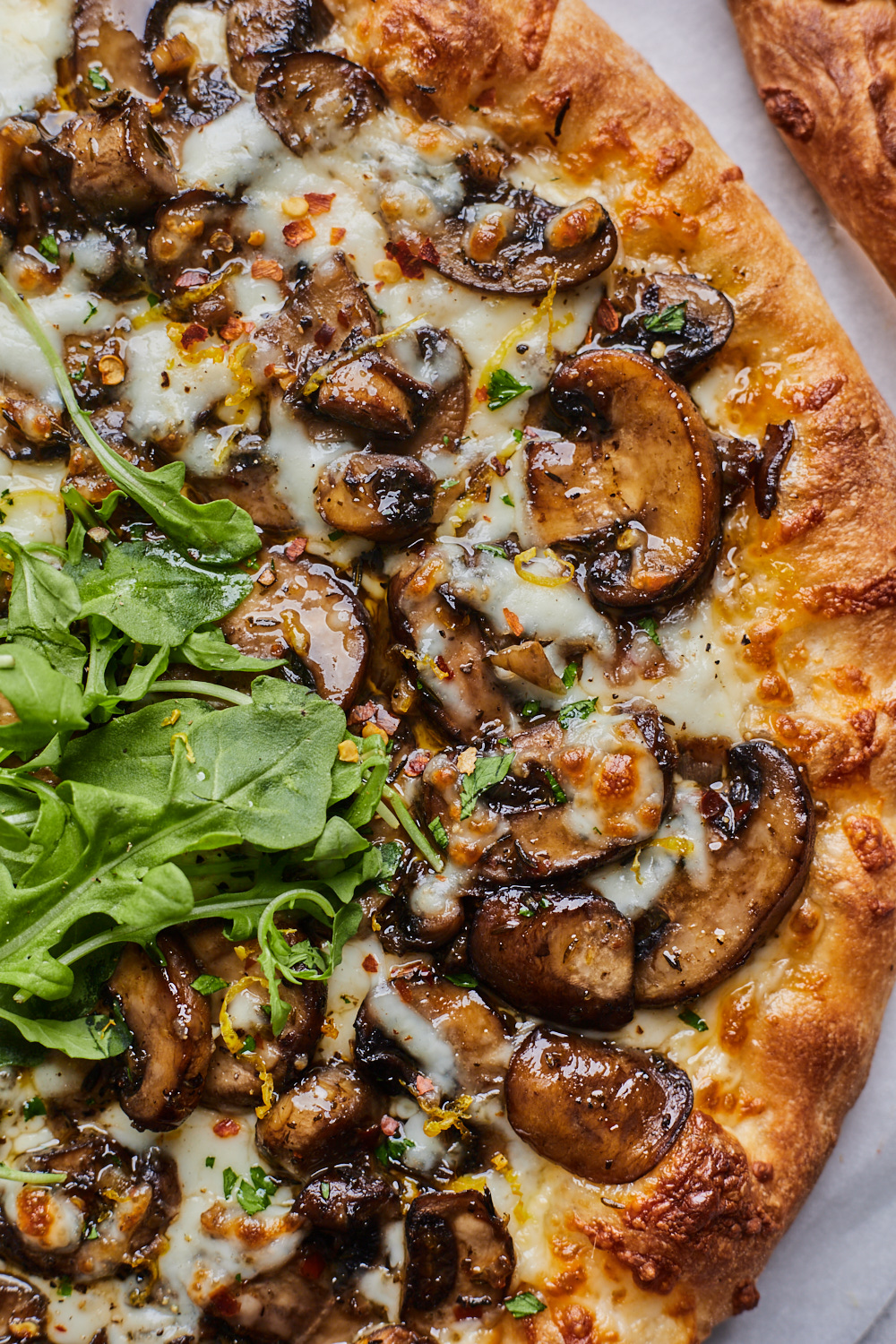 If You Liked This Recipe You Will Love These:
Recipe
Prep Time: 10 mins
Cook Time: 10-20 mins
Bake Time: 8-10 min
Ingredients
4 tablespoons olive oil, divided

3 cloves garlic, minced

1 shallot peeled and sliced, or one small onion

10 ounces sliced fresh mushrooms, thinly sliced or any mushrooms.

½ teaspoon dried thyme

½ teaspoon dried oregano or rosemary

½ teaspoon chili flakes

Splash of white wine or Dry Sherry

Salt and freshly ground black pepper, to taste

¼ cup yellow cornmeal or extra flour for dusting pizza peel or pan

½ pound pizza dough,or store-bought

8 ounces mozzarella cheese, grated (approx 2 cups)
Garnish Options
Fresh arugula or micro greens
Splash of lemon juice
Lemon Zest
Fresh chopped parsley or fresh basil
Extra drizzle of olive oil
Chili flakes
Directions
PREHEAT OVEN: Place pizza stone in the oven if using and preheat to 450-500 F. Or as hot as your oven will go - preheat at least ½ hour. Remove pizza dough from fridge to allow to come to room temperature.
PREPARE THE MUSHROOMS: In the mean time heat 2 tablespoons olive oil in a large skillet over medium heat to medium-high heat. Stir in mushrooms, shallots, chili flakes, garlic, thyme and oregano. Cook, stirring occasionally, until mushrooms are tender and browned, about 5-6 minutes; season with salt and pepper, add a splash of wine or dry sherry and continue to cook until wine has evaporated and mushrooms are caramelized, approx another 3-5 min. Remove skillet from heat and set aside to cool.
PREPARE DOUGH AND PIZZA PEEL/BAKING SHEET: When the oven is ready, dust a pizza peel with cornmeal or a bit of all purpose flour. (If you don't have a pizza peel, you can use a rimless baking sheet or the back of a rimmed baking sheet) or you can line the pizza peel with parchment paper as well. Stretch or roll the dough into a 10 inch circle; Then gently place the dough onto the pizza pan, baking sheet or pizza peel.
ASSEMBLE PIZZA: Brush pizza with a thin layer of remaining olive oil. Top with ¾ of the mozzarella evenly. Then top cheese with mushroom mixture and sprinkle over remaining cheese over mushrooms.
BAKE: Use the pizza peel to carefully transfer the pizza onto the preheated pizza stone or carefully transfer baking sheet to hot oven. Bake the pizza until the cheese and crust are nicely browned, and cheese is melted, about 8-10 minutes in the oven
ADD GARNISHES, SLICE & ENJOY: Once out of the oven sprinkle with chopped parsley and lemon zest and any of the other toppings, slice into pieces and serve immediately.