Easy Cream of Mushroom Soup
This homemade cream of mushroom soup recipe is full flavoured and so easy to make. It's so creamy, rich, hearty and comforting.The deep earthy flavours of a classic cream of mushroom soup recipe can't be beat, especially when it's ready in no time. This recipe is vegan and gluten free friendly, it's quiet adaptable. You can make it as simple as you like or as extra as you like. This simple yet rich soup is perfect for chilly days as an easy lunch or dinner.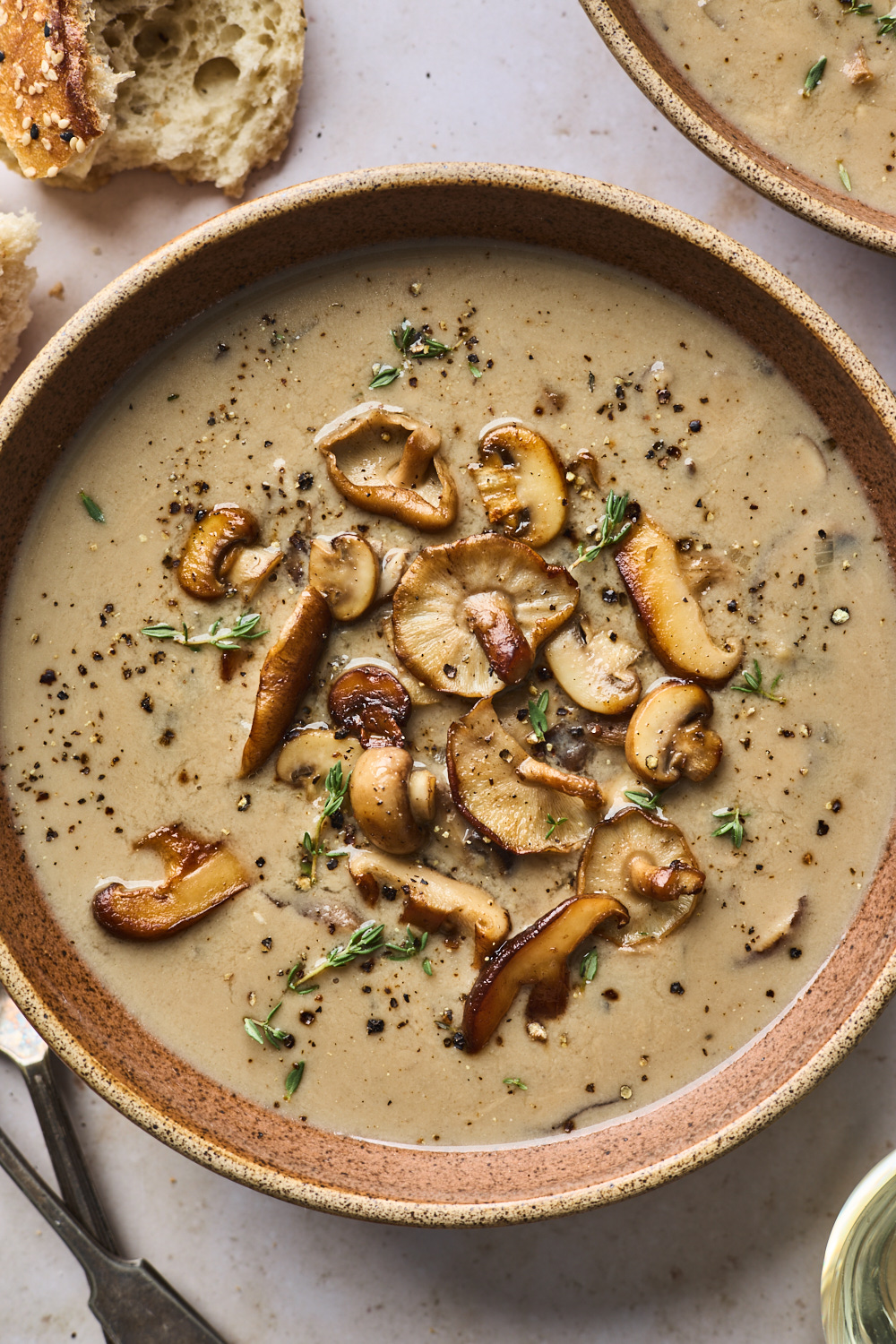 Cream of mushroom soup has always been my favourite. I adore mushrooms and I use to look forward to getting a delicious cream of mushroom soup every week at a small lunch spot in the basement of a court house that was close to the office I worked at years ago. It was run but two sisters who worked their tails off to make delicious soups and sandwiches and the best white chocolate macadamia nut cookies I have ever had - I'm still testing recipes to get mine that good. When I do you better believe they will be on the blog. I looked forward to their mushroom soup because it was exactly the way I liked mine - simple flavours, just enough creamy but not porridge like creamy - just brothy enough and also still had mushrooms in it, and also just enough cream. I love cream but cream doesn't really love me so I was experimenting with a vegan version for that reason. I use regular butter in this soup and coconut milk for the cream - and I usually use chicken broth or beef broth for extra flavour - clearly I make a bad vegan! That is not to say that a fully vegan version of this soup is any less delicious- it absolutely is and I love that I can enjoy cream of mushroom soup without all the heavy cream if I want to. And so can you - so let's talk more about this cream of mushroom soup.
Cream Mushroom Soup Ingredients
Just a handful of ingredients are needed to make your own version:
Mushrooms: Fresh brown or cremini mushrooms are perfect for this recipe. You could also use mini portobello mushrooms/ baby Bella, or a combination of your favourite mushroom varieties. I also like to add dried porcini mushrooms. Once reconstituted, and added to the soup they add a nutty, earthy, and savory, umami-forward flavors. They are totally optional to add.
Butter: feel free to use a vegan butter or replace it all together with olive oil for a vegan version
Herbs: I love thyme for my soup but you can also use rosemary, oregano, tarragon, chives or cilantro. Use what you love!
Coconut milk or Heavy cream  – Coconut milk helps make this mushroom soup extra creamy and dairy-free. If you aren't a fan, you can also use almond or cashew milk for a vegan option. For non vegan option you could add heavy whipping cream - when I go the heavy cream route - I blend the soup first then add the heavy cream in after the soup has simmered and blended to avoid any chance of it curdling while it simmers at higher temps if you add it in earlier with the broth.
Flour: We need flour to create that delicious, creamy texture mushroom soup is loved for. Feel free to use a gluten free flour or choice or you can also use cornstarch too.I recommend 2-3 tablespoons cornstarch mixed with ¼ cup water (slurry). If unsure about quantities for your liking, add the cornstarch slurry in tablespoon increments, stirring in between, until you've achieved your ideal texture.
Broth: you can use vegetable or chicken broth and many times I will add beef broth for a deeper richer flavour in this soup
Garlic and shallots: they are a must for building the flavours in this soup. Replace the shallots with a yellow onion if you prefer.
Wine: the wine adds really nice flavour. I like using Sherry wine or Marsala for reds and a some Pinot if I'm using white. But really any thing you have on hand will work. You can leave it out as it is optional and no need to replace wine with more broth.
Extra flavour add ins: A teaspoon of dijon mustard adds loads of flavour so does a teaspoon or more of miso paste. Feel free to add either while sautéing the mushrooms. Nutmeg is often added to mushroom soup and it's a great warm spice - juts a pinch is all I would use. I like to finish the soup off with a dash of tamari for extra Unami flavour but that is optional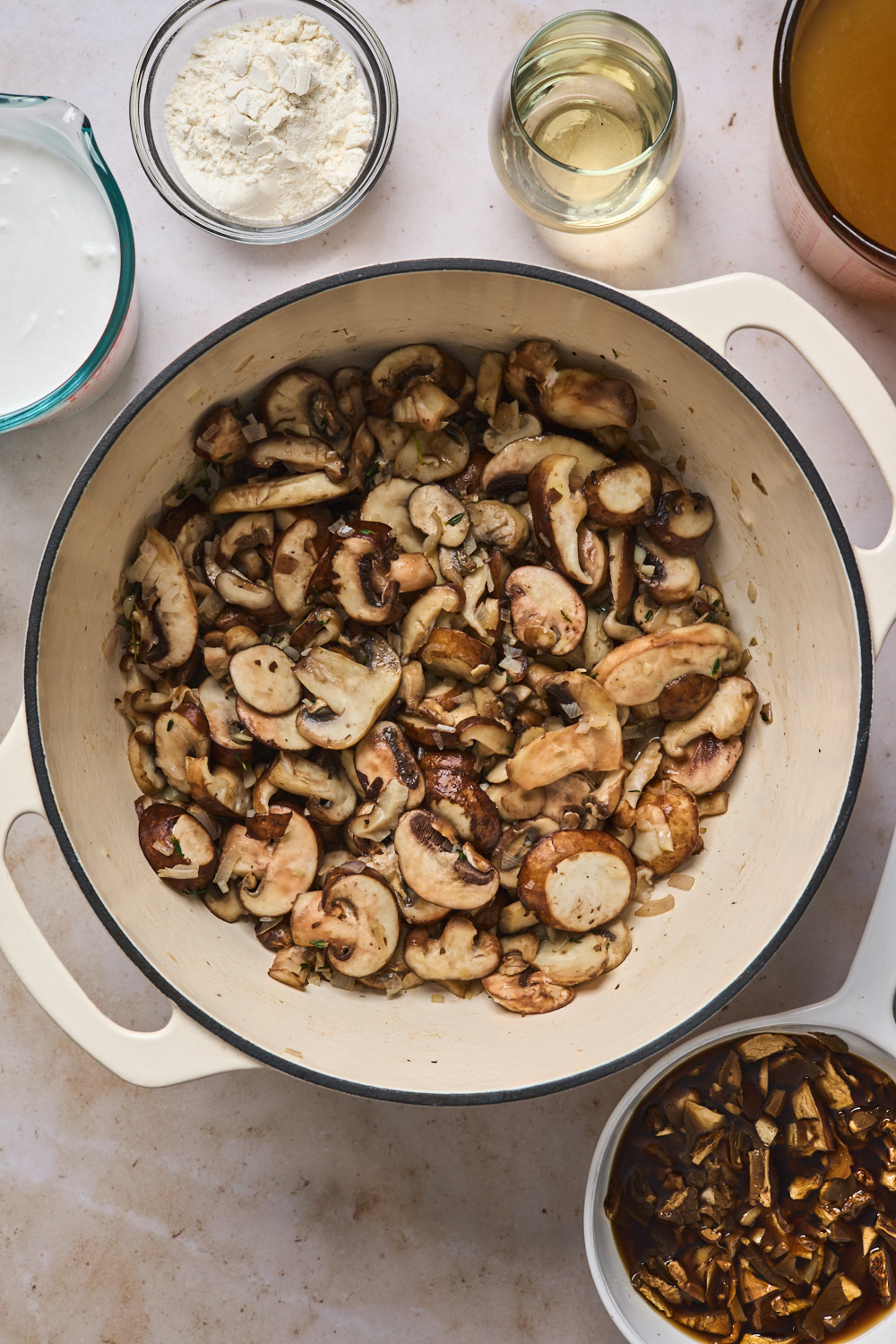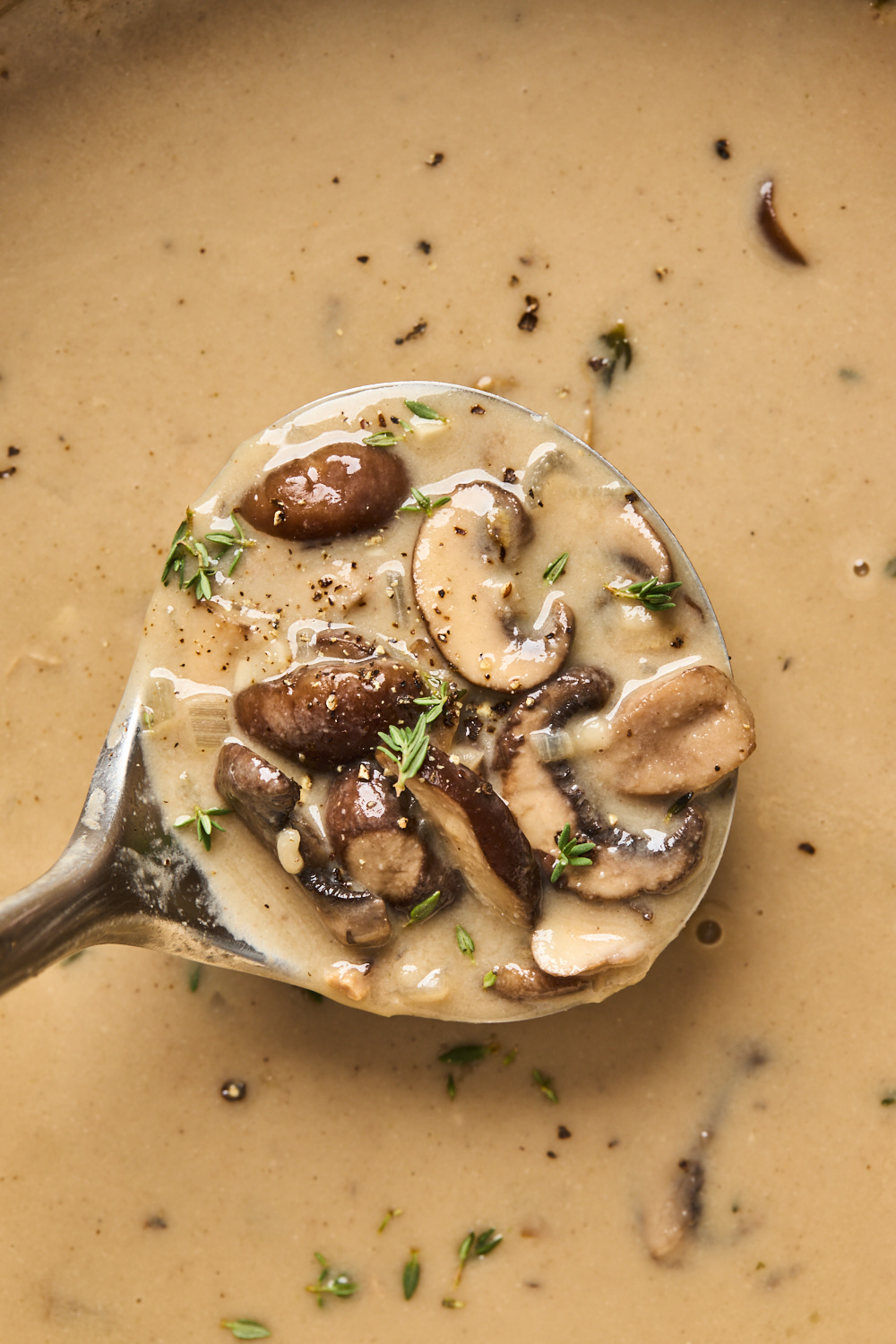 How to Make Creamy Mushroom Soup
Start by reconstituting the dried porcini mushrooms if using. Pour just enough hot water over them to cover them.
In a large, deep pot over medium high heat, add the butter, olive oil or vegan butter to heat.
Add the mushrooms, garlic, thyme onion and salt and pepper. Stir together and sauté until mushrooms begin to release their natural juices and become fragrant and tender, about 10-12 minutes.
Pour in the vegetable stock or broth and the coconut milk. Stir together and bring to a boil, then a simmer for 10-15 minutes.
Scoop out some of the soup (with some mushrooms) and pour into your blender. If you have a glass blender, ensure it cools down a bit first! Blend then pour back into soup pot and stir. You. An also use a stick blender too.  If using heavy cream in this recipe stir it in at this point. Heat through.
Serve the soup and enjoy!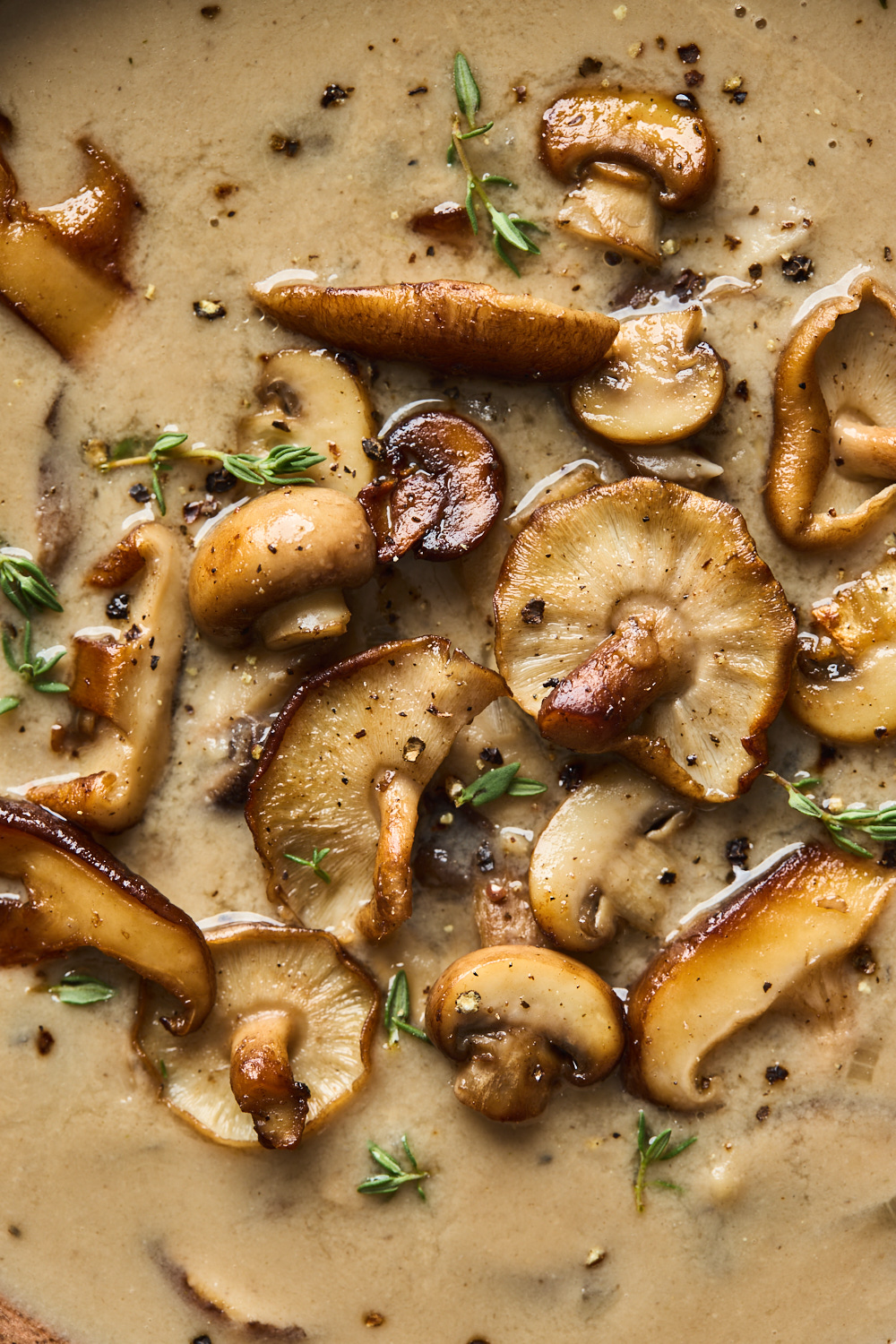 Tips for making a great mushroom soup:
Don't under saute the mushrooms!Give them some time to cook and caramelized  for maximum flavour and richness to your soup.
This creamy mushroom soup lasts about 4 to 5 days in the fridge and also freezes very well. To freeze, allow the soup to cool completely before adding to container, or flatten individual portions in freezer-safe plastic bags. This soup will keep about 2 months in the freezer. If making this with heavy cream I would freeze without the cream in it -reheat stovetop and then stir in the heavy cream then.
While this isn't a super thick soup, it's not a thin broth, either. For a thicker soup, I would recommend reducing broth by about ¾ cup. You can add back a little broth at a time if it's too thick.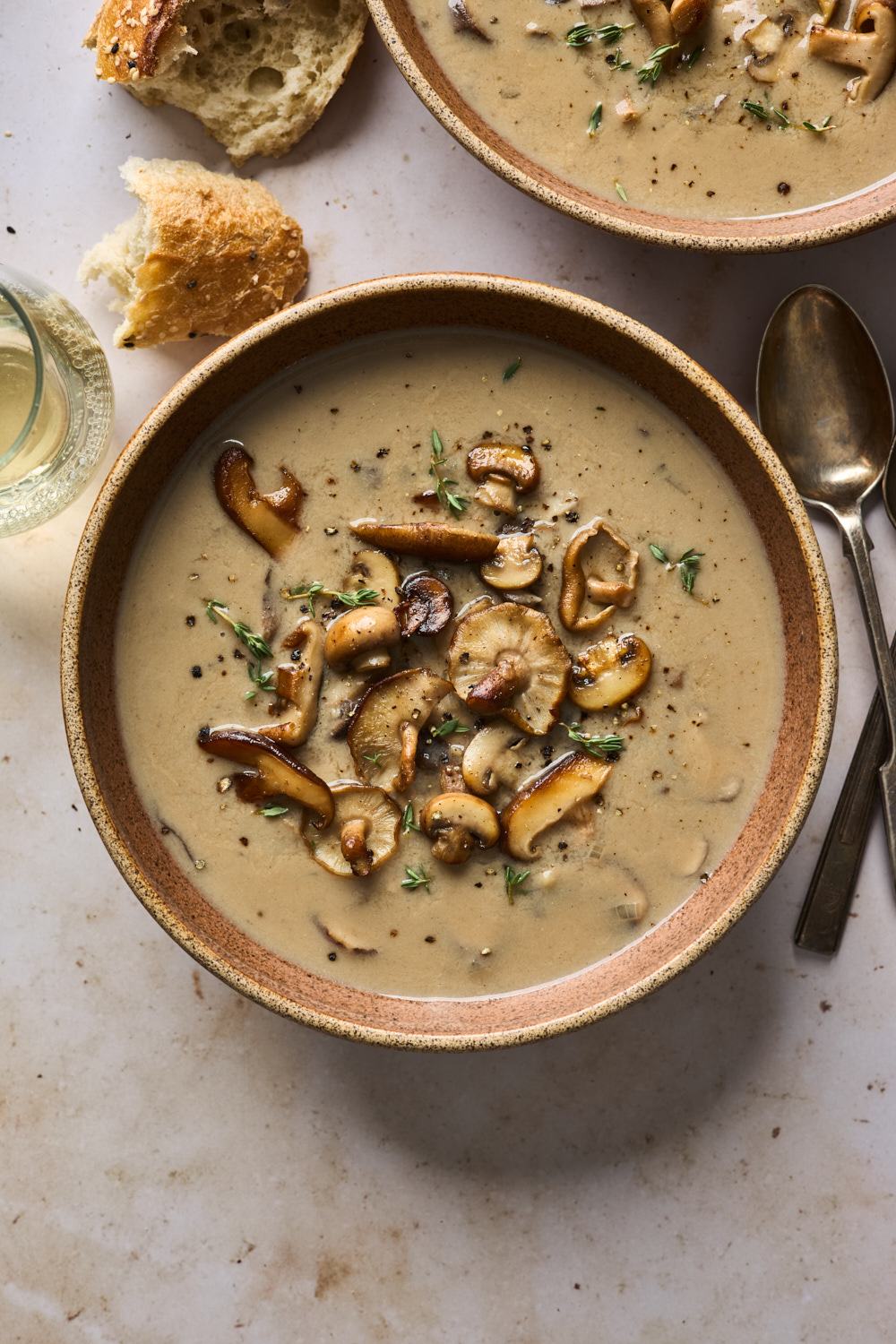 For more delicious creamy comforting soup recipes check these out:
Recipe
Prep Time: 10 mins
Cook Time: 25 mins
ca
Ingredients
2 tablespoons butter

¼ cup dried porcini mushrooms (optional)

16 oz button mushrooms, sliced (or a mixture of your favourite mushrooms)

2 shallots or 1 yellow onion, peeled and chopped

3 cloves garlic, minced

1 teaspoon dried thyme leaves, plus more for garnish

¼ cup all-purpose flour (or gluten-free flour if preferred)

¼ cup of white wine, Sherry wine or Marsala (optional)

3 ½ cups broth (vegetable or chicken), plus more if needed

1 cup full-fat coconut milk (I usually use canned), or heavy whipping cream*

Salt and black pepper to taste

Optional add Ins: pinch of nutmeg, dash of tamari
Directions
Add dried porcini mushrooms to small bowl and add hot water just enough to cover them, if using.
In a large pot, melt butter over medium-high heat. Add the mushrooms, onion, thyme, and garlic and sauté until the mushrooms have softened and browned, approx 10-12 minutes.
Sprinkle over the flour, stir in, and cook another minute.
Deglaze the pan with wine if using while stirring the pot, then stir in the broth, porcini mushrooms and their liquid, milk, and season with salt, pepper, and add nutmeg if using. Use your spoon to scrape any brown bits from the bottom of pot. Bring to a simmer and cook for approx 10 minutes, to thicken slightly.
Then ladle ⅓-½ of the soup into a blender and carefully blend until smooth, pour back into the pot and stir. You could also use an immersion blender for this. Test for seasoning and at this point you can add a dash of tamari for extra flavour if you wish but that is optional. If you need to thin out the soup a bit feel free to add a little more broth to it.
Serve while hot and enjoy with crusty bread
Recipe Notes
If using heavy whipping cream I recommend stirring it in AFTER you blend the soup and add it back to the pot. Heat through and then serve.
The porcini mushrooms are optional but add some nice flavour to the soup. Feel free to skip if you don't have any.
For vegan version use olive oil or vegan butter instead of regular butter. Stick to the coconut milk. Does it taste like coconut - yes but it's not overpowering or off putting,  and adds a hint of sweetness to balance out the rest of the flavours. It's lovely with the coconut milk.
If you find the soup too thick all you have to do is thin it out by adding a bit of broth to it. If you like your soup thick I would reduce the broth to 2½-3 cups and then add in more broth as needed.  
I sautéed some extra mushrooms in butter to top my soup with but this is totally optional.  
Feel free to purée the entire soup if you wanted it completely smooth.