Beef Tenderloin With Creamy Mushroom Sauce
This succulent beef tenderloin with a luxurious, made-from-scratch creamy mushroom sauce is the perfect combo, great for any special occasion homemade meal that is really simple to make and hassle free. It also take under 1 hour to prep and cook the whole meal. There's nothing more elegant or delicious to serve family and friends. The Beef tenderloin recipe is easy to roast in the oven after a quick sear and with simple seasoning of garlic, salt, and pepper. Feel free to season with your favourite seasoning blend or rub but not so much that it will over power that fantastic mushroom sauce! Serve it with my Simple Creamy Mashed Potatoes and a delicious salad and you have yourself the perfect meal!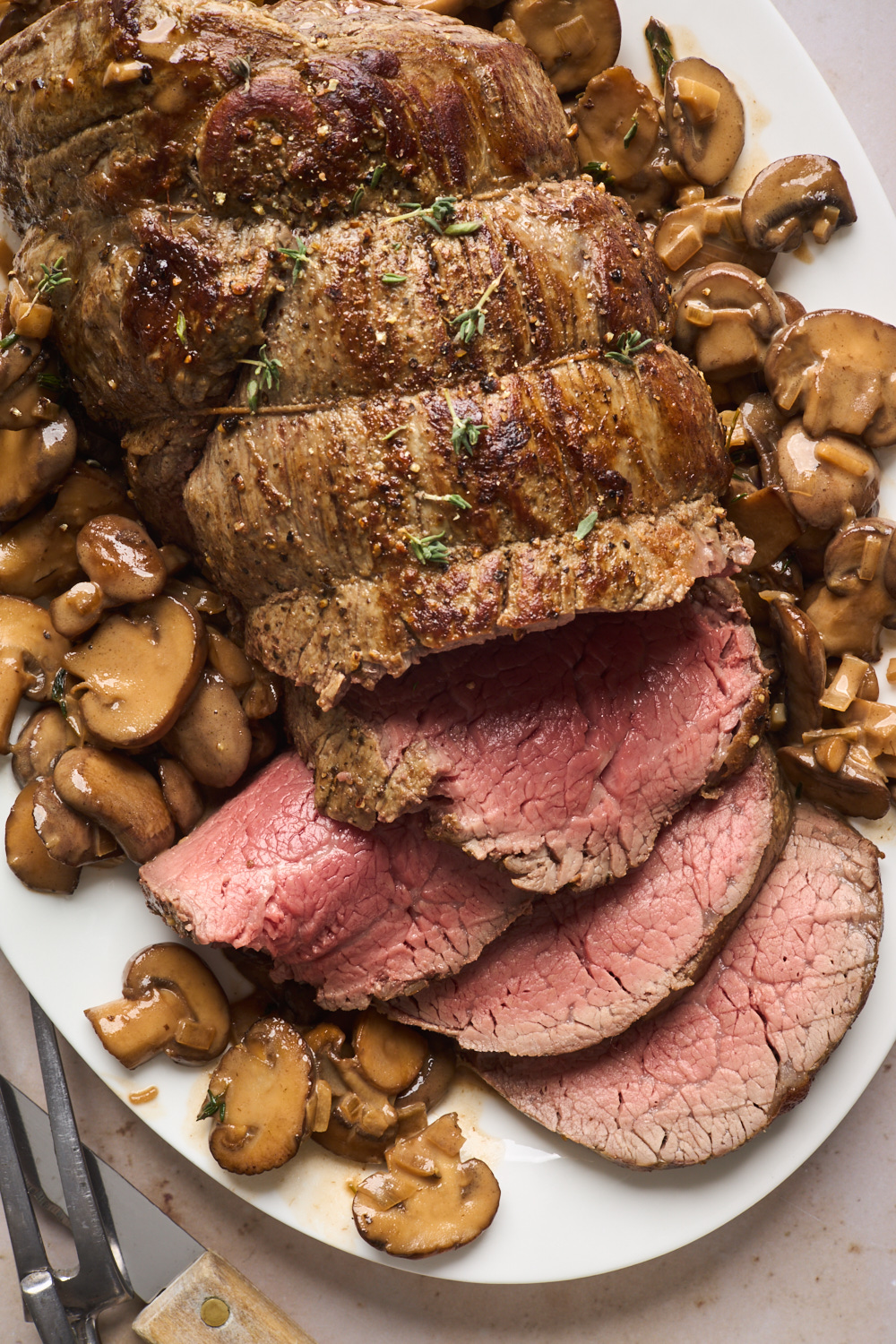 What is beef tenderloin
Tenderloin is the most tender cut of beef, it practically melts in your mouth. This is where we get filet mignon, which is made from the very tip of the pointy end of the tenderloin. There is also very little fat within the tenderloin, making it a very lean cut. Because it is the most tender meat, it is priced accordingly and can be quite expensive. That is why we call it the "special occasion" meat and why you'll want to make sure you're cooking it right. It's worth every penny and leftovers can easily be repurposed in a fabulous soup my favourite being my faux pho beef soup Or sliced and added to my classic simple Beef Stroganoff - it's great seared and sliced and served with fried eggs or even in burritos or tacos too. All storage and freezing details in recipe notes below. The recipe is straightforward and all you will need is a good thermometer, a skillet or baking pan, kitchen string if you are tying it yourself and a nice and sharp carving knife.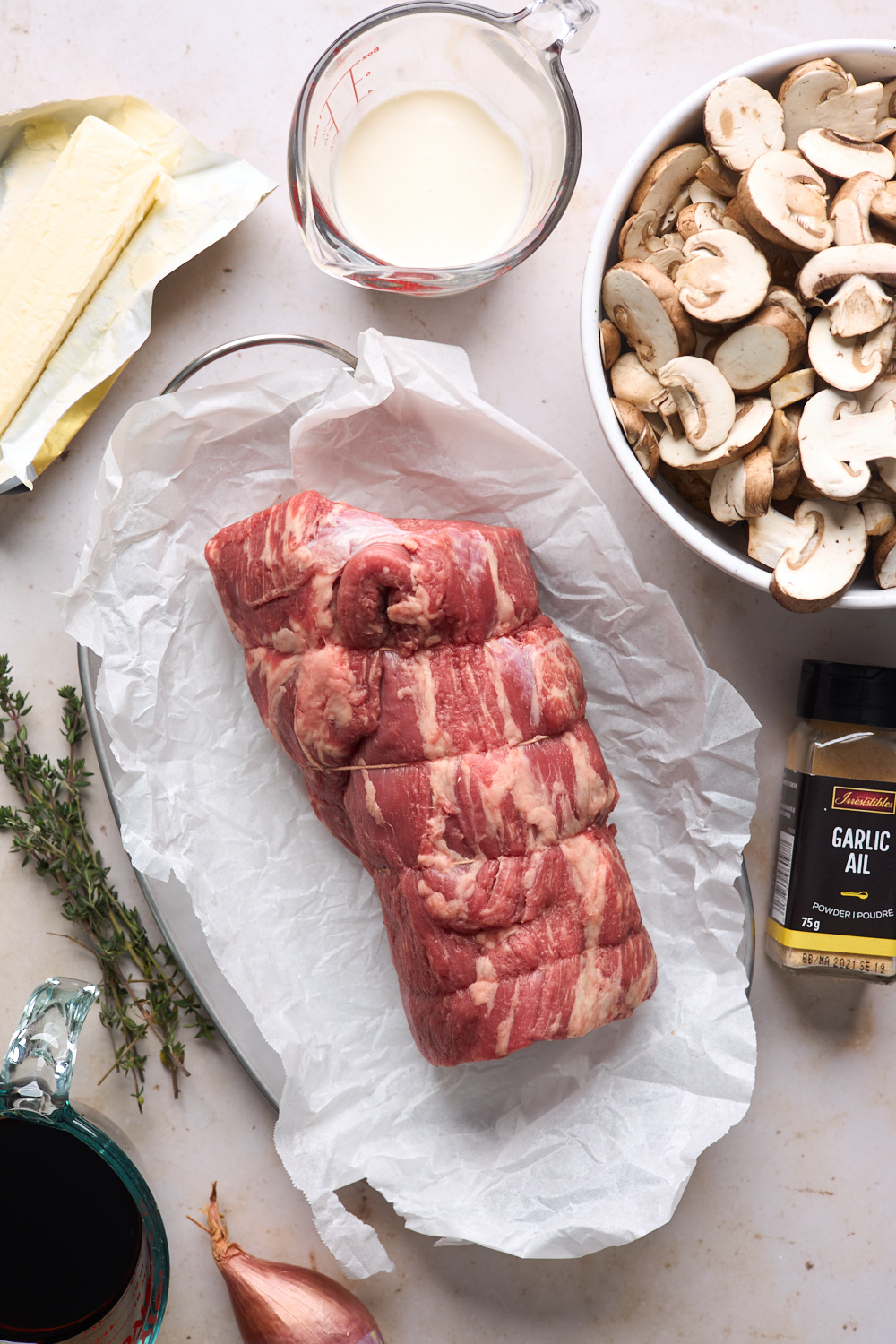 How Long to Cook Beef Tenderloin?
So you invested some money into this beautiful tender cut of beef - you want to take care and cook it properly so it's done exactly the way you like it. Test for doneness using a meat thermometer or instant-read thermometer. I can't stress this enough - so important to use a thermometer. You don't have to go and buy yourself the best one out there just one that works. Ovens vary so the times are not listed below because they would be estimated times depending on the size of your roast and your oven. The most reliable way to know when your beef tenderloin is done is by using a meat thermometer.
Insert thermometer through side of cut, tip in the center, not touching bone or fat.
Remove from heat when thermometer registers 5-10°F lower than desired doneness.
Rest your roast. Temperature will continue to rise while resting.
RARE - Cool red center: 125°F (52°C)
MEDIUM RARE - Warm red center: 135°F (57°C)
MEDIUM - Warm pink center: 145°F (63°C)
MEDIUM WELL - Slightly pink: center 150°F (66°C)
WELL DONE - Little or no pink: 160°F (71°C)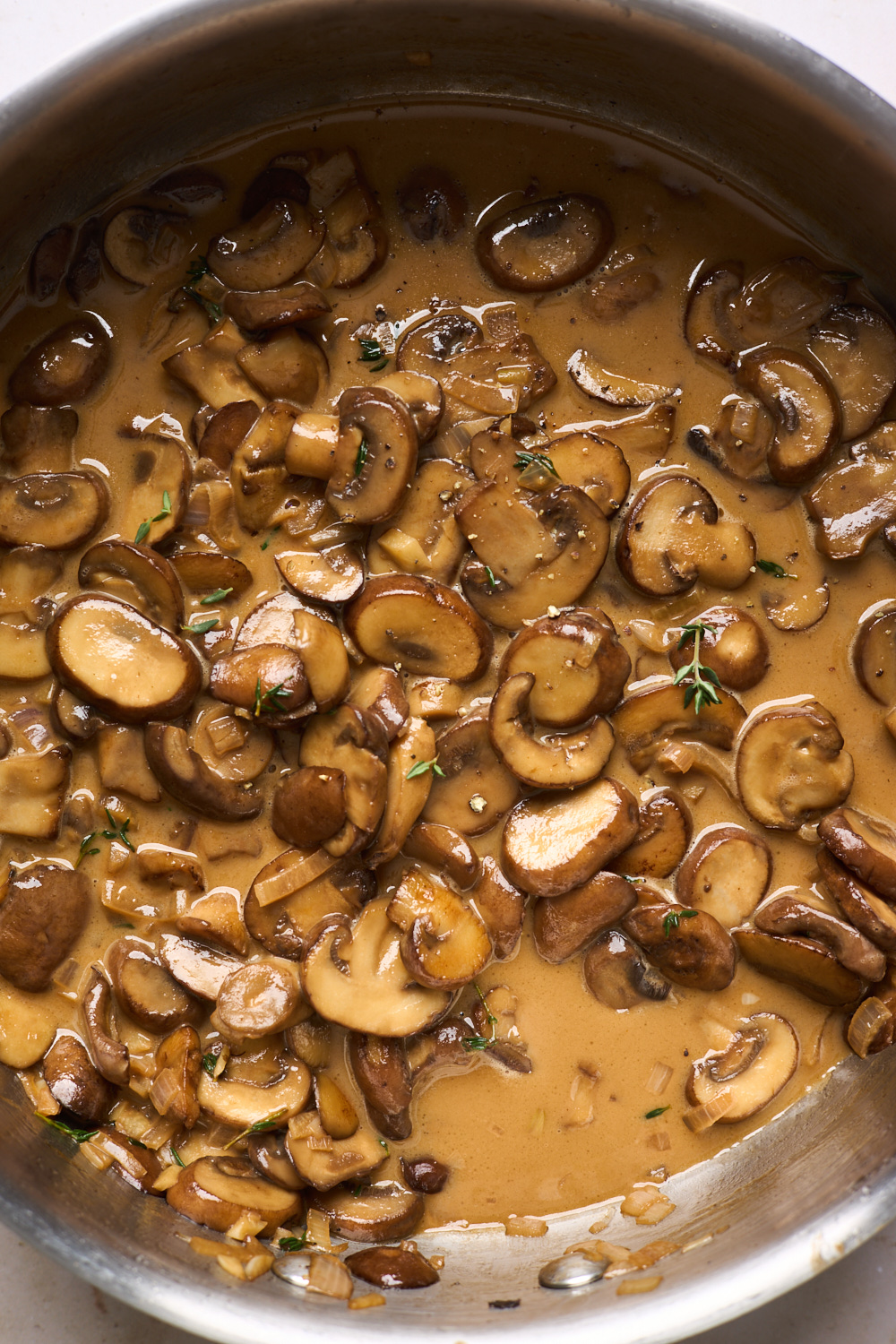 How to Prepare Beef Tenderloin Roasts
First, if your beef tenderloin comes untrimmed, trim any fat and silver skin (the thin, pearlescent membrane running along the top of the tenderloin) from the tenderloin. For even easier prep, you can also look for a tenderloin at the store that has already had the outside fat and connective tissue removed, or ask the butcher to do it for you. It's an expensive cut of beef. Buying it untrimmed is a little cheaper. Season as desired I did a simple salt pepper and garlic powder blend for this one - kept it simple because it's served with the most luscious mushroom sauce. But you could use an seasoning rub or blend that you like. Beef tenderloin can sometimes cook unevenly; to combat that, tie it up. For a whole tenderloin, fold under the tapered end (tail) and tie with cooking twine (or cut that end off for even cooking). I usually tie my own with basic kitchen string or in a pinch use unwaxed, unflavored dental floss. Simply Lay out about 6 individual strings 1-inch apart. Place the roast over your strings and tie each string tightly around the roast. Then you are ready to cook it.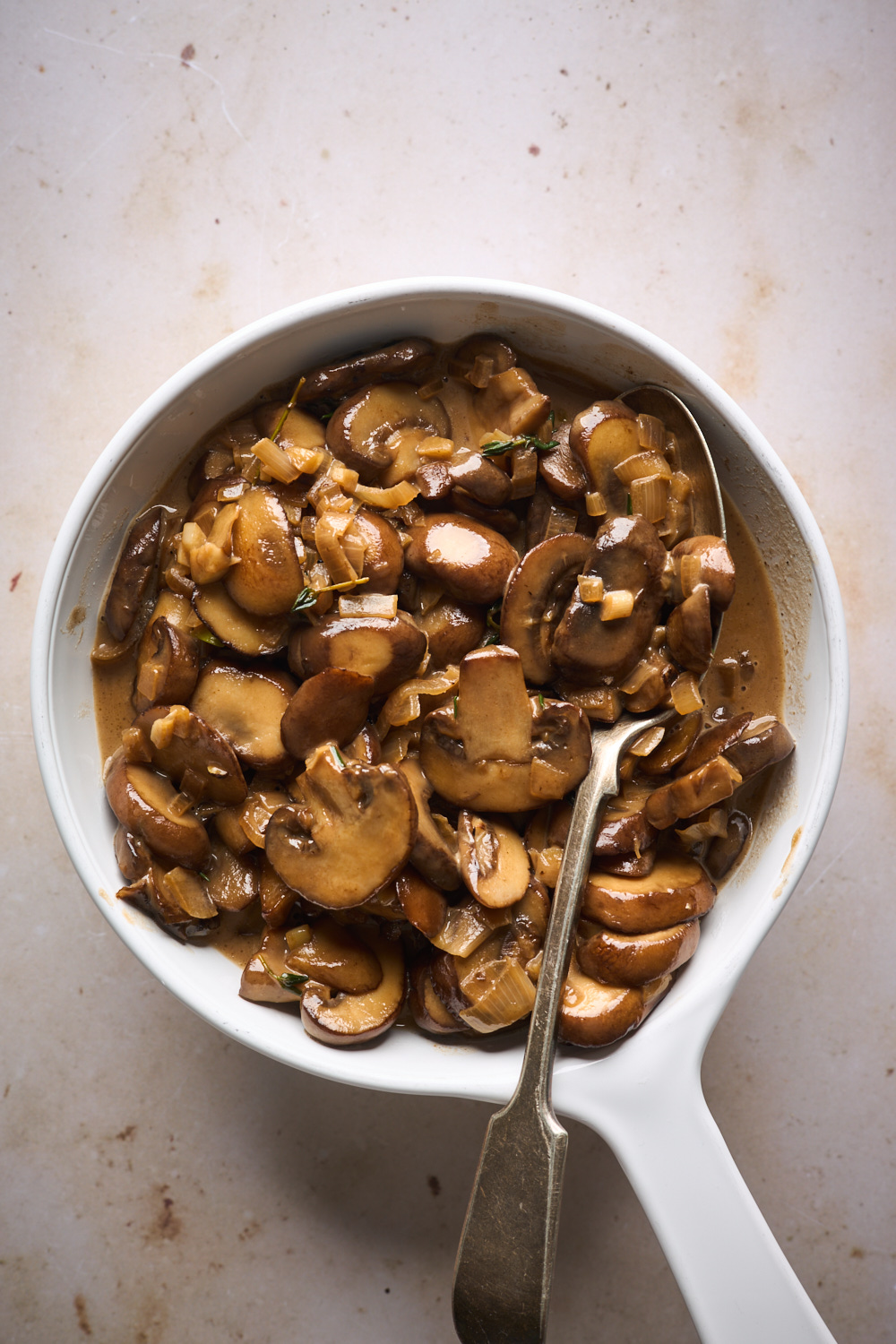 How to cook beef tenderloin
Browning the tenderloin first is optional, but I chose to give it a good sear this time because it benefits the meat by caramelizing the outside and locking in the juices. Quickly brown the tenderloin on all sides in Large skillet with a little olive oil and butter over medium-high. Transfer the roast to a rack in a shallow roasting pan. Insert a thermometer if using an oven-going thermometer into the center of the tenderloin. Roast, uncovered, until desired doneness. Transfer the tenderloin to a cutting board and cover with foil. Let stand 15 minutes before slicing. The temperature of the meat will rise as it rests.
Our Tips for Cooking Beef Tenderloin:
For even cooking, we highly recommend bringing the tenderloin to room temperature before roasting. We like to take it out of the refrigerator and let it sit at room temperature for 1 to 2 hours.
It's definitely a must to have some sort of meat thermometer whether it's an oven safe leave in one or not. If you do not have a leave-in thermometer, take the tenderloin out of the oven to measure the temperature and close the oven so the oven temperature doesn't lower. Roast beef tenderloin until it reaches 130°-135°F for medium-rare or 140°F-145°F for medium. I always recommend you err on the side or rare as it continues to cook a few degrees more in the pan when it comes out of the oven. I also recommend making sure to check the temperature of the tenderloin between the thinnest and thickest parts - either extreme will cause you to either overcook it or undercook it.
Temperatures and times will differ according to size of the roast and even between ovens. These suggested times are based on a 4 lb beef tenderloin - smaller ones would take less time to roast and larger ones would need more time. Here is a great reference guide for knowing times and temperatures for smaller or larger cuts of beef tenderloin.
Remove the roast from the oven 5 to 10 degrees before it reaches its final temperature since the temperature will continue to rise as it rests. For example, we take it out at 130˚F for medium doneness and it reaches a final doneness temperature of 135-140˚F.
Remove your tenderloin from fridge and set on counter for about 2 hours prior to cooking, to come to room temperature. This is important for the beef to cook evenly.
Freezing leftover beef tenderloin: Before adding cooked meat to the freezer, place it in the refrigerator to bring the temperature down. Package the cut filets with freezer paper and freezer bags, just as when freezing raw meat. Alternatively, store the cooked filets in a rigid storage container with a tight-fitting lid. Meat can dry out, so pour gravy or pan drippings over the meat to keep it moist before freezing. Store cooked filets for two to four months in the freezer. Thaw out in the fridge and then reheat in the oven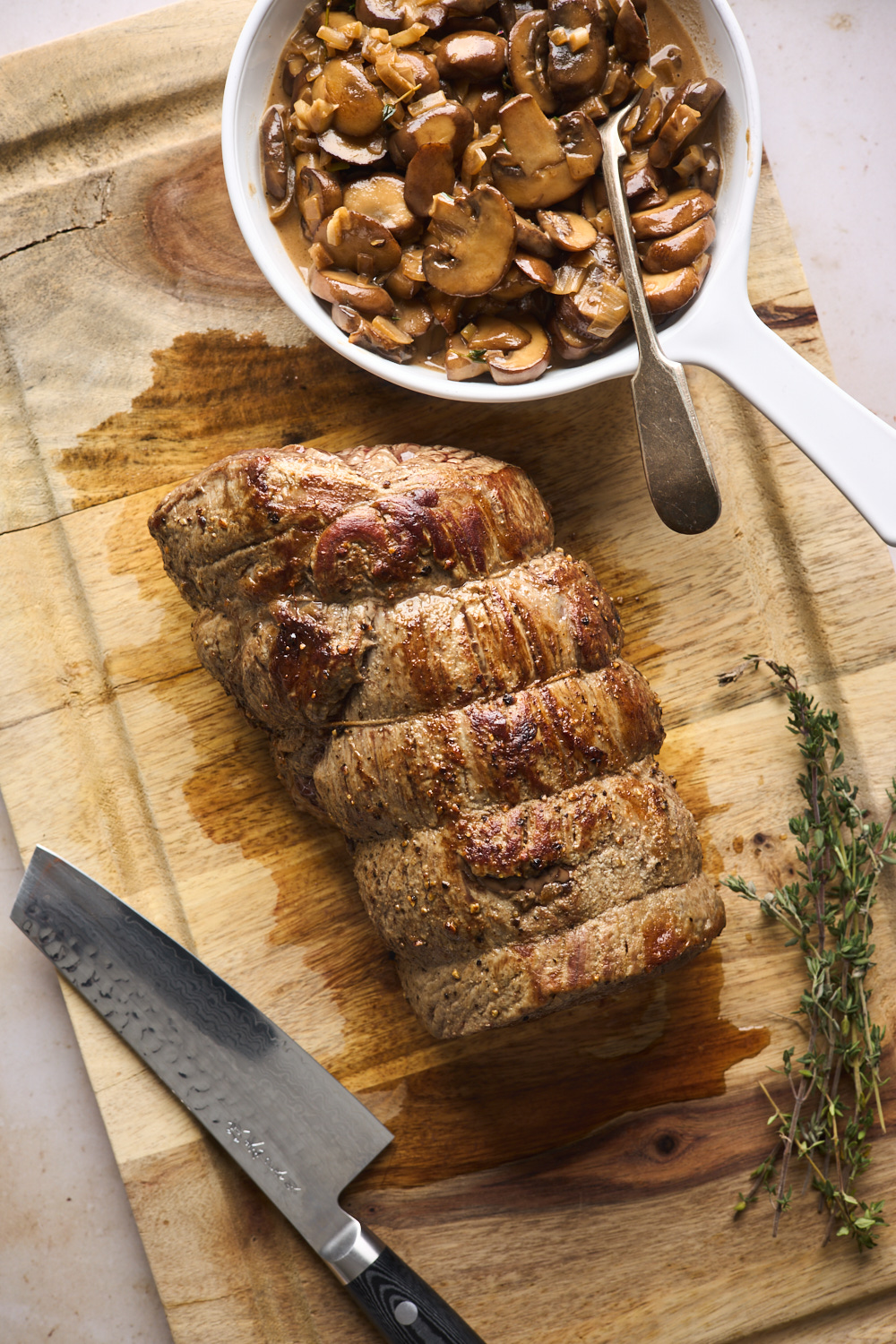 What to Serve with Beef Tenderloin:
More delicious roasts you will love:
Recipe
Prep Time: 15 mins
Cook Time: 30-40 mins
Ingredients
For the Tenderloin
One 2-2½ pound center-cut beef tenderloin roast

Salt and freshly ground black pepper

2 tablespoons vegetable oil

1 tablespoons unsalted butter

½ teaspoon garlic powder (optional)
For the Mushroom sauce
2-5 tablespoons of unsalted butter

1 pound mixed mushrooms, such as shiitake, cremini or white button, sliced

1 medium shallot or ½ small onion, chopped

1 clove of garlic

3 sprigs fresh thyme, leaves stripped

½ cup Marsala wine (or Madeira, vermouth or white wine)

⅓ cup heavy cream
Directions
Preheat the oven to 400°F.
Pat the beef dry and season all over with salt, pepper and garlic powder.
Heat a large ovenproof skillet over medium-high heat. Add the oil to the skillet and heat until shimmering. Add 1 tablespoon of butter and swirl to melt. Add the beef and sear until golden brown on all sides, about 8 minutes total. No need to sear it any longer.
Transfer the skillet to the oven. Roast until an instant-read thermometer inserted in the center registers 130°F for medium rare, about 25 minutes.
Meanwhile make the mushroom sauce: Heat 2 tablespoons of the butter in a large skillet over medium-high heat. Add the mushrooms and spread them out evenly; increase the heat to high. Let the mushrooms cook, undisturbed, until browned, then shake the skillet to flip them over. Add the additional butter along the sides of the skillet as the mushrooms cook if the skillet seems very dry. Continue to cook until nicely browned, about 5 minutes.
Add the shallot and cook, stirring often, until softened, about 2 minutes. Season the mushrooms with ½ teaspoon salt and some pepper; add the thyme.
Pull the skillet off the heat and add the wine. Return the skillet to the heat and scrape up any of the brown bits from the bottom with a wooden spoon. Add the heavy cream and bring to a boil. Remove from the heat and keep warm. (I will sometimes add an extra knob of butter at this point to give it a more luscious richer finish but that is optional)
When the beef is ready, transfer to a cutting board, tent very loosely with aluminum foil and let rest for 10 to 15 minutes.
Slice the beef across the grain, arrange on a platter and serve with the mushroom sauce.
Recipe Notes
To store the leftovers: place cooled beef tenderloin in an air-tight food storage container with a lid and keep it in the refrigerator for about 3 days.
To reheat beef tenderloin: preheat the oven to 350° and wrap each slice of beef tenderloin in aluminum foil. Place wrapped tenderloin pieces directly onto the oven rack and reheat for 10-15 minutes. (Time will depend of thickness of cuts.) Reheat it just until warm in the middle so it doesn't overcook.
Can You Freeze Cooked Beef Tenderloin? Yes. It should be thoroughly wrapped with plastic wrap and then placed in an airtight container or freezer bag. I actually like to wrap tight with plastic wrap then one layer of foil then freezer bag. You can freeze the whole tenderloin or cut it into steaks and wrap them individually. Properly stored, it will maintain best quality for about 2 to 3 months, but will remain safe beyond that time. We usually cook with it much earlier that that though.