Apple Butter Pie With Biscoff Cookie Crust
Updated 9th November 2023
This Apple Butter Pie is a unique and tasty twist on a classic fall flavour. It's so simple to make, and has a silky, smooth filling. Looking at it you may think it's a pumpkin pie. It's very similar in texture to a pumpkin pie…although they look alike and both have a creamy texture this beautiful creamy pie is all about the apple specifically apple butter. It's sweet and slightly tart and spiced with all the warm spices you love in your apple pie.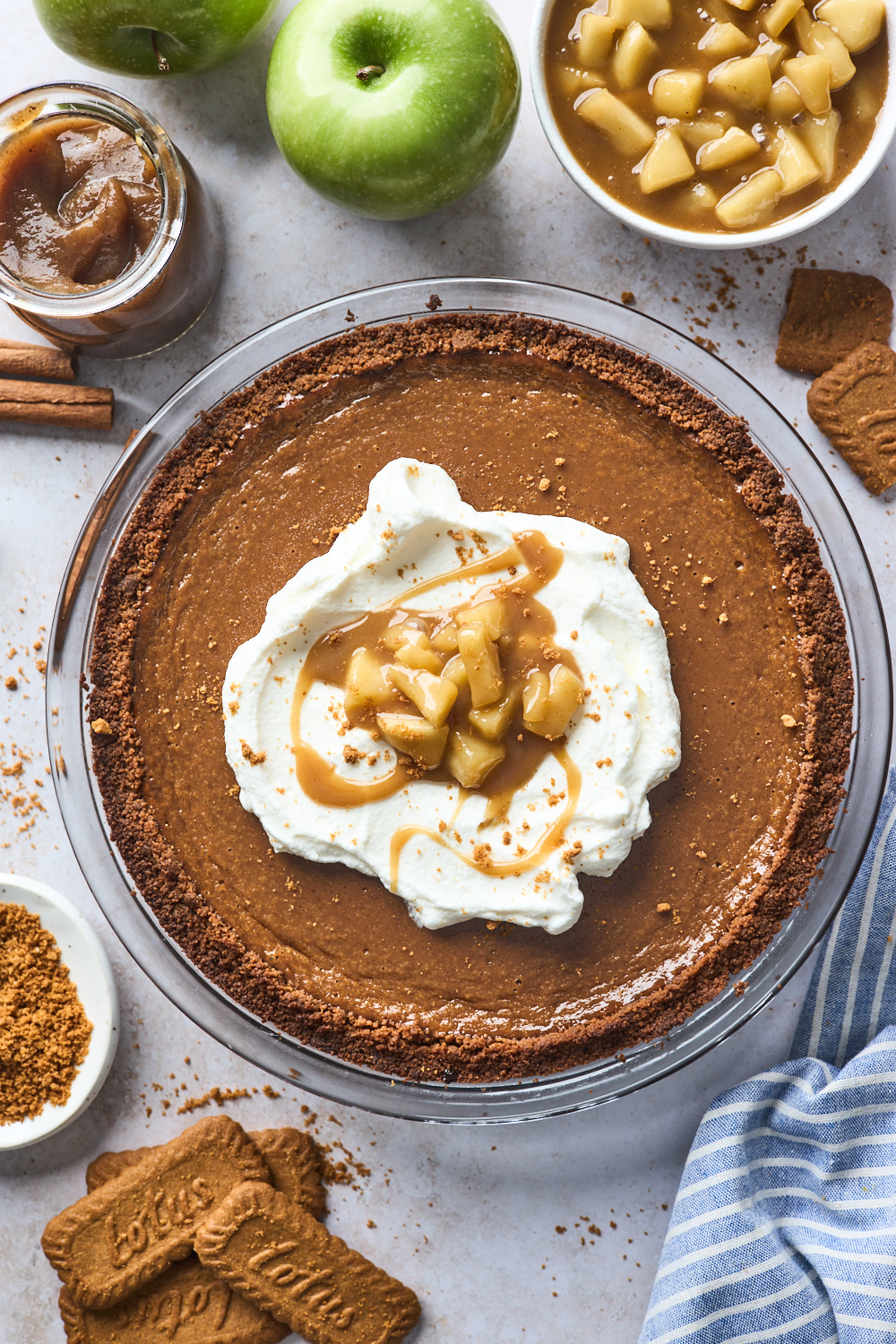 This is your new easy pie recipe to add to your Fall dessert menu. The crust takes 5 minutes (or less) to whip up. The filling takes 5 minutes to create. The hardest part about making this pie? Waiting for it to chill before slicing into it. This creamy, spiced pie makes a wonderful alternative to traditional pumpkin pie. A custard base with a deliciously spiced apple butter flavor sits in a biscoff cookie crust.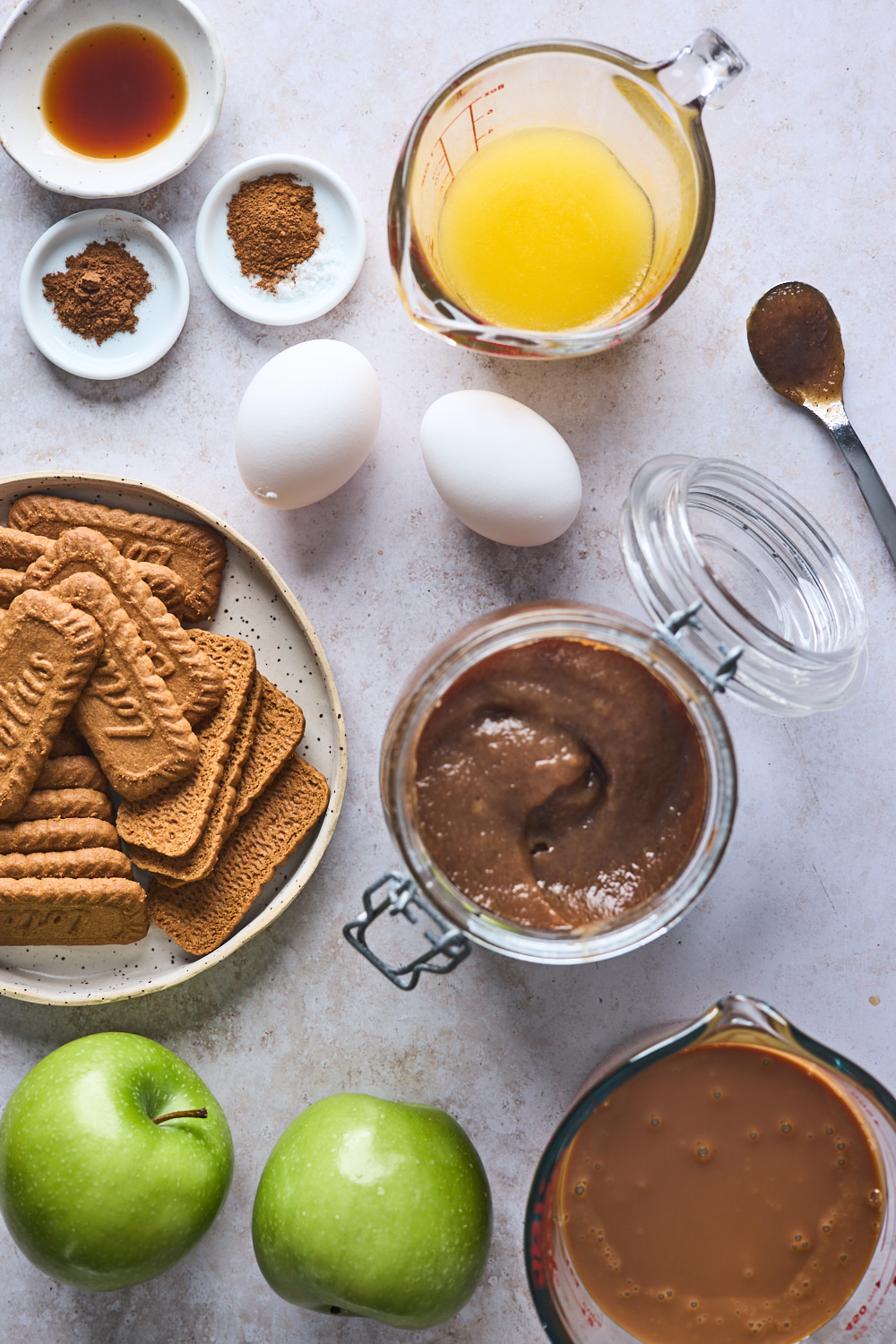 What is apple butter?
Apple butter, and all fruit butters are very thick fruit purees. They have no butter in them and get their name from their smooth consistency. They can have an intense fruit flavor because the pureed fruit is thickened so much before the butter is finished and spiced well too. They are wonderful to add to baked goods like my apple butter spice cake, slathered over buttered toast or over pancakes and even in savoury dishes like my apple butter bourbon baked beans. Homemade or storebought apple butter can be used in this recipe.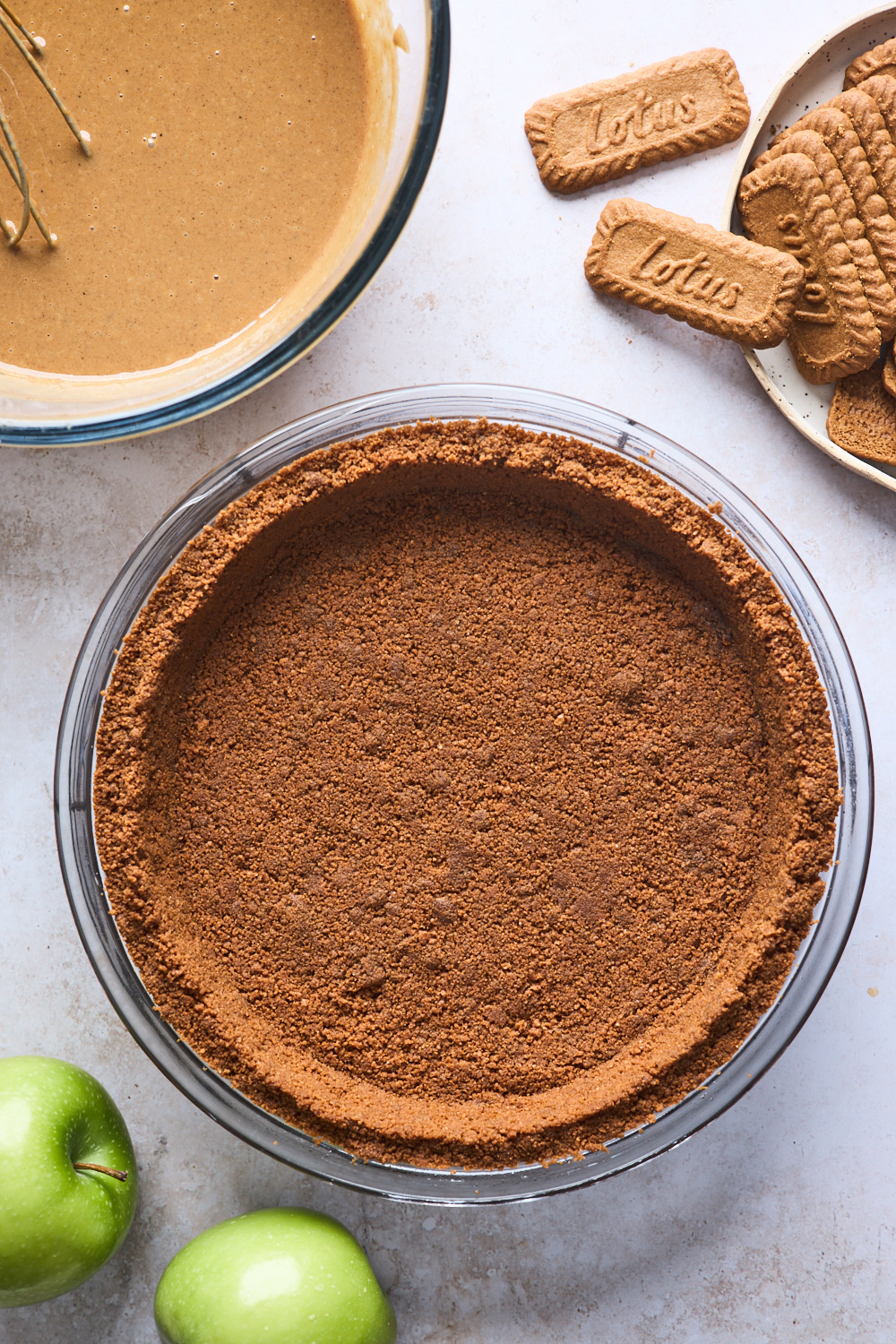 This apple butter pie or tart is made with a Speculoos cookie (such as Biscoff) crust. Biscoff cookies are crisp shortbread cookies with warm spices and a deep caramel flavor. It's the perfect accompaniment to the silky apple butter filling. I also did something fun with the filling. I had purchased some dolce de leche condensed milk by accident a while back and these two cans were sitting in the back of my shelf for a while- I was checking to see if I had condensed milk in my cupboard when I saw them and then it hit me - dolce de leche is basically the milkier version of caramel - Caramel + apples = made for eachother so I decided to use the dolce de leche condensed milk instead for the regular kind and it was awesome!! (The first time I confused them for regular in my mango tart and no bueno - mango and caramel not a match made in heaven) That being said there is no need for you to go hunting for dolce de leche condensed milk - I have tried this recipe with both and they are both fantastic. I'm just throwing another option out there for you. Same goes for the biscoff cookies - use digestive biscuits or Graham cracker if you can't get your hands on them.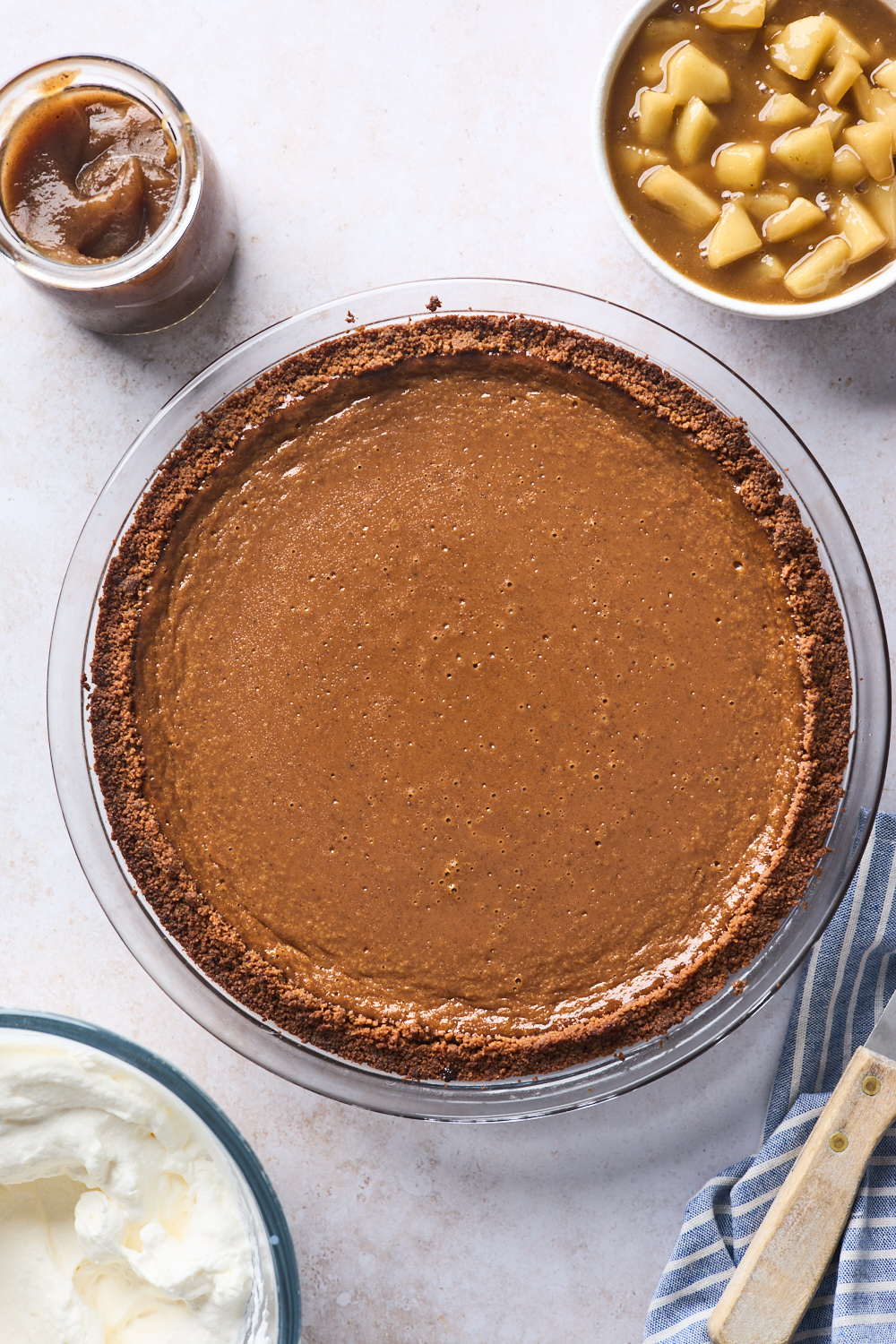 Why you will love this Apple Butter Pie:
It's very easy to put together!!
None of the fuss or stress of traditional pie crust
Wait time is cut in half because it cools down a lot quicker than pie!
3 ingredient Biscoff cookie crust is a twist on a classic graham cracker crust made with crisp Speculoos cookies or wafers along with a pinch of salt and butter - the flavours really take this apple butter pie to a whole new level.
The filing is smooth, perfectly spiced and sweet and tart. A perfectly balanced apple butter custard filling.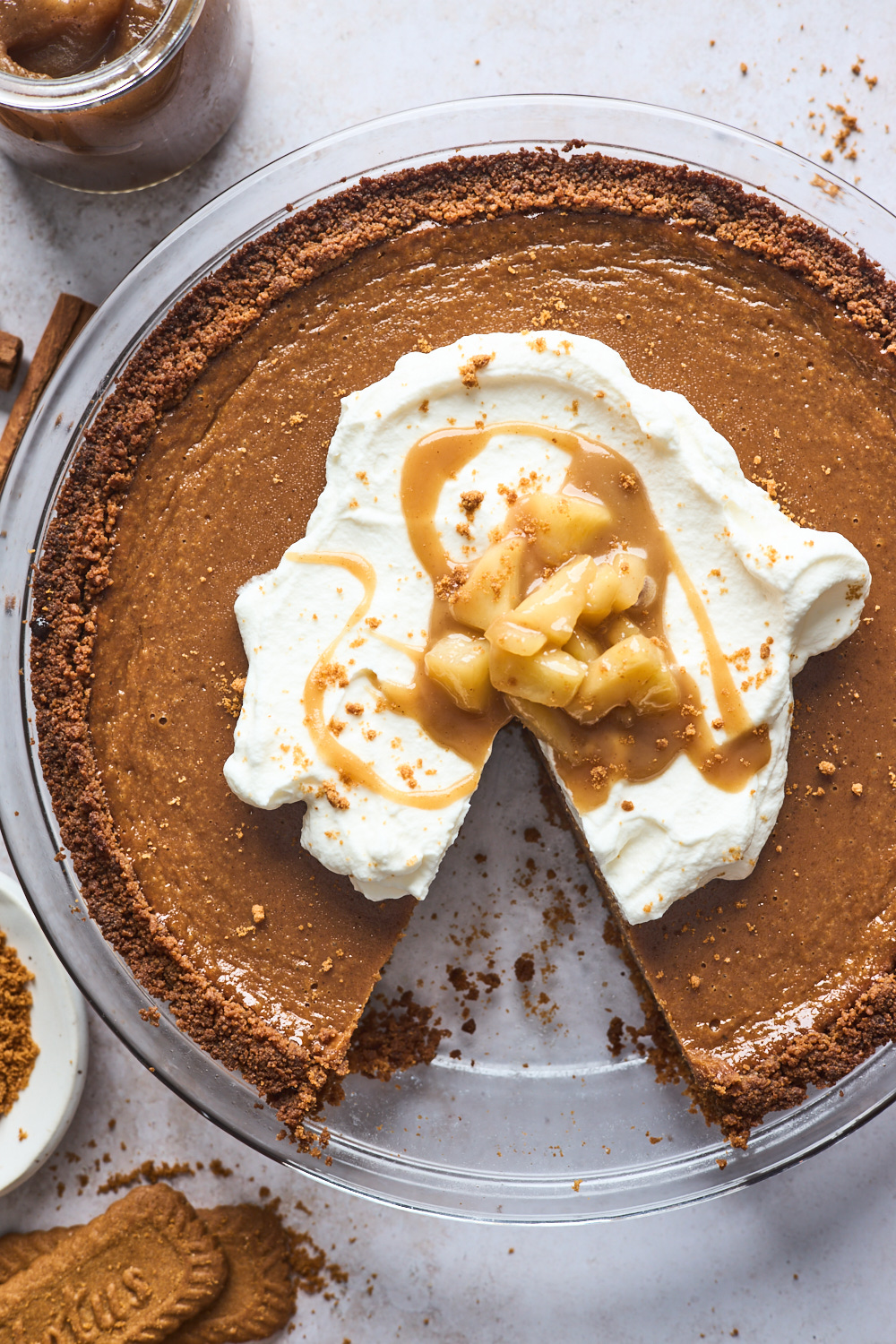 Apple butter pie Ingredients:
BISCOFF COOKIES: Graham crackers or biscoff cookies or any cookies can also be used.
APPLE BUTTER: Store bought or my homemade apple butter recipe can be used. If using store bought I prefer a darker one that is either unsweetened or lightly sweetened - which will taste richer. Use a good quality one.
SWEETENED CONDENSED MILK: Provides sweetness and is key to the lusciously smooth and creamy texture of this pie. Not to be confused with evaporated milk! Because it is sweetened there is no need to add more sugar - that would make this filling way too sweet! Try using a dolce de leche one for a apple butter caramel filling. If you don't like condensed milk or don't have any there is an alternative version in recipe notes below.
SPICES: Cinnamon and apple pie spice the fall flavour cozy, warming spices for that familiar apple pie flavor. (nutmeg, clove, ginger and allspice can also be added if desired) See recipe notes below for a substitute for apple pie spice.
WHIPPING CREAM: Heavy whipping cream is a must-have for the topping
SALT: Just a pinch to intensify the other ingredients.
EGGS: It wouldn't be a true custard without eggs, which provide thickening and structure and help the filling set. You'll need two room temperature eggs.
VANILLA: Just a splash of vanilla extract for complexity and to enhance all the other flavors.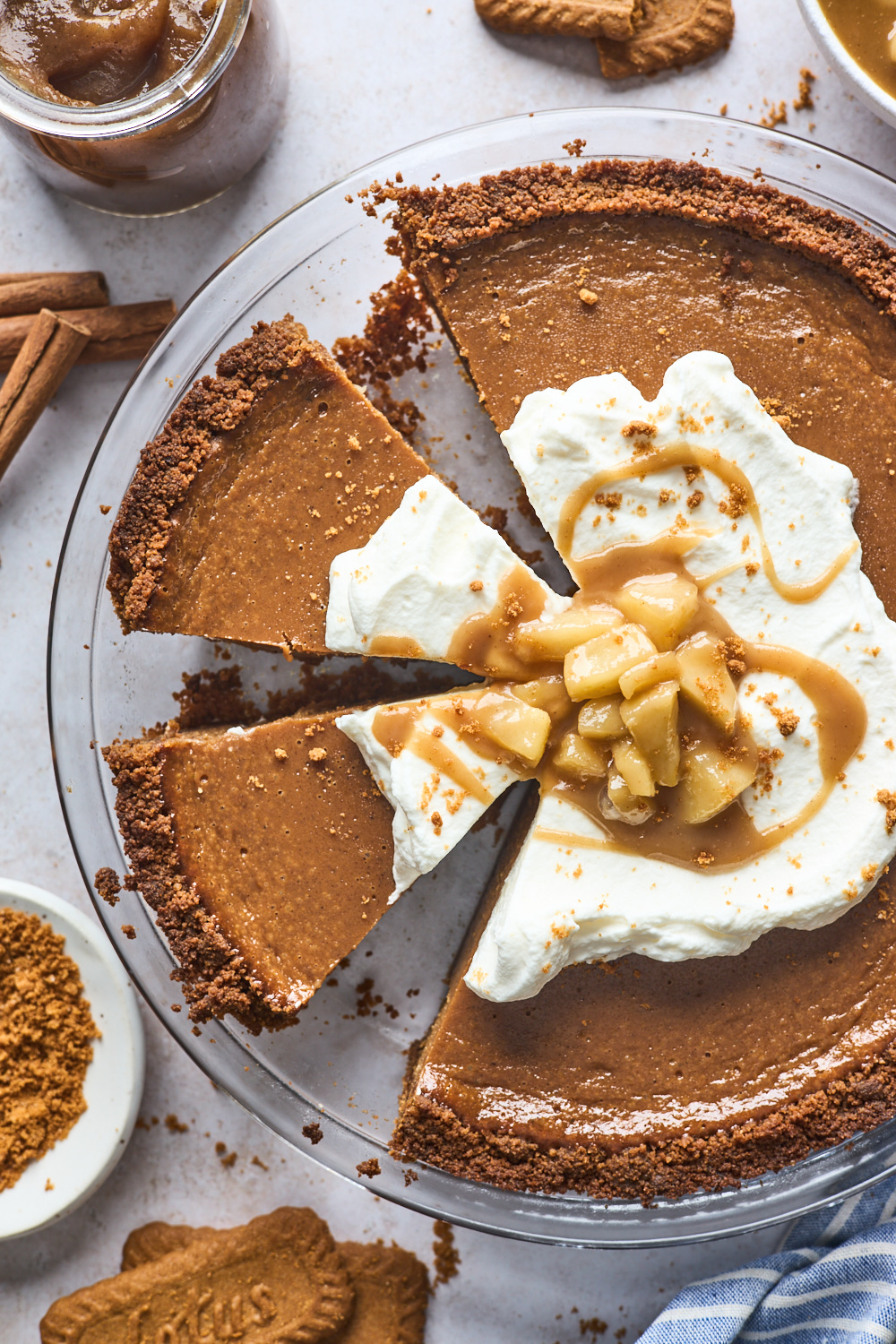 How To Make this Apple Butter tart:
This creamy and delicious tart only requires a few steps to make. Here is the breakdown - scroll down further for the full printable instructions:
Make the Biscoff Cookie Crust: Combine cookie crumbs with butter and pinch of salt and then press into and up the sides of your pie plate. No Need to bake simply place in the fridge while preparing filling
Make the Apple Butter pie Filling: Whisk together the eggs then the apple butter, sweetened condensed milk, spices, and vanilla extract (I use my whisk but feel free to use a mixer if you need to for a smooth filling)
Bake Pie then Chill: Pour the apple butter filling into the prepared tart crust and bake until the top is golden and the center is firm. Allow to cool on rack until room temperature then chill for 1 hour or until completely set. Make the toppings if you desire and serve with them on top of the tart or on the side.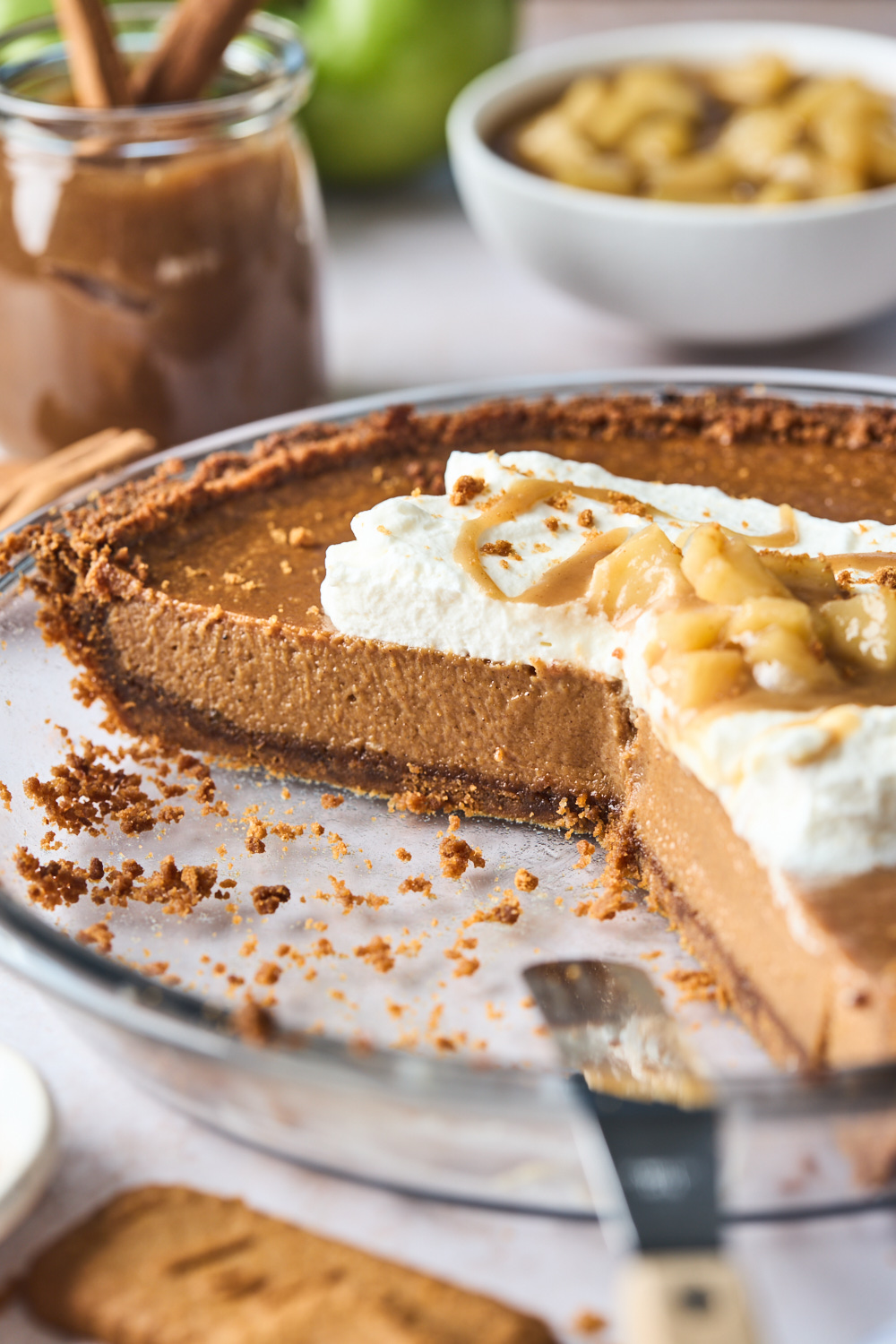 How can you tell the tart is done baking?
You will know when the apple tart is ready because the edges will start to puff up and will become slightly golden and the center will have a slight jiggle. The tart should jiggle a little in the center, but not be wet and super jiggly all over. Remember not to slice into the tart right away… custard pies like this need time to set, which happens during the cooling and refrigerating process. It's so tempting to try a bite, but be patient… they'll be worth the wait! When its finished baking, it will be puffy in the pan. Don't worry, as it cools, the filling will sink back down… just like a classic pumpkin pie would.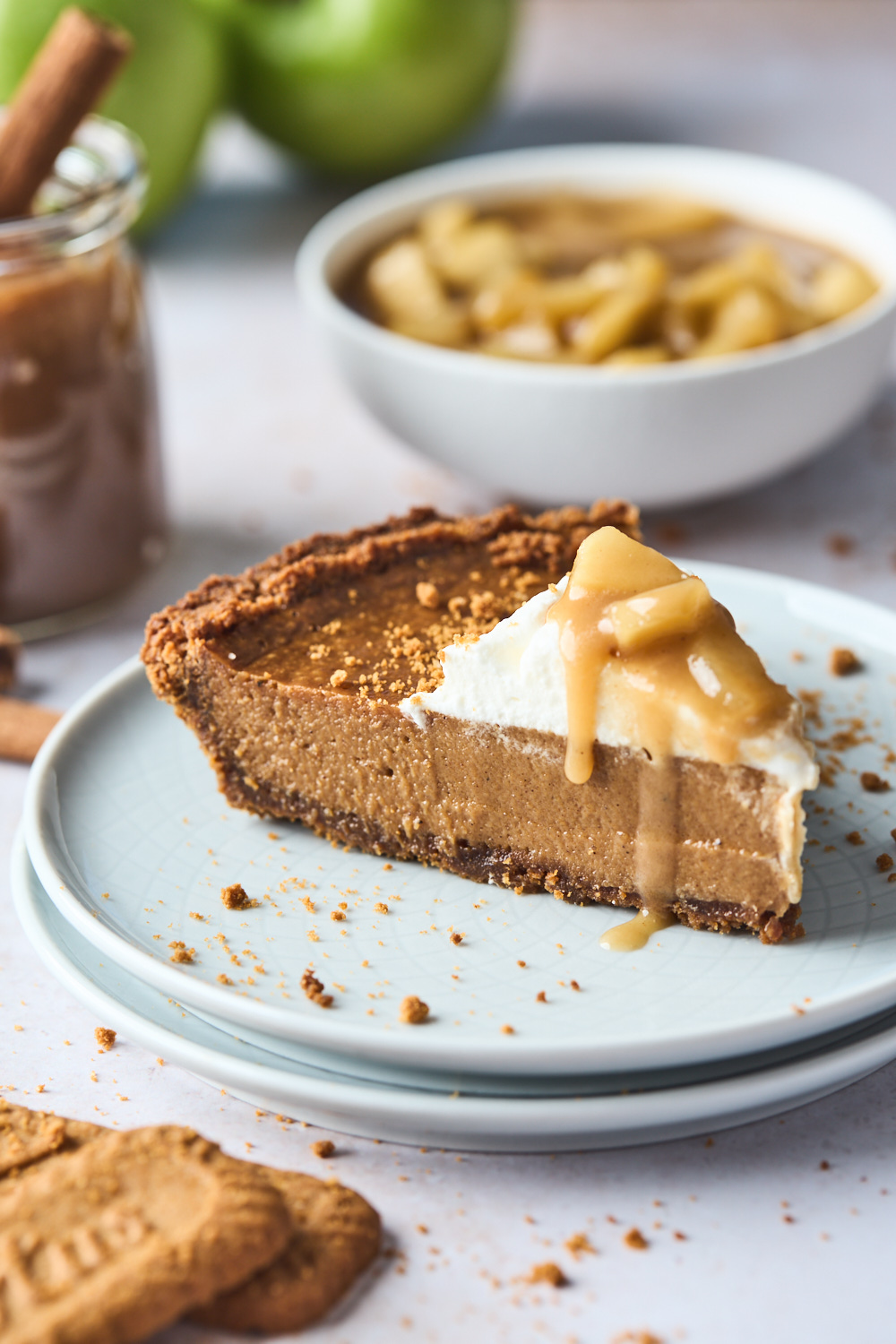 More delicious fall desserts:
Recipe
Prep Time: 10-15 mins
Cook Time: 35-40 mins
Non Active Time: 1-2 hours for chilling
Ingredients
For the crust
32 cookies 250 grams (approx 2 cups cookie crumbs)

6 tablespoons butter melted

Pinch of salt
Apple Butter Filling
2 eggs

1 can (12 oz) condensed milk **

½-1 teaspoon cinnamon

½-1 teaspoon apple pie spice (see notes below for alternative)

½ teaspoon vanilla extract

1 cup apple butter, homemade or store bought or store bought

Pinch of salt
For caramel apple topping (optional)
½ stick unsalted butter plus 1 tablespoon

2 Granny Smith apples, finely diced

½ cup lightly packed brown sugar

¼ cup heavy cream

½ teaspoon cinnamon

Pinch of salt
For the cinnamon whipped cream (optional)
½ cup heavy cream
½ teaspoon vanilla extract
⅛ teaspoon ground cinnamon
1½ tablespoons powdered sugar
Directions
Preheat oven to 350°F.
Stir cookie crumbs, and salt together. Add melted butter and stir until well combined. Press into bottom and up sides of a 9-inch pie pan. Refrigerate while preparing the filling.
In a large bowl whisk eggs and the apple butter. Whisk in the condensed milk, cinnamon, apple pie spice, pinch of salt, and vanilla, whisking until combined.
Pour filling into pie crust.
Bake at 350°F for 30-40 minutes, until center is just set - a slight jiggle in the middle is fine
Cool pie on a wire rack until room temperature, wrap tight and then chill in refrigerator for at least 1-2 hours or overnight.
Make the toppings if you desire and serve over pie or on the side. Slice and serve
Cover and store leftovers in the refrigerator for up to 1 week.
For the caramel apple topping:
Add 1 tablespoons of the butter to a skillet and melt over medium-high heat. Add the apples and saute for 5 minutes. Remove to a plate and set aside.
In the same skillet over medium heat, add the brown sugar and the remaining ½ stick of butter. Stir it around until the butter melts and the sugar dissolves, then pour in the cream. Stir it around and let it bubble up and thicken for about a minute. Turn the heat to low and add the apples back to the skillet. Sprinkle in the cinnamon, and pinch of salt stir the mixture and let it thicken for another 1 to 2 minutes.
For the Cinnamon whipped cream:
Combine heavy cream, vanilla extract, and cinnamon in a large bowl. Beat with an electric mixer on high speed until foamy, about 1 minute.
Gradually add powdered sugar, beating at high speed until medium peaks form, about 2 minutes. Chill Cinnamon Whipped Cream until ready to serve.
Recipe Notes
This apple butter pie is as sweet as your apple butter. My homemade recipe is not very sweet at all and when I purchase apple butter I ensure that it is unsweetened or lightly sweetened with no artificial flavour. Being made with sweetened condensed milk also means you don't have to add any sugar to this pie.
**I Don't have Sweetened condensed milk (or if you don't like baking with it): For an alternate version without the condensed milk you will need: ½ cup brown sugar, 3 eggs(instead of 2), ½ cup heavy whipping cream, ½ cup of sour cream and the rest of the ingredients stay the same. Simply whisk everything together until smooth and bake as stated in the recipe above. The pie may take the full 40 minutes to cook and set properly.
This apple butter tart can be served cold, at room temperature, or slightly warmed. Personally, I prefer cold or room temperature.
NOTE: Any crushed biscoff cookie or any crushed cookies will do; just be sure to use 2 cups crumbs for the crust.
Make Ahead Instructions: Cooled apple butter pie can be frozen up to 1-2 months. Thaw overnight in the refrigerator.
Apple Pie Spice: Instead of prepared apple pie spice, you can use ½ teaspoon each: ground allspice and ground ginger AND ¼ teaspoon each: ground nutmeg and ground cloves.