Apple Butter Spice Cake
Updated 6th November 2023
This apple butter spice cake is deliciously moist and even more delicious than it looks. It's dense, yet ultra soft and flavoured with brown sugar, cinnamon, ginger, and nutmeg. Serve plain or spruce it up with walnuts, raisins, pecans, and/or top with spiced cream cheese frosting. Lovely scents of sweet apple and spice run through the whole kitchen as it bakes. We couldn't wait to slice into it out of the oven. Did I mention how easy it is to make and how it uses the most simple and basic ingredients. If you are looking for a simple fall flavour cake that you can whip up quickly and with your basic pantry items than this is your cake!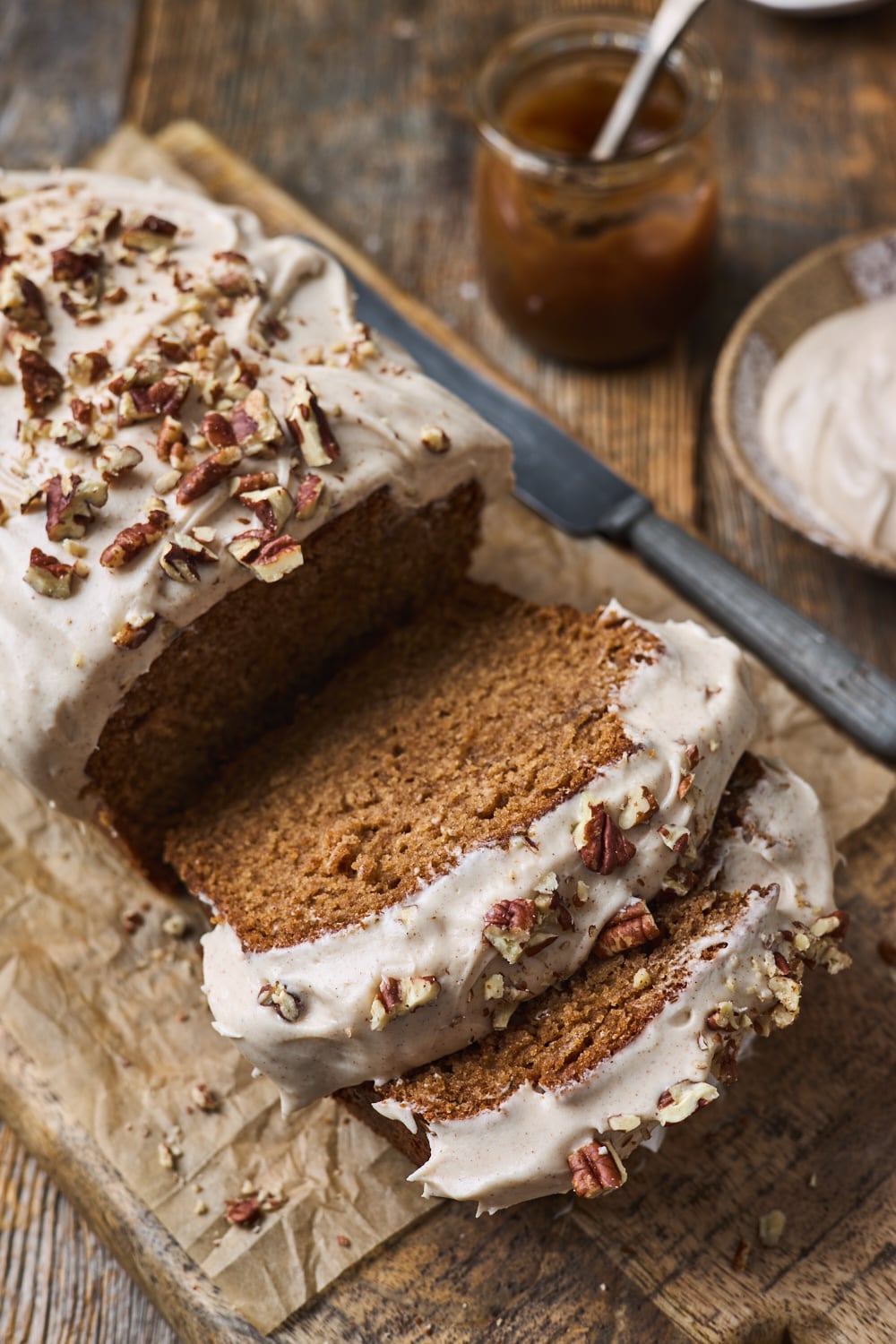 If you are stumped on the Apple butter you can sub the Apple butter with apple sauce - the flavour will not be exactly the same but it will work. I strongly suggest you make the time to make the apple butter though. You will love it and can use it in so many things like this fabulous spice cake and even in some bourbon baked beans and my delicious apple butter tart. It's also great slathered on some toast with a sprinkle of cinnamon. So you see – totally worth it!!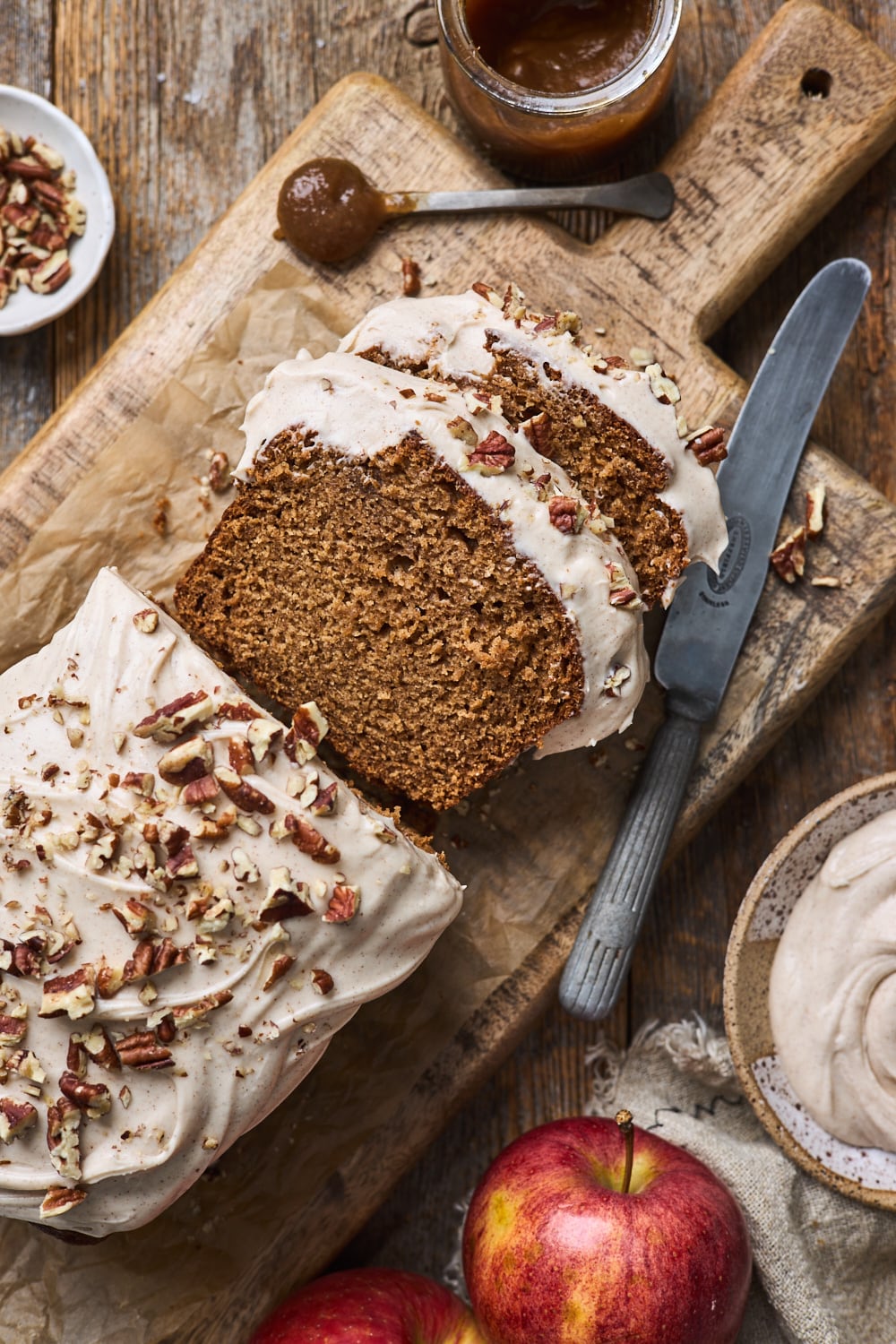 The first time I made this cake was while I was still living in the Caribbean. This is the type of cake you want to cozy up with along side your hot cup of tea or coffee because of all the warm spices and flavours. When I made it was 35°C out and the sun was blazing so we didn't really need warm and cozy feels that day but we definitely enjoyed the cake! We actually had this cake on the beach in Tobago. It made for a great beach snack too! Who says you can't have a taste of fall in the Caribbean? Wherever you might be, you will love this cake!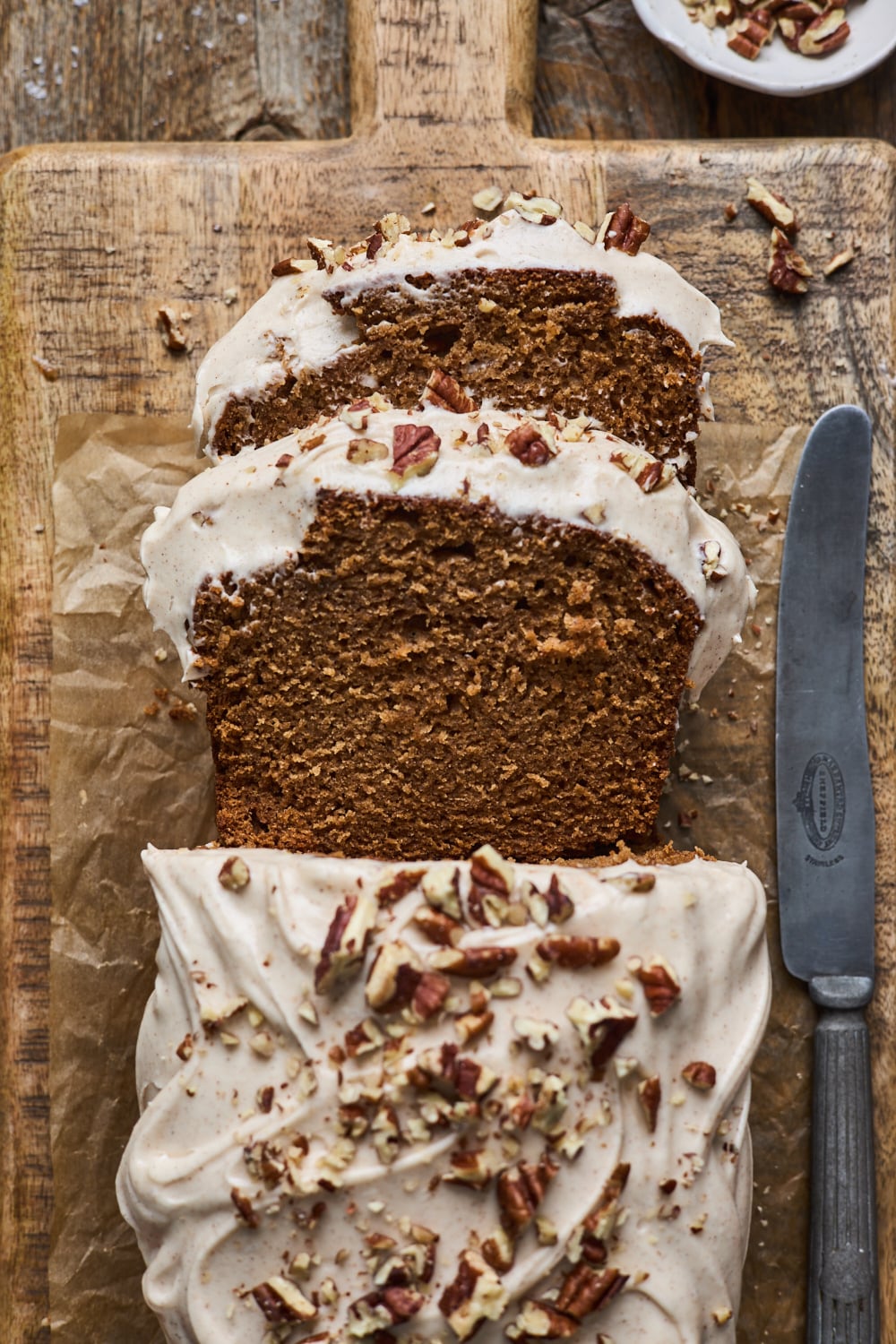 Why you will love this Apple Butter Spice Cake/Loaf:
Wonderfully spiced and flavorful
Deliciously tender, moist crumbs
Sweetened with brown sugar
Easy to make– from mixing bowl to oven in minutes
Excellent plain as a snack cake or with a spiced cream cheese on top
Most of its flavor comes from the apple butter and spices: cinnamon, brown sugar, and apple pie spice or ginger, cardamom and nutmeg. Like my favourite Carrot Cake Loaf (Quick Bread) , Blueberry Lemon Loaf Cake , and No Fail Banana Bread, the crumb is dense but still super soft.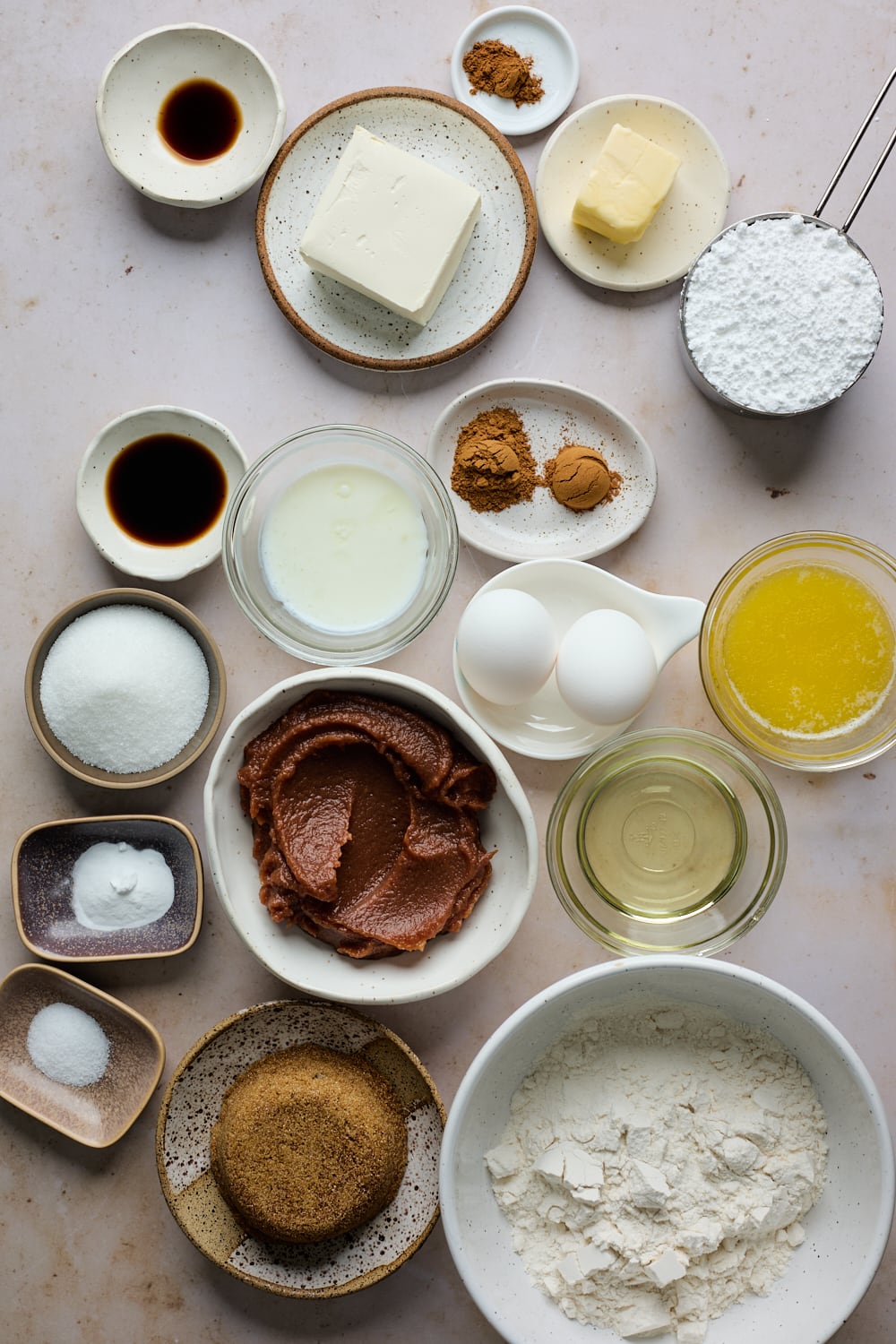 Apple Butter Spice Cake Ingredients:
This delicious cake or quick bread is very easy to make and your house will smell like fall! Here is what you will need:
APPLE BUTTER: Homemade or store bought is just fine in this recipe.
SPICES: For this recipe, I use cinnamon, and apple pie spice but if you don't have apple pie spice you can use a blend of the ground cinnamon, ground nutmeg, ground ginger, and ground cardamom. See recipe notes for exact measurements. If you like it extra spiced you could increase the apple pie spice to 2 teaspoons.
SUGAR: I use mostly brown sugar and a little granulated sugar. The brown sugar adds a nice molasses flavor to the bread and keeps it super moist.
BUTTER & OIL: Make sure the butter is melted and slightly cooled before adding it to the batter. I like using butter and oil because the butter adds a rich flavor and the oil keeps the bread moist. Any neutral vegetable oil will work in this recipe.
BUTTERMILK: I add a little buttermilk to the bread to thin out the batter and to keep it moist. You can also use water instead or regular milk that is room temperature.
EGGS: This recipe calls for 2 large eggs. Make sure they are also room temperature.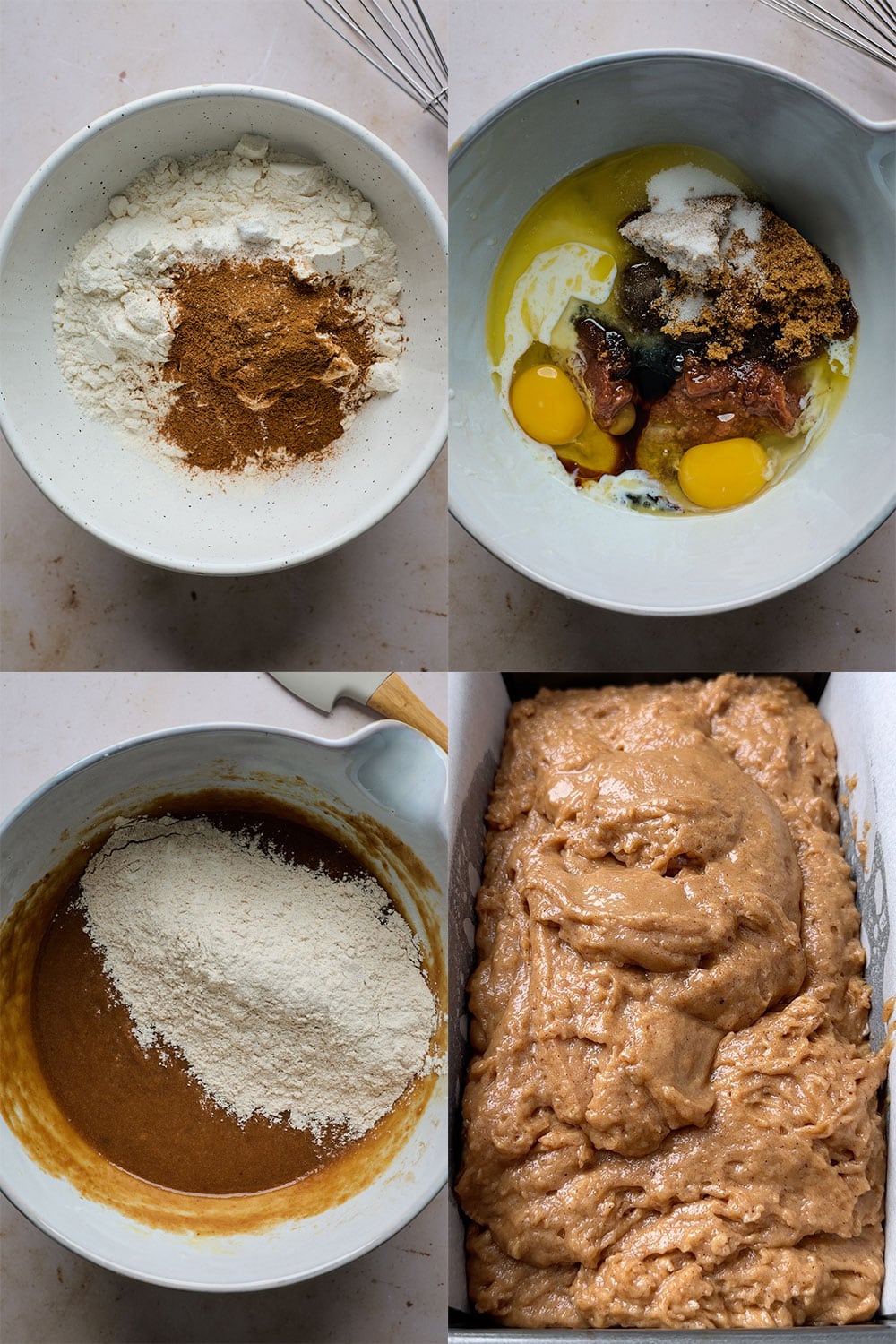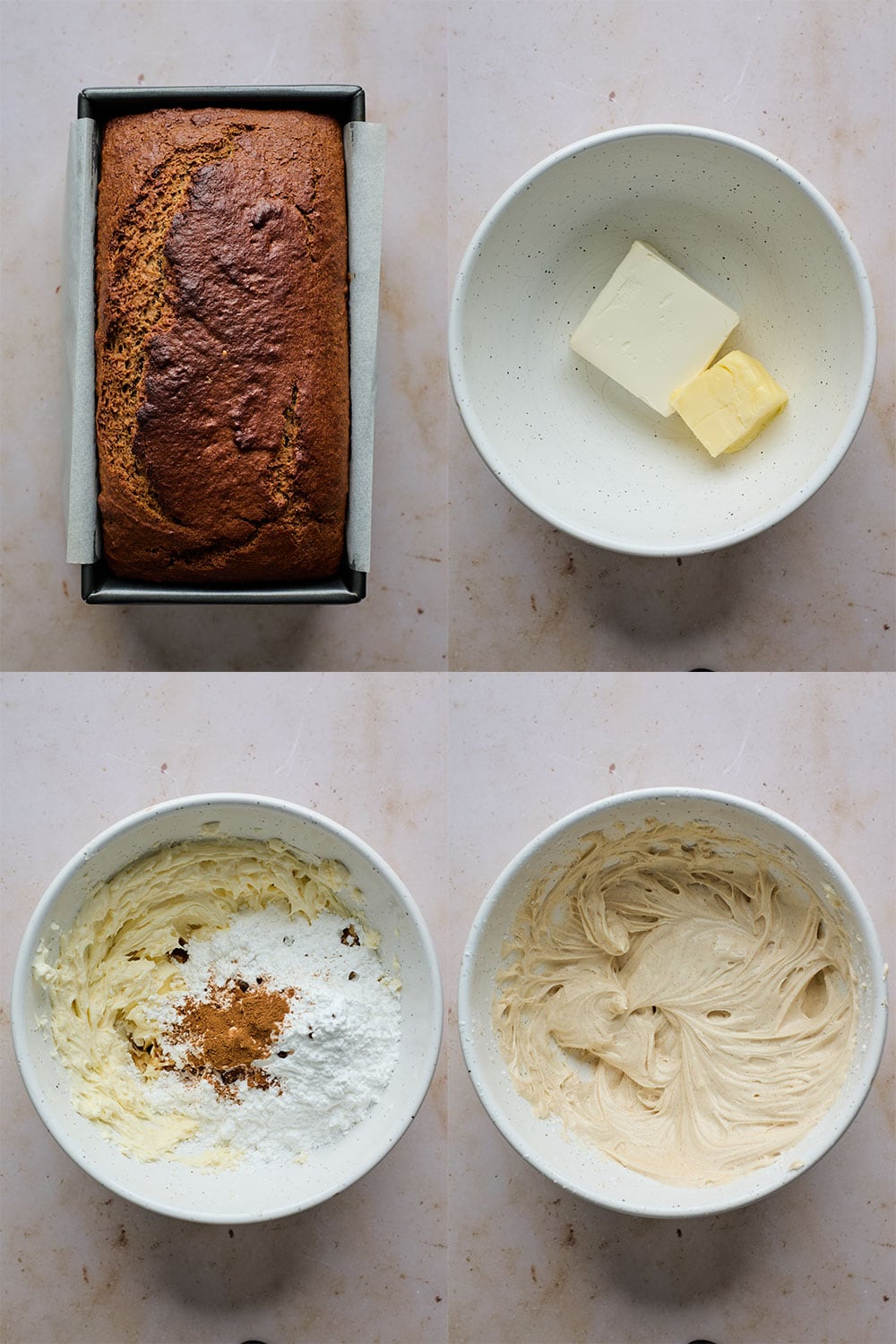 How to Make this Apple Butter Cake Recipe
You need 2 mixing bowls: 1 for the dry ingredients including flour, baking soda, salt, and spices and another mixing bowl for the wet ingredients including oil, brown sugar, buttermilk, butter, apple butter, eggs, and vanilla. Combine everything together and pour into a greased loaf pan. Bake time is about 45-60 min, give or take.
What is the best apple butter to use?
Homemade obviously! My homemade apple butter recipe is delicious and simple to make. But you might not have the time to make it from scratch or may not want to and this is totally fine. Any store bought apple butter will work.
How to Store Apple Butter Bread
I think this apple butter spice cake is even better the second day. All of the flavors set in and the bread gets even moister. It is a great recipe to make in advance for parties or breakfast the next day. To store the bread, wrap the cooled cake (unfrosted) in plastic wrap and keep on the counter for up to four days. If frosted it shouldn't be covered and refrigerated. This cake itself also freezes beautifully. Wrap the cooled cake (unfrosted) in plastic wrap and place in a freezer bag for up to 3 months. Defrost before slicing. You can also keep slices of the cake in the freezer. To reheat, just pop in the toaster and slather with butter.
More Apple Recipes:
Recipe
Yields: one 8x4 inch loaf
Prep Time: 15 mins
Cook Time: 45-60 mins
Ingredients
For the Cake
1¾ cups all purpose flour

1 teaspoon baking soda

1 teaspoon ground cinnamon

1 teaspoon apple pie spice (alternative in recipe notes)

½ teaspoon salt

1 cup apple butter (homemade or store bought)

¾ cup brown sugar or coconut sugar

¼ cup granulated white sugar

2 large eggs at room temperature

¼ cup melted butter

¼ cup of vegetable oil

¼ cup buttermilk or water

1½ teaspoons pure vanilla extract
For the Spiced Cream Cheese Frosting (Optional)
4 ounces block cream cheese, softened to room temperature

2 Tablespoons unsalted butter, softened to room temperature

1 cup confectioners' sugar or powdered sugar

½ teaspoon vanilla extract

¼ teaspoon apple pie spice or cinnamon

pinch salt
Directions
For the Cake
Preheat oven to 350°F and grease and line an 8x4 inch loaf pan with parchment paper.
In a medium bowl whisk together all the dry ingredients: flour, spices, baking soda and salt
In a large mixing bowl whisk together the apple butter, brown sugar, sugar, melted butter, oil eggs, butter milk and vanilla until well combined.
Add the dry ingredients into the wet and mix or fold until just combined Do not over-mix batter
Pour batter into prepared pan and bake for 45-60 mins or until golden brown and toothpick tester comes out clean. Tent top with foil if it starts to bown too quickly.
Allow to cool in pan on cooling rack 10-15 min then lift out of pan and cool completely on wire rack
For the Spiced Frosting
Using a handheld electric mixer or stand mixer fitted with a paddle or whisk attachment, beat the cream cheese in a medium bowl on medium-high speed until smooth and creamy.
Beat in the butter until combined. Add the confectioners' sugar, vanilla, apple pie spice, and a pinch of salt then beat on low speed until smooth and creamy. Taste. Add more spice and/or salt if desired.
Frost cooled bread, slice, and serve.
Recipe Notes
Storing without frosting: Cover and store leftover bread at room temperature for up to 3-4 days or in the refrigerator for up to about 10 days. Storing with frosting: Cover and store leftover bread in the refrigerator for up to about 1 week.
Freezing Instructions: Loaf freezes best without frosting. Freeze baked & cooled loaf for up to 3 months. Thaw overnight in the refrigerator. If desired, bring to room temperature and frost before serving.
If you do not have apple pie spice not worries - I suggest adding these spices in place of it: ½ tsp nutmeg, ½ tsp ginger, ½ tsp cardamom