Apple Butter
Apple butter is simple to make at home. I'm super happy to share this easy and moderately quick homemade apple butter recipe with you guys. It will fill your house with the aroma of cooking apples, cinnamon, allspice, and cloves. It's especially great if apple picking is in your near future and will be getting loads and loads of them. Just another great way to use your supply and preserve the fruits of an apple harvest. Apple butter is great on toast or spooned over ice cream and so much more!
I searched and tested a few recipes and this is my favourite combo of flavours. I have bought apple butter before and I always wanted to make some and I have to tell you I will probably not purchase it again cause it truly is super easy to make and takes minimal effort. There's a lot of apple butter recipes out there for the slow cooker but this is a lot quicker to make stove top and the result is pretty much the same. At least that's what I found. I have included some easy slow cooker instructions below if you prefer to make this apple butter recipe in a crockpot.
What is Apple Butter?
Apple butter is made by slowly cooking apples. The sugars in the apples caramelize as they cook, giving the apple butter its rich, sweet flavor and dark color. Although its called apple butter, there is actually no "butter" in apple butter. The name comes from its smooth and buttery texture. Although apple butter takes a little time to make, it's quite easy to prepare. You do not have to peel the apples. That saves a bit of time and there is a lot of flavor in the apple peels. Because of that I usually go for organic apples. After the first cooking, these parts get discarded as the pulp is run through a food mill or a metal sieve resulting in a deliciously smooth apple butter with loads of apple flavor. This recipe produces a traditional apple butter, which is both sweet and with a little tang, the addition of cider vinegar just intensifies the flavor and giving it its tangy edge. It's seasoned with cinnamon, cloves, and allspice.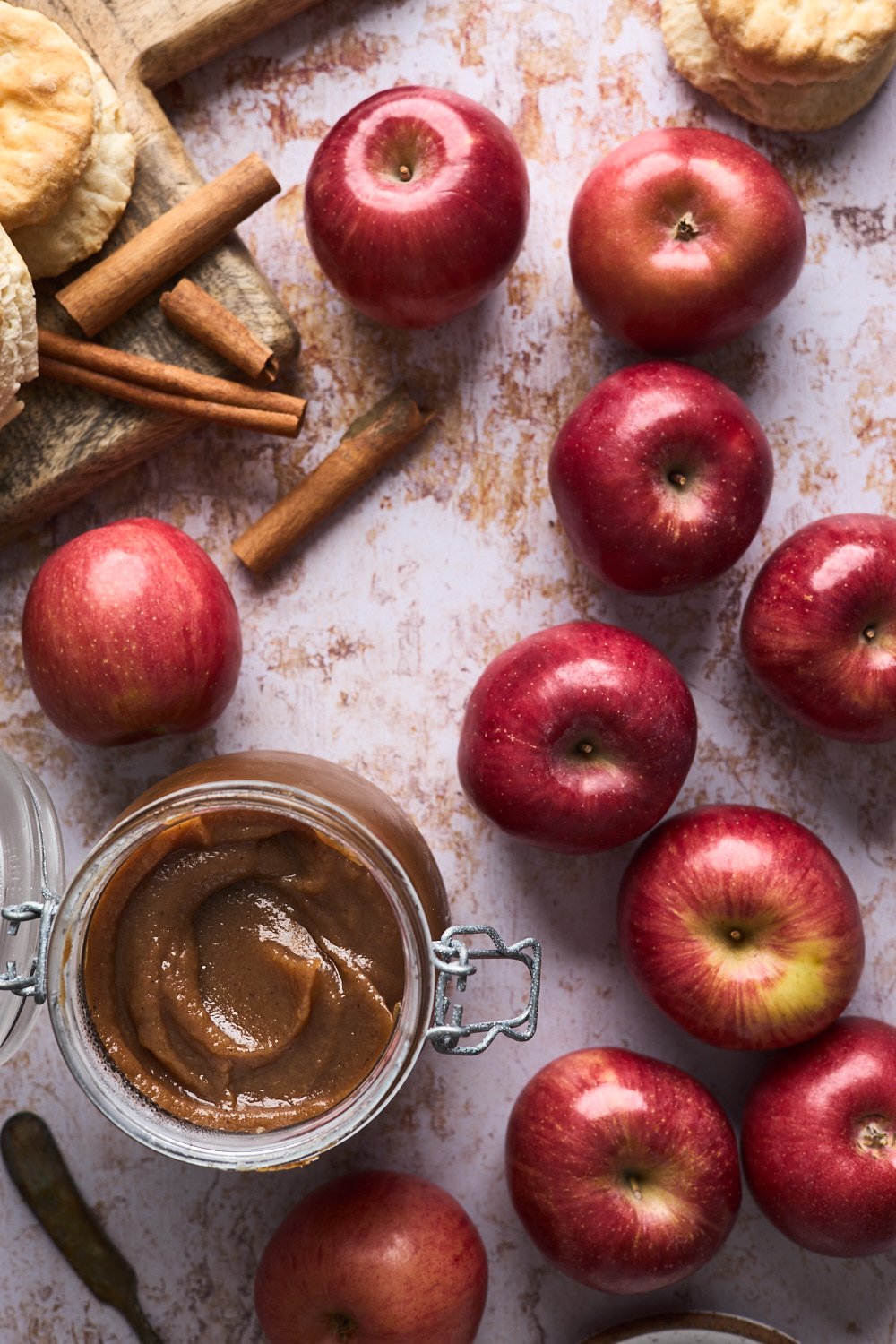 The Difference Between Applesauce and Apple Butter
Although the two are often said to be interchangeable; Apple butter is a smoother, more concentrated form of apple sauce. The methods for making the two both start out similarly, by slow-cooking apples until they're soft and mushy. Applesauce will be ready at this saucy stage, sometimes with the addition of sugar and/or spices to flavor it. But to make apple butter, you puree the stewed apples and cook them down further so more liquid evaporates and the apples caramelize. They can be swapped for each other in recipes if you are in a pinch but the flavour and texture of the end result will likely be a bit different.
The Best Apples for Apple Butter
Look to softer apples, like Gravenstein, Gala, Ambrosia, or Pink lady to make apple butter, as they will cook down faster. We also like the tart flavor of Granny Smith apples. Combine different apples to match your taste preferences. In the end it comes down to what you like and what you have on hand.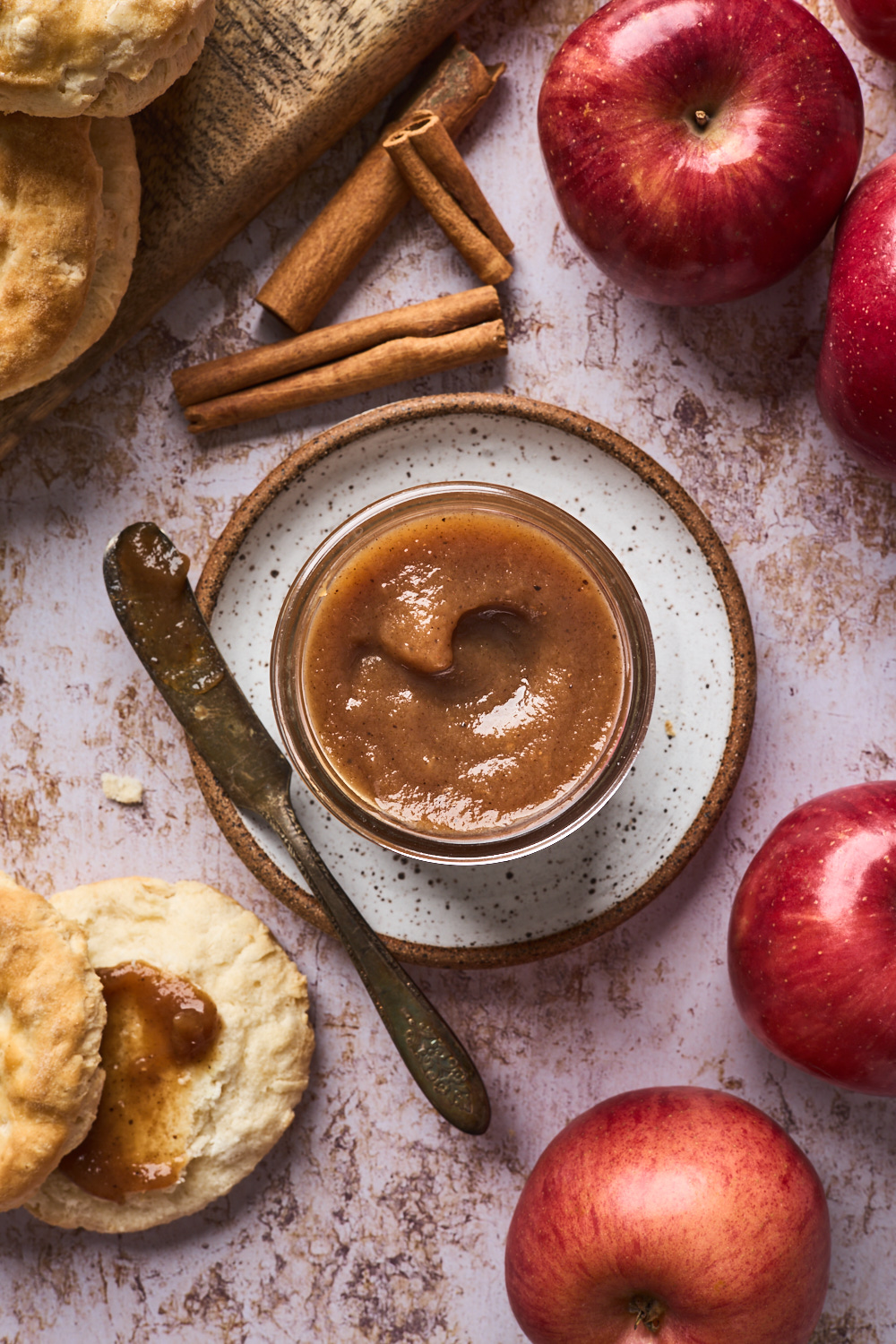 Ways to Use Your Apple Butter
Other than eating it from the jar with a spoon, what in the world do you do with apple butter?(which is totally acceptable bundt the way) So many yummy things! Obviously you can use it as a spread - its great on a toasted ham and cheddar sandwich. I love combining sweet and savoury and apples go really well with pork, so you can definitely add it to your pulled pork, bbq sauce, to your pork chops and I made a variation of pork and beans and added it to them and those beans were divine! It would be great in an apple and cinnamon loaf or babka and even in your oatmeal or overnight oats. It would also be great to add to your apple pie filling and an apple galette, or slathered on warm buttery biscuits, or over your pancakes or waffles too. It makes a great addition to your charcuterie board or cheese board as it pairsso well with a variety of cheeses This is just the beginning - there are so many other things to include it in. It's also great on buttered toast and swirled through yoghurt – something I have been snacking on non stop since I made it.
Apple Butter Ingredients:
Apples: approx 8-10 small size apples - no need to weigh them out the recipe will work even if you have a couple extra apples or a couple less
Apple cider vinegar- this adds just the right bit of tang to the apple butter but feel free to swap it out for a little freshly squeezed lemon juice
Pure apple juice or Apple cider - you could technically use water for the liquid portion but why not add more apple flavour by using pure apple juice or cider.
Sugar: I prefer to use brown sugar or coconut sugar but white granulated sugar works here too
Maple syrup: It's just 1 tablespoon but you can add more if you like - i love the flavor maple syrup adds to just about anything. You can leave it out if you do not have any
Vanilla Extract: I like to use pure vanilla so you get the maximum amount of flavour and vanilla always adds a subtle sweet undertone of flavour to each recipe you add it too along with this apple butter
Spices: I love to use a combination of apple pie spices - so cinnamon, nutmeg, allspice and clove. You could use apple pie spice blend too and play around with the amounts of each spice according to your taste. Ground ginger and cardamom are also lovely and some like to simmer the apples with the whole spices like cinnamon sticks and whole clove - if you do that just remember to fish them out before blending the apples
Pinch of Salt - always balances and brings out the sweet flavours
Swaps and Suggestions for Homemade Apple Butter
Switch up the spices: This recipe calls for cinnamon, allspice, cloves, and nutmeg along with apple cider vinegar to bring out the flavor, but feel free to play around with others spices such as ginger and even a splash of lemon juice for some extra tanginess if you wish.
Switch up the sweetener: I love the combination of brown sugar and maple syrup but if prefer the straightforward apple flavour you can stick with white sugar.
Storing and Freezing Apple Butter
Fresh apple butter will keep in the fridge for a couple of weeks. They make a great gift!
Sealed, canned jars of apple butter will keep for a year in the pantry. Once opened, they'll also keep for a couple of weeks in the refrigerator.
Frozen apple butter will keep up to a year.
If you like this recipe you will love these:
Recipe
Servings:
Yields approx 1½-2 cups of apple butter
Prep Time: 20 mins
Cook Time: 60-90 mins
Ingredients
2-2½ lbs apples (approx 8-10 small apples)

½ cup Apple cider vinegar

½ cup pure apple juice or cider

¾ cup coconut sugar or brown sugar

1 tbsp maple syrup

¼ tsp vanilla extract

1 tsp ground cinnamon

¼ tsp ground allspice

¼ tsp ground nutmeg

Pinch of ground clove

Pinch of salt
Directions
Wash and scrub apples well, core and slice apples and add them to a medium sized pan (peel and all) adding with them the Apple cider vinegar and also the apple juice. Bring to a boil and reduce to a low simmer, cover and let simmer for 20 minutes.
Remove lid, stir the apples and continue to simmer them for another 20-30 minutes until the apples are very tender and have thickened from breaking down and then remove them from the heat and allow them to cool for a few minutes.
Put the apples in a food processor (being very careful especially if they are still on the hot side) and process until smooth or use a potato masher and mash until they are smooth.
Transfer the processed apples to a fine mesh sieve or fine mesh strainer over a large bowl and press the pulp through the sieve so that your left with a creamy smooth texture or apple purée
Pour the purée back into the pot, turn the heat back on to medium low and add the remaining ingredients. Cook stirring occasionally until the apple butter is a deep rich colour, the sugar has melted through and it's nice and thick (won't take longer than 5-10 minutes).
Remove from heat and let cool for a few minutes and transfer to a sealed container and it can last for up to a month refrigerated.
Recipe Notes
For Crock pot version: Here is a simple way to make slow cooker apple butter. Place the apples in a slow cooker. Top with vinegar and apple juice and mix well.Cover and cook high 5 hours, or low 10 hours, stirring once halfway, until the apples are tender and dark brown. Uncover and puree with an immersion blender or transfer out and into food processor or blender and then transfer back into the crock pot. Stir in the rest of the ingredients. Cook on high uncovered 2 hours, stirring occasionally, or until thickened. Press it through sieve and then spoon into jars or containers, cover and refrigerate. I usually make mine stovetop because it quicker but the crockpot is a great set it and forget way to make apple butter.
Feel free to peel your apples if you prefer not having to push the puree through a fine mesh strainer. This will save you that step. I like the smooth texture pushing the puree through the strainer gives this apple butter, so I do it whether the apples are peeled or not.
Some people leave the apple cores in. The core adds natural pectin which helps thicken the apple butter - this all gets discarded after the mixture is pushed through the mesh strainer.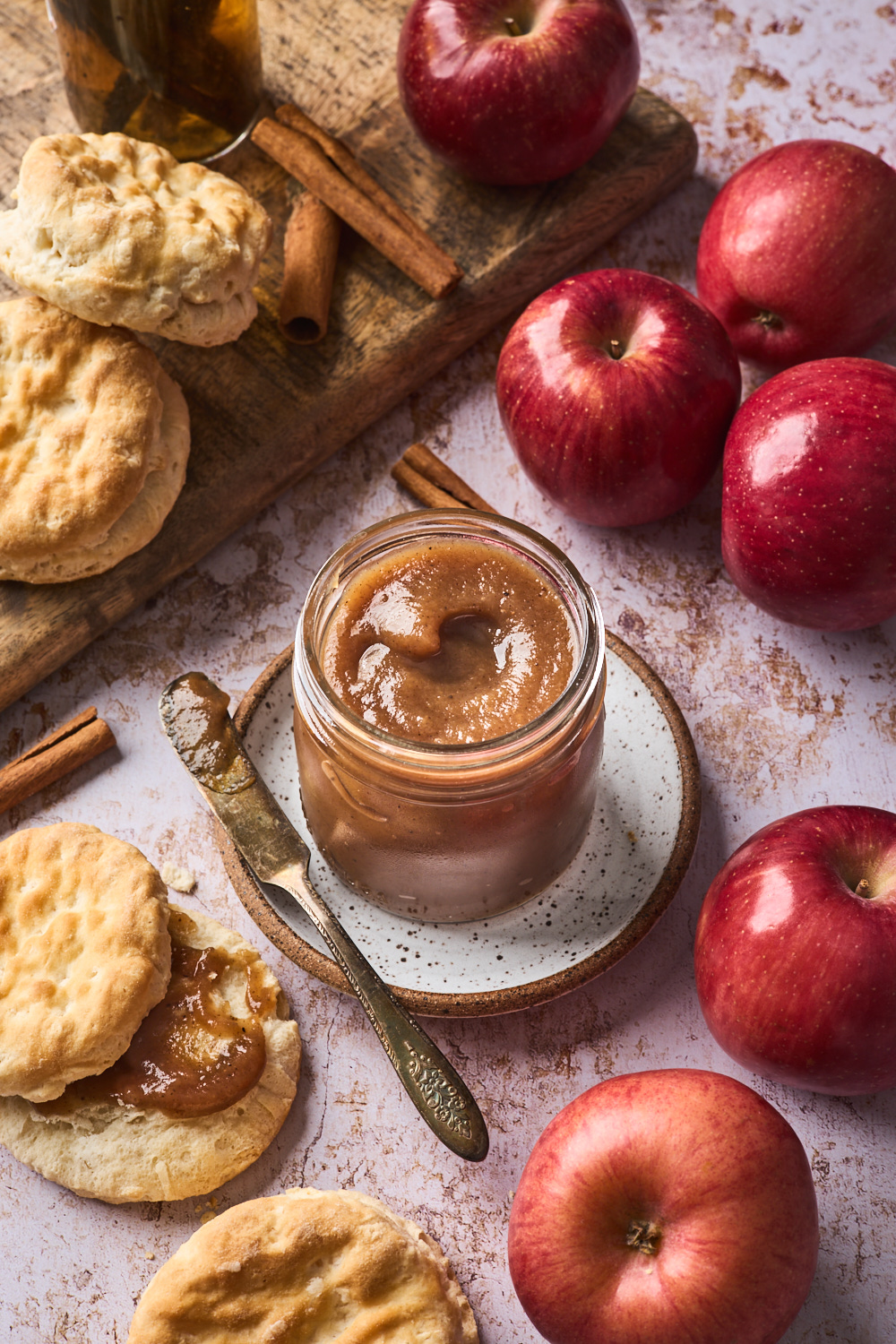 zo