Tuna Salad
Tuna salad is something I can eat anytime of the day! This is my go to tuna salad recipe that I have been making since as long as I can remember - a riff on my mom's recipe which I always thought and still think is the best tuna salad recipe. She always adds loads of fresh herbs, celery and green onions. This is her recipe with a few add ins that elevate the flavours of tuna salad - it's a bit more grown up and can be enjoyed as a dip with crackers, in a sandwich or over lettuce. I always serve my tuna salas sandwiches with a side of potato chips - my favourite being salt and vinegar or dill pickle chips for some tangy crunch. Creamy, herby, slightly tangy with just the right amount of crunch - what is not to love about this tuna salad recipe?!?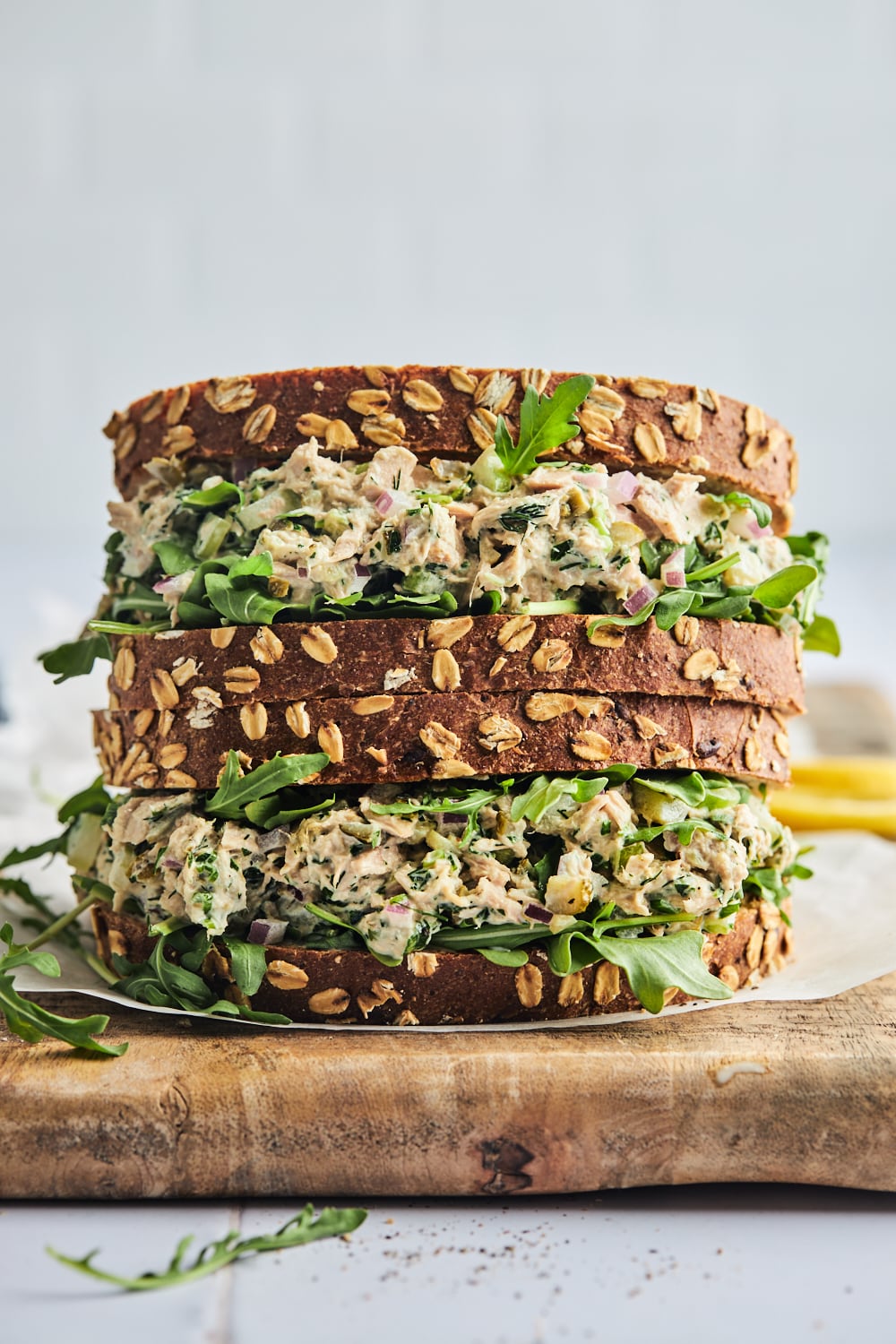 Tuna Salad Recipe Ingredients
Tuna: I use light tuna (chunk vs flaked but either will work) water-packed tuna fish but feel free to use oil-packed tuna, albacore tuna or yellow-fin or any tuna you prefer. Make sure to drain liquid before using in the recipe.
Mayo: I prefer regular Hellmann's as my go-to for optimal creaminess. It helps give tuna salad its rich creaminess and feel free to add more if needed to reach desired creaminess. Im not a fan of miracle whip or the sweet kind of mayo dressing but if that is what you prefer by all means use that
Dijon mustard: My not so secret secret ingredient. It adds incredible savory taste.
Celery: It adds the perfect crunch
Lemon juice: Freshly squeezed lemon juice adds a nice brightness to the tuna salad
Green onions & Red Onion/Shallot: Green onions are a mild tasting onion variety and work great in egg salad and tuna salads and the red onion adds a nice crunch plus loads of flavour - shallots are great substitute for red onions - feel free to use both green onions and red onion/shallot or one or the other and add as much or as little as you prefer
Fresh Herbs: Italian parsley and dill is what I add -they both add great flavor and punch of freshness to tuna salad
Capers: Capers are also my not so secret secret ingredient for adding salty briny burst of flavour to just about everything
Salt & Black Pepper: Be generous with both and adjust to taste.
Optional add ins: Add a little hot sauce for a little spicy kick and garlic powder for extra flavour and if you are looking for a healthier tuna salad recipe or lighter version or do not like mayo you can substitute the mayonnaise for Greek yogurt. For a sweeter addition you could add cranberries or raisins and even chopped apple for crunch and flavor. For an extra rich version some people like to add chopped hard boiled eggs - I don't but you definitely can if you wish to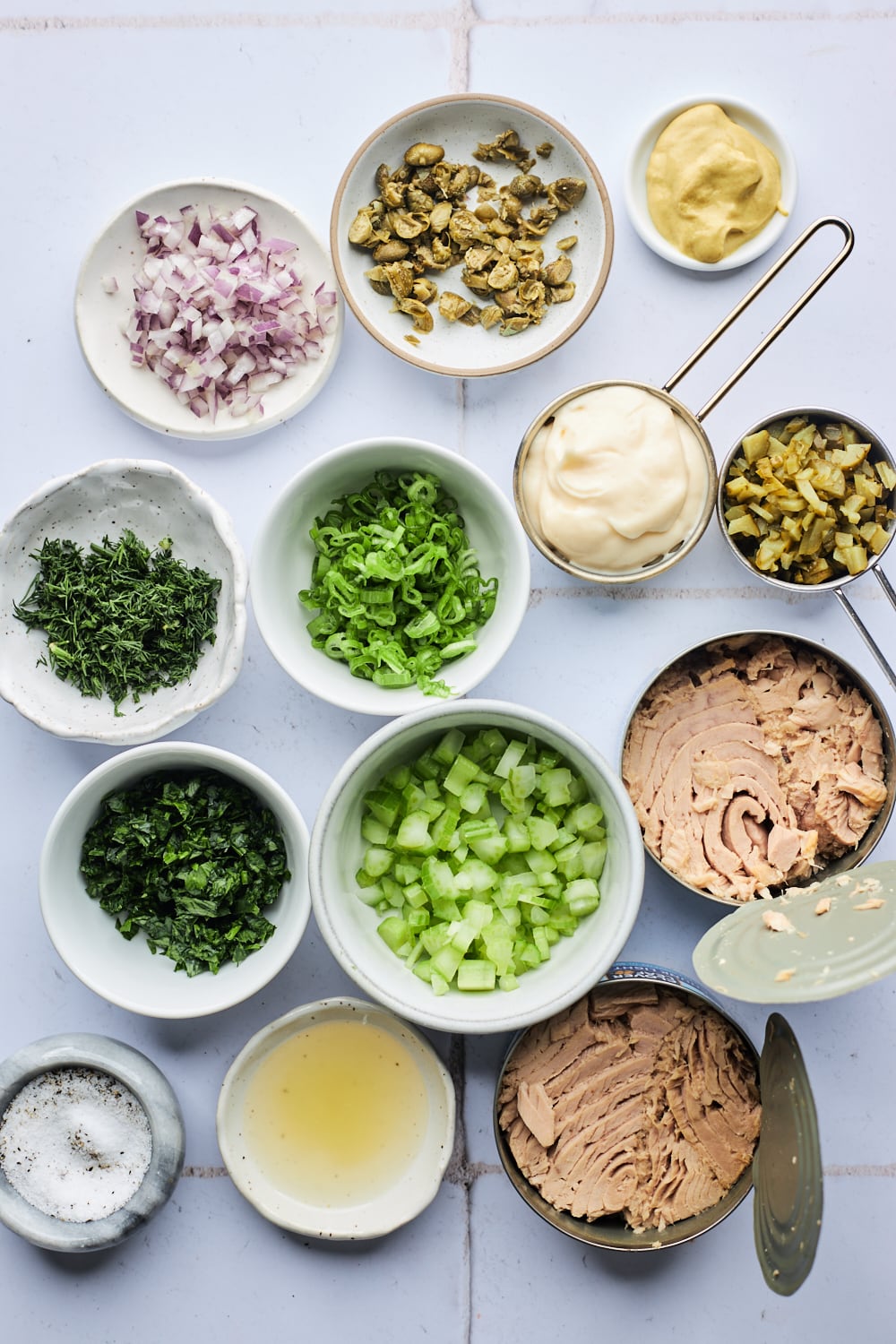 How To Make Tuna Salad
Drain oil or water from tuna and flake tuna in a large bowl
Prepare all your veggies and other add ins - chop veggies, onions, capers, and pickles if using
Stir the flaked tuna with the rest of the ingredients
Adjust flavours and creaminess to taste - add more mayonnaise, salt and pepper, mustard, lemon juice or whatever you think might need to be adjusted to taste
Serve in a sandwich, or as a dip for veggies or pita chips or any crisps you like
What to serve with tuna salad
Tuna salad classically makes a great sandwich on toasted or untoasted bread lined with fresh greens of choice lettuce leaves, romaine, spinach or arugula, tomatoes or even sliced avocados adding richer flavor to your sandwich. It is also great in buns, croissants or in or on pita bread. Like Egg salad, tuna salad can also be served as a dip for crisps and crackers, carrots, celery, cucumber or pita chips.
Tuna Storage & Make ahead
STORAGE: Place the tuna salad into an airtight container and store it in the fridge for up to 3-5 days
MAKE AHEAD: This tuna salad keeps well up to 3-4 days, so it can be made ahead. Just remember any leftovers will not keep as long and the veggies may get a little less crunchy after day 1 or 2
FREEZING: Tuna salad doesn't work well in the freezer, the veggies turn to mush and the mayo sometimes breaks. This is fast and easy to make, so no need to freeze it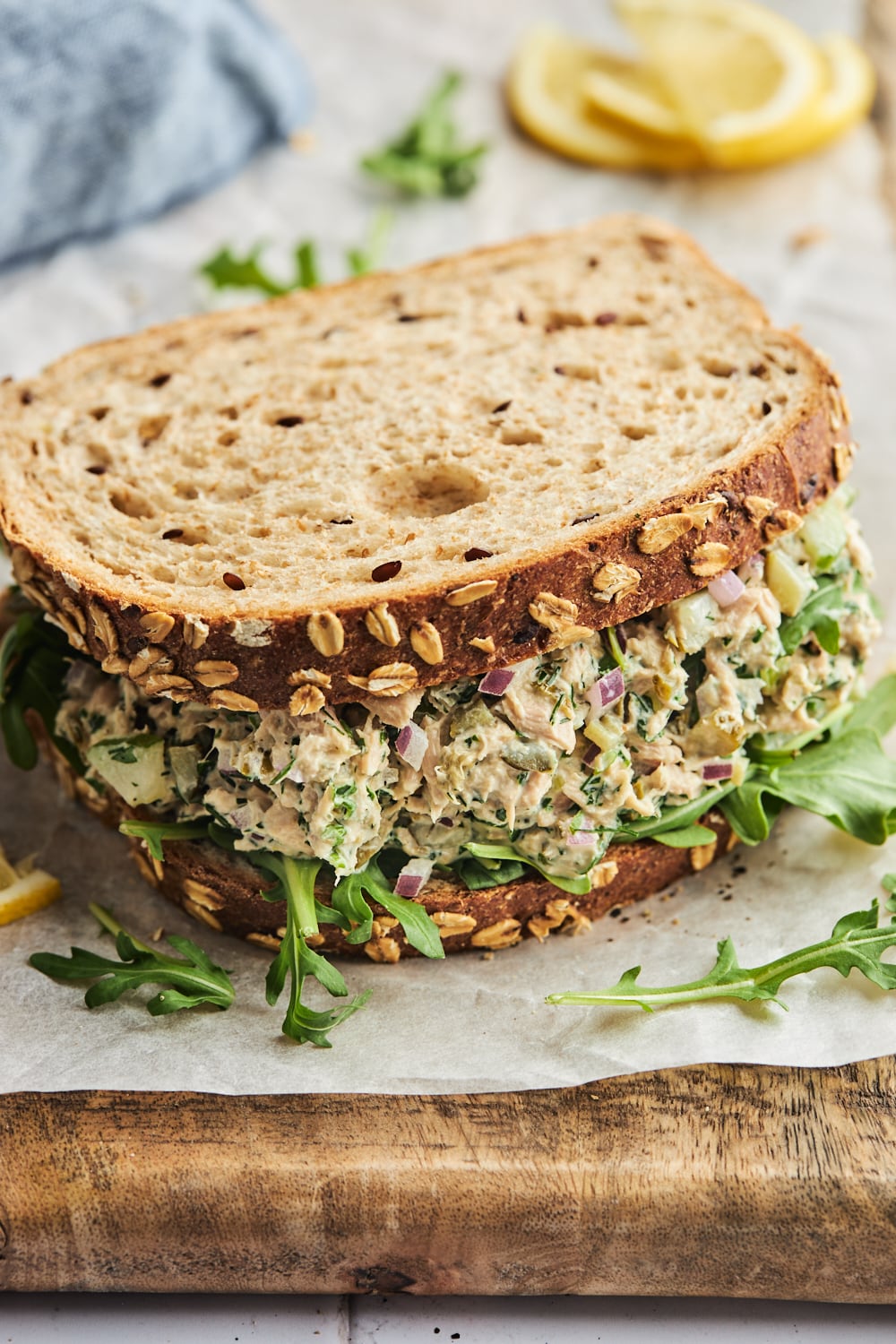 More Tuna Recipes You Will Love
Recipe
Prep Time: 10-15 mins
Cook Time: 10-15 mins
Ingredients
2 (5-ounce) cans tuna

⅓ cup mayonnaise, plus more to taste

1 heaping teaspoon Dijon mustard

1 stalk of celery, finley diced

2 spring onions, finely sliced

2 tablespoons red onion, finely chopped

1 tablespoon chopped parsley,

1 tablespoon chopped dill

1 tablespoons finely chopped pickles, dill pickles, bread and butter or sweet

1 tablespoon capers, roughly chopped

1 tablespoon lemon juice

Salt and pepper, to taste
Directions
Drain the tuna and add it to a bowl. Mash/flake it with your fork to desired texture.
Add the remaining ingredients to the bowl and mix together. Taste and adjust seasoning and mayo to taste.
Serve in sandwiches (I usually add lettuce and cucumber to mine), wraps, or even lettuce wraps for a low-carb option or serve as a dip with veggies and crisps.
Leftover tuna salad can be stored in an airtight container and stored in the fridge for up to 3-5 days
Recipe Note
Tuna Salad is traditionally served cold and it has mayonnaise in it, so it shouldn't stay out for longer than 2 hours or it will go bad.