Apple Cinnamon Muffins With Caramel Glaze
These apple muffins are aboslulty irresistible. They are perfectly soft tender and moist, deliciously cinnamon spiced, with a cinnamon streusel topping and drizzles of caramel glaze. the ultimate apple muffin full of fall flavor and also full of apples. These get their wonderful most texture from the apples - both grated apples and chopped for the best texture. You can definilt make these without the streusel topping but I like them a bit extra so I always make them with the topping and that yummy caramel glaze! It's a treat that all will enjoy for dessert, breakfast, brunch or a snack with your afternoon coffee or tea! They are also easy to whip up - no need to pull out the electric mixer for them just a couple of bowls, whisk and spatula!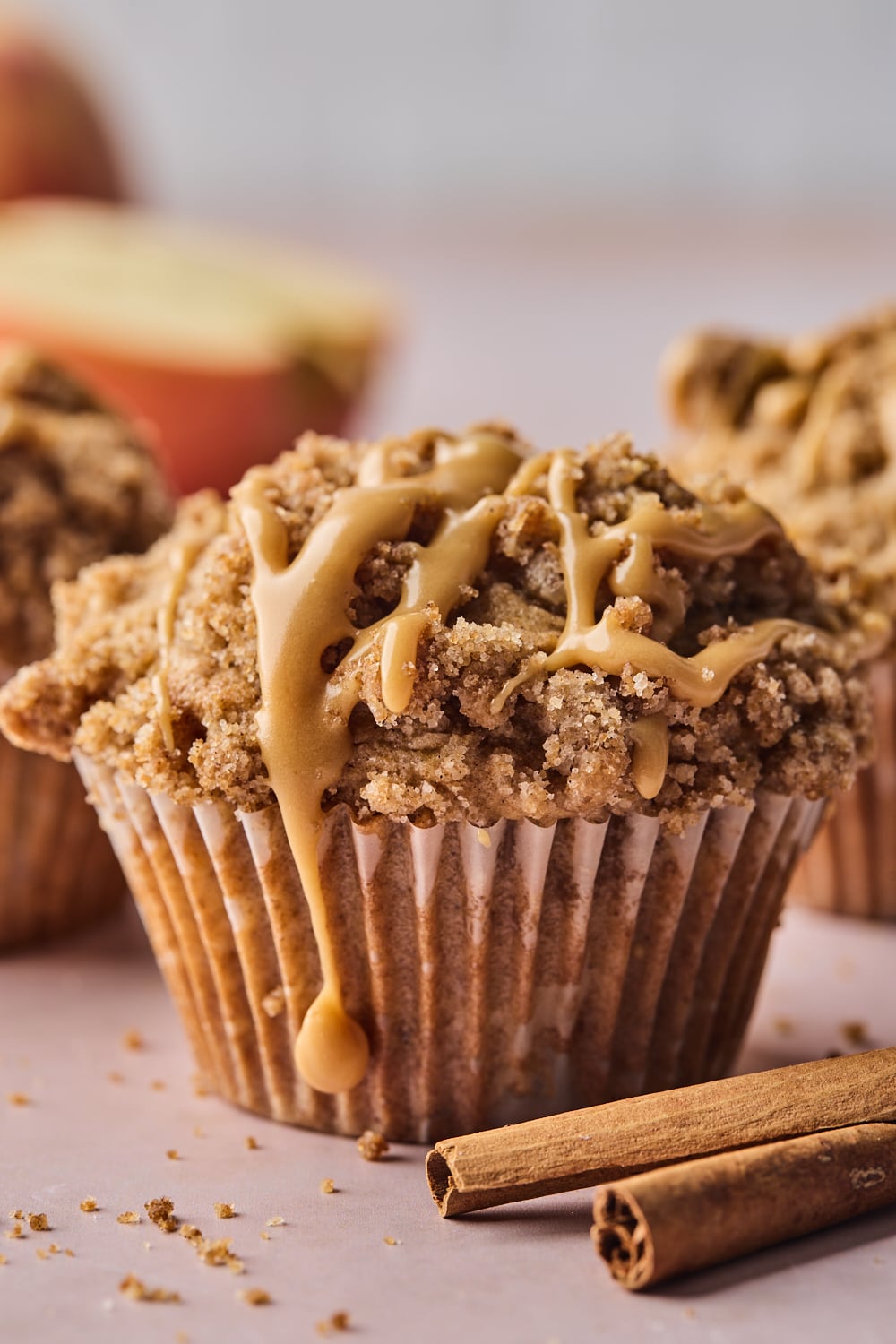 Apple Muffin Ingredients
FLOUR: Plain all purpose flour is great here for the batter and the crumb topping but I made this cake gluten free by simply using Bob's Red Mill Gluten Free 1-1 all purpose flour in its place.
CINNAMON: Feel free to adjust the amounts accordingly - you can even add more spices to this cake that complement apples like cardamom, nutmeg, or a touch clove. Warming spices work the best in these muffins both the batter and the topping
BAKING POWDER: For leavening - no need for baking soda in this recipe
SUGARS: Both brown and granulated sugar- for flavour and texture for the batter and the topping
APPLES: For apples with a crisp texture and sweet flavour choose Gala; Honeycrisp apples , Granny Smith, or Golden Delicious apples. I chop some and grate some for flavour, texture and moisture.
EGGS: Eggs add structure, leavening, color, and flavour to cakes in general this cake included
VANILLA EXTRACT: The perfect back note to every cake or baked good I think.
BUTTER: I like the flavor butter adds to these muffins - it's melted and cooled slightly. You could use vegetable oil like canola oil or olive oil if you prefer.
MILK: Always a great way to add to a tender most crumb - I always use whole milk but feel free to use 2% milk or half and half in place of whole milk. I don't recommend using anything with a lower fat content.
ADD INS: if you would like to add chopped walnuts or pecan to the batter you can - up to ½ cup chopped.
GLAZE: The glaze is optional but if you are making it you will need powdered sugar, caramel sauce (homemade or store-bought), and a little milk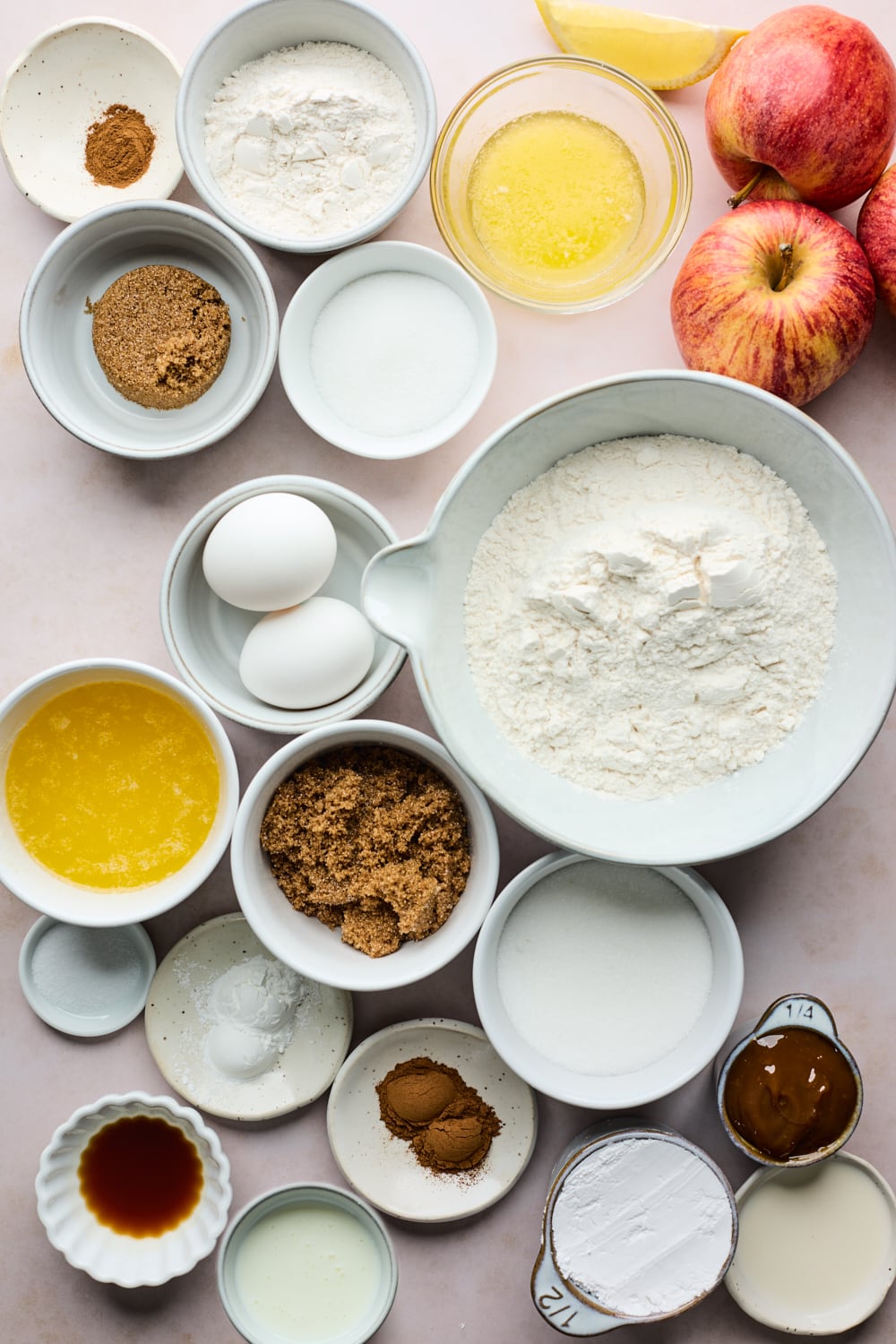 How To Make Cinnamon Spiced Apple Muffins
Prepare muffin tin and preheat oven: Grease and line pan and preheat oven INITIALLY at 425 ° F
Prepare streusel topping: Whisk together dry ingredients, stir in melted butter and combine to form pea sized clumps
Prepare muffin batter: Whisk together dry ingredients minus sugars, in a seperate bowl whisk together the wet ingredients with the sugars and grated apples (reserve the chopped apples) then combine the dry ingredients with the wet mixture, then fold in chopped apples - do not over mix.
Assemble muffins: Spoon or scoop batter into pan. Sprinkle over streusel or crumb topping
Bake: Bake muffins for 5 mins at 425°F then REDUCE oven temperature to 350°F (initial high blast of heat will help these beauties rise and puff up really nicely). Bake 15-18 more minutes then cool.
Prepare Glaze: whisk all the glaze ingredients if making then drizzle over cooled muffins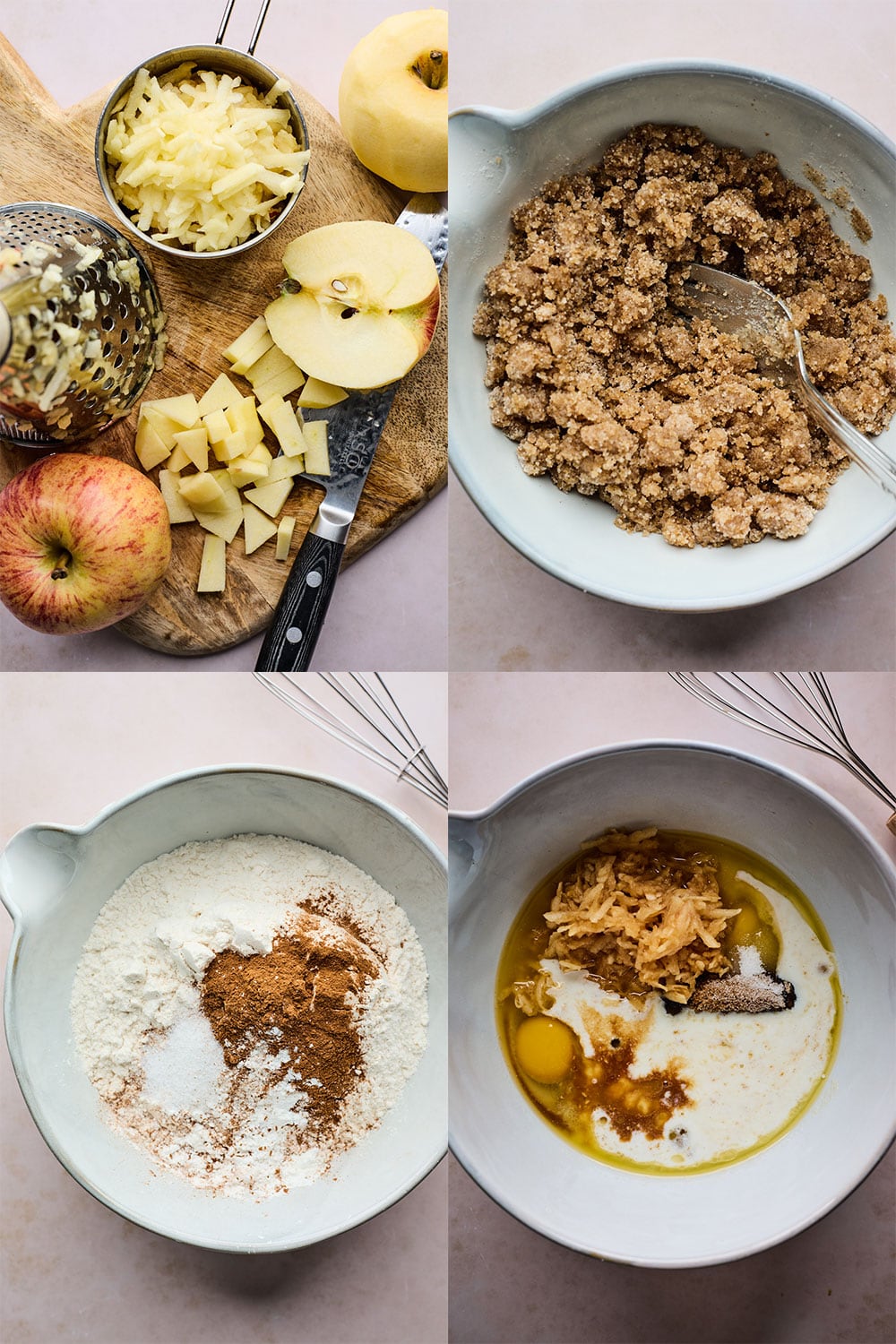 Apple Muffin Recipe Tips
Room temperature ingredients: Having your ingredients, such as the milk and eggs, at room temp is best for even baking.
A thick, spoonable muffin batter: A muffin batter should be a bit thicker than a batter for cake or other loaves/breads, and you should be able to use a large spoon to fill the muffin tins rather than pouring it in. Also, take care not to over mix your batter to keep the muffins light instead of dense. When I'm mixing the flour mixture into the wet ingredients I fold or stir just until most of it is incorporated - I stop when there are a few streaks of flour left and those get taken care of when I fold in the apples.
High oven temp to start with: This is probably the most important secret: preheating the oven to 425° and baking the muffins at that higher temp for the first 5 minutes is a must. The high heat causes the batter to rise more rapidly, helping to create that dome shape rather than the flatter tops. Then, reducing the temp to 350° for the remainder of the baking keeps the muffins moist in the center.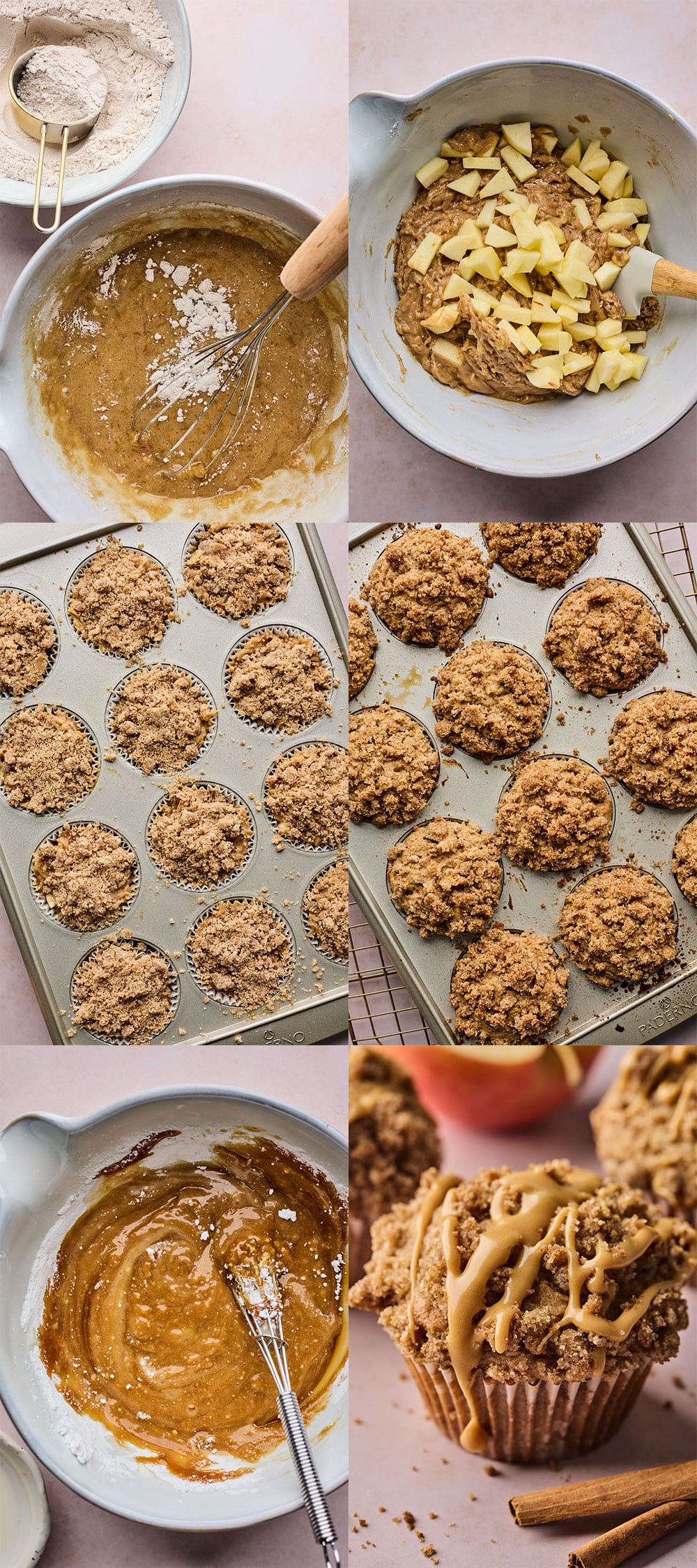 How to Freeze and Store Apple Muffins
STORAGE: How to store muffins? Let muffins cool completely on a wire rack at room temperature before packing them up. Otherwise, condensation can form and they will get soggy. Once they are at room temperature, store them at room temperature in an airtight container or a ziplock bag lined with paper towels. Place the muffins in a single layer inside so that they are surrounded on all sides by paper towels. This will absorb any excess moisture and prevent them from going soggy. They will keep at room temperature for up to 3-4 days and refrigerated for up to 5-7 days.
FREEZING: How to freeze muffins? To freeze, let the apple muffins come to room temperature. Then transfer them to an airtight container and store in the freezer for up to 3 months. I recommend wrapping them individually and then storing them in a large freezer bag. Thaw overnight in the fridge then enjoy them chilled or room temperature or reheat them to warm them up
REHEATING: How to reheat muffins? Simply warm the muffins in the microwave for 30-60 seconds. You can also reheat them in the oven. To do so, place them in a small baking dish or loaf pan and cover with aluminum foil. Warm at 350°F for 10-15 minutes or until warmed through.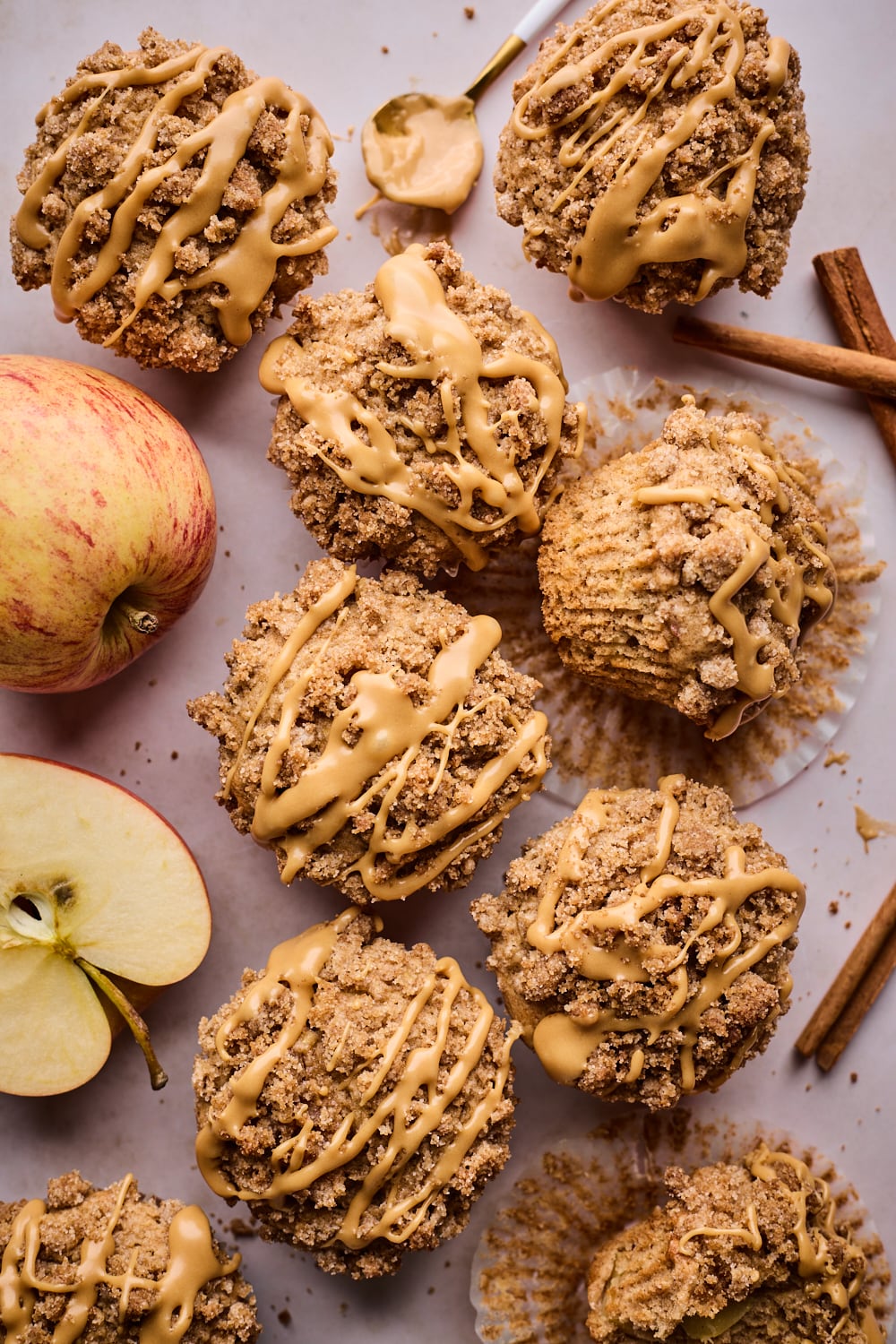 More Muffins Recipes You Will Love:
Recipe
Prep Time: 15 mins
Cook Time: 23 mins
Ingredients
For the Topping
½ cup all-purpose flour

¼ cup light brown sugar

¼ cup granulated sugar

½ teaspoon ground cinnamon

3 tablespoons unsalted butter

melted
For the Muffins
1½ cups all-purpose flour

2 teaspoons baking powder

2 teaspoons ground cinnamon

½ teaspoon salt

½ cup unsalted butter melted and cooled slightly

⅓ cup whole milk, room temperature

½ cup packed light brown sugar

½ cup granulated sugar

2 large eggs, room temperature

1 teaspoon vanilla extract

1 cup peeled and grated apple or apple sauce

1 cup peeled and diced apples
Caramel Glaze Ingredients
½ cup powdered sugar

¼ cup good quality, caramel sauce (homemade or storebought)

1½ tablespoons milk (or water)
Directions
Preheat the oven to 425°F. Grease a 12-cup muffin tin with baking spray or line with paper liners.
Make topping: In a medium bowl, combine the sugars, flour, and cinnamon. Stir in the melted butter with a fork, until the mixture is combined but still clumpy. Set aside.
Toss both the grated apples and the chopped apples with a squeeze of lemon juice. (I usully use one small lemon wedge for both)
In a medium mixing bowl, whisk together the flour, baking powder, cinnamon, and salt.
In a large bowl whisk together the eggs, sugars, milk, grated apples, melted butter, and vanilla until well combined.
Gradually stir/fold in the dry ingredients to the wet until just about combined with some streaks of flour remaining. Don't over mix.
Add the apples to batter and gently fold them into the batter
Evenly scoop or spoon out batter into prepared pan and top evenly with crumble
Bake for 5 minutes at 425°F, then, keeping the muffins in the oven, REDUCE OVEN TEMPERATURE to 350°F. Bake for an additional 15–18 minutes or until a toothpick inserted inside the center comes out clean. The total time these muffins take in the oven is about 20–23 minutes.
Allow the muffins to cool for 5 minutes in the muffin pan on cooling rack, then transfer to a wire rack to continue cooling.
While muffins are cooling prepare the caramel glaze by whisking together the powdered sugar with the prepared caramel sauce and the milk (or water) until creamy.
Finish by drizzling some of the caramel glaze over each apple muffin - allow to set before enjoying