Asian Style Sheet Pan Turkey Dinner
If you're looking for an easy Turkey dinner for two (or four), we have got you covered with this easy sheet pan turkey dinner. It has everything you could want or need: juicy turkey breast, crispy edged stuffing, sweet potatoes thinly sliced that kind of mimic a scalloped/domino potato, and blistered green beans. Best of all, it's hot and fresh out of the oven in an hour and no marinating and brining required! This time I went for less traditional with the seasoning for a change and did an Asian inspired Turkey dinner at hubby's request. As many of you know my husband is half Chinese and he wanted me to try and see if I can nail the Asian flavours in a Turkey dinner - mission accomplished! You may have to hit your local Asian grocery store for a couple of the ingredients but I also have substitutions listed as well if you are limited that you could get at any grocery store. The Turkey is seasoned with a hoisin-butter sauce with Chinese seasoning and stuffed under the turkey skin. This method gives extra flavour to the turkey meat while keeping the skin crispy. The Miso glaze does double duty here and is perfect over the veggies and the Turkey acting like a gravy too.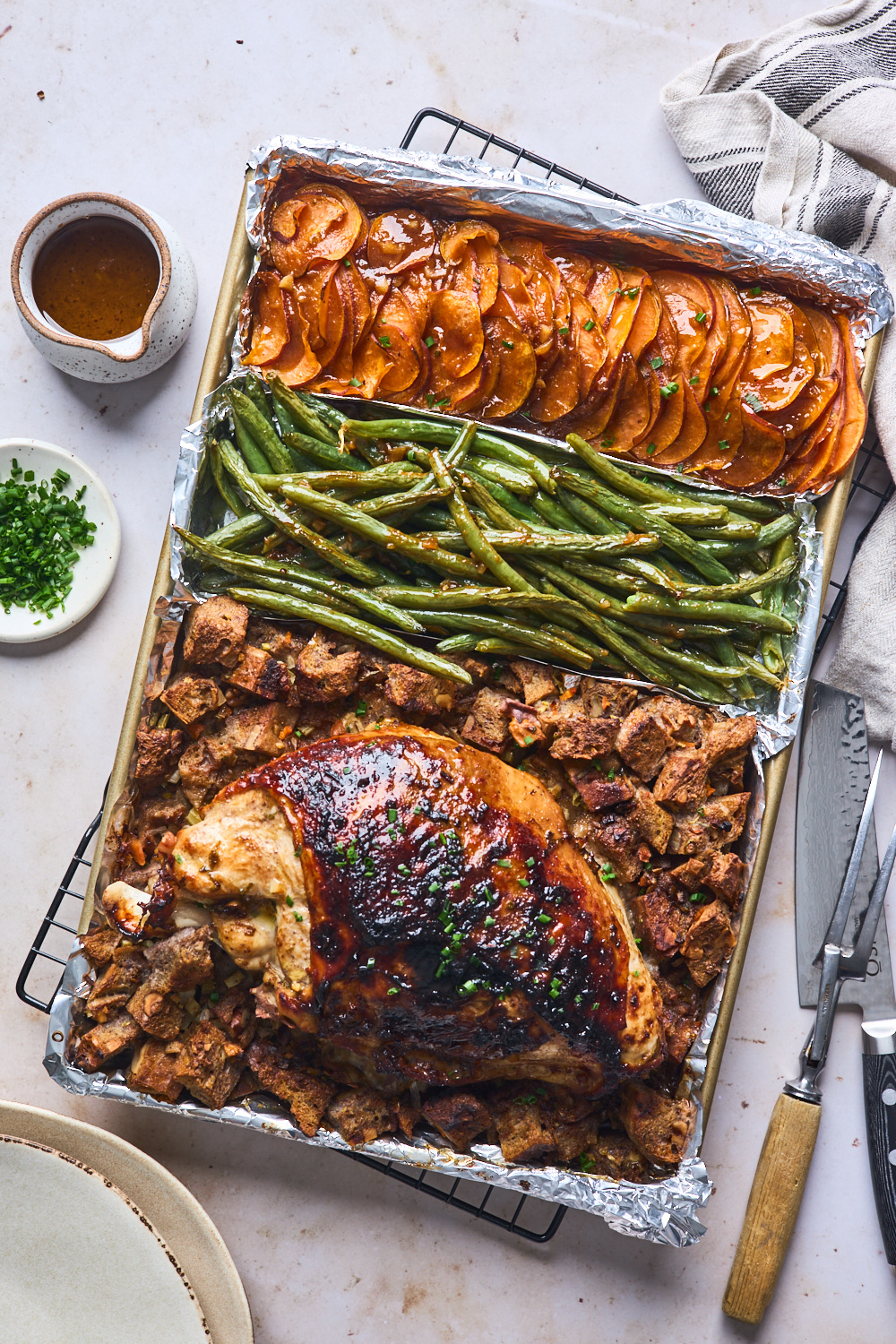 I was happy to team up with Metro Ontario to share an easy Sheet pan Turkey dinner with an ethic twist. I do so many Greek style twists on the blog already I thought it was time for an Asian one - and I am so glad I did. The flavours are fabulous in this sheetpan dinner and they are all cohesive from the Turkey to stuffing and right through to the veggies and the delicious glaze. I have my basic Chinese sauces and seasonings stocked in my pantry already but for everything else I turned to Metro to provide the freshest Ingredients from their in house baked bread for the stuffing to all the fresh veggies and quality meat. My ideal spot for one stop grocery shopping!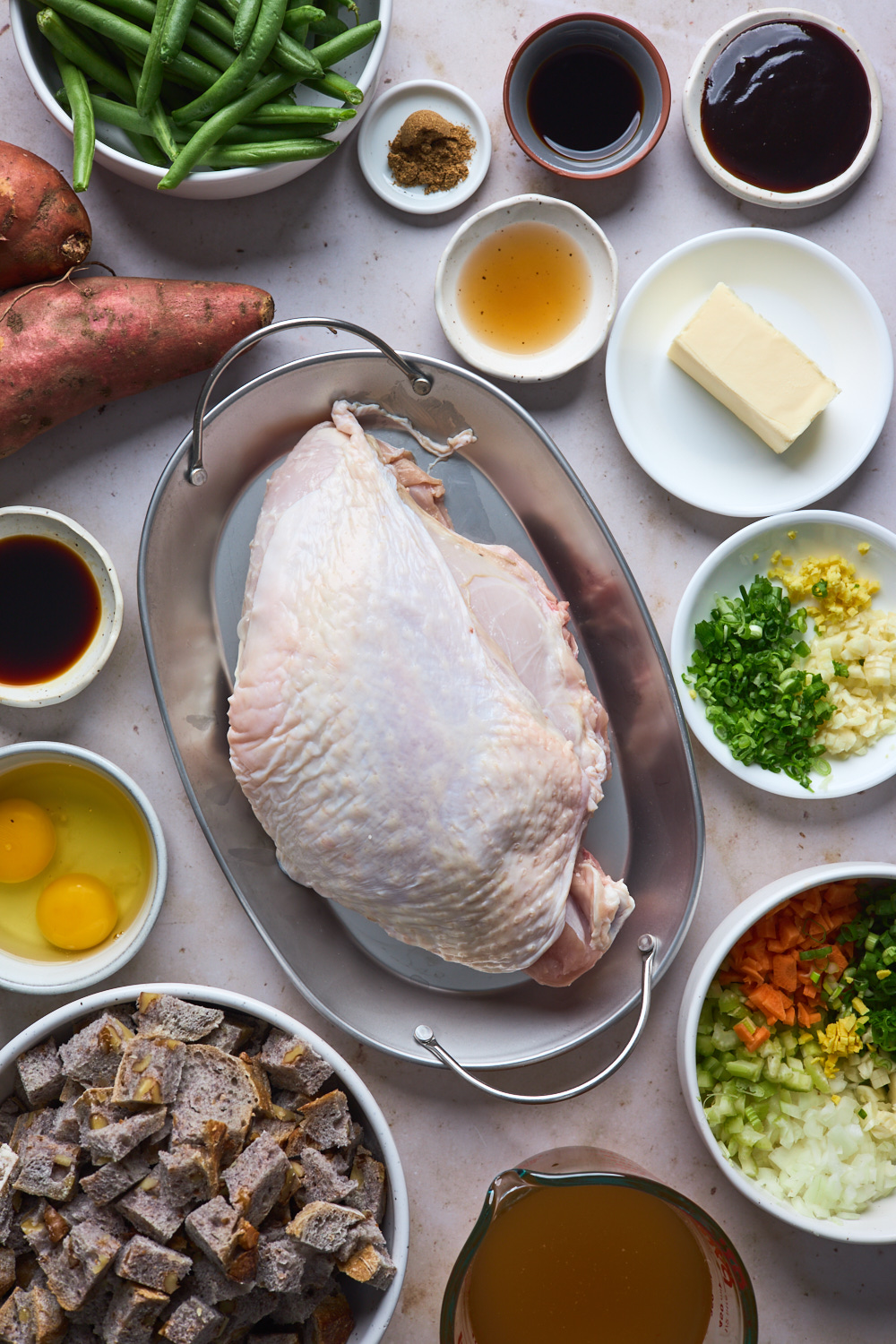 Why we love this easy roasted sheetpan turkey breast recipe
This mini Turkey dinner for 4 is quick and easy to make. I love that it's a lot less fuss than making a whole turkey.
Turkey breast and thighs cook in the oven in under an hour – perfect for busy weeknights
Less dishes and simple to customize.
The best part about this mini roast turkey dinner is that everything is cooked on one tray in under an hour. That means when you are craving a big Turkey dinner you can easily make it and enjoy it no time. Even during a busy midweek!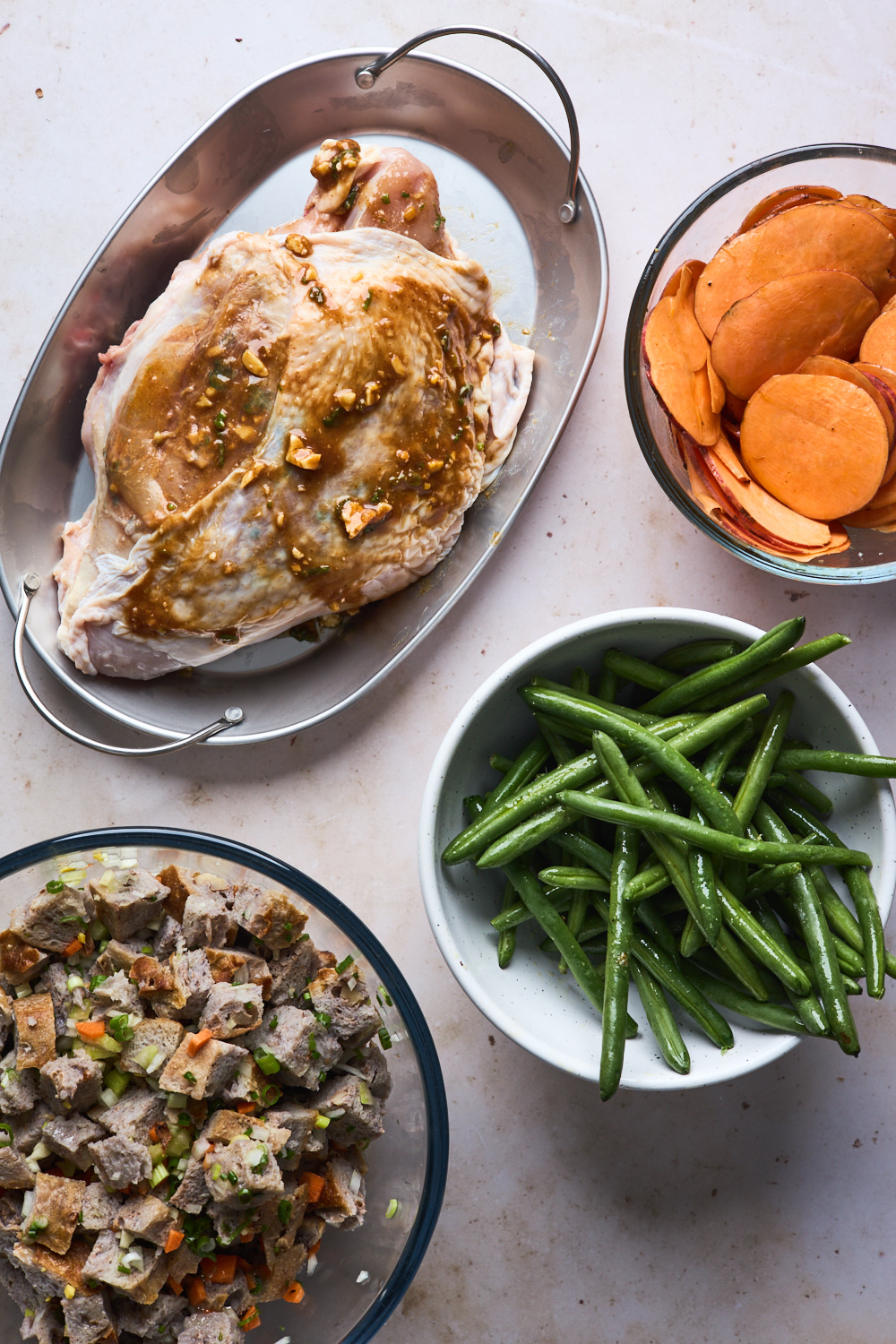 Ingredients you'll need for this small sheetpan turkey dinner recipe
Turkey – you can use turkey breast OR turkey thighs - 2-2½ lbs for 3-4 people
Vegetables – feel free to swap them out with what you have on hand. I used sweet potatoes and green beans but you could also use regular potatoes, Brussel sprouts, or even carrots or beets.
For the stuffing - I used a walnut sourdough but any crusty loaf would work. You will also need: eggs, carrots celery, onion, garlic, ginger,soy sauce and chives and green onions
Seasonings and Flavouring - I went with  Asian flavours here and used unsalted butter, salt, pepper, garlic and ginger  in almost all the components, hoisin sauce, soy sauce, Chinese 5 spice, Mirin Shaoxing wine or substitute dry sherry for both and miso paste. These flavours really are quite delicious in this dish. (Feel free to season with more traditional spices if you prefer more traditional flavours. The cooking times would all still be the same.)
Other add ins - if you have it available you could add chopped Chinese Sausage (lap cheong) to the stuffing for added flavour
Serve with your favourite cranberry sauce as well.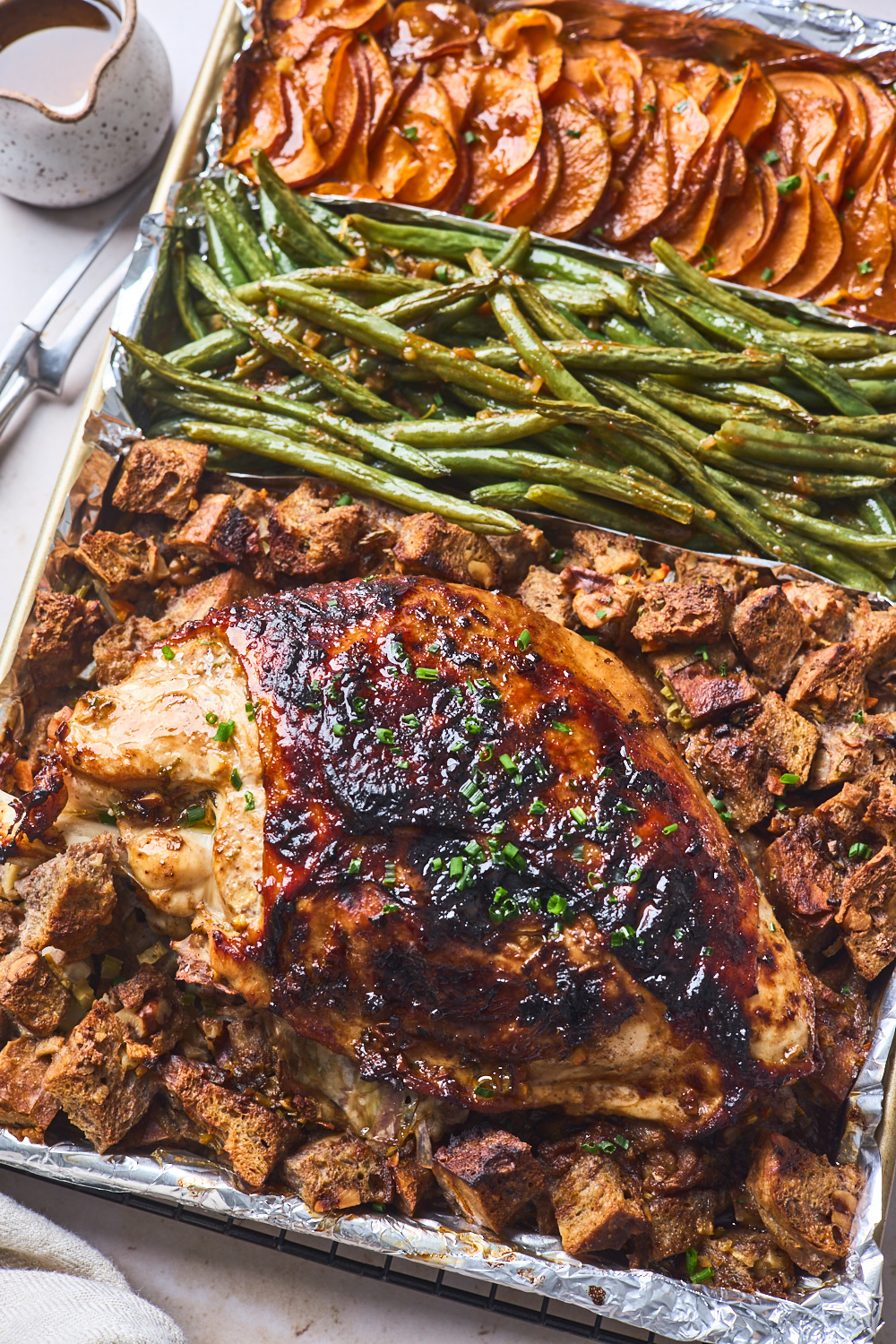 How to make Sheet pan Turkey dinner
Of course, you need to do a little prep work of slicing (if you have a mandolin it makes slicing the potatoes even faster) and chopping but after that this dish comes together in no time and in much less time if you were to make and roast each dish individually. Here is how it's done:
PREHEAT OVEN AND SEASON TURKEY: Preheat oven to 375°F.
MAKE THE DRESSING/STUFFING: Toss the bread with the rest of the ingredients and allow to sit while you prepare Turkey.
PREP TURKEY: Make the buttery rub and slather it all over the Turkey and under the skin
ROAST THE STUFFING & TURKEY: Place stuffing on half the Sheetpan with the Turkey on top and roast 30 min.
PREP THE VEGGIES: wash, dry, slice and trim vegetables etc. Drizzle with oil and season separately.
ADD THE VEGETABLES TO THE PAN: Remove sheet pan from the oven. Arrange the potaotes and green beans on the other half of the pan
RETURN PAN TO THE OVEN and continue to roast. After 30-40 minutes or until turkey is fully cooked and reaches 165F internal temperature and vegetables are soft and tender.
MAKE GLAZE & SERVE: prepare the glaze while Turkey and veggies are roasting. Remove pan from oven. Cover loosely with foil and rest for 10 minutes. Carve and serve. With the glaze over the veggies and the Turkey.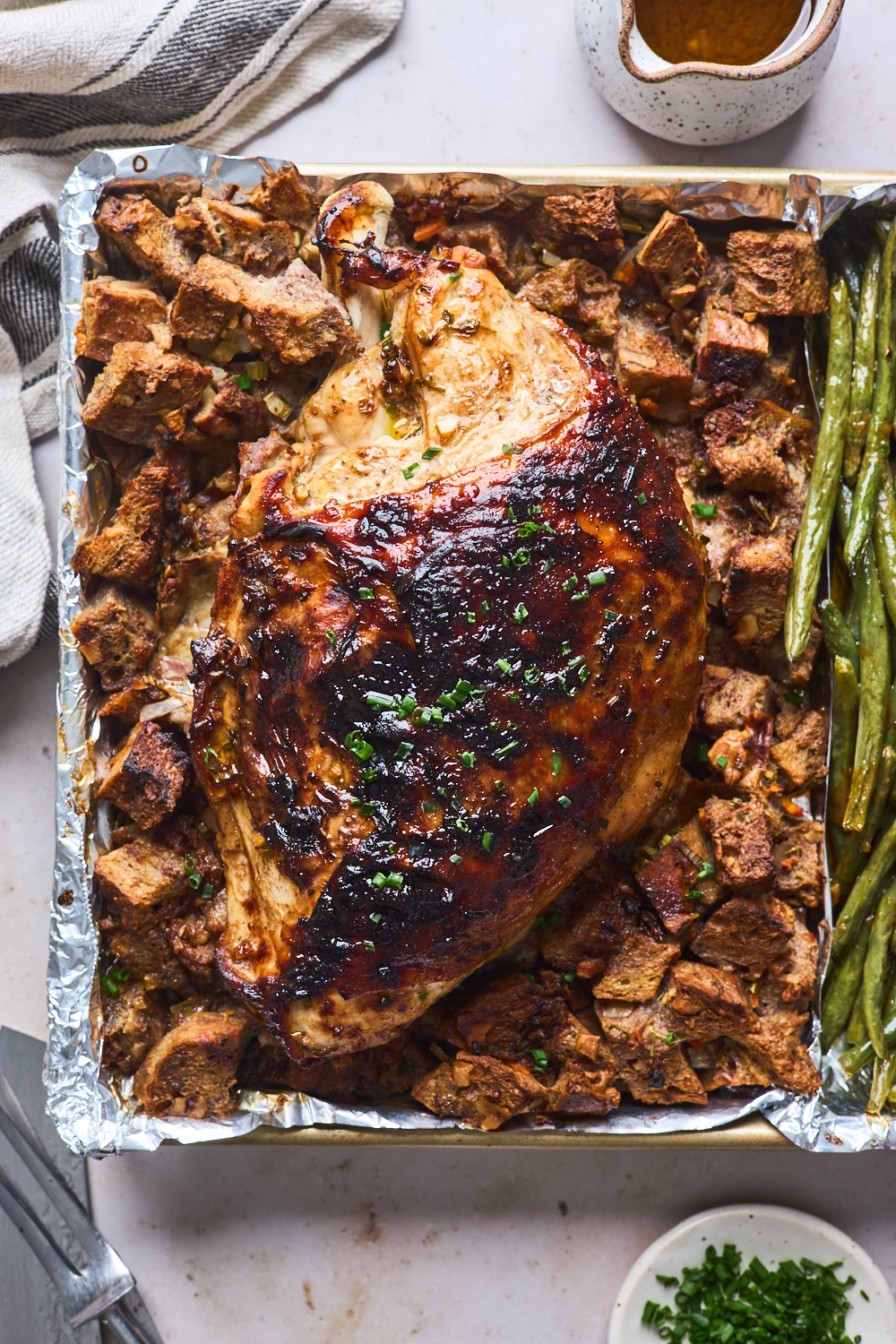 Tips for making the best sheet-pan turkey dinner
This turkey dinner recipe DOES require a little bit of planning order for all the components to finish cooking evenly and at the same time.
Chop or slice the vegetables before hand for quicker prep.
If your turkey breast is larger than two pounds, you may have to adjust the cooking time accordingly.
This will serve two, generously with leftovers and will serve 4 people who have average to small appetites. But if you're nervous that you won't have enough food this can easily be doubled so you have two sheet pans - still easier and quicker.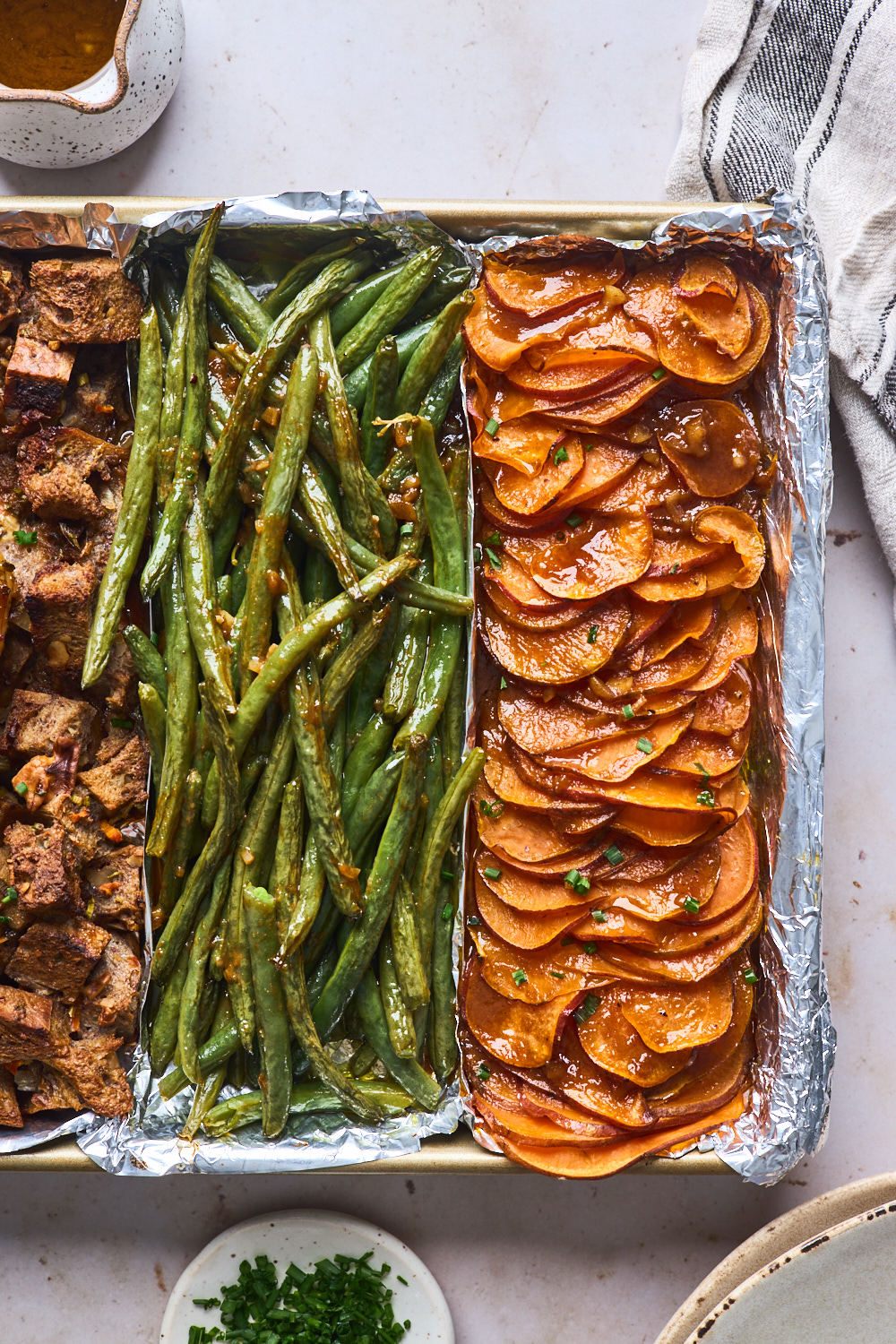 How to store and reheat leftovers
Tightly wrap your turkey breast in plastic wrap or aluminum foil and store it in the fridge. It'll stay fresh for about 3 days. You can reheat your turkey in the oven if you cover it with foil and in the microwave if you cut it into slices. The veggies can be stored together in a sealed container and so can the leftover stuffing and can be reheated the same way as the Turkey. The glaze can also be reheated as needed and stored in the fridge
I have partnered up with Metro Ontario to bring you this fabulous recipe, but all opinions are my own. Thank you for supporting Olive & Mango.
For more delicious Turkey dinner ideas check these out:
Recipe
Prep Time: 30 mins
Cook Time: 50-60 mins
Ingredients
For the Stuffing
1 small yellow onion, peeled and finely chopped

2 cloves of garlic, minced

1 teaspoon minced fresh ginger

1 carrot, peeled, finely chopped

1 celery stalk, finely chopped

1 pound (1 loaf) sourdough bread, cut into 1-inch cubes

1½ cups chicken stock (plus more if needed to moisten)

2 tablespoons green onions, sliced

1 tablespoon chives, sliced

1 tablespoon soy sauce

2 eggs, lightly beaten
For the Turkey
4 tablespoon unsalted butter, softened or melted

2 tablespoons hoisin sauce

2 tablespoons soy sauce

1 tablespoon Shaoxing wine (or dry sherry)

½ teaspoon Chinese 5 spice powder

3 garlic cloves, finely minced

2 green onions, finely sliced

½ teaspoon, finely minced fresh ginger

one 2-pound turkey breast, skin on
For the Sweet Potatoes
1 pound (2 medium) sweet potatoes, scrubbed and thinly sliced on a mandoline

1 tablespoon olive oil

salt and freshly ground black pepper, to taste
For the Green Beans
12 ounces green beans, trimmed

1 tablespoons olive oil

salt and freshly ground black pepper, to taste
For the Glaze
4 tablespoon unsalted butter

2 cloves of garlic, minced

2 tablespoons miso paste

3 tablespoons mirin (or dry sherry)

1 tablespoon maple syrup

¼ teaspoon of ground cinnamon
Directions
Preheat oven to 375°F. Line an 11 by 18-inch sheet pan with foil (you can easily make this in a larger Sheet-pan as well - minimum size is 11x18)
Prepare Stuffing: In a large bowl, mix the stuffing ingredients until well incorporated. Let soak for 15 minutes, and spread an even layer on one half of the pan, making a well in the center for the turkey.
Prepare Rub for Turkey & start Roasting it: Turkey In a small bowl, mix together the melted butter with the rest of the herbs and spices. Rub the turkey with the butter mixture under the skin and over. Nestle turkey breast in the center of the stuffing. Place in oven, and cook for 30 minutes.
Prepare Vegetables: In a medium bowl, toss sweet potato with olive oil and salt and pepper and in a separate bowl do the same with the green beans.
Add Vegetables to the Sheet pan with Turkey: REMOVE sheet pan from oven, and add the sweet potatoes in overlapping slices, and green beans to the remaining half of sheetpan evenly.
Roast All Together: Return pan to oven and continue cooking until the sweet potatoes and green beans are tender and the turkey reads 165°F on an instant-read thermometer when inserted, another 30-40 minutes.
Prepare Glaze: For the glaze melt the butter in a small saucepan over medium heat. Add the garlic and cook for 3 minutes. Whisk in the miso paste, mirin, maple syrup, and cinnamon. Bring to a simmer and bubble for 2 minutes.
Serve: Toss veggies with half the glaze reserving the rest for serving with the turkey. Garnish with extra sliced green onions if you desire.
Recipe Notes
Cooking time varies according to the size of your turkey. If your turkey is more than two pounds, you may want to leave it in longer before adding the sweet potatoes and green beans. If your turkey is smaller, just remove from the oven sooner.
This will serve two, generously with leftovers and will serve 4 people who have average to small appetites. But, if you're nervous that you won't have enough food this can easily be doubled so you have two sheet pans - still easier and quicker.
Recipe adapted from Tasting Table and Food52