Baked Apple Cider Doughnuts
These homemade baked apple cider doughnuts are tender, and super flavourful. Their sugary spiced coating makes them irresistible! They are very simple to make and are the perfect fall treat. No need to make a special trip to the apple orchard for these doughnuts (although I strongly recommend going for the apples - something I have yet to do yet this fall) - these are just as good if not better. The recipe doesn't require reducing the cider but the option is there - it helps deepen the flavours of the apple cider and doughnuts. Full details about the cider concentrate below if you chose to. I have made with the reduced cider and without reducing it and both are irresistible.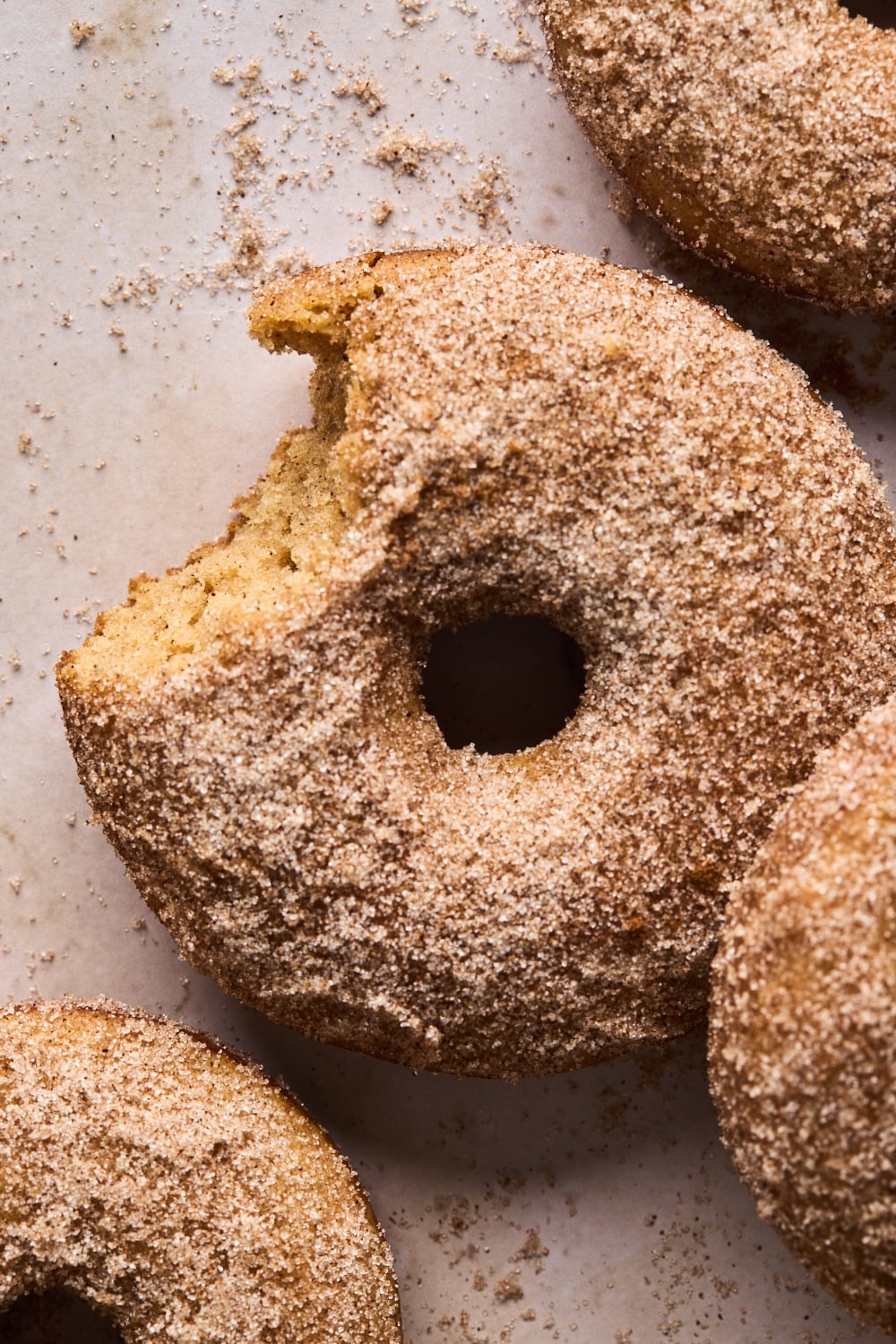 Why you will love these Apple Cider Doughnuts:
Easy to make cake doughnuts that are fluffy and coated in cinnamon sugar.
Made with simple ingredients, readily available in your local grocery store and some you might already have in your pantry.
They are baked not fried. No need for any yeast.
They are light and fluffy and taste just like old fashioned apple cider donuts.
They are infused with delicious apple cider.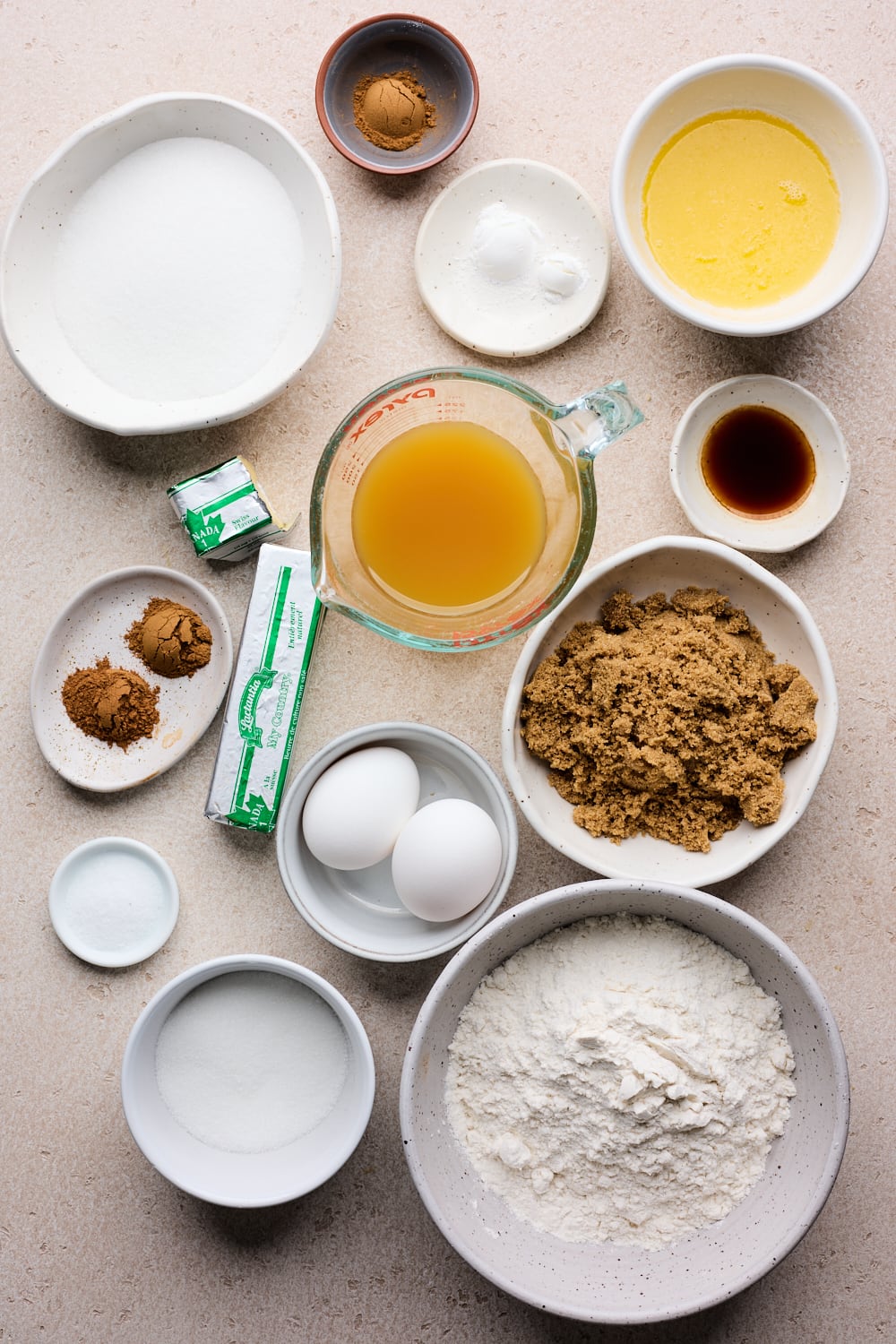 Flavor and texture
If you like spice cakes or apple cakes or anything with spiced, then you'll love this doughnut recipe. These reminded my hubby of a spice cake his mom use to make when he was a kid and he couldn't stop eating them. They have a denser crumb similar to muffins, but oh so tender. That sugar cinnamon coating adds extra flavour but even more crunch.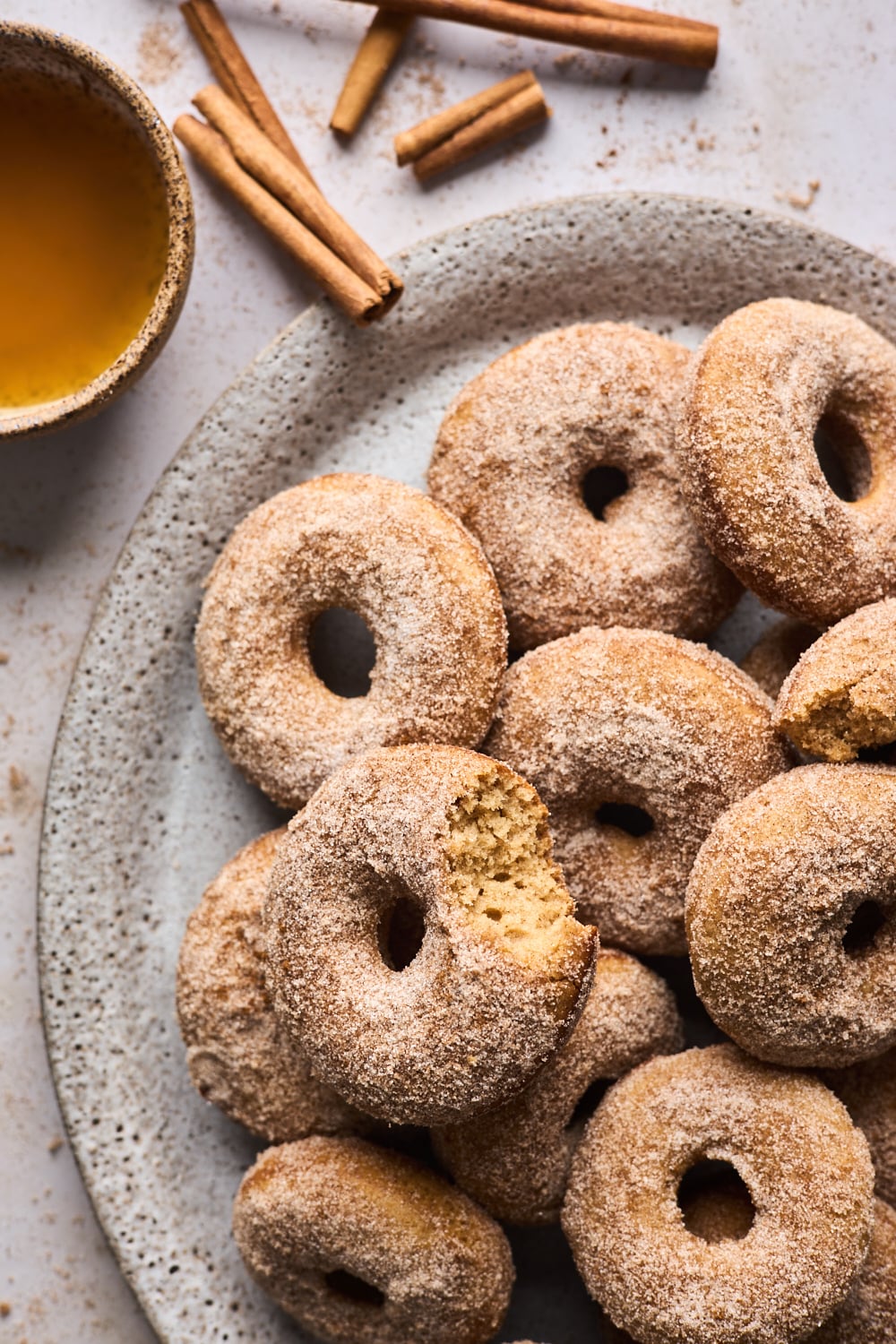 Apple Cider Doughnut Ingredients
Spices: Apple Pie Spice is a pretty standard item sold here in Canada. If you don't have access to store-bought apple pie spice, you can make your own - with a blend of cinnamon, cardamom, and nutmeg. Or use a mix of cinnamon and nutmeg for the perfect amount of fall flavor. Adjust amounts to taste.
Apple Cider: Fresh apple cider is best. Do NOT use apple cider vinegar as it is NOT the same thing as apple cider. If you have a little extra time you can reduce the apple cider for more depth of flavour - details about that in recipe notes.
Flour: All-purpose flour - I usually use my go to Bob's Red Mill Organic Unbleached White All Purpose Flour - it's always stocked  in my pantry. They have all my baking needs covered always. If you wanted a gluten free option my favourite one is Bob's Red Mill Gluten Free 1-1 all purpose flour. It's also a staple in my pantry. It's the perfect simple reliable gluten free alternative.
Cinnamon Sugar Topping: The topping helps create that authentic apple cider donut consistency and flavor. You can skip it to cut back on sugar, but the donuts will not taste the same.
The rest of the ingredients are basic baking ingredients most of them are probably already in your pantry.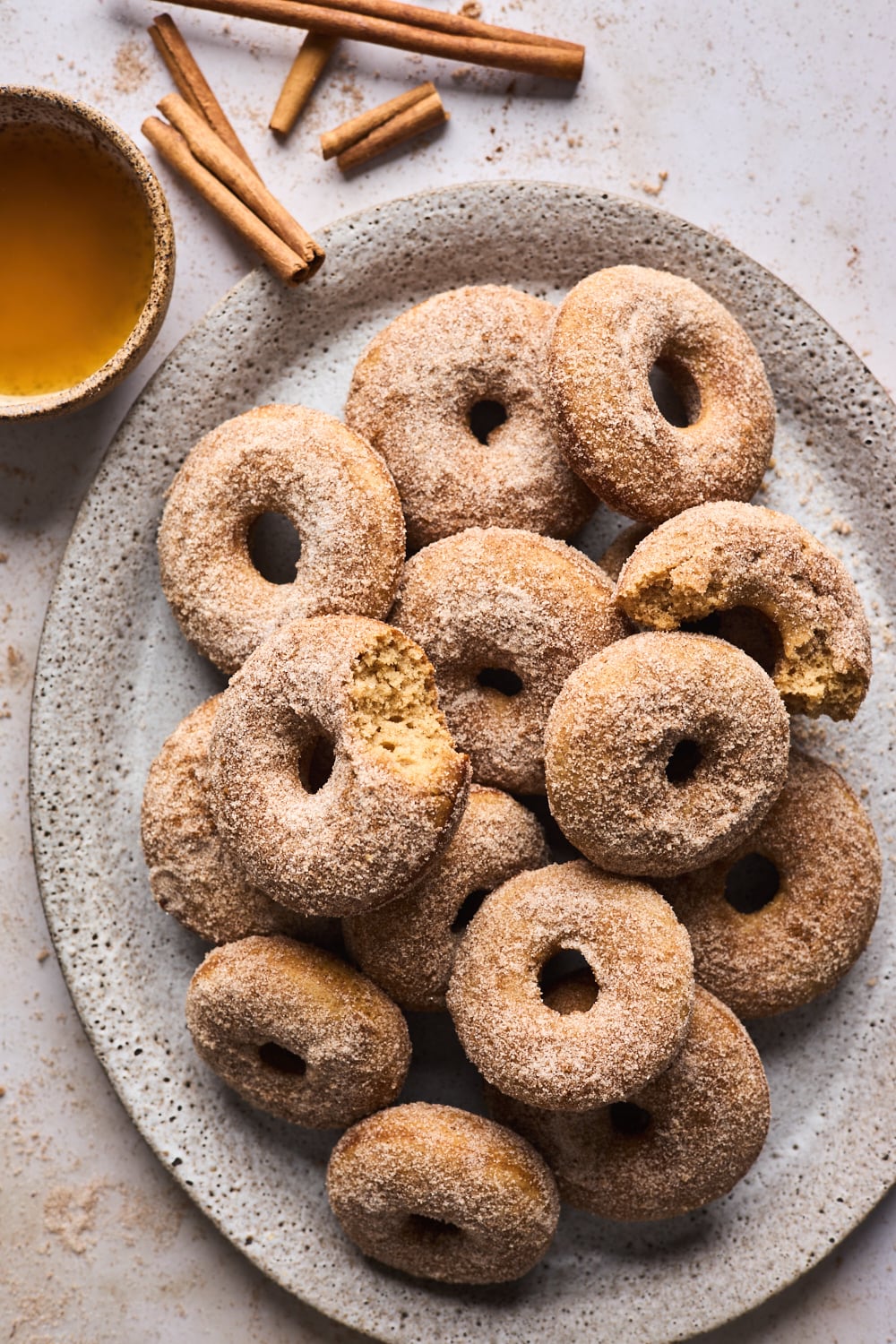 How to make Apple Cider Doughnuts
Prepare pans: grease pans with cooking spray or butter
Whisk the dry ingredients together
Cream butter and sugar then add in the eggs and vanilla.
Add the dry ingredients to wet and mix until well blended. Drizzle in the cider and mix combined.
Spoon out batter or use a pastry bag or a ziploc bag with the end snipped off to fill each doughnut cup/cavity
Bake until golden
Make topping:  Mix together sugar, and cinnamon a shallow bowl. Brush each donut with melted butter and then toss in the cinnamon sugar mixture.
Baking tools:
Donut Pan: You will need a 12 hole doughnut pan. You can also use two 6 cavity doughnut pans. You can also make these in a muffin pan or even a Madeleine pan too. Full details in recipe notes.
Pastry Bag: This is not necessary, but it helps for piping the donuts into the donut pan. You cold also use a ziploc bag with corner end trimmed.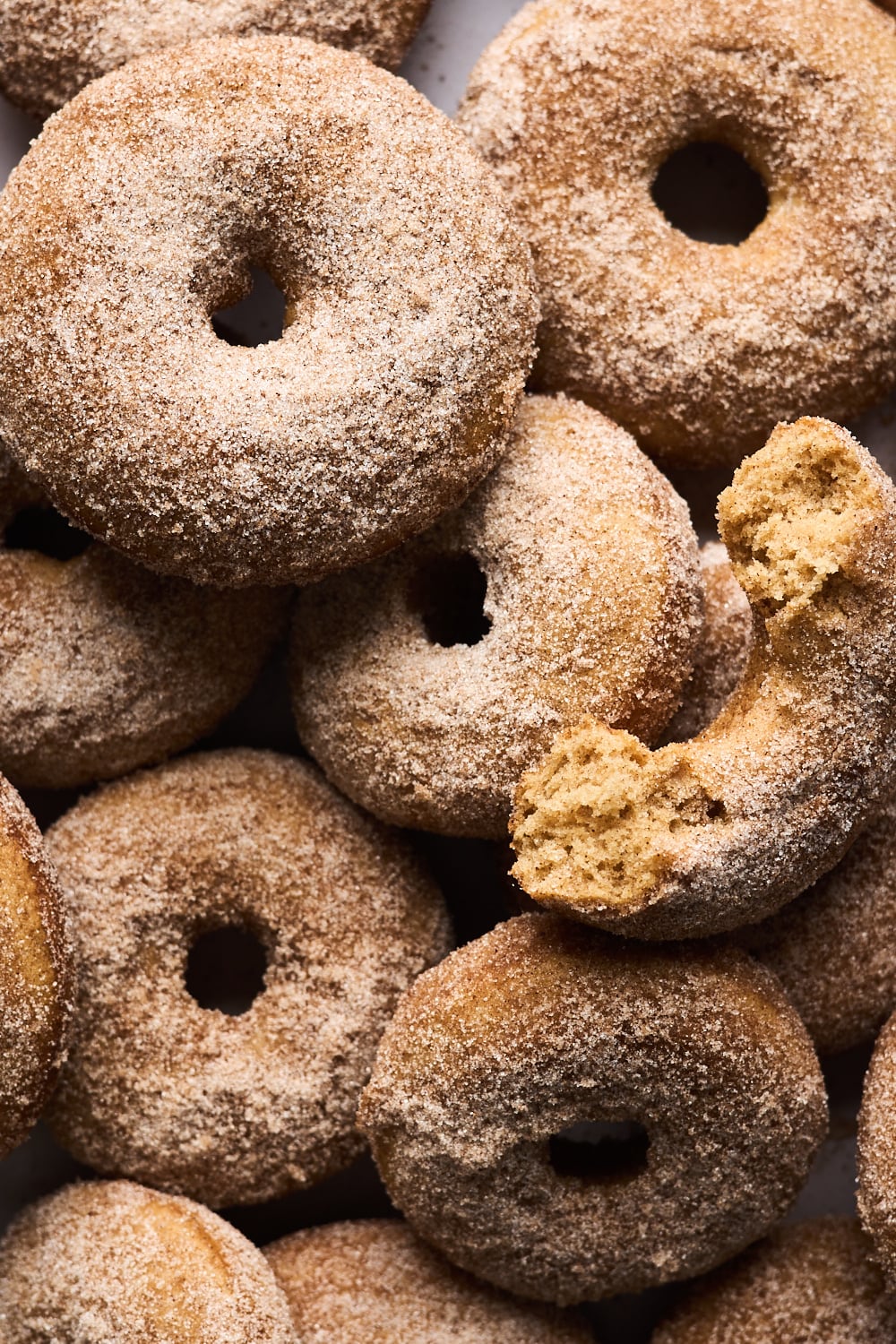 More delicious Apple recipes you will love:
I have partnered up with Bob's Red Mill to bring you this fabulous recipe, but all opinions are my own. Thank you for supporting Olive & Mango.
Recipe
Servings:
12-14 doughnuts (standard size)
Prep Time: 20-3O min (10-15 min more if making apple cider concentrate) mins
Cook Time: 12-15 mins
Ingredients
For the batter
1 ¾ (225 grams) cup Bob's Red Mill Organic Unbleached White All Purpose Flour

1¼ teaspoon of baking powder

¾ teaspoon salt

1 teaspoon ground cinnamon

1 teaspoon apple pie spice blend

10 tablespoons of unsalted butter, room temperature

¾ cup brown sugar

¼ cup granulated sugar

2 large eggs, room temperature

1 teaspoon pure vanilla extract

½ cup/120 ml Apple cider (or 1 cup reduced to half for more depth of flavour *)
For the topping
6 tablespoons butter melted

1 teaspoon cinnamon

½ cup granulated sugar
Directions
Preheat oven to 350°F and lightly grease two 6 cavity doughnut pans.
In a medium bowl whisk together the dry ingredients: flour, baking power, salt and spices
In a separate bowl add the butter and the sugars and using a mixer mix until light and fluffy, approx 3-4 min.
Add the eggs one at a time mixing until incorporated then mix in the vanilla
Gradually mix in dry ingredients to the wet until incorporated. Then drizzle in the apple cider while mixing until combined.
Spoon the batter or pipe the batter into the pans ⅔ the way up.  
Bake 12-15 min until golden and tester comes out clean. Remove from oven and cool in the pan for 5 minutes and then transfer them to a wire rack.
Meanwhile, make the topping: In a medium bowl mix together the sugar, and cinnamon. Once cool enough to handle, for each doughnut, brush both sides with melted butter and then generously dip into the sugar mixture.
Recipe Notes
Storage: Doughnuts are best served immediately. Leftovers keep well covered tightly at room temperature for up to 2 days or in the refrigerator for up to 5 days.
To make the apple cider concentrate: Double the amount of apple cider. Simmer apple cider in a small saucepan over med-low heat until you're left with about ½ cup. If there are any spices or solids on top of your reduced apple cider, leave them. Set aside to cool to room temp before adding to batter.
Make these into muffins: Use a standard 12-cup muffin pan, fill each ¾ full, then bake at 350°F for approx 18-20 minutes or until tester comes out clean. Makes about 10-12 apple cider donut muffins.
Make mini doughnuts: Add batter to mini doughnut pan or mini muffin pan only about ¾ of the way full. Bake at 350°F for about 8-9 minutes. They can also be made in a Madeleine pan - makes approx 24 Madeleines
Make ahead and freeze: Bake as recipe states then allow the doughnuts to cool completely. Place in the freezer in the pan. Once completely frozen remove doughnuts from pan and place in a sealed container or ziploc bag - freeze for up to 2 months. Reheat in microwave or oven then proceed with the butter and cinnamon sugar coating
Adapted by NYT Cooking