Bakery Style Blueberry Streusel Muffins
These bakery-style Blueberry Streusel Muffins are nice and soft complete with plenty of crumble topping. They are bursting with fresh or frozen blueberries, with large muffin tops. They are moist and dense inside with a hint of cinnamon. Topped with a tasty simple streusel. You can use a jumbo muffin pan or a regular 12-count muffin pan. Don't fear the overflow on your muffin tin as these bake - in-fact embrace it! That is the secret to big tops. These are absolutely perfect for breakfast because they are not overly sweet but they make a great snack and packable treat too, perfect with a coffee or tea.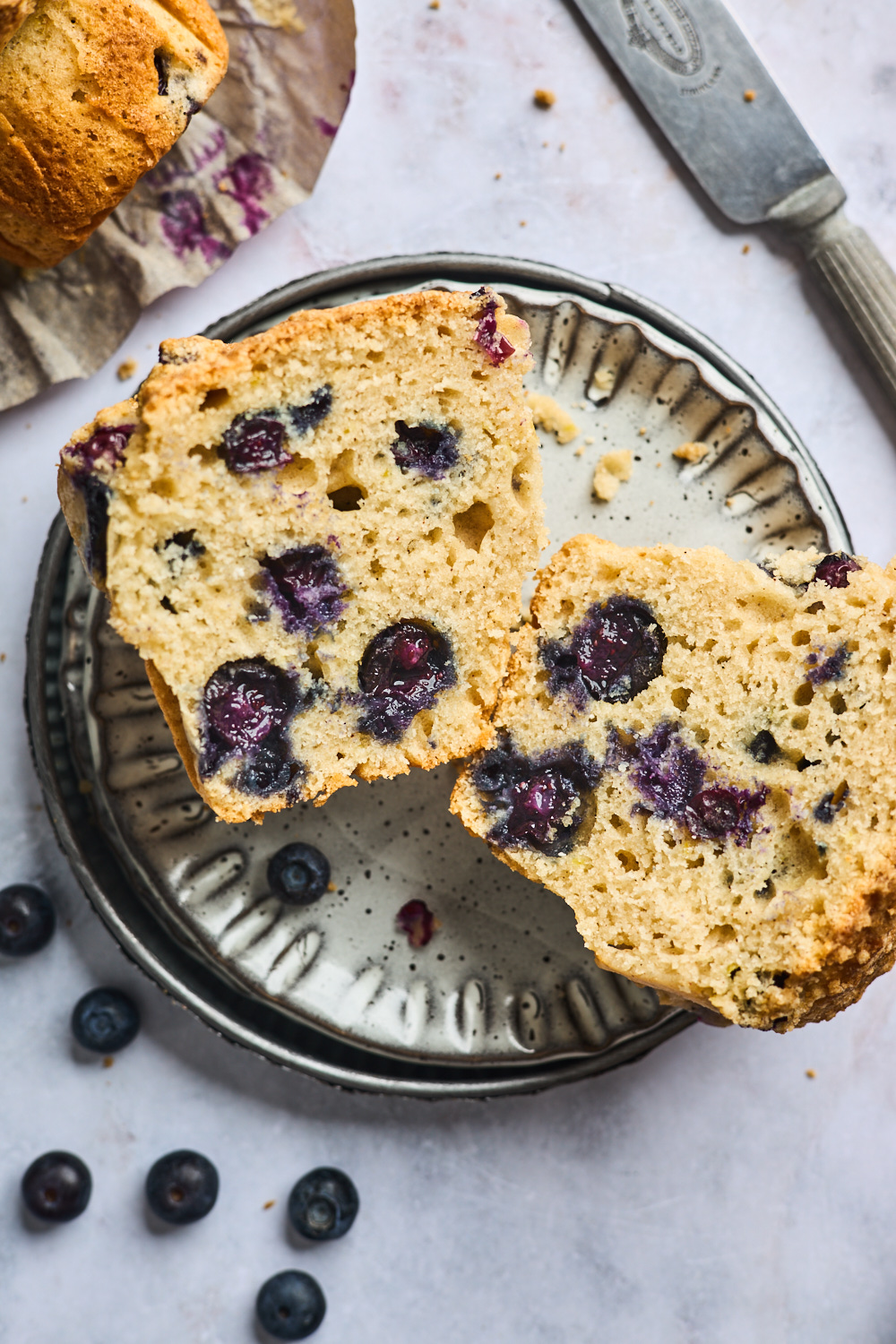 Blueberry baked goods are definitely my favourite from blueberry loafs to lavender infused muffins to pies. I'm always looking for tasty things to bake with them. I have some really delicious Bakery Style Banana Nut and Chocolate Chunk Muffins on the blog and I thought It was time to get some blueberry ones on here too! These are not too sweet at all just the way I like a good breakfast muffin to be. Ofcourse if you like yours on the sweeter side you can always increase the amount of sugar in the recipe. The streusel is optional but I love it and it adds just the right amount of sweetness to these. I would say if you aren't adding the streusel increase the amount of sugar by 1¼ cup in the batter.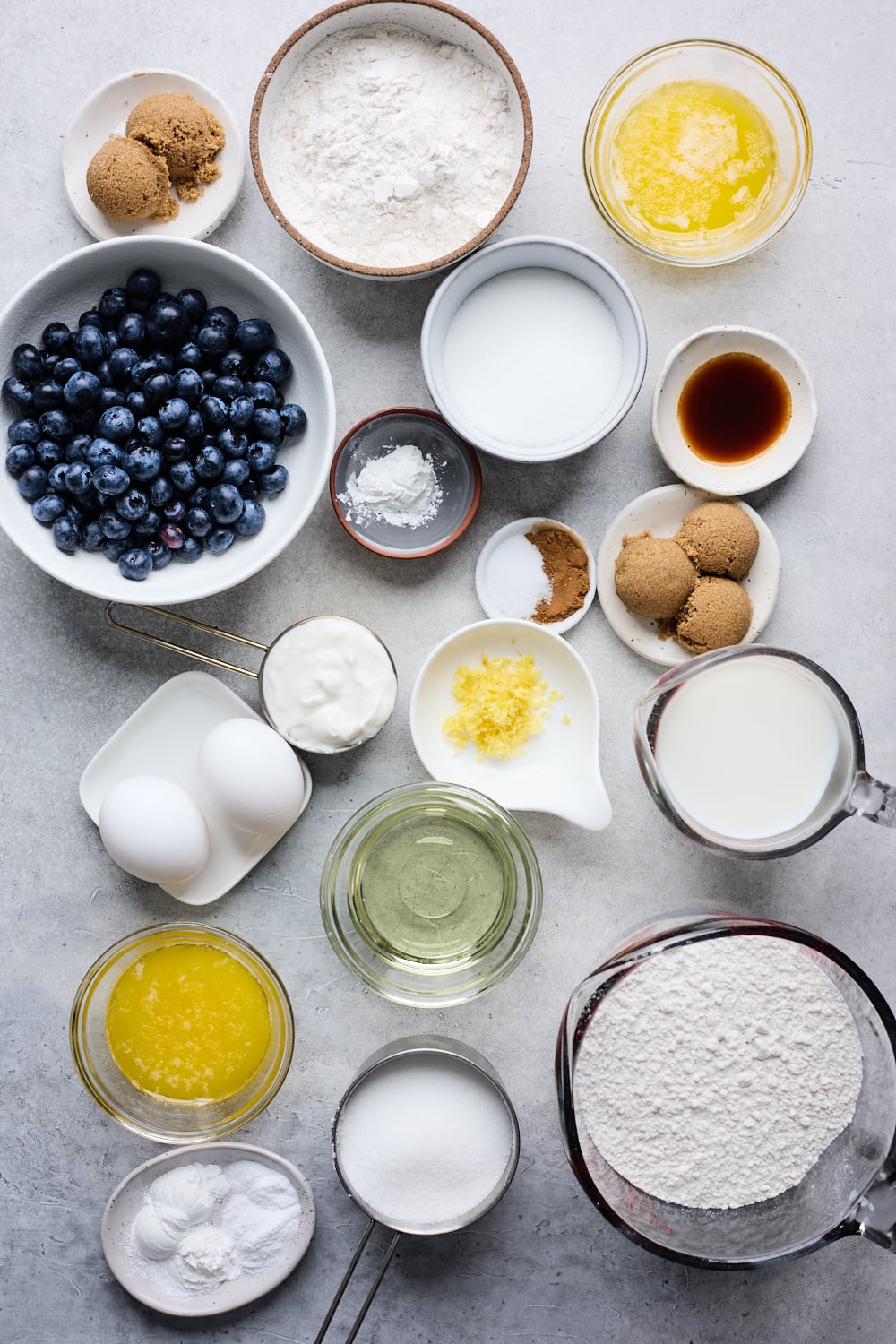 Bakery-Style Blueberry Muffin Ingredients:
Blueberries – Fresh or frozen. If you use frozen blueberries, don't thaw them beforehand. They will be way easier to work with straight out of the freezer. If you thaw them beforehand you'll end up with purplish-pink muffins.
Flour: This blueberry muffin recipe uses all-purpose flour. The batter is thick and sturdy to keep the blueberries elevated so they won't all sink down. You can use any "cup for cup" gluten-free flour mix or make these gluten free.
Baking Powder & Baking Soda: They create a good rise. In addition to leavening, the baking soda helps brown the exterior.
Vanilla, Lemon Zest & Cinnamon: All add flavour to these muffins.  If you don't like cinnamon feel free to skip - same goes for the lemon zest. Or you can do one or other.
Eggs: I used large eggs.
Greek Yoghurt : Helps keep these muffins extra moist. Feel free to use sour cream instead.
Granulated sugar and Brown Sugar: I like to blend the two but you could use either or.
Oil & Butter: The combination of both helps keep these muffins moist and adds to the overall texture and flavour. I use unsalted butter and for the oil you can use Vegetable oil, canola oil, or melted coconut oil.
Milk: Any milk will work even non dairy. I usually use whole milk, 2% or buttermilk.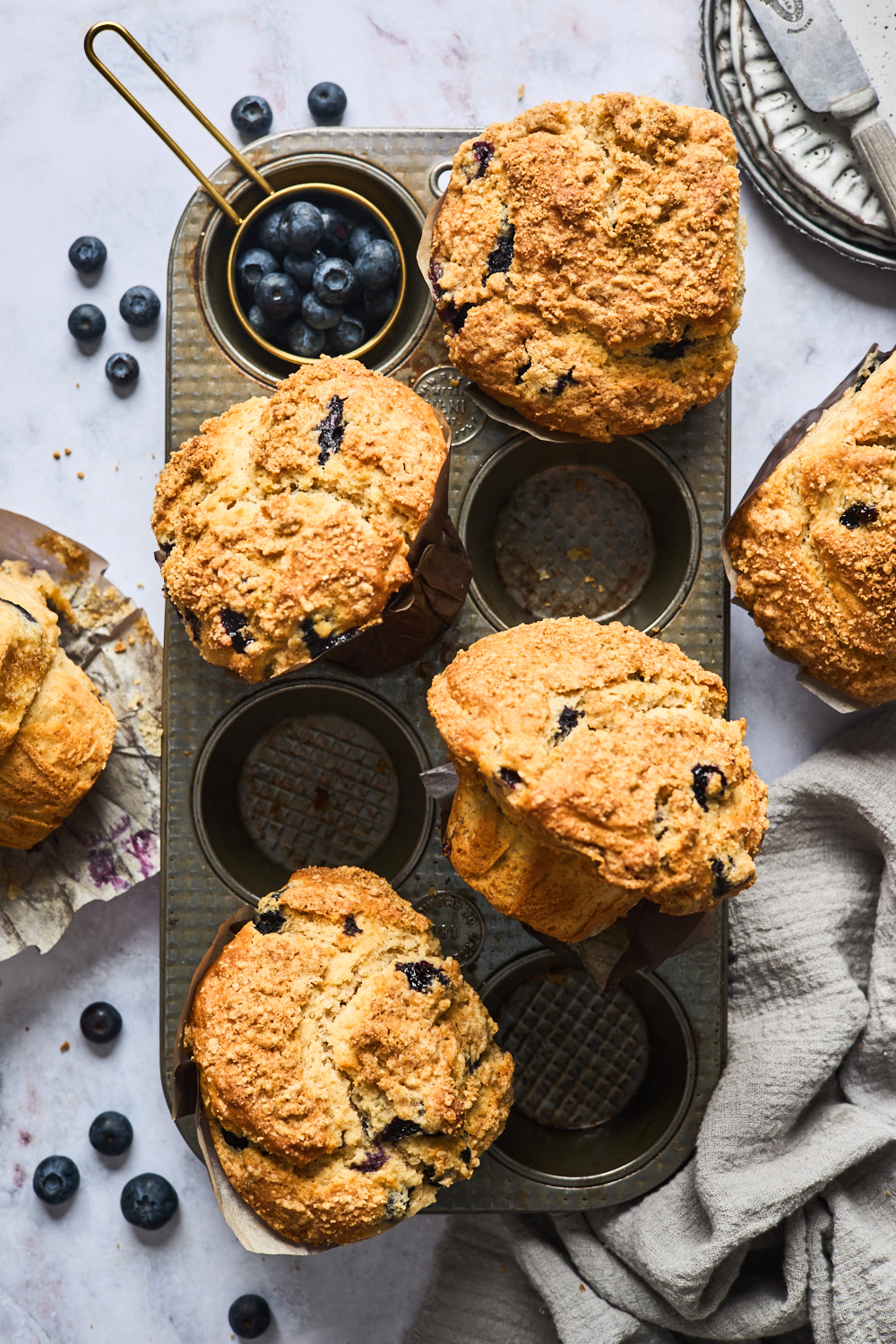 Steps to making these Bakery-Style Blueberry Muffins:
There are pretty straight forward to make. No big secret ingredients, tricks, or complicated steps. You only need a few bowls, whisk and spatula and you are good to go.
Mix together the streusel topping ingredients and chill while you make the batter.
Toss blueberries in a little flour.
Whisk the dry ingredients: flour, leaveners, and salt, lemon zest and cinnamon
Whisk the wet ingredients: butter, oil, sugars, eggs, yogurt, milk and vanilla.
Pour the wet ingredients into the dry and mix until just combine. Fold in the blueberries.
Spoon into muffin pan - I like to use a cookie scoop
Sprinkle over the streusel topping
Bake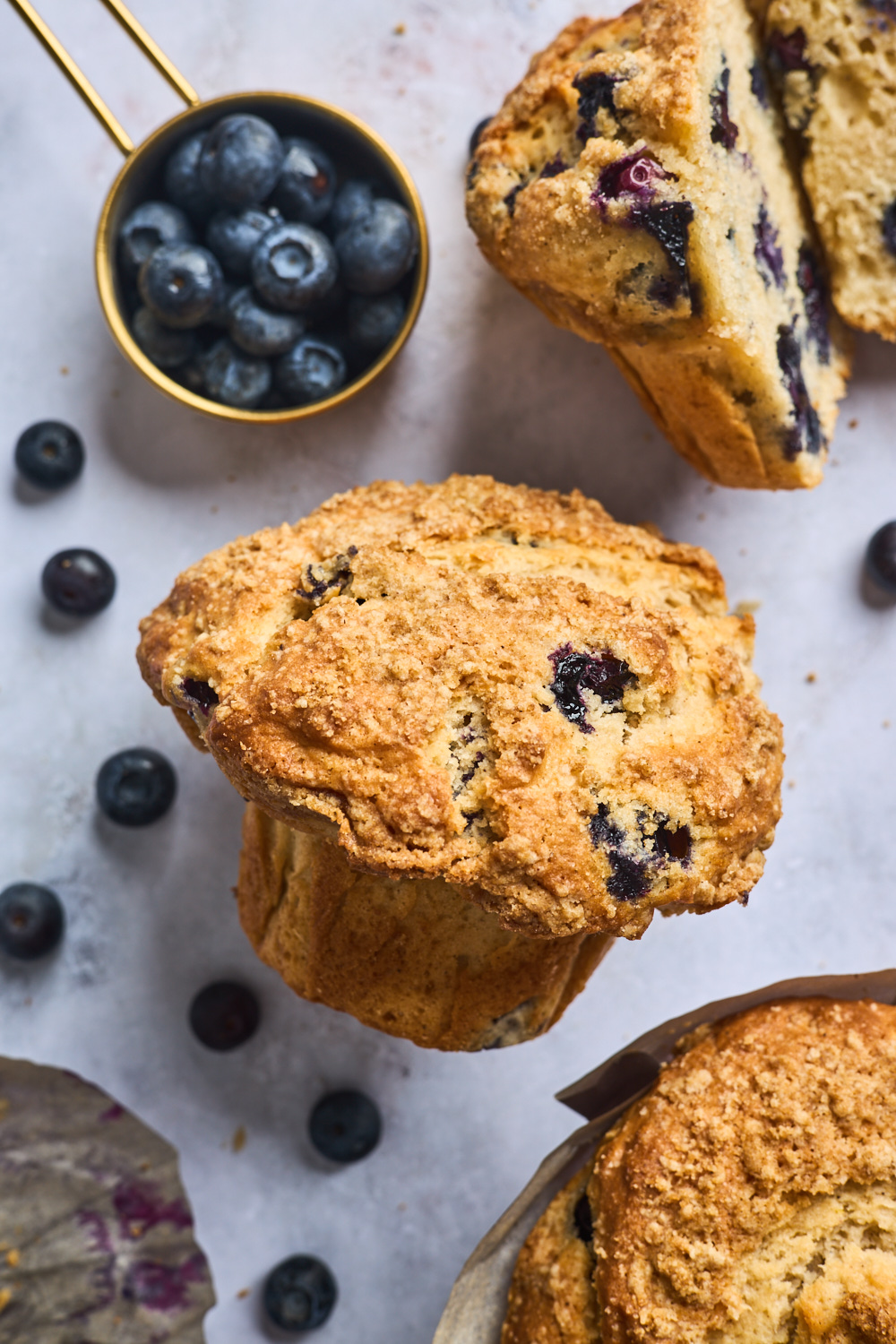 Frequently Asked Questions for the Blueberry Muffins:
Can I make this without streusel? Absolutely! Follow the recipe as written minus the streusel. You may like to add 1¼ cup more sugar into the batter to add a little extra sweetness but that is optional. If you have a few extra blueberries lying around, you can dot them over the tops of your muffins before baking.

What other pan can I use to bake these in? You can make them in mini soufflé pans or even ceramic ramekins. Use parchment paper inside both. The bake time will change based on the size of the container you're baking them in.

How do I know when the cups are full enough? This is up to personal preference. I like to have big muffin tops on mine, so I filled my cups pretty much to the top - but I'm not afraid of some overflow or if they connect a bit at the edges (this doesn't happen if you use a jumbo muffin tin by the way) You can fill the cups less if you don't want such big tops. Keep in mind you will end up with a few extra muffins if you end up doing that and also keep an eye on the baking time as they may bake up a little faster too.

How do I tell when my muffins are done baking? I like to always keep my eye on baked goods 5 minutes prior to when the recipe says they are done. I take my muffins out once the edges turn golden brown. To be extra sure they're baked through, insert a toothpick into the center of one of the muffins. If it comes out with some batter stuck to it, they'll need more time. If the toothpick comes out clean or mostly clean with a few crumbs, they're all done! Don't over bake.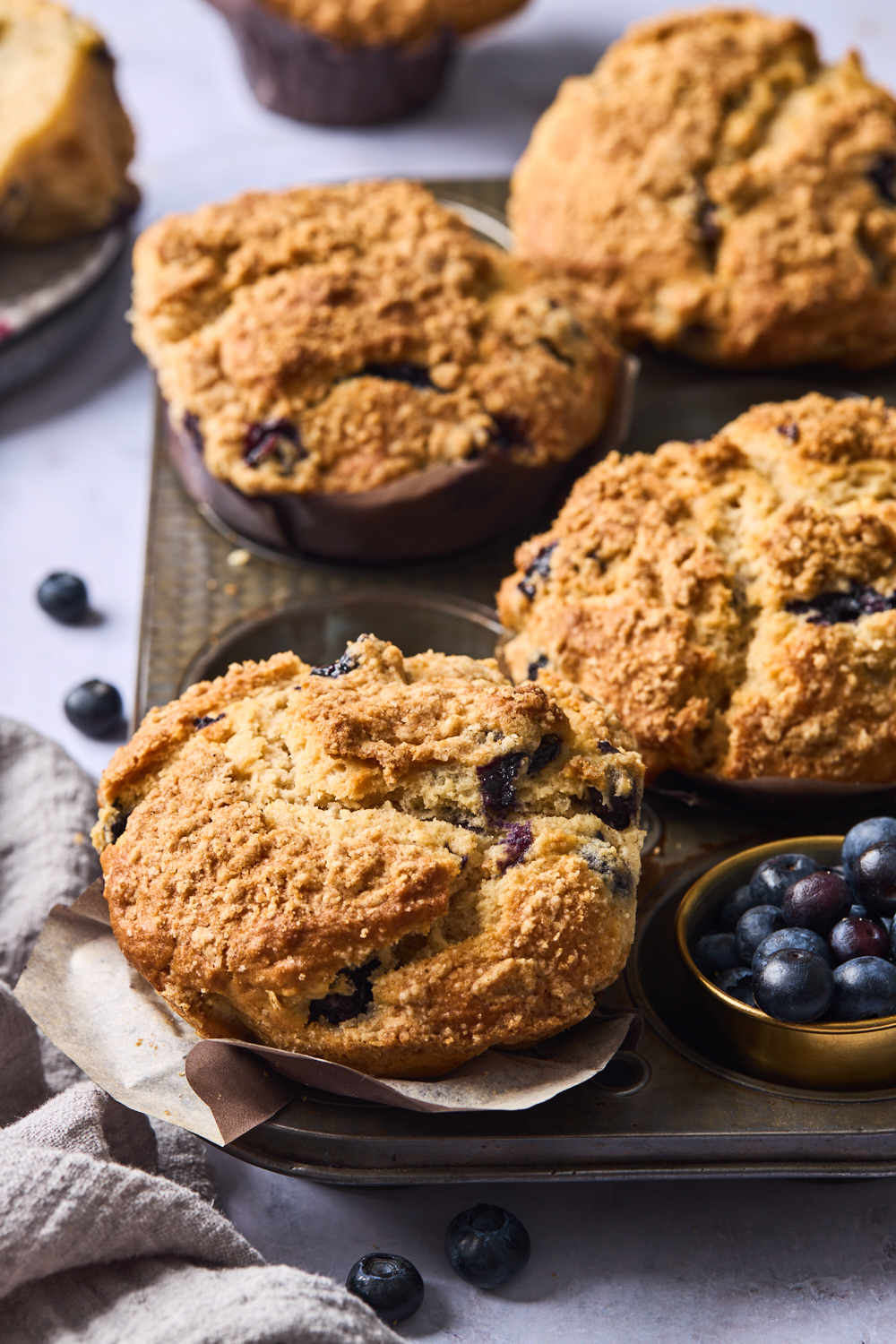 Tips for making perfect blueberry muffins
All refrigerated items should be at room temperature so the batter mixes together easily and evenly.
Don't thaw berries if frozen and don't skip tossing your blueberries with flour! This little coating will keep the blueberries from grouping together and it will also prevent them from sinking to the bottom of your muffins.
Mix the batter just until you no longer see any flour. Over-mixing can result in a dense muffin. The batter will be thick -Thick batter helps ensure the muffins lift UP rather than spread OUT. It also creates a denser muffin instead of a light and cake-y cupcake style muffin.
Don't be afraid to fill the cups almost to the top! They may look like they are overflowing as they bake, but that is how you get a nice and big muffin top.
Bake at an initially high oven temperature: Bake the muffins for 5 minutes in a very hot oven. Then, keeping the muffins in the oven, lower the oven temperature. This initial high oven temperature quickly lifts up the muffin top. Once the temperature is lowered, the centers of the muffins bake.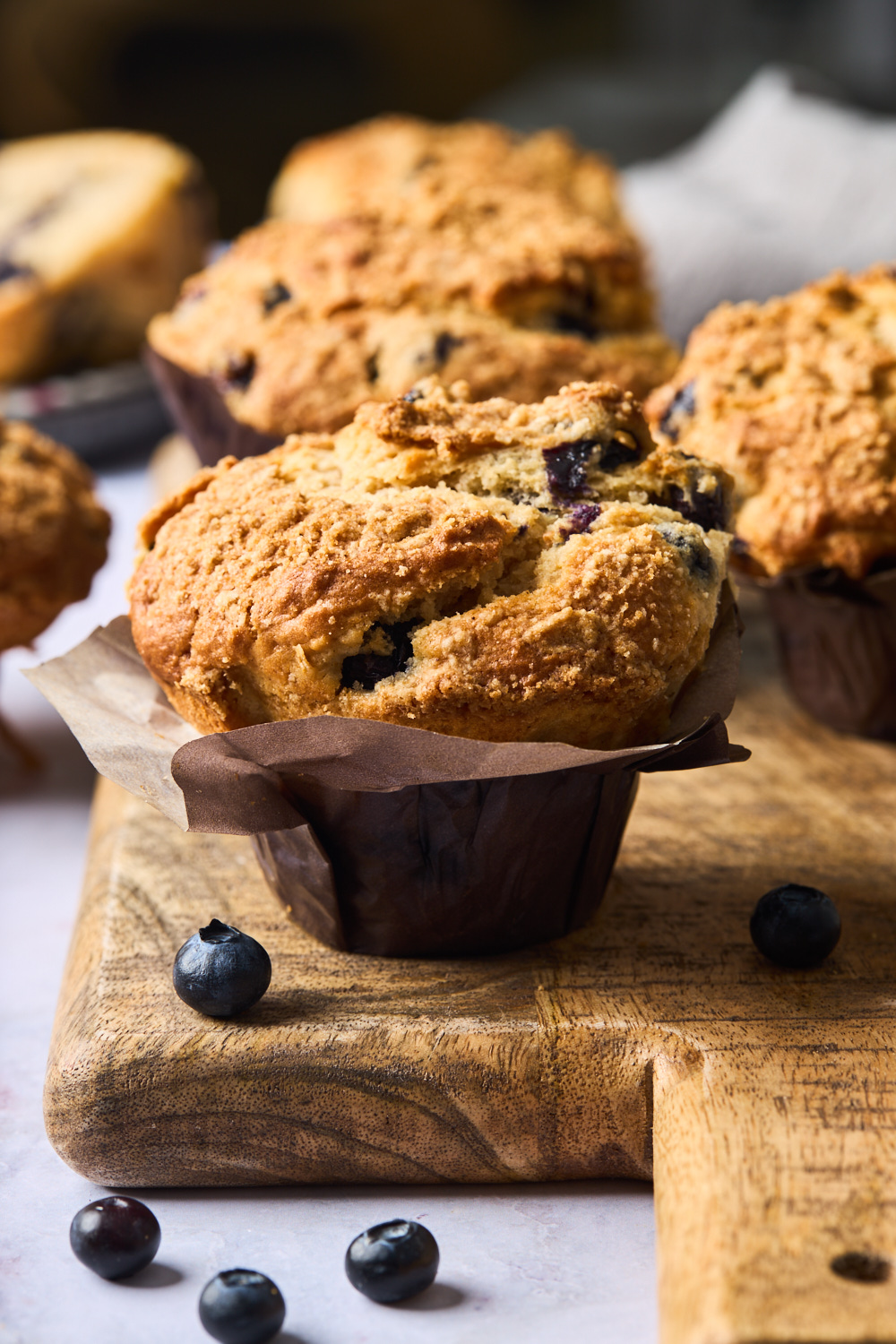 More delicious blueberry recipes to try:
Recipe
Servings:
6 jumbo muffins or 14-15 standard muffins
Prep Time: 15 mins
Bake Time: 30 mins
Ingredients
For the Streusel Topping
½ cup all purpose flour

½ cup brown sugar

1¼ teaspoon ground cinnamon

⅛ teaspoon  ground nutmeg

4 tablespoons cold unsalted butter, cut up into small

pieces
For the Muffins
3 cups all-purpose flour + 1 teaspoon (for tossing berries with)

3 teaspoons baking powder

1¼ teaspoon baking soda

½ teaspoon ground cinnamon

½-1 teaspoon of lemon zest

½ teaspoon salt

⅓ cup unsalted butter (approx 5 Tablespoons), melted and slightly cooled

⅓ cup vegetable oil

¾ cup granulated sugar

3 tablespoons light brown sugar

2 large eggs, at room temperature

⅓ cup Greek yoghurt, room temperature

1 cup milk, at room temperature

2 teaspoon pure vanilla extract

1 ½-2 cups fresh or frozen blueberries (do not thaw if frozen)
Directions
Preheat oven to 425°F. Grease or line your muffin tin with muffin liners.
Make Streusel Topping: Combine the flour, brown sugar, and butter pieces in a small bowl. Mix in the butter with your fingers or a pastry cutter until you have a crumb mixture. Place the streusel in the refrigerator until ready to use.
Toss blueberries with 1 teaspoon of flour
In a large bowl whisk together the remaining flour, baking powder, baking soda, salt, cinnamon and lemon zest if using.
In a separate medium size bowl whisk together the melted butter, oil, sugar, and eggs together until combined. Then whisk in the yoghurt, milk, and vanilla.
Pour wet ingredients into dry ingredients and fold together until just combined.  Do not over mix. The batter will be thick.
Gently fold the blueberries into the batter
Spoon batter evenly between muffin tin- I like to use a cookie scoop
Sprinkle over streusel topping evenly over the batter.
Bake at 425°F for 5 minutes, then, without removing muffins from oven REDUCE the temperature to 350°F and continue baking for another 25-30 minutes or until the tops are golden and centers are set.
Allow to cool for 10 minutes in pan before serving.
Recipe Notes
This recipe makes 6 large muffins (shown), 14-15 standard size muffins, or about 40 mini muffins.
Standard Size Muffins: For standard size muffins baked in a 12-count muffin pan, reduce baking time to about 18-20 total minutes: 5 initial minutes at 425°F and 15 minutes at 350°F. Yields 14-16 standard size muffins.
How to store muffins
Make sure your muffins have fully cooled down to room temperature before storing. They can be stored on a cake plate with a dome, a large airtight container, or individually wrapped with either plastic wrap for up to 2-3 days at room temperature or about 1 week in the fridge
To freeze them I recommend wrapping them individually in plastic wrap then keeping them in an airtight container. They last approx 3 months in the freezer. Let them thaw at room temperature, in the fridge or microwave at 10-second intervals until soft.
Adapted from Sally's Baking Addiction and Zoe Bakes