Berry Oat Scone Loaf
Enjoy this delicious buttery Berry loaded  Oat Scone Loaf Bread, made with any berry combination you like and a good amount of oats. A great breakfast bread served with tea or coffee or a great dessert.
What is a scone loaf?
If you're a scone-lover like I am, you'll find this recipe quite tasty. A scone loaf is simply scone dough baked into a loaf pan and into a loaf.  You end up with buttery crispy edges all over and tender middle. It's actually totally fun to make. You have two options. You can either dump the dough straight into the pan after it's mixed or you can pat it out and slice it as if you were making scones and then stack each piece in the loaf pan creating almost a PULL APART bread effect. The dough comes together nicely and is easy to pat flat so I totally recommend the latter method. This scone loaf like any tasty scone is finished off with a sweet lemony glaze. It too is optional but it makes this delicious scone loaf even more extra than it already is.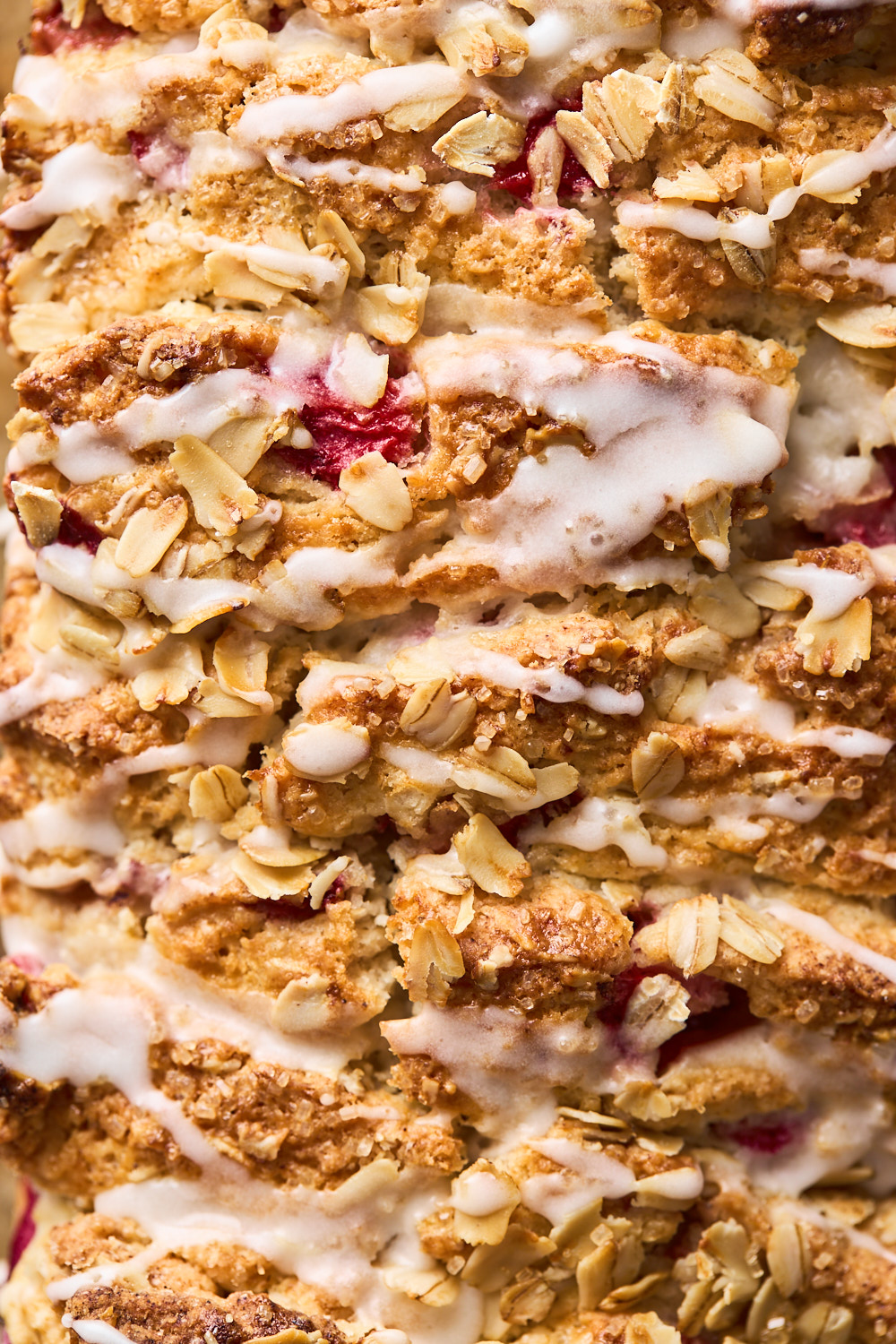 Scone loaf ingredients:
The ingredients in this scone loaf are pretty standard scone ingredients.
Flour: 2 cups of all-purpose flour is my standard amount, with a little extra for  dusting work surface.
Oats: They give this loaf a wonderful texture.
Sugar: I usually use between ¼-½ cup of sugar for this scone dough. Feel free to slightly increase ¼ cup to ½ cup if you like a sweeter loaf. I would not go the other way and reduce it though, otherwise the scone flavor and texture will slightly change. Brown sugar works too just make sure it is lump free before it goes into the mix.
Baking Powder: Adds lift to this loaf.
Salt: Adds flavor.
Butter: Besides flour, butter is the main ingredient in scones. It's what gives this loaf its flakiness, flavor, crisp edges, and rise. Use a good one and I almost always use unsalted.
Heavy Cream or Buttermilk: For the best tasting pastries, stick with a thick liquid such as heavy cream or buttermilk. I usually use heavy cream, but for a slightly tangy flavor, use buttermilk. Thinner liquids change the flavor, texture and appearance. Make sure your cream is cold.
Berries: I used strawberries and rhubarb for this one but this would be great with blueberries or any berry combo. Frozen or fresh. Notes about using frozen below. Other fruit works too just make sure it is chopped into small bite size pieces.
Optional: Vanilla extract adds necessary flavor to sweet scones. Cinnamon adds a touch of warmth to this loaf and the lemon zest is perfect with the berries.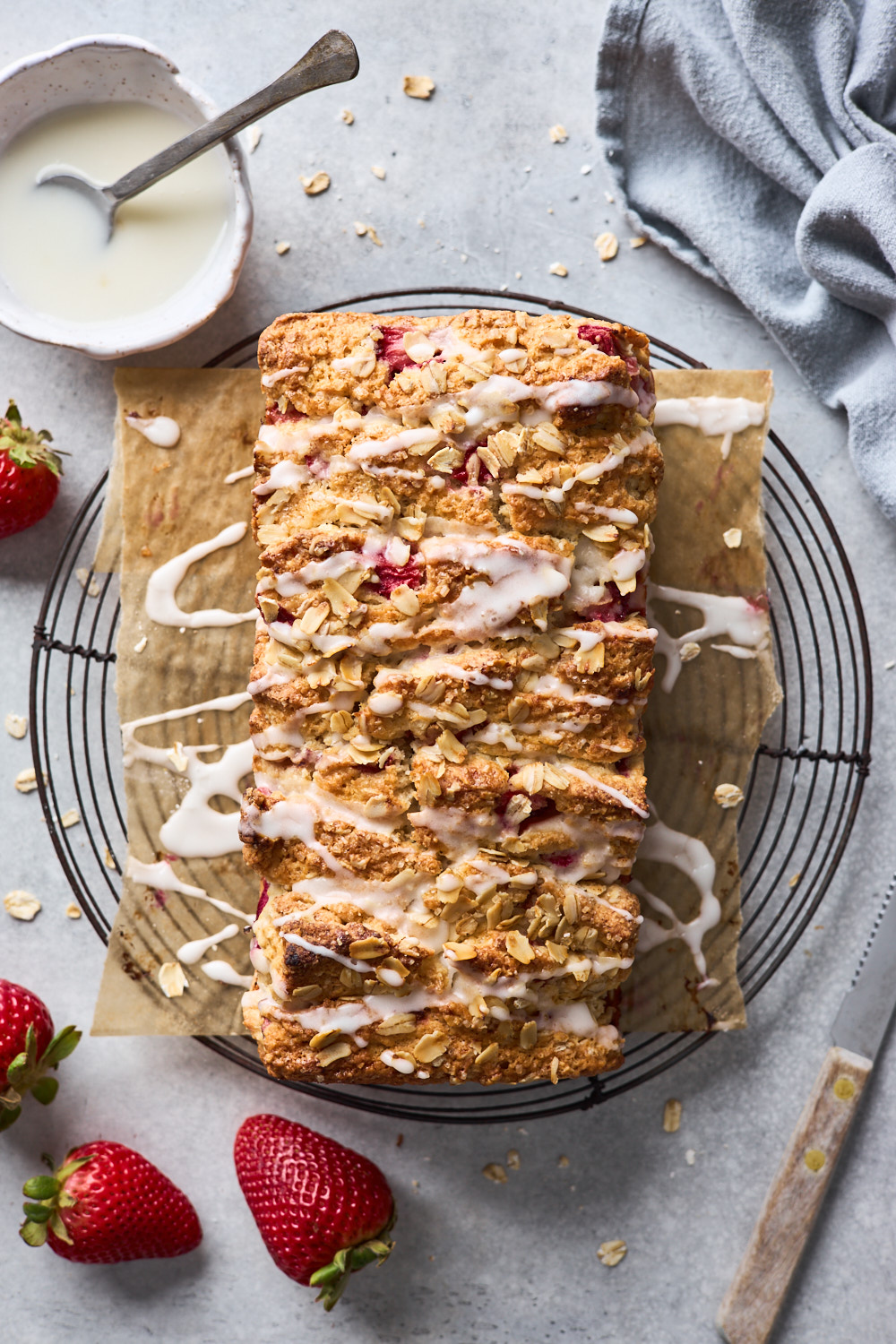 How to Make a Scone Loaf:
This scone loaf is quite easy to make here are the basic steps.
Toss berries in 1 teaspoon or so of flour - this will help berries from all sinking to the bottom of the loaf pan.  
Mix the dry ingredients together.
Cut in the cubed chilled butter. You can use a pastry cutter, 2 forks, or your hands. I use a food processor, but that is optional. Just make sure to not overwork the dough whatever method you choose.
Toss berries into the flour mixture.
Mix in the cream and vanilla into mixture just until crumbly dough starts to come together.
Empty dough out onto a lightly floured surface (at this point you can either empty it straight into loaf pan or on a surface to pat and slice)
Form into a rectangle and cut into 8 rectangular slices (see video for further details)
Stack slices into the loaf pan
Brush with heavy cream. Sprinkle with coarse sugar for extra crunch and some oats. (At this point you can even wrap and and refrigerate overnight for a quick breakfast in the morning)
Bake until golden brown. Standard scones  bake for only 20-25 minutes but this loaf takes a little longer as its a loaf - approx 35-40 minutes. Do not over bake.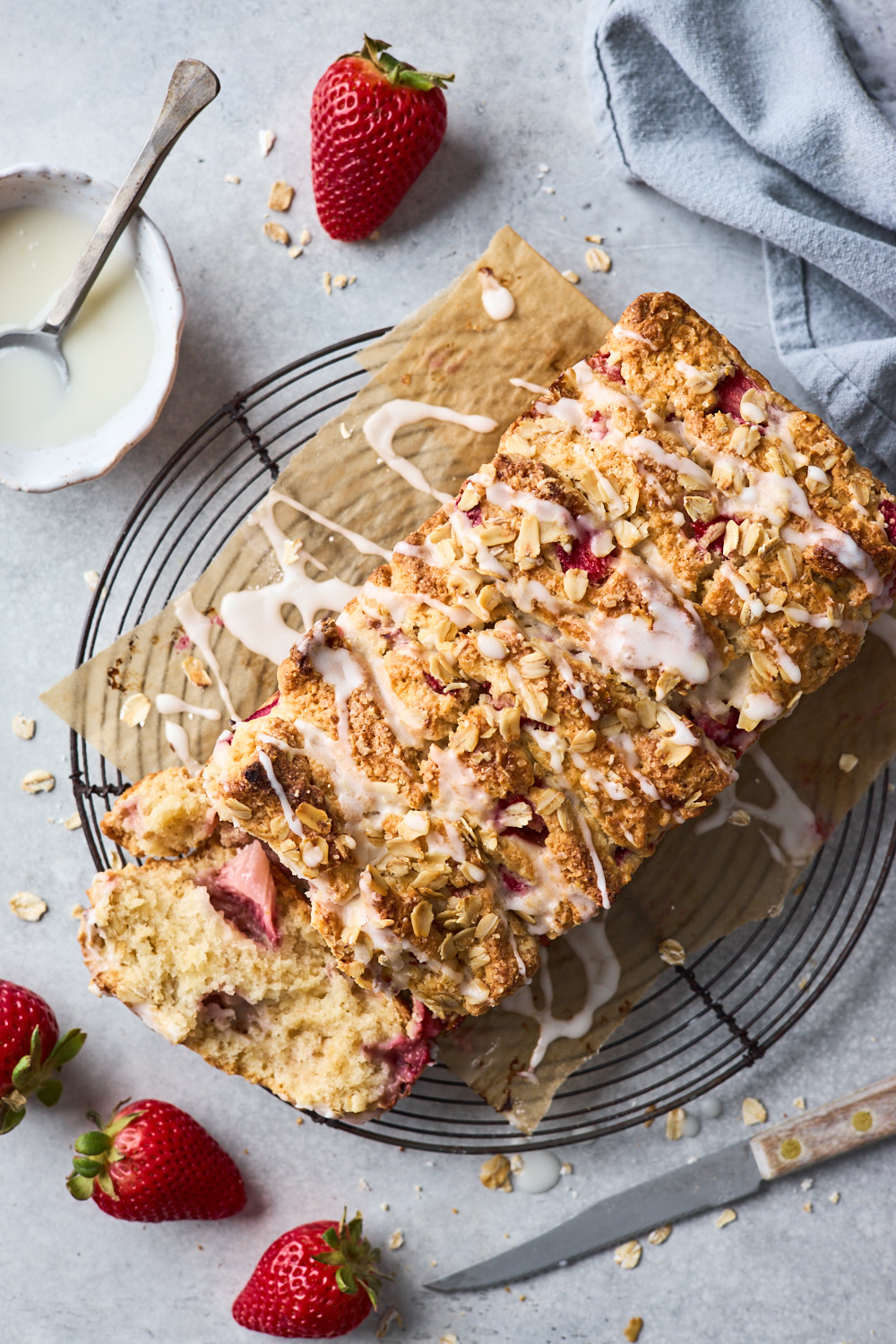 The best part about a scone loaf is it doesn't dry out quick like scones do! It's got all the best parts of a scone - same delicious texture and flavour but it stays tender enough that you can enjoy the next day, or a couple days IF it lasts that long. If you like this recipe you will love these:
Recipe
Servings:
One standard loaf, 9x5 loaf pan
Prep Time: 15 mins
Cook Time: 35-40 mins
Ingredients
For Loaf
2 cups flour + 1 teaspoon divided

⅔ cup rolled oats plus more for sprinkling

¼ cup sugar,

1 tablespoon baking powder

½ teaspoon salt

½ teaspoon cinnamon

1 teaspoon Lemon or orange zest

6 tablespoons butter, cold and diced

1 cup heavy cream, +2 tablespoons divided

1 teaspoon Vanilla

1 cup strawberries and rhubarb (or any berry combo you like)

Turbinado or coarse sugar for sprinkling
For Glaze
½ cup powdered sugar

1½ teaspoons temom juice

1 teaspoon cream + plus more if needed
Directions
For the Loaf
Preheat oven to 400°F. Line a 9-inch loaf pan with parchment paper. Set aside.
In a small bowl toss the strawberry and rhubarb with the 1 teaspoon of flour. Set side
In a bowl of a food processor add the flour, oats, sugar, baking powder, salt, cinnamon and zest. Pulse to combine. Add cubed cold butter and pulse until butter is reduced to pea size and it looks like coarse crumbs. Transfer to large bowl.
Add the fruit to flour mixture and toss gently to combine.
Whisk together the heavy cream and vanilla. Add to the flour mixture and gently stir just until the dough comes together.
Transfer the mixture to lightly floured surface and gently pat into a 6x14-inch rectangle. Cut the rectangle into 8 equal pieces. Build layers sideways into the prepared loaf pan until fully assembled.(alternative simpler method in recipe notes). See video for help on this.
Using a pastry brush, brush the top of the loaf with remaining cream and sprinkle with some more oats and turbinado or coarse sugar.
Bake the scone loaf for 35-40 minutes or until loaf is golden and a toothpick inserted at the center comes out clean. Cool in the pan for 20 minutes before transferring to a wire rack to finish cooling.
For the icing
In a small bowl, combine the powdered sugar, lemon juice and cream. Add more cream or sugar as needed. Drizzle the icing over the scone loaf. Slice and enjoy.
Store leftovers in an airtight container. The scone loaf will keep for up to five days.
Recipe Notes
Can I make this without a food processor? Absolutely! Alternatively, whisk together the dry ingredients in a bowl and use a pastry cutter to "cut" the butter into the flour until the mixture resembles coarse crumbs.
Do I have to pay the dough and cut it? No you can simply transfer the dough straight into prepared pan after you incorporate the cream.
What if I don't have strawberries or rhubarb? No problem at all. You can use any fruit you would like. I prefer berries with this one so feel free to use any berry or berry combo you like.
Can I use frozen fruit. Absolutely. No need to thaw it out. Make sure to toss it with the flour as noted in instruction before adding it to dough.
Can I make scone dough a day ahead? Yes! If you'd like to get ahead, you can make and shape the dough into scones ahead of time, stack into loaf pan, brush with cream and sprinkle with oats and sugar, cover and leave them in the fridge overnight. Remove covering when ready to bake and bake straight out of the fridge.