Easy Almond Flour Muffins
These gluten-free almond flour muffins are perfectly moist, and have a nice light texture. They are easily customizable and made in just one bowl, they are a healthy baked treat! Doesn't get easier than that. Light, nutty and moist – these gluten-free strawberry rhubarb muffins taste amazing. Just the muffin to whip up for breakfast or brunch.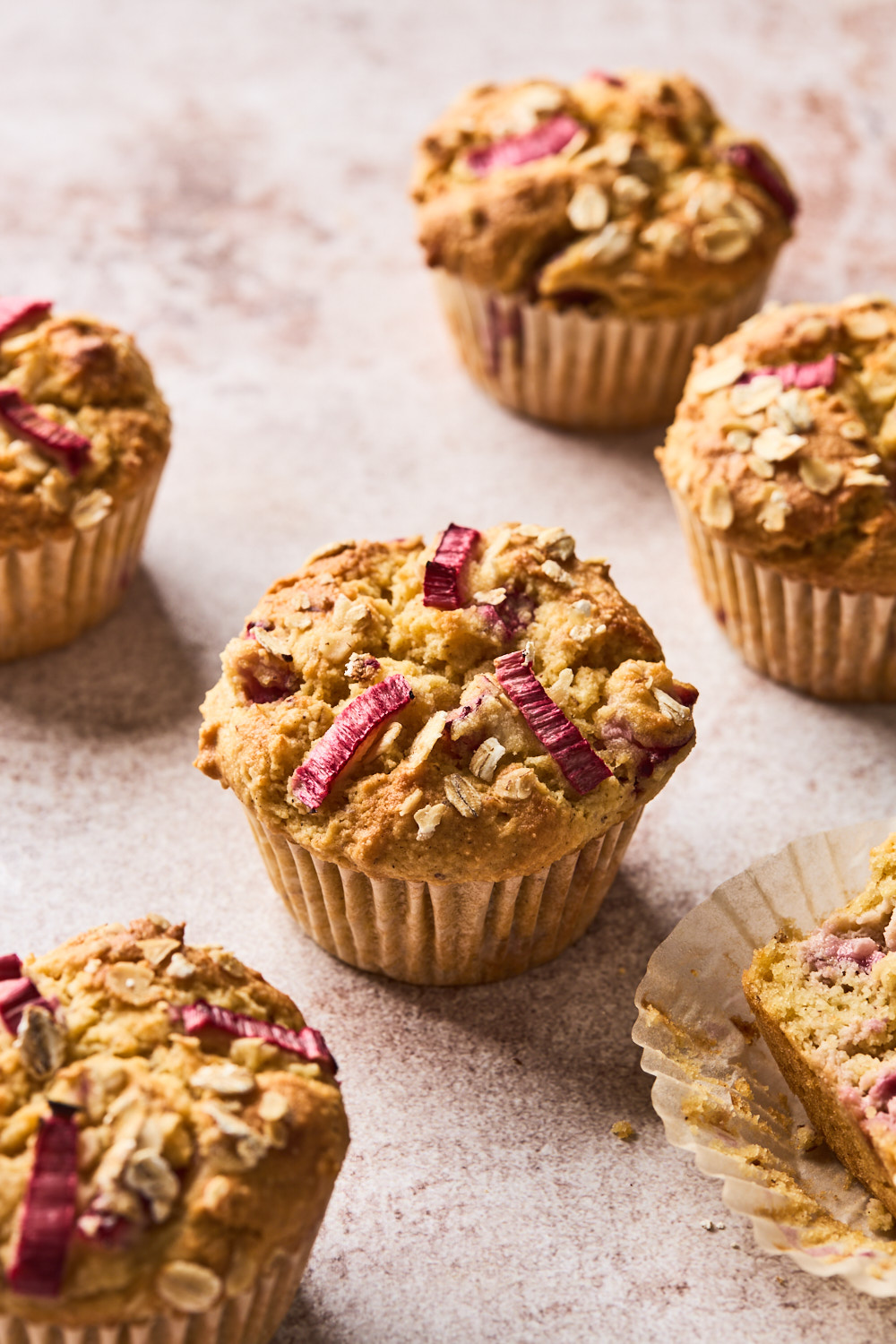 I am a really big fan of muffins - never met one I didn't like. Im very excited to share the recipe to these almond flour muffins because they're some of the best gluten-free ones I've ever made. The original recipe comes from Best Recipes. I played around with the recipe a bit to get the taste and texture I like. These are wonderful with just about any fruit in them and they turn out consistency good every time.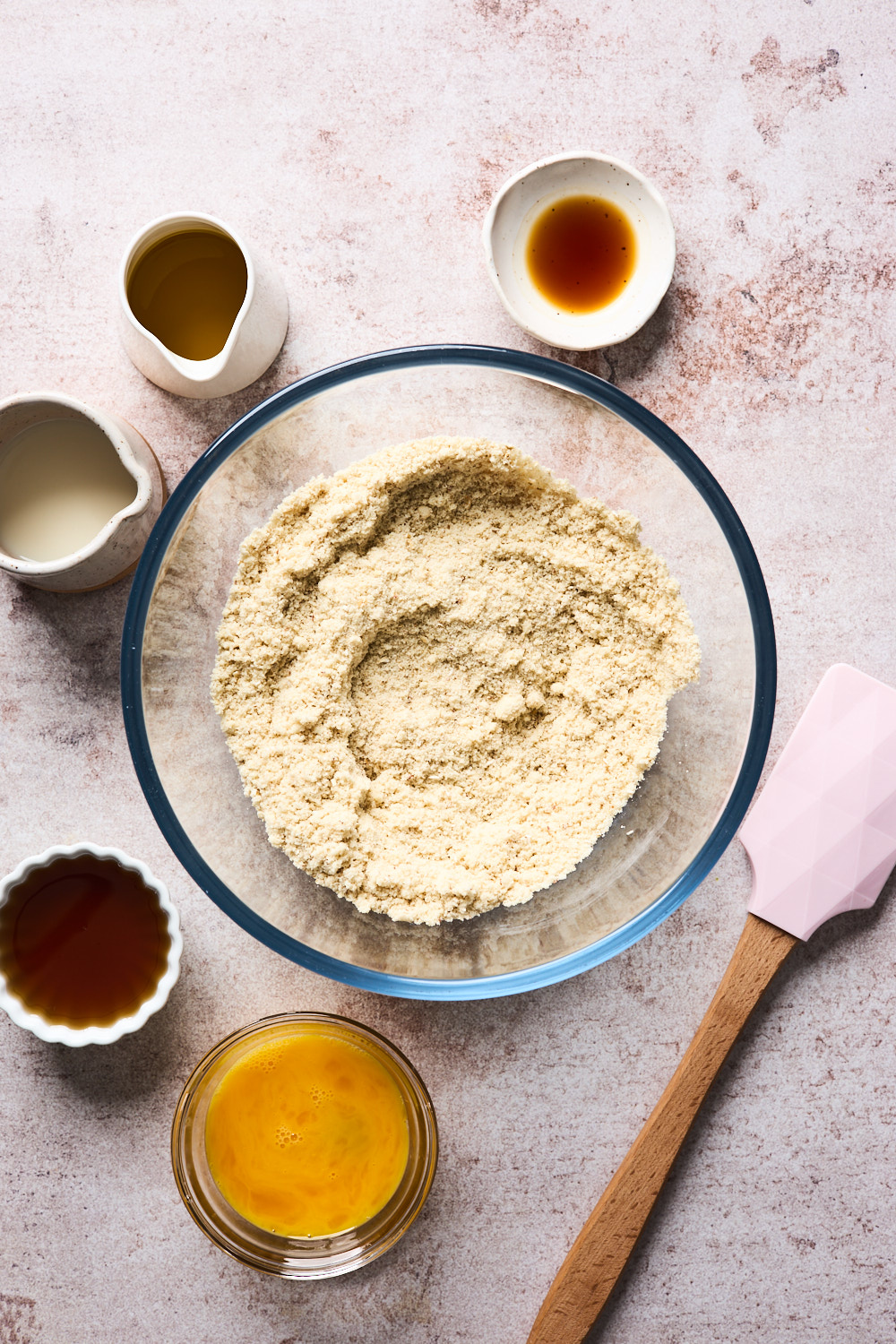 I made these in partnership with Bob's Red Mill and their Oatmeal Packets to share a recipe using their oat packets. They are just the most convenient, quick and easy way to make oatmeal in the morning but they also make a great addition to these almond flour muffins. I love the nutty flavour and texture oats give baked goods. Bob's Oatmeal Packets come in three flavors. I used the Brown Sugar & Maple one in this recipe. They are 100% whole grain, vegan, gluten-free, non-GMO project verified and kosher. They come in 8 handy packs with are a quick and easy way to make a nutritious breakfast and are also great added to your baked goods.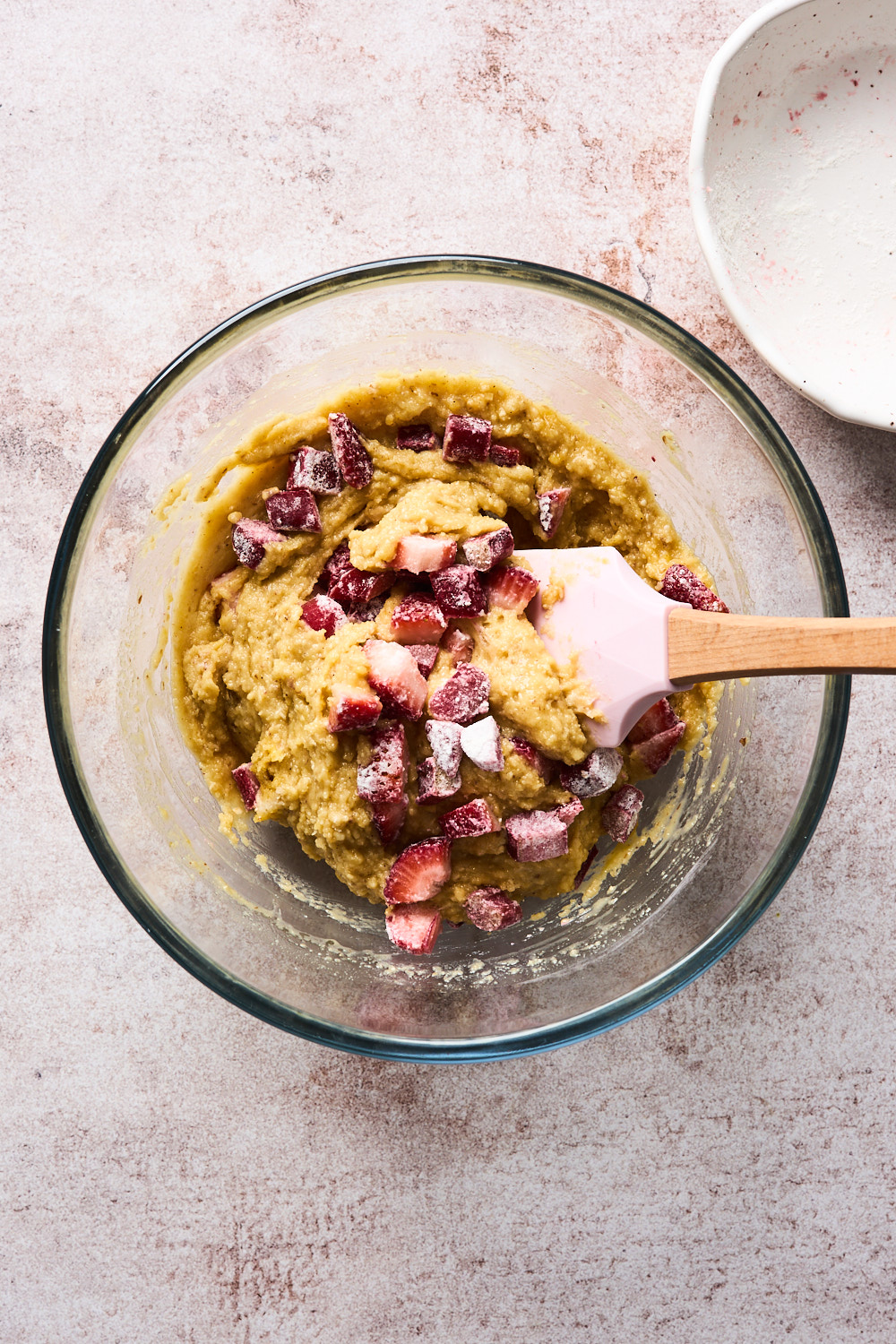 I love oats but I love to bake with oat flour even more so what I did was just blitz the oatmeal or oats in my mini chopper (or you could use your blender or food processor) until the oats get ground to a flour. Its as easy as that to make homemade oat flour. Oat flour lends a soft and fluffy texture to baked goods, with a mild flavor. It lightens the heavy texture of baked good in general. That all being said I make these with or without the oat flour depending on what I have on hand (replacing it with almond flour) and they are so good either way.  You can use almond meal in these muffins (almond meal is ground unblanched almonds - it has a darker and speckled look compared to almond flour, and almond meal tends to create a denser texture to baked goods - just and FYI)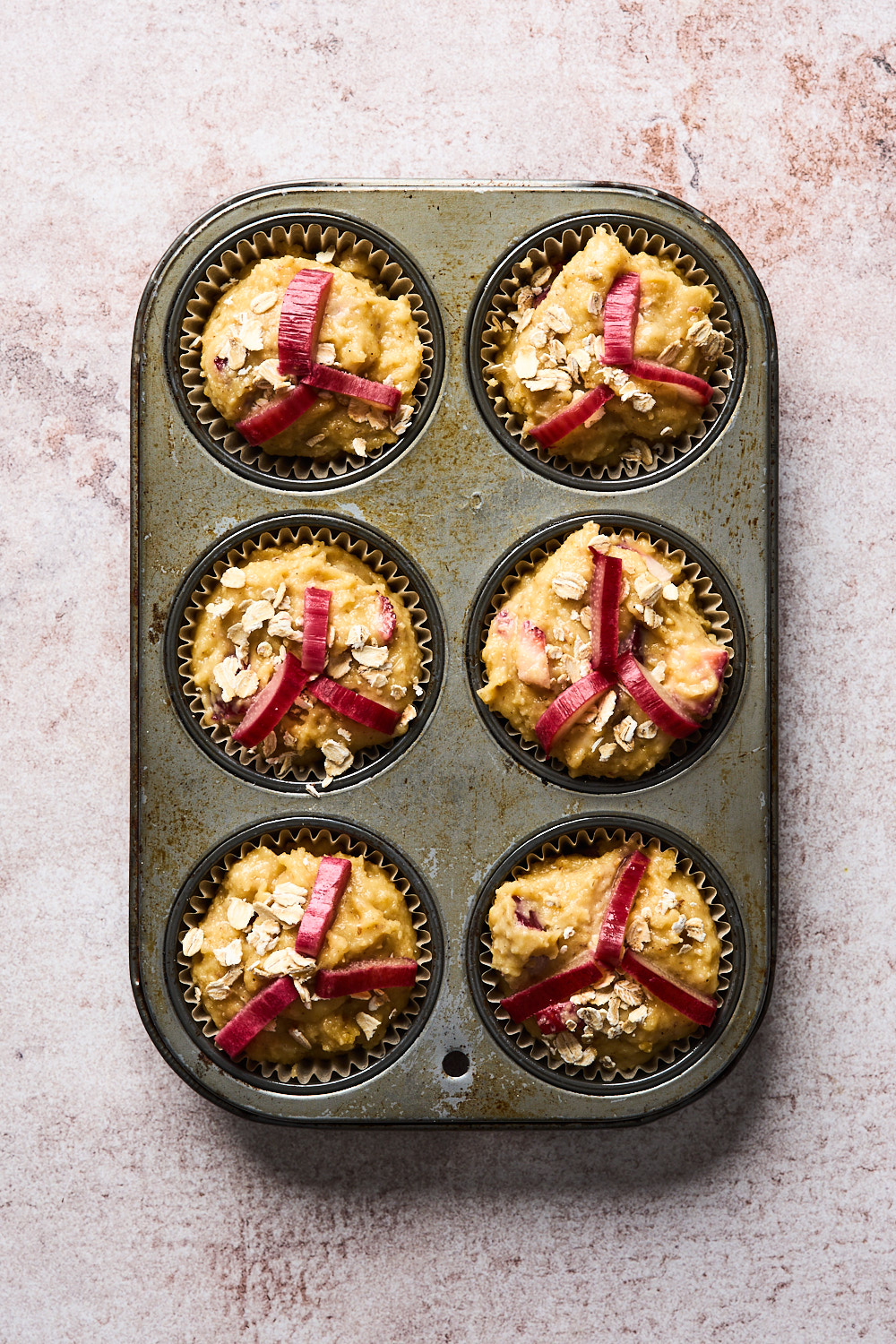 Ingredients in this recipe
For the muffins
Almond flour– I like to use blanched almond flour, as opposed to almond meal which tends to yield a denser muffin, darker in color too.
Oat flour - I love to add this to my baked goods. You can substitute it for more almond flour if you don't have it.
Baking powder – Baking powder is used to increase the volume and lighten the texture of baked goods
Maple Syrup - can easily be substituted with honey or if you wanted to use regular sugar, brown sugar or coconut sugar you can as well
Olive oil - can easily substitute this for any vegetable oil and I also like these with coconut oil
Eggs – Room temperature eggs are always best for this type of baking. Feel free to use egg replacer or flax eggs if preferred.
Almond milk – I like to use almond milk, but you can use any milk you have on hand or even water.
Strawberries and rhubarb - I love this classic combo but feel free to use any berry you like or any fruit you like for that matter you can even use chocolate chips to change up the flavours. Feel free to add spices if you would like too.
Vanilla and cinnamon - these both enhance the flavour of the batter and the fruit but are optional.
How to Make Almond Flour Muffins
These Almond Flour Muffins are so easy to prepare. All you need is one bowl and it only takes minutes to prepare them.
Whisk your dry ingredients.
Them mix in the wet ingredients into the dry.
Toss your berries in a bit of oat or almond flour to help prevent them from sinking to the bottom of your muffins. Then fold them into the batter
Fill muffin tins evenly in prepared tin
Top with sliced fruit, some oats and turbinado sugar if you wish
Then bake and enjoy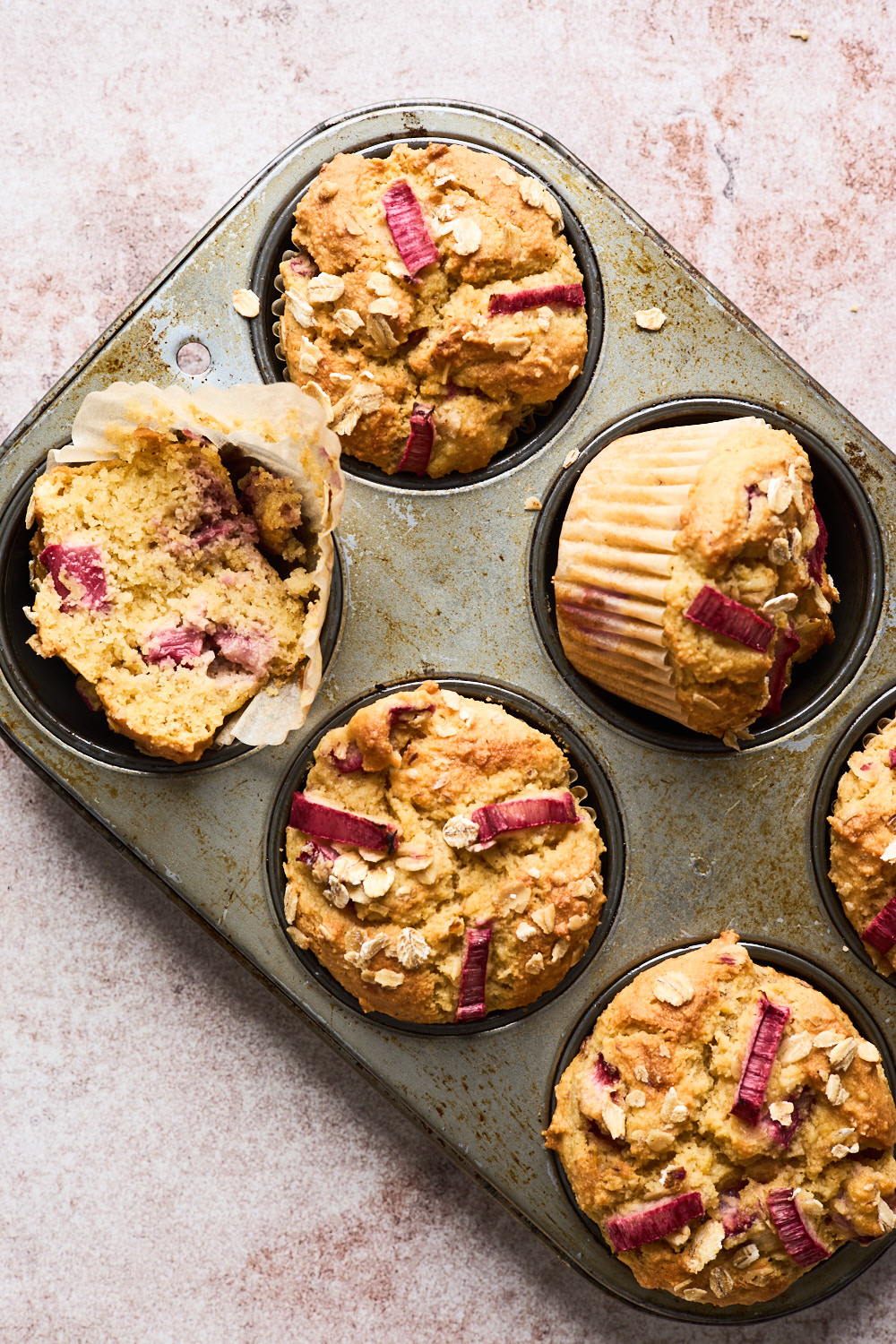 If you loved these almond flour muffins you will also love these recipes:
I have partnered up with Bob's Red Mill to bring you this fabulous recipe, but all opinions are my own. Thank you for supporting Olive & Mango.
Recipe
Servings:
6 large muffins or 12 small ones
Prep Time: 15 mins
Cook Time: 20 mins
Ingredients
1¾ cups almond flour*

¼ cup oat flour, plus 1 tablespoon (I used 1 pack of Bob's Red Mill Brown Sugar & Maple Instant Oatmeal Packets ground) *

2 teaspoon baking powder

1 pinch salt

¼ cup almond milk

¼ cup olive oil

1 teaspoon vanilla extract

½ teaspoon of cinnamon

⅓ cup maple syrup

2 eggs whisked

1 cup chopped strawberries and rhubarb, (½ cup each cut into ½ inch pieces-fresh or frozen)

Extra oats, rhubarb slices and turbinado sugar for topping the muffins with (optional)
Directions
Preheat oven to 350°F and grease and line 6 muffin molds for easy removal.
In a medium size bowl whisk dry ingredients in bowl.
Add in the milk, olive oil, eggs, maple syrup, cinnamon and vanilla and mix just until combined.
In a separate bowl, toss the berries and rhubarb with 1 tablespoon of oat flour to coat. Gently fold through the berries and rhubarb into the batter.
Divide mixture evenly across muffin cups.
Sprinkle with oats and trubinado sugar if using. Top each muffin with three pieces of rhubarb in a triangle shape for decoration, also optional.
Bake at 350°F for 20-25 minutes or until golden and tester comes out clean. Let cool on cooling rack, then enjoy.
Recipe Notes
If you would like to use almond meal instead of almond flour you can. Almond meal tends to make a denser muffins but it will still work beautifully with theses muffins
If you don't have or don't want to add oat flour into your muffins just replace it with almond flour.
To make these muffins paleo just replace the oat flour with almond flour. And to make these vegan feel free to use an egg replacer or flax eggs.
Storage: these muffins are best the day of. But they keep well in a sealed container for 1-2 days at room temperature. They can be frozen for up to 3 months and left to thaw at room temperature. The texture will not be exactly the same after they have been frozen though.