Charred Corn Tomato and Feta Quinoa Salad
Grilled corn, grilled zucchini and charred poblano pepper give this summery salad a delicious smoky flavor. With fresh, juicy tomatoes, creamy sweet corn, cilantro, and a simple lime dressing, this salad is delicious with all of your favorite grilled dishes. To balance out the heat of this grilled corn poblano jalapeños salad, we add creamy tangy feta and that tasty dressing. It's easy to make, loaded with veggies, a great make  ahead lunch making it the perfect packable lunch as well.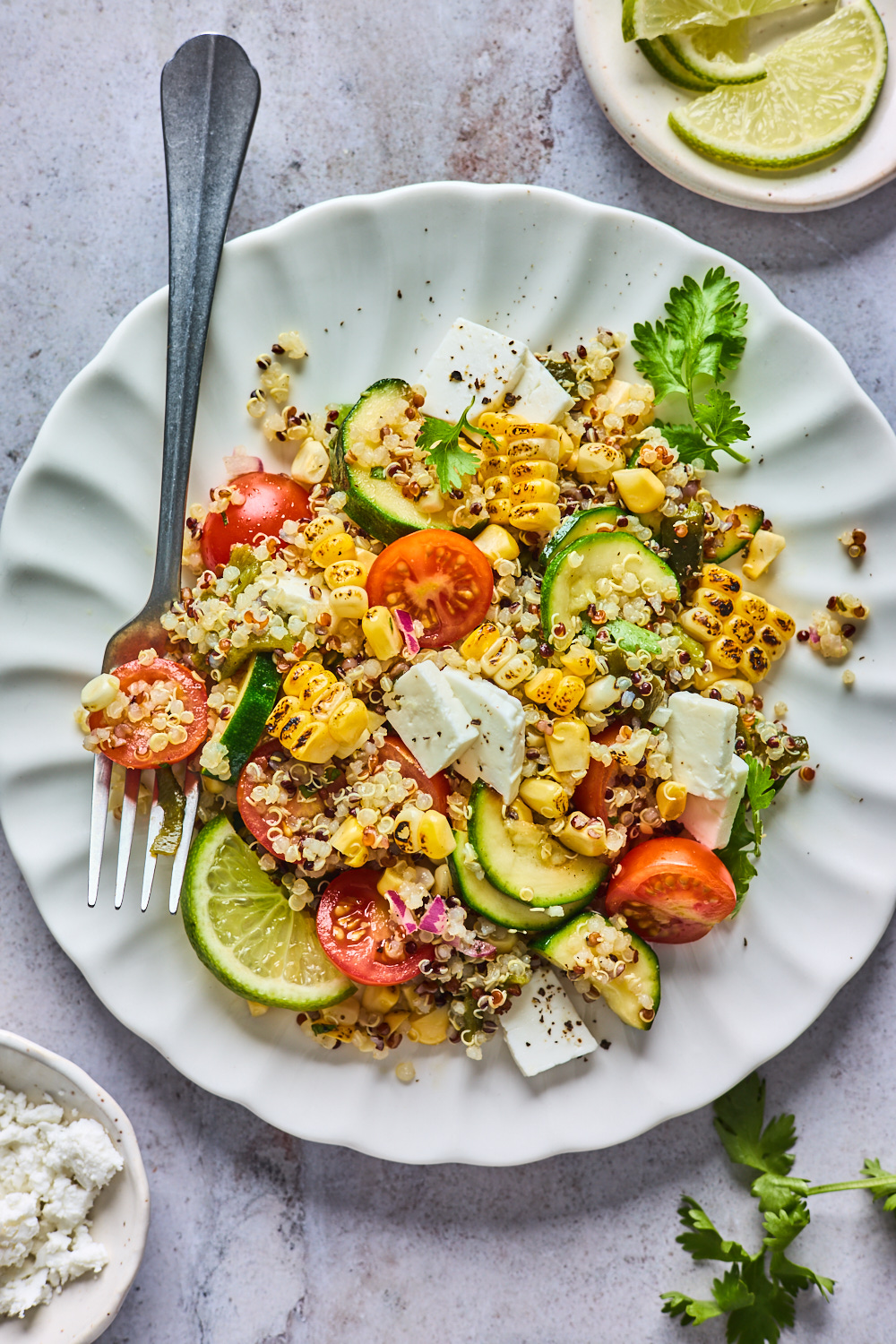 Why you'll love this corn salad
There is something so delicious and so perfectly summery about grilled corn. And when you add grilled poblano peppers, grilled zucchini to the mix, something extra delicious happens. Sweet, smoky and spicy with creamy tangy feta, juicy summer tomatoes, fresh cilantro and a delicious lime dressing, this salad has a delicious contrast of warm and cool, crunchy and creamy, spicy and sweet. Corn salads alone are fabulous but this corn salad can go from side to full meal with the added quinoa to it. It's gluten free and vegetarian and easily vegan with a feta substitute. Make sure to get this salad on your list of things to make with all our locally grown sweet corn.
How to make grilled corn tomato feta quinoa salad
QUINOA- Cook quinoa until tender then allow to cool with you grill the veggies
CORN & ZUCCHINI-Toss corn and sliced zucchini with olive oil and salt and pepper. Then grill over moderate heat (using grill or grill pan) until tender crisp with nice grill marks. Slice off the corn from cob and chop zucchini. Set aside
POBLANOS - Grill whole poblano peppers until charred and blistered. It doesn't take long for them to get blistered. You can also char them over your gas stove or on a sheetpan broiled in the oven. Then put them in a bowl, covering the top with a plate or foil. This allows the steam time to do its work. When the peppers are cool enough to handle, rub off their skin and roughly chopped them, discarding the seeds and stem.
DRESSING - whisk together dressing ingredients
ASSEMBLE SALAD - chop and slice the rest of the ingredients. Add everything to a large bowl and then toss with dressing. Test for more salt and pepper and lime juice and serve.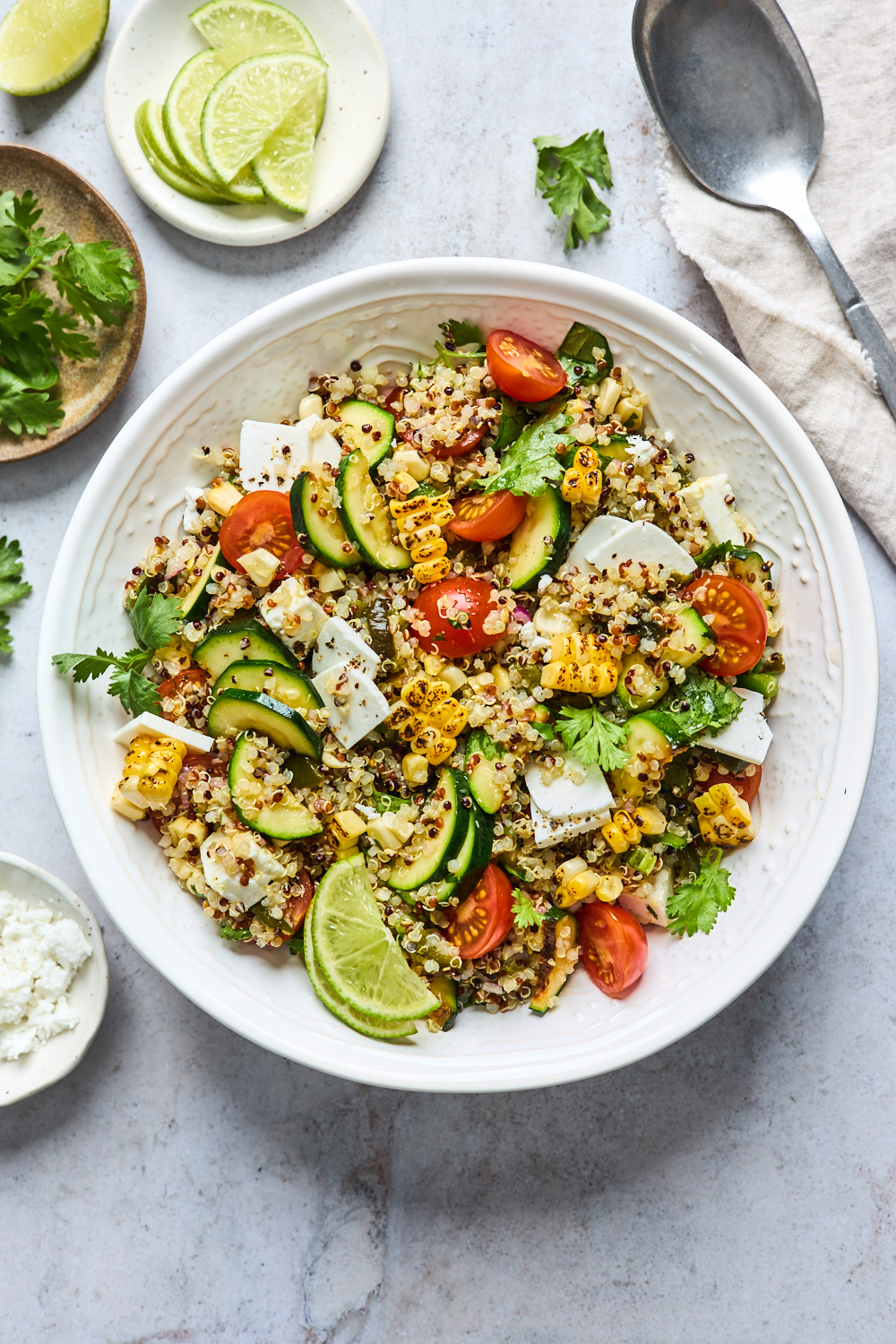 Grilled corn tomato feta quinoa salad Ingredients
QUINOA - any kind or colour quinoa you like. If you prefer to use a different grain you could easily use brown rice, wild rice, farro or you could even use orzo or other small pasta making this a pasta salad
POBLANO PEPPERS - Poblanos are also called pasilla peppers and can be found near the jalapeño peppers in the produce section. When dried, the are called ancho peppers. If you can't find fresh poblanos, you can use a bell pepper in its place or a cubanelle. You won't get the same flavour profile but it will still be delicious. You could leave them out completely and add an extra jalapeño too. Feel free to char the jalapeños too for more of a smoky heat.
CORN - fresh corn works well here as we are grilling it for extra flavour.  If you can't get any fresh corn you could used frozen or canned but it won't taste the same without being charred or grilled. If using frozen or canned allow to thaw/drain liquid and I would recommend charring it a bit in a skillet or pan to add some smoky flavour.
ZUCCHINI - perfect with the corn this time of year. If you would like to add more veggies or replace zucchini - I recommend  diced bell peppers, scallions, avocados, or even some roasted eggplant
JALAPEÑOS - I love the flavours they add to the salad and that bit of heat. Make sure to remove seeds for less heat.
TOMATOES - a fresh addition to this salad. I usually use cherry tomatoes but grape tomatoes work or whatever tomatoes you have just make sure they are cut into bite size pieces
RED ONION - if you want a milder onion flavour feel free to substitute with shallots or even green onions.
FETA CHEESE - you guys know I love feta but if you don't you could easily use diced mozzarella, Cheddar or Monterey Jack cheese - they would all work well here.
CILANTRO - Fresh cilantro works well with the flavours in this salad and the dressing but if you're not a fan then feel free to substitute with any other herb you like - parsley, mint, basil, chives or a combo of a few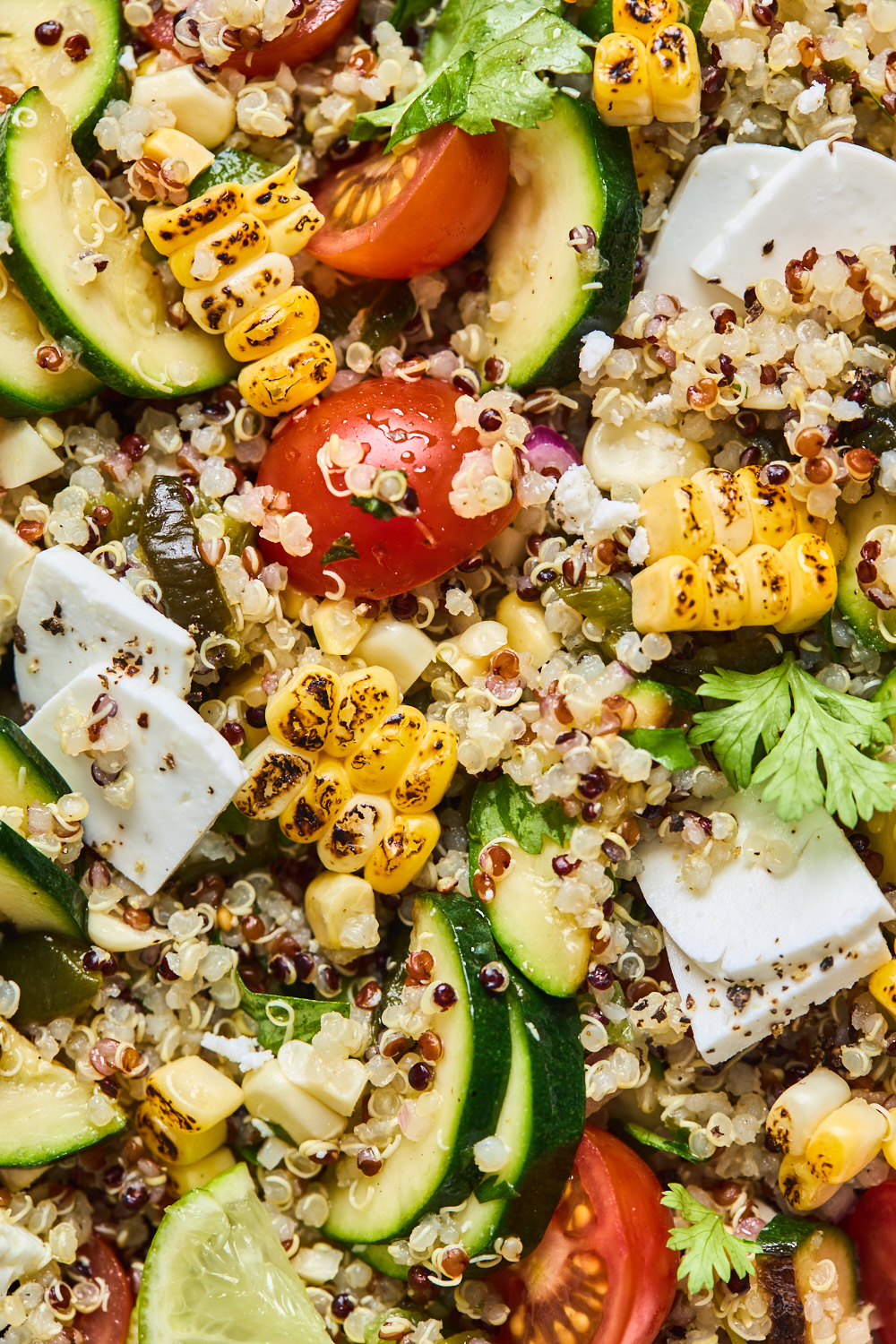 Can this salad br made in advance?
Yes! I usually serve this salad cold but it can definitely be made to serve while all the ingredients are still warm off the grill. You can make it up to 2 days in advance. Just leave the tomatoes out until just before serving so that they don't get soggy.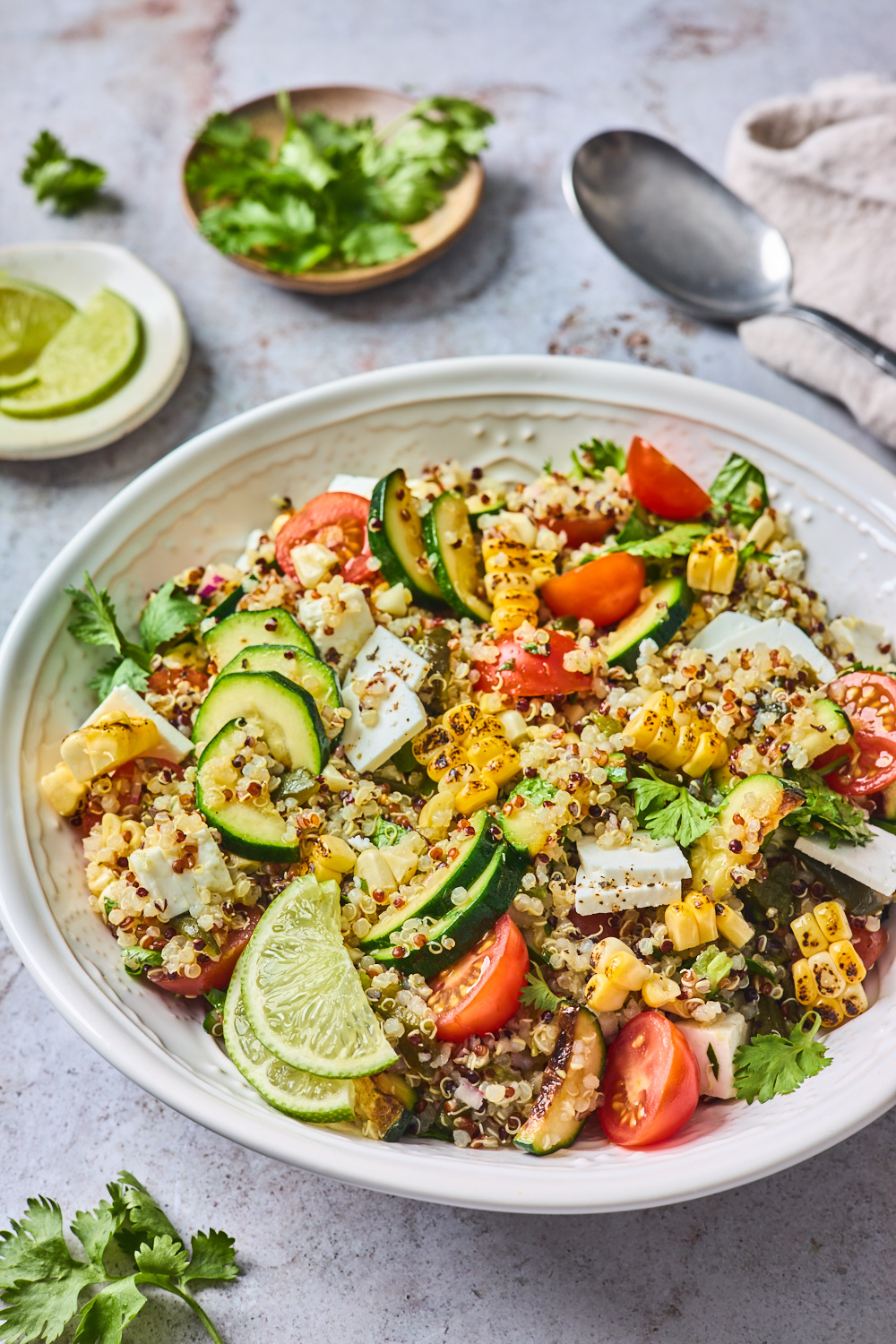 More delicious Summer salads you'll love:
Recipe
Prep Time: 10 mins
Cook Time: 20 mins
Ingredients
For the salad
2 cups water or stock

1 cup quinoa rinsed and drained

2-3 small poblanos

2-3 small ears of corn, shucked

2-3 small zucchini or summer squash, ends trimmed, halved lengthwise

1 tablespoon olive oil

Salt and pepper to taste

1 jalapeño seeds removed and chopped

1½ cup cherry tomatoes sliced in half

1 small red onion peeled and chopped

1 cup feta crumbled or chopped

¼ cup chopped cilantro
For the Dressing: epicurious
2 tablespoons lime juice

2 cloves of garlic, peeled and minced

1 teaspoon honey

½ teaspoon salt

¼ teaspoon ground coriander or cumin

½ cup extra-virgin olive oil

2 tablespoon chopped fresh cilantro
Directions
For the quinoa
Bring water and quinoa to boil in a small sauce pan with a pinch of salt then lower heat, cover and simmer until tender (approx 10-15 min) or as directed on package.
Fluff and allow to cool completely.
For the grilled corn and zucchini
Light a grill or heat a grill pan to medium/high heat. In a large bowl, toss the corn and zucchini with 1 tablespoon of the olive oil and season with salt and pepper.
Grill over moderate heat until charred and crisp-tender, about 10 minutes for the zucchini and 15 minutes for the corn. Transfer to a cutting board and let cool.
Cut the kernels off the corncobs and coarsely chop the zucchini. Set aside.
For the poblanos
Either grill them until charred on the grill or grill pan, gas stove or on a sheetpan broiled in the oven, allow to cool then peel and remove seeds and slice.
For the dressing
Whisk all the ingredients together in a small bowl or place in a mason jar and shake well too combine.
Assembly
In a large bowl add the cooled quinoa, corn, poblanos, zucchini, jalapeños, tomatoes, feta, chopped cilantro, and onion. Drizzle dressing over salad and toss to combine and serve.