Chocolate Hazelnut Florentine Cookies (Lace Cookies)
I hadn't had Florentine cookies or lace cookies as they are often called, in a long while and then last year on a trip to New York I was happily reacquainted with them. We were staying with friends and they had a pack of these lace cookies from Trader Joe's. They were the dark chocolate and almond one. Just one bite is all it took to be completely addicted to them. Since then they have been on my list to make.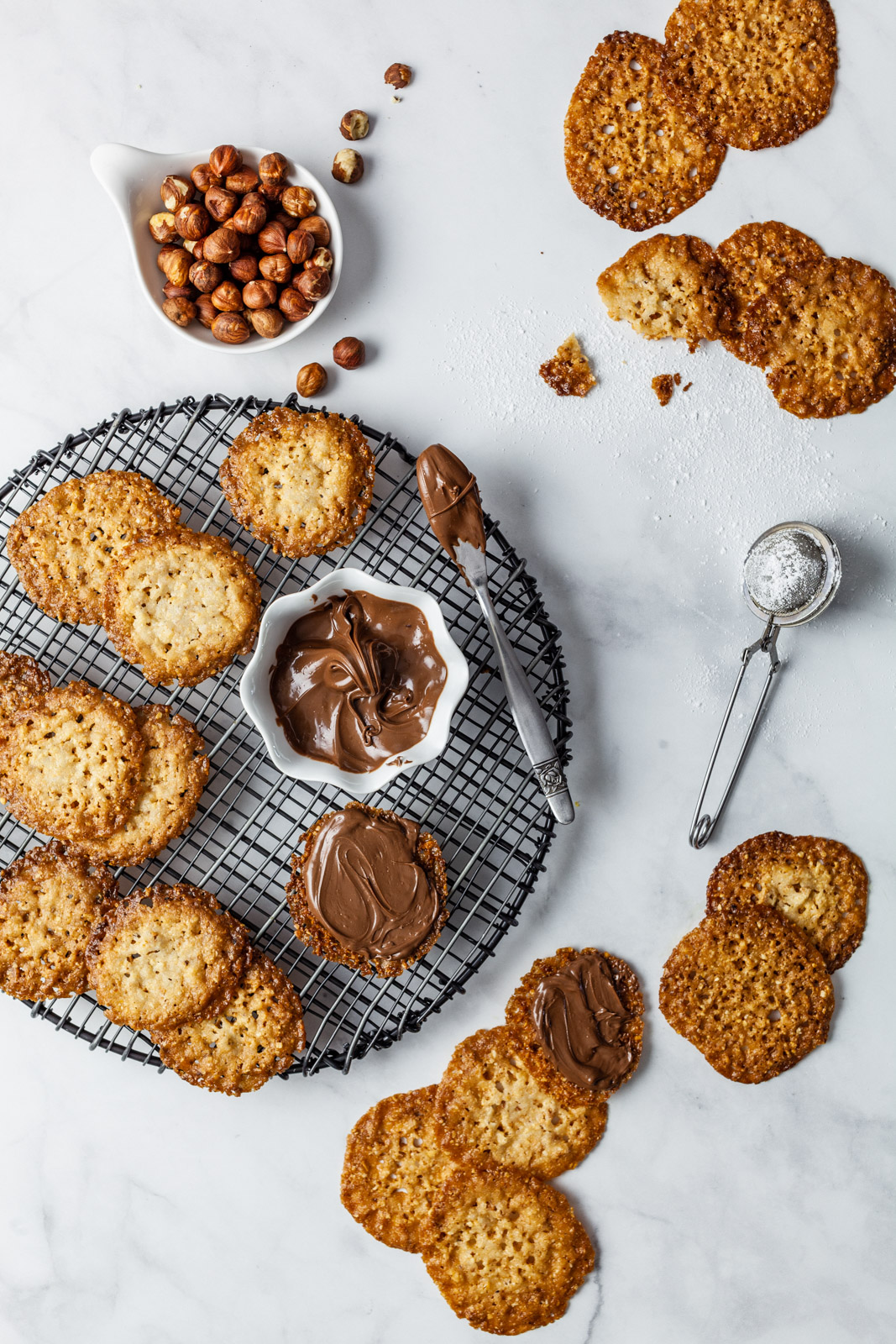 I had looked up many recipes for lace cookies and a lot of them required a candy thermometer, others asked for corn syrup which if I can avoid I will, and then others had just a long list of what I thought were unnecessary ingredients. Well just a few months ago I won a giveaway on Instagram hosted by Rebecca of Displaced Housewife and the winner received a copy of Food 52's booK Genius Desserts. It's a beautiful book and I was so happy to have won it.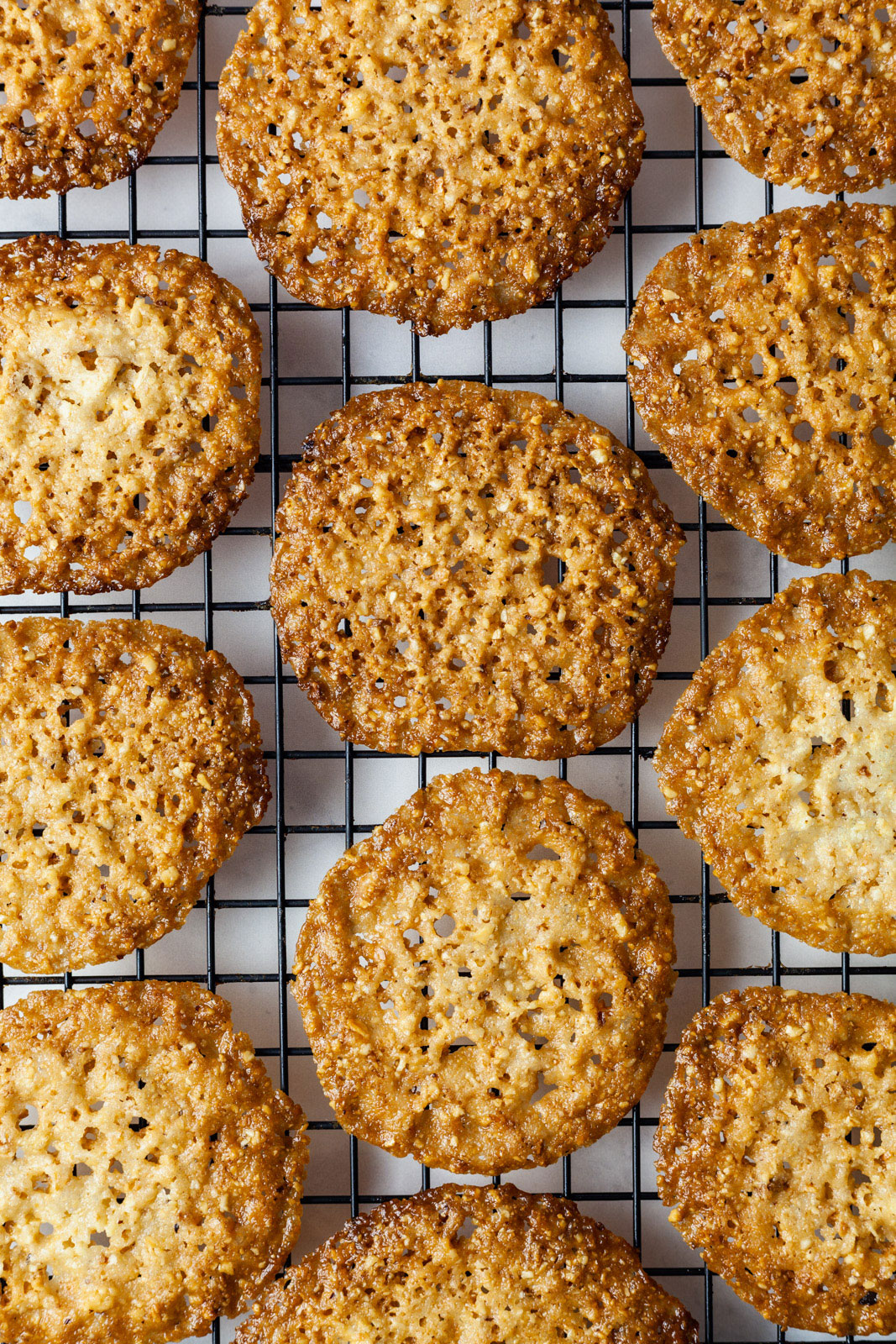 As I booked marked page after page in it, I came across Erna's Lace cookies. I scanned the recipe and it didn't include any of the two things I mentioned above and had a very short ingredient list. That page got book marked too and I finally had some time to make them while I was on holidays from the office. I decided to make mine with toasted hazelnuts instead of blanched almonds so if you prefer using almonds then feel free to sub out the hazelnuts for them. The amounts are the same whether you use hazelnuts or almonds.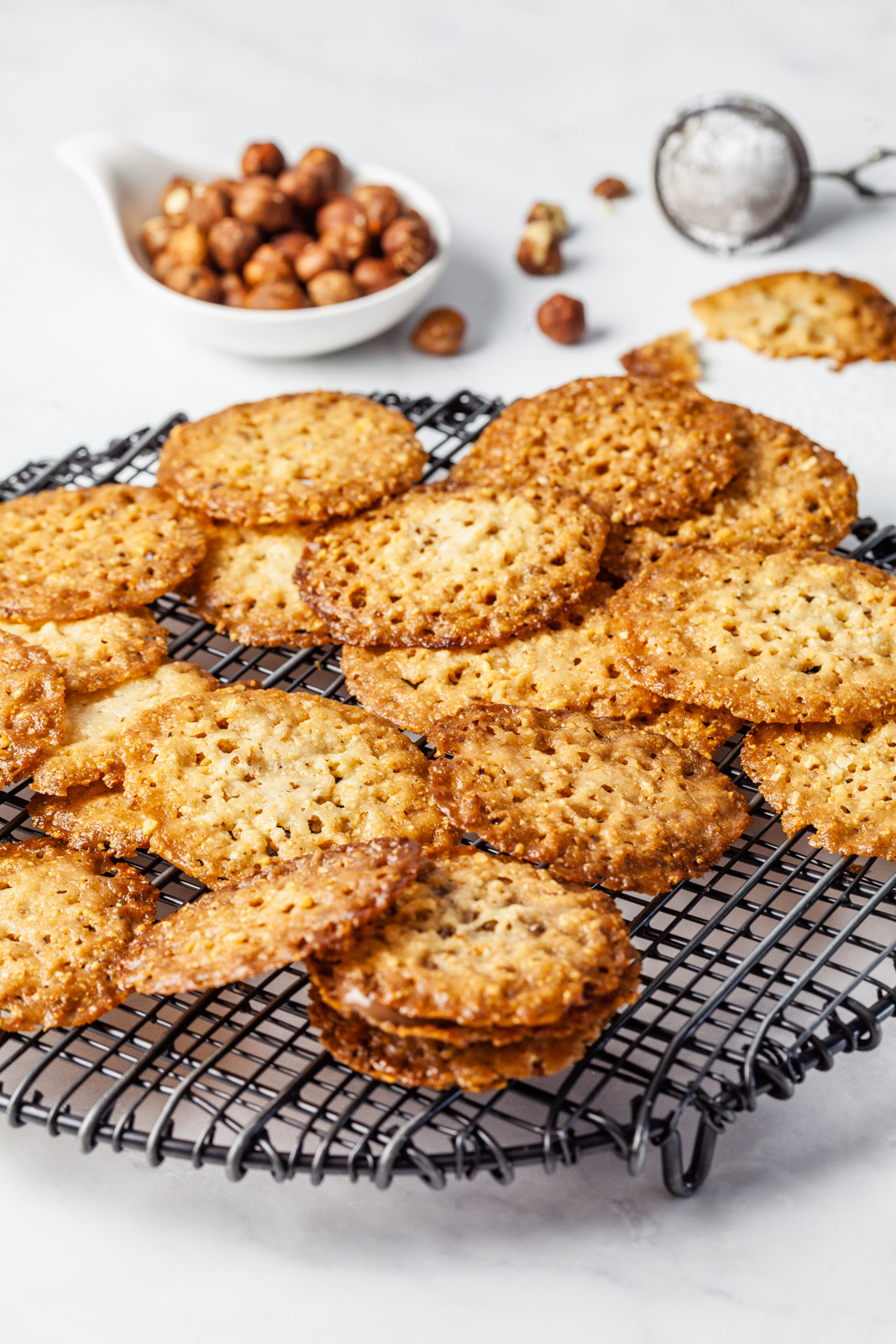 I also decided to take these up a notch by making them into lace cookie sandwiches with a layer of Nutella or hazelnut spread between them. The best treat ever you guys!! I don't have much of a sweet tooth but when it come to Nutella I all of a sudden develop one.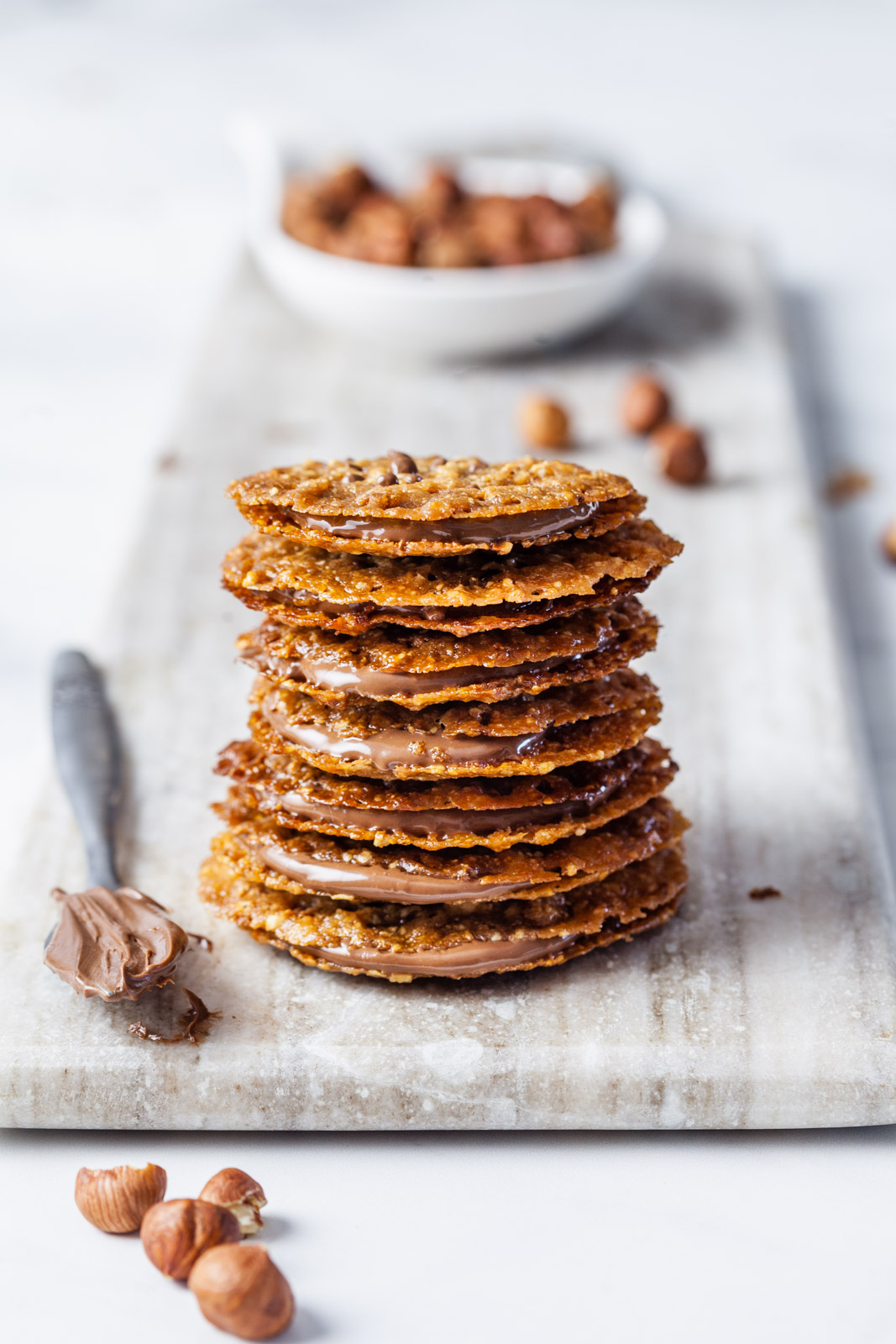 These are fantastic on their own if you think the hazelnut spread may be a little too much. I say if you aren't sure do a couple with and test them out and see what you think before you make sandwiches of them all. I think you guys are going to love them. They are simple to make and I love watching them bubble wildly and expand and flatten in the oven as they bake. It's almost magical. Enjoy them guys!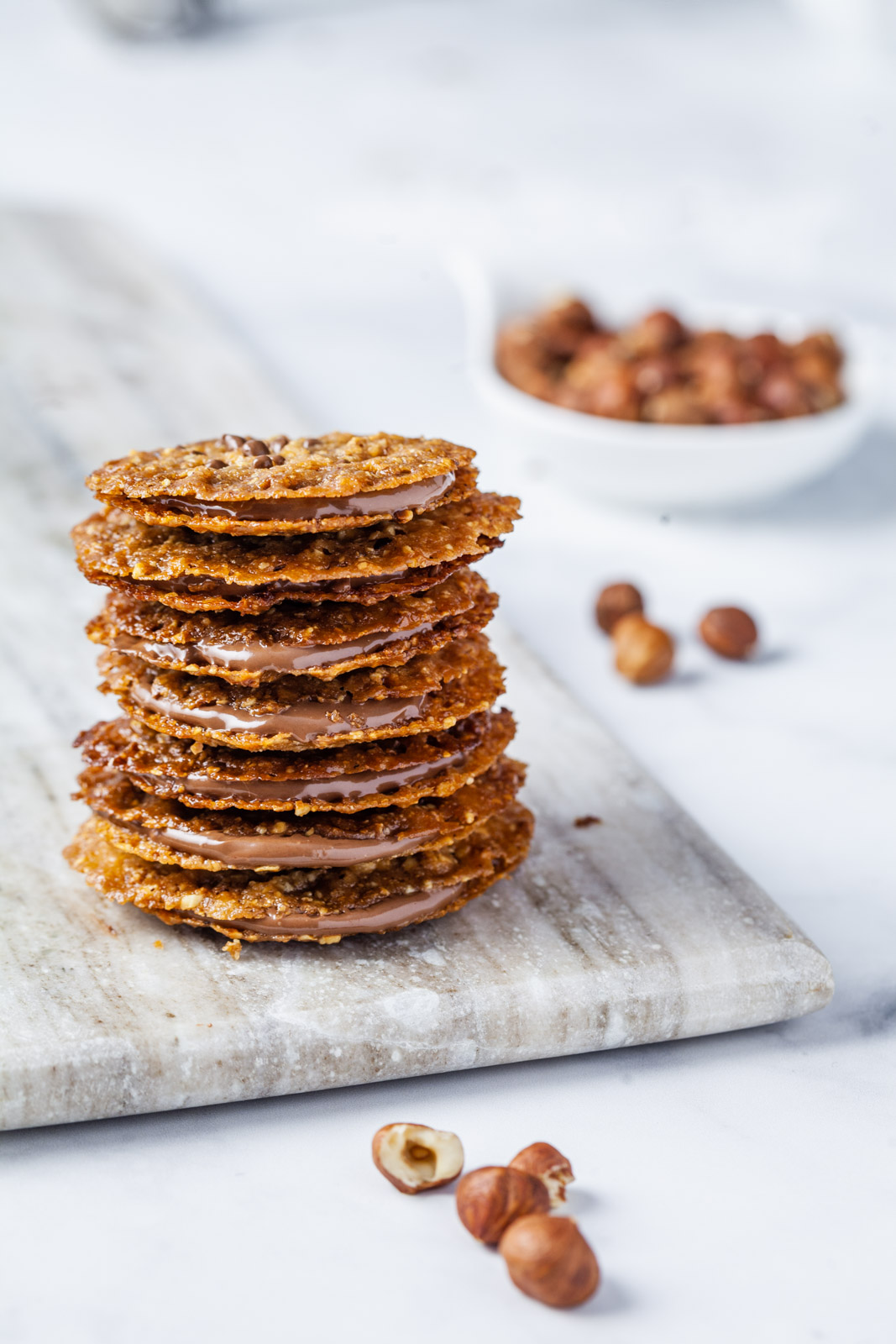 Recipe
Makes about 30 cookies
Ingredients
⅔ cup of lightly roasted and peeled hazelnuts

¼ cup unsalted butter

½ cup of sugar

4 tsp of all purpose flour

a pinch of salt

4 tsp of whole milk

½ cup or more of hazelnut spread according to taste (I used Nutella)
Directions
Preheat over to 350 ° F
Arrange the hazelnuts in a single layer on a rimmed baking sheet and roast them for 10-15 minutes - shaking pan to toss the hazelnuts half way through roasting. (They are done when they are fragrant, their skin cracked and glistening).
Drape a clean kitchen towel over a large bowl, and pour in the nuts and let cool.
Twist the towel closed and give it an energetic massage an shake so the hazelnuts will rub against one another and the skin will come off in little flakes and then remove the hazelnuts and set aside
With the oven preheated move the racks to the upper and lower thirds and line two baking sheets with parchment paper and set aside
In a food processor, pulse the hazelnuts until they are the texture of corse cornmeal. Do not over process or you will end up with hazelnut butter.
Melt the butter in a small sauce pan over low heat.
Add the sugar, flour and salt and stir just until the sugar is completely incorporated.
Add the ground hazelnuts and then the milk and continue to stir until well combined and the mixture thickens a bit.
Remove from heat and let the mixture cool for 1 minute.
Using a tsp (I like to use an actual measuring spoon to keep the cookies consistent in size), drop the batter onto the baking sheets leaving room between (at least 3 inches apart as they will spread quite a lot). There will be 6 cookies in each baking sheet. If the batter gets to stiff at any point pop the sauce pan back on low heat for a minute to warm it slightly and soften it.
Place both baking sheets in the oven and bake until golden brown, approx 6-8 minutes, rotating the baking sheets halfway through baking.
Remove and let the cookies cool on the baking sheets just long enough to firm up approx 5 minutes and then use an offset spatula or a knife to transfer them to a cooling rack to cool completely.
Spread a thing layer on the bottom flat side of half the cookies and place the bottom flat side of the other half of them over the Nutella and enjoy.
Store them in an airtight container at room temperature.
You can make batches and freeze them without the Nutella in a sealed container with waxed paper between each cookie.
Thaw at room temperature before serving and assemble with Nutella after they have thawed.